Ellis Simms signs new Everton contract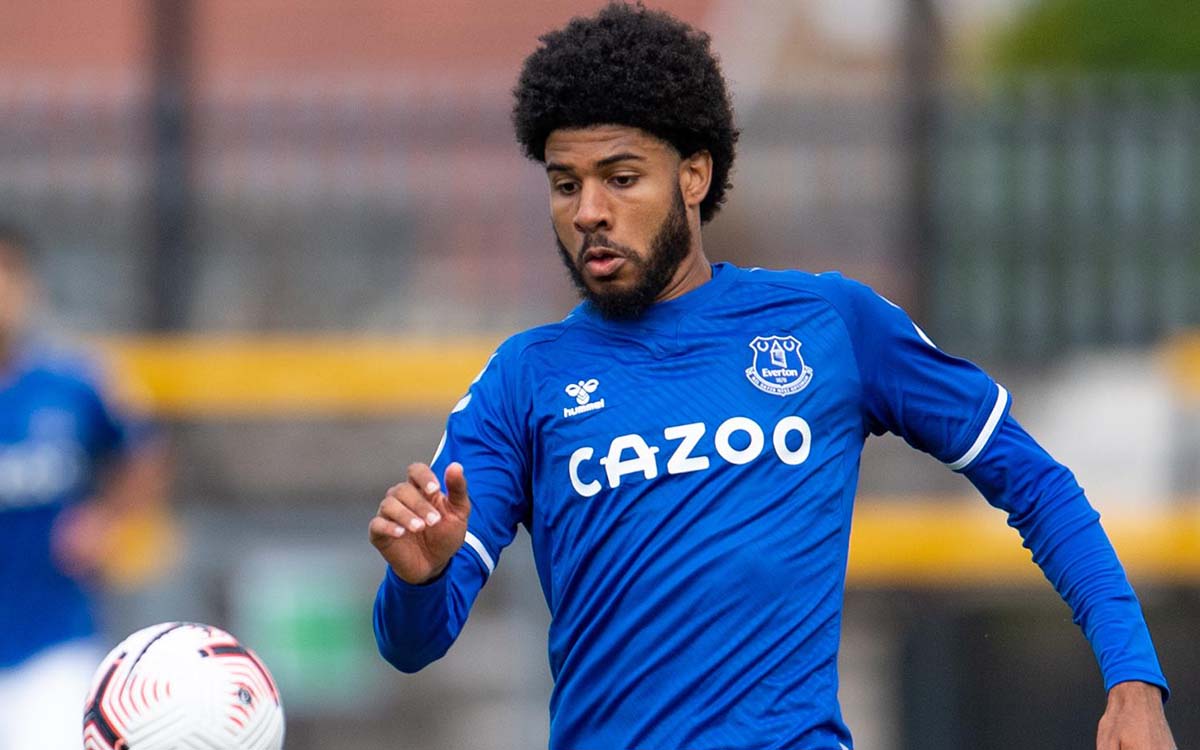 Academy prospect Ellis Simms has signed a new 3-year contract with Everton that runs through June 2024.
The 20-year-old's previous contract was due to expire next June so the club have moved to tie him down on fresh terms as he continues his development and nears a breakthrough into the Blues' first-team.
Speaking on evertonfc.com, Simms said he has struck up a strong relationship with new Everton manager Rafael Benitez but that he also looks up to Dominic Calvert-Lewin who blazed a trail at Goodison Park from a similar age to become the club's best striker in recent years as well as a full England international.
Simms, who had a successful spell on loan at Blackpool last season, scored 52 times in 71 league games for the Under-18s and Under-23s but has battled injury this year, only recently returning to full fitness.
"Everton is a massive club and I love it here," Simms said. "From Under-16s level to now, the Club has helped me grow as a person and as a player.
"The support the Club has given me has been fantastic and I'm very grateful to sign this new deal.
---
Reader Comments (156)
Note: the following content is not moderated or vetted by the site owners at the time of submission. Comments are the responsibility of the poster. Disclaimer
Pete Cross
1
Posted 16/11/2021 at 11:38:02
Simms has signed new contract, excellent news!
Martin Reppion
2
Posted 16/11/2021 at 11:49:26
Any promising player signing a contract is a good thing for us.
Now he can concentrate on getting fit and fulfilling that promise.
Good luck to him. Unlike the young centre backs, he isn't faced with a large quantity of players blocking his route to first team chances.
Danny O'Neill
3
Posted 16/11/2021 at 11:57:26
I hadn't realised those impressive scoring stats for Blackpool. The benefits of playing in a competitive league?
Interesting reference to his relationship with the manager.
Tony Everan
4
Posted 16/11/2021 at 12:06:32
Very pleased Ellis Simms has signed a new contract, opportunities will come his way and it's up to him to grab them. There were one or two rumours about him going out on loan again in January to get more experience and game time. The Blackpool manager has probably been enquiring about his availability.
In an ideal world I'd like to see him given an opportunity ahead of Rondon and do really well. Then become first option off the bench or ready to stand in for injuries. He's at an age where he could possibly kick on given the chance.
Michael Kenrick
5
Posted 16/11/2021 at 12:07:04
Has yet to lead anywhere, Danny. He's sat on the bench 3 times this season and seen no action under that Spanish bloke, ankle injury or no.
I still see Rafa preferring his non-jumping Salomon to giving Ellis much of the runout he must be desperate for.
But that's the way with youngsters, init? You mustn't play 'em too much or you'll burn 'em out. When the only thing they want to do is play, and play well.
That's why our Wayne was shot at 30... or not, as Moyes deliberately held him back.
John Keating
6
Posted 16/11/2021 at 12:21:32
It's what we need to see.
Can he be any worse than Rondon?
No good just signing him in, get him on the bench before the wasters and if possible get him on.
Danny O'Neill
7
Posted 16/11/2021 at 12:50:30
I do think most young players need to be managed carefully as they develop, Michael. Rooney was a freak. I've only seen Simms play once; think it was the mini-derby, which as well as only being one match, wasn't a great match, so can't really judge.
I'd like to see him introduced once he's fit. Or will the club send him on loan again? Either way, it feels like he's ready for competitive football. What is the latest on Calvert-Lewin?
Colin Malone
8
Posted 16/11/2021 at 12:56:39
Let's hope Rafa can coach Simms. Seen him play for Blackpool and he is an Unsworth type player.
Kevin Prytherch
9
Posted 16/11/2021 at 13:03:07
20 years old, 3-year contract????
Looks like we have another Garbutt on our hands.
Yet another reason why Unsworth, Kenwright and that lot shouldn't be anywhere near the club.
Danny O'Neill
10
Posted 16/11/2021 at 13:12:14
My oversight there then, Kevin. I thought he was younger than that.
Howard Sykes
11
Posted 16/11/2021 at 13:16:30
Hope he can find a way to get in the first team and playing regularly for us. He won't learn much playing U23 football and we won't learn much more about him by doing that.
Play him.
Mark Dunford
12
Posted 16/11/2021 at 14:07:07
A 3-year contract indicates senior-level faith the player's ability and potential - let's hope he fulfils it. Not enough young players are coming through to the first-team squad. Let's hope Gordon leads the breakthrough and is followed by more.
Calvert-Lewin and Davies are the only remaining players from their group – assuming Kenny moves, on as seems likely. Pennington, Dowell, Connolly et al didn't make the grade, despite playing international level. A number have appeared to then slide back to U23, loans and eventually release.
Ajay Gopal
13
Posted 16/11/2021 at 14:25:36
'Injured his hip practising penalties'! That's a new one for Everton! Hope it was a really freaky incident and not indicative of a long-term problem.
I would love to see him and Dobbin do well at the senior level. Anything better than Tosun or Rondon or Niasse would be like attaining heaven for us long-suffering Blues.
Mike Gaynes
14
Posted 16/11/2021 at 14:46:21
I never knew practicing penalties was so dangerous. He must have been doing one of those Bruno Fernandes hippity-hop routines.
Great to know that Rafa and Marcel see enough potential in the young man to keep him. Can't wait to see him play. Hopefully this weekend in place of Rondon.
Barry Hesketh
15
Posted 16/11/2021 at 14:56:35
The freak injury via the penalty practice took place almost six months ago whilst with Blackpool and had nothing to do with the alleged loafers at Finch Farm for once!
Hope he gets some game time in the coming weeks, he can't be much worse than some who have donned the first-team shirt in recent times.
Paul Hewitt
16
Posted 16/11/2021 at 15:23:43
If the lad had any sense, he would have left at the end of the season.
He may make a few cup appearances... but that will be it.
Steve Brown
17
Posted 16/11/2021 at 16:10:10
Bright, talented, young, free-scoring and a hugely successful loan spell – great to tie him to a new contract.
Brian Wilkinson
18
Posted 16/11/2021 at 16:30:32
Makes sense to get him a further 3-year contract, talk of going out on loan back to Blackpool in January.
I have a better idea, send Rondon to Blackpool in January instead.
He could train on the beach with the other Donkeys.
Dennis Stevens
19
Posted 16/11/2021 at 16:37:50
Hear! Hear! Brian.
Don Alexander
20
Posted 16/11/2021 at 16:57:00
This lad is a big unit but at Blackpool he was "heavy" in his movement too. That said, he may not yet be fully grown and therefore looks coltish. He reminds me a lot of Joe Royle, and he didn't do bad for us did he?
Robert Tressell
21
Posted 16/11/2021 at 17:02:01
Good news. If he can replicate his scoring output in the Championship on loan, then we will have a player worth circa £10M or more – with a chance of making a splash with us in the first team.
That next loan is critical because he's often a slow starter when he steps up a level, and will need time to acclimatise.
Bobby Mallon
22
Posted 16/11/2021 at 17:15:35
Why oh why do people want him loaned out?
He has to be a better choice than Rondon, for fuck's sake!
Brian Wilkinson
23
Posted 16/11/2021 at 17:40:11
That's bad, Barry, but not unexpected by the shameful board.
Brian Wilkinson
24
Posted 16/11/2021 at 17:45:40
Same reason people are happy to have Nkounkou loaned out for the season, so called gain experiance but Nkounkou could have had his chance when Digne was out, likewise with Moise Kean, we pay his wages so he plays for Everton, not let him call the shots.
We have Calvert-Lewin back soon, what happens if he breaks down again, no Kean, no Simms, just Rondon as back up.
John Keating
25
Posted 16/11/2021 at 18:06:25
Read the Billy Kenny piece in the Echo. Scary. What a waste.
Nevermind Rooney, he was the best we never had.
Robert Tressell
26
Posted 16/11/2021 at 20:09:26
Brian # 23.
Nkounkou has been loaned out to become a better player long term.
Simms very likely needs to be loaned out for the same reason.
David Pearl
27
Posted 16/11/2021 at 20:23:25
Brian, 23,
What a joke the whole Kean thing has been. He surely would have played this season. To be replaced by Rondon... who I can't believe has been so bad. He's had enough time to regain fitness. I thought he looked a bit better against Man U but that didn't last.
I saw Duncan Ferguson's testimonial game and he was slow... but still more mobile. We must have signed him purely on the word of our manager.
As for Simms, we have to wish him well, hope the club know what they are doing. Hope he gets some minutes. At worst, we either sell him for £2M or loan him to get his wages off the bill... a grand Brands tactic. Or he scores goals and we all become dancers.
Mike Gaynes
28
Posted 16/11/2021 at 20:45:10
Brian #23 and David #26,
Kean didn't want to be here, and we're not paying him, Juventus is. And they're paying us €7 million for the loan and up to €31 million to buy him at the end of next season. So fuck off to him as far as I'm concerned.
Plus he's been mostly a sub for them, even before he missed the last five games due to "muscle fatigue", which I didn't know was even possible for a 21-year-old who has only played 300 minutes this season.
We all have many, many regrets about Roadblock Rondon, but Moise Kean shouldn't be one of them.
David Currie
29
Posted 16/11/2021 at 20:46:12
Brian 18,
Great idea regarding Rondon, think he would look good at Blackpool beach with the other donkeys.
He is Shite! One of our worst ever signings and looks like an over-40s player.
David Pearl
30
Posted 16/11/2021 at 20:59:17
Mike,
Wonder if we are getting the €7M from them but paying that back to them as we likely owe them still for the initial transfer fee?? If you know what l mean.
Paul Kernot
31
Posted 16/11/2021 at 21:37:49
Does anyone have any idea how Nkounkou is doing on loan?
Derek Knox
32
Posted 16/11/2021 at 21:41:56
Made up. I think this lad is a star in the making and has proved he could more than handle the step up at Blackpool. As many have said, it was down to his goals that got them into the play-offs and promoted.
I just wish we would give Ellis and the rest of these promising young lads a bit more encouragement that they are in the plans for the future, and get a few cameo roles in matches, not just warming the bench with little or no chance of being involved.
It's all very well saying they don't want to risk them too early etc, but the fact is they know if they are not being valued they will vote with their feet and not sign a new contract, if offered that is!
Christy Ring
33
Posted 16/11/2021 at 21:54:56
Why would we let him out on loan with Tosun probably on his way in January and Rondon toothless and no pace whatsoever as our only backup?
Is Brands going to do another Nkounkou, and leave us down to the bare bones again?
Ed Prytherch
34
Posted 16/11/2021 at 22:08:28
I will be surprised if he does not go out on loan to Blackpool for the second half of the season. Last season's loan to them worked out well for both the player and the clubs.
Hugh Jenkins
35
Posted 16/11/2021 at 22:15:47
If he was in the amateur ranks and showed any promise at all, he would be playing regular first-team football.
The Premier League might be faster – but it is no tougher than the amateur leagues.
Young players have to be properly blooded at some time; otherwise, we will still be lending them out as they approach their 30s.
The problem it seems is that, such is the fear of putting your Premier League status at risk, most managers will not take the risk of playing any players, other than players who already have extensive Premier League experience.
We then get to the "chicken and egg" scenario – which is where it seems we are now, at Everton.
Hopefully, Gordon's continued improvement game, by game, can light the way.
Mike Gaynes
36
Posted 16/11/2021 at 23:08:37
Paul #30,
Nkounkou has played in all eight games since joining Standard Liege, starting seven. He has gone the full 90 in his last four games, all at left-back, all draws. No goals or assists, but he's certainly getting lots of minutes.
The club itself is having a miserable season, currently sitting 14th. Haven't won a game since September.
Danny O'Neill
37
Posted 16/11/2021 at 23:14:13
I'd rather we had him at Everton this season, Mike, as he would have got game time here. But that will be a very good experience for him.
Bob Parrington
38
Posted 16/11/2021 at 23:50:38
Good to see him signed on a 3-year deal.
Time we gave him some Premier League match time!
Alan Maher
39
Posted 16/11/2021 at 23:54:31
Just throwing this out there. Simms's path to the first team, so far, is very similar to Coleman's. Fair enough, Seamus played a couple of games for us before going on loan to Blackpool, but they both played roughly the same amount of games for them, returning to us to sign new contracts. Slight difference being, Seamus got 4 years.
However, what should be noted is that Simms is 2 years younger than Coleman returning from Blackpool. If Seamus could play second fiddle to Hibbert for a couple of seasons, surely Simms could follow the same development under Calvert-Lewin?
As Danny O'Neill has touched on, he obviously has an interesting relationship with Rafa, so maybe if he hadn't missed pre-season with injury, he could have seen minutes on the pitch ahead of Dobbin and Rondon, and there wouldn't be speculation of a loan in January.
Kieran Kinsella
40
Posted 17/11/2021 at 01:47:21
Alan Maher,
Good post. I also suspect they're taking into account the injuries he's had the last two seasons and realizing his development has stalled a bit just from being unable to play.
Like Derek Knox, I'd love to see him do well and had high hopes when he moved up to the U23s. Hopefully he can fulfill his destiny and take his father's place alongside the Emperor … waitm wrong thread! But let's hope he's another Coleman or Osman and not another Garbutt or Barlow.
Mike Gaynes
41
Posted 17/11/2021 at 02:09:38
Danny #36, that's true in retrospect, but nobody had any way of knowing that Digne, Mina, Godfrey and Coleman would all be injured or sick.
The kid is still getting way more first-division minutes there than he would have here, and that could pay huge dividends next season.
Danny O'Neill
42
Posted 17/11/2021 at 02:19:52
Agree Mike, it will good for him, which I guess was the plan.
As they say, hindsight is a great thing!!
Alan Maher
43
Posted 17/11/2021 at 02:34:51
I fully agree with you Kieran and would add Cadamarteri to Garbutt or Barlow.
And whilst my initial post advocated towards him staying at the club, here's food for thought.
Andy Cole, Kane, Lukaku (direct comparisons) and Beckham (sure why not) all had loans away from their parent clubs at the age of 20. Don't think anyone could really argue that their careers suffered from the experience. Obviously ToffeeWeb excluded.
Either way, next season should be his goal to fully establish himself as a first teamer.
Danny O'Neill
44
Posted 17/11/2021 at 03:16:21
More recently, you could also add Mason Mount to that list, Alan. 2 seasons on loan, although back at Chelsea when he was 21. Second season on loan was with Derby. But watching him, they must have known he was ready or it was the Lampard connection, who clearly and rightly believed he was. Coaches see more than us fans. Well, more often anyway!!
First loan season for Mount was with Vitesse Arnhem in the Netherlands. To Mike's points about Nkounkou; playing regular competitive football in decent leagues (same region funnily enough) that let you play. And a continental experience can do no harm for a young player's experience and development. Especially places like Holland and Belgium.
Separate one thinking of those 2 leagues, where did the idea of them joining to form a joint Benelux League get to? That actually wouldn't be too bad a standard. Ajax, PSV Eindhoven, Feyernood, Anderlecht, Club Brugge (Dutch spelling) and Standard Liege. Some famous and fairly decent-sized clubs that could form the basis of a pretty good league.
I'm the same, and with hindsight in mind, I'd liked Nkounkou to have stayed this season. But I like to think that the original intent was to manage his career with a view to him coming back to Everton more experienced, fitter and stronger.
I don't think Simms will go out on loan and don't want him to based on what I'm hearing from those who have watched him. Especially given our injury plight and thin squad.
But it just wouldn't surprise me. Either way, he can't go back into the U23s if he's got the potential people are talking about and now that he's had a taste of competitive league football. I suppose we have to let the managers and coaches decide whether he's ready.
Bobby Mallon
45
Posted 17/11/2021 at 09:04:30
Alan 42 and Danny 43.
It's all good and well mentioning those players that went on loan but they all were playing for teams at the top of the Premier League who have won it with massive squads. We do not have that luxury, so his experience should be with us. Well, that's my opinion.
Barry Hesketh
46
Posted 17/11/2021 at 09:30:18
I dislike the loan system completely, if it wasn't in place, many of the good to very good players that are out on loan from clubs similar to Chelsea, would be available for purchase by clubs such as Everton.
It's fine for lower league clubs to loan players from other lower league clubs as it helps them to survive, but no Premier League club should have to bring in players on loan, unless there are exceptional circumstances, and no single Premier League club should be able to loan out more than two or three players during a season.
That sort of rule, might stop Chelsea (and others) from stockpiling players and using other academies to nurture future Chelsea stars and it might also sharpen the focus of clubs like Everton to ensure that there are fewer players seeing their careers flat-lining.

Harry Wallace
47
Posted 17/11/2021 at 12:05:41
Good news. Those who know Under-23 footy, is he good enough for the first team?
Jay Harris
48
Posted 17/11/2021 at 15:07:02
Always played a level above his age group and still scored goals.
Some people suggested it was because he was a big lad for his age and could bully other youngsters but they can't make that claim at Blackpool where he stood out under Neil Critchley who is desperate to get him back there again.
I think Brands should be planning to have Simms, Dobbin and Whitaker developing as a first-team squad front 3 in the next couple of years. Just add them to Gordon and Calvert-Lewin and what a goalscoring threat we would have in the squad.
Alan Maher
49
Posted 17/11/2021 at 15:37:48
Bobby 45 - We actually agree with you, I alluded to it in post 39 and Danny has also stated that he wants him to stay in his post. Just giving an alternative view as we can see the benefits of both options.

Andrew Ellams
50
Posted 17/11/2021 at 16:05:40
Hopefully one season without Nkounkou will go a long way to make him a better player for many more seasons to come.
We haven't benefitted too much from the outgoing loan system. I can't think of anybody recently beyond Seamus who went out and then came back and turned into a top player.
Brian Wilkinson
51
Posted 17/11/2021 at 18:42:32
While we are on the subject of Nkounkou, does anyone else have the same feeling, after watching him play a few times for Everton, that his eventual natural position will be an attacking left-sided midfielder?
He looks so much more dangerous running down the left flank, taking defenders on, and putting in some decent crosses. And he linked up really well when he played alongside Gordon.
Jim Lloyd
52
Posted 17/11/2021 at 22:14:07
I'm chuffed to bits that young Ellis Simms has signed! I can't help thinking that we have a natural goalscorer on our hands and I hope he can make it into the first team like Tony Gordon has.
Brian, I agree with you and I think he's another prospect that after he comes back from his loan period, he'll be in the first-team squad next season.
Danny O'Neill
53
Posted 17/11/2021 at 22:23:57
That's a possible shout Brian; good option for a wingback too if we go 3 at the back.
Certainly in his younger years. As he matures, maybe as he becomes more of an out-and-out left-back. I seem to remember Seamus evolving in a similar manner.
I'm not sure I'll explain this very well, but sometimes with players like this, you lose their effectiveness if you have them too far up as an out-and-out left midfielder in a 4-man midfield or the 3. They don't have as much space to run into. Their game is better coming from a deeper position as an attacking, overlapping full-back or as a wingback.
But I can see what you're saying about him.
Derek Knox
54
Posted 18/11/2021 at 05:39:54
Very good shouts on Nkounkou as a midfielder, maybe it was his youth (but I doubt it) in the times I have seen him play (rare I know) but he did look a great force with a good turn of speed and a good crosser at the end of it.
But his defensive aspects left a lot to be desired. Hope he hasn't got to liking those Belgian Chocolates too much, and is looking forward to returning to us with a genuine claim.
Mike Gaynes
55
Posted 18/11/2021 at 07:23:19
Nkounkou isn't playing midfield at Liege. He started there his first game, but he's been at left-back ever since.
Instinctively, I agree with Danny that his attack capabilities will be enhanced by starting further back, but I'm not basing that on any particular knowledge.
Tommy Carter
56
Posted 18/11/2021 at 08:07:39
The best opportunity he will ever have to make a breakthrough at Everton is almost gone. Our starting striker and supporting forward were both out injured and he didn't get a sniff of an opportunity.
Once Calvert-Lewin is back fit, Simms will not be forcing him out of the team and you have to think that the club will wish to reinforce our forward options with experience and hopefully proven quality either in January or the summer thereafter.
I don't see Simms getting in. The guy is 20 and will be 23 at the conclusion of this contract.
He's signed for the money and unfortunately that, like others before him such as Pennington and Garbutt, tells me all I need to know about his character.
He should've told Everton where to put their contract: "Play me or I'm off in the summer."
He should've backed himself to find a club, possibly in the Championship, where he can go and start playing football.
If he were to leave and start playing, then he could play the best part of 150 games between now and the end of what this Everton contract will be. Instead, he will reach 23 having played less than a tenth of that amount of games at Everton Football Club.
Alan McGuffog
57
Posted 18/11/2021 at 08:39:45
Good point, Tommy, but that assumes Calvert-Lewin will still be with us next summer, doesn't it?
Robert Tressell
58
Posted 18/11/2021 at 09:23:54
We have tied Simms down because if, on loan, he scores goals in the Championship he will be worth at least £10m. Look at Brewster by way of example (albeit he was overvalued).
He will also show enough promise for us to use him in the Premier League – probably as back-up rather than first choice. Nevertheless, that still serves a purpose and avoids stopgaps like Rondon.
Otherwise, he would have left for free... which seems daft.
Bobby Mallon
59
Posted 18/11/2021 at 09:24:25
Tommy @56,
I think I agree wholeheartedly.
Jay Wood
[BRZ]
60
Posted 18/11/2021 at 11:27:53
Tommy @ 56.
I agree with you, the injuries to Calvert-Lewin and Richarlison plus the unfit condition on Rondon in recent weeks represented a wonderful opportunity to see how and if Ellis Simms could step up to the challenge of Premier League football.
However, you give the false impression that the manager completely (maliciously, even..?) overlooked him and 'didn't give him a sniff of an opportunity.'
The truth is a tad more prosaic. Ellis Simms was injured, as in, unfit and unavailable to play.
To add as you do that Simms 'has signed for the money and unfortunately that, like others before him, such as Pennington and Garbutt, tells me all I need to know about his character' is an exceedingly sweeping assumption by you.
Your observation doesn't tell us 'all we need to know about [Ellis Simms's] character'at all. But I rather fancy it gives us a wee insight into your own.
Michael Kenrick
61
Posted 18/11/2021 at 11:57:40
Jay,
I'd agree with most of your comments on Tommy's post. I did have to correct his maths – Simms will be 23½ at the end of his new contract not 24 as Tommy originally wrote.
But you imply Simms wasn't fit enough to be selected by the manager. Which begs the age-old question: So what is he doing on the bench, then?
I hate seeing young players put on for the ridiculous 5 minutes at the end, which seems to be Rafa's way of doing things, but in his case it would at least have given him his senior debut and let them see perhaps how robust his recovery had been.
The unfortunate thing seems to be that he was sat on the bench unused for three games, but then he must have broken down again in training as he has not reappeared there for the last five games.
Let's hope he really is fit now and that Rafa will give him his debut and a decent amount of playing time.
Jay Wood
[BRZ]
62
Posted 18/11/2021 at 12:35:18
Here yer go Michael.
He missed our opening five fixtures in all competitions as he continued his recovery from the injury picked up on loan at Blackpool.
He has appeared as an unused sub on the Everton bench three times all season, all within a single week. Away to Villa on 18 September, the mid-week League Cup defeat to QPR on the 21st then on the 25th, home to Norwich back in the PL.
Rafa commented publicly at the time that he told Ellis explicitly NOT to expect to get on as he wasn't match fit, that he was part of the match day squad for the experience.
Ellis disappeared from the weekly training session videos the club posts, a clear indicator that he was training apart with an injury. He has only reappeared again in the last two weeks, confirming that he picked up a knee injury that excluded him from being selected.
Absolutely nothing to see here. Just unfortunate circumstances and timing as far as Ellis is concerned.
Tommy Carter
63
Posted 18/11/2021 at 18:03:24
Jay. I said it tells me all I need to know.
Which it does. And how I've formed my own opinion. To which I'm entitled. Your opinion is different from mine. Don't attempt to twist my words to suit your own perspective as I never said his actions inform others' opinions.
As for him being injured. He made the squad, ahead in some instances of others who were fit and didn't make the squad. If he was there and completely unavailable to play, then why was he running around the pitch during warm-ups and what on earth was he doing with shin pads on at one point?
As for comparisons with Brewster and any others such as Solanke, the pedigree of Simms at international youth level, I'm afraid, is not comparable to Solanke and Brewster. Solanke also had played a good amount of football within top level Dutch football and Brewster had a very successful loan in a strong Swansea team in the Championship.
Although Simms showed promise on Loan at League Two level last season, again the comparisons do not quite reconcile.

Jay Wood
[BRZ]
64
Posted 18/11/2021 at 18:55:37
Tetchy and touchy as ever when challenged, Tommy.
Nobody is denying you the right to hold or express an opinion. Your opinion is being questioned, to which people are also 'entitled' to do.
I rather think it's you doing the 'twisting of words'.
I was very explicit in quoting your own words verbatim, namely: that Simms 'has signed for the money and unfortunately that, like others before him, such as Pennington and Garbutt, tells me all I need to know about his character' is IMO - as I originally wrote - an exceedingly sweeping assumption by you.
It presumes you know for a fact that:
1) His primary, even singular, motivation to sign a contract extension was money. There are a whole list of alternative reasons as to why he has signed.
2) On such a flimsy presumption you deem yourself a fit and proper judge to determine the character of a man that, beyond knowing he plays for Everton, you know Porthcrawl about.
Your single post @ 56, together with your follow up post @ 63, gives me a far greater body of evidence to offer the opinion I did about you, Tommy, than the exceedingly superficial judgement you make about Ellis Simms, based on... nothing. Nothing at all.
Tommy Carter
65
Posted 18/11/2021 at 20:10:54
Jay. Look at your closing paragraph on Post 60. It says :
'Your observation doesn't tell us 'all we need to know about [Ellis Simms's] character'at all.'
I didn't say that my observation about what his actions make me feel inform the opinion of anybody else. At no point did I say this. This is my own opinion and one that I have not tried to project on anybody else.
My assessment may be superficial to you. But it's my opinion. And my own assessment. The fact he's put pen to paper on this, as I originally stated, tells me everything I need to know about his character.
I'd like to be wrong. Maybe he backs himself and has the ability to make a breakthrough. Or maybe he'll be at the club until his near mid-20s having played hardly any football and his career as good as done.
I expect, as the going rate tends to be around £8-10k a week, that this will be his wage. I believe Pennington was on more like £16k. However, going by the lower rate, this will mean after tax he will trouser the best part of £750k by the time he is 23. Maybe that is the incentive and, in reality, he doesn't really back himself as he knows a League One or Championship club may only go for a 2-year deal on the same money. After which point, if he's failed, he'll never earn another contract like that again.
Jay Wood
[BRZ]
66
Posted 18/11/2021 at 21:12:43
'The fact he's put pen to paper on this, as I originally stated, tells ME [your emphasis] everything I need to know about his character.'
So, a young footballer who is offered a contract extension which he then signs, in your eyes, Tommy, makes him a dubious character, destined for failure as he cruises on easy street.
Got it.
Kieran Kinsella
67
Posted 18/11/2021 at 21:37:02
Tommy,
"He's signed for the money and unfortunately that, like others before him such as Pennington and Garbutt, tells me all I need to know about his character."
I think that's a bit harsh on Pennington. He was in the squad and played a fair few games before he signed a new deal. But the managerial merry-go-round and injuries did for him. He never struck me as a chancer just trying to fill his pockets.
Bobby Mallon
68
Posted 18/11/2021 at 21:47:31
Rafa says he (Simms) needs to work on his movement. If that's so, then Rondon needs a defibrillator.
Tommy Carter
69
Posted 18/11/2021 at 21:53:26
@67 Kieran. Did he ever strike you as a character that would ever become a regular starting player for Everton Football Club?
Do you think he's on £16k a week at Shrewsbury? Pennington must've thought he'd won the lottery when he was offered that deal.
As for Jay @66. Pleased you've finally grasped my very concise and clear original message. Rather than imagining I had told others what I think that they should think.
You obviously feel different to me, Jay. Please be as bold as to outline your opinion on how Simms's contract period with Everton FC will play out.
I've given you mine and for some reason you really don't like it.

Kieran Kinsella
70
Posted 18/11/2021 at 21:57:42
Tommy,
Honestly, for a time, his trajectory reminded me of Richard Dunne and Shane Duffy. Two players who did "make it" in the Premier League – albeit one after he left Everton. But obviously that's not how it turned out for Pennington.
Barry Hesketh
71
Posted 18/11/2021 at 21:58:06
People do realise that Everton FC is a professional football club and those that it employs to play football are paid whatever the club decides it can afford to pay to any particular player.
Likewise, the footballers are professional people who, if they wish, can demand more than the club is prepared to pay and risk being out of contract or they can be sold on for a fee if the club deems it prudent to do so.
Some will accept the terms and conditions that the club offers, because they are happy to be with the club, and signing a new contract gives a certain amount of stability for their career at Everton FC.
I can't for the life of me see how any of the above offers any particular insight into a person's character – good or bad.
Whether offering an extension to a particular player is a wise or foolish move by the club... only time will tell.
Fran Mitchell
72
Posted 18/11/2021 at 22:24:51
Tommy,
You really think a young, 20-year-old striker is signing a contract because he doesn't think he has the ability to make it and will ultimately fail, so he's milking what he can? That's just absurd.
Most of these young lads, like any young footballer, believes they are good enough, believes they are gonna make it. If they didn't, they'd have failed before they even turned 15. Most young players believe they are better than they are.
I'm sure Ellis very much believes that, if given the chance, he'll score 30 a season in the Premier League and will lead England out to World Cup glory in 2026. Because he's a young lad. Don't let your cynicism make you think all young players are just as cynical.
And everything he's done so far wouldn't suggest he shouldn't believe in himself. Everytime he's stepped up, after a small adjustment period, he has managed to find his rhythm and score goals.
But if you think wasting a tiny amount of money (in football terms) on a potential young striker is a waste of money, then that's your issue. Just remember we paid £35 million and probably £100k a week for Iwobi.
Pennington having a long contract has in no way damaged Everton as a football club. Garbutt's failure in no way damaged us in the long term.
And also, always remember that one of the best Premier League strikers of the last 10 years didn't play a game in the Premier League until he was 27 and was playing in lord knows what division when he was 23.
Kieran Kinsella
73
Posted 18/11/2021 at 22:32:05
Brian 51,
Interesting point, only it gives me flashbacks to people saying the same about Garbutt. I remember when he was back as an overage player in the U23s and Unsworth saying they were working on his defending... 10 years after he signed as a defender.
Tommy Carter
74
Posted 18/11/2021 at 22:34:04
Fran. You miss my point. Did it serve Pennington or Everton in any way, other than the player, financially, that he remained at this club for so long? Or Garbutt. Or others.
Or have I got that wrong? Did Everton benefit? Did Pennington go from strength to strength?
Ultimately, were we correct to give him that contract and was he correct in accepting it? (for anything other than financial gain - not a criticism, he has every right to make as much money as he can, good luck to him, and others).
Point being, Simms signing this deal is exactly the same scenario.
Kieran Kinsella
75
Posted 18/11/2021 at 22:56:26
Tommy
I get your point. We have held on to many for far too long when it's obvious they won't make it. But, as Robert points out, he could be someone we sell for a decent fee if he doesn't make it at Everton.
Him apart, would I give new deals to the others coming up in June? No.
Alan Maher
76
Posted 18/11/2021 at 23:52:37
Tommy,
I'd be of the opinion that this was not Simms's best opportunity to breakthrough, as I think he would have been destined to fail if he had played.
When returning from injury, it takes regular pros roughly 3/4/5 games to get match fit and up to the tempo and rigors of the Premier League. Simms with absolutely no Premier League experience and having missed the most important part of any player's season, pre-season, would have been expected to lead the line and more importantly score goals against seasoned international professionals regardless of the duration of time he'd spend on the pitch.
Spurs, Man Utd, Wolves, West Ham and even Watford, all boast international or former internationals playing in the centre of their defence. What type of opportunity would it really have been for a Premier League rank amateur returning from injury? Bearing in mind Rondon didn't train for the roughly the same amount of time, but more importantly wasn't injured and still looks well off the pace.
I also think there is more to being part of the matchday squad than getting minutes on the pitch for a young player trying to make the breakthrough. Seeing how the players he aspires to be, prepare, focus, conduct themselves and simply just approach games is all part of his development. Hearing Rafa barking instructions from the sideline whilst seeing the players reactions, would surely give him greater clarity of the expectations of him when he finally does get onto the pitch.
Tommy Carter
77
Posted 19/11/2021 at 06:02:37
Hi Alan @76.
So do you think, once Calvert-Lewin is fit, Richarlison remains fit and Rondon is available to play, that Simms will get an opportunity?
And that the availability of him being able to do that is more prevalent than when Calvert-Lewin, Richarlison were injured and Rondon had not long landed on English soil?
You may speculate about how injured he was to suit your own point. But the fact remains that he was in the matchday squad a number of times and therefore available to be selected.
Brian Murray
78
Posted 19/11/2021 at 06:07:38
Tommy.
If Simms is yet again not trusted before Rondon, then it says all we need to know about Benitez. He can't or won't get past his pride or ego to realise the fella he bought 3 times is past it and he doesn't trust the youth.
Same with Onyango and maybe even Dobbin and Warrington – can't be any worse than the perennial failures like Gomes, Sigurdsson and Davies. (Sorry, Tom, but time to be ruthless!)
Mike Gaynes
79
Posted 19/11/2021 at 06:37:40
Brian, have you ever seen Simms play? Or Onyango or Dobbin or Warrington? I never have, but you're a lot closer than I am.
Why do you think they're better than what we have on the pitch right now? What have you seen that makes you believe Benitez should choose them?
Yes, it might say something about Benitez that he keeps rolling Rondon out there. But it might also say something about who else he has available.
And by the way, one of the "perennial failures" you mentioned put up 31 goals and 25 assists in 156 appearances. Maybe not spectacular, but I don't think he belongs in the same category with the other two you mentioned.
Robert Tressell
80
Posted 19/11/2021 at 07:23:35
Totally agree Alan #76.
It's all very well saying our U23s couldn't be worse than some disappointing first teamers, but actually they could very much be worse.
Davies, were he to drop back to the U23s now, would probably run the show at that level. It's really not a great standard of football.
Blackpool was a big step up for Simms and he worked hard and got into a good rythym by the end of his loan. The Premier League is a big step up from third tier football.
As much as I like some of these U23 players, they've all been completely outshone by Branthwaite when I've seen them play.
Bobby Mallon
81
Posted 19/11/2021 at 08:13:32
Mike Gaynes @79.
That's the point; not many people have seen these lads play but they won't if the manager is not brave enough to play them. I would never put a young player on the bench in the Premier League just for the experience. It just takes away a starting place for a player who could influence a game.
Rafa has instructions to not get relegated and that's the reason why he won't start any you named. You explain to me how it was okay for Rafa to start a player who has been injured (proper serious career threatening injuries) for 2 years. Hadn't played any competitive games in that time – not a single Under-23 game. But it's okay to not to start Simms because of injury. Rafa is taking the piss with his talking.
Bobby Mallon
82
Posted 19/11/2021 at 08:17:46
Brian Murray @78,
I have to disagree with you on Sigurdsson. He's been an integral part of our team since he signed and I suspect his goals have kept us closer to the top end of the table over the last few seasons.
Let's be honest: he must be our top scoring midfielder. All his haters can say whatever they like but they can't take his goal count away.
Bobby Mallon
83
Posted 19/11/2021 at 08:19:28
Alun @76,
Explain to us all why Rafa played Gbamin, please.
Tommy Carter
85
Posted 19/11/2021 at 09:01:35
The 'can't be any worse than…' call. Completely baseless and nonsense. Yea Rondon, Gomes and Davies have performed poorly, extremely poorly on some occasions.
But if you don't think there are players who 'can't be any worse' then you mustn't have been watching Everton Football Club for very long.
As hopeless as Rondon appears to be, I have seen strikers just as bad as Rondon play for this club, some even have been academy prospects just like Simms.
Madar, Spencer, Branch, Jevons, Chadwick, Angell, Barlow, Bakayoko all spring to mind immediately.
Dave Williams
86
Posted 19/11/2021 at 10:24:58
Some ridiculous stuff above about Simms. Of course he has signed for the money – at the end of the day, this is his job, his career, and it will be over in 10 or 12 years time, if not sooner. That said, he is a young lad trying to break through, not some mercenary looking for a final payday.
He no doubt believes in himself and let's hope he does because as a striker if he doesn't then he is in trouble. He looks a natural scorer to me and let's hope he earns his chance to play for the first team.
I don't see how anyone in their right mind can expect him to sign his contract and not be paid?
Steve Shave
87
Posted 19/11/2021 at 10:39:10
Completely agree with you, Robert @80 ,on Branthwaite, I think we should sell Holgate and bring him through, giving him minutes. I think we have a player there but we just don't seem to take those risks.
Agree with comments about us not trying to give Simms minutes whilst not fit, it would damage his confidence. Now he has signed and is increasing fitness, we should be trying to give him game time.
I do not agree Rondon would offer more, not from what I've seen! Give the kids a chance! If we are skint, then Gordon, Simms and Branthwaite should be around the first team as much as possible.
Dave Abrahams
88
Posted 19/11/2021 at 10:44:51
Robert (80),
I think it would be wiser, for a lot of fans, to heed your post about putting young untried lads straight into the first team and expecting them to improve the team, especially now that the team has three experienced players missing.
Jay Wood
[BRZ]
89
Posted 19/11/2021 at 11:43:33
Seriously Tommy, I blame t'net and social media.
For this notion you repeatedly project that all opinions are valid and cannot be deemed 'wrong'.
No they aren't. Yes they can.
People post every second on social media believing their opinions are watertight and sacrosanct, taking umbrage at any challenge to them as you frequently do when others question your own expressed opinions.
All your comments in this thread are founded on one very flawed premise. Namely:
'Ellis Simms has signed a job contract with Everton. This is proof positive that he is a money-grabbing mercenary of flawed character, destined to failure.'
Now if you had based your opinion on what you've seen of his football ability, such an observation might have some validity. But you don't. You call into question his very character and predict his future path in football based on…a young apprentice signing a contract extension.
Putting aside your all-knowing omniscience and all-seeing prescience, such a superficial judgement call would be as well-founded if you had said he is of flawed character 'cos he buttons his shirt from bottom to top instead of vice-versa, or he always puts his right shoe on before his left shoe'.
Nonsensical non-sequiturs.
As such, your opinion is invalid because you have failed to validate it.
You have not been explicit at all in clarifying the 'reasoning' you applied to conclude that he is a money-grabbing mercenary, destined for failure.
As for your other implication – that the manager has failed to give him 'a sniff of a chance' – again, all the evidence is there as to why this has been the case.
The season started 15 weeks ago. Simms missed the opening 7 weeks of the season recovering from the injury picked up at Blackpool. He was selected on the bench for 3 games in one single week in mid-September. He subsequently picked up another injury which means he again has been unavailable for selection for the last 7 weeks. Only in the last two weeks has he reappeared in the team training videos the club posts each week.
As for your invitation to me to outline my opinion on how Simms's contract with Everton will play out, why on earth would I want to do that? His signing of his extended contract doesn't angst me as it evidently does you and I make no claims about possessing the omniscient and prescience powers you presume to have.
I'll stand by my opinion about your flawed original premise and opinion, ta very much, Tommy.
It is trite. Superficial. Absurd.
Tommy Carter
90
Posted 19/11/2021 at 11:46:51
@ Jay,
Can you answer a question then, Jay:
Was the £16k a week contract that Matthew Pennington was offered and signed of any benefit to Everton Football Club or the career of Matthew Pennington?
Brian Murray
91
Posted 19/11/2021 at 12:04:32
Bobby Mallon @82.
Sigurdsson may be the best of an over-priced over-hyped bunch. For what we paid, he's been very hit and miss and dictated our very slow (and unfit) style of play. The modern game has no room for his type – especially the Top 4, where we want to be. Just an opinion. Coyb
Jay Wood
[BRZ]
92
Posted 19/11/2021 at 12:09:41
No Tommy. I won't.
It has nothing - absolutely ZERO - to do with the original flawed premise you offer, viz-a-viz that Ellis Simms signing a contract extension is proof positive in your eyes of a dubious character, a money-grabbing mercernary, lacking ambition, destined for failure.
Answer me this question, Tommy.
Is your premise intended to be applied universally? To all people? In all walks of life? That if you sign a work contract you are all of the above that you charge Ellis Simms with?
If not, why do you apply such a sweeping superficial judgement to the 20-year-old Ellis Simms alone?
Tommy Carter
93
Posted 19/11/2021 at 12:32:33
If you won't answer that question Jay.
Will you answer this one?
How do you envisage the remainder of his contracted time at Everton going? Will he be a success?
Is it a wise investment?
Jay Wood
[BRZ]
94
Posted 19/11/2021 at 13:09:17
Again, no Tommy.
I won't facilitate your face-saving attempts to deflect from the single flawed premise I (and others) have challenged and the unrelated 'connections' which you continue to chase in the labyrinth of the rabbit hole you have fallen into.
Robert Tressell
95
Posted 19/11/2021 at 13:13:13
Tommy #94. I can answer that as I see it:
- Likely to go on loan in January to Championship.
- If he scores goals or looks the part, then there's the option to sell or retain a 20- or 21-year-old.
- If he does not score goals or look the part, then he'll be on loan again to get more time to acclimatise to that level.
- If he scores goals and looks the part, we have the option to sell or retain a 21- or 22-year-old.
- If he flops, then it's back on loan or sale at a modest fee
This gives us a decent chance of having a good squad-level striker at least or a decent fee.
The alternative sees him leaving for nothing at the end of the season – which seems daft if it soon transpires this improving upward trajectory player who the club have been developing carefully since we brought him in from Man City is good enough for the Premier League.
Danny O'Neill
96
Posted 19/11/2021 at 13:17:04
Not sure why the "signed for the money" accusations surfaced.
Banker gets offered promotion to Director and accepts new offer. For the money or the career progression? Probably both. Don't we and wouldn't we all do the same in our walks of life?
He's a professional footballer who has just been offered promotion, career progression and, yes, a pay rise. Why wouldn't he accept it?
But I doubt very much he has just signed for the money. He will be motivated to challenge and play alongside Calvert-Lewin. We should be enthused at having 2 still relatively young strikers with potential to get better and learn from each other.
Back to the football. He'll get his chance, but I'd wager most on here scrambling for him to play haven't seen him play. I've seen him play once and there wasn't enough to make a judgement as it was a poor quality mini-derby, so I don't know enough about him, but enough who have rate him. Totally different level though.
Maybe the manager is managing the kid's career. I understand that a lot are frustrated with Rondon and would take anything over him, including an untried player. The manager doesn't have to manage his career as it's pretty much done, so why ruin a young player just starting out by playing him not fully fit? Like I say, bigger picture, he's going to get his chance.
Tommy Carter
97
Posted 19/11/2021 at 15:37:50
Just simple questions, Jay. I can't see why you won't answer them.
Tommy Carter
98
Posted 19/11/2021 at 15:44:53
@ Robert. A lot of ifs and buts there Robert.
Thank you for answering the question though.
He hasn't played much football for a guy who'll be 21 in January.
He needs a productive loan move in January that's for sure as he certainly won't be playing any games for Everton.
If that doesn't happen for him, or he has a largely unproductive loan spell like Anthony Gordon last season, then what happens then.
The loan pathways system is not always assured success.
Simms should've left the club permanently in January, and gone to play football somewhere.
All the indicators are there for me of another 'let's just keep him just in case'. It's abysmal talent management by Everton. Really insecure and a complete lack of conviction.
As stated, let him go and build in buy-back options into the deal. It's what better and more successful clubs than ours do.
Tommy Carter
99
Posted 19/11/2021 at 15:55:37
@96 Danny
It probably originated with me but I don't think it's as crass as that wording sounds.
I'm disappointed in another young player who's favoured a mid-term lucrative contract with Everton with absolutely no guarantees of ever getting first-team football. Ahead of him moving, probably for a lesser wage or lesser years, to a team in the bottom half of the Championship or any League One team for guaranteed first-team football.
Don Alexander
100
Posted 19/11/2021 at 16:03:07
Tommy, I don't know your age but you seem to share the opinion I and others of my age (mid 60's) often touch on, and that's the lavish wealth devolved on young men (and mere boys) for next to nothing of interest to the paying fan.
I recall listening to Stuart "Psycho" Pearce a few years ago when he blew a fuse talking about grown men being employed to carry team and personal kit for teenagers getting onto a club coach for an away game. He called it a very poor preparation for life, never mind football, and he was right.
Too much, too soon, too easy seems to engulf many young players, as the admirable Tony Abrahams alludes to, so I can definitely see where you're coming from, and why.
Other fans seek some sort of self-perceived superiority for their own opinions of course, even if they are trite, superficial and absurd. Such is life on a forum built on opinion.
All the best.
Robert Tressell
101
Posted 19/11/2021 at 16:07:42
There has been total mismanagement of the U23s in the past and long contracts dished out unnecessarily, Tommy. But I actually think we've managed Simms's development extremely well. Really hope he kicks on from here once recovered from injury.
I'd like to see more focus on integrating Gordon and Branthwaite into the first team – and maybe we're just about there with the former. But Branthwaite should be prioritised now ahead of Holgate.
It would be a very good result if Onyango, Dobbin and maybe Warrington are also getting first-team minutes by the end of the season too.
Mike Gaynes
102
Posted 19/11/2021 at 16:11:14
Tommy, it's been a day and a half, and nobody has agreed with your premise that Simms signing a new contract "for the money" shows a flawed character. Maybe it's time to let this one go.
Alan #76 and Robert #80, good common sense.
And Robert #101, agreed re Branthwaite and Holgate.
Bobby #81, I highly doubt that "Rafa has instructions to not get relegated" -- that would be a really bizarre thing to tell a manager before the season started -- or that he lacks bravery for that reason. He wants to win games, and he's going to play the players he thinks give him the best chance to do that. Which are not necessarily the players you or I think will do that.
As to your question at #83, Gbamin was a proven, professional player before the injuries, and he has spent the past two years working to come back. Rafa gave him a start because he thought he was ready, and because he really did not have many other options. It didn't go well, but I doubt he will write Gbamin off.
Tommy Carter
103
Posted 19/11/2021 at 16:17:30
@ Don.
I agree Don. But the precedent has been set unfortunately and that's the reality of where we are now.
There will be exceptional cases with exceptional teenagers who can have the ability to demand what they want. Rooney at 16 being an obvious example.
But the club seem terrified on losing players for free who go on to become something somewhere else.
Well that's football. Get over it. If a player over the age of 19 has no real prospect of challenging for a first team place within 12 months then move them on. For the sake of the players. They need to go and play football.
As by the time they are 22-24 and leaving everton, they have played hardly any football. Whereas players emerging up the leagues with 150 games + under their belt are far more likely to go on and have a successful career.
I can't think of many, if any academy produced player that has left the club in the last 15 years who has gone on to any kind of level where he'd be considered an improvement on any of our starting XIs in that time.
Dennis Stevens
104
Posted 19/11/2021 at 17:02:35
Tommy, you may be entirely right, for all I know. However, it's not obvious that you are. For all any of us know, the lad may have been motivated to sign up out of a sense of loyalty to the club (remember when that was a thing?) and/or faith in his own ability to make it at a club in the top flight, as DCL has done.
Michael Kenrick
105
Posted 19/11/2021 at 17:05:57
I'm not quite sure what you really want here, Tommy? Simms is on a very good trajectory (injuries notwithstanding); he has come up at a decent rate of progression through the Academy levels (since he joined us after being released by Man City), and is on the verge of making his breakthrough in the Premier League for Everton.
For that, he needs to be under a decent contract. You expected him to turn it down, so he could negotiate with another club in January and leave then (for a fee that Everton would have to agree) or leave in the summer for nothing?
I'm sorry but he would have been utterly stupid to do that at this critical stage of his career. The alternative motivations you invoke are of course complete nonsense, as Jay has amply demonstrated.
You say "the club seem terrified of losing players for free who go on to become something somewhere else." Of course it's not an ideal outcome... but "terrified"??? Have you any idea of the number of young players the club releases at the end of each season because they are not good enough?
The proof of that approach, ironically is to be found in your last paragraph:
"I can't think of many, if any academy produced player that has left the club in the last 15 years who has gone on to any kind of level where he'd be considered an improvement on any of our starting XIs in that time."
Of course you can't. If you could, it would be an additional bullet to shoot at the non-performing Academy. But at least in this respect, they appear to be doing their job... or are they?
The whole Academy argument hinges on a belief that (a) we are getting players in who are good enough to become Premier League superstars; but (b) the Academy is failing in its job of developing those players to become Premier League superstars because none are being produced.
If you believe all the players who come in have the potential, then all the players we release are proof of the Academy's failure.
Whereas a player like Simms – who appears to be on the verge of getting playing time in the Premier League – must count in that case as one of the Academy's very, very rare successes.
And yet you expected him to turn down his new contract?
Bill Gall
106
Posted 19/11/2021 at 17:08:41
We would all like to see young players given a chance to prove themselves in the first team. We have the problem that, with the constant changing of managers, every time we get a new one in, he has to start from scratch, and in any new environment they rely on the experienced players and go into the market for players they believe can improve the team. It takes a season for a new manager to see what is available with younger players; looking good at a lower level does not mean they can be good in the first team.
This season, the manager is in a position, through a lack of funds, to start looking at some of the younger players, and as Simms has been injured for most of the time, they have offered him a new contract to keep him at the club that gives the manager time to see him more in more competitive games.
All clubs give young players contracts as most are not outstanding at 16 or 17 years old but develop later, both in growth and in fitness. I think it is unfair criticizing young players until they have been given a chance to prove themselves at a higher level.
Ed Prytherch
109
Posted 19/11/2021 at 17:24:52
Ellis Simms had a very good experience at Blackpool last season. Critchley is a good coach, they worked well together and Ellis became a better footballer.
There is always a risk when a young player goes out on loan that he will not fit in with the coach, see Anthony Gordon's experience at Preston North End or Virginia's at Reading. That risk does not exist if Ellis goes back to Blackpool. The only way that Critchley leaves is if he is head-hunted by a Premier League team.
I hope that Ellis goes back to the Seasiders for the second half of the season. He will be well coached and will have to compete with Lavery and Yates for the starting position and he may have the fun of playing in a team that is in a promotion race again.
Kieran Kinsella
110
Posted 19/11/2021 at 17:31:46
Danny 96,
"Banker gets offered promotion to Director and accepts new offer. For the money or the career progression? Probably both. Don't we and wouldn't we all do the same in our walks of life?"
That's my profession and to Tommy's point, I have frequently quit my job when offered promotions and taken lesser paying, worse jobs at other institutions. It's a recipe for success... (?)
Tommy Carter
111
Posted 19/11/2021 at 18:48:49
Kieran it's a poor analogy I'm afraid and you miss my point entirely.
Is a £500k a year directorship for 3 years, in a role where you'll gain no experience, skills or reputation enhancement. You become surplus to requirements and 3 years in you're gone. You have no reputation because you've achieved nothing. Meanwhile other directors from lesser companies are being headhunted - for the role you've just had the bullet from.
You step into joblessness with a 3 year black hole in your CV.
Or a lesser company gives you £300k a year, but for 2 years. However, with an exciting project that you will lead on and you'll be the figurehead of the organisation. You'll gain invaluable and unenviable experience testing your abilities regularly and in varied and diverse environments.
After 2 years you've shown your industry what you can do. You're proven. Your current employer wishes to incentivise you with better and more long term contracts. They are also in competition with other better organisations who also want to offer you these things.
Just trying to adjust your analogy. I'm not a banker, you obviously are.
Michael Kenrick
112
Posted 19/11/2021 at 19:00:08
Jay @62,
Thanks for your interpretation of the progression (or lack of it) for Simms so far this season.
You say there was talk of a knee injury that kept him out until the last 2 weeks. I don't see that anywhere but something seems to have cut short his stints on the bench, stopping him from soaking up that first-team atmosphere and savouring the lampost impressions provided Rondon since the end of September. Rather ironic that "movement" is what Rafa feels Simms still needs to work on before he can be risked, don't you think?
What I do see reference to is an ankle injury. Is that what's been keeping him out?
Jay Wood
[BRZ]
113
Posted 19/11/2021 at 19:40:51
Tommy @ 97. This:
'Just simple questions, Jay. I can't see why you won't answer them.'
You are a very inattentive reader, Tommy.
I acknowledged your questions in my posts @ 92 and 94, explaining why I wouldn't answer them.
You are the one who has totally failed to answer, or even acknowledge, the very incisive questions I put to you @ 94.
Those questions are pertinent to the discussion (though I can understand why you might find them impertinent and so avoid them). Your questions are not.
Tommy Carter
115
Posted 19/11/2021 at 20:36:34
Jay,
I think my questions to you are pertinent. And yours to me, not.
Barry Rathbone
116
Posted 19/11/2021 at 20:40:04
Tommy Carter,
I think you're right in just about everything you say.
No-one knows for sure and, if Calvert-Lewin leaves, he [Simms] might morph into a world-beater... but he's been here since 2017 and his path has the familiar ring of others coining in whilst contributing very little. I, like others (despite someone claiming otherwise) share your doubts.
Jay Wood
[BRZ]
117
Posted 19/11/2021 at 21:01:21
That's fine, Tommy.
It's no surprise to me that you are unwilling, unable (or both) to validate the false premise your opinion is based upon that this entire exchange has been about.
Barry Hesketh
119
Posted 19/11/2021 at 21:32:51
Nobody really knows how a player will perform in the future, unless they are world-class and at the top of their game,
Dominic Calvert-Lewin may not be able to improve his game or hold down a regular place at a Champions League club if he was ever to leave Everton. But here right now, he is the biggest miss to our team, and the results for Everton since he has been out, prove that to be the case.
DCL is far from perfect, in fact, he's fairly ordinary in some aspects of his game, but to say the lad has contributed very little to Everton FC is more than a tad disingenuous.

Alan Maher
121
Posted 20/11/2021 at 04:05:57
Hi @ Tommy 77
I actually do think Simms will have a better opportunity when all the lads are fit, but not this season, next season. But you'll have to bear with me as I explain.
I refer you to my post 39 re Coleman and will use that analogy once again. I see the time that Simms spent at Blackpool last season equivalent to the time Seamus played for Sligo as the leagues are of the same standard. Only difference being, Seamus played a staggering 46 games more than Simms before moving to Everton.
At this point Seamus, is further on in his development to being a pro and after playing a handful of games for the first team, he was shipped out on loan to Blackpool in the Championship, with the rest writing itself.
If Simms was to go back on loan to Blackpool in the Championship for the remainder of this season I think it could be argued he would be better equipped to tackle a fully fit DCL and the lads than he was this season returning from injury.
Which now leads to a couple of questions of my own. Can you name 3 strikers (ideally first ones that spring straight to mind) who arrived to the Premier League from the third tier and immediately scored goals? That would be a good gauge as to the standard Simms should be playing at right now, whilst also giving people on here a clear picture of the level you currently think Simms is at to be available from the bench.
Lastly, would you also class Seamus as a money grabbing mercenary, as he did pretty much the exact same thing as Simms?
Tommy Carter
122
Posted 20/11/2021 at 05:57:25
@ Alan
You point out yourself that Seamus had played a lot of games in the league of Ireland before getting his move to England.
Had Simms played an equivalent amount of games by the time he was 20 then I think more accurate comparisons could be drawn.
You can apply this with the likes of:
Pennington, Garbutt, Feeney, Foulds, Sambou, Williams, Charsley, Dyson, Grant, McAleny, Duffus who've all left the club in the last 5 years – in their 20s, some in their mid-20s.
And for this group, including Simms they'd hardly played a first-team competitive game at any level and in numerous cases, by the age of 20 they hadn't played a single game, not one, at and competitive first team level.
Now I'm not saying that every player should be a superstar by the age of 20, but I'd be interested to see the statistics on international footballers (which is the level we want in our first team) who by the age of 20 have played less than 10 first-team football games at any level. My suspicion is that it would be a very low percentage.
Yet here's Everton thinking that they can create a system that operates outside of this, regularly handing contracts to players that will take them into their mid-20s.
They're then released into the Football League wilderness with a few loan spells at various levels under their belt for experience.
Of those players listed above, it's no surprise to me that none of them really seem to be having the career that the people who handed these contracts out at Everton must have envisaged them having at the point they offered the contract.
Jay and others obviously see merit in attempting to develop players with absolutely no first-team football experience from ages 20-24 with no prospect of playing for the Everton first-team any time soon. Good luck to you all.
@105 Michael. - terrified. I remember many people on TW being up in arms at losing Antonee Robinson and Ademola Lookman. Now – whilst these are 2 of the more successful products that we have developed in recent years – I supported their moving on, and I still believe we were absolutely right to sell. As I supported the loan of Niels Nkounkou this season when many on TW were dead against it.
The point being – these players need to go and play football in order to develop.
Barry Rathbone
123
Posted 20/11/2021 at 10:35:38
Brian Williams 118 and Kieran Kinsella 120
HELLO!! The "he" referred to is. Ellis, the subject of the discussion.
🤣🤣🤣🤣🤣🤣🤣🤣🤣

Brian Williams
124
Posted 20/11/2021 at 10:40:32
Barry#123
Sorry Barry misunderstood your poorly constructed sentences. :-)
Brent Stephens
125
Posted 20/11/2021 at 11:15:57
He he!
Barry Rathbone
126
Posted 20/11/2021 at 11:42:07
Brian Williams 124
No probs, so glad to hear it wasn't your poorly constructed powers of comprehension.
Alan Maher
127
Posted 20/11/2021 at 11:46:26
Tommy, bizzare as this may sound, we are actually in agreement. Simms needs more games. I think he is not ready for the Premier League just yet whereas, going by my understanding of your posts, you think he is ready for the first team.
My constant reference to Seamus is because it is relevant. What you've overlooked is that he is two years Simms senior, so should have played more games.
But by any chance do you have answers to the two questions in my previous post?
Jay Wood
[BRZ]
128
Posted 20/11/2021 at 12:03:24
Focus, Tommy. Focus.
This:
'Jay and others obviously see merit in attempting to develop players with absolutely no first-team football experience from ages 20-24 with no prospect of playing for the Everton first-team any time soon. Good luck to you all.'
Pure invention on your part. I have never made such an observation in my entire posting history on TW, never mind in this thread.
I and others have questioned the 'rational' in your original post way back @ 56, specifically one single paragraph:
'He's signed for the money and unfortunately that, like others before him such as Pennington and Garbutt, tells me all I need to know about his character.'
A trite, superficial and absurd judgement call.
You have steadfastly refused to engage with and respond to the many posts and posters who have questioned your 'rational'.
Rather, subsequently you have tried to baffle with babble, deflecting rather than reflecting on the challenges put to you, à la Vicky Pollard's 'yeah but, no but' rebuttals, going off on tangents which formed no part of your original post which is the basis of the criticism you are receiving.
So much bluster and blag, Tommy.
Rob Halligan
129
Posted 20/11/2021 at 12:54:34
Not wanting to get involved in this discussion, but if Simms signed a new contract purely for the money, then in around 18 months time, Newcastle will be overloaded with players, as any new signings they make WILL be signing for them purely for the money, because it certainly won't be to win trophies.
Danny O'Neill
130
Posted 20/11/2021 at 12:55:15
Barry @119. I too would go with that about Dominic and not in the critical sense. I also don't see where else he can improve significantly.
He's improved his finishing. He's improved his centre-forward's positional awareness (no more chasing corner flags). He's already strong in the air. He's already an athlete with an immense engine and reasonably quick.
What now? Maybe further improvement in his goal tally? Jump higher, run quicker? I doubt he'll ever develop the longer-range strikes the likes of Kane has in his back pocket, so I think we're fast approaching the finished Calvert-Lewin article. And that's not meant to be a negative. I can't wait to have him back. I hope Benitez was playing derby poker in his press conference yesterday.
Tommy Carter
131
Posted 20/11/2021 at 14:38:48
Going to take a back seat I think on TW. Comment holiday from me.
I enjoy generating a dialogue on here with quite a few other contributors, where a sensible and reasoned interaction is the aim for those involved.
However Jay seems to spend a lot of time dissecting my contributions and instead of having opinions or contributions of his own, limits himself to acute criticism of each point I make.
I enjoy being challenged with other views and perspectives. It helps me to form my own and enables me to think differently to what my natural thought pattern bings me to.
I take exception to being personally attacked.
Ciao for now. COYB
Brian Williams
132
Posted 20/11/2021 at 17:04:47
Barry #126.
You know I'm thick as fuck so you have to make it simple. 😉
Michael Kenrick
133
Posted 20/11/2021 at 17:22:04
Tommy,
You weren't "personally attacked". You were engaged by various posters after making a completely unjustified inference that Jay nailed you on.
There may be some merit to your underlying contention that young up-and-coming players need to be – and should be – playing football at the right levels. But the way you went about it with that ridiculous claim about Simms's character lost you all credibility.
A pity that you steadfastly refuse to re-examine your own statements and either justify or retract them. Instead, you kept throwing in other deflecting rubbish that only made it worse.
Enjoy your sabbatical.
Barry Rathbone
135
Posted 20/11/2021 at 18:06:04
Michael Kenrick 133
"after making a completely unjustified inference that Jay nailed you on."
Utter bilge.
Unless you have clairvoyant powers to see how this pans out you cannot know if Tommy's opinion is right or wrong. He said it was his opinion laying out plainly he wasn't attempting to convert others. Not sure if the Brazilian guy is a relative of yours you do seem to indulge his tedious pestering.
Michael Kenrick
136
Posted 20/11/2021 at 18:25:11
Barry, I think you need a reminder:
Tommy @56 made this totally unjustifiable claim about Simms and his motives in signing his new Everton contract:
He's signed for the money and unfortunately that, like others before him such as Pennington and Garbutt, tells me all I need to know about his character.
See above for the rebuttal of this ridiculous claim.
Note: nothing to do with how his career pans out. That is not the issue here. It is about what Tommy infers regarding his character from the fact that he signed the contract.
Barry Rathbone
137
Posted 20/11/2021 at 18:59:58
Michael Kenrick 136
Absolute nonsense only the future will decide if Tommy's opinion is correct.
If Ellis emulates those mentioned in the quote then his assertion is justified if not he isn't - only runes with impeccable predictive qualities can say at this juncture. But if you have a bag of 'em what are next weeks lottery numbers?
Sanctimonious crowing about a situation yet to play out is patently ludicrous.
Michael Kenrick
138
Posted 20/11/2021 at 19:13:54
Sorry Barry, but I completely disagree. It's not about the future. Tommy gave his interpretation of a past event: Simms signing his contract.
We are talking about a player signing a contract offered to him by his club, and what Tommy claims that says about his character. Focus on that. Respond to that.
It's the claim that he signed for money and the inference that his intention is to follow in the footsteps of Pennington and Garbutt, and that somehow reflects his character. That is what is absolute nonsense from Tommy – and from you if you agree with him.
Again, see if you can focus. It's about the inferred motivations for signing his contract.
There's no prediction about anything panning out. It's about what the act of signing his contract says about his character.
See if you can focus on that.
Barry Rathbone
139
Posted 20/11/2021 at 20:37:55
Michael 138
For entertainment I'll play despite your odd analysis.
If Tommy is PRESENTLY wrong how do you know?
Are you privy to the Ellis inner sanctum and can conclusively report his thoughts and motivation? No you can't you are opining like Tommy
For all you know he rang his uncle Horatio whilst floating toy ships made from fifty quid notes in his customised spa and jacuzzi laughing down the phone "i'm hanging around here no matter what it's top dollar and I'm not fannying around the lower leagues" or similar verbiage.
Brian Williams
140
Posted 20/11/2021 at 21:20:33
I don't think the argument is about Tommy being right or wrong, it's about the fact that he made a statement (rather than opining) basically besmirching the character of Simms who, unless I'm totally wrong, he doesn't know from Adam.
Was it unreasonable to make the assumption he made without any concrete evidence? Most certainly.
Are you gonna get pulled on TW by making unsubstantiated detrimental (to the player) statements? Every time, I reckon.
Don Alexander
141
Posted 20/11/2021 at 21:40:11
When a Toffee like Tommy is placed in the TW stocks by pendants far and wide who seize on their own interpretation of his words as, erm, factual irreversible proof of their own hypothesis, it seems a little sad to me.
I put it down to the languor of the International Break...... or Donald Trump.
Kieran Kinsella
142
Posted 20/11/2021 at 21:43:18
Don,
Would it be pedantic to point out "pendants"?
Danny O'Neill
144
Posted 20/11/2021 at 21:48:46
Been watching this one unfold and I was going to stay of it but Michael and now Brian are right in what the response to Tommy was relating to.
"Tommy-Gate" wasn't to do with forecasts or predictions and opinions on whether the player will make it or not.
It was his insinuation that the young lad had signed for the money. Therefore a perceived slur on Simms's motives and character before he's kicked a senior ball for the club he has committed the next 3 years of his professional career to.
Now you can argue that itself is an opinion. But many found it harsh on the player and totally unfounded.
On the spirit of impartiality, a case for the defence.
Based on Tommy's response to me when I questioned why money had come into the conversation (not knowing who had introduced it, I just saw the debate flowing back and forward and put a generic post without looking).
I think Tommy's frustration is broader with the amount of money young players are on now. Fair point and that will resonate with many. My opinion: that's just the game now, like it or not. And we can't complain too much or we'd collectively be hypocritical. Us fans keep paying for highly priced tickets, expensive merchandise and Sky TV / BT Sports subscriptions that feed the monster.
If you, we, I are truly repulsed by it, there's a simple way to vote.
Barry Rathbone
146
Posted 20/11/2021 at 22:22:41
Brian Williams @140,
I'm sorry but Tommy being right or wrong has become the crux of the matter. Triumphalism is a nasty little trait, especially given the fact no-one knows the Ellis mindset now or how his signing will pan out in the future. It is indisputably wrong to claim the Tomster as wrong in such circumstances.
Furthermore, he gave an opinion – just as you have with "unsubstantiated detrimental". Now, you may be right, Ellis may be in a heap in the corner as we speak, but it's distinctly possible Ellis does not frequent TW or give a shit about fan opinion.
It doesn't make you definitively wrong but, given you might be wrong, should we write tedious overlong missives about it, then gloat when you piss off?
I think not.
Kieran Kinsella
147
Posted 20/11/2021 at 22:29:53
Can we not just get in contact with the club and say "Concerns have been raised about Simms's character" and pose a list of questions so the concerns can be addressed? Invite him on the Live Forum for a Q&A?
Don Alexander
148
Posted 20/11/2021 at 22:33:08
Keiran, I hang my head in shame!!
Nicholas Ryan
149
Posted 20/11/2021 at 22:35:56
On the subject of strikers... given recent events, can someone please tell me, on which planet Rondon is considered to be a better bet than Josh King?!!
Kieran Kinsella
150
Posted 20/11/2021 at 22:38:17
Nicholas
Maybe Mercury? Mars is too close for a decent telescope to miss the truth.
Brent Stephens
151
Posted 20/11/2021 at 22:41:52
Don #148,
"Keiran, I hang my head in shame!!"
"Keiran"?!
Brian Williams
152
Posted 20/11/2021 at 23:03:14
Barry #146.
Barry, you're talking about knowing how things will pan out in the future. That's nowt to do with the crux of the matter.
What was said was that "Simms signing a contract tells me all I need to know about him." It was certainly obvious it wasn't meant as a compliment, and you know that, mate, as well as everybody else who read it.
Has he (Tommy) been treated badly since? Not by me, but if you make what can only be construed as a slur on the lad, you're gonna get pulled.
If you're gonna get upset at that, think about what you print before you hit submit. End of story for me.
It's gone too far to be sensible now anyway.


Danny O'Neill
153
Posted 20/11/2021 at 23:58:01
Harsh, Kieran. It takes a strong character and seasoned veteran Toffeewebber days of matchday preparation to go on the Live Forum. Give the kid a chance!!
Don Alexander
154
Posted 21/11/2021 at 00:29:31
Brent, well spotted! "Mea Culpa" again (red card from pedants expected, and I'll wear it round my neck, honest!).
When it comes to matters "TW", I just think us fans need to be able to poke fun (and show lenience) to each other when it comes to players, rather than resort to the sort of silly character annihilation so evidently favoured in Brazil and in and around Kirkdale/USA from two/three of us.
After all, the antics of those few, those very few, who are culpable for the sorry state we're in (for nigh on 30 sodding years) are far more deserving of personal attack, aren't they, as folk in Brazil and in and around Kirkdale/USA occasionally touch on with insight?
Kieran Kinsella
155
Posted 21/11/2021 at 02:13:19
Danny
The Live Forum scene in Star Wars was great. As Obi Wan said "never will you find a more wretched hive of scum and villainy."
Mike Gaynes
156
Posted 21/11/2021 at 03:10:15
Kieran, I visualize the Forum more as "Caligula" without the sex. You'd be Peter O'Toole. I'll leave it to you who's in the John Gielgud role.
Kieran Kinsella
157
Posted 21/11/2021 at 03:50:42
Damn, Mike, I wanted to be Helen Mirren!
Steve Brown
158
Posted 21/11/2021 at 06:17:18
Barry's logic is that you can't definitively prove the club's or the player's motives for the new contract until they are confirmed at some future points by evidence. Therefore, we should postpone the debate until Simms or other parties write their autobiography in 20 years. Even then, they will probably disagree about what occured.
Equally, I am sure Barry's opinions are bone-headed drivel and he wouldn't be able to disagree because, if I am I presently wrong, how does he know? Or more likely accept that Barry is a fantastic wind-up merchant who always gets a bite!
Brent Stephens
159
Posted 21/11/2021 at 07:30:56
"Dan" #154 - you're sounding desperate, Dan!
Yes, Don, agree about a balance between poking fun and lenience.
And I'll take my red card like a man!
Barry Rathbone
160
Posted 21/11/2021 at 08:39:55
Brian Williams 152
"Barry, you're talking about knowing how things will pan out in the future."
Why misrepresent and descend into naughtiness? I spoke about the idiocy of making a conclusion about Tommy's opinion without knowing the facts both in the future and now – it's there in black and white
Remember the "slur" will eventually be regarded as an accurate description "if" Ellis follows the route of those mentioned. But if sensitivities are such that some (remember others agreed with Tommy) cannot wait to see how it pans out, then they are entitled to puff out their chest in righteous indignation as much as they want. What they cannot do is say Tommy is wrong whilst gleefuly compounding their error with sanctimonious bollocks.
I invoke my right to effect your "pulled" description on such miscreants at that point.
Michael Kenrick
161
Posted 21/11/2021 at 09:21:06
Barry,
Simple question:
Within your personal moral compass, do you see any slur on Simms's character, here and now, in this statement: "He's signed for the money and unfortunately that tells me all I need to know about his character."
Barry Rathbone
162
Posted 21/11/2021 at 09:29:17
Michael 163
Possibly so if he is wrong - if he isn't then no it is an accurate descriptor. The issue is that minus all the facts no conclusion can be reached. Quite simple really.
Brian Williams
164
Posted 21/11/2021 at 14:50:40
🤣 Now I get it
Michael Kenrick
165
Posted 21/11/2021 at 15:04:16
So, because there is a possibility that he signed for the money, and we can never know, then it's okay by you for that accusation to determine his character?
For it is that about which we are talking. You seem to be saying it's okay to impugn his character because we just don't know?
I don't think it's okay to impugn his character, just because he signed a contract with Everton.
Brian Williams
166
Posted 21/11/2021 at 15:49:33
So you can accuse anyone of anything derogatory, with no real evidence, because you MAY, in the end, be right?
Barry, you're barmy, at least you MAY be proved to be so. 😉
---
Add Your Comments
In order to post a comment, you need to be logged in as a registered user of the site.
Or Sign up as a ToffeeWeb Member — it's free, takes just a few minutes and will allow you to post your comments on articles and Talking Points submissions across the site.