Crystal Palace vs Everton
Friday, 10 December, 2021
Match Preview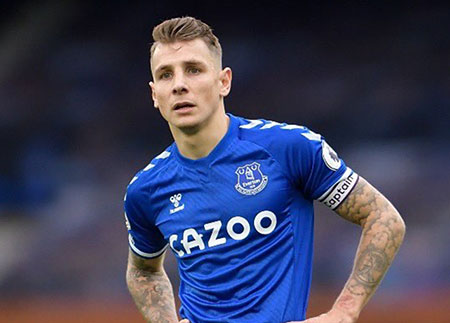 It appears as though Lucas Digne was not part of the group that travelled down to London this weekend
Updated Everton head south this weekend to face Crystal Palace for what is the first of three games in the space of seven days, two of which are in the Capital, with Lucas Digne set to be excluded again.
The Blues should travel in good heart following their rousing victory over Arsenal on Monday, one that arrested a horrible run of one win in 11 and six defeats in seven and moved them up to 12 the Premier League table.
Having alleviated the immediate danger of getting sucked into the bottom three, Rafael Benitez's side now need to prove they can press home their quality on a regular basis and, hopefully, push themselves into the reckoning for Europe over the second half of the campaign.
If nothing else, the dramatic win over the Gunners leaves the players and manager with few excuses over what they're capable of and what works in terms of formation and personnel; they now need to show they can do it without the impetus of a raucous Goodison crowd.
Article continues below video content
That intensity and drive has been missing from too many performances in recent weeks but the travelling Blues will be in full voice as always and hopeful of spurring Everton on to what would be their first successive win since mid-September and only the second one away from home this season.
The biggest talking point coming into the match will be the situation regarding Lucas Digne who was left out of the squad that faced Arsenal and wasn't in the party that travelled to London this weekend amid reports that he and Benitez had had a falling out over his role in the team.
The player himself urged fans "not to believe everything you read" on social media earlier this week but, when pressed on the matter during his pre-match press conference, Benitez hinted that there might have been some truth to the reports and the Frenchman's contained absence only adds more fuel to the speculation.
"[Digne] has been training. It's a normal situation. We will see tomorrow if he is available or not.
"We need all the players around because that increases competition in the team. At the same time, everybody needs to be focused and they have to realise that the priority is the team, that's it."
Ben Godfrey performed admirably in his stead and, while seeing Digne restored to the squad this weekend would have been a welcome sight, it wouldn't have been a surprise if Godfrey were to keep his place. Much might have depended on Benitez's faith in Mason Holgate at centre-half given that Yerry Mina won't be available for Sunday's clash but the Yorkshireman is set to keep his place.
The Colombian made a much-anticipated return to action from a hamstring issue of his own on Monday night against Arsenal but lasted just half-an-hour before picking up what Rafael Benitez reported afterwards to be a calf injury.
That put Mina back in the treatment room and it is unclear at the moment when he might be able to resume training.
Salomon Rondon, meanwhile, is expected to be fit again after recovering from a hamstring strain. He had to come off during the second half of the Merseyside derby 9 days ago but his manager indicated during his pre-match press conference at Finch Farm today that the Venezuelan is in contention for a place in the side.
Tom Davies is ruled out while Dominic Calvert-Lewin continues his patient rehabilitation work that the club's medical staff hope will see him back in the side before the end of the year. Allan is a slight doubt for Sunday after only doing a partial session following his exertions against Arsenal in the Blues' 2-1 win.
Between October and November, Palace went on a seven-match unbeaten run, including that 2-0 victory over Manchester City at the Etihad, that suggested Patrick Vieira had got his arms around his new job and was capable of leading the south London side to a possible tilt at Europe.
Their form has fallen away a bit since, however, and they have lost their last three, scoring just one goal. Palace are always a difficult proposition in front of their boisterous fans but Everton will be heartened by the fact that they haven't lost at Selhurst Park since the Eagles returned to the top flight eight years ago.
The key for the Toffees will be who lines up in central midfield and, possibly, whether Benitez opts for a midfield three over the two that was so ineffective at Brentford in their last away game.
Allan's fitness may be a concern but, with André Gomes and Fabian Delph available, the manager has options at his disposal.
Kick-off: 4:30pm, Sunday 12 December 2021 on Sky Sports
Referee:Andy Madley
VAR: Stuart Attwell
Predicted Line-up: Pickford, Coleman, Holgate, Keane, Godfrey, Allan, Doucouré, Townsend, Gordon, Gray, Richarlison
---
Reader Comments (120)
Note: the following content is not moderated or vetted by the site owners at the time of submission. Comments are the responsibility of the poster. Disclaimer
Alan McGuffog
1
Posted 10/12/2021 at 22:00:29
Well I'll go t' foot of our stairs. And I'll put money on it raining tomorrow.
Ken Williams
2
Posted 10/12/2021 at 22:02:08
Another player stealing a living, we need to get rid of these players made of glass.
Lee Courtliff
3
Posted 10/12/2021 at 22:02:51
What do people think about a bit of 'housekeeping'... sell Mina for the best price we can get and bring in Tarkowski from Burnley on a free in the summer?
Tarkowski is nothing amazing but a good, solid defender who is probably too similar to Michael Keane. But, if we're fucked by FFP, then we need to get a bit creative.
I like Mina and we are better with him but he's very injury prone and flies to South America God knows how many times a season and I don't see this changing anytime soon.
This way, we'd make a few quid and bring in a proven, Premier League defender. Tarkowski is about to turn 29 and has been capped by England. He's nothing special and struggles when played further up the pitch, but we aren't exactly in the market for special players anyway.
Just a thought.
Jeff Armstrong
4
Posted 10/12/2021 at 22:04:25
Great news about Rondon's fitness, really missed him against Arsenal… the movement, the pace, the flick-ons... so glad he's back.
Rafa's pet project.
Brent Stephens
5
Posted 10/12/2021 at 22:19:54
Ken, he's not stealing a living. He's injured. Again. But he steals nothing.
Mike Hayes
6
Posted 10/12/2021 at 22:20:59
Any good news?
David Connor
7
Posted 10/12/2021 at 22:24:16
Time to get rid of him, I'm afraid. Not his fault but the lad is made of glass. Keep him till the summer, then sell to the highest bidder. Maybe just break even on him. A squad as thin as ours can't afford to carry too many injury-prone players, however good they are.
Dale Self
8
Posted 10/12/2021 at 22:26:08
Lee, I think I would I would wait the year out and see what the market may bear. It's frustrating seeing him on the table when we need him but we don't have a replacement for what he brings to the team when healthy. A year left after this season, I suspect both he and the club are looking at options.
On the upside, Rafa is looking directly at the camera now while answering presser questions. I'm not sure how to interpret this just yet but it seems to be an image move of some sort. Or maybe he's looking directly at us to let us know he is taking care of business.
Peter Neilson
9
Posted 10/12/2021 at 22:29:32
Mike, Iwobi has been rested and is now firing on all cylinders ready to give his all.
Mike Hayes
10
Posted 10/12/2021 at 22:31:26
Peter – fantastic news – can't wait until Sunday.
Paul Kernot
11
Posted 10/12/2021 at 22:32:44
Mike #6. The only good news will be if we can repeat the desire of the Arsenal game at Palace and come away with another 3 points. Like us, they're on a bad run and are there for the taking if we believe they are.
Given our massive lack of confidence prior to the Arsenal game, I was amazed they didn't go for our throat from the off. If they'd scored early, I think we may well have crumbled. Same with Palace this week.
Paul Hewitt
12
Posted 10/12/2021 at 22:43:01
I actually think Mina is one of the best centre-backs in the league. It's just a pity he can't stay fit.
Neil Lawson
13
Posted 10/12/2021 at 22:55:44
Sunday is pivotal. Another shit, lacklustre performance and the joy of Monday will be forgotten. A solid, if unexciting win, will provide a measure of stability.
Over to you then, FSW. You pick the team. You determine the tactics. You organise and motivate the players, so you must be prepared to take the criticism as readily as you took the plaudits if all does not go to your plan.
I have no idea what the outcome will be but I do hope that he plays a third man in midfield. The difference when Gomes joined the fray was as obvious as the balls on a dog and what so many of us have been calling for… but what do we know?
John Raftery
14
Posted 10/12/2021 at 23:16:30
This is very frustrating for the player and the club.
Mina has suffered a series of muscle strains since arriving over 3 years ago. Frequently recurring groin, hamstring and calf injuries for a player only in his mid-20s suggest there is deep-rooted cause perhaps relating to his physique, conditioning regime or diet.
Even the new rehabilitation and fitness expert recruited from Newcastle has not been able to sort him out. He is another player whose output has failed to justify the outlay.
I also think Allan needs to be used carefully this month. He broke down with a badly torn hamstring in the midweek match at Leicester in December 2020. That injury ruled him out for 3 months. We can ill afford a repeat of that.
John Raftery
15
Posted 10/12/2021 at 23:21:42
Neil (#13),
The problem with Gomes is he can't play for 90 minutes. Using him in the final half-hour against tiring opponents seems to me the best option. Perhaps he can job-share with Delph who can't do more than an hour!
Jay Harris
16
Posted 10/12/2021 at 23:30:06
I would bring Digne back against these and push Godfrey inside.
I would play Gordon at left-midfield in a 4-3-3 with Gray, Townsend and Richarlison up front.
Tony Hill
17
Posted 10/12/2021 at 23:30:21
Good thinking, John @15. I thought Gomes looked very well against Arsenal. It's in the mind as well as in the body.
I've said it about Keane and I say it about this man: Benitez will release the talent of the tentative and the excessively self-aware.
Gomes is an Everton player like the fleeting James was, a ghost of the 60s. The critics are justified, but fucking hell he's a joy to watch sometimes and a lovely reminder of what we should be about.
Tony Hill
18
Posted 10/12/2021 at 23:35:21
Of course, the mind is the body, isn't it? Just to be precise, if you know what I mean.
Derek Knox
19
Posted 11/12/2021 at 00:07:40
As much as I like Yerry Mina, I think because of our FFP situation, and his injury record, I would be tempted to cash in, to provide much-needed funds and loosen the restrictions of FFP, so we can get possibly a less talented but more readily available and solid centre-back.
Bill Watson
20
Posted 11/12/2021 at 00:29:10
Much as I like Mina we cannot afford to have so many players who are constantly injured.
If we get a decent offer I'd offload.
Mike Gaynes
21
Posted 11/12/2021 at 02:01:32
Offload Mina? Only if we have someone better already in the waiting room.
Do not sell him just for the money if it weakens the middle. Cash can't clear out corner kicks.
Steve Oshaugh
22
Posted 11/12/2021 at 02:10:42
Tony Hill @17...
So true about Gomes. He is never going to be a box-to-box midfielder or seemingly able to defend that well but he manages in most games to do something that really catches the eye.
His passing could – a big 'could' – be the key to a good second half to the season. His short passing is a rare gift... seems to be able to play a 5-6 metre pass that unlocks space for people like Richarlison and Gray.
Steve Brown
23
Posted 11/12/2021 at 03:47:32
Two injury hammer blows revealed at the press conference - Mina is unfit and Rondon is fit.
Don Alexander
25
Posted 11/12/2021 at 04:00:16
Mina, if we sell him, will go for way, way less than we paid for him. His "injury" record is poison to a top club, as are his performances on those rare days he deems himself fit.
He's a bog-standard centre-back when all's said and done, just like the far more reliable Tarkowski (and Keane, come to that) but with players of that quality, I don't see us threatening the teams aspiring to even Europa League shite any time soon.
Our fantabulous chairman will not agree of course, just like the Monaco Moron.
Kieran Kinsella
26
Posted 11/12/2021 at 04:10:49
Steve Brown 23
I was crestfallen when I heard Rondon is fit. Literally I felt the blood rushing from my face. If he plays, I bet a lot of fans will be asking Brands to elaborate on "it's just the players?"
Steve Brown
27
Posted 11/12/2021 at 06:54:31
Kieran, watching him as driven me to drink even more!
Duncan McDine
28
Posted 11/12/2021 at 07:16:48
Mike Gaynes - very poetic, but similar to cash, crocked Colombians can't clear out corner kicks!
Mike Gaynes
29
Posted 11/12/2021 at 07:37:52
Duncan, as long as he can jump higher than that stack of cash...
Steve #22, yes, Gomes's short passing is a rare gift. A very rare gift. White-rhino rare. Snow-leopard rare. Almost dodo rare. The man has played 78 games in the Premier League and has four assists. Exactly one per season. He may have occasional moments of beauty on the ball, but Gomes passes that actually create goals happen about as often as Nessie sightings.
Derek Powell
30
Posted 11/12/2021 at 07:53:26
Rushed back far too quick.
Terry Farrell
31
Posted 11/12/2021 at 08:11:24
Mina is one of our best when fit and we miss him when he isn't I'm the side. Michael Keane is more assured beside him.
It just shows the danger of signing players with poor injury records and that's why we don't want Ramsey. I want young players on the up with fire in their belly – not someone who is after a last payday, who will save himself for Wales.
Also, I don't want Juve screwing us over again! But McKennie – he's a Juve midfielder I'd take.
Sam Hoare
32
Posted 11/12/2021 at 08:25:09
I agree that Mina is our best centre-back but it really doesn't help the team to have injury-prone players who are in and out of the team so frequently. A solid and consistent centre-back relationship is really useful.
I'd love to keep Mina but this league is not kind on players susceptible to injury. Strange that his contract has been allowed to run down so much as he's probably one of our more sellable assets. If his contract had 2-4 years left, I'd expect we could get £15-20M for him to a slightly less physical league.
My preference would be that he signs a new contract and sorts his injuries but not sure how likely either of those are, and he is reportedly one of our highest earners.
Robert Tressell
33
Posted 11/12/2021 at 08:28:25
There's talk of interest in Mina from Newcastle. Expect Newcastle will be desperate to do business in January, too. Might be our best chance of recouping what we paid Barcelona.
Whatever the case, Mina will probably be sold in summer as his contract ends in June 2023.
With that in mind, I'd like to see more of Branthwaite. Still clinging to the idea he's our best centre-back.
Steve Shave
34
Posted 11/12/2021 at 08:40:51
Oh good, Rondon is back.
Steve Shave
35
Posted 11/12/2021 at 08:43:16
I disagree with an above comment about us only being able to recoup a fraction of what we paid for him. We have brought him on a lot and I think if a club like Newcastle came in for him then we should be asking north of £35M.
Robert Tressell
36
Posted 11/12/2021 at 09:08:30
It's the contract situation that depresses the price, Steve. And possibly the post (?) covid market, too. If Newcastle want him in January then we probably could get a good fee. If we sell to a Spanish or Italian club in summer then probably more like £15 to £20m.
As as aside, talk of Barca needing to sell DeJong, Dest and Ter Stegen. If Bill has been stashing away the Arteta money in a high yield equity fund then that's January sorted.
Ajay Gopal
37
Posted 11/12/2021 at 09:37:12
Robert (33), me too! i.e. expecting that Branthwaite will be our future CB and save us a ton of money. He is a real man mountain and I believe he is taller than Mina! It is strange that Jarrad was never utilised much after putting in some stellar performances under Carlo towards the end of last season. He made 3 PL appearances : Villa, 1-1, Sheffield Utd 1-0, Bournemouth 1-3. He unfortunately suffered a bad injury at the beginning of this season, but he has been putting in good performances at the U-23 levels with some keen TW youth team observers remarking that he looks head and shoulders above anyone else on the pitch at that level. Surely, it would be worth trying him out. And, on the subject of Mina, I remarked a couple of weeks ago here that he is out for more than 50% of the matches, and was shouted down by Mike Gaynes. Turns out that he has played in (not necessarily started in) 73 PL games since he joined us at the beginning of the 2018-19 season, during which time Everton have played 129 PL fixtures - giving him an appearance percentage of 57%. This does not take into account the number of times he has come on as a substitute (either because he was unfit to start or because the manager did not think he was good enough to start) or when he had to come off during a match - like happened last week. I get that he can be our best defender - when fit! And while he seems like a lovely fellow, unfortunately he is just not available consistently enough to build our defence around him. For that reason alone, I think it would be worthwhile to encash on Mina while his value is still high. What I would really like is for us to make a cheeky bid for Koulibaly (at Napoli). That would really transform our defence.
Ray Roche
38
Posted 11/12/2021 at 09:45:55
I'm sure that I that Branthwaite's contract expires in the summer. Anyone have any accurate info on this?
Joe Corgan
39
Posted 11/12/2021 at 10:03:39
Yes Ray. Unless a new contact has been signed but not announced, Branthwaite's contracts expires in June.
From January he is free to discuss terms with other clubs although we would be due a tribunal fee if he were to go.
Mark Ryan
40
Posted 11/12/2021 at 10:06:53
Does anybody know who the 2 key members of staff are that have also left following Brands exit ? Daily Express reporting but I've not seen their rag today
John Raftery
41
Posted 11/12/2021 at 10:10:09
Branthwaite's original contract was for two and a half years up to June 2022. Subsequently he signed a one year extension to June 2023.
Dave Abrahams
42
Posted 11/12/2021 at 10:13:18
Ray (38) and Joe (39), on one site Branthwaite's contract finishes as you say in 2022 on another site, think it is Everton FC's it states that he is contracted until 2023.
Nicholas Ryan
43
Posted 11/12/2021 at 10:48:01
Mark [40].... Grettar Steinsson and some bloke nobody's ever heard of!
Jerome Shields
44
Posted 11/12/2021 at 10:49:12
Mina will ever only be able to play half a season if Everton are lucky. I still think he does not put in the work in preventative training.
David Pearl
45
Posted 11/12/2021 at 10:50:00
Everton are currently on itv4 showing 81 fa cup game.
Mina is a big miss. Rondon ran himself to the ground last week and can do a better job now he is fitter. Hopefully off the bench though. May be time to give Allan a rest and play Delph again.
Pat Kelly
46
Posted 11/12/2021 at 10:51:34
Another rubbish buy. Who no one else will want to reside in their treatment room. Stuck with him for another 18 months.
Kev Jones
47
Posted 11/12/2021 at 10:59:01
Derek #30 good point. Mina may have been rushed back too early because the alternatives were not ready/trusted.
I wonder how many other times Mina has been prematurely rushed back? Reminds me of Keane playing on with a foot injury which we knew nothing about.
Let's hope they don't bring DCL back before he is ready.
Phil (Kelsall) Roberts
48
Posted 11/12/2021 at 10:59:52
For those who want the numbers
Mina has played 5,599 minutes for Everton in the Premier League.
He has started 64 games and been brought on as a sub in 7. He has gone off injured in 6 games, and Monday was the 3rd time in the first 30 minutes of a game.
His longest number of consecutive starts is 10 games.
He has only started 11 of the last 33 Premier League Fixtures
Kev Jones
49
Posted 11/12/2021 at 11:12:52
Phil #48 Thanks for the stats. Do I remember stats posted previously on ToffeeWeb that showed that our best defensive performances or most wins have come when he is on the pitch? Given the high stakes of the Arsenal match perhaps Benitez gambled on Mina being ready to return and lost.
Rushing Mina back early because of his importance to the team might account for those three early substitutions shown in the stats.
Paul Birmingham
50
Posted 11/12/2021 at 11:37:58
I like Mina as a player, but his fitness and hence reliability is already proven so far Everton. But the club's physios, doctors and consultants must be running a racket as I don't know any other Premier League side that endures so many major injuries resulting in multiple games missed.
I'd like to see the club stats on injuries of all types in the last 5 years. Surely the club must do root cause analysis on the injuries?
At Finch Farm, they play on 4G synthetic turf a lot, and I wonder if this surface impacts the players?
John Keating
51
Posted 11/12/2021 at 12:31:37
We should give Branthwaite a start now Mina is out. Holgate just seems a bit of a liability and, unless we try Branthwaite, we'll never know.
I wish we could get Mina's injury situation stabilised as I think he, at present, is our best centre-half.
Paul Olsen
52
Posted 11/12/2021 at 14:39:43
Branthwaite will need to have improved in leaps and bounds since last year if he is to be the solution some claim. He looked rather slow, uncertain and weak playing for Blackburn last season. He was a weak spot in their side, in the Championship.
Sam Hoare
53
Posted 11/12/2021 at 14:47:23
Paul, did you watch him often? I know a Blackburn fan who really liked him. Statistically he won the 2nd most headers, the most tackles and had the most interceptions per game in the team. Doesn't sound that weak but of course stats don't tell the whole story.
Charles Brewer
54
Posted 11/12/2021 at 18:46:09
Well at least we aren't playing one of the "top teams" tomorrow so we may get away without a penalty being awarded against us.
Remarkably, Man City, Liverpool and Chelsea all won by a late penalty today. What odds could you get on that? (I'd suggest about evens.)
Kim Vivian
55
Posted 11/12/2021 at 18:59:11
Charles - the RS were rescued by a Villa penalty claim in injury time not awarded.
Liam Heffernan
56
Posted 11/12/2021 at 19:13:18
Kim, same with Man Utd v Norwich, Maguire held Puuki for all corners no penalties, but minute Ronaldo held he goes down, penalty. The Premier League is so rigged.
Bill Gall
57
Posted 11/12/2021 at 19:14:25
Charles,
Man Utd got a penalty too.
Kim Vivian
59
Posted 11/12/2021 at 19:34:45
Liam - Yep. They even made the point on BT afternoon sport that the big clubs get favoured by the officials I think after discussing the Man City (very dodgy) penalty.
Liam Heffernan
60
Posted 11/12/2021 at 19:40:51
Exactly, second offside against Richarlison would have ruled by VAR against so called top 4. And that's another obstacle we have to overcome against "top sides".
Mark Ryan
61
Posted 11/12/2021 at 19:56:14
Cheers Nick
Mike Gaynes
62
Posted 11/12/2021 at 20:27:08
Ajay #37, I didn't "shout you down"... I just disagreed and supported it with numbers. And your "57%" statistic isn't exactly kosher -- it includes the 11 games he missed at the start of his Everton career because he already had a fractured foot when we bought him. Since making his debut, he's played in about three-quarters of our available games. Not wonderful, but certainly not close to what you said.
And I would say that there is no way in hell that Koulibaly would ever want to leave Napoli, a Champions League team where he's an immensely popular local hero, to move to a bottom-half Premier League club with no chance of getting into Europe... but I won't say that, because I don't want to be accused of shouting you down again.
Clive Rogers
63
Posted 11/12/2021 at 20:43:37
Mina's stats for Everton are not good, but they are top notch for Colombia. Mmmmmmm!!!!!
Peter Neilson
64
Posted 11/12/2021 at 20:59:15
Like the first swallow of spring the transfer window is upon us and we're linked, however tentatively, with Koulibaly. Maybe at the start of "the Project" but no chance now.
Danny O'Neill
65
Posted 11/12/2021 at 21:04:24
Please let it be so, Peter Neilson.
Tony Abrahams
67
Posted 11/12/2021 at 21:13:28
So hairline Atwell is back on VAR again tomorrow for our game?
Graham Mockford
68
Posted 11/12/2021 at 21:22:16
I'm hearing Digne has not travelled with the squad for tomorrow. Benitez is certainly putting his marker down.
Graham Mockford
69
Posted 11/12/2021 at 21:25:18
Clive,
Mina's stats for Everton show we are twice as likely not to lose when he plays. For sure he seems to be struggling with injuries but, when he's fit, he improves the team.
Clive Rogers
70
Posted 11/12/2021 at 21:30:05
Graham, I wasn't knocking Mina's performances, he's a good player when fit, but he doesn't seem to miss any Colombia games and invariably is soon injured when he returns.
Graham Mockford
71
Posted 11/12/2021 at 21:34:27
Clive,
I think that's bullshit thinking he wants to play for his national team more than us. The lad is a decent player for us, he's the only centre-half that provides leadership. We miss him when he doesn't play.
Jay Wood
[BRZ]
72
Posted 11/12/2021 at 21:46:26
Mina missed the last batch of internationals for Colombia.
Next.
Jason Li
73
Posted 11/12/2021 at 21:48:33
I think Holgate can reach the heights of 2 years ago and is the right player for centre-back. Just needs Rafa to simplify and quicken his game when on the ball with no pass on.
A) Hit it down the wing and a winger chases a lost cause but the winger knows it's coming anyway, regardless of logic, or...
B) Run a bit and chip it down a wing and the wingers are drilled this is going to happen, if no easy pass on.
Never turn back 180 degrees because there's always 180 degrees which is blind, just play the way you are facing and have two split-second choices to make. Other than that, he is over 90 minutes a decent defender.
I also hope Demarai Gray comes in from the left and tries more shots. That was missing last season, apart from Rodriguez, who could hit them outside the box. If Gray keeps this up, he'll be like our own Ronaldo that Man Utd had before he went to Real Madrid!
Clive Rogers
74
Posted 11/12/2021 at 21:53:12
Mina made 24 appearances out of 38 last season and so far 6 out of 15 this season and is injured at present. Benitez will move him on in summer if not before.
Graham Mockford
75
Posted 11/12/2021 at 22:39:01
Clive,
No he won't. He's our best centre-half.
Mike Gaynes
76
Posted 11/12/2021 at 22:49:31
I can't remember who, but somebody here recently analyzed our game results with and without Mina... and discovered that we give up almost twice as many goals when Mina isn't playing.
Jason #73, Holgate has proven repeatedly and comprehensively that he is not, and never will be, the "right player" for us. The accumulation of stupid mistakes, combined with his total lack of ability on the ball and a careless attitude that has become evident to even his most passionate supporters, should have called time on his Everton career already.
Jason Li
77
Posted 11/12/2021 at 22:57:14
Mike, I would totally agree if Holgate had never played 10 good games on the bounce ever.
But I think he can do a Pickford and get his consistency back if he responds to Rafa.
Calvert-Lewin was told to stand in the box by Carlo and became a consistent goal scorer.
Maybe Holgate didn't respond well to Carlo? I don't know.
But knowing that he definitely has it in his locker to have some good games means it just needs a coach to bring it out of him.
Clive Rogers
78
Posted 11/12/2021 at 23:26:52
Time will tell. Benitez wants to sell one or two as it's a way round FFP.
John Keating
79
Posted 11/12/2021 at 23:37:41
I hope Holgate settles down and kicks on but right now he's a bit dodgy. I'd give Branthwaite a go tomorrow:
Pickford
Coleman Keane Branthwaite Godfrey
Allan
Gray Doucoure Gomes Townsend
Richarlison
Ian Linn
80
Posted 12/12/2021 at 00:17:11
I just wish we'd play at 3 o'clock on a Saturday, for fuck's sake.
Don Alexander
81
Posted 12/12/2021 at 02:00:36
Viewing just a few of the comments, the consensus seems to be that Mina is talented but workshy and Holgate is talented but profligate in errors.
Maybe a professional coaching set-up at Finch Farm should've rectified such issues well before Benitez?
Unless the plethora of ex-Everton-player coaches there for a free ride on Kenwright's largesse haven't realised the aspirations of fabulously well-paid so-called professionals of course; Holgate and Mina, and other players, being a case in point.
After all, that lack of ambition and/or insight into developing success by way of know-how is the cornerstone of flatulent Everton forever failing our motto under Kenwright, isn't it?
Kieran Kinsella
82
Posted 12/12/2021 at 02:57:34
Watching Carry On Matron, starring our chairman, to prepare for the game.
Laurie Hartley
83
Posted 12/12/2021 at 02:59:35
Don # 81 - "flatulent" - unlike you 😉 words fail me but rest assured I am laughing my head off right now.🤣
Bill Gienapp
84
Posted 12/12/2021 at 03:32:58
Ian (80) - our last Saturday match was Watford on October 23. Our next one isn't until we play Norwich on January 15. That's damn near three months!
Mike Gaynes
85
Posted 12/12/2021 at 04:05:58
Bill #84,
I think we should advertise ourselves as the ideal destination for all top-class players who are either Jewish or Seventh-Day Adventists.
Because we never work on Saturdays.
Jack Convery
86
Posted 12/12/2021 at 04:10:26
Can't see Digne being back for tomorrow. Rafa Benitez likes to show he's the boss – my way or the highway. Unless Digne wants to play as Rafa Benitez needs him to, he'll ask to leave. Man City could do worse and give us a few bob for him. Mendy won't be back if ever.
Kieran Kinsella
87
Posted 12/12/2021 at 04:43:29
Mike Gaynes,
Funnily enough I was thinking tonight if my prior trips to watch Everton at Crystal Palace and one of the things I recall is there's a Seventh Day Adventist church just outside the stadium which is surprising as that group aren't the exactly widespread in England.
And here I was wondering if that church is still there 15 years after my last visit and lo and behold my fellow US resident goes and mentions the group... Synchronism or pure coincidence?
Ajay Gopal
88
Posted 12/12/2021 at 05:52:20
Mike (62),
Koulibaly would move to Everton for one reason and one reason only - Rafa Benitez.
The article has some fascinating insights into Rafa's methods of recruiting and interaction with his players. Hopefully, Rafa can uncover a Koulibaly for us.
Alan J Thompson
89
Posted 12/12/2021 at 06:41:58
How did this "new" medical team know Rondon is fit?
Doctor's, or Manager's, orders?
Steve Brown
90
Posted 12/12/2021 at 07:11:56
Regarding Rondon, the question is: Fit for what?
Colin Glassar
91
Posted 12/12/2021 at 07:29:00
Au revoir, Lucas Digne.
Jerome Shields
92
Posted 12/12/2021 at 07:48:38
Drive and Disagreement intensity are the key. That's the Everton that needs to turn up at Palace.
Benitez got back to Ancelotti's formation in the last game with a middle field trio, with a counter-attacking emphasis. He has also managed to introduce competition for some positions, on limited player availability.
Rondon can help Everton's shape providing space for runs from Gray and Richarlison. Palace will attempt to reduce that space, which Arsenal left wide open.
Duncan McDine
93
Posted 12/12/2021 at 07:49:02
Before I make a long journey to south London today, I'd like full reassurance that Rondon and Iwobi will not be playing. Rafa, you've got until I've completed the 3 S's to respond…
Robert Tressell
94
Posted 12/12/2021 at 08:28:34
Hopefully start with the side that finished the last game. The trio in midfield gives us a better team structure. I like Gordon but maybe as fresh legs later on until he can be more productive. Probably the wrong time to drop Holgate now even though I would like to see more of Branthwaite.
Another difficult away game against another pretty good mid-table side.
As per the Ralf Rangnick interview following the Man Utd game, we'll need to be physically present with good body language (worth watching if you've not seen it).
David Bromwell
95
Posted 12/12/2021 at 09:04:19
Very interesting few days: Branthwaite signs a new long-tern contract and Digne, apparently, is not in the squad that travelled to London. In Rafa, we certainly have a manager who manages. He is experienced enough to know what he is doing but, as always in these things, he and we need our share of luck.
Given that we now have three games in just 8 days, our squad looks paper-thin, maybe it's time for apologies and handshakes and the timely introductions of substitutes. Oh and, of course, that little bit of luck!!!
Rob Hooton
96
Posted 12/12/2021 at 09:30:46
The Branthwaite contract question posted a couple of days ago has been answered by the club rather quickly!
I too would start today with the team that played so well in the second half against Arsenal, all being fit and available of course.
Godfrey seems more suited to left-back than centre-back on current form, where he can use his pace and any mistakes might be less disastrous for us. Our best defensive performances last season we're with the four centre-halves at the back, after all! We still let too many crosses into the box which always unnerves me.
I'm going for 2-1 to the Blues today, Richarlison to get on the scoresheet again.
Tony Everan
97
Posted 12/12/2021 at 09:48:35
Feeling more confident today than for a long time. A massive plus was Gomes last week, making a difference when he came on. It's early days but it looks like the manager and training staff have been working on him to be more positive and forward thinking. I emphasise 'early days'. If we can get more of the same out of Gomes it's going to be a big plus for us and our midfield capabilities. Along with saving us a lot of money that can be invested elsewhere.
433
Pickford
Coleman Keane Mina/Holgate Godfrey
Allan Doucoure Gomes
Townsend Richarlison Gray
Mina if fit enough if not Holgate because he did ok last week. Gordon and Townsend share duties.
Allan Board
98
Posted 12/12/2021 at 10:18:27
Beat these today, no problem. Don't go back to 2 in the middle and don't start Rondon/Iwobi/Holgate as they are shite. Looks like Digne on his way to me.
Derek Knox
99
Posted 12/12/2021 at 10:22:19
Robert @ 94, " As per the Ralf Rangnick interview following the Man Utd game, we'll need to be physically present with good body language (worth watching if you've not seen it)."
So that's how you get penalties awarded at a crucial point in the game (minutes to go) when the other side have been better ?
For fear of being labelled a Conspiracy Theorist Man U, Chelsea and of course the RS all got dubious penalties awarded in the dying minutes, where Norwich, Leeds and Villa were at least equal or better throughout the game ! Had they been nailed on penalties I would NOT be making the point, but ' better cases ' against the other teams mentioned had been waived aside.
Hoping as usual for another point or three today, I was at the Arsenal game and have not felt an atmosphere like that for many, many years. I just hope that team spirit with the players carries on today, where it left off.
Brian Murray
100
Posted 12/12/2021 at 10:22:38
Laurie post 83. Don't know about flatulent but definitely hot air from that buffoon.
Derek Knox
101
Posted 12/12/2021 at 10:28:12
Brian @ 100, I think Don and Laurie were implying that Kenwright is an 'Old Fart'. :-)
Brian Murray
102
Posted 12/12/2021 at 10:35:05
Derek. I know and it looks like we need more than air freshener to get rid of him. Wrong thread I know but we will never move on while he's there. As for today this manager is mostly terrified of youth so Branthwaite won't be used unles he has no choice. Same as Rondon persistence when Dobbin and Simms could of been the answer and stopped that long losing run. He has to change the habit of a lifetime and trust the youth. Look at deign. Totally lost it and no nkonkou to fill in.
Clive Rogers
103
Posted 12/12/2021 at 10:43:22
Benitez is looking to sell a couple of players I think, as that is a way around FFP and will allow him to bring players in. I wouldn't be surprised to see Digne and Mina sold in January.
Ian Bennett
104
Posted 12/12/2021 at 10:48:52
Think you could be right Clive.
Two of our better players, and will probably go for less than we paid for them combined.
Dave Abrahams
105
Posted 12/12/2021 at 10:54:32
Allan (98),
Yes, I think he's got to stay as he finished the Arsenal game with three in central midfield although it's already been pointed out that Gomes is unlikely to last 90 minutes. Maybe utilise both Delph, who also can't last 90 minutes, over the two halves.
Possibly share one wage between them as well!!
Geoff Lambert
106
Posted 12/12/2021 at 11:18:25
Don't get too carried away with the win over Arsenal. If they had taken their chances, we would still be on a winless streak.
We played a lot better and Richarlison was superb but Palace will pose a different problem today and no Goodison roar to spur us on. I think we will need 2 goals to get a point today.
ps: No start for the fit again (really?) Rondon goal machine, please, Mr Banitez.

Brian Harrison
107
Posted 12/12/2021 at 11:34:20
I would like us to go to a 3 in midfield but I believe Benitez will use the same set-up as he has for all his previous games.
Despite Digne trying to diffuse the situation, it seems like Benitez is being as stubborn as ever, seems strange that we hadn't won a game in 8 and the rumour is that Digne and a couple of senior players approached Benitez over the style and the set-up of the side. Yet a lot on TW seem to back Benitez over his stance with Digne but shouldn't we hope that being on such a bad run of results that the senior players may have a discussion with the manager over tactics?
With Digne being left at home, I hope Godfrey doesn't get injured as the only option, if that happens, is Delph at left-back; surely Digne should be in the squad as cover for such eventuality.
Gary Smith
108
Posted 12/12/2021 at 11:54:04
I too would go with 3 in the middle, and pace on the counter. Think he's made his point with Digne, and he needs to go back in. What I'd like to see:
Pickford
Coleman Godfrey Keane Digne
Doucoure Allan Gomes
Gordon Richie Gray
Suspect the team at the top in article, and the 442 will be it though. Digne will be Rafa sacrificial lamb for time being, and other players will be targeted soon too when he runs out of 'blame brands' excuses.
If we don't win today, it's ONE win in NINE (a quarter of a season ffs) and he needs to go. One crowd inspired swallow doesn't make a FSW summer.
David McMullen
109
Posted 12/12/2021 at 12:38:06
Gary mate don't be so reserved with your support for our manager.
We can win today i'm confident. Not so confident about Thursday but today we should bag the points.
Steve Brown
110
Posted 12/12/2021 at 12:51:25
Brian @ 107, I can understand Benitez not selecting Digne for the team if he prefers Godfrey and/or he has had a disagreement with the player. Since he seems to prefer a defensive full back; he might also select Godfrey as he is strong in the air for defensive and offensive set pieces.
But to omit him from the squad? Counter-productive really. Although, Benitez has always shown himself a bit brittle to feedback over the years.
Anthony Jones
111
Posted 12/12/2021 at 13:31:00
He must think we can shift Digne in Jan.
You cannot omit a player like Digne and not seriously damage the relationship with the management. Bench is one thing; left at home is quite another.
The guillotine of Benitez drops again.
Gary Smith
112
Posted 12/12/2021 at 13:45:06
David, I'll make you a deal: win today and I'll get off his back for the whole Xmas period. Will still want the divisive dinosaur gone, and 100% sure any respite will only be temporary for us all.
Paul Hewitt
113
Posted 12/12/2021 at 13:53:15
No one knows what's gone on between Benitez and Digne. But at last we have a manager that won't take any messing, It's about time we had that. The squad might finally come out of its can't be arsed attitude and put some effort in. We have Rafa to thank for that.
Gary Smith
114
Posted 12/12/2021 at 14:02:14
Paul, we have Rafa to thank for the worst set of results since 1999. The only positive thing about him is Demarai Gray.
Ajay Gopal
115
Posted 12/12/2021 at 14:37:56
Sorry to post this here, but WHAT drama in the final race of the F1 !! My heart goes out to Lewis Hamilton, just pure bad luck!
Tony Hill
116
Posted 12/12/2021 at 14:40:30
It was fabulous stuff, Ajay @115. Was it not also a strategic error by his team? I don't know enough about it but it was great to watch.
Dale Self
117
Posted 12/12/2021 at 14:42:49
Fuck off Gary.
Derek Knox
118
Posted 12/12/2021 at 14:53:54
Dale, don't beat about the bush, say what you mean ! :-)
Ray Roche
119
Posted 12/12/2021 at 14:54:10
Bill Gall
120
Posted 12/12/2021 at 15:20:16
There has been a lot of comments over the last few weeks of how poor Digne has been playing, I think that leaving him out of the squad for the Arsenal game may have just been man management, to give him a break and liven him up.
Kim Vivian
121
Posted 12/12/2021 at 15:24:44
Ajay - seconded. What a race!
I wanted Verstappen to do it but honestly, Hamilton was by far the dominant driver and car on the day. Racing Gods were with Verstappen. Great for the sport in my opinion and somehow I have more respect for Hamilton now (not that I didn't before but just don't like the bloke). Great drama.
Fear we might see a boring 0-0 ground out today but play with the character we did on Monday we can do it 2-0.
Geoff Lambert
122
Posted 12/12/2021 at 15:25:55
Gary! please don't put facts on here you might upset someone.

Mike Dolan
123
Posted 12/12/2021 at 15:28:55
Paul Hewit, You are exactly right…….We are a team that has been very weak on leadership for years and years. I am happy to have Raffa who can provide us with the simple but unwavering truth that the team in every instance comes first.
Fuck Luca Digne if he can't get passed the concept that we need him to defend first because that's what a full back does and the rest is gravy. That is why Raffa blocked Brands from bringing in that show pony Dumfries in the summer.
---
Add Your Comments
In order to post a comment, you need to be logged in as a registered user of the site.
Or Sign up as a ToffeeWeb Member — it's free, takes just a few minutes and will allow you to post your comments on articles and Talking Points submissions across the site.