Richarlison: "I will work every waking hour" to return as soon as possible
Wednesday, 15 December, 2021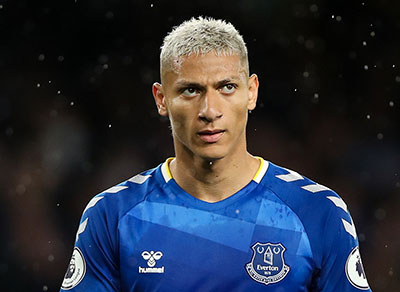 Richarlison has acknowledged that his manager was right to substitute him at Selhurst Park last Sunday and vows to come back from his calf injury as soon as possible.
The Brazilian was visibly frustrated when his number appeared on the fourth official's board in the second half of Everton's 3-1 defeat at Crystal Palace but Rafael Benitez insisted afterwards that it was the right call given that Richarlison had complained of pain in his calf.
The decision was hugely unpopular with the travelling supporters as well who believed that Richarlison had been taken off for Salomon Rondon as part of a like-for-like tactical move by Benitez.
Scans on the player's leg revealed that he had sustained a tear to his calf muscle and faces "a number of weeks" on the sidelines. The club are hopeful that it could be as few as two weeks but it remains to be seen how quickly he recovers.
Article continues below video content
"I am so disappointed to suffer this injury and have to miss games," Richarlison told evertonfc.com, "especially at an important time for the team and with so many points to play for.
"It was frustrating I couldn't stay on the pitch against Crystal Palace but Rafa did the right thing for me and for the team.
"I wasn't able to play at my maximum capacity because of the issue with my calf and if I stayed on I would have done more damage and, probably, faced a longer period out of the team.
"I love playing football and love playing for Everton and am always sad when it isn't possible to be on the field with my teammates.
"I understand the manager was trying to protect me. My recovery started as soon as I received the diagnosis from my scan and I will work every waking hour to be back in the blue shirt as soon as possible.
"Everybody is confident we can have a really good second half of the season and I plan to do everything possible to be back scoring and creating goals and working to help us achieve our aims at the earliest opportunity."
Richarlison will be joined on the sidelines by Andros Townsend who suffered a minor foot fracture in the game at Palace while Seamus Coleman will undergo a late fitness test to see if he can play despite bruising to his own foot that he sustained in the same game.
---
Reader Comments (24)
Note: the following content is not moderated or vetted by the site owners at the time of submission. Comments are the responsibility of the poster. Disclaimer
Jerome Shields
1
Posted 15/12/2021 at 20:10:06
Glad he has sorted out his' issues' with Rafa. Rafa has been talking to Moshiri and now the talk is about an improved second half of this season.
Good idea to write off the first half. It would have saved alot of bother he someone had told us. Maybe they should all join Downing Street staff to sort there out as well? The rush to get back on side is barefaced.
John Kavanagh
2
Posted 15/12/2021 at 22:23:40
On what basis can we look forward to a much improved second half of the season? I see no evidence to warrant such optimism, which exists only in the alternative universe of Rafa's positive conversations with football genius Moshiri. Both are so right about so many things... Not.
This looks more like a statement cobbled together by Blue Bill & Moshiri Productions Ltd. than genuine words from the player. Like televised confessions in Belarus.
Richarlison is one of our few committed players and he always wants to play for us (and Brazil). Unlike others, he does tend to recover on schedule but, if this injury lasts well into January, we are really in very serious trouble. I wouldn't have let him play against Burnley, even if fit, as they have clearly been given carte blanche to cripple him.
I just hope we see him back asap and playing like he did against Arsenal.
Dale Self
3
Posted 15/12/2021 at 22:29:28
Dude is class. I believe he is being sincere and hope that he can recover quickly and help this team survive the most challenging season since I've been a supporter.
Barry Hesketh
4
Posted 15/12/2021 at 22:32:44
Jerome @ 1,
I think Rafa has been telling us about the wonderful second half of the season we will have for quite a few weeks now, if not for longer.
What happened to taking each game as it comes and trying to win any and every game we play, or at least try the hell not to lose so often???
Paul Hewitt
5
Posted 15/12/2021 at 22:35:47
Your manager and players need you. Let's get behind them. Moaning doesn't help.
Barry Hesketh
6
Posted 15/12/2021 at 22:40:59
Paul @5
There are very many who post on here, who don't or can't attend the matches, how are they supposed to "Get behind the team" and if they choose to moan on here, how exactly does that hinder the Everton players?
Minik Hansen
7
Posted 15/12/2021 at 22:51:37
Barry, there's some sort of energy in everything. Like a smile affects others, our communication and mood altogether affects people around us.
I'd rather support in any way than try to find wrongs in everything. Everybody must've experienced how it is to get hated (it has many forms and shapes), it's not very motivating, is it?
Just my contribution from afar.
Barry Hesketh
8
Posted 15/12/2021 at 23:02:55
Minik @7
My experience of most people in attendance at the match, is that the fans behave in a much more positive or at least in a less-negative way than they might do on social media. That's not to say there aren't those who moan and gripe at every given opportunity, but that's always been the case, with or without social media platforms.
It could be argued that venting spleens on a site like TW could actually help to reduce the amount of bile poured out on match-day. However, I do agree that, when people are face-to-face, smiling is better than snarling as it helps to enhance the atmosphere and makes people generally feel a lot better, about most situations.
Andrew James
9
Posted 16/12/2021 at 00:35:32
What we need is the fans who follow the team and know about the club and the game encouraging or rebelling to set the right agenda to hopefully sway the players and the board.
What we don't need is overseas "fans" who come on here making out they know so much more and influencing others with post after post that might influence them. Some of these fanboys are harmless but others are disingenuous and their "support" is more about them than anything to do with the club.
That group won't either rebel or support because they're not at matches yet happily tell those who do what is right or wrong thus influencing them.
It's the match go-ers who are important in terms of sending a message to the owner.
Bill Gienapp
10
Posted 16/12/2021 at 00:50:16
Unlike others, Richarlison puts his money where his mouth is. You can criticize him for other things, but I can't believe anyone would ever question his effort or commitment.
Larry O'Hara
11
Posted 16/12/2021 at 01:01:28
His charity work in Brazil is stellar. We are lucky to have him. Maybe he should be our captain?
As for the Rooney & Ferguson combination, not only could we do worse, we are. Sadly expect a hammering tonight: do hope I am wrong…
Jerome Shields
12
Posted 16/12/2021 at 06:09:44
Barry #4,
I do expect improvement in the second half of the season, since imo the capability is there within the Club and Rafa may be able to bring in some necessary change. Everton will not be relegated.
The problem I have is the announcements of a better second half of the season with no actual substance, as you say, other than players coming back from injury and allegedly overworked players giving 100%.
What I see on the pitch is players who lack motivation to actually put the work into training to get the basics right tactically and technically. Sure, they give a 100% effort while playing, but the rest of the percentages go south and the only percentage that is increasing is errors. Also, the percentage level of fitness to last a full game is questionable.
During the week, we had Richarlison playing the crowd and media against the manager's decision to sub him. It materialised that the first half injury was serious and he knew that he would be coming off if he was not able to run it off. Now, we have him confirming the truth and admitting the manager was right for good reason.
Quoting Rafa pro rata from his meeting from Moshiri, 'improved second half of the season'. . . What has changed? This is confirmation that Benitez is staying, with the full backing of Moshiri, and the Board has been briefed that he is and their cooperation is expected, hence the good discussions with Rafa also confirmed.
Richarlison has been wheeled out by Everton FC to tell us everything is a misunderstanding and things will be hunky-dory in the second half of the season. . . promising full support and effort.
I also wish it was about concentrating on football, which I could watch.
Phil Gardner
13
Posted 16/12/2021 at 06:55:54
The question for me regarding this matter, that Richarlison needs to answer and/or apologise for is his behaviour. If he had experienced even a partial muscle tear, he must have felt something and had apparently had this problem during the halftime interval having brought it to Rafa's attention.
So… bearing all that in mind, and knowing that the fans are starting to get on Rafa's back…why the theatrics and petulance when substituted?
This inflamed some of our idiot contingent who then booed Rondon and berated Benitez, all live on Sky, for fuck's sake! Richarlison then sulked on the bench, throwing his tie-ups around as the TV zoomed in.
This fella seriously needs to grow up, talented or otherwise, act like a fucking man because your immaturity (and dishonesty?) is not helping your club at a difficult time.
Mark Andersson
14
Posted 16/12/2021 at 07:21:01
Spot-on, Phil Gardner...
This club just keeps on embarrassing us... fans get caught up on the emotion at the time... but no excuses for booing their own players as they come on.
Danny Baily
15
Posted 16/12/2021 at 07:24:39
Richarlison isn't injured.
Digne isn't ill.
It's just low morale in the squad.
Chris Hockenhull
16
Posted 16/12/2021 at 07:47:40
Danny (@15)…
Is that absolute fact that you're saying … or unsubstantiated opinion?? If true, back up with your evidence that he is not injured.
Danny Baily
17
Posted 16/12/2021 at 09:50:37
Just my take on things, Chris! Doesn't seem like a happy camp at the moment.
Danny O'Neill
18
Posted 16/12/2021 at 13:49:03
The problem with Richarlison is a problem I'd like to see in every Everton player. He just wants to be on a football pitch and is pissed off when he isn't.
It's for the manger and coaches to decide when and when not, but you can't knock his commitment.
I don't agree with the overseas jibe, Andrew. It takes a different but equal amount of commitment to follow the club from afar. I've done both. I think if you remove 'overseas' from that sentence, it's just certain fans regardless. But I know what you mean.
Phil Malone
19
Posted 16/12/2021 at 15:15:37
January will be very interesting. My first thought was, okay, Richarlison is off to PSG with his mate Neymar to be part of the replacement Mbappe group.
Is he the sort of player you want in a relegation scrap if you're a Geordie? Is he getting his head down to impress other potential suitors? Or is he actually happy with us and Rafa?
Mick O'Malley
20
Posted 16/12/2021 at 16:48:07
Phil, why are they idiots for booing Benitez?
At the time of the substitution, the fans didn't know the extent of the injury so, as far as they were concerned, Benitez was taking off our best player to replace him with his favourite, the lamentable Rondon.
After getting up at the crack of dawn to travel the length of the country, and at great expense, they were subjected to another Benitez shit-show; you can't blame them for booing.
The away fans are brilliant and will always support the team. I suppose they were pissed off cos we hardly crossed the halfway line in first half, then Benitez tells us in his after-match interview that we controlled the game!
Dennis Stevens
21
Posted 16/12/2021 at 16:59:33
It's probably a Russian plot, Andrew #9.
John Graham
22
Posted 16/12/2021 at 19:02:44
Great attitude
Great backing for the manager too who he seems to be building a good relationship with together with Doucoure, Gray, Allan and Townsend.
Although missing a few players and needing some extra class adding to the squad I feel we are starting to develop the Dunkirk attitude with everyone fighting for their place and the team which we will need to see us through this season.
Once we get a few additions in the new year we will be able to better judge Benitez and see the style of football he is looking to play.
Backs to the wall tonight but let's hope we get a decent result.
COYB
Pekka Harvilahti
23
Posted 18/12/2021 at 15:48:27
I think Richie was just disappointed with his own performance (though he didn't get much help from the team) and the injury made it worse. He wasn't sulking, he was pissed knowing that he would miss more games.
We are lucky to have one of the best (when he's on song) strikers in the world. He has the right attitude even if he sometimes goes down pretty easily but you can hardly blame him regarding the treatment he gets ( like the Tarkowski "tackle" which went unpunished).
Seems like we might get new faces in the January window. Really hope for a striker, right back, center back and a fast midfielder.
Holgate and Godfrey should not be played at CB, they can't handle headers and they surely don't know how to pass or start a new attack. They are good fullbacks though, fast and strong.
Gomes will not last beyond summer, PL tempo is way too quick for him.
Dobbin seems like a prospect, he has speed and unpredictability.
Simms probably won't make it at this level, hope I'm wrong.
Gordon is getting there but he needs extra hours at the gym.
Iwobi, where to start? Well he can't run, can't shield the ball, can't shoot, can't pass, does not tackle, is he any good? You know the answer.
Tosun will get his lofty pay until the summer.
But on the bright side, Branthwaite looks like a new John Stones. So nice he signed the new contract because there will be suitors.

Pete Gunby
24
Posted 21/12/2021 at 19:18:21
Fanboy Andrew- Within how many miles of Goodson must we live to be able to comment ?
---
Add Your Comments
In order to post a comment, you need to be logged in as a registered user of the site.
Or Sign up as a ToffeeWeb Member — it's free, takes just a few minutes and will allow you to post your comments on articles and Talking Points submissions across the site.