Two players in on busy transfer deadline day
Monday, 31 January, 2022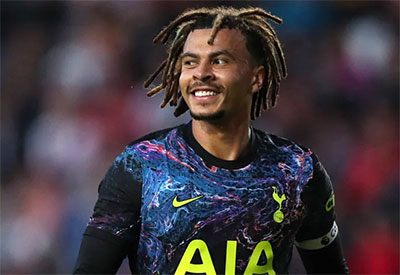 The Blues added two more signings to their squad today as well as unveiling Frank Lampard as their new manager
With the official confirmation of Frank Lampard's appointment, and the arrival of Donny van de Beek on loan, Everton have completed the transfer of Dele Alli from Tottenham Hotspur.
With the Blues having used up their quota of domestic loans, the club turned to a permanent deal for Dele who will get the chance to kickstart his faltering career at GoodisonPark.
According to Matt Law of The Telegraph and Dominic King of the Mail, the agreement involves an initial free transfer with Everton then paying £10m once the former England international has made 20 appearances, with further instalments up to another £30m due after that based on other appearance milestones.
A reported a late attempt by Newcastle, mooted by The Athletic's David Ornstein to beat Everton to the signing looks to have been a red herring and the transfer was completed shortly before the deadline.
Dele will sign a 2½-year contract but, given that he is cup-tied for this season, the structure of the deal means that he is effectively a free transfer until 2022-23 at the earliest.
With the arrival of Van de Beek confirmed, there are reports this evening that Everton were hoping to conclude one more transfer before the 11pm deadline, possibly a centre-half on loan from the Continent but those inquiries didn't pan out.
A dramatic return for Idrissa Gueye from PSG and a loan approach for Luka Jovic from Real Madrid were briefly mooted but neither club were prepared to lose important players.
Meanwhile, England U20 goalkeeper Billy Crellin joined Everton's Under-23s setup from Fleetwood tonight.
In terms of outgoings, coming into the day only Ryan Astley looked likely to be leaving with a temporary move to Tranmere Rovers on the cards for the Under-23 regular but it was team-mate Lewis Warrington who made the switch to Prenton Park instead.
---
Reader Comments (268)
Note: the following content is not moderated or vetted by the site owners at the time of submission. Comments are the responsibility of the poster. Disclaimer
Iain Latchford
1
Posted 31/01/2022 at 11:55:10
Talk of Luka Jovic on load from Real Madrid. Carlo owes us a favour!
Michael Lynch
2
Posted 31/01/2022 at 12:10:20
I really hope Lampard can unveil another couple of players today - even with Donny van de Beek, our midfield is still shite, and our defence not much better. But it seems the media are only linking us with forwards and we have plenty of those now.
Michael Lynch
3
Posted 31/01/2022 at 12:37:27
Bearing in mind we have no budget - the Digne money went on our two new fullbacks, and who could we sell to raise funds? - and are at are max domestic loans once Donny arrives, Loftus-Cheek, Alli, and Lingard are non-starters. Why would Gueye move from PSG to Everton at this stage in his life, and Ramsey will go where the money is.
I'd be surprised to see any more additions today, leaving our midfield desperately threadbare.
Iain Latchford
4
Posted 31/01/2022 at 12:39:12
I have read Luka Jovic on loan, and that we are trying to buy Dele Alli.
Mark Ryan
5
Posted 31/01/2022 at 12:42:36
Going to be interesting...
Tony Byrne
6
Posted 31/01/2022 at 12:43:53
So it is transfer deadline day, our club have still yet to officially confirm the new Everton manager, unbelievable this board.
Does Duncan Ferguson still have a job at the club? Any news as to why Tim Cahill was allegedly at the offices of Kenwright on Friday?
The club communication to its fans is nothing short of pathetic, I can't be arsed with what the media & its speculation is telling us, I want clarity from the club.
As for players coming to the club, it really is anyone's guess under this board.
Dennis Stevens
7
Posted 31/01/2022 at 12:50:16
Lampard may need to get his boots on, the state of our midfield at the mo!
Mick Conalty
8
Posted 31/01/2022 at 12:57:48
Mike K.
I assume that Everton are chasing players Frank has targeted. If Moshiri has any input into the targets, Frank might as well resign now!!
Gary Jones
9
Posted 31/01/2022 at 12:58:04
What would people rather the club do:
1) Put everything into getting deals done
2) Stop and send blogs to us fans so we don't fret
so far, we've had 3 in (and one pretty much nailed on). Yes, we need more in the middle but after sacking Brands and the Fat Kopite we've had nobody other than Kia to ID them. We all saw how the fans reacted to the latter option when they tried to let him ID the manager.
One more signing after Donny van de Beek will be a very welcomed miracle, but it is what it is at this stage. Core focus now is on giving Lampard everything he needs in the backroom to get us free from the shit we are in.
Brian Murray
10
Posted 31/01/2022 at 12:59:44
A commanding centre-half is a must. Failing that, Branthwaite in straight away.
Faisal Bhayat
11
Posted 31/01/2022 at 12:59:53
Everton are now in talks to sign Dele Alli on a permanent transfer from Tottenham. Negotiations are ongoing between the two clubs, with no agreement in place yet. Tweeted by The Bobble.
James Head
12
Posted 31/01/2022 at 13:00:50
There's some las- minute interest from The Vatican in taking Kenwright on loan and Funny Girls in Blackpool have enquired about a permanent move for Barrett-Baxendale, both to be confirmed after due diligence.
Howard Sykes
13
Posted 31/01/2022 at 13:09:41
The problem with all these players are that, when Donny signs his loan papers, Everton have got the maximum two loan players permitted under the Premier League regulations. So no more loan signings this season. If we want any more players now, it's going to need actual money or possibly swaps.
John Zapa
14
Posted 31/01/2022 at 13:10:49
Less than 10 hours until the deadline, I think a defensive midfielder and a striker are needed, I don't think we can rely on Calvert-Lewin staying fit or Rondon replicating his international form.
The worrying thing is the lack of links or viable options.
Ashley Roberts
15
Posted 31/01/2022 at 13:11:34
If we are going to sign anybody please let it be Loftus-Cheek and not Dele Alli. Obviously both would be good but I doubt whether we could afford one let alone both???
Steve Brown
16
Posted 31/01/2022 at 13:12:06
We have to sign Dele Alli on a permanent deal because Benitez was allowed to sign El Ghazi on loan.
My guess is El Ghazi, Mykolenko and young Patterson will rarely feature this season. Incredible incompetence really.
Barry Connor
17
Posted 31/01/2022 at 13:22:48
Howard @14.
I believe that the limit of 2 loan signings only applies to our domestic Leagues (Premier League, Championship etc) and loans can still be done by bringing in players from other Leagues (France, Italy etc).
Colin Battison
18
Posted 31/01/2022 at 13:24:25
Howard #14, We can still bring in a player on loan from abroad, so its only domestic loans that we have used up.
Anthony Murphy
19
Posted 31/01/2022 at 13:29:13
Any chance of a defensive midfielder?
Keith Harrison
20
Posted 31/01/2022 at 13:29:23
Gary (9), and Mark (10). Absolutely spot on. Concentrate on the important things.
Steve Brown, (17). Patterson at least should walk into our team immediately. I can only think you haven't seen him play.
Barry (18) correct. So we won't be loaning the likes of Loftus-Cheek or Alli, but – FFP permitting – we could have a stab at buying them. The alternative is to loan from abroad. I would have Gueye back in a flash!
Nathan Jones
21
Posted 31/01/2022 at 13:29:34
Please not Deli Ali. I don't know what happened to him but he is nowhere near the player he was. I would not completely object to a loan but as has been mentioned we can only take two loan players and we already have two. So it would have to be permanent.
I don't know if we are able to loan players from other Leagues, but getting someone in without Prem experience in our precarious position sounds like a recipe for trouble
That said if we could loan Luka Jovic, Id love to see him in a Everton Shirt.
Bobby Mallon
22
Posted 31/01/2022 at 13:29:52
I found this from the Athletic. We can still loan in 8 players from abroad
( I think)
https://theathletic.com/news/fifa-announces-new-loan-rules-to-clamp-down-on-player-hoarding/wuM4m5NzCPic/
Alex Gray
23
Posted 31/01/2022 at 13:44:39
We can loan two more players but they have to be from abroad. So the vague links to Gana and Jovic would be loans but the likes of Dele Alli and Loftus-Cheek would have to be bought.
Sam Hoare
24
Posted 31/01/2022 at 13:47:40
Now for Van De Beek.
Delle Alli could be great or could be Delph. He's still pretty young so has the time to get back to the top. But does he have the attitude?! I'm not sure. Hope we wouldn't spend more than £10m on him but overspending has been our modus operandi in this window so far.
Mark Ryan
25
Posted 31/01/2022 at 13:50:54
Joe Edwards his number 2 and Paul first team coach. I don't really know Edwards, is this good ? I know Paul Clement. Edwards anyone ?
James Lauwervine
26
Posted 31/01/2022 at 13:54:44
Thought his interview was excellent. He comes across as likeable, intelligent and passionate. And the only thing fat about him is his salary. Welcome Frank!
Ben Howard
27
Posted 31/01/2022 at 14:26:58
Am I the only one thinking "Bollocks to Financial Fair Play!"?
Get the players in to stay up!
Si Cooper
28
Posted 31/01/2022 at 14:32:39
Ben (40), if breaking the FFP rules guaranteed safety and we couldn't possibly get severely punished for it later then I'd be with you.
But it doesn't.
Dennis Stevens
29
Posted 31/01/2022 at 15:04:16
Aye, Anthony #20 - let's hope Lampard has a foreign loan lined up for us.
Jay Harris
30
Posted 31/01/2022 at 15:06:39
Ben,
It's not just about FFP (which applies to Europe). It is about the Premier league Profitability & Sustainability rules and they can (and would, being Everton) inflict a points deduction.
Martin Reppion
31
Posted 31/01/2022 at 15:13:08
Ignoring the FFP rules could lead to us being next year's Derby County. If we have not lined up exit deals for some of those players on the fringe of the fringe [Insert usual suspects here] or saleable assets we have cover for [list your least favourite centre-back and Jonjoe Kenny], then it seems we can't pay cash for anyone.
If that means we have to loan some Carlo Cicabals for a few months, so be it.
It's been frustrating watching all the players we've been linked with since last summer signing for the Barcodes or, even worse, across the park. But that is our current reality. At least if the North East nouveau riche fail to survive, we know there will be the yard sale to end all yard sales in June.
Meanwhile, I'm going to have a late night with a glass of scotch and Sky Sports News and their ridiculous countdown clock.
Keith Harrison
32
Posted 31/01/2022 at 15:17:03
We're in talks to sign Dele Alli!!
Frank will sort him out!! There was a player in there once.
Robert Leigh
33
Posted 31/01/2022 at 15:20:19
Excited about Frank, should put some much-needed energy into the Club.
At least with Donny van de Beek coming in, that should mean a 3-man midfield? He cannot be part of a 2-man set-up in a struggling side, surely. Dele Alli will have a point to prove should he come in.
If everyone is fit for the run-in:
Pickford
Patterson - Godfrey - Mina - Mykolenko
Van de Beek - Allan - Doucouré
Gray - Calvert-Lewin - Richarlison
Still leaves us with: Begovic, Keane, Holgate, Branthwaite, Coleman, Kenny, Davies, Gomes, Delph, Gbamin, Townsend, Gordon, Iwobi, El Ghazi, Rondon, Tosun, Dobbin.
Surely that is enough to stay up.
Shane Corcoran
34
Posted 31/01/2022 at 15:25:46
Alli done.
Tony Everan
35
Posted 31/01/2022 at 15:29:55
Dele Alli, there's no doubting his talent, but he has lost his way for whatever reason. He needs to get back to enjoying his football, just maybe Frank can find the key to him mentally and get him switched on. If he can, he will be a massive asset and he is just coming into his prime. Well worth a gamble at the right price.
I can't see Idrissa Gueye coming back as he is living his dream at PSG, I don't think he's going to swap it for a relegation scrap with us. That said we desperately need a midfielder to bring what he does. I thought that this type midfield player was the big no1 priority to keep us strong in the battles ahead.
Still seven hours left so you never know there maybe a late surprise.
Johan Elmgren
36
Posted 31/01/2022 at 15:29:59
Here's an interesting name I think we should consider for the defensive midfield-role...
Boubacar Kamara, Marseille-player, 22 years of age, but has already amassed 146 appearances for their senior side. French U21-player. A loan with an option to buy in the summer?
Iain Latchford
37
Posted 31/01/2022 at 15:30:00
Fabrizio Romano saying Dele Alli is a done deal, subject to a medical. TalkShite, were saying a few mins ago that Spurs would want somewhere between £30-45M. That seems a bit excessive, doesn't it??
Peter Hopkins
38
Posted 31/01/2022 at 15:31:19
£30-40 million for Alli??
No thanks, not what we need.
Johan Elmgren
39
Posted 31/01/2022 at 15:32:47
With the form Alli has been in, I wouldn't pay more than £20M... Big question if he'll ever get back to the form of a couple of years ago...
Craig Walker
40
Posted 31/01/2022 at 15:34:01
Twitter saying Alli is a done deal. Would love to see Lingard at Everton but can't see it.
Mike Gaynes
41
Posted 31/01/2022 at 15:34:11
Wow. Now THIS is a window. A manager and a bunch of
potentially
helpful players.
Sam and Keith, I'm with you on Alli. No player in the Prem has made less out of that much talent, but the talent is undeniable. If a guy like Lampard can get this moody kid to actually tap into what he has, he could be a bigger steal than Demarai Gray.
Bobby Mallon
42
Posted 31/01/2022 at 15:34:43
TalkSport say the Deli Alli sale is £45 million. Do we never learn? He's worth £15M at the most.
Will Mabon
43
Posted 31/01/2022 at 15:35:27
Anthony @ 19:
Another plaintive cry carried away on the wind maybe.
I'll add my hopeful voice.
Fran Mitchell
44
Posted 31/01/2022 at 15:36:04
Alli is an interesting one. How would a midfield with him, Van de Beek and Doucoure work? Very attacking – not much in the way of defensive.
Mal van Schaick
45
Posted 31/01/2022 at 15:40:08
If Alli plays as he can he will be a good asset to us, but if he sulks as he has been doing at Spurs, he could be another problem.
Van de Beek, to long a name for a shirt… I bit like mine.
Okay if these two get us up the league and to a summer transfer window, it will be good business.
Will Mabon
46
Posted 31/01/2022 at 15:40:09
Iain,
I think committing any purchase money for Alli untried (loan) is a bold or overly risky step right now. I hope we don't go panicking back to the Sigurdsson or Klaassen knee-jerk era.
This said – where would the money be coming from?
Marc Hints
47
Posted 31/01/2022 at 15:40:14
Fabrizio on Twitter has just said it's a done deal with Alli just confirmed – on his way to have medical.
James Newcombe
48
Posted 31/01/2022 at 15:42:11
£45M?! That'd better not be anywhere near true.
Gary Jones
49
Posted 31/01/2022 at 15:42:54
Still think most of the noise is smoke without fire. Levy is a bellend, and there's no way we're getting Ali for anything less than we paid for Iwobi, and we all know how that panic worked out. any permanent transfer at this stage would be very unlikely…..
For me, one of Gana or Jovic on loan (and Holgate out to Brighton for £14M or so) and I'd be happy. Both of them and I'd be ecstatic. None of them, and it's all going to come down to our dynamic young manager and Richie and Calvert-Lewin really stepping up to their best levels.
Will Mabon
50
Posted 31/01/2022 at 15:43:27
If Alli really does come for the kind of money speculated, Levy will be tickling his own teabag with delight.
Surely not?
Eddie Dunn
51
Posted 31/01/2022 at 15:43:51
Talkshite are talking shite, £45M, my arse.
The kid is only worth £25-30M tops.
Tom Bowers
52
Posted 31/01/2022 at 15:44:40
I am always concerned when players who have had some great days with their clubs but fallen out of favor come to the notice of Everton.
Now it doesn't always translate as proved by Lingard going on loan to the Hammers last season who did a great job there. In another perspective, a change in managers can affect whether you are a starter or not.
We have had some disappointments in that department with the likes of Walcott etc.
Gray and Townsend have done well without costing anything and we hope the other new recruits, loans or otherwise prove to be worthwhile.
Dele Alli can score goals and reminds me of Martin Peters who quietly popped up with vital goals during his heyday.
Whether he can regain that early Spurs form is another matter.
Marc Hints
53
Posted 31/01/2022 at 15:45:16
Everton finalising Dele Alli permanent transfer. Two and a half year deal, fee dependent on appearances.

John Zapa
54
Posted 31/01/2022 at 15:45:51
Alli seems to be an initial free transfer, £10m to be paid once he plays 20 games, if he plays 20 games.
Will Mabon
55
Posted 31/01/2022 at 15:45:54
Not the safest buy even then, Eddie. Potential yeah, but problems - proven.
Kieran Kinsella
56
Posted 31/01/2022 at 15:46:24
So the plan is we keep our ancient right-back, use a centre-back at left-back as apparently Mykolenko is a joker, use Holgate and Keane still aside from when Mina is fit. Allan and that "hole" behind him in central midfield by himself with Docouré injured then we have a bunch of attacking midfielders competing for a few spots? This sounds like Steve Walsh 2.0
Will Mabon
57
Posted 31/01/2022 at 15:47:44
John - more realistic.
Stuart Sharp
58
Posted 31/01/2022 at 15:48:29
Alli is worth more than people are suggesting. Especially in today's market. I think it's as good a buy as we can realistically hope for. Yes, Levy is a tit, but they presumably need to raise cash to satisfy Conte.
Eddie Dunn
59
Posted 31/01/2022 at 15:49:26
Will -I suppose we are in a weak bargaining position with the King of the table in Levy. We never get a good deal from him.
However, this kid has talent and is still young..maybe Frank is just the man to sort his head out.
John Chambers
60
Posted 31/01/2022 at 15:53:06
Can't see why we are after Ali. For me we need another midfielder prepared to do the hard slog of disrupting the opposition, as per the Gueye speculation, rather than another "Fancy Dan" like Ali, unless we are swapping him for Iwobi (I wish!!)
Michael Williams
61
Posted 31/01/2022 at 15:53:34
We're in for a guy who failed his last four managers? Either Lampard is not a very bright guy or the board is doing what the board does. Not good either way.
As for "Frank will sort him out." Why? Pochettino, Mourinho, Nuno and Conte could not "sort out" Alli but Frank will. Sure.
Best I am hoping for is he gets excited by new surroundings and helps us this year before he gets complacent and becomes just another player we talk about as we wait for his contract to run down.
I am against this one all the way.
Brian Hennessy
62
Posted 31/01/2022 at 15:54:25
This deal for Dele Alli seems very good for us. Not a penny to pay until next season as we don't have 20 games left.
Pa Ro
63
Posted 31/01/2022 at 15:55:24
Reports that Alli is coming on a free, with a £10mil future fee based on appearances. That sounds like good business. If Frank gets a tune out of him then surely it's a great signing.
Mike Keating
64
Posted 31/01/2022 at 15:55:26
Is Alli cup tied?
Will Mabon
65
Posted 31/01/2022 at 15:56:33
Mike - Josh King is.
Marc Hints
66
Posted 31/01/2022 at 15:57:33
Michael #62
Either way your thinking its a great deal isn't it? No cost until next year!
Deli Ali has a lot of talent and sometimes players need a fresh start.
Andrew Flanagan
67
Posted 31/01/2022 at 15:58:32
Stay away from Delli Ali. Not what we need.
Michael Lynch
68
Posted 31/01/2022 at 16:00:35
Dele is a waster. Still, we should be able recoup his wages in fines.
Will Mabon
69
Posted 31/01/2022 at 16:01:21
Eddie, maybe the "Better" rumours are nearer the mark. We should know in a few hours. Frank's
connections
maybe coming into play?
John, we really need that type of midfielder. Here's hoping.
Dale Rose
70
Posted 31/01/2022 at 16:01:25
Looks like a done deal.
Brian Hennessy
71
Posted 31/01/2022 at 16:01:35
A two and a half year contract for Dele Alli so if he doesn't put a shift in before reaching the 20 games to trigger a fee, we can either sell him on or leave him sit on the bench.
Simon Jones
72
Posted 31/01/2022 at 16:02:37
Alli is the type of player who can get you out of your seat. With a new manager, Van der Beek and Alli, I'd like to go back to looking forward to seeing Everton play instead of fearing the worst.
Simon Jones
73
Posted 31/01/2022 at 16:02:38
Alli is the type of player who can get you out of your seat. With a new manager, Van der Beek and Alli, I'd like to go back to looking forward to seeing Everton play instead of fearing the worst.
James Newcombe
74
Posted 31/01/2022 at 16:03:45
Yes Alli seems to be cup-tied, he started up front against Morecambe
Kieran Kinsella
75
Posted 31/01/2022 at 16:05:01
Simon,
"Alli is the type of player who can get you out of your seat." we've no issues there. The current crop got a bunch of fans to leave their seats against Liverpool.
Kristian Boyce
76
Posted 31/01/2022 at 16:06:23
As no one has mentioned it today and it's part of a TW tradition, Riquelme was spotted getting into a taxi at the airport
Brian Hennessy
77
Posted 31/01/2022 at 16:07:50
Six hours to go. Still time for PSG to make a move for Rondon.
Kieran Kinsella
78
Posted 31/01/2022 at 16:11:00
Kristian,
Are we going to use the Arteta money to nab him?
Denis Hignett
79
Posted 31/01/2022 at 16:11:07
Who is Dele Alli's agent?
He's not what we need; just another number 10.
We need a ball winner - please no.

Rob Halligan
80
Posted 31/01/2022 at 16:11:28
We will sign Dele Alli as "A Free", then after he's played twenty games we pay spurs £10M.
Mark Ryan
81
Posted 31/01/2022 at 16:12:01
Why are people obsessed with the fee the potential fee, add ons etc ?
Its got nowt to do with the price of bread. This lad has talent in abundance. One of the very best midfielders in the country on his day. Mourinho treated him like a leper. Put your arm around the lad and get him doing what he does best, scoring goals. Who else did people honestly think we'd get in January, I mean realistically who was on offer ? To us I mean ? not Lingard. He's off to West Ham surely or nowhere.
I'm made up. I think he's got the potential to find his best form at Everton and under Lampard and moving forward into next season, what an asset he can be. He is not past his best, for sure

Brian Williams
82
Posted 31/01/2022 at 16:13:24
Dele Alli is a better player then any of our midfielders by an absolute country mile.
He may have/had problems or issues with temperament/behaviour/attitude and lost his way.
Demarai Gray had lost his way too. People on here looked down their noses and poo pooed us buying him too. He was only £1.7m he must be shit etc etc.
He's been our standout player this season, an absolute revelation.
Get over yourselves with this elitist attitude that some have when it comes to players we should or shouldn't bring in.
Take a look a the table and give your heads a wobble.

Rob Halligan
83
Posted 31/01/2022 at 16:17:16
Agree Mark # 82. You'd think people on here were contributing to the transfer fee out of their own pocket!!
Anyone got a spare fiver??
Des Farren
84
Posted 31/01/2022 at 16:17:34
Bojo could soon be available on a free.
Dave Lynch
85
Posted 31/01/2022 at 16:17:48
Here we go... the ToffeeWeb managers who know everything about what players we need.
Take a look at the table, then take a look at our squad.
Alli is a fucking good footballer, or would you prefer Tom Davies?
Duncan McDine
86
Posted 31/01/2022 at 16:18:25
It does feel a bit like the window when we brought in 3 number 10's. One Dutch flop, one 'has-been'… that's Beek and Ali sorted, we now need to look for an overpriced Scandinavian who could potentially be 'on the register' before the window SLAMS SHUT!!!
Sam Mellor
87
Posted 31/01/2022 at 16:18:37
I wonder how Alli and Van der Beek fit in together but I know Alli's played deeper in midfield at times. And its always good to have options, particuarly as one of them'll inevitably pick up an injury jogging on to the training pitch tomorrow morning knowing our luck this season.
Not really sure how you can criticise havinga try with him, he's a great player on his day and we just aren't an attractive proposition for top level players at the moment. He's 25 with plenty of England caps and a point to prove. It might not work but lets give him a chance, I can at least see the logic of it.
Kristian Boyce
88
Posted 31/01/2022 at 16:19:13
After how many years of owning us, Morshiri finally learns how to do a decent transfer deal.

John Zapa
89
Posted 31/01/2022 at 16:19:44
I guess the idea at the start of the season of reducing the wage bill is out the window now. Its going to be higher than ever by tomorrow
Phil (Kelsall) Roberts
90
Posted 31/01/2022 at 16:20:33
Kristian, yeah, he was most miffed having to pay for a taxi as he thought he could get a free bus ride with a Merseytravel over 60s card but that is only after he has signed and living locally.
Kieran Kinsella
91
Posted 31/01/2022 at 16:21:56
Don't have a problem with Alli but I don't see his type of player as a priority when we basically only have Allan as a gritty midfielder versus a flair player. Alli was best at Spurs in a 10 role behind the forwards. That's where VDB plays. That's where Doucoure is most effective also (when fit). Then we have our two in form players, Gordon and Gray both attacking wide players, and our supposed "diamond" strike force of DCL and Rich. That's a lot of attacking players to fit into a balanced 11 while we still have the Keystone cops in defence and Gomes and Gbamin seemingly battling over a spot alongside Allan.
Michael Lynch
92
Posted 31/01/2022 at 16:21:56
Be interesting to see how we use him. Even when he was good, all his best work was done in the opposition box, so he's not going to shore up the midfield. But isn't Donny VDB also a number 10? So how do we line up with both of them in the team?
Bobby Mallon
93
Posted 31/01/2022 at 16:25:42
Well maybe just maybe DVB Ali and Allan are all professional enough to know that they have to defend as a unit and attack the same way. There's to much emphasis on he's a number 10 and so is so and so. City don't h play with a striker and they manage with a whole team full of number 10s
Mike Gaynes
94
Posted 31/01/2022 at 16:27:20
Mark #82 and Brian #83, amen and bravo.
Kristian #89, some people's learning curve is slower than others. But yes, he is finally showing signs of having one.
John #90, that's kinda what happens when you add talent. We added Patterson, Mykolenko and El Ghazi for less salary than we were paying Digne alone. Bringing in players like VDB and Alli, you have to pay 'em. Would you rather we'd just stood pat?
Kieran #92, today's two signings would mean we'll likely never see Gomes and Gbamin again.
David Pearl
95
Posted 31/01/2022 at 16:28:24
Yes so thats 2 number 10's so just 1 more to go to match our record. (Joking of course). Great stuff from Everton over the last couple days.
Neil Thomas
96
Posted 31/01/2022 at 16:29:19
Dave #86
Well said. Couldn't agree more. If he can get these two back to their best, what a midfield. And people are forgetting that Frank played with Gerrard in midfield. Intelligent players will know how to cover each other, and I can't understand all this moaning, when for the last few seasons the same people have been moaning about the boring football we play. Well I think by the look of it Frank is about to change that.
Craig Walker
97
Posted 31/01/2022 at 16:29:22
Well said Dave Lynch. We need all the good players we can get and Alli and Donny improve our options instantly.
Still think we're lacking at centre half unless Branthwaite is given more of a chance under Lampard. I might sound greedy but more options up front would be welcome. Wish we'd gone for Lingard.
Dave Lynch
98
Posted 31/01/2022 at 16:32:08
Reason we have gone for Alli is simple.
Hes better than what we have.
Ajay Gopal
99
Posted 31/01/2022 at 16:32:16
Of course it is important for Everton fans to know how much we are paying for a player. I wouldn't want us to spend beyond our means and get docked 12 points for breaking FFP, would you?. I don't know who is in charge of negotiating at EFC, but we seem to have got much better at it this season - Gray, Townsend and Begovic at 1.7 million, Patterson for 12 million and Mykolenko at 16.5 million (I remember reading that this fee would be paid over 3 or 4 years), El Ghazi and Van de Beek on loans, and Alli on zero down payment and 10 million only after he has played 20 games for Everton - all this sounds like some very innovative deal making. I wish we could have sold off at least 1 of Iwobi or Gomes to balance the books a bit. I am just a bit worried that we have too many similar type of players - Richarlison, Gray, Townsend, Gordon, El Ghazi, Iwobi and now Alli if this comes off. What I wouldn't give to have a player like Bissouma or Declan Rice in our team.
Kieran Kinsella
100
Posted 31/01/2022 at 16:34:32
Bobby
City have a better number 6 than Allan and world class defenders. We don't have anyone at the back who can play the ball out which means we rely on long balls. That's not ideal for utilizing VDB and Alli. We need some center backs who can a)get the ball forward to these players so they can show their skills and b)center backs and defenders who don't take it in turn to score own goals.
Brian Williams
101
Posted 31/01/2022 at 16:37:48
Of course it is important for Everton fans to know how much we are paying for a player. I wouldn't want us to spend beyond our means and get docked 12 points for breaking FFP, would you?.
No we wouldn't Ajay but because we know doesn't mean we have any influence over it so realistically speaking it doesn't matter.
Fran Mitchell
102
Posted 31/01/2022 at 16:38:01
If we are to play 4-3-3, then I assume Alli will be part of a 3 with VDB expected to play deeper. Can they play together?
Up front we'd be 3 of DcL, Richy, Grey and Gordon.
Townsend, Iwobi, El Ghazi are just substitutes and squad players. Gomes too I'd imagine.
The issue is how te midfield sets up. 2 (predominantly) attacking midfielders, getting th balance. Lampard must have ideas.
However Alli looks asmart move I he plays to his potential, he's an excellent goalscoring midfielder and we pay substantial fee. If he doesn't, then we don't cough up too much.
Graham Coldron
103
Posted 31/01/2022 at 16:38:33
Deli or Longstaff ? Been a long time since we were being linked with ( and possibly signing ) a media darling.
Looks like Frank is having a massive influence already.
Mark Ryan
104
Posted 31/01/2022 at 16:43:42
If we were signing Longstaff, Barkley, Delph or Schiederlin I could understand the concern but this lad can really knit together our midfield and he has class, proper class. Alan Ball would like this lad
Gary Jones
105
Posted 31/01/2022 at 16:43:48
Right, that's me feeling stupid. Looks likes there is plenty of fire with the smoke, and IF it's effectively just 10m after 20 games then that's genuinely amazing. Think we'll be getting shafted somewhere on this tho, and the noise about up to £40m with clauses sounds more like us and Levy.
Anyway, after getting it wrong there, may as well see if the jinx works again = no WAY are we getting Tarkowski, Gana/RLC and Jovic today!!!
Defo an interesting conundrum on where we'd play Alli and DvDB. Thinking a VERY attacking 4-3-3 with Alli converted back to early career position?
Pickford
Patterson Mina Godfrey Mykolenko
DvdB Allan Alli
Gray DCL Richie
Doucoure in for Allan when he's back, and Gordon and Dobbin getting minutes when the front 3 tire….?
Still feels a bit soft in the middle tho…..time for come home a hero Idrissa….
Will Mabon
106
Posted 31/01/2022 at 16:44:45
Rob @ 84:
it's not that there's a transfer fee, it's the possible/speculated size of it that concerns some. Seems now like the deal may be more realistic.
As to "Their pockets" - directly and by varying degrees of indirectly, that's where all the money eventually comes from!
Kieran Kinsella
107
Posted 31/01/2022 at 16:46:43
Gary 106
With regards to the front 3, if it's between DCL, Rich, Gray and Gordon then surely on form, the odd man out must be DCL or Rich
David Pearl
108
Posted 31/01/2022 at 16:47:28
Ajay, 100
His name is William Kenwright
John Raftery
109
Posted 31/01/2022 at 16:48:56
We desperately need new players especially in midfield. Beggars can't be choosers but our financial situation dictates any deals must be heavily loaded with add-on clauses. Realistically we are in the market for mid-table players, those priced around the £30m mark.
Alli's career has nose-dived in the last two and a half years, in part I believe, owing to Mourinho's very public put-down regarding the player's commitment in training. Providing Alli grabs the opportunity to resuscitate his career he could significantly improve our attacking midfield play. If however he has lost his appetite for the game, we are lumbering ourselves with another bench sitter.
Keith Harrison
110
Posted 31/01/2022 at 16:49:40
For those waiting for a Scandinavian number 10 to come in as well, we still actually have one! He's currently not available, but we still have him.
We announced a new manager this morning. He's had f*** all time to work on things, but still has got Van Der Beek, and it looks like Alli over the line. £45 mill for Alli. Ridiculous!! FFP prevents that, so I'd prefer to believe the free, and fees on appearances. He's cup-tied, so unfortunately won't be available for the Final, but as someone else said, there aren't 20 league games left, so there will be no cost in this season.
We have enough defenders at the moment, and midfield needed addressed. We get 2 in and it's still doom and gloom on here in some quarters.
I'm personally happy with what we have, let's wait and see how it pans out.
We also did not get Martinez, so I'll retain my season ticket, as I feel this will be the start of us on the up again.
COYB.

Christy Ring
111
Posted 31/01/2022 at 16:49:49
Alli's fee is all about add ons so I wouldn't be worried, we're definitely lacking an attacking midfielder who can score goals, and VDB can play no.8, I'm buzzing, if we could get a defensive midfielder from abroad on loan, it would revamp our midfield. Onwards and upwards Frank.
Brian Harrison
112
Posted 31/01/2022 at 16:51:19
I think we have to factor in a couple of important facts first the initial fee is for £10 million, and we only pay more after he has played 18 games. Now seeing that he is cup tied it will be next season before he can play the number of games required before we pay a penny more. Also he is still only 25 and only a couple of seasons back under Pochetinno he was an England regular and one of the most sought after midfield players in Europe.
I read that Mourhino suggested Alli needed to move away from Spurs to resurrect his career. Sometimes a change is as good as a rest, and lets be honest we have a manager who understands the role of an attacking midfield player better than anyone.
Neil Thomas
113
Posted 31/01/2022 at 16:51:43
Alli and Donny can both play as box to box midfielders, so with the right coaching from Frank it's one hell of a pairing
Michael Williams
114
Posted 31/01/2022 at 16:51:57
Marc #67 - I posted before I knew he was 10 million etc. I still don't like Alli for us. Like I said before he has failed his four previous managers - three of them world-class. Why will this be different? My guess is he shows effort and quality until his contract kicks in then he ends up what he is. After long enough people are who they are. I hope I am wrong.
Brian Williams
115
Posted 31/01/2022 at 16:52:15
If recent weeks have taught us anything it's the importance of having players to step in to cover for injuries without too much of a dropoff in quality. We don't have that and haven't had that.
It should be born in mind as well that VDB is with us for just four months.
Martin Mason
116
Posted 31/01/2022 at 16:54:44
This could be the most devastatingly good transfer window ever for Everton. He was superb until recently, surely class is permanent? Please God, grant us Gueye, we never replaced him.
Michael Lynch
117
Posted 31/01/2022 at 16:56:58
Aye that's true about VDB Brian - we haven't got a loan to buy deal, so he's going back in May, while Alli stays. Lampard must have promised VDB plenty of game time though, so I'm guessing they're going to be playing in the team together. Dele is all about getting into the box, so I'm guessing DVB will be sitting a bit deeper.
Alan Johnson
118
Posted 31/01/2022 at 17:00:57
Early day s I know. I'm very impressed with what's happening.
Brian Williams
119
Posted 31/01/2022 at 17:01:53
I missed out on the "edit" function but wanted to add that we have to start looking beyond just the first eleven if we want to progress.
Joe Corgan
120
Posted 31/01/2022 at 17:12:02
Alli has the potential to be a fantastic signing. I think he's already proven how good he can be. At his best, he's a top player.
He's been out of form a while and he's obviously not happy at Tottenham. But if that wasn't the case, we wouldn't be anywhere near signing him.
Compare Alli to a somewhat unknown player, coming in from a foreign league and I think this is as safe a bet as we could hope to make. No guarantees, of course, but at least we're getting somebody with proven quality and a proven track record in the Premier League.
Mark Ryan
121
Posted 31/01/2022 at 17:15:08
Joe @121 spot on. He knows the Premier League and is proven. Just needs a plate of scouse and an arm around him
Mike Gaynes
122
Posted 31/01/2022 at 17:15:43
Joe #121, heartily agree.
Conor McCourt
123
Posted 31/01/2022 at 17:15:49
Those writing off Gomes may well be surprised. This is a new manager with a clean slate for the players.
At Chelsea Jorginho sat in a three and Kovacic was even preferred as a sitter to Kante because Frank wants a playmaker to start the attacks. Van de Beek and Alli will provide energy either side. The two best players capable of playing forward are Gomes and Davies. I could see Allan and Doucoure being less prominent under this regime.
John Zapa
124
Posted 31/01/2022 at 17:18:10
5 in, 1 out so far. Could someone unexpectedly leave to balance the books?
Danny Broderick
125
Posted 31/01/2022 at 17:18:19
If ever Alli needed someone to coach him back to his best, he could do no better than Frank Lampard based on the way he played in his playing career. Cracking signing with the money involved. If it doesn't work out it won't cost the earth. And if it does work out, we stand to gain a good attacking midfield player.
I think Alli needs to get out of London. This could get him going again. Same for Van de Beek. 2 really good signings, for little cost.
Ed Prytherch
126
Posted 31/01/2022 at 17:19:01
I hated Ali when he played against us, narky, winding up and getting under our player's skins, but if he does that for us then I will become one of his fans.
Keith Harrison
127
Posted 31/01/2022 at 17:21:21
John (125) Perhaps Holgate. Or Keane, Brighton will need a CB.
Keith Harrison
128
Posted 31/01/2022 at 17:23:02
Agreed Ed. Exciting times. 6 Nats and a Blue revolution.
Paul Jones
129
Posted 31/01/2022 at 17:23:05
Dele Alli - because one Alex Iwobi is never enough.
Richard Lyons
130
Posted 31/01/2022 at 17:23:52
Oh for heaven's sake, they've only gone and got me hoping again... and you know what they say about "the hope"...
Brian Williams
131
Posted 31/01/2022 at 17:30:09
Paul#130.
Paul, comparing Alli with Iwobi is embarrasing.
John Boon
132
Posted 31/01/2022 at 17:34:21
We all need to try to stay positive in difficult times. We cannot undo the past so we just have to try to stay away from blaming everyone connected with Everton and give Lampard our full support. Benitez was a huge mistake, but there is no value in constantly bringing it up.
I try to focus on my own finances and just have to worry about managing my own house. Football is a huge business and I am amazed at those fans who try to sort out Everton's debts and finacial problems.For me to even try to give advice in that area would be ridiculous.If I ran Everton we would be out of business before the window closed.
Tony Everan
133
Posted 31/01/2022 at 17:42:44
Details: free transfer, €12m after 20 games and bonuses for next years.
It could reach €35/40m but of course depends on Dele/team performances.
He's got huge talent so if Frank can get him back to his best in his prime years this has the potential to be a great signing for us. I will be delighted to him in an Everton shirt scoring goals from midfield.
Paul Jones
134
Posted 31/01/2022 at 17:44:03
Embarrassing for who Brian? Look up their stats for this season here
Deli Alli v Alex Iwobi, Season 2021/2022
. Then come back and tell me exactly what I've missed here.
Like all blues I want anyone in the shirt to do well. But I don't think we need another player who hustles and bustles his way through every game with no end product.
Mick O'Malley
135
Posted 31/01/2022 at 17:44:47
I'm feeling very optimistic today with our transfer business, hopefully better times are on the way. UTFT!
Gary Jones
136
Posted 31/01/2022 at 17:46:33
Kieran @ 108, it's a fair comment bud. Think Richie as the spear, flanked by Gray and Gordon is doable. I'd give DCL another 2-3 games to find his mojo again tho personally.
Peter Neilson
137
Posted 31/01/2022 at 17:49:31
Guessing Alli will play the 10 role with Van De Beek sitting deeper. United wouldn't give him a real chance in this role so it makes sense that they loaned him as they'll see how effective he is. Maybe Lampard discussed his plans with them as well as the player?
Alli might be suffering from nothing more than a bad case of long term Mourinhoitis. Get him back to the player he was under Pochettino and he'll be a great signing. Good luck to both. A positive couple of days.
John Reynolds
138
Posted 31/01/2022 at 17:53:49
Dele Alli seems like a wild throw of the dice. If we get the the Mark I version of 3 or 4 seasons ago then we hit the jackpot. If we get the more recent nonperforming sulky Mark II version, it's another expensive waste of space.
That's a big if, but unlike Iwobi, Alli has real quality and talent.
John Cook
139
Posted 31/01/2022 at 17:55:39
To change subject a bit,I can't help thinking Brentford have a gem with Eriksson.Even with a heart attack he's fitter than Delph will ever be.
Kieran Kinsella
140
Posted 31/01/2022 at 18:02:33
Paul Jones 135
Those stats certainly don't look encouraging. But, the hope is Dele's stats look more like those from 3 or 4 years ago. Iwobi has never looked like a great player. Dele has.
Matthew Williams
141
Posted 31/01/2022 at 18:03:42
It's all beginning to look very positive for us,for a change!.
Kieran Kinsella
142
Posted 31/01/2022 at 18:06:25
John
I guess the question with Ericsson will be one of fitness (heart apart) after six months not playing. The six month deal suggests both parties see it as a bit of a roll of the dice.
John Graham
143
Posted 31/01/2022 at 18:08:52
Once a very good player but with his total lack of form let's hope anything above £20 million is dependent on us winning the league.
Get the feeling it's another big mistake in the making as per Siggy, Awobi, Tosun, Walcott and a few others.
When you look at Liverpool getting another world class player for less than we could end up paying it shows what a sad state the club is in.
Please prove me and many others wrong Dele and you will be in our hearts forever.
Mike Gaynes
144
Posted 31/01/2022 at 18:08:52
Paul #135, I think your comparison is 180 degrees off.
The problem with Alli is that he doesn't hustle and bustle. He wanders and sulks.
But as far as end product is concerned, he previously scored 22 goals in one season -- more than Iwobi has scored in his entire LIFE -- and his talent and upside are so far above Iwobi's it's ridiculous.
Even playing crap, he's better than Alex. And if Lampard can get him playing again at his previous level... whoa, baby.
And if he can't... we lose nothing.
Peter Neilson
145
Posted 31/01/2022 at 18:10:01
There's the danger of stats from a single season. Yes Alli has struggled since the dour one took over at Spurs but his record prior to that was excellent. The two players are miles apart in their ability/capability. It's evident from just watching them over a number of years. If stats are needed the complete picture is Iwobi has never scored more than 3 league goals in a season and has 14 goals and 19 assists in 168 league games. Alli has scored 18 league goals in a season and has 51 goals and 34 assists in 181 league games. He's come to us because he's in a rut. Here's hoping Lampard gets him firing again.
Peter Neilson
146
Posted 31/01/2022 at 18:18:17
John (140) agree with you about Eriksen. Just the medical rules of Siere A that forced the move. No doubt the strong Danish links with Brentford helped. Cracking player looking forward to seeing him back, but maybe not on Saturday.
Michael Lynch
147
Posted 31/01/2022 at 18:19:37
My understanding is that he's signing a contract, so we have to pay Dele his wages whether he plays or not. Even if he's not performing well, he's going to cost us maybe £15m in wages, while every time he plays 20 games for us, he costs us another £10m.
So Frank, or whoever is manager, is going to have to make a call after 19 games. Does Dele sit at home playing Fortnite for the duration of his contract, doing a Tosun and refusing to move, or do we play him occasionally at the additional cost of £10m?
There really is no such thing as a free transfer.
Kieran Kinsella
148
Posted 31/01/2022 at 18:20:05
Just for clarity though we can't put Alli's downturn on Mourinho. Alli had already turned crap that season (along with most of his teammates) before Jose came. On the Amazon show, one of the things Levy asked Mourinho upon arrival do was to get Alli back to the player he had been "a few years ago." Then Mourinho on meeting Alli joked he must be Dele Alli's brother as he wasn't showing the skills of Alli of old. Dele actually was on a downturn during Spurs CL final season, with more bench time, half as many goals and much fewer assists. His peak was back in 2016/17. Now obviously Mourinho's handling of him didn't improve him and may have made him worst, but for one reason or other he turned some time before Mourinho arrived even being picked out for his slump in form by Roy Keane as early as 2018.
Neil Thomas
149
Posted 31/01/2022 at 18:22:58
John #144,
I don't think you can really compare us to the RS, they are capable of bringing in whoever they want because of their success lately – why do we keep comparing Everton to either Liverpool or Man City?
Just look at the league and be grateful we're bringing in players. All season, everyone on here has been moaning about our lack of signings. Now we're signing players, you're all moaning about that.
Danny Baily
150
Posted 31/01/2022 at 18:27:10
Michael, surely it's not £10M every 20 games. That would be ruinous. My understanding is it's just over £10M after 20 games and then the rest is in performance related bonuses. If he's performing, he'll be worth the £40M.
Brian Williams
151
Posted 31/01/2022 at 18:27:30
Mathew#142.
It's all beginning to look very positive for us, for a change!.
You wouldn't think so judging by some of the posts.
But hey, why try to be positive when it's so much easier to sit and moan and have the players failing before the ink's dry on their contract.
Loads of social media sites have quotes or posts referring to Everton fans, supporters, being toxic.
I find it more and more difficult to defend that description.
Peter Neilson
152
Posted 31/01/2022 at 18:34:35
Kieran,
Yes, I agree that his relative slump started prior to Mourinho. Sorry, my fault, I find it easy to blame Mourinho for pretty much anything. Even Pochettino talked about helping him return to his best form.
But he's young enough to return to his best if he's still hungry enough. I think he's a provably good player but Iwobi isn't. Fingers crossed.
Jay Harris
153
Posted 31/01/2022 at 18:40:03
We've needed more aggression and goals from midfield for years and these 2 moves address that.
We need to stop moaning and get behind the manager and players cos this is the last chance saloon.
John Graham
154
Posted 31/01/2022 at 18:46:57
Neil (50),
My point is that we are constantly paying over the odds try to force ourselves up the table. I could compare us to many other teams in the league such as Leicester, Brighton, West Ham and others who constantly spend more wisely.
We need to build a strong base where we can then bring in the odd players to improve the squad instead of just throwing money at the problem, bringing in lots of similar players who will not improve the team but just add to the wage bill and leave us struggling with FFP when a player we really need becomes available.
Bobby Mallon
155
Posted 31/01/2022 at 18:50:52
Brian Williams, you are so very correct.
Danny Baily
156
Posted 31/01/2022 at 18:54:46
The barcodes looking to swoop in for Alli?
Ciarán McGlone
157
Posted 31/01/2022 at 19:04:01
I can't believe anyone is complaining about Dele Alli... a phenomenal talent who just needs a confidence boost.
And the comparison with Iwobi... Well, that's just bloody ridiculous.
Nice feelgood factor about today.
Marc Hints
158
Posted 31/01/2022 at 19:04:38
Oooh drama – late bid from Newcastle for Dele Alli!!
Robert Tressell
159
Posted 31/01/2022 at 19:06:23
What a weird few days. Glad about Van de Beek. Completely baffled by Dele Alli.
Why would we sign both of them? Can they play together? Did Van de Beek know we were going to get Alli when he signed?
Aside from all that the deal for Alli seems strange to say the least. Favourable too, given we only end up paying decent sums if he starts to look worth it.
Personally, I've always thought he was overrated and stopped looking good without Wanyama and Dembele doing the hard work for him – and Eriksen creating all the space.
But even though that's a fairly bitchy analysis on my part (I hate Spurs), he's still a good player.
He, Van de Beek and El Ghazi can all contribute goals too which suggests a braver approach may be on the cards (finally) after a very insipid, cowardly few months (and 30 years).
Maybe his uncle had a word. I think he kept each of West Ham and Portsmouth up by improving the mood, and bringing Berkovicz and Krancjar in respectively to score goals.
Tony Everan
160
Posted 31/01/2022 at 19:09:10
Lewis Warrington wanted by Tranmere for a loan until June. Tranmere going for promotion so could be good competitive experience for Lewis. It will be very interesting to see how he gets on there. That's if it happens.
Dave Lynch
161
Posted 31/01/2022 at 19:16:46
If the Barcodes offer hard cash, Spurs will snap their arm off.
Kenny Smith
162
Posted 31/01/2022 at 19:17:17
Have we learnt nothing. Potentially £40 million on someone who can't get into the worst spurs midfield for years. He ll stink the place out and we ll be stuck paying his massive wages for 2.5 years. Daniel Levy doesn't sell unless it suits him and we buy any old shit. Unbelievable again from us
Martin Reppion
163
Posted 31/01/2022 at 19:18:58
The way I see it, we swapped a disgruntled 28-year-old left-back for 2 promising full-backs, one on each side. We have added one creative midfield player, and maybe a 2nd. And we have an additional winger.
The bench looks stronger now than at the start of the window. And the first team is definitely better. Given that our best performance defensively all season didn't include Digne, this is one of the more positive transfer periods I can remember.
We couldn't offload some of the surplus players because of injuries, or they are just running down their deals. But, if nothing drastic happens between now and bedtime, we must feel we are on the up.
Christopher Nicholls
164
Posted 31/01/2022 at 19:20:39
Very much looking forward to watching Alli play with Calvert-Lewin. Actually think that could be a very positive partnership.
In regards to a front 3, I know Gordon has shown great form and appetite, but he is still learning. The starting 3, for me, would always be Richarlison, Calvert-Lewin and Gray.
The question is: Who plays out right? We need to improve our crossing/service into the box and although Gray has been electric, he doesn't seem to help supply from the left.
Not knocking Gordon at all in this choice, in fact I hope it gives us the time to really cultivate his talent and impact.
Kieran Kinsella
165
Posted 31/01/2022 at 19:22:58
Moshiri quoted as saying he took advice from Graeme Sharp and Tim Cahill on Lampard and the latter sat in on the interviews. Bill "performed his function."
Let me guess, his function was texting Graeme Sharp telling him what to tell Moshiri. Anyway, all is well that ends well. I prefer Tim sitting in than Kia.
Kieran Kinsella
166
Posted 31/01/2022 at 19:26:50
Christopher
I'd disagree on Gray supplying from the left. He doesn't whip in aerial balls but he does whip in plenty along the ground that a Lineker, Cottee or last season's version of Calvert-Lewin would tap in. If Calvert-Lewin finds his touch or if someone from midfield (Alli? Van de Beek?) anticipates those balls, we'd have a good supply line.
Barry Jones
167
Posted 31/01/2022 at 19:27:21
I cannot understand the negativity. Lampard, Van de Beek and Alli. This is fabulous news.
Both Van de Beek and Alli can supply creativity but they graft too. We now have the central midfield that can control a game, along with holding options such as Allan, Doucouré and Gomes.
Christopher Nicholls
168
Posted 31/01/2022 at 19:30:12
Kieran, Alli has had the instinct of a finisher. I think its an interesting conundrum to figure out how Richie, Gray and DCL can line up. If we can get all 3 firing it's a formidable attack arguably one of our best in years.
Of course, ideally we'd be getting our full backs involved in this, too. Time will tell.
Anthony Dove
169
Posted 31/01/2022 at 19:31:52
I have big reservations about Alli. Not so much the
player but what we could apparently end up paying
for him. We should have learnt our lesson with
Gwylfi the last time we had a spending spree on number 10's. If he had cost 20 million or so maybe ok, but he cost way over double that.
George Cumiskey
170
Posted 31/01/2022 at 19:32:25
Dieter Hamman on Sky Sports News saying he doesn't think Lampard will do any good at Everton — what a prick!
Conor McCourt
171
Posted 31/01/2022 at 19:41:00
Robert @160 – they are very different players.
Van de Beek was at his best at Ajax when playing as a box-to-box player. He has good movement, touch and work on and off the ball. He has a bit of guile also so will assist and score.
Dele Alli is a player who has more power, energy and dynamism who will be tasked with driving into the box and getting on the end of things.
You would imagine both will be bought to play in a three though Alli could play off the two strikers should Lampard play with a diamond and no wingers.
That's why I would expect Gomes to play as a quarterback as we will have plenty of athleticism in front of him and Frank always wants that player with vision in his team. I could see Allan not being a Lampard type player and likely to suffer from this managerial change.
Matt Henderson
172
Posted 31/01/2022 at 19:43:06
Not too impressed. We have added two more players that lack pace to a team that is already slow. In an age where pace is king, we don't half love a slow player: Sigurdson, Keane, Gomes, Allan, Mina, Klaassen, Rodriguez, Bernard, Rooney (when he returned), etc etc.
We are still getting cast-offs who have failed at their previous teams rather than looking for the next big things. I'm concerned that, should Dele Alli fail (and he does appear to be a head case), we will be left with a(nother) huge earner we cannot get rid of and who we won't even be able to play for fear of triggering further appearance-related payment thresholds.
Best thing might be that he has 20 good games and we flog him at a profit. The issue we have is we are desperate at present so hopefully they might be the thing that keeps us up – we need something!
Paul Smith
173
Posted 31/01/2022 at 19:46:10
We are minted! What does Paul the Esk know? Uncle Alisher has bundles.
Mike Hughes
174
Posted 31/01/2022 at 19:47:00
Mods - please reconsider the headline of this thread.
The thought of de Beek "signing on" doesn't sit well with me.
We've already got a few at the club who appear to have done that.
(But good luck to him with EFC).

Andy Crooks
175
Posted 31/01/2022 at 19:56:53
If Dele is considering Newcastle then I guess, Lampard trumps Howe. Good work by Frank already, just by being who he is.
Nicolas Piñon
176
Posted 31/01/2022 at 19:58:44
I really hope now Richarlison plays as No 9 and Calvert-Lewin is a sub. That way, we'll have more of the ball and our defensive part can breathe more.
I haven't been a huge fan of Lampard really, but I don't think Ferguson is better than him.
Ray Roche
177
Posted 31/01/2022 at 20:03:20
Kenny Smith @163,
I was trawling through the posts on this thread, pleasantly surprised at the positivity of the majority of the comments, and then I came to yours. A typical miserable, negative post from, no doubt, a grey, miserable, negative supporter who would see no light at the end of any tunnel.
I fucken' despair.
But I'm sure your family love you.
Stuart Sharp
178
Posted 31/01/2022 at 20:03:30
Last time I posted, a few folk were being negative about Dele Alli, and I disagreed. I've just come back on and some people are absolutely scathing! I don't get it at all.
All signings are a risk... but for me this is well worth risking. Surely he is coming to reboot his career? He is incredibly talented and, amazingly, only 25.
I get wariness, but I just can't understand the level of negativity. I'm excited by the potential... which is about as much as I can hope for with Everton just now.
David Midgley
179
Posted 31/01/2022 at 20:04:57
Does Dele Alli realise how lucky he is to be here?
A manager that wants him and a crowd that will really appreciate his skill. He'll probably be a bit slow off the mark, fit but not match fit and he'll have a week or so to settle in.
It'll be like 'New life in the Sun', hard work but very rewarding. When he hears the siren, his dreds will go straight. I don't know about his last three managers but the Everton players have let their last six down. Come on, Dele Boy.
I'll bet Van de Beek enjoys it here too, a chance to play first-team football, albeit in a team not as high up in the league as Man Utd, and show what he's got as footballer. At least he won't need Google translate to speak to his team mates, nice fresh breeze blowing off the Mersey clear his lungs of the smell of prawn sandwiches.
Come on Beeky Boy.
Kieran Kinsella
180
Posted 31/01/2022 at 20:11:58
Tom Daley and Fabian Delph may as well stay in the physio's room. Their services are no longer required.
Robert Tressell
181
Posted 31/01/2022 at 20:13:28
Conor @ 172. Not sure I completely agree. Although they have different strengths they both occupy quite similar spaces breaking into the box. Van de Beek is leaving Man Utd for this reason, being squeezed out by Fernandes (also a bit different).
Alli also seems to suit a 4-2-3-1 and de Beek a 4-3-3 which complicates things a bit.
The other issue is that neither Allan nor Doucouré are sitting midfielders – although I expect they'll be asked to play that way. Gomes unfortunately is just not very good, and I'm hoping we don't see much of him at all.
I'm kind of expecting a trio of Allan + Van de Beek and Alli and we'll just have to hope it clicks. We can bring Doucoure on for more bite if needs be.
It's a nice problem to have in many respects though – with the squad looking a lot stronger suddenly.
Henrik Lyngsie
182
Posted 31/01/2022 at 20:15:37
Aubamyang has left Arsenal. They have been interested in Calvert-Lewin, I believe. I don't hope the Dele Alli deal is to replace Calvert-Lewin...
Brian Williams
183
Posted 31/01/2022 at 20:17:13
Kieran #181.
Good enough for them. That Tom Daley's a right diver anyway.
Tony Everan
184
Posted 31/01/2022 at 20:17:17
'Everton are now set to complete the signing of England International, Dele Alli from Tottenham. Medical concluded and personal terms agreed. Manager Frank Lampard a huge influence in Dele joining the football club'
Done and nearly dusted.
Michael McLoughlin
185
Posted 31/01/2022 at 20:22:52
I wonder if there is a possibility of a late loan move for Jovic? Especially with the Aubamayang situation this may already be in motion.
Mark Ryan
186
Posted 31/01/2022 at 20:23:38
A month ago, being an Evertonian was really hard work at times. Now, it feels very different, very different indeed.
Brian Williams
187
Posted 31/01/2022 at 20:23:56
Will Alli be the last before the window slams shut?
Neil Copeland
188
Posted 31/01/2022 at 20:25:14
Sounds like the window needs a joiner so it can be closed gently...
David Midgley
189
Posted 31/01/2022 at 20:26:02
Many comments about the fee for Dele Alli.
If he scores a few goals and, in the process, helps us to a few wins and we stay up, will his fee still be too high?
Fran Mitchell
190
Posted 31/01/2022 at 20:28:42
Alli and Van de Beek arriving gives us options.
Alli can play as part of a 3 up front, he can play behind the front man in a 4-2-3-1 also. Lampard will probably also look to develop him to be able to play as a No 8 in a 4-3-3 – will be interesting to see
Van de Beek can play as a No 8 and No 10 in a 4-3-3 and in a 4-2-3-1.
Neither can really play as a No 6, unfortunately. I think Man Utd signed Van de Beek thinking he'd be a Michael Carrick No 5 but found that he was a No 8 or No 10 and, with Fernandes and Pogba, he was unnecessary.
But we should be much better going forward now. We have options where we didn't. Still much to improve.
Hopefully Onyango can progress and fill in that role as No 6.
But last week we were talking about getting Barkley on loan, and we've got 2 midfielders who 2 years ago were in the Champion's League semi-final and rated amongst the best in Europe. And both are only 25/26.
Ray Jacques
191
Posted 31/01/2022 at 20:32:18
Dear me, if we signed Messi and De Bruyne some on here would still moan.
Alli and Van de Beek are better than all of Davies, Delph, Gbamin and Gomes – so what's the issue?
Neil Copeland
192
Posted 31/01/2022 at 20:34:17
Is Dele Alli cup-tied?
Kenny Smith
193
Posted 31/01/2022 at 20:38:17
Rayp@177
That made me laugh. I'm a realist mate that's all. He's been last for years. He's not someone I think we should be going anywhere near.
No doubt there's a player in there but we've rolled the dice for the last 6/7 years on players hoping they'd discover their form at Everton and wasted £100s of millions.
I'm very positive and far from negative about Lampard because I wanted someone with no links to the club and Donny van de Beek but I'd rather we get someone hungrier than Dele Alli.
Just my opinion, which is what forums are for.
Paul Armstrong
194
Posted 31/01/2022 at 20:38:58
Rob Halligan
195
Posted 31/01/2022 at 20:39:05
I hope we get Dele Alli just to piss the Skunks off. Some are saying we're signing Van de Beek and Alli, who both are similar players, as a strange one, but no more strange than the Skunks signing two left-backs! 😅😅
Ray Roche
196
Posted 31/01/2022 at 20:41:39
Ray, if you can stomach it, you'll find that TW is the place where all thoughts of hope and optimism go to die. A dwindling number of us try valiantly to wave a flag of any colour but white, but it's like swimming through snot.
The sheer tsunami of negativity flowing from the posts of the faceless grey 'fans' (think of the extras in Michael Jackson's 'Thriller' video and you'll get the idea) is designed to suck the life out of the average fan. The Devil's Spawn.
Yes.
I've been on the wine.
It's Transfer Deadline Day. It's allowed.
Ray Roche
197
Posted 31/01/2022 at 20:45:25
Kenny @194,
As long as you're not too offended Kenny, maybe my post at @197 will give you an insight into my current frame of mind...
Jim Lloyd
198
Posted 31/01/2022 at 20:45:30
Well, Even if we don't get any more in, we've got 5 new players (only one of which have had a very little time on the pitch). So it gives Frank Lampard 5 new players to have a look at and see how they could fit into his plans. That's better off than were.
Then there's also Branthwaite and Dobbin pushing in to claim a place. Calvert-Lewin should be much nearer to match fitness, so I think we've got a fair number of options until Doucouré's fit again.

It'll give us a chance not to have to depend on Iwobi, Gomes, Keane, Gbamin, Delph and Holgate and perhaps it'll allow Coleman to have a rest, during the games to come.
Hopefully we'll have a more athletic, attacking squad to put the oppostion under pressure. Not the other way round.
Brian Williams
199
Posted 31/01/2022 at 20:46:33
Kenny. We did it with Demarai Gray as well and look how that's turned out.
Conor McCourt
200
Posted 31/01/2022 at 20:48:15
Robert, his problem at Man Utd is because of the system 4-2-3-1. Fernandes and Van de Beek are different players and if they revert to a 4-3-3 Bruno needs dropped. I think their idea was to have Pogba and Van de Beek when they signed him playing in front of a holder. His problem was getting game time, form and less to do with Fernandes taking his spaces. They play in different areas.
Lampard at Derby played often with a diamond where Huddlestone was the pivot with mount and Johnson either side and Wilson in the hole.
Lampard at Chelsea often had Jorginho sitting with Kante and Kovacic either side. He did play 3-4-3 and 4-2-3-1 also.
But in both sides, he played with that technical footballer spraying the passes and dictating the play. Gomes will likely be a different player with movement and options ahead of him and is easily our most gifted technician. Lampard will have bought these two specifically for areas he feels needs strengthening and therefore his decision not to bring a defensive midfielder means he will adopt the same method as Derby and Chelsea.
Ernie Baywood
201
Posted 31/01/2022 at 20:53:57
A couple of low risk signings and, in the case of Dele Alli, quite a bit of upside. 25, unquestionably talented, and we represent the last chance saloon for him to have a top-level career.
Makes him a good fit. We're both desperate to save our Premier League status.
Michael McLoughlin
202
Posted 31/01/2022 at 20:58:54
I think Gbamin will shine in the last months of this season.
Kenny Smith
203
Posted 31/01/2022 at 21:00:25
Ray, you made me laugh again. No offence taken at all. Keep on the red wine mate.
Brian @200,
I agree with you about Gray but he wasn't given a chance at Leicester City and Dele Alli has had plenty. But yeah, I get where you're coming from.
Jim Lloyd
204
Posted 31/01/2022 at 21:01:29
Spot on, Ray!
Brian Wilkinson
205
Posted 31/01/2022 at 21:06:11
Bargain of the window so far for me is the free transfer of Aubameyang with a huge wage cut to Barcelona.
He has his critics and bad image, but that guy can score goals.
Let's hope our signings hit the ground running. Dele Alli is another one who is cup-tied so we will have to wait for the Newcastle game to see most of our incoming players start; still, gives them time to bed in.
Robert Tressell
206
Posted 31/01/2022 at 21:09:03
That was my original point, Connor, that Alli is best in a 4-2-3-1 which is precisely the formation that squeezed Van de Beek out at Man Utd. Anyway, we'll see how it works in practice.
They are both good players, will ask questions of the opposition, and pose a goal threat – which is more than can be said for our current central midfielders (barring Doucouré every so often).
Really not sure about Gomes though. If Lampard can get him playing well, then maybe we've got the magician that Ancelotti felt we needed.
Sam Hoare
207
Posted 31/01/2022 at 21:18:25
Alli and VDB are interesting additions; I agree with Robert that they have definite similarities and it will be intriguing to see how Lampard gets them both into the team. If he does.
Alli was a phenomenal player 2016-18 and then was an ok player for 2 years and then has been a poor player for the last 2 years. Where on that spectrum will Lampard manage to get him to I wonder. For it to go well he will have to show the sort of commitment and application that has been missing for the last couple of years. Alli at his best had Wanyama making the tackles and Eriksen threading the passes; we've got no players like that sadly.
I can't say I feel especially enthused by these moves but I'm definitely curious. We needed some more midfield options and we now have them. Strange that we didn't two 8/10 players and not a 6 but hopefully Lampard has a plan.
Tony Abrahams
208
Posted 31/01/2022 at 21:42:23
When a team have got midfielders who can pass the ball, and also keep the ball, then maybe they don't always have to worry about the opposition!?
Christy Ring
209
Posted 31/01/2022 at 21:45:18
Sam #208,
Agree with you about 6, and Van de Beek and Alli can work together as 8/10. Alli was great under Pochettino, but wasn't a Jose type player, he bypassed midfield and played everything forward for Son and Kane. He'll give us a skilful offensive midfielder which we lack.
Ramsey to Rangers – certainly a downward spiral to finish his career, in my opinion.
Jim Lloyd
210
Posted 31/01/2022 at 21:50:58
Sam, I think it's more of who we could get, rather than having our pick of the best. I think we'll do alright with the players added to the squad. We don't want to be saddled with more last minute buys who we end up paying a weekly fortune for until their contract finishes.
As far as I can understand it, Dele is being paid for on the drip, now maybe in the contract, we keep him for the first 20 games then we pay the next instalment. But there may be a point in the contract that we hand him back if he doesn't produce the goods.
But by far and away the major task, is steering away from the relegation mire. If Alli and Van de Beek can help us with that, then they'll have been priceless. The same with El Ghazi. Doucouré should be fit for contention in three weeks or so.
It seems to me, that our strengths now, lie in the attacking game. Hope that's how it turns out, put the opposition under pressure, rather than letting them put us under the cosh.
Tony, dead right!
Brian Wilkinson
211
Posted 31/01/2022 at 21:59:04
Everton have played a blinder with the Alli deal, Jim, we pay so much after 20 games, he is cup-tied so will only play a maximum of 18 games, so by the time he plays 20 games, we will be in the next year of FFP, so will not impact this year's.
Sam Hoare
212
Posted 31/01/2022 at 22:10:01
Christy, yes I was surprised that Ramsey chose Rangers. Apparently he had the option of Burnley amongst others.
Jim, I'm not sure whether handing him back is an option as I understand it. But it seems a sensible-ish move and we have certainly added a few goals to the team. I'm more worried about the defensive capabilities of this Lampard team to be honest.
Henrik Lyngsie
213
Posted 31/01/2022 at 22:18:05
You are so right, Tony @208. But I would add ball playing defenders. I think that is our real weakness when we have 2 or 3 defenders who can not pass forward.
Last time our defence was Kenny, Holgate, Mina and Godfrey. I wouldn't like to be a midfielder in front of that defence when we have got the ball.
Conor McCourt
214
Posted 31/01/2022 at 22:24:26
Robert, I think these signings give us goals, assists, more intensity but arguably most importantly for Frank will be flexiblity.
He can play that diamond he likes as we haven't a Number 11 without James and Sigurrdson. Then he can play with no wingers and Richarlison and Calvert-Lewin up top.
He can play the 4-3-3 with both either side of a sitter.
He can play 4-2-3-1 and 3-4-3 and ask Donny to do a job in a two in the short term.
Under Benitez, we were 4-4-2 and rigid, with players nailed on for define roles. I think these signings will give us a lot more variation. They could transform the team and seem indicative of Lampard's more modern approach to the game.
Jonathan Haddock
215
Posted 31/01/2022 at 22:29:05
These additions and no apparent departures, makes the squad look even more of a dog's breakfast than ever and still no sitting midfielder. I can't see the plan at the moment and just hope that Frank can sort out a decent formation really quickly.
Jim Lloyd
216
Posted 31/01/2022 at 22:39:37
Thanks Sam and Brian.
It is a good deal though, and hopefully he'll blossom again under Frank's tutelege. If he does, we've got a cracking player.
Both you, Sam and you, Henrik have the very same fear as me. Our central defence is poor and has been for years. I looked at our goals for/against for about the last five years... generally poor reading since Martinez first season.
I think our best bet is, not so much trying to get the middfield to do the defence's job for them. A good proportion of the goals scored against us, come from set pieces, or when Keane gets turned like the QE2.
I hope we can get the midfield and forwards to start using their skill to marmalise the opposition defences. I'd rather see us winning 4-3 than get beat by one or two goals given away with depressing regularity.
I liked the look of the young Rangers lad in the U23 match; he certainly can gallop up that wing, so he looks very promising.
Bobby Mallon
217
Posted 31/01/2022 at 22:41:44
Johnathon Haddock:
Pickford
Kenny
Branthwaite
Mina
Mykolenko
Gordon
Townsend
Allan
Gray
Calvert-Lewin
RIcharlison
There… 4-3-3. That should get us a win on Saturday.

Raymond Fox
218
Posted 31/01/2022 at 22:44:52
Sure to put your blood pressure up with some of the miserable comments posted that are all-too common.
Is this the time to be so bloody negative?
Brian Wilkinson
219
Posted 31/01/2022 at 22:54:28
I think going forward, Jim, Branthwaite and Godfrey will be our centre pairing.
We got another decent young centre-half who came in before Branthwaite got injured, Lewis Gibson. I cannot find him anywhere in either squads, we must have released him, not showing up as out onloan.
Danny O'Neill
220
Posted 31/01/2022 at 22:57:58
Just hearing Lewis Warrington has been sent on loan to Tranmere.
What a shame. I wanted to see him in and around the first team.
Bryan Houghton
221
Posted 31/01/2022 at 23:03:01
Danny (220),
I agree with you, and I think (hope) he will do, from this summer – with half a season in a more competitive league, and hopefully regular (or atleast more regular) football under his belt. Like you, I think he's got a real chance of pushing for first-team involvement.

Brian Wilkinson
222
Posted 31/01/2022 at 23:03:16
Looks like Gibson is out on loan at Sheffield Wednesday, Jim.
Derek Knox
223
Posted 31/01/2022 at 23:05:26
Brian W @19,
Is it Lewis Gibson?
Tony Everan
224
Posted 31/01/2022 at 23:05:29
My take on the transfer window. I think Frank can field a team now that can score three goals a match. The challenge will be conceding no more than two.
We'll be a much better team to watch and games will be more exciting. Most importantly, the mood of the club has shifted away from the toxic Benitez era. The new manager and signings have sowed some seeds of optimism that could take root.
Jim Lloyd
225
Posted 31/01/2022 at 23:13:37
Dead right, Raymond, hope that attitude isn't taken to the match. Our players' confidence is brittle enough.
Brian, I agree, they're both fast, strong and don't stand any messing. Was that lad from Newcastle, Mike?
Anyway, I think Frank will emphasise attacking the opposition and using the midfield runners to get at the ball before we let it get around our penalty area. The difference now is that we have a young, fast midfield and attack, with Allan to be an anchor in front of our defence.
I think Tony @208 has identified our strengths.
Colin Glassar
226
Posted 31/01/2022 at 23:17:55
This has been a very good transfer window in my view.
Mike Gaynes
227
Posted 31/01/2022 at 23:20:42
Better than good, Colin.
Given what we got for what we spent, and in the midst of an absolute madhouse of chaos, I think we did brilliantly.
Derek Knox
228
Posted 31/01/2022 at 23:20:52
Colin G,
Do you mean we still have Iwobi?
Jim Lloyd
229
Posted 31/01/2022 at 23:29:45
Thanks, Brian,
Well these lads on loan including Ellis Simms (who I have great hopes for, along with Dobbin) will start copming into the first-team squad next season. Once we have lost some of our less-than-useful first-team players.
Brian Wilkinson
230
Posted 31/01/2022 at 23:30:38
Yes, that was him, Derek, Lewis Gibson.
Jay Harris
231
Posted 31/01/2022 at 23:32:40
I'm quite happy with this window.
I just wonder if Carlo had any input to Frank, like "Hey Frank, make sure they get you some midfield players and a sub goalkeeper before you sign up!"
Brian Wilkinson
232
Posted 31/01/2022 at 23:33:33
Some young goalkeeper from Fleetwood as well. Not heard if that went through or not, he is around 21.
Mike Gaynes
233
Posted 31/01/2022 at 23:41:20
Brian #230,
Lewis Gibson is sort of at Sheffield Wednesday. When I say "sort of"... he has played twice for them this season. Started twice, both times got subbed off at half-time. The rest of the time he has not made the bench due to injury.
He came back to Finch Farm in November for training and medical care but, last I heard, Wednesday still hoped to have his services for the second half of the season.
Laurie Hartley
234
Posted 31/01/2022 at 23:42:23
Ed #126 – that is why I am really happy with this signing. I think that he and Allan will give us a combatitive element in midfield.
When they are all fit, there is going to be plenty of completion for a starting spot in midfield. (And all over the pitch, actually!)
Brian Wilkinson
235
Posted 31/01/2022 at 23:47:50
Cheers, Mike. He had a bad injury a couple of seasons ago, looks promising if future injuries stay clear.
Colin Glassar
236
Posted 31/01/2022 at 23:49:48
Derek, I tried my best. I offered him to everyone on Twitter but there were no takers. Anyway, I can't see Lampard letting him anywhere near the first team until his contract finally runs out.
Jim Lloyd
237
Posted 31/01/2022 at 23:53:09
Ah Great! We've got 5 young playes in and if Donny and Dele (sounds like a pop duo!) get our midfield motoring and El Ghazi is effective, then who knows. Some weaknesses but a lot more talent and hopefully, agression to get us out of the mire.
Y'never know, Donny might want to come here full time next season. Hope so.
All of a sudden, we've fast, athletic young players, all over the pitch...
Over to you, Frank!
Ed Prytherch
238
Posted 31/01/2022 at 23:59:33
Ray #196,
Wonderful prose, adding vibrant colour to the dour grey troglodytes.
Brian Wilkinson
239
Posted 01/02/2022 at 00:23:10
After Digne outgoing and the incomings, Everton have a net spend of minus £9 Million.
I'm still struggling to get my head around a good transfer window, and still be £9 million to the good… now that's what I call a decent window.

Ernie Baywood
240
Posted 01/02/2022 at 00:28:11
Other transfers might tell a different story, but it's telling that this looks like the opposite of Dogs of War type stuff.
I miss Everton playing good football. Results are key but being watchable is a big part of it too.
I'm starting to get a good feeling about Frank. Kind of like we're about to have a youngish team and coaching setup that is ready to develop and improve together. Young and bold would feel good.
David Pearl
241
Posted 01/02/2022 at 00:35:19
Brian, a very decent window. Not so sure about the left-back. Can't wait to see Patterson (and Branthwaite) getting some games.
Hope Alli gets his mojo back but well worth the risk given how the deal was structured. Only negative would be Donny van de Beek if we get him up to speed for Utd, so Alli must come first. Shame they both cup tied.
At last count, when all fit, we have 10 midfielders; add Tosun to that and we are paying out a lot of wages on players that won't even make the bench. Another busy summer offloading coming up.
Andrew James
242
Posted 01/02/2022 at 00:42:42
Dele is a barometer of Spurs over the last few years. When they were high up the league, he was at it. Once they went through miss after miss on the trophy front, he declined as he did with the managerial changes.
Our new coach is able to get the best out of him given his position.
My only concern is that he has a complex background and moving to the other side of the country might be a problem.
I've been willing us to buy him for the last 18 months so hope for the best!
Brian Wilkinson
243
Posted 01/02/2022 at 00:59:48
Got Billy Crellin coming in as well from Fleetwood young England goalkeeper.
Contracts for Delph and Tosun are up in the summer, so that will be at least two outgoings; Sigurdsson's contract is up in the summer as well.
Ashley Roberts
244
Posted 01/02/2022 at 01:34:55
I have no idea how Van de Beek and Alli fit into the team and the set-up. I see Alli more as a No 10 who ghosts into the box and scores goals.
I don't see him being good enough on the ball to have any impact in a midfield trio. So, if Lampard plays a 4-3-3 system, I can see Van de Beek, Doucoure (when fit), and Allan with Calvert-Lewin, Gray and Richarlison up front.
My preference would be 3-5-2 with a back 3 of Godfrey, Mina and Branthwaite. 5 across the middle with either Townsend or Gordon, Doucouré, Allan, Van de Beek and Gray. With Richarlison and Calvert-Lewin up front. In this set-up, I do not see any room for either Patterson or Mykolenko.
At least Lampard has a number of options now and hopefully enough quality to keep us in the Premier League. Here's wishing Frank Lampard all the best because he is certainly going to need it. COYB.
Don Alexander
245
Posted 01/02/2022 at 02:34:45
We were right to feel totally desperate before the window began and we've now signed half-a-dozen players no other top club, reportedly, was really interested in. Okay.
Players aside, I'm hoping against hope (this being Everton) that Frank and Paul Clement and t'other coach selected by Frank can now begin to inject a more dynamic professional ethos right across Finch Farm.
It's long overdue.
Tim Cahill coming on board to also have an apparently major say in player development is very welcome to me.
Maybe, if we're lucky, we'll also soon see Kenwright's influence extending only to providing a modestly paid spot for the club's most avid pigeon-fancier in his new role as the world's best-paid private car park "supervisor", and the club's most accomplished connoisseur of the pre-training sausage and egg barm (x3, "with sauce and chips please!") as the world's best-paid chief taster in a professionally, healthily revolutionised club refectory.
They'd both seize such very comfy opportunities with both hands by the way.
Well, I can dream, can't I?
Alan J Thompson
246
Posted 01/02/2022 at 02:49:54
Does this young keeper, Billy Crellin from Fleetwood, mean that Virginia won't be coming back in the summer?
And is the Moise Kean loan to Juventus on a permanent basis when the loan term ends, albeit that any transfer fee may be delayed?
Mike Gaynes
247
Posted 01/02/2022 at 06:25:12
Alan J, to the best of my knowledge, the Kean loan is two years, so it becomes a purchase in June 2023, and we don't get the money until then.
Shaun Laycock
248
Posted 01/02/2022 at 06:57:47
Frank was my choice before Benitez: Check.
I was sad when Alli chose Spurs over us; he's here now: Check.
Midfield and fullbacks sorted: Check.
Come out of the window stronger than we went in: Check.
Start feeling more positive about Everton: Check.
What's not to like?
Bob Parrington
249
Posted 01/02/2022 at 07:42:57
Raymond Fox #218. And so be it. This is ToffeeWeb. Best to have a double or even triple good malt Whisky before clicking.
Mind you, I'm noticing much more positive than negative during the last day or two.
Good to see some competition for midfield being brought in. Difficult to actually pick the starting line-up but sure there will be some options for subs.
Pretty good window signings, as per Brian Wilkinson's comments.
Tony Abrahams
250
Posted 01/02/2022 at 07:58:47
I can't believe you are not happy that Warrington is going out on loan to play "real competitive football" at the age of nineteen, Danny O.
This is exactly how Everton's Under-23s should be operating, imo, so I'll wish the kid all the best, and hope he comes back having learned loads about himself, and also, the not always beautiful game!
Danny O'Neill
251
Posted 01/02/2022 at 08:58:38
I'm okay that he's going to gain experience and play competitive Tony.
I'll confess to getting over-excited about him every time I watch him.
It's a good move for him. I guess I'm just chomping at the bit to see him closer to the first team.
It makes sense, so with this and then a pre-season, maybe we see more of him next season in a more settled team and club?
Jonathan Tasker
252
Posted 01/02/2022 at 09:15:41
I love the way that BBC and Sky both spin the Alli deal as potentially being £40M. Levy would have been desperate to get rid of him.
Sorry to be cynical but it's a free transfer as I will be amazed if Alli gets to play even 20 games. Donny van de Beek is a more important opportunity. He may be able to make a difference.
Steve Griffiths
253
Posted 01/02/2022 at 09:23:48
Jesus, there are some right Jonahs on here. What's not too like about this deal?
We sign a 25-year-old England international who has just reached his prime years of 25 - 30, for basically nothing for the first 9 months of his contract. Dele is cup-tied so can only play 18 games this season.
If, as is the priority we maintain our premier league status, we will pay £9m at the earliest mid August of next season assuming Dele plays the first 2 games. The deal is structured and clearly a cute way around PL profit & sustainability rules, FFP are Uefa rules and we're not in Europe so don't apply to us.
It's also incentivised, ie, based on performance, number of games played, European qualification, cup wins, Premier League & Champions League wins in the next 2½ seasons. The last two are extremely unlikely but the others achievable so £30M is the max we will pay.
The lad is pure quality on the ball, arrogant which all top players need & has a little bit of an edge to him which we definitely need. Off the ball, his runs into the box are well timed & his heading excellent.
He's a million miles better than anything we have in his position, watch his highlight reel for the evidence or have a look at his latest performance against the Shite, we're he was magnificent. He is genuinely delighted and excited to be joining us, just watch him go.
Rob Halligan
254
Posted 01/02/2022 at 09:29:47
Ashley Cole could be joining Lampard's backroom staff. Didn't know he was a coach of any kind. Only ever seen him as a TV pundit.
Colin Glassar
255
Posted 01/02/2022 at 09:33:16
Some right misery guts on here. I feel there are a few Everton fans who would moan even if we won the treble.
Things may not work out with Lampard and Co but at least give them a chance before writing them off.
Anyone else excited about the possibility of Ashley Cole joining us? Cashley might be a bit of a nob but his punditry and analysis is usually very good.
Cole was one of the best left-backs of his generation. If only Bainsey, Digne and Mykolenko could stop crosses being whipped in from the right flank.
Ernie Baywood
256
Posted 01/02/2022 at 09:36:18
Jonathan, we own Dele and he's well worth a spot in our team.
The only way he doesn't make it to 20 games in 2½ years is if we sell him after 19.
Rob Halligan
257
Posted 01/02/2022 at 09:41:39
Steve # 253 and Colin 255 . Both hit the nail on the head!!
Joe McMahon
258
Posted 01/02/2022 at 09:52:20
We have all been moaning about the lack of goals from Midfield, the new manager certainly knows what a goalscoring midfielder looks like, so the 2 new arrivals are very welcome.
Regards the leaky defence, it is hard to purchase in the January window, but the new coaching team we have brings experience and knowledge.
We will be in the Premier League next season, and yes, the game at Newcastle next week is tough, we may lose but I'm no longer worried.
Paul Cherrington
259
Posted 01/02/2022 at 14:07:10
A great transfer window in my eyes and a new manager who could work out very well to boot. Not bad at all.
As above, Lampard has obviously realised that we need to get more goals into the team and make it harder to stop us scoring by nullifying Calvert-Lewin, Richarlison and Gray.
Alli especially will be in the Cahill mould of not only scoring goals but giving opposition defences another problem to worry about up-front.
Just please no André Gomes playing as a pivot at the bottom of a diamond midfield 4! He cannot retain the ball under pressure, is too weak and cannot tackle. It would be a disaster waiting to happen.
Tony Abrahams
260
Posted 01/02/2022 at 15:03:21
Ashley Cole has been coaching in the Chelsea academy I think Rob, and if he can teach kids to play football, to just half of the ability he had, he'll be very successful imo.
I don't see the rush with the younger players Danny, because it's such a fast and physical game nowadays, that I think most kids need at least a couple of years of playing in the lower leagues, to really help them develop?
Martin Reppion
261
Posted 01/02/2022 at 16:45:54
Nice to see some positivity on here for a change.
the twitter comments from the Spurs fans show how popular Dele was with the fans, who seem to all wish him well (Except for 2 games a season).
My misgiving about him as a player was that he had a narky streak that got him booked too often. But now, he's OUR narky player and we've missed having a few of those. The sort that gets up the noses of opponents and their fans.
I can't wait to see him getting jeered all over Anfield. That will mean he's doing it right.
A friend of my son who sat with us at Hull said all Everton lacked was a decent number 10 in that game. He was right. We had chance after chance to set the forwards free but the final passes were awful, or the player in that role was too slow.
We have now signed 3 players in this window who offer an upgrade on what we had that day. (I include El Ghazi in that, but only from second hand reports). That can't be bad.
I have no idea what our best starting eleven will be. But I do know that for the first time in a while we have genuine competition right across the team and a strong bench to call on.
Next season we will have Nkounkou back giving us 2 young left backs to complement the right backs. We have a plethora of Centre backs. midfield and attacking options now look good as long as DCL and Richarlison aren't both injured or suspended at the same time.
With Dobbin and Simms coming through there is light at the end of the tunnel.
Please, god, don't let it be an oncoming train.
Phil Lewis
262
Posted 01/02/2022 at 17:31:01
Colin255#
I'm most certainly excited at the prospect of Ashley Cole joining us. Especially if it means Unsworth & Co. are given their P45's.
To be honest I see no purpose in retaining Ferguson either. His fist pumping and beer buying is no substitute for tactical nous. If he had any real faith in his own capabilities he would have been managing a lower league club and making a name for himself years ago. The only person I would retain is Leighton Baines. He has enormous potential for expanding our future and conducts himself with quiet efficiency.
It's almost as though those other 'Everton backroom relics' are like sitting tenants that new managers are forced to accept. With his good track record for developing young players, Lampard should make a stand, demolish our archaic infrastructure and rebuild with the future in mind employing his own backroom team.
Derek Taylor
263
Posted 01/02/2022 at 20:51:16
Chairman Bill gets his old transfer negotiating job back and manages to finalise some decent signings – and show a profit!
Who needs Directors of Football?
Dale Self
264
Posted 01/02/2022 at 21:01:46
I think taking Cole could be another good move for us. We can't expect to hold on to anyone if things turn around but we should be keen on recruiting young coaches and staff. If we can keep Clement in the middle of the moving wheel we may be able to get aligned with the part of the market that Mr. Tressell has identified as the way to go. With DVdB and especially Alli buying in with their situations all we need is for them to be successful at regaining form and we benefit tremendously in the short term while rehabilitating our reputation in the market. It could happen.
Joe McMahon
265
Posted 01/02/2022 at 21:48:52
Rumours that Ashley Cole will be joining in some capacity (all other rumours have been correct). It does beg the question though that this will be a huge experienced coaching team, I not sure what Duncans role will be? He will certainly be learning now though.
Tony Abrahams
266
Posted 01/02/2022 at 22:04:17
Definitely Joe. I'm hoping that rather than too many cooks, it might become a close knit team, that all share a lot of responsibility. I'm convinced unity starts at the training ground!
Steve Griffiths
267
Posted 02/02/2022 at 01:15:36
Tony 260, spot on well said.
Brian Wilkinson
268
Posted 02/02/2022 at 16:46:26
Of all the newcomers, I am looking forward to seeing Van De Beek, from what I have seen, he has a good winning the ball back from the opposition, playing a quick ball, but most of all getting forward towards the danger area, getting into space and getting a shot off, seems good with his left foot and his head as well.
He looks like a younger Allen in his winning the ball, an Adrian Heath for getting in those important areas, such a pity we could not get a clause to buy, Have a feeling he is going to light up Goodison and be a huge addition.
If Alli and the others click as well, we could be in for a very strong second half to the season.
Finally we seem to be getting back into harmony, got a Manager, Managing the team and acknowledging the Academy, the Owner sending out a message to the fans, instead of a text, we have the Chairman negotiating deals, everyone seems to be doing what they should be doing instead of being a laughing stock.
Now up to us Fans to get onboard and have everyone together, small Green shoots of recovery, but up to now it is looking more promising, than it has for a long time.
---
Add Your Comments
In order to post a comment, you need to be logged in as a registered user of the site.
Or Sign up as a ToffeeWeb Member — it's free, takes just a few minutes and will allow you to post your comments on articles and Talking Points submissions across the site.