Lampard: Everton's problems won't be solved overnight
Tuesday, 8 February, 2022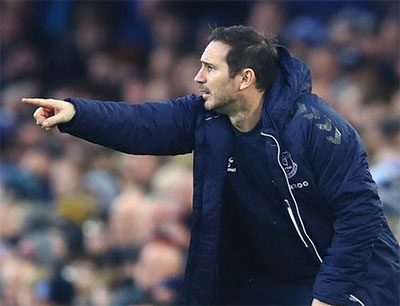 Frank Lampard says that the crisis of confidence in Everton's ranks is one of the key issues that he and his coaching staff will need to work on after his side suffered a demoralising defeat at Newcastle this evening.
The 43-year-old oversaw his first defeat as the Blues' boss in only his second match in charge and it was a costly one as the Magpies pulled out of the bottom three and to within a point of Everton who are in danger of being sucked into the relegation zone themselves.
Lampard's issues were compounded by the loss of two more players to injury in the form of Yerry Mina and Demarai Gray, with the Colombian expected to be sidelined for a period of games with another recurrence of his intermittent quad muscle problems. That followed the hamstring tear that Ben Godfrey suffered in the FA Cup win over Brentford on Saturday.
"Yerry's a muscle injury, his quad ," Lampard said afterwards. "Demarai was a hip. We are hoping with him it's not too bad. It's something that he's had before this season that he got over quite quickly but, with Yerry, we'll have to assess him.
Article continues below video content
"It's a quad injury so we're slightly concerned about it but will need to assess it over the next 2-3 days. We'll have to look at ways going forward for players to come in for the way we set up to keep moving forward"
Lampard was trying not to set too downbeat a tone following the 3-1 loss, acknowledging that it's still very early days.
"To lose two big players made it hard for us," he admitted. "You could see how quickly the confidence went down.
"There's no magic wand but the work starts now. The players have to believe in what I'm doing; we must not let our heads drop.
"As much as confidence shot up at Goodison at the weekend when the players were playing well, it went down quickly tonight. That's something we have to solve. It won't change overnight. There'll be some nights like this.
"We mustn't get too down as a club, everyone together. It went against us but can we be better? That's my job now to lead it.
"We've been here a week, seen a very good performance and a not-so-good performance. We have to remain confident, see the things we can do better and we have to address them."
---
Reader Comments (145)
Note: the following content is not moderated or vetted by the site owners at the time of submission. Comments are the responsibility of the poster. Disclaimer
Frank Sheppard
1
Posted 09/02/2022 at 07:19:57
Better possession stats, and better intent then under Rafa, but – and it's a big 'but' – we totally fell away after injuries. They had lots of big performers and performances; we didn't.
Frank knew it is a tough gig; last night proved to him that he is in charge of a team in the worst run of form in the club's history. Miracles needed.
Emma Day
2
Posted 09/02/2022 at 07:48:26
Everything just went against us.
Losing Mina and Gray to injury that has forced us to use 2 substitutes in the first half is nothing but pure bad luck.
If that never happened, or even just one injury, that would of given Lampard more options later in the game, and I feel that, if we were able to finish the 2nd half with Calvert-Lewin, Gray, Van de Beek and Alli on the pitch, that would of been too much for Newcastle to contend with.
Bill Gienapp
3
Posted 09/02/2022 at 08:26:55
You could see the style and system Lampard wants to implement in the early-going - the execution was just a lot sloppier and haphazard than it was against Brentford.
The two injuries certainly didn't help... but I think the match really turned on conceding an equalizer so quickly. If we'd gotten to halftime with the lead, I think the pressure would have cranked up on Newcastle in a hurry and the second half might have played out a lot differently.
Jon Davis
4
Posted 09/02/2022 at 09:09:25
We have a (potentially) great young manager and a (seemingly) great backroom team, changes at board level, and a few (potentially) great new signings.
I think that, aside from our league position, we are in a good place currently with a lot of potential growth in our near future.
It's sad we got to this point, but my overall feeling is optimism. I remember thinking that, if we couldn't do well under Carlo, then we would fail no matter who was in charge; then he left and Rafa came in. I backed Rafa, but he was a huge let-down.
Hopefully Frank gets time and space to make his mark on us.
Justin Doone
5
Posted 09/02/2022 at 09:11:53
We have a lot of injury-prone players. Injuries can happen to anyone at anytime but what would help is a proper 1-to-1 warm-up plan with a specialist.
We gave the ball away cheaply before the injuries, so that's no excuse. Frank is trying to turn our average players into something they are not. We have been down this unnecessary and unsuccessful path before.
He stated we need to find players to come in for the way we set up... Wrong, wrong, wrong!! We simply don't haven't them anyway, so he needs to change how we set up and play.
I hope he quickly changes his tune because we are doing an impression of the Titanic. Over confident in his and the squad's abilities.
Mark Andrews
6
Posted 09/02/2022 at 10:42:59
How can we have spent this amount of money on a squad littered with brittle, bang average players? Brittle both mentally and physically.
I'd be astounded if we stay up. Imagine being beaten by Championship dross like Norwich and Newcastle?
Hand your wages back, lads, you're stealing a living.
Jim Bennings
7
Posted 09/02/2022 at 10:53:19
Frank needs to weed out all the shithouse players in the summer, players that will never improve upon what we have seen over the last four years:
Michael Keane
Mason Holgate
Seamus Coleman
Fabian Delph
Jean-Phillipe Gbamin
Alex Iwobi
Andre Gomes
Cenk Tosun
All of the above need to be discarded from the club as soon as possible because they offer nothing, absolutely nothing whatsoever.
The likes of Mina, yes he's our best defender, but he's never ever gonna be fit and he's getting worse by the season, needs replacing.
Allan, look I know he doesn't always get much help in there, but I think he's too slow, too sloppy.
We need a monumental overhaul and that's why we need a manager in place for at least 3 years to begin overseeing it.
What's gone on over the past few years is simply not good enough to maintain Premier League status for much longer.

Barry Hesketh
8
Posted 09/02/2022 at 11:08:18
Mark @6,
Everton players are human too, this long run of bad results for Everton would have had an adverse effect on any player, even Messi.
The fact that our players aren't quite up to snuff is obvious, but poor players lacking confidence exacerbates their short-comings and, instead of climbing out of the hole, the hole gets deeper with each passing match. Someone, somewhere said this is Everton's poorest run of league results since the club last got relegated, which is certainly food for thought.
The manager and his staff should try and keep things as simple as possible and adopt a plan which, away from home, might see a return of a few points, but at Goodison, it will be hard for him to resist trying to play an open game, and even harder for the crowd to accept a defence-first policy.
I honestly believe that Everton's only real hope of avoiding relegation is that three teams, namely Watford, Burnley and Norwich get less points than Everton, but the difficulty is how many points Everton themselves can put on the board between now and the end of this season? That's the real concern and I'm glad that it's not down to me to find the correct formula because, everytime I look at it objectively, I come to the same conclusion: our team and squad is barely adequate for the Premier League.
Individually and on their day, we have many players who can perform to an adequate or even good level; but, in the current situation, it's all about team spirit and heart and I don't see much evidence of that being part of the collective –and it's something the manager and his staff can't simply add to the mix, certainly not overnight.
Mark Ryan
9
Posted 09/02/2022 at 11:30:27
Jim @ 7 !!! spot on with what you say but these players should not be getting selected either.
4 of them started last night and it's what I said on another thread. We start the game with 7 or 8 players week in week out. Its no wonder we lose so much
Lampard needs to start with Branthwaite - start Mykolenko - start Donny Van De Beek - start Dele Alli - start Patterson.
These all have some ability, something to prove to Lampard.
Your list of players is what is wrong with the team at this precise time. I've loved watching Seamus down the years but someone needs to put him out to pasture, it's cruel watching his decline week in week out.
He and those players on your list are simply not good enough anymore
Paul Randall
10
Posted 09/02/2022 at 11:36:48
I may get shot down here but its time for a total overhaul.
We have relied heavily on the players DCL, Pickford and Richie.
These 3, week in, week out show patchy form and almost never show up when really required.
They also have the highest value in terms of the transfer market. I feel its time to cash in to the tune of 200 million for the 3 and start a rebuild with our young, enthusiastic new coach. Sorry guys but it needs to be this drastic

Matthew Williams
11
Posted 09/02/2022 at 11:38:56
We certainly needed a backline like Boreham Wood had at the weekend, last night, the lad at right-back, Kane, would've bust a bollock for us alone and he's not even a Scouser!
I thought Branthwaite did well in the main and got better as the game went on. I just hope he gets more games as Godfrey will be missing, as well as our Colombian man of glass.
Joe McMahon
13
Posted 09/02/2022 at 11:54:33
Paul R, 100% agree. Richie can be a powerhouse (but not enoughof the time), DCL can be a pain for defenders (but can't shoot long range) and Pickford (IMO) is a liability and gives me no confidence at all on crosses and free kicks, and as for corners!
Barry Rathbone
14
Posted 09/02/2022 at 11:55:48
His comments re "confidence" boil down to as long as everything is going our way we're fine if not we go to pieces. The very definition of a relegation outfit.
I remember Utd, Spurs, Forest, Villa, Newcastle going down this route with all and sundry making excuses that good players were in the camp they just need a bit of confidence etc. It was mass delusion a grotesque fiddling while Rome burned lunacy.
All relegated of course as we will be given we can't find 3 teams worse than us.
Jim Bennings
15
Posted 09/02/2022 at 12:12:40
The strange thing is with the confidence claims, the players should have been bouncing after beating Brentford 4-1 on Saturday.
We turned up last night and as per usual when there is a hostile partisan home crowd, they visibly shit themselves.
The serial re-offenders, Keane, Holgate, Coleman (yes because he's gone that way now too) Gomes, a few others too, you wouldn't what to be in the trenches with them.
Newcastle don't score three against anyone, they have struggled for goals all season.
Watford score 5 goals at Goodison Park, when do Watford ever score 5 in an away game?
Norwich hadn't scored a goal for 6 games yet net twice against us in a matter of seconds.
Something is fundamentally wrong at this club, this is why I couldn't even really blame Benitez for this season, because we have long since sussed out these players.
Pete Clarke
16
Posted 09/02/2022 at 12:15:26
There's not much we can do with regards to reinforcing the team through transfers so we need to get by with what we have.
I hope I'm wrong on this but Lampard is going to find it very difficult to get these players to play tika taka through the middle so he's best just have the defense sit deep and let the midfielders battle it out and rely on balls over the top to Richarlison and hopefully DCL.
We are not going to win games once we concede so it's backs to the wall I'm afraid.
Frank Lampard is a clever man and he knows this is a task he has never faced before so he'll be trying to work out formulas to best suit what we have but we cannot leave that defense exposed.
One thing is for sure we cannot play Gomes again because we are a man down. Even Townsend is letting us down now as he is peripheral in most games. Allan battles but his legs are shot to bits so hopefully Frank is working on a plan with VDB in the middle with either Gray or possibly Gordon.
Let's get behind them against Leeds because any sign of booing and the team and manager may fall apart and with it our chances of staying up.


Jerome Shields
17
Posted 09/02/2022 at 12:49:37
For me Gomes wasn't going to get the time or space on the ball, that he got against Brentford.He was a key link player.Newcastle where always going to target him.
Other players are dependent on his plays.On top of that Gomes under pressure goes deep to get the ball.Loses possession more often than not in doing so and is guaranteed to give away fouls in dangerous positions.Because he is deep the defence is deep and Everton in midfield is a non event Van de Beek offers something better, though his cameo was too late to affect the outcome, since Everton had shot the bolt at that stage.
Fortunately Frank now knows what he can do.Delle Ali was tried, but is not a player to bring into a team whose confidence is shot.It would have been better to bring on Calvert Lewin and to have moved Ricarlison to the wing.Everton may have got lucky, and it would be luck.
Newcastle did what all lower league sides have done to Everton this season. Got control of midfield, had their defensive line move up compacting play and put the ball into the final third capitalising on defending players who have not concentrated enough during training and are error prone.
It's simply going to do a job and not being properly prepared and Individually not being bothered during training.You can't catch up during the game.
If I was Lampard I would be introducing Patterson and Adize just to see what he has got. Fortunately he already knows what he has got in Myko.
In Everton it is about getting the right blend of players and ever evolving tactics.More players with backbone needed, who are prepared to apply themselves.In the Premiership Gomes selected on a previous good performance is a gifted to opposition teams.Their analysts love it.
Kevin Prytherch
18
Posted 09/02/2022 at 12:53:09
Lampard right that it can't be solved overnight, but let's not absolve him of blame for poor selection and the usual mantra of the previous 5 managers of "it worked in the last game, so we'll do the same thing" approach.
Moving to the next game, we need to play our best players in the best positions (sounds easy).
If Mykolenko isn't back, play Branthwaite. Let's not shoehorn a midfielder in there.
Don't know who's the best at right back.
Get Richie and Gordon out wide. Richie is not a centre forward.
Allan and Van Der Beek in the middle, with Ali just in front of them.
4-2-3-1 with the ball, 4-4-2 or 4-5-1 without the ball. Simple yet effective. 3 at the back has never worked for more than the odd game for my entire life as an Everton fan.
Michael Connelly
19
Posted 09/02/2022 at 12:58:39
It took 16 comments, Pete, to mention the elephant in the room, which is Gomes. You are right, we are effectively a man down when the slightest bit of pressure comes on, with him in the team. He didn't have one interest in trying to defend that corner properly for their equaliser. Absolute liability. If we hang on until half time, we can calm the game down. Hopefully VDB, is the saving grace, as he looked nice and composed when he came on.
Barry Hesketh
20
Posted 09/02/2022 at 13:07:06
Kevin @18
I think the vast majority of Evertonians realise that Richarlison is a waste of talent when played as the central striker in this Everton side. Unfortunately the player believes that it's his best position, that might be true, when he's surrounded by class players in the Brazilian team, but for Everton he becomes a bystander, mind you, we could say the same about anybody who plays the lone striker role for Everton away from Goodison.

Steve Hogan
21
Posted 09/02/2022 at 13:15:12
Jim (7) Coleman a 'shithouse' player? Clearly past his best I agree, but if the other 'shithouse' players in that squad had as much heart and determination as Seamus over the years, we would be a much better team.
Show a little respect to a great servant.
Kieran Kinsella
22
Posted 09/02/2022 at 13:37:45
Barry
Your post sums it up. Carlo realized these losers limitations so kept it simple the problem was that at the end of his reign and into Rafas they couldn't even do that as they still contrived to score own goals and make stupid mistakes. The Hail Mary approach of all out attack might be our only hope because if we play conservatively we lose 1-0 or 2-0 if we try to play football we lose 2-5, so maybe if we just go gung ho we win 4-3? Probably not but it's all I've got
Tony Everan
23
Posted 09/02/2022 at 13:38:34
It's almost a year since Carlo said 'I'm not a magician' and now Frank is alluding to the same with his comment.
I think confidence is a factor but by far the biggest factor is our inability for years to be unable to cope with any team that can muster a good press against our defence and midfield.
Any team that can outwork us and close us down beats us. It doesn't matter if they are inferior on paper. Until we have the defence and more so the midfield that can cope with that we will continue to lose games.
Opposition managers don't have to be Hercule Poirot to work out what they need to do to make us spill the ball and give regular goal scoring opportunities.
Van de Beek needs to come into a midfield three and we may create a bit more resilience to the team. His ability to drive forward and distribute from the central midfield position can put teams on the back foot and allow us to keep our shape better.
All is not lost, we need to stay calm, regroup and play a better midfield system. It's all about survival now and giving Frank a chance to rebuild in June.
Matthew Williams
24
Posted 09/02/2022 at 15:16:26
Completely agree with Paul #10,we need to totally rejig this team and those three players would command a decent fee combined,if we survive this season then we need to bite the bullet and really put some real thought regarding new players that fit into a winning system.
Jim Bennings
25
Posted 09/02/2022 at 15:49:51
Steve
I always liked Coleman but to be honest, his aftermath bleatings are boring now.
He channels his "heart and aggression" in stupid ways in my opinion now, picking needless shoving matches with opponents when the game is up.
As a captain, he should have been cajoling the players when it was level last night and we had just lost Mina and Gray, barking at them "we dig in, we do NOT lose this game"
I don't see any of that from him sadly, I see a player that's just sorry shadow of what was a swashbuckling fullback back in the day.
I don't know how good (or bad) Nathan Patterson and Viti Mykolenko are, but you have to start playing the both of them ASAP as far as I'm concerned now.
Square peg left backs and penny-farthing right back Seamus is exposing us so much now it's becoming laughable.
Steve Hogan
26
Posted 09/02/2022 at 16:50:20
Jim (25) so that makes him a shithouse anyway? Your words.
Dale Self
27
Posted 09/02/2022 at 17:37:21
The rehabilitation of Carlo, I love it. The question of whether to just go for it or try to find a setup where we can control tempo is the big question. I'm still on trying to control the game but could be convinced otherwise if DVdB or Alli start to click. With the language Frank is on we'll have to hope that Clement can sort out some stability in our defense.
Phil Smith
28
Posted 09/02/2022 at 17:39:45
I'd have Seamus next to me in the trenches any day. He just isn't as good as he used to be. Been saying this for a while but needs to be dropped. Gomes is a good player to use when we're trying to cool things down but shouldn't be a starter. Niether should Alli on that perfomance. 4-5-1 for the next game. Kenny and Mykalenko in, please.
Jay Harris
29
Posted 09/02/2022 at 17:41:53
We are all expecting the manager and players to rouse themselves and have confidence and hope while we are all on here showing a total lack of confidence and hope.
Frank has been here just over a week FFS and we have once again been decimated by injuries.
When was the last time our 3 best players Richy, Doucoure and DCL played together.
More than at any other time the players need us to get behind them and lift them in games not keep telling them how shit they are and criticising the team selection etc.
Rob Halligan
30
Posted 09/02/2022 at 17:55:22
Jay # 29. At last, a sensible post. Well said. For two days following the Brentford game, many were saying Frank should play the same team, or as near enough as possible, injuries and illness permitting, for last night. This he did, though I doubt very much it was on the advice of anyone on TW, otherwise I'd be demanding he be sacked!! Besides, I doubt he's even heard of TW.
The two injuries in the first half were a nightmare. For the first half hour we looked comfortable and seemed to be in control of the game. We take the lead, and then proceed to throw it away seconds later. In one and a half games, Lampard loses three key players, players who would have played a massive part in not only defending the lead last night, but also probably helping to re-store it in the second half, had Demarai still been on the pitch.
Just as though it looked when we were getting everyone back fit, the injury jinx strikes again. It never rains but it pours!! 😠😠😠
Jay Harris
31
Posted 09/02/2022 at 18:10:40
Cheers Rob,
I remember in 94 it was similar and we struggled and the crowd only really got behind the team in the last game against Wimbledon.
A lot of people don't realise players don't play bad deliberately and some with a bit of encouragement might surprise people.
We need patience and encouragement and we will stay up.
Tony Hill
32
Posted 09/02/2022 at 18:21:35
Yes, Newcastle got behind their team; we need to do the same for every game now and I'm sure we will.
Anthony Hawkins
33
Posted 09/02/2022 at 18:29:32
Confidence has been a big thing with the Everton squad for a number of years. Any minor dent is seen as a massive write-off event. That's not going to change overnight. The issue is bigger than that. We're carrying passengers and have no other options. We're all excited about the new signings but that just masks how much we've actually spent this season and players brought in part way through rarely settle before the new season.
I reckon we'll be lucky to finish much above the relegation zone
Des Farren
34
Posted 09/02/2022 at 19:08:54
Jim @25. "... as captain, he should have been barking at players".
Maybe he was barking, maybe he has been barking without success for years, or maybe he does not bark as he considers it counter-productive. How do you know what he does?
Whatever he does and however he plays does not warrant you calling him a shithouse.
Brian Wilkinson
35
Posted 09/02/2022 at 19:24:03
Maybe Frank should start adding a fine to the not trying brigade, if your shirt does not smell of sweat, at the end of the game, or no grass stains on your shorts, you pick up a fine. Any of our players found cheating and diving, fined again. Get rid of the touches stats, too many players are passing the ball back and to, with no opposing player close, looks great on the touches per match stats, but when a player touches the ball 4 times in a matter of seconds, it gives the other team time to regroup, while two of our players do a Chuckle Brothers to me to you.
In regards to the line-up, Frank could not win, if he drops players from the Brentford game, we would have asked why? Me personally, I think Lady Luck deserted us. Frank's game plan would have been to ease Alli, Van de Beek and Calvert-Lewin into the match, the two early injuries put an end to that, with two subs already and only one left, it would have been foolish to throw the third sub on earlier than we could.
The one tweak what I thought we could have done at the time when Gray went off, was to bring Calvert-Lewin on, push Richarlison to fill Grays space, which would have given us a good balance, then the obvious third sub of Van De Beek for Gomes.
Going forward to Saturday, if Gray is injured, we have to start with Calvert-Lewin, with Richarlison switched out wide, bring Van de Beek in for Gomes., Gomes seems to do his best stuff coming off the bench and at the same time Van de Beek offers so much more, can put a tackle in, offers options for players to pass to, and gets towards the danger areas. I said it when we were linked that getting Van de Beek will be a great signing.
God only knows what we do defence wise, the thought of Keane and Holgate holding our centre of defence gives me nightmares. Ideally, I would prefer to have Patterson Branthwaite Mykolenko and either Holgate or Keane, not both as the defence, only due to the speed of Leeds attacking, then you have the "experience outweighs a quicker defence" argument but, with the options we have through injuries, not an easy call.
Roll on Saturday and hopefully an injury-free 90 minutes and a win.
Brent Stephens
36
Posted 09/02/2022 at 19:25:47
Brian you're assuming everybody sweats. Prince Andrew doesn't!
Tom Harvey
37
Posted 09/02/2022 at 19:54:33
Jim Bennings @ 7
C'mon Jim, there's nothing shithouse about Seamus.
Father time is about to put his arm around him and take him away, but that's not his fault. He doesn't belong in that list with Iwobi.
Jim Wilson
38
Posted 09/02/2022 at 20:02:34
Lampard is making the same mistake as Benitez, right from the off.

It is the midfield that needs the extra man, not the centre of defence and we need to change the system back to a back 4 asap.

The midfield needs to be strengthened to help stop the opposition from playing and to protect the defence more.

Allan needs help and Van de Beek must play against Leeds at the expense of one of the central defenders.

There is a good 4-3-3 lineup (or 4-5-1 depending on how you look at it) we can pick. If no left-back is available, we have to play Kenny there. He is a good professional who will work as hard as he can for the team.


Barry Hesketh
39
Posted 09/02/2022 at 20:06:23
Brent @36,
He would if he supported Everton!
Andrew Heffernan
40
Posted 09/02/2022 at 20:06:26
Completely agree Jay and Rob; too many naysayers around when we need to dig deep and back each other. Yes, we know our issues and limitations but that isn't going to change before the end of the season.
Newcastle have made huge changes which were clearly on show; Frank and Co have been here a week – I've no doubt we will see changes within a month or so.
Brent Stephens
41
Posted 09/02/2022 at 20:17:35
Barry, so true!
Jim Bennings
42
Posted 09/02/2022 at 20:19:47
Norwich and Leeds both winning, this gets grimmer by the day.
Ian Hollingworth
43
Posted 09/02/2022 at 20:20:41
Analyse all we want but we the fans have to play our part now.
Every match at home needs to be a rocking Goodison, regardless of what's happening on the pitch.
We have to make it a hostile atmosphere for the opposition and back the team loudly from start to finish.
As fans it's all we can do now to help the team avoid the dreaded r-word.
Barry Hesketh
44
Posted 09/02/2022 at 20:24:02
Jim @42,
Be honest, mate, you love to revel in the darker things in life, don't you? Let's wait until the final whistle has gone before we start worrying about other teams and how it affects Everton.
For at least a minute last night, fans of those clubs would have been saying "Oh God, No – Everton are leading!"
Jim Bennings
45
Posted 09/02/2022 at 20:30:53
Barry
That's right mate, I'm sat there with my black cat and ouija board reveling in the dark side, the old crystal ball is looking a bit cloudy tonight though.
John Atkins
46
Posted 09/02/2022 at 20:30:57
City and Villa both just scored so things looking better …. How fucking desperate are we!
Barry Hesketh
47
Posted 09/02/2022 at 20:36:51
Jim @45,
I hope there isn't any former Everton centre-halves in there with you, because if there is, that cat won't be safe!
Joe McMahon
48
Posted 09/02/2022 at 20:37:56
John, very! It's hard to take after endless decades of shite on the pitch, and abuse and piss taking from our neighbours!
Brian Murray
49
Posted 09/02/2022 at 20:39:47
Don't know if it's been said but the youngest man on the pitch (Gordon) gets clattered by that kopite prick and it's disgraceful senior pros, especially Seamus, are not in his face. A great chance to get him sent off if he's goaded into another challenge.
It's called taking responsibility or game management. All the top teams do it or even us in the 90s when we were fighting for our lives. Too nice as usual.
Shaun Laycock
50
Posted 09/02/2022 at 20:40:35
For Saturday (433):
Pickford
Coleman
Keane
Holgate
Mykolenko
Allan
Gordon
Van de Beek
Richarlison
Calvert-Lewin
Townsend or El Ghazi or Iwobi
Ray Roche
51
Posted 09/02/2022 at 20:41:00
I was at Finch Farm today and I was appalled to see the team playing football with a cat.
I was just about to call the RSPCA when the cat went 1-0 up.
Barry Hesketh
52
Posted 09/02/2022 at 20:44:02
Ray @51
Not another free-header from a corner kick? Sake!

Ray Roche
53
Posted 09/02/2022 at 20:45:23
Yes, fur fuck's sake.
Kieran Kinsella
54
Posted 09/02/2022 at 20:55:46
Jay Harris/Tony Hill
I think the problem with getting behind the team is that Holgate for example has played miserably under 8 different managers despite plenty of occasions when people got behind him. At this point, it seems like self-delusion to be all "come on Keane-o get stuck in lad, yes show em how it's done Mason."
I am not suggesting we should actively boo them but I don't think cheering or silence makes a damn bit of difference to how they perform and I single defenders out as they are the ones who constantly let the side down.
It's absolutely disgusting really how many games some of these have had. Look at Ashley Williams – he was in and out after 60 games, Earl Barrett made it to 74, Tony Grant 61, Jigsaw 62 mostly off the bench, Marcus Bent 50 odd, but similarly incapable Mason Holgate is on 100 plus, Tom Davies pushing 150, likewise Michael Keane.
We've always had bad signings and promising youngsters who fail to bloom but have we ever had such poor players who have played so many games? They've played more games for us than Gueye, Rooney, Saha, Yakubu, Martyn, Limpar etc.
Karen Mason
55
Posted 09/02/2022 at 20:58:27
Jim @ 7.
Seamus Coleman a shithouse?? Really?? Shame on you. While he may be past his very best, his loyalty to our club is a rare thing in today's World.
His willingness to always give of his best, even if that doesn't work in every game, does not deserve being called a shithouse.
Your values are clearly very different to most Bluenoses. After that comment, I will be sure to give all your posts a swerve.
Brian Murray
56
Posted 09/02/2022 at 21:13:14
Hope we have more than a cat-in-hell's chance of staying up. It's already been said on here but Villa's and Leeds's movement is another level although I think Frank wants us to play that way. He may have to abandon that for now to get these five or more wins.
It's all very well saying there's 17 games to go but that momentum in the blink of an eye turns into 7 games. We need Calvert-Lewin to start acting like an England striker.
Karen Mason
57
Posted 09/02/2022 at 21:15:15
While many Blues fans rate Pickford, I would argue that, until we have a powerful keeper who can command his area, compete for the ball on corners and free-kicks, we will always be vulnerable on corners and free kicks.
I'm not one for stats generally, but if you count the number of great shot-stopping saves he does in a season, versus how many corners and free-kicks we have to defend, they don't compare favourably. He flaps about trying to punch corners away, simply because he is just too small to compete with some of the big players he is up against in the area.
Man-to-man marking or zonal, either way, I fear that he is the weak link when the ball is put in to the box on set-pieces, which is why we concede so many goals from that situation. I would also add that he should never play against Newcastle. He is always distracted when we play them.
Brian Murray
58
Posted 09/02/2022 at 21:19:23
Paul. Post 10. I'm not against selling our crown jewels for big profit as long as we do the un-Everton thing and have players and a plan lined up, like the shite done when Coutinho went.
Oliver Molloy
59
Posted 09/02/2022 at 21:38:42
Tell you what, just bouncing between the games tonight, Leeds and Southampton could well be a tough watch!
I see Rooney has been commenting on Man Utd and what it will take to turn them round – he reckons any new manager will need 3 years at least, throwing his hat in there, me thinks!
Mark Fitzgerald
60
Posted 09/02/2022 at 21:58:08
Disappointing result at Newcastle; for me, a combination of unfortunate injuries and the usual suspects playing to form, eg, Holgate, Gomes, etc. Defensively, we were abysmal; be it a back 4, 5, or even 6 if Pickford is included.
Need to line up Saturday with intent, desire and freshness. Assuming Gray, Doucouré and Mina are unavailable, I'd go with:
Pickford,
Patterson, Branthwaite, Keane, Mykolenko
Gordon, Alli, Allan, Van de Beek, Richarlison
Calvert-Lewin
The full-backs are a gamble but we've been getting so little from that position in recent times that I think we need to shake things up.
Van de Beek looked impressive on his first appearance; Alli less so. But both are creative in an area where we badly need some.
The three in midfield is a must to ensure we don't get outnumbered there. Allan can protect the back four when the other two push on.
And we must ensure that Calvert-Lewin does not get isolated. But there's enough attacking players out there to avoid that.
James O'Connell
61
Posted 09/02/2022 at 22:03:40
Lots of comments on here about squad overhaul that I completely agree with, but that takes time and money, both of which we have squandered in abundance over the last few years.
I think my main priority would be to find a player that can captain this squad of players we have now. We have no leader on the pitch; with the right motivation, a bang-average team can still win games.
We can't fall to pieces every time things don't go our way, you can see the confidence and energy just drain out of the players... stand up and fucking fight for it – like most people have to in their everyday lives.
Christy Ring
62
Posted 09/02/2022 at 22:28:42
We have to play 4-3-3 against Leeds, our midfield is too lightweight with just two, and our wingbacks offer nothing going forward. Play Allan and Van de Beek with Alli the attacking threat, with Gordon, Calvert-Lewin and Richarlison our front three.
Brian Wilkinson
63
Posted 09/02/2022 at 22:30:36
Brent @36, he will, if and when he gets put in the dock, like someone else said, he would if he followed Everton.
Brian Wilkinson
64
Posted 09/02/2022 at 22:38:30
Karen @57,
We had him in Robin Olsen, did a cracking job when called upon. Pickford raised his game when he got back in, he had to with Olson pushing him. A couple of million and he was ours; instead, we let him leave, brought in a free signing goalie who flaps more than a pair of flare kecks in a storm.
Now Pickford knows the backup is shite, he is starting to drop a little again. Whoever decided not to keep Olsen for backup wants a rocket up their backside.
He's now on loan at Villa.
Brent Stephens
65
Posted 09/02/2022 at 22:43:33
Brian, I'd love to see him in the dock but I suspect he'll "pull out" at the last moment. An Edge Hill moment.
Will Mabon
66
Posted 09/02/2022 at 22:52:30
So, let's just go ahead and flog off the most valuable players; Calvert-Lewin, Richarlison, Pickford. Sell them for big money to other clubs, made possible by the
quality and desirability
obvious to those who would purchase them.
We can then spend the money on players of lower quality. Then, with all else remaining the same – club, squad, manager, coaches – we can somehow mysteriously improve.
Before anyone quotes it, the one elephant in the room is our 4th-place finish after Rooney was sold. The exception that proves the rule.
Successful clubs lucky enough to have the finances, improve by replacing as necessary the players that can be improved upon. What they don't do is willingly sell their best players. Think Horse-face would want to see Salad or Mane leave at the end of the season?
The problem with the team currently is multi-faceted, we've discussed them all. The team/squad is potentially much better than our position in the table – it's been proven in periods under Ancelotti, Benitez early on. Even to a degree, Koeman and Allardyce.
The management, set-up, fitness and operation of the team need to align with improved spirit, belief and consistency from the players. The technical abilities of the better players are not the problem – the money potentially received for them is not the answer.
Joe Digney
67
Posted 09/02/2022 at 23:21:56
Before Frank got the job, looking from the outside in, he probably thought this bunch of players were better than the performances on show under Benitez and he could get them playing his way fairly quickly. After that Newcastle match, I assume he's realized how shite and weak-minded most of them truly are.
I still think it was a miss not trying to bring a real midfield enforcer in to patrol the space in front of the back 4, easing pressure off them, even if just for the remainder of the season.
Anthony Jones
68
Posted 09/02/2022 at 23:26:44
I think several of the players need less confidence, because they are shite!
Holgate looked pretty confident when he gave the ball away for the equaliser.
Niall McIlhone
69
Posted 10/02/2022 at 10:12:24
I watched Craig Burley being interviewed on ESPN this morning about the threat of relegation hanging over Everton: he offered an anecdote about his time at Derby County under Jim Smith.
When the question was put: "Are Derby too good to go down?" – the feeling was actually that Derby were actually "top bad to stay up". Is that the situation with us, I ponder?
The ESPN piece also told us that Donaldo (Don Hutchinson) was at St James's Park to watch Tuesday's game and concluded that the Everton team offered nothing, and he was genuinely concerned about our relegation, as the players just don't have any fight in them.
I don't agree with Don on that front, as clearly, the likes of Richarlison, Gordon and Townsend were busting a gut, we are just bereft of confidence. I am seriously worried about where this is taking the club.

Tony Hill
70
Posted 10/02/2022 at 10:20:00
We must not allow others outside the club to intensify a climate of dread. Relegation sides fail, among other reasons, because a narrative of fear gets entrenched and it becomes self-fulfilling.
There is more than enough time for us to get out of the current danger and we need to do that resolutely from within. Panic off the pitch, including from us as supporters, inevitably fuels panic on it.
Dave Abrahams
71
Posted 10/02/2022 at 10:23:53
Niall (69),
You are correct: Richarlison, Gordon, Townsend and Coleman, sadly not the player he was, were up for the fight but three or four players out of the players who turned out is simply nowhere near enough.
I leave out Branthwaite because he is still very young but had a decent game once he settled down. Alli and Van de Beek because they haven't had time to settle but will have to learn very quickly. It was very noticeable that Van de Beek became frustrated once he saw there was no running off the ball or players making space that he could use.
Sadly. I don't think we are equipped to fight this relegation battle with the squad we have. Absolutely hope I am wrong about this.
Stan Schofield
72
Posted 10/02/2022 at 10:33:08
Well, the first step towards solving an identified problem is to take a positive approach and not dwell on bad possibilities. There's too much of the latter amongst some supporters on ToffeeWeb but, if the new management team under Lampard take a positive approach, then our chances of climbing the table will be maximised.
Frustration is one thing, useful for providing drive, but a defeatist fatalistic attitude is quite another. Fortunately, Lampard is well placed to provide that positivity, being a serial winner.
It has been a cultural problem at Everton that we've folded when things go against us, whether injuries or officiating decisions, but hopefully Lampard will just get on with the job in hand without focusing on bad fortune. Luck can be moulded through attitude.
Niall McIlhone
73
Posted 10/02/2022 at 10:35:15
Dave (#71),
I agree with your comments and I had a decent seat amongst the home fans to assess how each player was performing.
When Van de Beek came on, it was crystal clear as to his willingness to receive the ball, and get the ball forward, but the home team were very energised, and there were lots of dark arts going on with holding and shirt-pulling which the pathetic referee failed to deal with.
As for Shelvey's assault on Gordon, even the home fans sat round me were calling for him to be sent off, apparently he does one of those "tackles" in most home games, and the Geordies see him as a liability?
Tony (#70) I wholly understand your points regarding the" panic" factor, I worry mainly about the apparent mindset of the players, but I do believe Lampard and his backroom team will – just about – be able to get enough out of the remaining games to keep us up, but only just.

Brian Harrison
74
Posted 10/02/2022 at 10:43:03
Tony 70
I absolutely agree with you about outsiders setting the narrative about fuelling the relegation fear. Look, we aren't stupid, we know exactly the position we are in, and are well aware that we are in a fight to avoid the drop.
But we are the big story for the likes of Sky, a club who have enjoyed top-flight football for nearly 70 years and I have been lucky enough to see all of our top-flight games. It's no story if Norwich or Burnley or Brentford go down but, if we go down, it's a bit like when Man Utd went down in the '70s it's a big story.
I know when they went down many had said they are too good to go down, but they did. I think their players also believed they were too good to go down.
I just hope that the nervousness from a section of the crowd doesn't transfer to this group of players, who aren't the most confident group. So it's up to us to give them that confidence, make them believe they are better than their form is showing.
I don't think we will go down. I think all the clubs up to Crystal Palace are vulnerable and Brentford have played 3 more games than us. A raucous Goodison for all the remaining home games I think will see us stay out of the relegation zone.
Barry Rathbone
75
Posted 10/02/2022 at 11:24:20
Depending on the fans is fine if we get and hold a lead. The problem is if the opposition get an equaliser, the place goes deathly quiet as brooding resentment sets in. If the oppoosition get another, then the torrents of vitriol are unloaded.
Frank needs to tell the players to pretend it's back to Covid days and no-one is in the stadium – we did alright then. Being at the behest of the fickle isn't a sound plan.
Barry Hesketh
76
Posted 10/02/2022 at 11:37:11
Barry @75,
The fickle fans weren't in attendance for the majority of last season, yet Everton only managed 2 league wins out of the 12 played at Goodison in the period between 1 January 2021 and May 2021.
The team isn't good enough and we should all realise that as a fact. The behaviour of the crowd can certainly help the players on occasion, but if they can't perform due to a lack of overall ability, there's little we can do about it, no matter how fickle the fans may be.

Barry Rathbone
77
Posted 10/02/2022 at 11:41:43
Barry Hesketh 76
I must have been snoozing when a point off relegation and in free fall last year.
Barry Hesketh
78
Posted 10/02/2022 at 11:46:36
Barry @77
It was away from home that Everton managed to rack up so many points last season, therefore we were in a better position than we are currently. But it masked the home form, which for Everton has always been a fair barometer of how the team is performing. I honeslty don't believe this urban myth that the fans are to blame for what happens on the pitch; it's always been about the quality of the players which determines results.
Christopher Timmins
79
Posted 10/02/2022 at 11:55:01
After reading the comments since the Newcastle game and knowing what Leeds will bring on Saturday I would settle for a point, take your hand off, if offered it. We have been stuck on 19 points since 16 December, losing the last four games.
Without Bamford, Phillips and Cooper to name but 3, Leeds have found a way to adopt and they have scored 3 in both of their last two away games, indeed it's probably the case that they are better set up to play away from home with James playing up top.
Lampard needs to be brave and play all the new boys as some of those who have been around for the past 14 games look like beaten dockets at this stage.
Get behind the team on Saturday!
Nicholas Ryan
80
Posted 10/02/2022 at 11:59:54
Slightly off-topic, but If Pickford punched Branthwaite on the jaw, then he was about 12" from the ball, which is worrying. It's like Anthony Joshua aiming the big knockout head punch and hitting the opponent's chest!
Clive Rogers
81
Posted 10/02/2022 at 12:01:30
This shambles of a club just doesn't help itself. It was crazy appointing a new manager just 48 hours before the window shut. Newcastle have signed players that will help them get out of trouble. Our five signings won't. None of them started on Tuesday. The two fullbacks mustn't be ready. El Ghazi mustn't be good enough as nobody wants to play him. Alli looks has though he has lost it completely and de Beek would be OK in a team of top players but looked lost among our rabble.
Danny O'Neill
82
Posted 10/02/2022 at 12:13:42
I see your point Christopher @79. So yes, but no.
I won't be accepting of a point against a team one place above us in the league having played a game more than us.
3 points for me. Win this and our game / games in hand on those around us and we'll be fine.
I hope the manager isn't settling for a point and I certainly hope the players aren't going out with that mentality.
John Kavanagh
83
Posted 10/02/2022 at 12:54:17
Mark's team @60 is the one I'd go with, although Kenny is an option. I'm afraid Coleman will simply not be up to the task of coping with Leeds' speed and high press and Andros is no wingback. Branthwaite has to be given his chance as Holgate hasn't taken his. High risk, but using the same players will deliver the same results. Richy plays better for us on the left and provides good defensive cover there. DCL also provides invaluable cover when defending set pieces.
I'm very fearful after seeing how Leeds and Southampton performed last night that we could still be on 19 points at the end of the month, which will mean our fate will be sealed.
A losing mentality was allowed to set in after the Watford match, which is when Benitez should have been sacked, and certainly no later than after the RS embarrassment. However, as shown against Chelsea, our youngsters can play with energy and commitment and might now offer our best route to survival.
If the crowd gives its total support and encouragement and we get some of the luck we enjoyed against Arsenal, we can finally start to reverse the losing mindset and the slide towards oblivion. Saturday is for us no longer a six pointer, it's now effectively a 20 pointer.
Jim Wilson
84
Posted 10/02/2022 at 13:14:02
It is a big mistake to play 3 central defenders when we clearly need another player in midfield. This is how Benitez got us in trouble in the first place.
Playing 4-3-3 (or 4-5-1 depending on how you look at it) is a must against Leeds. We have to stop them getting a grip of the game. And Van de Beek must start. The best way to protect a poor defence is to keep possession and be on the ascendancy as much as possible.
Our defenders are not that bad though. They are victims of the constant changes in tactics, formations and line-up. This has undone all consistency, understanding and their confidence is shot.
Remember how bad our defence was for the Wimbledon game. Once Joe Royle came in and got us organised and settled it all down, our defence was fine. Gary Ablett was not an attacking full-back but remember his run and cross for Amokachi in the FA Cup semi-final? It is all about confidence!
If we don't have a left-back available for Leeds, we have to play Kenny. He will give his all even when played out of position.
Kevin Naylor
85
Posted 10/02/2022 at 13:23:31
Wheres a Mick Lyons type of player when you need him, I'll never forget that diving header he scored against Leeds in the 70's, oh to have him playing against them on Saturday.
Christopher Timmins
86
Posted 10/02/2022 at 13:26:15
Danny, I do admire your positive outlook despite all the recent set backs. Maybe its the Accountant in me, we currently have less points than games played, that has me settling for a point on Saturday.
I do hope you are right and that the players are not settling for a point, however, looking at them at the moment there are some who appear beaten before they leave the dressing room.
Clive Rogers
87
Posted 10/02/2022 at 13:32:58
I don't see us getting anything against Leeds, we are just not good enough. They have had injuries like us but have filled the gaps with good youngsters who are starting to flourish. We can't do that. We are paying the price for twenty years of mismanagement. We have made five January signings, but none are good enough to save us from relegation.
Danny O'Neill
88
Posted 10/02/2022 at 13:40:33
Accountants always pay too much attention to detail Christopher. I know too well. My wife is one and she knows how much I spend on Everton. I can't hide from that although wish I could!!
Switching to other comments on the support. That is most certainly not in question. Had we been closer to the pitch on Tuesday, we'd have practically been on it.
The team has our support. I believe they have enough ability in them. That's what they are on the pitch and I'm in the stands. They need to match our level of commitment and passion.
Robert Tressell
89
Posted 10/02/2022 at 13:55:00
Clive # 87. These are very worrying times. I totally agree about the disgraceful mismanagement BUT we most certainly can get points against Leeds, and three points at that.
But for shocking refereeing and the double injury blow we would have beaten NCL.
We can beat Leeds.
Clive Rogers
90
Posted 10/02/2022 at 14:04:23
Robert, I hope so, but doubt it. From what I have seen we are the worst team in the PL and the last 18 games confirm it. Leeds played some good attacking football against a good Villa side, scoring three goals after trailing by two.
Eddie Dunn
91
Posted 10/02/2022 at 14:09:47
Leeds went on a poor run but have resurfaced and are running like hounds but they concede goals and we can beat them.
One worrying aspect has been our lack of creativity. With Donny on from the off, we might open them up. Dom has to start and I would play a three in midfield.
My starting eleven.
Begovic, Coleman, Keane, Branthwaite, Mykolenko. Allan, Van De Beek, Alli and Townsend midfield with Dom and Richie up top. 4-4-2 should stifle them and allow us more control. If things don't work then throw on Gordon and El Gazi to stretch things late -on.
James is the guy we have to watch, just the sort of player we couldn't handle on Tuesday night.
Michael Lynch
92
Posted 10/02/2022 at 14:31:56
Sadly, I agree with Clive @90. Right now we are the worst team in the league and the results confirm that. Since October, Brentford, Norwich, Newcastle, Watford and Palace have all beaten us. If Leeds win on Saturday, that only leaves Burnley out of the bottom 8 clubs still to beat us.
I also agree that Lampard probably thought our players were better than the results, but he's just discovered he was wrong - which is why he looked so shell-shocked after the match on Tuesday night.
I'm not sure even Big Sam could save us this season, let alone Lampard - who would probably be a great fit for us in any set of circumstances but a relegation battle.

Brent Stephens
93
Posted 10/02/2022 at 14:50:40
For the first time I'm on the verge of saying we might well go down. Not just a possibility - lose against Leeds and I don't see what we have in the locker to be able to stay up. It's not unusual to say that the next match is a big one - but Leeds has me genuinely scared. I went to Newcastle thinking new manager, and enough on the bench to take the points. Our midfield is slow and being bullied. Leeds I fear will destroy us.
Brian Murray
94
Posted 10/02/2022 at 15:20:33
No rallying call from Seamus he's left it to kean this week. Why don't they keep their mouths shut and try not cacking themselves first sign of am away roar. Branthwaite needs to stay in the team in the middle and somehow break up this Holgate kean partnership that's only going to end up one way. Frank has first class coaches apparently helping him now so these terrified blind passes have to stop now. I know it's not fair to iron out years of this now but that's our only hope along with dcl staying fit.
Eddie Dunn
95
Posted 10/02/2022 at 15:21:58
Brent- I think Frank is hoping for improvement at Goodison. We showed in the cup that we can play better but Leeds are not the sort of team to be passive.
However they can be stifled and lack quality. We need Richarlison and DCL to step up to the plate. We need the likes of Dele and Donny to take the game by the scuff and we just need our defenders to clear their lines and quit the dangerous farting about.
Lose at home to Leeds and the morale will slump even lower, but win, and it will rize like the springtime sap and we will head into the remaining games reborn.
The crowd will need to get right behind the lads, not stand there like observers of an autopsy.
Paul Cherrington
96
Posted 10/02/2022 at 15:28:26
Although the fight against relegation is well and truly on still, you cannot deny it gets grimmer by the match! As the Newcastle game showed our major problems are:
- very poor at the back. Keane and Holgate are just not EPL level while Mina is never fit. You cannot rely on any of them. Coleman is clearly finished at the top level - anyone can see this apart from whoever is in the managers office! What does Patterson have to do to get a game?!
- players who just aren't good enough or do not have enough intensity/desire to play for us. Andre Gomes is a classic example - he is just not an EPL midfielder. too weak, too slow and not enough passion.
- a habit of making costly mistakes every game and generally shooting ourselves in the foot. Conceding before half-time against Villa and letting that quick equaliser in against Newcastle being prime examples
- managers who are obsessed with only having 2 people in midfield and trying to get our bang average players knocking it around like the Dutch team of the 1970's. It's never going to happen!
I like the new manager and think we have to stick with him, whatever happens. If I was him I would seriously be looking at bringing in some of the younger players from U-23's into the first team. Dross like Holgate, Gomes and Keane have had their chance and look where we are - why not give some of the young lads a go? Can't really do any worse can they!

Tony Hill
97
Posted 10/02/2022 at 15:36:48
Brent @93, there is usually more time in life than we think. Don't know whether that's good or bad on the whole, but for Everton it's definitely good. We must not stampede ourselves into trouble. That is not, of course, to deny the peril.
What characterised our performance on Tuesday was the fatal perception that everything had to be done in a hurry. In our situation, perhaps counter- intuitively, we need to slow down. That's how we'll save ourselves.
Clive Rogers
98
Posted 10/02/2022 at 15:37:22
The team is really poor and the five signings haven't really helped. Saying Mykolenko had an inconclusive covid test for Tuesday tells me they just didn't want to play him.
Brent Stephens
99
Posted 10/02/2022 at 15:45:00
Eddie, re the fans, I just wish our crowd could get behind the team right through the game like the Newcastle fans did this week.
But It's your middle para that scares me, Eddie - we need Richie and DCL to step up to the plate; we need Dele and Donny to step up to the plate. Add to that we need Allan to shore up the midfield. And Holgate and Keane to stop panicking. And, and, and…
Time passes slowly for the condemned man. Roll on Saturday.
In Frank we have to trust.
Clive Rogers
100
Posted 10/02/2022 at 15:52:28
I wouldn't pick Alli. He was awful on Tuesday and looked like he had completely lost it. I doubt he will ever regain his form. He just looked like he was going through the motions and didn't want to be there. He wanted to put on his £4K jacket, jump into his Rolls and be off.
Brent Stephens
101
Posted 10/02/2022 at 15:54:11
Tony, against all my football instincts I think I now want to see us bypass that midfield and play route one football. Losing the ball in the final third with a defence and midfield ready for any breakdown in play is now preferable to losing the ball in our own half with a defence on the back foot and Gomes and Allan chasing shadows. I never ever thought I'd say something like that but Leeds will play a pressing game.
Steavey Buckley
102
Posted 10/02/2022 at 15:58:46
At this moment Everton are the worst premier league team who deserve to be relegated. Losing the 3 players to injury has made the situation worse. It was a calamitous decision not to sign a centre half because Mina's injury record is appalling. The other recent signings are not good enough to save Everton from relegation. Can Everton get out of the championship, that will be the next problem for Everton fans to consider.
Barry Hesketh
103
Posted 10/02/2022 at 16:00:03
Come on own up, how many Evertonians have had a sly bet at good odds, on Everton getting relegated? On the one hand people are asking the fans to get behind the team for the full 90 minutes yet on the other hand there are people who say that Leeds will muller Everton on Saturday.
I'm totally confused by some posters, I realise the gravity of the situation, but we're not yet rooted to the bottom and cast adrift of the rest of the league, and no match is a foregone conclusion, unless you are City or the other lot playing against most of the division.
I can't remember Evertonians being so pessemistic about the teams chances particularly prior to a home game against would be fellow strugglers not the European Champions or runaway league leaders. Lord knows what it will be like on here prior to the next home encounter with Manchester City.

Clive Rogers
104
Posted 10/02/2022 at 16:04:03
Steavey, I think the answer is no. If they go down there will be an exodus of the best players plus the older ones on top wages will booted out also. Our youngsters are not yet ready to step up even if they are good enough.
Allen Rodgers
105
Posted 10/02/2022 at 16:05:15
Brent @99 , as an ever present at Goodison I would say our fans make plenty of noise, not always positive I admit. We've witnessed mostly garbage this season but still sell out home and away. The fans are desperate to get behind the team but so often the players are lacking in commitment. Keane's comments in The Echo today are beyond a joke.
Jay Harris
106
Posted 10/02/2022 at 16:14:18
Barry,
I agree totally.
There are so many posters almost wishing us to go down so they can say they are right.
We have been decimated by injuries this season but still have 51 points available to us and 3 games in hand of a poor Brentford side.
IMO if we get 17 points from 17 games ( a very slight improvement on our record to date) we will be safe in fact I will be shocked if we go down. There I have said it.
The one big factor is the patience and support of the fans. It will not be easy as we have to allow the manager and staff time to find a winning setup and formula but I have every confidence they will do it.
Steavey Buckley
107
Posted 10/02/2022 at 16:30:30
Steavey Buckley
108
Posted 10/02/2022 at 16:30:30
Nobody is wishing Everton to go down, but management and players are making too many mistakes to avoid relegation. Then there is the injury list.
Benitez wastes 29 million on 2 novices, when Everton badly needed another at least another centre half and another player with premier league experience.
The players on the pitch can't pass the ball to each other without giving it away.
The injury list keeps getting longer. It's the better players who are getting injured.
Mike Gwyer
109
Posted 10/02/2022 at 16:33:31
Brent #93
Total agree about the bullying but in my opinion it was the Newcastle fans who led the charge, until their equalizer it was a totally shite football game but we were well in it. After the equalizer their fans led the vocal charge, Shelvey got away with that shocking tackle and we were now seriously on the back foot.
I was at most games in 94 and 98 seasons when we danced with relegation but our support, home and away, was putting it lightly, fucking mental. For me the fans got Everton over the finishing line, as both those teams were poor compared to what we have sitting in the dressing room today.
Keane and Holgate are probably in for Saturday, there is not much anyone can do about that. However, I cannot see how Gomes can play coz he was just totally fucking gash. But whoever plays we have to be united and support the team, we have to generate the noise that lets the players know we are right behind them. We cannot let Leeds, their players and their fans bully us, because that is exactly what they are going to do.
Dale Self
110
Posted 10/02/2022 at 16:49:25
Steavey and Clive, without getting into it please consider that it is an ugly situation. If you make statements that have a charge or lack empirical integrity you should expect the responses to have a commensurate level of consideration.
Steavey Buckley
111
Posted 10/02/2022 at 17:01:16
Dale: Everton fans can't avoid the ugly truth of Everton managers making poor transfer decisions over the past 5 years. As one Everton fan put it rightly, Everton have spent a fortune getting relegated.
Will Mabon
112
Posted 10/02/2022 at 17:03:29
Allen,
I read that in the Echo. This calling for fan support thing is going too far now, and sounds like desperation. Very unprofessional.
Rob Halligan
113
Posted 10/02/2022 at 17:08:53
I've read of one or two posters saying our position could be a lot worse if it weren't for our good start, or the late winner against Arsenal, followed by the later miss by Aubameyang in the same match. Fuck me, don't these games count or something?
Let's look at it another way. If DCL had not missed those two sitters against Leeds, or not missed the penalty against Brighton, or how about the penalty we should have been awarded against Spurs (yeah, I know, still had to score it), or if Yerry Mina had timed his run against Man Utd a fraction later, then we could have been about seven points better off.
For the weekend, I would play Branthwaite alongside Keane, as Holgate is a complete liability. Branthwaite played well against Chelsea in his only full game so far, and deserves a chance. I would also give Patterson a run. The game I watched the other week when he played for the U23's he looked promising, and could form a good partnership with Anthony Gordon down the right hand side. Could the importance of the game be too much for him though? He definitely should have been given a decent run out against Brentford to see how he shaped up.
There are a few big decisions for Frank and his staff to make for this weekend, but I have faith they will get it right, and I'm optimistic we can get out of this hell hole of a mess. 🤞🤞🤞
Paul Swan
114
Posted 10/02/2022 at 17:10:10
It's players like Keane who make you realise we are in big trouble. He is a big shithouse and if it comes down to a fight to survive he will not be up to it. He's not the only one but a rallying call from him is like a fart in a storm
Dale Self
115
Posted 10/02/2022 at 17:19:20
Fair enough Steavey, stuff like that is not going to get me or someone else excited enough to post some overexcited response. Willing to discuss the dark stuff and will admit to a lot of the criticism. How could we not? I'm not trying to rule out someone's right to complain and insult what is obviously still a bit of the brown plate special. I'm just trying to keep things together until we can get a chance at Leeds. I know it's bad, I guess I'm just asking to pace ourselves on some of the commentary on our decline.
Robert Tressell
116
Posted 10/02/2022 at 17:22:12
I'd be minded to go:
- Pickford
- Kenny
- Mykolenko (assuming fit)
- Mina (assuming fit)
- Branthwaite
- Allan
- Holgate (in midfield as a stop gap)
- VDB
- Townsend (assuming Gray not fit)
- Gordon
- Richarlison (assuming DCL not fit)
We don't have bags of options unfortunately. I just can't stand Gomes either.
Kevin Prytherch
117
Posted 10/02/2022 at 17:26:44
I see a lot on here are advocating dropping Holgate, but keeping Keane. Have we not seen how many goals Keane has been responsible for this season? Or how many passes went straight to their players in the first 10 minutes against Newcastle?
Yes, Holgate got absolutely roasted by St Maximin, but I reckon that Keane would have fared even worse. Keane has been a big part of the problem all year, let's not build him up as a solution.
Brian Harrison
118
Posted 10/02/2022 at 17:47:17
I think some doom merchants need to look closely at the table.
Burnley 5pts behind played 1 game less
Watford 4pts behind played 1 game more
Norwich 2pts behind played 2 games more
Newcastle 1pt behind played 1 game more
Brentford 4pts ahead played 3 games more
Leeds 3pts ahead played a game more
I think our position looks better than most of these and on the whole I think our squad is much better than any of these clubs.
Mark Taylor
119
Posted 10/02/2022 at 17:50:35
The bookies are not usually wrong and they still have us quite long odds to go down, around 4-1 with Newcastle just shorter odds than us. They have the 3 already down there all nailed on, odds on to drop.
Personally it doesn't feel like that to me. We've lost to most of those teams around us and our form is perhaps the worst of the lot, so we lack that crucial ingredient, momentum. Lose to Leeds and I think we are then evens at best to go down.
I like Lampard but worry whether he has the nous to get this bunch of misfits to shape up in time.
Danny Baily
120
Posted 10/02/2022 at 17:54:07
Mark 119, our form is perhaps the worst?
It absolutely is. One win since September.
Massive game Saturday. That point against Chelsea feels like an age ago.
Ian Bennett
121
Posted 10/02/2022 at 17:55:30
Brian - how is our form over the last 14 games in terms of wins?
Sean Roe
122
Posted 10/02/2022 at 17:57:15
4-2-3-1 for me.
G) Begovic
LB) Mykolenko
CB) Branthwaite
CB) Keane
RB) Coleman
CM) Allan
CM) Van de Beek
LW) Richarlison
AM) Townsend
RW) Gordon
F) Calvert-Lewin
Just one win would do wonders for confidence. Spend all week concentrating on defending as a unit as we have plenty of players who can score.
Dale Self
123
Posted 10/02/2022 at 18:12:21
Thanks Mark, I was too worried to take a look.
Barry Rathbone
124
Posted 10/02/2022 at 18:20:54
The elephant in the room is when under pressure only the 2 Benitez brought in plus Richarlison and Mina are anywhere near dependable with possibly Calvert-Lewin if his heart is still in it.
Terrifyingly we play Premier League games without a defence or midfield. The keeper is always ready to throw one in at crucial times Keane, Holgate and Coleman are simply not Premier League standard and the Gomes/Allan combo are as mobile as my garden wall.
It's down to hoping Gordon, Van de Beek, Alli and the new full back don't catch the "Everton 19" virus and we wing it to safety. Just can't see it.
Brian Hennessy
125
Posted 10/02/2022 at 18:24:41
I have come to the conclusion that Mina and Delph are not actually any more injury prone than any of the other players we have.
They are simply soft feckers who can't play with the slightest knock. Most footballers are never really 100% fit and many play with some degree of pain most of the time. To see Mina lying on the ground like he did when Newcastle were in a dangerous position, I would have expected him to have a serious injury.
The fact that he was up a few seconds later contemplating playing on told me he wasn't really that badly hurt at all and at the time of the injury, he should have got to his feet and tried to help his team until the ball went out of play.
For that reason alone I have a lot more respect for Michael Keane than Mina. Keanehas many faults but he makes himself available for selection and stays on the pitch unless seriously injured. Mina likes to make us think he is up for a battle but hasn't got the guts or the heart.

Paul Birmingham
126
Posted 10/02/2022 at 18:27:38
The stats don't lie, Everton's form tells a story, but more than ever time for this squad of players to improvise, adapt and overcome their personal and collective group challenges.
Face up to the Leeds game, but learn from the repeat mistakes being made on the park, communication, pp passing, movement, marking, ownership and leadership on the park.
But attitude, effort and belief is needed as this is more than a flirt with relegation, the clock is running and the games are running out.
Hope eternal, and to start the fight back v Leeds.
Andy Crooks
127
Posted 10/02/2022 at 18:38:33
Jay H, I honestly don't think any Blue wants relegation to be proven right.
I, deep down, do not believe we will be relegated. However, I take the foolish view that if I fret about it, predict it, consider every disastrous possible outcome, then it won't happen. My superhero alter ego is Worst Scenario man.
Expect the worst in a positive way! That will save us.
Clive Rogers
128
Posted 10/02/2022 at 18:50:56
Ian, 121, in the last 14 PL games we have lost 12, drawn 2, won none.
Neil Copeland
129
Posted 10/02/2022 at 18:58:53
Clive, sorry to be pedantic but the results are actually; 1 win (Arsenal), 2 draws and 11 defeats.
Bill Gall
130
Posted 10/02/2022 at 19:00:47
I am an Evertonian, have been since 1954 and I only expect a win against Leeds. I have tried all season before games to pick a team and don't think I have ever picked the same team as the manager, so I guess that is why I am just a spectator.
I have not been back since 2012, mostly because of a heart condition that I have had repaired, plus all the travel restrictions. I write my opinions on games but get a better perspective from people who attend the games because I believe that you see more at an actual game than on TV.
Although I was against Benitez, mostly because of his style of play, I thought he may have been able to stabilize the club, but he did not.
I don't know if there is any manager that was available, could have guaranteed to be able to get us out of this mess, and I class Lampard as a risk manager. In saying that, I think he has got a really experienced backroom staff that should help him improve the squad.
In his defense, he has only been here for 2 weeks in which he had to plan 2 games, the first against a standard Premier League team and another fighting relegation. Both games demonstrated to him the task that lies ahead, mainly the midfield and the back 3/4.
The major problem is our injuries that usually end up as 4/5 weeks out and with the number of games coming up this is becoming a problem as one of the fights against relegation will be determined by goal difference.
Regardless what a lot of people are saying, I don't believe in the saying that a team is too good to go down. Everton can not afford to go down.
The couple of games Lampard has overseen, his tactics seem to be keeping the ball on the ground, short passing, and balls quickly fed to the forwards. This is good if you have the players to do it, and hopefully the new signings can help.
As I said, I believe Lampard is a risk signing, and I think he may be able to get us out of this mess and stabilize the club for the future, but not like the previous manager, but by playing with a style that Everton supporters can relate to.
End of an old man's moans.
Rob Hooton
131
Posted 10/02/2022 at 19:15:12
None of us want to go down, but over the last few months we are the worst form team in the league.
I'd play 5 in the midfield as that is where we are losing many of our games, with the caveat that a few of them are to break and join attacks.
Some might say we deserve relegation after the catastrophic wasting of hundreds of millions of pounds in recent years and general circus act we have become.
Fingers crossed we get a result against Leeds and start turning things around.
Brian Hennessy
132
Posted 10/02/2022 at 19:26:31
Sean #122,
Interesting selection with Begovic instead of Pickford. I do wonder how much of our trouble defending set-pieces is down to the fact that Pickford is not a commanding figure in his box.
It would be interesting to see if Begovic would make a difference; unfortunately Pickford is not likely to be dropped anytime soon.
Paul Hewitt
133
Posted 10/02/2022 at 19:29:37
Brian @118.
We can't win league games at the moment, we have lost the last 4 against poor opposition. If you're not worried now, tell me when you will be?
Kieran Byrne
134
Posted 10/02/2022 at 19:34:37
Lampard has got to make a few big decisions, especially about his back line.
We need to get a back 4 that works together as unit. I don't know how anyone can pick Keane or Coleman as they've been the root of our problems. Dunc had it right, there's always a goof-up with these in the line-up.
I think that Keane must be a hell of a player in training but, when the real game starts, he goes to pieces.
Play Kenny or Patterson, Holgate, Branthwaite and Mykolenko, let these guys grow together. Holgate is a leader, I know most don't rate him but he's way better than what else is available now. We need a leader back there, It's more important than how he actually plays he can't be any worse than that lamppost Keane who will get killed against pace and movement.
The back line needs communication, speed and to be able to anticipate the play. Leeds have speed up front and on the wings, we need to match that.
I also hope that the formation changes to a 4-5-1 or a 4-1-4-1 – we've got to protect the middle of the pitch and have a deep-lying midfielder to protect the back line like a Carsley or Barry role.
I also hope that, once our attacking players get fit and get more familiar with each other's movement, we'll start scoring. The passing was terrible vs Newcastle, the balls were either short or not in the right angle or lane of the attacker.
I think that once we click on the attack, there is lots of goals in this team, we can be dangerous and play some exciting footy, it's just got to mesh, and the sooner the better – time's a ticking...

Brian Hennessy
135
Posted 10/02/2022 at 19:47:16
Kieran. Holgate a leader? I'm sorry but I can't agree with you on that. I can't recall a single time in his Everton career when he has shown real leadership.
Leaders lead by example, with their performances and personality. Holgate's performances are erratic and he gives off a persona of being casual bordering on lazy. He is not the slowest player on our team but his reaction time is incredibly slow.
Brian Murray
136
Posted 10/02/2022 at 19:52:34
Holgate's jaws chewing his gum are the only thing that moves fast. Certainly not his football brain. He's a big part of the problem, not the solution
Tony Everan
137
Posted 10/02/2022 at 19:58:34
Rob @113,
That back four Patterson, Keane, Branthwaite, and Mykolenko has to be given a chance now Mina is injured.
Robert, The midfield options are dire. I think we need a midfield three: Allan (in poor form) Van de Beek (could be a game changer if played from the start in a midfield 3), then another you suggest, Holgate, would he be any better than Gomes?
Maybe… but far from ideal, and Gomes played quite well against Brentford. On balance though he's far, far too slow to be playing against the hyperactive Leeds side.
Whether Holgate is the answer as the DCM in that three, god only knows. It's this slot that l wanted filled in January, it was much more important to get the midfield fighter in than Dele Alli. It's the failure to get this player that will hurt us most these last 17 games. We need bite, fight, and pace in midfield.
I'm not having a go at Dele Alli as I think he will come good, problem is he needs games and we can't afford to give him time just now. He looks to me that he needs three or four matches to get up to speed or a full pre-season.
So it's either Gomes, Holgate or Gbamin to choose from in that last slot if it's a 4-3-3 / 4-5-1.
Gomes slow, Gbamin (What does Frank and make of him? He's been fit again for months and can't get a sniff, even when we are seriously depleted) he cannot be the answer. Then Holgate in the role doesn't exactly inspire confidence either.
Still not ideal by a long way but how about having Coleman on the right side of a midfield three rather than any of the above?
Pickford
Patterson Keane Branthwaite Mykolenko
Coleman Van de Beek Allan
Gordon Calvert-Lewin Richarlison
Robert Tressell
138
Posted 10/02/2022 at 20:39:12
Tony, you're right, Gomes did play well against Brentford. I have just had enough of him. Others feel the same about Holgate, I know. If Godfrey was fit I would have him in midfield tackling everything that moved. As a stop gap only. But Holgate can do a similar job.
Gbamin was bought for exactly the position we need - and had some classy touches against Hull I thought. But I assume he's finished from a physical point of view.
Next season I want a ferocious midfielder sat in front of that defence - and I want a ferocious centre back right in the middle of it alongside Branthwaite.
Oliver Molloy
139
Posted 10/02/2022 at 20:47:04
You know that saying that any team can beat any team on the day? – well Everton can't even do that! Every team we play know we are super soft and can be beaten.
I am a fan of Seamus Coleman the man, the person and as a player, he gives his all, but I am so fucked off with him and others coming out with the usual bullshit.
We are seriously weak at the back and have been for as long as I can remember, our senior centre-halves – Keane, Holgate and Mina – have never been near good enough. How the fuck this not been addressed is incredible.
Our midfield also is very weak – no creators, no pitbulls, no leaders. The two new guys… who knows?
I watched the game again today and how the fuck Shelvey wasn't sent off for that tackle makes me fucking crazy mad, it was a deliberate action of stopping Gordon and trying to injure one of our dangermen at the same time. The dirty fucker should never have got away with it. The referee bottled it and the grinning Eddie Howe didn't really see it!
What is even worse is our players just accepted the ref's decision – another sign of weakness, By the way, what's the point of fucking VAR if the ref doesn't get a word in his ear? Fucking absolute joke.
Our players should have been hounding Taylor at half-time, as should our manager – we shouldn't be accepting poor decisions like that.
There is no doubt that the crowd got to Pickford and this happens all the time when we play them – the Barcodes know they can get to him.
We are in serious trouble, in my opinion; I'm not looking forward to Leeds!
Tony Everan
140
Posted 10/02/2022 at 21:10:22
Robert, amen to that last paragraph, this team is screaming for those two players. As a blueprint for what we need – put Rudiger and N'Golo Kante into our team and we would be immediately transformed. Can you find two players like that Robert, in your little black scouting book.
Gary Jones
141
Posted 10/02/2022 at 21:12:31
I've typed this post about 15 times. I've tried every formation I can think of, and can't find one that looks right for who's likely available.
I also think we need to stick to one system, but unfortunately the 3-4-3 is no good without Godfrey and Mina fit. So for me it's 4-3-3 and asking Alli and Van de Beek to try and convert to box-to-box. Both have the class, the question is whether they have the heart. Please Lord, give them the heart!
Horrendous decision to drop Gordon if Gray is fit, but it's like Jura vs Glenfiddich, sometimes you've just got to pick.
Pickford
Patterson Keane Branthwaite Mykolenko
Alli Allan Van de Beek
Gray Calvert-Lewin Richarlison

Kieran Byrne
142
Posted 10/02/2022 at 21:32:37
Robert #138 I'm in total agreement, those 2 signings would change the whole atmosphere of the team.

Robert Tressell
143
Posted 10/02/2022 at 22:06:14
Tony, in the lists I pointlessly create, I currently have Sangare of PSV and Bremer of Torino in those positions. It changes daily though!
Brian Murray
144
Posted 10/02/2022 at 22:15:10
Robert. While you bob along on this fantasy football the shite just won again plus there on the way to Wembley but hey maybe debruyne next on the list. Sorry I'm just a bit choca with this endless shitshow as a blue. Enjoy your night kidda
Pete Clarke
145
Posted 10/02/2022 at 23:33:41
On current form, I would say we are in free fall and have one foot in the Championship. If we somehow beat Leeds, then we can pull that foot back out.
Whilst we have been losing all of our games, the teams around have been picking up points, albeit very slowly. Even a draw would be a positive result right now just to get the confidence back because, at some point in the coming fixtures, we could be on the end of severe maulings by Liverpool and Man City.
I don't know what formula Lampard is going to come up with to get a result but he could do no worse than ask Fat Sam how best to set this fragile defence up. The midfield is piss-weak and he knows he can't play Gomes again – otherwise we're doomed. We need everyone to work their bollocks off and not take risks.
We can't afford to lose this game.

Paul Cherrington
146
Posted 11/02/2022 at 11:26:53
I think that we just have to try selecting different players than those who continue to let us down game after game, season after season. We can all list them off the top of our heads so I won't bother here.
If we keep picking the same players who have shown not to be up to it consistently, then we will continue to get the same results. Doesn't matter what formation you play.
I know our squad is thin but we have to try some new players and discard the regulars who have proved to be not good enough. Go to the U23s if you need to and find a few gems in key positions from there.
---
Add Your Comments
In order to post a comment, you need to be logged in as a registered user of the site.
Or Sign up as a ToffeeWeb Member — it's free, takes just a few minutes and will allow you to post your comments on articles and Talking Points submissions across the site.