Gordon thriving off Lampard's trust
Monday, 14 February, 2022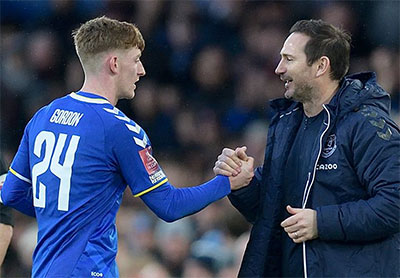 Anthony Gordon has spoken of the impact Frank Lampard has had on the Everton team after the new manager picked up his first Premier League win since taking charge at Goodison a fortnight ago.
The former Derby and Chelsea boss inherited a demoralised and directionless squad that hadn't won a League game since early December when he was appointed as Rafael Benitez's successor but quickly lifted spirits to spark his new charges to a handsome win over Brentford in the FA Cup.
A significant set-back to morale followed with the 3-1 defeat at Newcastle last Tuesday but Saturday saw Lampard register another big home win in front of a loud and passionate home crowd, this time over Leeds United, to provide some light at the end of the tunnel for the Blues.
A number of players repaid the manager's faith in them with star turns against Leeds, with Alex Iwobi and Jonjoe Kenny in particular raising eyebrows for all the right reasons.
Article continues below video content
Meanwhile, Gordon, who has been a beacon of effort, intensity and never-say-die spirit even through the lowest points of the season under Benitez, was pivotal to the victory, playing a lovely pass for Donny van de Beek to create the opportunity for Seamus Coleman to crash home the opener and then swinging in the corner from which Michael Keane buried the second goal in a 3-0 romp.
Gordon attributed the back-to-back home victories to Lampard, saying: "I feel the trust he has got in me. He tells me daily.
"He is an unbelievable manager and he has surprised me, really, with how good he is tactically.
"There is a thing that tactics come from foreign managers and them being geniuses but we need to start giving recognition to the young English managers, such as the gaffer.
"He is a tactical genius and I am thriving off that. I'm learning from him every day, stuff I hadn't heard before.
"It was those little details, for us to be faster and more aggressive. He wanted to push us higher up the pitch and while it might not seem a lot, those little details go a really long way in a game like this.
"It's knowing how to get the little details right and what they are doing for the team. It showed in the performance with the result."
Quotes sourced from The Telegraph
---
Reader Comments (87)
Note: the following content is not moderated or vetted by the site owners at the time of submission. Comments are the responsibility of the poster. Disclaimer
Frank Crewe
1
Posted 14/02/2022 at 19:43:16
He's our best youngster to come through since Rooney. Definitely better than Barkley. He is probably the best dead-ball crosser at the club.
Let's hope we can get him tied down to a long contract because he has a very bright future.
Dale Self
2
Posted 14/02/2022 at 19:46:13
Yes, I saw that quote on 'tactical genius' and thought how important to get the buy-in from players and how articulate Gordon is in making that statement. Good times it seems.
Mark Ryan
3
Posted 14/02/2022 at 19:48:20
The whole place is thriving off Lampard. Playing under Benitez must have been like the man who drives the snowplough being asked by his stupid boss to take it out in the middle of a heatwave. You'd look at him and say "What the fuck are you asking me to do that for?"
Playing under Benitez must have been soul-destroying. I totally get why Digne went " fuck off you outdated bell-end!" Playing and training under Frank must be worth coming to work for.
think it's great we've broken the old blue boys network. Fresh blood, fresh ideas, a proper fucking coaching staff, finally. Now sort out our youngsters so we have more talent coming through and ask Unsworth what he's doing, politely of course.
I see Brands is back in clog land, best place for that idiot. Moise Kean... what the fuck!!
Rob Dolby
4
Posted 14/02/2022 at 19:59:59
Early days yet. Gordon has to keep on improving and staying humble. He is a different player now compared to the start of the season. His work rate and aggression have lifted his game.
I just hope he has good people around him to keep him focused and not some gobshite agent looking to make a few Bob.
Fran Mitchell
5
Posted 14/02/2022 at 20:02:44
Gordon has been our shining light this season.
He's always come across as someone with the determination and will to match his natural talents. His social media is one of a young lad posting videos of him in the gym during the summer break, rather than one at parties and beach holidays.
When he struggled at a poor Preston on loan, quite a few were quick to write him off. Then he played a few games early on in the season and looked a little shaky, and many were quick to write him off as another example of Everton's failing academy. Another who'll never be anything.
The hastiness of some fans to write off young talent, just cause they don't immediately play like Rooney, really doesn't help.
But Gordon just kept going, pushing for his chances and has shown what can happen if you show patience and persevere with young players.
For some, Gordon's Everton career would have ended after his 10th game. Luckily, it was not and he could be a very important player going forward. And hopefully the first in a line a new academy graduates that can define a new era for us Blues.
If anything, his attitude and commitment is a great example to the likes of Dobbin, Onyango, Branthwaite and others in the academy of what is possible if they want it.
Rob Halligan
6
Posted 14/02/2022 at 20:03:10
Have seen Anthony a few times in the park over the road from us whilst walking the dog, but have only spoken to him once, the day after that RS ex manager got the bullet. He seemed a very down to earth lad, even asking me who I would like to see appointed manager.
have had one or two on here asking if I've seen him since Lampard was appointed and what his views are on Frank. Well, now we know... but, when I see him again, I will try and get more information. Have also seen Seamus in the park in the past, so I would like to see him again and get his views.
I see that Demarai Gray could be available for this weekend, as could Mykolenko. If both are available, then it's going to be a very difficult team selection for Frank to make.
Steavey Buckley
7
Posted 14/02/2022 at 20:08:18
In all fairness, Benitez did get Anthony Gordon playing better than under Ancelotti.
Robert Tressell
8
Posted 14/02/2022 at 20:17:16
Such a good player. Good skills, good attitude.
Branthwaite should be next. He really could be a magnificent player with just another 10 games under his belt.
Patterson too hopefully.
Jeff Armstrong
9
Posted 14/02/2022 at 21:13:39
Difficult decisions next Saturday, after the Brentford game most agreed to give the same line-up another go against Newcastle, but I had a niggling feeling Gomes could not produce 2 decent games on the bounce, and that the game came too soon for Séamus after the cup tie.
This week, I'm feeling similar about Iwobi: as good as he was on Saturday, I'd bring Gray back.
I also feel Mykolenko gives us more balance on the left, but would be sorry to see Kenny dropped. I suppose these decisions are what managers are paid £6+million a year for, but does Frank stick or twist?

Tony Abrahams
10
Posted 14/02/2022 at 21:22:55
It's scary to think what our players have or haven't been getting coached, when you read that being told the simplest of instructions, means that one of our players, is now calling the new boss a tactical genius.
I hope Lampard and his staff are tactical geniuses, because I've been very impressed with the calm way, he seems to have dealt with his players since the Newcastle game, and if his greatest gift is giving confidence to players, then Frank Lampard will hopefully become a great success.
I'm enjoying watching Gordon, he's got many talents, with my favourite being the way he takes the ball with his back to his opponent, and effortlessly turns inside, leaving them standing!
Andy Crooks
11
Posted 14/02/2022 at 21:30:14
I really like everything about him.
On another subject (didn't know what thread) but well done to Michael and Lyndon; the photos right across the home page are brilliant and reflect a real positive feeling.
Paul Kernot
12
Posted 14/02/2022 at 22:07:25
I love Anthony's attitude and desire. His work rate is great and his skill level is increasing with his confidence. Imagine how much it would add to his game if his new coaches get him hammering in top corner free kicks. We certainly don't have anyone else in the squad who can do it.
Oliver Molloy
13
Posted 14/02/2022 at 22:08:24
Steavey Buckley is correct and Gordon also credited Benitez for his one-on-one conversations with him. Hell of a way to go for him, needs to keep on playing like he has been.
Also the barometer has now been set with Saturday's performance, no more lacklustre displays, no matter who we are playing !
Kieran Kinsella
14
Posted 14/02/2022 at 22:36:06
Fair dues to Rafa as Steavey says, obviously Gordon has taken to heart the coaching of both him and now Frank because he's come a long way this season
Olalekan Taofik
15
Posted 14/02/2022 at 22:46:14
I feel highly delighted to see Gordon talk this way. I noticed a good display of football arts; he has the same football attitude as the Man City young forward (I can't remember his name now), always ready to take on players without any fears.
Let Mykolenko, Branthwaite, Patterson get a good chance to play regularly, they will surely bring succour to the fans and erase bad memories of poor performances.
Let's hope Frank carries on and shows his genius tactics for the betterment of the team.
Iwobi, my countryman we want more of your commitment and discipline both off and on the field.
Tom Bowers
16
Posted 14/02/2022 at 22:50:58
Gordon has been getting better and better despite the team's bad run of form. This lad has bags of talent and, given Frank's influence, he should really cement himself in the side for the rest of the season.
Still lot's of competition for places with Gray to come back along with the experience of Alli and Townsend.
What a different player Iwobi looked on Saturday.
If they can keep it up then they may have a good shot at Southampton of getting a result as long as there are no more injuries like the Barcodes game.
Andy Peers
17
Posted 14/02/2022 at 22:57:12
Did anyone else notice when Gordon was leaving the pitch that he was singing along to "Grand Old Team"?
Andrew James
18
Posted 14/02/2022 at 23:01:26
Bit harsh on Osman to say Gordon is the best youth player to emerge since Rooney. And on Barkley.
But I think he's prospered because he's bright as demonstrated by this interview. During Lockdown 1 he took the opportunity to move into a house with mates who were personal trainers and beefed up so that, once he returned during Restart, he was a different specimen and got game time.
He's also benefited from not being expected to be Rooney Mk II since he was 16. There's be no hype and where he plays doesn't have a precedent whereas Barkley was always being saddled as the next Rooney because he played centrally.
Unlike Barkley, he has a football brain. Barkley is undoubtedly a unique talent but his decision making is what has held him back. He hesitates or loses concentration or is over elaborate. Gordon seems to look to go direct and attack in a pragmatic manner. He does the sensible stuff very well.
Dale Self
19
Posted 14/02/2022 at 23:01:50
I always figured it would be a defensive midfielder that was the Everton talisman but the way Anthony carries himself and bleeds Blue on every occasion it is him isn't it? Fucking proud again and we haven't even started climbing the table yet. It's happening.
Laurie Hartley
20
Posted 14/02/2022 at 23:24:08
Tony # 10 - my favourite attribute is the way he pushes the ball into space and leaves defenders in his wake. Very hard to defend against that.
Don Alexander
21
Posted 14/02/2022 at 23:37:42
He's a young man with more than a modicum of talent and attitude, the two being vital to now even hope to progress to "stardom".
As a player he's already light years ahead of Barkley in all-round game awareness. He dwarfs him.
Hopefully he stays grounded (with his agent) and develops into a player that Champions League contenders want to sign.
Here's hoping.
Ed Prytherch
22
Posted 14/02/2022 at 23:44:48
Andy #17,
I noticed that as well. He is a gem.
Derek Knox
23
Posted 15/02/2022 at 00:22:08
Mark @ 3, I doff my hat to you, Sir, well, I would if I wore one, on your lip-reading skills, possibly in French, English or a bit of Espagnole. Always wondered what bell-end was in those tongues! 😜
I know it's early days, but there is the strongest feeling for as long as I can remember, that at long last, Everton are going in the right direction, and not 'treading treacle' as we have had so many false dawns before.
The upcoming game against Southampton will tell us a lot more, in that can we repeat Saturday's effort and commitment? Against a side who themselves are in a rich vein of form, and proving to be well organised and dangerous if given opportunity.
Personally can't wait, but I suppose I will have to! :-)
Nicolas Piñon
24
Posted 15/02/2022 at 03:01:26
Southampton will be a very different match from Saturday's. Leeds had no offensive power at all (except Raphina first half and Rodrigo if you want) and that made the game pretty relaxed for us I believe. Van de Beek I think is an enormous contribution to the team and if he can keep fit I see a bright end of season for us coming up.
Southampton will be much harder, we will visit a team with confidence and as an away team. Not easy at all. Hope Lampard notices this and puts a strong team out there (given the options he has, of course...). And doesn't take it lightly.
I was surprised against Newcastle he put so Many players that seemed "pushed" to get an injury (Mina, Allan, Coleman, etc) and that made me wonder.
Maybe he simply was testing his players and thought that losing that game wouldn't be so terrible. Maybe he has more confidence in his players' fitness than I do, or maybe he just wants to know them through his own experience, which sounds fair enough.
I like Lampard's style of management, I love looking at our bench and finally having interesting options for different kind of games.
But pleaaaaaase, Frank, don't push more of our players to the physical limit, we have no Michael Essiens here.
Just always leaving Anthony Gordon on the green grass will do.
COYB!
Ian Jones
25
Posted 15/02/2022 at 04:00:49
It must help all players, young and old, if they get a run of games rather than just playing 10 minutes here and there. Gives them a feel for the club and the way the team should be playing.
I feel, with Gordon, he also needed to score a goal to gain confidence. He was probably trying too hard to score his first, the longer it took, the harder it was becoming. Once his first went in, the shackles were off.
Albert Perkins
26
Posted 15/02/2022 at 05:52:58
I've been thinking Gordon is learning some craft from Gray. The way he holds the ball and makes his way with it, comfortably. He will benefit from playing with confident teammates who can recycle the ball until an opening is made.
I agree with those who say he has the heads-up approach, the vision and awareness that Barkley lacks. Our skinny little kid is growing into a man, someone hopefully we can be proud of. He is not the only one I'm feeling positive about.
Terry Farrell
27
Posted 15/02/2022 at 06:47:10
Love this kid for many reasons but also because, after he's clattered someone, he doesn't pick them up. Makes me laugh that.
If he can master shooting hard and into the corners of the goal from the edge of the box like he has mastered the rest of his game, he will become a match-winner for us.
Andrew Ellams
28
Posted 15/02/2022 at 07:38:51
Andrew @ 18,
Osman was before Rooney (he played and scored in the 1998 FA Youth Cup Final) and Gordon is definitely a better player than Barkley. He's got more drive to win the ball and a much quicker footballing brain when he has it.
Eddie Dunn
29
Posted 15/02/2022 at 08:11:22
As Steavey has already said, Benitez got the lad into the side on a regular basis. This is not the stick to beat him with.

Alan McGuffog
30
Posted 15/02/2022 at 08:22:28
Can't be long before Merson and his like are suggesting that he deserves to be at a "bigger" club...
Danny O'Neill
31
Posted 15/02/2022 at 08:44:57
A few observations here.
No manager or coach can take full credit for Anthony Gordon coming good. It was natural progression of the player's natural talent. Obviously Ancelotti saw enough to get him involved, Benitez was there when he was more ready, and Lampard will now benefit from it.
If anything, it is probably down to the Finch Farm coaches pointing out where he needed to improve. And yes, that's coming from someone who has been critical of our academy.
But most importantly, and almost irrelevant to who it came from, it's the player himself who deserves the credit. Natural progression of the talent, but hard work and effort behind it. You can be told what to do by anyone who know's their stuff. But unless you take it on board and implement it, you won't improve.
I never get too carried away, but I did say to the good lady last night that I have a niggling concern the hawks may circle over young Anthony come the summer or in the not too distant future. He's exactly the type of potential Man City would snap up for example. Let's just hope that's my paranoia.
Back to his points. Playing higher up the pitch. As much as I have a tear of joy in my eye hearing that, I almost despair because many of us have been screaming and banging our heads against the wall for years over the blatantly obvious.
We don't necessarily have the central defenders to do it perfectly, so as with Leeds, just go toe-to-toe; and we got off with a couple against them courtesy of the woodwork (do we still call it that?). Score more goals than we concede. The fundamental & simple aspect of winning football matches.
Rob Halligan; for once, a nice problem to have. We have discreetly added depth to the squad.
Final point: this manager was always going to promote youth. He demonstrated that at Chelsea, although perhaps he benefitted from inheritance of a system put in place that was coming to fruition. But he also came through what I consider one of the most productive youth systems over time in English football at West Ham.
Dave Bowen
32
Posted 15/02/2022 at 08:48:04
Derek @ #23.
Living in Spain, the term commonly used around here to describe Benitez would be gilipollas (dickhead). Actually, it wouldn't because they love him on the Costa Blanca.
Peter Mills
33
Posted 15/02/2022 at 08:52:32
Apart from Anthony's excellent performances, I was impressed with how he stayed on the pitch after a defeat at Goodison to talk with an unhappy supporter who had come out of the Gwladys Street end.
And with the image of him after the Brentford defeat, when he walked towards our irate support, hands-on head.
No skulking away, no hiding. Small things which showed his character.
Rob Halligan
34
Posted 15/02/2022 at 08:59:42
Alan #30.
Another question for me to ask Anthony next time I see him in the park: "Would you ever leave Everton?"
Stan Schofield
35
Posted 15/02/2022 at 09:24:08
Tony@10:
To be fair, Anthony didn't say that the instructions were simple (or obvious), but that it was detail that has made the difference.
What's the old saying, "The devil is in the detail". In any area, this is what separates the best from the also-rans, and the genius from the ordinary. Let's hope it continues.
Ancelotti said he wasn't a magician. Well, magic is what a manager is paid millions of £ per year for. And like magic performed by magicians on the stage, it all comes down to detail and the expertise to execute it well.
Mike Doyle
36
Posted 15/02/2022 at 09:37:24
Rob #34,
Perhaps you could consider writing a series of articles for TW based on the players/staff you meet in Calderstones?
I've even got a title for you "A walk in the park with [insert name of player]".
Could be exactly what the site has been missing since Ken Buckley stopped writing his "From my Seat" articles.
Len Hawkins
37
Posted 15/02/2022 at 09:38:38
Rob #34
Perhaps you could ask if his Mum knew Gary Jones? He looks a lot like him. Going back a bit but not all us old 'uns are senile enough to remember Gary. (According to Wiki he now runs a pub in Lark Lane.)
Alan Johnson
38
Posted 15/02/2022 at 09:47:20
#Rob34 Hey Rob... out of interest. What park is it?

Rob Hooton
39
Posted 15/02/2022 at 09:47:42
Nicolas, 24 - with regards to player fitness:
I wonder if this is because Lampard was playing 2 games a week, season-in and season-out, and winning everything in the process?
Surely you'll be super fit playing more often; he might think that it is all a load of shite about players playing 'too much' football! I've always believed this to be bollocks personally as surely you just get sharper and need to train less?
Jerome Shields
40
Posted 15/02/2022 at 09:50:26
Gordon was good before Frank arrived. Always putting in the work and effort, with older players around him just putting in a shift. It seems that Lampard instructs players in aggression and being faster, the ingredients of work and effort.
It is interesting that Gordons finds an English Manager style easier to work with than a foreign manager's style. Lampard is combining training with play more, giving training focus and objectives. It seems that the players didn't buy into the methods of previous regimes.
Rob Hooton
41
Posted 15/02/2022 at 09:55:03
As for Anthony, love the lad and he has improved so much under three managers in a short space of time.
He is tenacious and now looks a Premier League player, hope he keeps working hard and improving.
Good words for Mr Lampard too, let's hope for some decent results and a cup win to give the club a massive boost!
Tony Abrahams
42
Posted 15/02/2022 at 10:03:47
Of course, Stan. My belief is that you should never overcomplicate anything if you want to get footballers on side.
Football being a simple game is definitely a phrase that rings very true, but what is the next bit? Something about it being over-complicated by idiots!
It looks very obvious that Lampard is just trying to get the players to believe in themselves, and the more a player trains with intensity, the better chance you have of them doing things that just come naturally. Although it's very early days, of course.
Terence Leong
43
Posted 15/02/2022 at 10:14:53
Talent-wise, I think Barkley is superior in many ways. As an athlete, Barkley is better built. Footballing skill-wise, Barkley strikes a ball better and carries it better.
In Martinez's first season, Barkley, along with Deulofeu, Stones and Lukaku, were 19 years old, one year younger than Gordon.
Barkley's freekick against Swansea, strike against City on the last day, his solo goal against Newcastle, and how he imposed himself during the 1-1 draw against Arsenal...
Gordon hasn't yet got that resume of highlights.
The issue with Barkley, is application and perhaps that lack of footballing nous. Gordon, while more limited, has learnt to be more focused on what he can bring to the team.
Hopefully, he can focus on what he's good at, be direct and do more pass-and-move... The ball he played into Van de Beek was indicative of some vision, and his attempted flick at Richarlison's shot at goal (which he got credited for), shows a guile, where he was probably trying to re-direct the ball, to throw off the keeper.
Brian Harrison
44
Posted 15/02/2022 at 10:18:06
Anthony Gordon is getting better with every game he plays, he also looks like he has muscled up a bit from last season which will help him.
When Ancelotti brought him into the team, everything was new to him and with most young players they try and keep it simple and not be to adventurous when first selected for the first team. But, with each game under his belt, his confidence has grown and just as important the confidence of his teammates in him has grown.
I am sure he feels more empathy with Frank as he will have watched Frank both for Chelsea and England, also Frank had to battle to establish himself in the Chelsea side as well as the England team, so he will understand what Anthony needs to progress.
Frank has worked with some of the Worlds best coaches, and I am sure being the clever guy he is, will have learned something from each of them.
Also I think many forget that Guardiola took him to City for a few months and there aren't any better coaches in World football than Pep. So he has a lot to draw on to help not only the young players but also the seasoned players who will need a different type of guidance than a young player.
Stan Schofield
45
Posted 15/02/2022 at 10:25:15
Tony@42:
Yes, as you say, early days. I don't want to get ahead of myself, because of past raised expectations, but Lampard has impressed me for several reasons:
(1) He's very professional but direct in his communications, very clear, and comes across as a straight batter, no management bullshit.
(2) He looks very pleased to be at Everton, as if it's an honour for him, which of course it is.
(3) He's engaged with us supporters, which appears genuine, from the heart.
(4) He seems to have engaged with the players in a way that will hopefully in the long run make them run through a brick wall for him.
(5) He has us playing attacking football aggressively, as if it's entirely natural.
(6) It looks like the younger players will have more chance to thrive, which is reflected in what Anthony has said (and what Davies has said).
(7) I liked the way he spoke to Klopp after that Chelsea v Liverpool game – about time someone did so openly, which again is an indication of his passion together with being someone who won't be fucked around by bullshitters and cheats like Klopp.
It's about time we had a manager with these combined attributes, subject to (as you say Tony) it being early days.
Michael Lynch
46
Posted 15/02/2022 at 10:50:36
Anthony Gordon, like Calvert-Lewin before him, has benefited from the lack of depth in the squad. If we had better senior players available, neither of them would have got the long run in the side needed to get a young, talented, but not stand-out player up to scratch.
It's been one of the few positives of our terrible money-wasting over the past few years, because I'd much rather see players come through the system – especially local lads – than buy them in ready-made.
RIght now, I feel more connected to our team and coaching staff than I have since the Moyes era.
Derek Knox
47
Posted 15/02/2022 at 10:59:44
Rob @ 34, yes, it would be good to know if there is such a thing as loyalty left these days when players play for the club they supported as a boy. I know money is always a contributory factor, and winning major trophies with a club that is in the running for them, and who pay these ridiculous wages and Ssalaries is part of it.
What could be better than doing it with Everton for Anthony Gordon ? I am obviously looking ahead, as I think we will just fall short of Champion's League qualification this time round by a mere 50 points or so. :-)
He doesn't strike me as a lad who is a golddigger or mercenary, and let's face it there are no shortage of them around. Jack Grealish springs to mind, being interviewed some time ago proclaiming his love for his boyhood club Villa, that he always supported, then realised his dream, by actually going on to play for them!
That was until he got a bit of fame, and/but fortune wasn't enough, and that loyalty thing flew out of the window when Man City came calling. Now was it the lure of Euro Involvement that made him defect, or did he get too big for his boots, or did the Golden Calf worshipping prove too strong? A fantastic player admittedly, but since moving, has not featured that often for Man City. (?)
Mind you, comparing Jack 'the Lad' Grealish to Anthony is like the proverbial 'chalk and cheese' analogy, and as I alluded before, I think he is a very level headed local lad. Couldn't quite conjure up the picture of Jack Grealish taking his girlfried/wife and dog in the park, even with a diamond-studded collar and Muzzle.
Even to bump into you, Rob! :-)
Danny O'Neill
48
Posted 15/02/2022 at 11:30:16
Interesting and topical comment Terrance, as I've been watching the Rooney documentary.
For me, Rooney was the more naturally gifted player, but by 28, Ronaldo was superior and had become one of the world's greats, continuously competing with Messi for the Ballon d'Or, because he worked harder to get there. Rooney rested on his laurels.
Given what he achieved in the game that's harsh, but he could have been up there. Maybe like Barkley, albeit at a different level? Although I always thought Barkley wasn't coached properly, to be honest.
Barkley probably was more naturally gifted at the same age, but where is he now? When he should be at his peak, he is on the bench mostly. Loaned out to a club that stopped using him and seemingly being offered out in January with no takers.
We also have to take into account that players develop and improve at different stages, just like any walk of life.
Anthony is coming along nicely.
Steve Griffiths
49
Posted 15/02/2022 at 11:58:48
I have to admit Anthony has completely changed my view of him.
Earlier in the season, I was of the opinion that he was too lightweight & lacked the drive to really make it at Everton. Over the last 3 months or so, I have witnessed his development into a nailed on starter, culminating in his best all round performance of the season on Saturday.
I believe that currently he is better utilised on the right-hand side in this team. This is due to his ability to go past people on the outside & deliver and to also cut inside and drive into the box, as witnessed against Leeds.
In this regard he is very reminiscent of Tricky Trevor Steven & if he can continue to develop further we may see him move into an attacking central midfield role, something akin to Kevin de Bruyne. High praise I know, but he really does have that potential.
Keep it up, Anthony lad, the Goodison faithful are right behind you "Oh Anthony Gordon".
Steve Shave
50
Posted 15/02/2022 at 12:22:12
I see no sense in comparing him to anyone, he is his own player, a different player to Barkley for sure.
What I would say is his progress in 6 months has been extraordinary, from Preston flop to our first name on the team sheet.
He has a special style, graceful on the ball yet strong and direct. His crossing is improving and, with that, I hope as will his finishing, there could be plenty of goals in this lad in the future and lately most of what we do that is good, comes through him in some way.
Agree with other comments, I love the way he drives forward with the ball. To cap it all off, he's one of us, I hope a new contract is being drawn up as we speak, he's earned it.
Dave Abrahams
51
Posted 15/02/2022 at 12:47:00
Plenty of common sense on this thread, it's why I like ToffeeWeb and proves to me you're never too old to learn. Too many posts to praise individually so thanks to the thread!!
Danny O'Neill
52
Posted 15/02/2022 at 12:58:47
I agree with the sentiment, Steve @49, he's improved and gets better and better. But I never like the 'lightweight' phrase Steve. It was often thrown at Leon Osman, and I am convinced that if Lionel Messi had been English, he would have been rejected aged 14 because of that type of perception. We'd never have seen or heard of him.
Steve @50 is right, each player is different and will develop at different stages of their footballing career. Rooney was ready-made at 16, but you don't get many of them.
I keep saying it about Gordon. Aside from his natural ability on the ball, he has great ability to change pace. Not raw pace, and I'm not suggesting he's a slouch. Just an ability to change pace quickly to buy yards and give him the advantage on the defender. That comes from his feet. He is a very good footballer, comfortable on the ball.
Graham Mockford
53
Posted 15/02/2022 at 13:04:54
The comparison with Barkley is an interesting one. Barkley certainly was the brighter prospect at 20 given some of the eye-catching displays and goals in his first couple of seasons.
However, he is essentially an instinctive player for whom coaching doesn't seem to have really improved him and, let's face it, he's played for some decent coaches. He also seems to have lost some of the explosive power that characterised his early career, not sure if that is conditioning or his natural build.
Gordon is a lot slighter, but plays in the modern style. Works very hard, moves the ball quickly in possession, and seems to possess that footballing intelligence to pick the right option which for me was always Barkley's limitation.
Early days but let's hope he keeps progressing because he has bags of potential.
Bobby Mallon
54
Posted 15/02/2022 at 13:07:36
Do we have any new injury worries?
Steve Griffiths
55
Posted 15/02/2022 at 13:11:36
Hi Danny, yes poor choice of phrase on my part.
What I really meant is that I thought he lacked the drive and presence to dominate and go past people. That has clearly changed and he now does that for fun as you say with a deft change of pace etc.
I was also a fan of Leon and always thought he was wasted out wide for us. His best position and best performances for Everton were off the main striker IMO. However, during that time, we also had a certain Tim Cahill who was first choice in that position.
Turning back to Anthony, long may his improvement continue and I believe he is in the best of hands with this manager.
Danny O'Neill
56
Posted 15/02/2022 at 13:13:05
I believe Delph may be a concern, Bobby.
Barry Hesketh
57
Posted 15/02/2022 at 13:13:40
Anthony's biggest asset is that he never sees lost causes, he chases and harries all the time, and more often than not, that transmits to other more senior players and they begin to do the same.
Barkley may be a better footballer, natural talent wise, but he never showed the heart that Gordon has so far in his career.
Michael Lynch
58
Posted 15/02/2022 at 13:52:26
In terms of pace, it's worth watching the "American Football" piece that EvertonTV did with Anthony and Begovic. They asked the usual inane questions about things like what position they'd play in American Football etc, and when it came to the ones about pace, Anthony reckoned he was the fastest at the club over five or six yards, but the likes of Godfrey would outpace him over a long distance. So he sees his pace as the explosive type that gives him a yard or two advantage over defenders, rather the long run on the break type pace.
https://www.evertonfc.com/video/2478911/everton-duo-reveal-who-would-fare-best-in-nfl?
Mike Corcoran
59
Posted 15/02/2022 at 14:08:30
I love that committed, snide, narky edge he has been showing. That coupled with the ability to twist and turn either right or left and put the burners on when needed, Anty G is starting to really look the part. Can see him ending up as a central attacking mid.
Micky Norman
60
Posted 15/02/2022 at 14:11:21
Anthony reminds me very much of Jimmy Husband. Very similar style, build and attributes. He was overlooked by so many in the 1970 team but was a vital part of it.
Stan Schofield
61
Posted 15/02/2022 at 14:33:35
Micky, true, but he never seemed quite the same after recovering from the broken ankle that Dave McKay inflicted in a match against Derby at Goodison. Alan Whittle was a good alternative in that title season.
Mark Taylor
62
Posted 15/02/2022 at 14:41:25
If young Anthony ends up being half as good as Jimmy H, we will have a gem.
One of the most exciting players I can recall watching in the 60's, tricky and lightning quick. I can only assume he never got an England cap because for us, he didn't really have a set position, more of a free role, and that likely didn't fit with Alf Ramsey wanted his team set up.
The guy on the other side of the pitch, Johnny M wasn't too bad either, albeit more of a line hugger!
Stan Schofield
63
Posted 15/02/2022 at 14:50:23
Mark. Ramsey made some peculiar choices in the run-up to the 1970 World Cup, for example not putting Harvey and Kendall alongside Ball. Imagine that midfield against Brazil's. The entire Everton team of 69-70 could easily have been the England team in Mexico. Everton might have won the World Cup!
Brian Murray
64
Posted 15/02/2022 at 14:54:26
Husband got us the pen in the 68 semi v Leeds but missed a great chance in the final v wba which was a travesty as we battered them twice that season scoring six at the hawthorns.Similar to 85. Put five past Man U then the gods against us in Fa cup final. We was a class above them as well.
Nicolas Piñon
65
Posted 15/02/2022 at 14:55:11
Rob, 39, well, I don't know really what to think about Frank's physical managerial strategies, thing is, loosing a good player through injury is sooo damaging to our chances it makes me worry so much :-( LOL.
Ray Robinson
66
Posted 15/02/2022 at 14:57:10
Jimmy Husband was good but is an early example for me of a player who used to get terrible stick from the crowd when not playing well. Nothing has changed over the years!
Brian Murray
67
Posted 15/02/2022 at 14:58:33
Stan post 63. Part of our downfall in 71 was the Mexico World Cup drained our four players although the catts ticker going was the beginning of the end so me like many had 14 years crap and heartache. Think it's called character building. Could of done without it to be honest.
Stan Schofield
68
Posted 15/02/2022 at 15:18:11
Brian, true, and the sale of Ball took a lot of the gloss off things.
Dave Abrahams
69
Posted 15/02/2022 at 15:42:29
I think you can mark Anthony's improvement by seeing all the players willing to give him the ball, the free kicks and corners he is taking and the responsibility Lampard gave him up and down the pitch on Saturday, Anthony took to that responsibility very well.
Not comparing him to Foden of Man City, who is exceptional, but, when he broke into City's team, it was very noticeable that the senior players never trusted him enough to give him the ball and that lasted for quite a while. Now Foden helps to run the machine that is City along with the master, De Bruyne.
Anthony is now getting that trust and using it to the advantage of the whole team; long may the improvement continue.
Neil Carter (Chester)
70
Posted 15/02/2022 at 17:09:16
Mark #3
Agree with all that you said. It feels like the manager and new coaches have brought in a fresh and positive approach that appears to have been bought into by every player in the squad. Let's hope it can translate to better away performances as well.
Also I couldn't resist translating what Lucas Digne possibly, or hopefully said to the FSW:
"Va te faire foutre de la cloche obsolète!"

Mark Taylor
71
Posted 15/02/2022 at 17:49:29
Stan 63
I think I might have wanted to make space for Banks, Moore and Charlton but I take your point about the midfield. Peters Bell and Mullery were good players but I think our two were their equal and of course you have the benefit of them being a strong collective.
Mark Ryan
72
Posted 15/02/2022 at 18:00:59
Neil @ 70 thanks for the translation ! I do accept that people are saying I should give Benitez some credit for playing AG and that the FSW gave him his chance but my overarching message was more about the team rarher than simply talking about Anthony. We were all warned that the football under the FSW was likely to be boring but I did not expect the total drudgery. I feel like I've come off Mogadon and I'm breathing fresh air again. What's all this about Pickford and having T Rex arms. Is that fake news ??
Tony Everan
73
Posted 15/02/2022 at 19:11:43
On Saturday there was a moment when Anthony Gordon received the ball in a wide position. The Leeds full back had him well marked and was positioned as he should be.
Anthony in a flash took the full back on and knocked the ball down the line. My immediate reaction was 'no Anthony! that's not on '. But his timing and pace over those 10 yards took him past the defender and he pinged his cross in from a great deep position. Takes a bit of class and natural talent to be able to do it. When you've got talent like that it is clear that such moves are repeatable and will cause havoc for opposition defences for the next 10 years.
His all round game and physical strength is very good and still improving. I think he is an intelligent, natural footballer and other players will appreciate his presence.
I don't think anyone is prematurely going over the top about him, it's just a fair reflection of what we're seeing on the pitch week after week. He's a young player that is consistently good, and that consistency is probably the biggest marker of all.
Stephen Williams
74
Posted 15/02/2022 at 19:15:52
I have my hand held up.
Like some others, up until the beginning of this season I just couldn't see a Premier League player in Anthony. Sure he had skills but without strength of body and mind (character) and stamina in abundance, a player is destined to become an also ran amongst elites. The Premier League is relentless and I just didn't think Anthony had enough of the full package to succeed. He didn't look like he 'believed' he belonged - that's such an important attribute for anyone in life, not just in football.
However the change in him this season is remarkable. He now looks like the (almost) full package and stands a great chance of making it long term in the Premier League. To do that he needs to keep working hard, listening to the right people and never to believe that he's 'made it'. Hopefully he has the right people round him, not only at the club, but also in his personal life.
As I say, I'm very happy that I appear to have been proven wrong and happy to acknowledge it.
I'm still to be proven wrong about a certain Italian striker though that I made my mind up about after his first substitute appearance!
Jay Harris
75
Posted 15/02/2022 at 19:25:26
MArk 72, It appears some Newcastle supporters were in a pub and started giving Pickford loads about his short arms, A fight broke out and the police were called. Jordan had the good sense to leave when the brawl started.
Brian Murray
76
Posted 15/02/2022 at 19:53:07
Jay. Unconfirmed reports that Pickford never even got the ale in. Short arms, long pockets, as they say.
Mark Ryan
77
Posted 15/02/2022 at 19:55:19
Jay @ 75 cheers for that. Someone blowing up a non-story out of all proportions. Never thought he had T Rex arms personally. I'll have to watch more closely next time he comes rushing out of his area.
Christy Ring
78
Posted 15/02/2022 at 21:07:53
Gordon has really come on in leaps and bounds, and great to have a manager passing on his experience and talking to players individually, it gives them more confidence, trust and belief and takes the pressure off them, how much better was Iwobi and Kenny on Saturday. Lampards tactics and pressing game higher up the pitch, make us look a different team.

Laurie Hartley
79
Posted 15/02/2022 at 21:35:48
About his physical attributes - the lad is still filling out. Have a look at the neck on him. He is going to get a lot stronger.
Derek Knox
80
Posted 15/02/2022 at 22:36:10
Mark @ 77, Did he Telegram Sam ? So he Rode a White Swan out of there ! :-)
Dale Self
81
Posted 15/02/2022 at 22:43:55
He may have been the Slider on that one Derek, outside to his Buick McKane for the getaway.
Will Mabon
82
Posted 15/02/2022 at 23:17:33
They won't fool us...
Jay Harris
83
Posted 16/02/2022 at 02:22:43
Derek he was banging a gong as he rode his jeepster out of there singing heavy metal guru.
Derek Knox
84
Posted 16/02/2022 at 06:40:23
Dale, Will and Jay, well he was a 20th Century Boy, and obviously one of The Children of the Revolution. :-)
Now where's my stick of Glam Rock?
Dale, George will be made up having a Car Model named after him.
Colin Glassar
85
Posted 16/02/2022 at 10:32:49
Pickers likes to boogie but he can't get it on due to his short arms, so he cries in the longer arms of Debora.
Paul Turner
86
Posted 16/02/2022 at 11:19:27
Synchronicity - we mentioned King Crimson recently; KC (and Foreigner) founder member Ian McDonald passed away last week - he played the baritone sax on T.Rex's "Bang a Gong".
To get back on topic - let's hope Frank and the squad can Get It On against Soton on Saturday. Perhaps someone could slip a Mickey Finn in to the Saints' drinks bottles?
Mike Dolan
87
Posted 16/02/2022 at 16:07:20
It's a joy to watch Gordon develop game by game into a really especially gifted player. He really does seem to be a lad who knows where he is going and has the wherewithal to manage his own destiny.
As somebody mentioned he does seem to have picked up some of Gray's silky skills this season and it's great to watch him just glide by defenders as goes directly into the box.
I really believe that Tom Davies will also benefit from Lampard and his staff's positivity and coaching. Tom is an outstandingly talented player who has been short changed by the club. He was never allowed to develop correctly after being pressed into the team as a boy. There is a great player in there and it is not to late for Tom to show it.
---
Add Your Comments
In order to post a comment, you need to be logged in as a registered user of the site.
Or Sign up as a ToffeeWeb Member — it's free, takes just a few minutes and will allow you to post your comments on articles and Talking Points submissions across the site.