Southampton vs Everton
Thursday, 17 February, 2022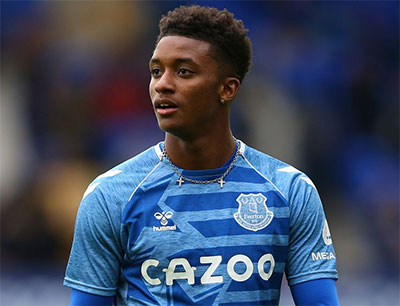 Demarai Gray won't travel to the south coast as he continues his recovery from a hip problem but Vitalii Mykolenko is back in the squad
Storm Eunice permitting, Everton travel south for this weekend's Premier League clash with Southampton hoping to build on the superb performance against Leeds that handed Frank Lampard his first Premier League victory as the Blues' manager.
Everton beat the Yorkshire club handily in front of a raucously partisan Goodson crowd last Saturday but must now find the inspiration to win away from home in the League for what would be only the second time this season.
That solitary victory on the road came on their last visit to the south coast when they beat Brighton in late August. Since then they've picked up just two points from nine away games, the last of which was that dispiriting 3-1 defeat at Newcastle United.
Lampard's men are unlikely to face as hostile a crowd at St Mary's as they did at St James's Park but they face arguably more difficult opponents on the pitch. Southampton have struck a good vein of form in recent weeks and have moved themselves up to 10th in the table with some impressive performances and results.
Article continues below video content
Since losing heavily to Arsenal in mid-December, the Saints have lost just once, 3-1 at Wolves, and have held both Manchester clubs to 1-1 draws, beaten Tottenham 3-2 in North London and progressed to the FA Cup Fifth Round.
Ralph Hasenhüttl appears to have got Southampton into a groove that maximises the talents of James Ward-Prowse and in Che Adams and Armando Broja he has two different but complimentary forwards who will be a handful for the expected defensive pairing of Michael Keane and Mason Holgate.
However, their narrow extra-time win over Coventry in the fourth round of the Cup demonstrated their vulnerability to high balls played directly into the box and that may play into the hands of Dominic Calvert-Lewin who is expected to start again up front after coming through 72 minutes against Leeds.
Demarai Gray will be absent, however, as he recovers from the hip problem he suffered during the first half of the defeat at Newcastle. It was hoped that it would be a minor issue that he could get over quite quickly but he won't travel with the team to St Mary's, though Lampard is hopeful that he could be available for the visit of Manchester City next weekend.
There was better news, however, concerning Abdoulaye Doucouré who has also been sidelined recently with a groin injury picked up at Villa Park last month. He had been expected to be out until early March but his return to training today offers hope that he, too, could be fit for next Saturday.
Meanwhile, Ben Godfrey's recovery continues in promising fashion, with the manager indicating that the defender is "maybe two or three weeks away" but Yerry Mina's return date is further out.
One player who will be available to face Saints is Vitalii Mykolenko who is now clear of Covid-19 restrictions having missed the last two fixtures after returning a positive test for the coronavirus. Given how well Jonjoe Kenny performed last weekend, it's not a given that the Ukrainian will walk back into the team, though.
Lampard could be tempted to go with an unchanged line-up and reward the players, which would mean Dele Alli starting on the bench again, Alex Iwobi keeping his place in the side and Seamus Coleman continuing at right back following his scoring exploits last time out.
Hasenhüttl will be without Alex McCarthy and Nathan Tella but should be able to welcome back Mohamed Elyounoussi, Nathan Redmond and Jan Bednarek from knocks.
With Southampton being a very effective footballing side, one which dismantled Everton under Carlo Ancelotti in this fixture last season, this will be a stern examination of Lampard's charges and a measure of his progress with the team in the early days of his tenure, particularly with respect to the their performance at Newcastle.
This time he should have Donny van de Beek in the starting XI and have Calvert-Lewin up front to act as a foil for Richarlison so he will feel more confident of getting something from this game.
Lampard stressed in his presser that there is much more work to be done despite the optimism generated by the win over Leeds and his caution is prudent given that with this tricky fixture and games against Manchester City and Tottenham, it's possible that the next three fixtures could yield a very slender return in terms of points.
Nevertheless, the new boss will be focused on measured improvement and winning as many games at home as he can to ensure the club's top-flight safety is secured fairly comfortably.
In that sense, a point would be a decent return against tricky opponents but a win would help propel the Toffees further away from the bottom three, close the gap on the Saints and offer further hope of a solid mid-table finish this season.
Kick-off: 3pm, Saturday, 19 February, 2022
Referee: Andy Madley
VAR: Andre Marriner
Last Time: Southampton 2 -0 Everton
Predicted Line-up: Pickford, Coleman, Holgate, Keane, Mykolenko, Allan, Van de Beek, Iwobi, Gordon, Richarlison, Calvert-Lewin
---
Reader Comments (136)
Note: the following content is not moderated or vetted by the site owners at the time of submission. Comments are the responsibility of the poster. Disclaimer
Will Mabon
1
Posted 17/02/2022 at 16:25:46
Not really surprised. Few hip injuries safely clear quickly.
One day, this club may get to the bottom of our perpetual sizeable injury list. Of course we have more than one player particularly vulnerable to injury but even so. Lucky we got some players in recently.
Derek Knox
2
Posted 17/02/2022 at 16:29:25
Thought it might have been a Gray Area, and a bit soon, for what looked a bad injury, for him to feature, but perhaps good news on The Duke (not of York, Andrew btw). Thing is it would be hard to drop ANYONE from Saturday's sterling performance. Good to have competition for places though, it keeps the others on their toes !
Robert Leigh
3
Posted 17/02/2022 at 16:32:35
Luckily with Gordon playing brilliantly and DCL back, Gray isn't as much of a miss as he would have been a few weeks ago. Not to mention Iwobi playing well against Leeds; that still leaves us with Alli and Townsend as attacking midfielders off the bench.
Doucoure is a miss, but perhaps leaving him out until March would be prudent given he's had a few knocks this season. I know we'd ideally have 'The Duke' back for Citeh, but even at our best we would struggle to beat them so give him an extra few days.
The middle of our defense is more of a concern, if we manage to get through the next month with only Holgate, Keane and Branthwaite as options it would be a right result. Gbamin may even get a game if we're short there - that might be a good thing for him bearing in mind his injuries too?
Si Pulford
4
Posted 17/02/2022 at 16:57:05
Injuries have killed us this season. It's no surprise now when you hear a player got injured or is out for longer than expected. It's the same story every year. Rafa tried sacking people to fix it but up to now there's no evidence that's worked. If anything it's got worse. I look at the RS and can't fathom how they keep their squad by and large very fit. What are they doing that we aren't? And why aren't we learning from it.
Stephen Brown
5
Posted 17/02/2022 at 17:23:48
Lampard's press conferences are spot on!
He's articulate about all the players, reasonable and gives good honest information about injuries etc
So far so good albeit early days!
Bill Gienapp
6
Posted 17/02/2022 at 17:56:09
Sounds like Iwobi will have the opportunity to prove last week was no fluke. Consistency has always been his issue, so this will be a big match for him.
Would love to have Doucoure back, but I feel like he rushed his return earlier this season and hope the same mistake isn't being made again.
David Bromwell
7
Posted 17/02/2022 at 18:03:30
Re comparisons with Liverpool. Sadly for many years they seem to be able to select almost the same eleven week in and week out. However, if you can force yourself to watch the Stephen Gerard film you may get a better understanding why. He apparently pleaded with the medical staff to keep him fit so he could play every match. Undoubtably playing in a successful team helps but 100 plus per cent commitment also goes along way.
Robert Tressell
8
Posted 17/02/2022 at 18:12:36
Shame for Gray, he's been brilliant this season. Maybe El Ghazi can step up. Or Alli, with a slight change of formation.
Good news about Mykolenko. But Kenny deserves to keep the LB spot for the time being.
Gary Jones
9
Posted 17/02/2022 at 20:00:40
If they're all fit, keep the same team against Saints as we played against Leeds.
Didn't exactly work against Newcastle, but that was down to two unfortunate injuries in first half.
You play on merit not name.
COYBs
Bobby Mallon
10
Posted 17/02/2022 at 20:04:13
Just keep the same team that started against Leeds there is no need to change it.
Paul Birmingham
11
Posted 17/02/2022 at 21:41:31
Same team, v Soton, as finished v Leeds, and I hope Everton play with confidence and no fear, and press, cover and attack.
Sounds easy but it's never easy as the injuries take a toll but great spirit often compensates for missing key players.
Rob Halligan
12
Posted 17/02/2022 at 21:51:26
Paul # 16, so you wouldn't play Calvert-Lewin, Gordon or Richarlison, but start with Rondon, Dele and El Ghazi?
Laurie Hartley
13
Posted 17/02/2022 at 21:59:03
One of the selection headaches Frank Lampard will face when Gray is fit is to decide who plays wide left. Richarlison's best position is the same as Demarai's.
Then we have Calvert-Lewin, Gordon, Alli, and possibly Iwobi, Townsend, and El Ghazi vying for the remaining two spots.
Phil (Kelsall) Roberts
14
Posted 17/02/2022 at 22:44:44
Rob #18 - cruel 🤣
What shirt is Demarai wearing? A special one for a tournament in Texas?
Andrew Ellams
15
Posted 18/02/2022 at 08:16:54
On Doucouré, how does he get back into the team? Who gets left out? I can only presume Iwobi to go 4-3-3/
Bobby Mallon
16
Posted 18/02/2022 at 08:44:28
All let's all be happy with the Leeds win absolutely brilliant team and manager performance. But we have seen it so many times: we have a great game, then, for whatever reason (as against Newcastle) we implode.
Let's hope Iwobi has found his footballing talent. COYB – let's put 2 fingers up to the most boring fucking fans in Premier League history. I hate that slow drawl "Oh When The Saints" fucking song.
Kim Vivian
17
Posted 18/02/2022 at 09:15:36
Bobby Mallon - to state that we "imploded" against Newcastle is nonsense. Remembering that Lampard was about 1.5 weeks into the job and we had played a cup tie 3 days previously, he then gets hamstrung with injuries inside half an hour to two key players.
The team did not drop their heads as they might have done in the past and Newcastle played with an intensity that reflected their league position, supported by an incredibly vocal support.
Okay, we lost - but to imply that we imploded is very unfair.
Ray Robinson
18
Posted 18/02/2022 at 09:44:42
I'll believe we've turned the corner if we get 1 point or 3 at Southampton. No full house backing them on to great efforts, this has to be self-motivated. Too many times we've followed up a good result (Man Utd, Arsenal, Chelsea) with a poor one. 🤞for 3 points.
Ajay Gopal
19
Posted 18/02/2022 at 10:29:06
I agree that unless something changes due to injury or illness, Lampard is unlikely to change the starting XI. I would like some stability in our team for some time so that Everton evolve a style of play where everyone understands their roles.
If this XI continue to perform well and stay fit, then it is going to be very challenging for the likes of Gray, Dele Alli, Doucouré, Godfrey, Patterson, Mykolenko to walk into the starting XI. If I had told you that 2 weeks ago, you would have called me certifiably mad!
John Raftery
20
Posted 18/02/2022 at 10:29:52
Arguably the game at Southampton is the first test of how much we have improved since the new regime arrived. Brentford were the worst team we have played this season. Newcastle had two weeks to prepare for the match at St James's Park whereas our players had only 2 days to recover after the cup tie. Leeds left much of their usual energy on the pitch at Villa and had only 2 days to recover.
For the game tomorrow, both teams have had a full week's preparation so it should be an interesting contest. We beat Southampton 3-1 in the opening game of the season. I look forward to seeing a decent performance and a positive result at St Mary's. Let's hope the weather doesn't spoil the day.
Mike Oates
21
Posted 18/02/2022 at 10:49:14
I live on the South Coast, 30 miles from Southampton and no-one is going to get down here today in these 75mph winds!!! – all day till 10 pm tonight.
Unless Everton are prepared to travel tomorrow, by plane (still in 50 mph gales) then I can't see the game being on.
Brian Williams
22
Posted 18/02/2022 at 10:52:11
Hope you're right Mike. Another week of training and a chance for some returns from injury would be good.
Christopher Timmins
23
Posted 18/02/2022 at 11:16:27
Hard to justify any changes from the Leeds game but if one is made it will be at left back. Looking forward to the game against a team who are in top form at the moment. A win would truly signify a marked improvement over the first three weeks of the new manager reign.
Brian Murray
24
Posted 18/02/2022 at 12:05:37
As what's already said, if storm Eunice gives us a chance to get Gray fit and Doucouré fitter if called off, it's not the worst thing for us. Plus maybe a bad time to play a form team?
Brian Harrison
25
Posted 18/02/2022 at 12:40:15
Hassenhutl has said in his press conference that under Lampard Everton are a very different team pressing high and winning the ball back and he also said Lampard has made them a more energetic side, something he hasnt seen in previous Everton teams.
This will be a a good game between 2 teams who will want to get on the front foot and attack. At yesterdays press conference a reporter who hadnt done his homework asked Lampard what did he know about Armando Broja who is on loan at Southampton from Chelsea. Lampard said he knows the lad well and in fact gave him his debut when he was managing Chelsea, from his comments Frank rates him very highly.
I thought Lampards comments when asked about his thoughts on a DOF being brought in to the club. He said first he would like to have a lot of input into that decision if thats the way the club wanted to go in, although I got the feeling he isn't a great fan of the DOF role. He also said if they go in that direction its important the role of the DOF is clearly defined and also he has similar ideas to the manager.
Obviously a big danger tomorrow is Ward Prowse from dead ball situations, so no silly free kicks in and around the 18 yard box. Also if given space he can deliver a killer pass, so will need to be watched, I also like Armstrong up front. But they will have plenty to worry about from us now we have become a more attacking team under Lampard. I know Lampard said it would seem obvious after such a good win to keep the same team, but also suggested that seeing Southampton play a different way to Leeds they would have to take that into consideration.
Bobby Mallon
27
Posted 18/02/2022 at 12:51:09
Kim Vivian 34 yes it is. We beat Arsenal get twatted by palace. We beat hull get twatted by Norwich we beat Brentford get twatted by Newcastle. That just what we have done for a couple of seasons. Last season was the same. Beat Liverpool Chelsea spurs away from home get beat by Burnley Newcastle at home. You can try and butter it up all you like but that's how we have been for a while now. Every player who hasn't scored in 2 million games scores his 1st goal against us. Every player having his first game against us scores. I'm not being horrible I'm being realistic let's hope tomorrow is different.
James Lauwervine
28
Posted 18/02/2022 at 12:53:49
For selfish reasons I hope the game is on as I'll be going, but it's seriously windy out there – and I live 50 miles inland from Southampton.
If it does go ahead the conditions will mean it'll be a difficult game for both teams and probably not a great game of football. Maybe time for Pickford to get his first goal with a wind-assisted clearance!
Bobby Mallon
29
Posted 18/02/2022 at 13:01:38
Since 26 April 2014, we have only beaten Saints twice, away from home, loosing 7. We need this win big style.
Bernard Dooley
30
Posted 18/02/2022 at 13:12:57
Anyone know when the Everton squad travelled to the South Coast?
Coach or plane, both tricky weatherwise.
John Keating
31
Posted 18/02/2022 at 13:19:33
After the Newcastle debacle, Leeds was an excellent performance and result. However, I think the Southampton game is really important. How many times over the past few season's have we seen a crap result after a good one?
The squad have had another week with Lampard and his team, another week to digest what and how he wants them to play and set up.
We are still perilously close to the Bottom 3 and, with Man City on the horizon, we need another confidence-building performance and result before Pep's boys come here.
Hopefully Lampard can instil consistency into this bunch.
Tom Bowers
32
Posted 18/02/2022 at 13:21:13
We haven't had an easy game all season because of poor performances.
It's been quite a struggle and the lack of confidence and belief in themselves that the can actually win games especially since the first month of the season.
That confidence seemed to have returned against the last three opponents under Frank's guidance although the Barcodes game went belly up after 2 early injuries.
We have to guard against a let down again as we all know Soton are doing better and will ne a tough nut to get something out of.
Lot's of if's for that to happen but one of them is Iwobi who finally showed some form so if the defence can keep a clean sheet again then we have a shot at all three points.
The corners and free kicks need to be limited as Keane and Holgate still look vulnerable in the air.
Brian Harrison
33
Posted 18/02/2022 at 13:46:46
Everton fly from John Lennon airport at 4.00pm today, not sure if that might get delayed by a couple of hours. Would think it might be a bit late to try and change to train or coach. I suppose if they cant fly tonight they could fly at 9.00 in the morning not ideal but needs must.
Paul Hewitt
34
Posted 18/02/2022 at 14:07:09
You wouldn't get me on a plane in this weather. Crazy
Rob Halligan
35
Posted 18/02/2022 at 14:08:35
Brian, # 33. They can't get a train because all trains from Liverpool Lime St. due to travel south today have been cancelled.
Jay Wood
[BRZ]
36
Posted 18/02/2022 at 14:12:23
Rob, what are your own intended travel plans, presuming that you intend going the game as always?
It sounds a tough call whether to get up at some ungodly hour Saturday morning to make such a long haul, possibly in vain.
What is tomorrow's forecast like? Will the worst of this blow out by KO?
Rob Halligan
37
Posted 18/02/2022 at 14:18:09
Jay, I'm booked on the official coaches, due to leave at 8 am. Probably set the alarm for about 5:45 am. Me and a mate are on it. Another was due to go down today via London, but as I said, all trains from Lime Street heading south have all been cancelled.
At least if the game is postponed, our coach tickets will still be valid for the re-arranged game. I believe the worst of the bad weather will be gone by early hours tomorrow morning.
John Kavanagh
38
Posted 18/02/2022 at 14:25:53
The key to getting a result here will be set pieces. Us not giving away daft free kicks for Ward Prowse to strut his stuff and Gordon getting some decent free kicks and corners in to DCL, Richie and Keane. Whichever side performs better in this area will take the three points or they might cancel each other out. The wind might also influence the outcome.
Lampard's biggest selection headache will be Iwobi. Drop him to the bench and risk destroying last Saturday's huge boost to his fragile confidence or start him and risk him returning to his usual form. After his presser comments, I think he'll start with an unchanged side, especially as Mykolenko's mind might be more focused on events back home in Ukraine.
I couldn't give a Hassenhutl about Southampton and we now have some decent options off the bench despite all the injuries. I'll go for a well earned draw, but dream of getting a much needed away win. My mind keeps returning to being behind the goal in the Park End and seeing our 8 goal demolition of them at Goodison in bad weather many years ago, so COYB.
Stan Schofield
39
Posted 18/02/2022 at 14:47:27
John, the pitch had snow on that day. I remember the new electronic score board:
7 9 7 9 8 9 9 7
Johnson 7
Royle 9
Ball 8
5-0 at half-time
George McKane
40
Posted 18/02/2022 at 14:56:01
The 8 - 0 game - 20/11/71 - my 22nd birthday - what a day.
Brian Murray
41
Posted 18/02/2022 at 15:04:39
George. I also was here that snowy Saturday.Did the angel Gabriel himself play for the saints that day after his transfer. I remember I'm sure the same month going to Anfield and going two nil up and being in the anny road end deliriously happy. Well for a while anyway. 🧐😃
Brent Stephens
42
Posted 18/02/2022 at 15:21:46
I was due to get the train out of Lime Street this morning just before 10. Fortunately I'd set up alerts through the National Rail site and was woken at 1.30 with a text ping to say cancelled. As I looked on the website there were no trains out of Lime Street, Wolves, Rugby, Nuneaton etc. so drove down at 2.30 to my lad's place in Portsmouth (got him a ticket in the away end with me). Fierce wind and rain all the way. Better not be cancelled.
Jay Wood
[BRZ]
43
Posted 18/02/2022 at 15:36:14
Brent...'drove down at 2.30.'
Robin Reliant, or 3-wheel Bubble Car?
Amazing how well they hold the road, even in the most adverse of conditions.
Were you able to squeeze Big Rob in the Robin?
Jay Harris
44
Posted 18/02/2022 at 15:39:58
This will be a tough game whoever gets selected. Southampton are very physical so moving the ball quickly and accurately will be the key.
I like the look of Lyndons team but I wonder about playing Seamus behind Jonjoe in a four man MF in place of Iwobi.
Peter Mills
45
Posted 18/02/2022 at 15:52:25
It's nice to be looking forward to games again. I hope such thoughts are not misplaced, good luck to everyone travelling down there.
A win would be great for my brother Charlie, who remains very ill. It looks like there will be some months of rehabilitation in the Walton Neuro Centre, but that is better than how things looked last weekend. Many people left messages of support on here, or contacted me privately. Thank you so much.
There was also a great video message to Charlie from Frank Lampard, which showed something of the nature of our new manager.
Jay Evans
46
Posted 18/02/2022 at 15:55:55
Eunice hasn't had this much press since she kicked arse on Gladiators - AROOGA !
Worst of her wind is gonna be overnight apparently so while the players may have a bit of a hairy flight, our game should hopefully be subjected to nothing more than a light breeze. As some others have said on here already though, a postponement may not be the end of the world from our point of view.
If it does go ahead then a point would be another step in the right direction. I don't fancy us tomorrow and I feel without a home crowd to roar us home, a draw is the best we can hope for. I'm going for a nil - nil bore draw.
2 clean sheets on the bounce ? I can dream I suppose !
Onward Evertonians.
Full support 💙
Andy Finigan
47
Posted 18/02/2022 at 16:00:14
Did anyone else see the article saying Southampton always have a man go down injured between the 60th and 70th minute. Reckon it's to help rejuvenate there players and take some fluids on inorder to push on for the remainder of the game. Apparently they are being watched by football authorities.
Rob Halligan
48
Posted 18/02/2022 at 16:06:46
Jay #46,
The atmosphere at St Mary's stadium is nothing compared to Newcastle. We will be in full voice, selling out the away section behind the goal, so will be heard loud and clear by the Everton players.
Unlike at Newcastle, where we are stuck up in the gods, and unlikely to be heard very much by the team.
I'm going for a 3-1 win.
Nick Page
49
Posted 18/02/2022 at 16:07:14
Interesting Andy. It's like the RS and their asthmatic caffeine addicts. It's why they can run round like headless chickens for 90mins. It's also why a load of them got injured last year. Looks like Alpine Bingo is up to similar shady tactics. It's a grey area but in reality it's actually cheating.
Jay Harris
50
Posted 18/02/2022 at 16:08:25
Andy,
Lampard was saying he doesn't have an issue with that and that all sorts of gamesmanship go in in the Premier League.
Brian Murray
51
Posted 18/02/2022 at 16:26:32
Rib post 48. Said before and will say again. I hope the club are savvy enough to put the away fans at bmd up in the gods like st James. These fine margins win points.
Tony Everan
52
Posted 18/02/2022 at 16:43:50
Andy, Yes it's too much of a coincidence, it's definitely a tactic to boost energy for the last 20 mins of matches.
" The gels contain maltodextrin and are absorbed within 10 minutes, giving the players a boost just in time for the last 20-or-so minutes of the match.
"On the eye, there has been a significant improvement when it comes to remaining competitive in matches," The Athletic's Dan Sheldon wrote"
We should have our own Duracell Juice ready for our lads too, when they get their fake 65th minute injury.
Why should we concede that advantage to Southampton?
Pete Gunby
53
Posted 18/02/2022 at 16:49:52
My dad took me and my sister to that 8-0 game. It was her first and only game- maybe I should try to get her to start attending. I think we won one 7-1 also that year, I can't remember who against, I was only 10.
Mike Oates
54
Posted 18/02/2022 at 16:54:57
As I said earlier today, down here on South Coast we still have 60-70 mph winds with lots of trees, roofs all damaged. And Everton just released a statement that their travel plans have had to be changed – ie, we can't fly down today!
Jay Evans
55
Posted 18/02/2022 at 16:55:20
Rob 48, love the positivity mate. Here's hoping.
Dale Self
56
Posted 18/02/2022 at 17:01:05
Aye Rob, I hear that if Everton can get in on the Saints early doors their fans will wilt. Give Forster all you got.
Brent Stephens
57
Posted 18/02/2022 at 17:05:57
Jay #43 Robin Reliant, Jay. And wearing my Batman outfit.
Stan Schofield
58
Posted 18/02/2022 at 17:09:56
Pete@53: We beat Leicester 7-1 a couple of seasons prior.
Ray Roche
59
Posted 18/02/2022 at 17:19:19
Stan, it was on 30 November 1968. My 20th birthday. I think a young Peter Shilton was in goal for them.
Rob Halligan
60
Posted 18/02/2022 at 17:31:08
Brian # 51.
I'm pretty certain, having seen the seating layout of the new stadium at Bramley-Moore Dock, the away fans are stuck up in the gods in the corner, so neither on the side or behind the goal.
Neil Lawson
61
Posted 18/02/2022 at 17:33:50
8-0. The only home game that I missed that season. I was running in a cross country race for Merchant Taylors School v Cardinal Hulme (I think).
If I remember correctly, it was a freezing cold day and once home and warming up in the bath and listening to the radio, it was one of those occasions when not sure whether to laugh or cry.
Nowadays, I would struggle to remember what I did last week. Eight tomorrow would be good but will be very happy with a hard-won point.
Dave Williams
62
Posted 18/02/2022 at 17:40:43
Good luck to all of you making the trip down there. Forecast is better but still blowy at times so be careful!!
Stan Schofield
63
Posted 18/02/2022 at 17:59:01
Ray @58:
That 68-69 season was just great in terms of the quality of our footie, the pinnacle of the Holy Trinity. Apart from winning the league the season after….!
Kieran Kinsella
64
Posted 18/02/2022 at 18:00:26
Michael Fish said the storm is nothing to worry about.
Alan McGuffog
65
Posted 18/02/2022 at 18:08:24
Stan...I have posted many times here that the 68-69 season was for me the best football I have ever seen. I feel that 69-70 we played some wonderful stuff but added some grit to our performances and were able to grind out a fair few 1-0 victories.
Bernard Dooley
66
Posted 18/02/2022 at 18:11:05
I'm 77 and like the other golden oldies on the site remember that game clearly, and as Stan #39 mentioned, the new electronic scoreboard, with orange figures glowed clearly through the snowflakes in a magic wonderland atmosphere.
Actually Southampton had some good players on the field, well-known names at the time, including Jimmy Gabriel, Terry Paine, Mick Channon, Ron Davies, and Bobby Stokes who a few years later scored the winner for them at Wembley to beat Man Utd in the Cup.
However they had John McGrath at centre-half and it is fair to say he did not play well. I learned a new expression that day: "yard dog" to describe his efforts as the goals went in.
We only finished 15th that season when the league was won by Derby County with 58 points from 42 games. Don't Man City need about 100 points from 38 games to win the Premier League?
Neither Royle nor Johnson managed to get to double figures for league goals that season, and a whole host of well-known players from the past failed to start even half the fixtures, including Alan Ball, Colin Harvey, Brian Labone, Tommy Wright and Keith Newton. No idea why so many missed games but maybe our current issues with injuries is nothing new.
Stan Schofield
67
Posted 18/02/2022 at 18:19:51
Bernard, I recall that Brian Labone had a back problem, Colin Harvey a problem with vision in one eye, and Alan Ball just seemed out of sorts after the Mexico World Cup. Shame, we should have taken the 70s by storm.
Jay Wood
[BRZ]
68
Posted 18/02/2022 at 18:57:19
Brent @ 57.
'Robin Reliant, Jay. And wearing my Batman outfit.'
A tight squeeze all round, then?
Rob Halligan
69
Posted 18/02/2022 at 19:01:10
Jay, the Batman outfit would certainly be a tight squeeze for Brent! 😂😂😂
Brian Murray
70
Posted 18/02/2022 at 19:05:21
Stan post 67. Not sure how many games Labby played in that '71 season but, as a kid, I remember us dominating the FA Cup semi-final at Old Trafford v them shower, winning one-nil until Labone went off midway through the second half. The rest is painful history. Actually lingered for ~4 years. Wouldn't change a minute. coyb 💙😂
Jay Wood
[BRZ]
71
Posted 18/02/2022 at 19:06:35
Rob, at least Brent should be an easy spot in the crowd tomorrow.
Now if you could hire a Robin suit for tomorrow...
Best not, eh?
Rob Halligan
72
Posted 18/02/2022 at 19:16:19
Be like the jolly green giant, Jay!
Gerry Quinn
73
Posted 18/02/2022 at 19:45:52
Off topic, but sums our club up - we have paid for Boreham Woods kit for their FA Cup game against us...
https://www.borehamwoodfootballclub.co.uk/uncategorized/what-a-very-classy-gesture-from-the-peoples-club/
Ray Roche
74
Posted 18/02/2022 at 19:54:09
Stan@63
Stan, as you probably know, we played wonderful football in that period, but we've never been appreciated as the best footballing team of the sixties. Champions twice. A joy to watch.
Dale Self
75
Posted 18/02/2022 at 20:01:41
Nice Gerry! Thanks for that. We haven't lost touch with what truly makes this a great club have we?
Rob Halligan
76
Posted 18/02/2022 at 20:06:41
Gerry # 73.
Thanks for that link. It's an amazing gesture by our club. I've no idea how much a full first team squad kit would cost, probably easily in excess of £2k or £3k. Let's see if this make the national press?
Duncan Ferguson threw around £5k behind the bar of two pubs prior to the Villa game, yet very little mention, if any, in the national press, whilst that RS Klopp gives away about three bottles of beer to fans as they return from an away game and it's everywhere. I don't care what anyone says, as a club we are far far superior to them.
Mark Ryan
77
Posted 18/02/2022 at 20:26:26
Gerry @ 73. Class
Geoff Lambert
78
Posted 18/02/2022 at 20:27:41
Super gesture by the blues. What a fantastic day out it will be for their fans and whole club (except for the result). And they will make in the region of £500.000 for their exploits. That is why the FA Cup is still the best domestic cup competition in the world.
I don't know what to expect tomorrow. I was so looking forward to the Newcastle game and then apprehensive about the Leeds game.
I will take a well fought draw but would love a win.
COYMB
Tony Hill
79
Posted 18/02/2022 at 20:29:14
We are, Rob @76, and they can never quite put their finger on why that is. But they know deep down that they're not true aristocrats of the game. They're puritans, the New Model Army; successful, most certainly, in a dull, efficient way but they have never had style and grace.
That's why they're obsessed with us. The Ev living rent free in their round heads.
Dale Self
80
Posted 18/02/2022 at 20:44:24
Good stuff Tony and Rob, proud days again. Looking up round heads, ah, good reference.
Paul Birmingham
81
Posted 18/02/2022 at 21:29:59
Rob, yes I meant to say the same team that started v Leeds, must be the beer typing, last night.lol.
Let's hope a good Everton victory, in days gone by we did well at the Dell, but we've not do everything so well at St Mary's.
Still there are many of them Soton supporters who go on about the Highbury semi final.
UTFT!
Stan Schofield
82
Posted 18/02/2022 at 21:34:47
Tony @79: Spot on.
We can't compete with them for quantity of trophies, but they can't compete with us in terms of highest quality of football ever seen in Britain, perhaps until the Arsenal invincibles and the current Man City.
The comparison between us and them in the '60s is the same as today's comparison between Man City and them. Superior quality versus workmanlike. They hate that comparison, which is why they try snide comments about City, and why they're still obsessed with us even though we've not been great for a long time.
They've never had a Colin Harvey or Kevin de Bruyne.
Danny O'Neill
83
Posted 18/02/2022 at 22:38:47
Classy by Everton.
We go to win tomorrow. Simple; take the momentum from the last game.
Slightly off track, but I watched the interview with Joe Edwards. Music to my ears.
When at Chelsea and coaching the academy teams, he was not always under pressure to win games, mostly develop players.
He spoke about playing higher and pressing higher. Winning the ball more often in the opposition half and less in our own. Keeping the ball away from our goal and closer to the oppositions more often.
On training, not talking about having a philosophy and briefing or trying to coach that into the entire group. A way of playing, yes, but breaking players out into smaller groups and even down to individual level. For example Ashley Cole taking aside players who play in his position. Individual coaching.
And trying to install a winning mentality. It won't come overnight, and they know that, but that is the aim.
All words I know, but encouraging and uplifting nonetheless. And he has been there, seen it happen and played a key role in delivering success. Very shrewd move by Lampard who is still relatively inexperienced in coaching / managing. But he's surrounding himself with people who are.
I distract, I just had nowhere else to put it.
I'll over-confidently go with the 3 - 1 prediction.
But after Newcastle, and our woes on the road, I won't be overly disappointed with 2 - 2. Just give the travelling blues a performance to make their long day out worth the effort.
Tom Bowers
84
Posted 18/02/2022 at 22:54:29
We cannot presume anything the way this season has gone.
Certainly we can be cautiously optimistic but we need to start positively and not just try to contain them just because they are the home side.
That may not be part of the Lampard strategy but we know how our defensive liabilities like to give up silly goals and put the team behind the eight ball.
They will try to capitalize in the air with Adams an Broja so we cannot give away silly free kicks.
With the chance Barcodes may lose at West Ham and Norwich sure to get thrashed by RS a point from this game wouldn't be too bad.
Tony Hill
85
Posted 18/02/2022 at 23:12:42
The interview now available with Joe Edwards is excellent. He is calm, careful and prepared for the task ahead. We have serious people behind us who respect our club, respect themselves and demand the same from our players.
It will be a process but we have a body of knowledge, experience and ambition which promises much. How refreshing.
Mike Gaynes
86
Posted 18/02/2022 at 23:30:08
I would have posted sooner, but I'm still recovering from the mental picture of Rob in a Robin suit.
Gerry #73, great catch, my friend, and what a lovely gesture by our club.
And for their right-back, Kane Smith, they should gift him a #2 with his hero Hibbo's name on the back.
Hope all you folks are surviving the storm okay. For the record, I had a Typhoon Eunice in my family. It was the nickname of my grandfather's youngest sister. We could always calm her down with Scotch. I wonder if the UK weather forecaster tried that on Storm Eunice.
John Keating
87
Posted 18/02/2022 at 23:54:09
Didn't we draw Woking away a few years ago and had them change it to Goodison?
I think we also paid for all their supporters travel and wined and dined their players and families for a couple of days.
With the attendance money, I think they earned enough to keep them going for a season or two?

Andrew Keatley
88
Posted 19/02/2022 at 00:28:01
Gerry (73)
Class. Hopefully Boreham Wood will be able to place a significant order for their fans. I imagine it will be one of the biggest days – if not the biggest day – in the club's history.
It would be great for their fans to be able to buy the shirt to celebrate the event – as well as being another good revenue stream for them. Brilliant for Boreham Wood either way though.
Steve Shave
89
Posted 19/02/2022 at 07:03:22
I'm really looking forward to the game today, it's been a while since I felt that way. It will be tough, the Saints are playing some lovely footie at the moment and at home.
I am gutted because I was going to get tickets to this game but my son had a football tournament which has now been cancelled due to the weather!
I would stick with the same team that beat Leeds, agree with other posters who say this is a much bigger test of Frank's reign.
They have Broja who looks a real handful, Adams is showing form and you must never rule out the excellent Ward-Prowse.
Walcott hat-trick anyone? What a waste of money he was! I'm going to stick my neck out and say we win 1-2 in a hard-fought match, end to end, and we pinch it with 5 mins to go through Richarlison.
Duncan McDine
90
Posted 19/02/2022 at 07:19:28
Steve, if you're interested there might be a ticket going spare (just one). I'll confirm on the 'travel & tickets' thread if so and can meet me before the game.
Christopher Nicholls
91
Posted 19/02/2022 at 07:30:37
Keep the belief and start with same momentum as last week. Another week stronger under the new coaching.
Can't wait to have Doucouré, Godfrey and Gray also back. Then we can really use the squad to change the game.
Steve Shave
92
Posted 19/02/2022 at 07:35:54
Duncan thanks mate, unfortunately I have been 'drafted' by the Mrs to do a job I've been putting off. Much appreciated though. Enjoy the game.
Duncan McDine
93
Posted 19/02/2022 at 07:38:21
Hehe no worries! I have a spare ticket for the game today for anyone who isn't under the thumb (soz Steve). £30 and you'd need to meet me no later than 2pm outside the Everton end. 07985901398
Steve Shave
94
Posted 19/02/2022 at 07:41:47
Ha ha thanks Duncan, it's a fair point! :)
Steve Shave
95
Posted 19/02/2022 at 07:54:58
Duncan hold that ticket mate I want it!!
Duncan McDine
96
Posted 19/02/2022 at 07:55:50
She's letting you out? LOL. Drop me a text please just so I have your number
Steve Shave
97
Posted 19/02/2022 at 07:58:01
Yes!!!!! I showed her who is boss pal :) can't wait.
Pete Gunby
98
Posted 19/02/2022 at 08:31:23
Be honest Steve. We've all been there- You're going to sneak out the back and deal with the consequences later.
Derek Knox
99
Posted 19/02/2022 at 08:43:54
Really hope the game goes ahead and all those travelling are safe and don't experience any delays in transit. Also hoping we don't fall foul of a freaky wind squall blowing our goal bound shots out and blowing their's in :-)
Feeling fairly confident after last weeks display, and believe we now have the confidence to be a match for most sides. Saints are on a good run-let's end it !
COYB 💙💙
Chris Locke
100
Posted 19/02/2022 at 08:53:24
I live about 20 mins from St Mary's and am pleased to confirm that it's a beautiful sunny day down here.
Duncan @93, has that ticket been snapped up?
Jim Lloyd
101
Posted 19/02/2022 at 09:15:23
Agreed, Derek! Stay safe lads and lasses.
As for the game, it's got the makings of a good one. If we play like we did at Goodison, then we'll give them a game, alright. That's all I ask of them, is "go for the throat!"
As for the outcome, if we win, that's brilliant! So long as our confidence doesn't burst like a balloon if luck (and the effin VAR) goes against us.
Go at them, boys!
Paul Birmingham
103
Posted 19/02/2022 at 09:19:42
Having watched the Joe Edwards interview, and all considered, it feels like Everton now have a proper cohesive and football mad coaching staff, whom are genuinely eager for success and aren't here for the money, and aren't content with past glory.
Refreshing to see and, if Joe's half as a good a coach as our White Pele, then Everton will improve.
Renewed optimism today, and I'm confident of an Everton victory at Southampton.
Dave Abrahams
104
Posted 19/02/2022 at 09:29:37
I watched my disabled neighbour and his mother getting picked up by two fellow Everton fans to take them to their pick-up point of getting the coach down to Southampton, that was around 7:00 am this morning.
They go to every Everton game, Kevin in his wheelchair can't wait to get to these games, just lives for the Blues. When we win, Kevin will play all the past Everton victories, sing his head off with Everton songs, helped by a few cans of lager.
Sonny, my grandson, had to move into the back bedroom when he was at school because he got little rest with Kevin's singing. I hope early tomorrow morning when I get up to relieve myself, I hear Kevin singing loud, clear and very happy. Come on you Blueboys!!
Jerome Shields
105
Posted 19/02/2022 at 09:40:39
Good luck to Everton and all fans today at Southampton. Hopefully the midfield play will continue at a similar level.
A friend is being ordained a Deacon today, so I shall miss the match, though I will be sneaking updates.
I am more optimistic than usual, but a bit concerned that gel could be a deciding factor. Gel being an addition to long-suffering Toffees. . . could only happen with Everton.
Brian Murray
106
Posted 19/02/2022 at 09:44:51
Dave. Talk about love thy neighbour. We would never get that in kopite-infested Formby. Give me North Liverpool any day.
COYB. Let's turn up and, as has been said, have a real go.
Lynn Maher
107
Posted 19/02/2022 at 10:42:34
Morning everyone, especially those travelling to Southampton. Hope you all have a safe journey and thank you for your continued brilliant away support.
After watching the Joe Edwards interview, I agree with Paul @102. I thought Frank Lampard's first interview was good and this is definitely up there with it. There is a cohesive thought process finally here at Everton. Long may it continue.
The latest training video highlights the impact the new setup has already established. The team are actually communicating with one another and seem to be enjoying it. Quite a bit of banter too.
I'm really hoping for a good result today.
COYB
Frank Wolfe
108
Posted 19/02/2022 at 10:51:39
I was impressed with Southampton against Man Utd last week. Won't be an easy game.
Pete Day
109
Posted 19/02/2022 at 10:55:06
Chris Locke (100),
Not so sunny now! Think I'll be getting a bit wet crossing the bridge! I'm 20 mins away from St Mary's as well, unfortunately going with family who are Saints fans! Hope the travelling Toffees arrive on time!
Jim Lloyd
110
Posted 19/02/2022 at 11:06:27
I've just watched him, Lynn and... he's a true professional and a winner. I don't think I'd have watched that interview except for Paul's post and I'm so glad I did.
It looks like a team of manager and coaches, who want to win and know what it takes to do it. Very impressive man, as is Frank Lampard. What I really liked as well, is the importance he gives to play the football that us supporters will give our all for. Early days, but great signs for the future here.
Dave's post just epitomises how the power of our supporters is something else. Kevin sounds a brilliant lad!
Lynn Maher
112
Posted 19/02/2022 at 11:16:45
Jim @110. I liked it when he said we shouldn't be playing short passes at the back, just for the sake of it. My nerves are shredded when we do!
Jay Wood
[BRZ]
113
Posted 19/02/2022 at 11:24:38
For those who haven't seen it yet, the Joe Edwards interview is well worth a watch. Very in-depth, brimming with ambition.
Another good watch is this week's training ahead of the Saints game.
Look out for some nice banter early in the piece between Calvert-Lewin and Jonjoe Kenny, then Anthony Gordon and Richarlison.
I know these clips of training are selective and snapshot, but you can see a real intensity in the one-touch passing drills. There also appears far more animation and laughs than was the case under Benitez.
They look sharp and happy.
Derek Knox
114
Posted 19/02/2022 at 11:29:28
Dave @ 1204, You know I really admire people like Kevin and his Mum, as I do with the likes of Rob, Brent, John Raferty, Brian Murray, Duncan McDine (sorry if I missed anyone out) who religiously go to every away match. More so probably in the case of Kevin with a disability.
I often wonder whether the unquestioned loyalty of these superb fans is truly appreciated by both players and the Club alike. The players travel down in style, usually in a luxury coach or plane with every amenity at their behest, and getting paid megabucks where fans do not have such luxuries, and have probably shelled out a good proportion of their money to get there.
Jim Lloyd
115
Posted 19/02/2022 at 11:35:14
Same here Lynn, how many matches I've sat there, with increasing panic, watching our defence faff around before losing the ball! Not good for the nerves!
I thought Joe Edwards was extremely impressive. We'll have hard times, no doubt, but we'll have more Good Times.
Frank and Joe have come from a winning environment and they'll make sure our players have that same desire. Hard times for a while, but Good Times ahead, I think. (I've just said that... dopey bugger!)
Ben Pullen
116
Posted 19/02/2022 at 11:41:07
What a difference a couple of weeks and a change in coaching, management, playing staff and fan base support can make eh!!! I rarely post on TW, and not at all during the depressing Benitez era when TW was more Toffeewinge than ToffeeWeb! ;-)
Yet I'm impressed about how everyone is so much more upbeat on match day chats. Talking about uplifting feel good stuff like Everton buying Boreham Woods Kit for the FA Cup, fans helping other fans of all walks of life to make it to the game, the efforts fans are making despite the weather and reminiscing about past glories! Long may that continue.
The one thing I noted this week about Everton was how much fun and how happy the players looked training. As Jay Wood alluded to earlier, there were smiles, playing fun games like volleyfootball and corner flag golf, actual recorded banter (JJ Cruyff and my goal no my goal) as well as lots of hard work on drills. It was a great watch the training video and so uplifting! I've watched it 5 times because it's that enjoyable. Haven't seen a training video like that for a long time!

And the Joe Edwards interview was boss too.
Dave Williams
117
Posted 19/02/2022 at 11:51:13
Andrew Keatley #88 in the summer recess, we exchanged views on a certain Dutch midfielder. You rated him whilst I wrote him off as another Klaassen.
I know he's only had a game and a half but I've seen enough – you were right and I was wrong – my apologies to you!!
Jim Lloyd
118
Posted 19/02/2022 at 11:55:17
Just a short note about our game against Leeds.
I thought there were 3 men of the match, because I certainly couldn't single out one man from such a great team effort.
The Manager was Man of the Match, The Team was Man of the Match; and the Supporters were Man of the Match! Just a brilliant afternoon. I'm sure our away supporters will be the same today.
I think that will happen again more often, at Goodison Park.
John Raftery
119
Posted 19/02/2022 at 12:08:21
Derek (114) Cheers mate. Currently we are on the A34 south of Oxford with another hour and fifteen minutes before we reach St Mary's. So far, so good. I hope I am not speaking too soon but the coach proved to be the best option today. A mate who also normally attends every away game has had to cry off owing to the cancellation of all trains south of Reading.
Raymond Fox
120
Posted 19/02/2022 at 12:09:35
Its going to be tough, they are playing well at the moment.
Obviously we should be well for up it too, so really its anybodys guess what the result will be.
Thats how I feel, they are favourites and we are 5/2, thats the neutral view.
I'm one of natures pessimists who usually fears the worst, so my heads saying we don't win, but a point or a win for us is not out of the question.
Here's hoping.
Shane Corcoran
121
Posted 19/02/2022 at 12:31:14
Anyone see the article on the Athletic about Southampton feigning injury to get energy supplements on board? Happens between 60-70 mins. Something to look out for.
Rob Halligan
122
Posted 19/02/2022 at 12:35:49
John # 119. Not far behind you. See you in the ground.
Ben Pullen
123
Posted 19/02/2022 at 12:48:03
@ Shane 121. Frank was asked about this at this weeks press conference. As others said earlier in this chat, Frank said he didn't see it as an issue as many clubs have been chasing "marginal gains" in matches for a long time and it happened back when he was a player.
That said maybe he'll instruct our players to watch out for the fake Saints injury scenario and catch a breather / electrolyte gel / Duracell juice boost at the same time.
Alternatively for comedy gold he could instruct all our players to collapse and feign injury at the same time as the fake Saints injured player in the 60-70 min mark. Yet that's highly unlikely to happen! 😆
Brian Murray
124
Posted 19/02/2022 at 13:04:32
Currently in a boozer about 30 min from st Mary's. These mush are alright and we reminiscing about the Highbury semi ( the last time I cried over Everton ) became we knew we was witnessing us a force until some shiesters took it all away one night in Belgium. They all agree bally even at veteran stage was the best one touch footballer they had ever seen. Coyb let's have these.
Robert Tressell
125
Posted 19/02/2022 at 13:07:12
Lost track of who is fit but makes sense to go with the team that started the last game except for possibly Mykolenko for Kenny and Alli for Iwobi.
Both Kenny and Iwobi would be very unlucky to miss out, especially Kenny. I'd rather have Alli though than Iwobi given Saints are strong with Romeu, Ward-Prowse and Armstrong in the middle and we'd benefit from (hopefully) a bit of bite and snarkiness from Alli.
Iwobi probably better suited to home games.
Ben Pullen
126
Posted 19/02/2022 at 13:21:34
In the training video, Iwobi looked heavily involved and was working well in all his drills. Kenny too was getting special instructions off Ash Cole.
Both Joe and Frank have talked about Franks meritocracy philosophy in terms of training and games. So I'd be surprised if JJK and Iwobi don't start to be honest.
I wonder whether Frank will set up the same team that started the Leeds epic win in a 4-2-3-1 formation or 4-4-1-1. Then Richarlison can drop a bit deeper off Dom to press and harry the Saints defenders like he did as well as any of Gordon and Iwobi against Leeds. It would also allow Frank to sub Dele on for DCL later on in the game, as Dom returns to fitness, pushing Richi up front - without changing the formation in game which he did last week. Yet from last weeks game I would say the front 4 are quite fluid in attack. So a 4-4-2 could be in operation again as far as pressing without the ball, yet be more creative when without the ball to find the spaces in between the lines for the two 6's Allen and VDB to pass into. The training drills on YouTube show Allen and VDB operating as a pair and Gomez and Duke as another pair in the centre of the passing drills. This has been a common theme in the training videos released so far.
As for beating the Saints press, it appeared in the Leeds game that Holgate and Keane were instructed to get it to Allen / VDB or fullbacks if it was easy to or go route one if it was not via themselves or via Jordan, and if in doubt kick it out. That worked better than trying to play out from the back all the time. Route 1 defence from the centre backs was more solid if less attractive and worked. With DCL in the team as a focal front man flicking it on or holding the ball up, It also allows the team to get the ball into the opposing half quickly to allow our nimble attacking quartet to attack with the ball or do the pressing and harrying if we don't retain possession - as far away from our goal as possible. That's my view anyway
Jamie Crowley
127
Posted 19/02/2022 at 13:21:52
About the starting XI:
I remember something Sir Alex Ferguson said that I always found interesting. When asked the question how do you pick a line up week in and week out with the myriad of options, Sir Alex responded (Para), "It's the easiest part of the job, really. The lineup picks itself. The players decide the lineup by how they train all week."
Frank, to me, seems to adopt this philosophy and puts a lot of emphasis and importance on training mid-week, and then decides his lineup based upon said training.
So for me, I'm done worrying about who's starting and who's playing where. At least temporarily. That's up to Frank, and the players have probably already decided who's playing based upon how they trained all week.
COYB
Shane Corcoran
128
Posted 19/02/2022 at 13:23:14
Ben, I decided to be lazy and not bother checking if this had been discussed.
Your idea of collapsing would be worth the entrance fee.
Jamie Crowley
129
Posted 19/02/2022 at 13:26:12
Ben @ 123 -
If we did that, it would never, ever be forgotten. It would be one of the funniest things I'd ever seen in sport.
It'll never happen, by man would that be hilarious.
Jim Lloyd
130
Posted 19/02/2022 at 13:28:36
Yep, Jamie. I listened to Joe Edwards interview a bit earlier on. and that comes across strongly. The training during the week is the major factor for who plays.
Jamie Crowley
131
Posted 19/02/2022 at 13:34:29
As if everyone didn't know this already, but this feel-good-factor scares me.
If we don't pick up points today, we have Man City next week, and although I'll hold to hope, you'll be hard pressed to find many who give us a chance in that one.
If we don't pick up points, we'll most likely be right back in the mess we were in prior to the Leeds game.
We need points today.
Robert Tressell
132
Posted 19/02/2022 at 13:38:33
Ben #126, I find it refreshing to see defenders go long - especially if the opposition is pressing very high away from home. No sense in continually putting yourself under pressure by knocking the ball around very close to your own goal. It's not like we've got a Busquets or Modric in midfield to beat the press. If in doubt, clear the lines and make the opposition defend.
Ben Pullen
133
Posted 19/02/2022 at 13:41:54
Jamie @127 and Jim @130. I totally agree as per my own comment earlier.
In my opinion the meritocracy philosophy underpins how Frank and Joe and all the staff are helping to improve confidence both individually and collectively.
There's no chance under Super Frank as far as I see it, that if a player has a bad game he'll be ousted out of the team for a few weeks, whether he loves the club or not and trains hard every day; hung out to dry by the manager in a press conference for having a bad attitude; put on the bench for a game with no chance of playing despite when the team is playing poorly and then flogged to a rival team to help out your ex rs mate for a bargain price in the next transfer window!!! That sort of negative control freak management doesn't install confidence in your team and your players in my opinion. It's just downhill at bobsleigh speed after that.
Cold shoulder and constructive criticism works for a few players; yet praise after a good game, training efforts rewarded and constructive support and coaching works for many many more whether you're a premier league footballer or anyone
Nicholas Ryan
134
Posted 19/02/2022 at 13:43:35
Those making the trip down, should be listening to tapes of a great Merseybeat band. No, not the Beatles... Rory Storm and The Hurricanes!
Will Mabon
135
Posted 19/02/2022 at 13:44:23
Jamie - nothing much has changed yet, table-wise; we need those points and we'll keep needing them for quite a few games at least.
What has changed is the likelihood of earning results/points. Inevitably some more losses to come but we now have hope and potential. We didn't have that before.
Whatever the result today, we can almost guarantee not seeing a Benitez-like performance. That for now is its own result.
Andrew Keatley
136
Posted 19/02/2022 at 13:55:54
Dave (117) - I hope he continues to knit things together nicely and work as hard as he is. Tough opposition today, but his energy and industry and fluidity should give us a good platform to compete in that midfield area against Romeu and Ward-Prowse (who I think are one of the most under-rated pairings in the league). Going to be a good challenge for Lampard and the players.
Derek Knox
137
Posted 19/02/2022 at 13:56:25
Nicholas @ 134, or Billy Fury, Crystal Gayle, The Tornadoes, and watching Stingray (Troy Tempest) :-)
Colin Glassar
138
Posted 19/02/2022 at 13:57:22
Like some on here I fail to get excited after ONE win. Over the last 10 years Everton have drained all my belief and optimism and as these are basically the same group of players who have downed tools on successive Everton managers.
So, despite having (a certain amount of) faith in Lampard it's hard for me to trust these players. So until they go on a winning streak (5-6 games) I simply don't believe their hearts are in it.
Sorry for pissing on anyone's parade but this is what it has come to. I make no predictions as this is a very good Southampton team that can beat anyone on their day. Let's see which Everton side turns up.
Jamie Crowley
139
Posted 19/02/2022 at 14:01:17
Will @ 135 -
Just not seeing Rafa is a breath of fresh air for me.
Jim @ 130 -
I just now watched that Joe Edwards interview. What an impressive young man. All I could think of while I watched the interview was that I'd be entirely happy if HE were the manager! Now, I don't mean he should be, what I'm trying to say is that Joe Edwards, based upon what I saw, is going to manage some club, somewhere, in the future and for now I'm very happy we have him, based upon that interview.
For the first time since Roberto (yes, yes, I know...) I'm entirely happy with our coaching set up. That's a long time to go without really feeling the love. I tried with Silva and Koeman, but their style of play pissed me off too much. And Fat Sam and Rafa the less said the better. Never warmed to either of them.
I think it's just wonderful to be full of hope and excitement again.
---
Add Your Comments
In order to post a comment, you need to be logged in as a registered user of the site.
Or Sign up as a ToffeeWeb Member — it's free, takes just a few minutes and will allow you to post your comments on articles and Talking Points submissions across the site.