Everton vs Manchester City
Friday, 25 February, 2022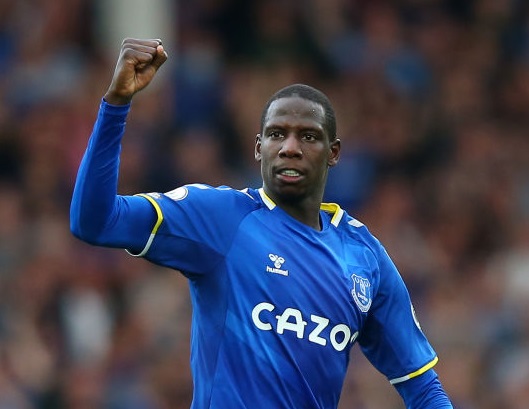 Abdoulaye Doucouré has been back in full training but it remains to be seen whether he is judged to be 100% fit and ready to start
Frank Lampard brings his Everton side back to Goodison Park after another ugly away defeat hoping to make it three home wins on the bounce, but he faces arguably the toughest opponents in the division.
The Blues are winless against Manchester City in their last 10 games in all competitions and come up against the reigning Champions and Premier League leaders at an inopportune time in the season.
Playing later on Saturday afternoon, Everton's position in the table could be even more precarious than it already is heading into the weekend, with all of the teams around them in action before kick-off at Goodison Park.
Lampard will be focusing on preparing his side for the task at hand, though, and looking to fashion at least a point from a fixture that is usually a pointless exercise for Everton given the huge imbalance in talent and form between the two sides.
Article continues below video content
On any given Saturday, however, when it's 11 vs 11 under the lights with the home crowd behind them, the Toffees should go in believing that anything is possible, particularly with talent in the forward line like that of Richarlison and Dele Alli, the goal-poaching presence that is Dominic Calvert-Lewin and the possible return of Demarai Gray after two games out with a hip problem.
In addition, central midfield could also be bolstered by Abdoulaye Doucouré's availability, although supporters will have to wait for the team announcement to see if the Frenchman is thrown straight back into the starting XI.
It also remains to be seen how many of the players who performed so badly at Southampton last weekend retain their spots and what sort of formation the manager goes for in what will be a Herculean task for his team. A five-man back line could be the order of the day if he seeks to contain City for the first half at least.
Alex Iwobi and Jonjoe Kenny were rewarded at St Mary's for their superb outings in the last home game but weren't able to replicate their displays against Leeds and Lampard may feel that a more naturally left-sided player like Vitalii Mykolenko is a better option at left full-back or left wing-back. (The Ukrainian's inclusion in the squad isn't guaranteed, of course, given the alarming events back in his homeland where his parents still live but he may welcome the distraction of playing if selected.)
If there is to be change in Iwobi's spot, Dele could be the beneficiary. The former Spurs star has yet to make his first start for the Blues since joining the club on transfer deadline day and Lampard may feel that this is the occasion to hand him that full debut.
City travel having been wounded by their defeat at home to Tottenham last Saturday, one which most observers expecting will provoke a backlash as Pep Guardiola demands a response from his players.
Of his regular starters, Pep Guardiola only looks likely to be without Gabriel Jesus and Jack Grealish, both of whom are ruled out. Young striker Cole Palmer is also sidelined with an ankle injury but was not likely to be named in the starting XI.
As has been the established pattern in this fixture, City will dominate possession and do their best to pick Everton's erratic defence apart but there is at least precedent from last season's League Cup quarter-final tie at Goodison where a Blues side featuring five of the 10 likely outfield starters this weekend managed to frustrate their hugely fancied opponents for 84 minutes behind closed doors before the seemingly inevitable breakthrough was made.
A repeat of that kind of stubborn rearguard action would at least give Lampard's men a platform from which to try and pick the visitors off on the break at the other end or capitalise on a set-piece opportunity.
Kick-off: 5:30pm, Saturday 26 February, 2022
Referee: Paul Tierney
VAR: Chris Kavanagh
Last Time: Everton 1 - 3 Manchester City
Predicted Line-up: Pickford, Coleman, Holgate, Keane, Branthwaite, Mykolenko, Allan, Van de Beek, Alli, Richarlison, Calvert-Lewin
---
Reader Comments (141)
Note: the following content is not moderated or vetted by the site owners at the time of submission. Comments are the responsibility of the poster. Disclaimer
Mike Gaynes
1
Posted 25/02/2022 at 07:01:32
I hope to see the City and Everton players do for Mykolenko and Zinchenko what was done in the NBA Thursday night in Sacramento. The Denver and Sacramento players came together and linked arms in support of Sacramento's Alex Len, one of two Ukrainian players in the NBA.
Sacramento Kings, Denver Nuggets lock arms in show of solidarity with Alex Len, Ukraine
And the substantial local Ukrainian community was represented with songs and flags.
Goodison should do the same.
Additional note: Mykolenko's home city of Cherkasy has not yet been attacked by Russian forces. The fighting remains some distance away from his parents at this moment.
Colin Glassar
3
Posted 25/02/2022 at 07:16:22
Everton 0 Paul Tierney 4
Lee Courtliff
4
Posted 25/02/2022 at 07:44:17
Well, we're "due a win against them". Right now I'm thinking it's just going to be us defending until their inevitable goal but I'm sure that by kick off tomorrow, I will have convinced myself that we'll pull off an incredible victory. Spurred on by the passionate support of our fans.
I understand why some are saying our front 3 should be Gray, Richarlison and Gordon but it's hard to see Calvert-Lewin being left out. We're going to be penned in for long periods and Frank will be thinking that Dominic is our only player capable of holding the ball up and allowing us to get out and relieve some pressure.
I think a 4-5-1 with Richarlison and Gordon wide with Allan, Van de Beek and Alli or Gomes will give us our best chance. We must commit to the counter-attack with purpose and belief to stand any chance whatsoever. We cannot be timid.
And I'd definitely save Doucouré for another game. No point rushing him back and risking yet another injury.
Martin Krogh
5
Posted 25/02/2022 at 08:13:45
Obvious defeat. Probably by 3 or 4 goals. Burnley beats Palace and we are in the relegation zone.
The odds for an Everton-win is 10,5. Just sayin.
Eddie Dunn
6
Posted 25/02/2022 at 08:52:58
Mike- solid sentiments - footy seems nothing after watching the invasion.
However, Man City are vunerable to the counter and hope springs eternal.
Christopher Timmins
7
Posted 25/02/2022 at 08:53:28
We have a 100% home record under the new boss, just hopin!
Jack Convery
8
Posted 25/02/2022 at 09:03:48
I think we should turn Goodison Blue and Yellow on Saturday and show our support for Ukraine and of course our very own Ukrainian – Vitaliy Mykolenko.
Brian Murray
9
Posted 25/02/2022 at 09:04:37
Whatever the result tomorrow, we have set an example in the home matches at least that, if we match the work rate for the rest of the season, we should have far too much over the bottom teams to be there much longer.
Michael Connelly
10
Posted 25/02/2022 at 09:04:59
I'm assuming that will be the end of the air-raid siren before kick-off.
Eddie Dunn
11
Posted 25/02/2022 at 09:07:03
Michael - I hope so, didn't like it anyway.
Brian Murray
12
Posted 25/02/2022 at 09:08:39
If Dunc's input is fading from the touch line even more, he has my permission to put another monkey behind the bar at The Brick, The Oak and The Winslow. Here's to ya, big man.
Shaun Laycock
13
Posted 25/02/2022 at 09:19:46
4-3-3:
Pickford
Coleman
Keane
Holgate
Mykolenko
Allan
Van de Beek
Gordon
Richarlison
Gray
Calvert-Lewin
Peter Carpenter
14
Posted 25/02/2022 at 09:21:25
Michael and Eddie, me too, I hate it.
John Keating
15
Posted 25/02/2022 at 09:29:01
We certainly need to get something out of this game. We could be in the Bottom 3 after this weekend's games and it's okay saying we have games in hand but we are in a rut and it doesn't mean we'll get points from those games.
Burnley are doing what Burnley and Dyche do almost every season and know what's needed. Newcastle are definitely slowly getting it together. It doesn't really matter how we play or how we set up, we need points any way possible.
Michael Lynch
16
Posted 25/02/2022 at 09:33:39
Perhaps the air raid siren could now be seen as a gesture of support for Ukraine, like taking the knee for the fight against racism. Football can never have too many shows of solidarity with the oppressed in my opinion.
Stan Schofield
17
Posted 25/02/2022 at 09:55:20
Well, although City are the best side in Britain by a country mile, they're not unbeatable, and if we perform as well as we did against Leeds then we could get a decent result. City lost to Spurs, because the latter played well amongst a run of defeats. We can do similar.
Dave Abrahams
18
Posted 25/02/2022 at 10:48:44
Just to lighten the mood regarding our plight at the moment, I was at a funeral yesterday, Jesus see how lightened the mood there!, any way I was asked a question about the Blues by a Liverpudlian, one of the good guys, La Dowling, he has helped run Waterloo Dock after playing for them along with Canada for the last fifty seven years, what about the question get on with it!!
The question is: No checking up answer it honestly, who scored Everton's first goal in European competition football? I guessed but got it wrong, wasn't far away though!!
Bernard Dooley
19
Posted 25/02/2022 at 10:55:03
We haven't see a lot of Mykolenko apart from the Hull game and I often wonder when young players come in from abroad how they go about settling into a domestic life over here, as well as trying to integrate into the squad.
Does the lad live in the Merseyside area or maybe the Manchester region where there is large community of fellow Ukranian expats?
Either way, we sympathise with his situaton and hope he can get mind and body in the right place in order to help his team who are sleepwalking into a relegation spot.
Wonder if Zinchenko will be in the City squad?
Stan Schofield
20
Posted 25/02/2022 at 11:09:58
Mike@1: Songs and flags are one thing, but more substantial protests and support are another. We could just boycott the game in view of Everton's involvement with Usmanov, one of the oligarchs included in the UK government's list of oligarchs with links to Putin.
We could go further, and demand that the UK sever all economic and business ties with Russia, including all oil and gas business arrangements. We could also demand that the USA does the same, particularly in light of Biden's announcement that some energy industry arrangements would not be included in sanctions, an announcement which reduced the price of Brent crude from $105/barrel to $98/barrel yesterday.
Brian Harrison
21
Posted 25/02/2022 at 11:15:27
Dave 18
I have to say I havent a clue so my guess is Johnny Morrisey, and the only reason I say Johnny Morrisey is because you say it was a Liverpudlian who asked the question, so I guess the answer might have a link to Liverpool. But I might not even be in the right era.
Laurie Hartley
22
Posted 25/02/2022 at 11:17:29
Dave - Alec Scott??
Edit: I am wrong but I wasn't far away either. I know who it is but I've had my chance.
Chris Williams
23
Posted 25/02/2022 at 11:26:32
Dave,
Was it Dennis Stevens?
Jim Wilson
24
Posted 25/02/2022 at 11:28:11
I hope your predicted line-up using 3 central defenders is wrong as I think it is a waste of a player. 4-5-1 changing to 4-3-3 going forward is what is best.
Stan Schofield
25
Posted 25/02/2022 at 11:39:21
Dave, Alex Young?
Ray Roche
26
Posted 25/02/2022 at 11:45:53
Roy Vernon?
Dennis Stevens
27
Posted 25/02/2022 at 11:53:41
It wasn't me, Chris - I was only born in '62! :-)
Steve Griffiths
28
Posted 25/02/2022 at 11:56:21
My Dad reliably informs me it was a Dennis Stevens winner in a 1-0 win against Dunfermline in the Fairs Cup. Apparently it was hotly disputed as his header hit the bar, bounced down on the line & out. Everton lost the second leg 2-0.
Brian Harrison
29
Posted 25/02/2022 at 12:09:57
Just to get back to the game, I think most neutrals have this down as an easy away win for City, and they may well be right. Some might say, with them losing at home to Spurs, that they will be really up for this game and will be looking to put that defeat behind them as quickly as possible.
While I am sure they will be looking to get back to winning ways, I am sure that last week's result may have sown a small doubt in their minds, and they will also be aware that Frank has won both of his home games very comfortably.
At the moment, there is no denying that Everton are a very different animal at home to what they are away, and that's still a puzzle that Frank and his coaches will be trying to solve. But it's worth remembering that Frank understands how Pep sets his teams up, having played under him towards the end of his career.
As for which side Frank selects, I don't know. Me personally, I hope that we have Allan with Doucouré on the right and Dele Alli on the left of midfield. Although Dele Alli has only been used so far as a sub, I think Frank will be keen for him to start games, so this might be the right time.
I don't think he has many options at the back, as I don't think Mykolenko will be selected and I can't see him using this game to start Patterson or Branthwaite. I hope Gray is fit to start and then Frank will have a choice as to who is front 3 will be. I am not sure if Calvert-Lewin is yet fit enough to press City's back 4 for a whole game.
But I do think we will get something from the game.
Chris Williams
30
Posted 25/02/2022 at 12:14:50
Sorry Dennis. It must have been your doppelgänger!
I was thinking of the Inter-Cities Fairs Cup match in October 62. So you'd have definitely been a bit young!
Dirtiest match I ever saw.
Matthew Williams
31
Posted 25/02/2022 at 12:43:51
If the Spurs can win at City, then why can't we beat them?
Tall ask, yes, but City do look slow and just pass happy sometimes...
For me, they just don't have that killer instinct like their neighbours did in their pomp (can't see them winning the Champions League with Pep in charge neither).
Just Believe, eh, Blues, we need points desperately and with some really tough away days coming up, we need to make home advantage count... NOW!
Dennis Stevens
32
Posted 25/02/2022 at 12:51:19
Sounds like a good shout, Chris. At that point in time I probably just had the dirtiest nappies anybody ever saw!
Jamie Crowley
33
Posted 25/02/2022 at 13:27:19
Somehow or another we simply have to play 3 in central midfield. We have to clog up the middle of the pitch against City.
If we don't and there's truckloads of space for them to operate, we'll be torn apart.
Barry Rathbone
34
Posted 25/02/2022 at 13:42:28
Real 50/50 on this game… be nice to win and help the relegation fight but king chokers City will disintegrate if we do and the shite will storm in. Given we're finished as a competitive club, watching the shite fail is the only real pleasure left in footy. Plus it won't be this game that determines our fate.
Not really arsed tbh.
Chris Williams
35
Posted 25/02/2022 at 13:47:49
Dennis,
There were probably a few dirty nappies that night. It coincided with the Russian trawlers bumping into the US Navy just off Cuba.
Never heard 48,000 people so quiet. You could hear conversations 25/30 yards away!
So a bit topical currently I guess.
Rob Dolby
36
Posted 25/02/2022 at 13:55:28
Pickford
Coleman Keane Holgate Kenny
Townsend Van de Beek Allan Doucouré Richarlison
Calvert-Lewin
I can't see Lampard picking Mykolenko.
Sit tight and hit them on the break.
Brian Murray
37
Posted 25/02/2022 at 13:57:46
Barry @34. I'm with you brother. For the greater good it's not worth paving the way and as you say this game won't determine our fate. I'd just like us to set a bar and level and stick to it week after week. Too much to ask sadly.
Stan Schofield
38
Posted 25/02/2022 at 14:05:33
Bloody hell, the idea of not being bothered whether we win this game based on a City defeat giving the RS a greater chance of winning the league is astonishing.
Fuck whether the RS win the league or not. We need to win as many games as possible. If you can't handle crass comments from RS supporters, either adapt and give as good as you get, or go into hiding, but don't ever be not bothered about us winning.
Colin Malone
39
Posted 25/02/2022 at 14:09:16
Putin wants a war. Russians don't.
Stan Schofield
40
Posted 25/02/2022 at 14:12:50
Colin, that's the same with all wars, manipulative power elites want them, ordinary folk, who have to fight them, don't. Perhaps the main lesson of history.
Danny O'Neill
41
Posted 25/02/2022 at 14:26:15
Any footballer goes out to win a match or they shouldn't be on a football pitch.
Whether they can or not is a different matter, but the mentality should be they walk on that pitch wanting to win.
It's football. Anything can happen and sometimes it does, providing you believe it can.
I hope the team doesn't get stage fright before it has walked onto the stage.
Steavey Buckley
42
Posted 25/02/2022 at 14:34:12
Both Everton full backs had poor games last weekend. Also, Anthony Gordon and Alex Iwobi failed to help out in central midfield and left them exposed.
I would bring in Jarrad Branthwaite at left-back and Kenny at right-back. Gray upfront with Calvert-Lewin with Richarlison on the left wing and Van de Beek on the right alongside Doucouré and Allan.
My Everton team v Man City: Pickford, Kenny, Holgate, Keane, Branthwaite, Van de Beek, Doucouré, Allan, Richarlison, Calvert-Lewin, Gray.
Raymond Fox
43
Posted 25/02/2022 at 14:48:06
Well we are 11/1 to win and 5/1 a draw tomorrow, I think that says everything about the gulf in class.
Stranger things have happened, you never say never, I'd take a draw now though with open arms.
As far as bothering if the result helps the reds, I don't give a monkey's, I'm only interested in us.
Brian Murray
44
Posted 25/02/2022 at 14:55:15
Should be great atmosphere with a lot well oiled before it. Is it too soon for our two new full backs?
Jeff Armstrong
45
Posted 25/02/2022 at 15:04:13
Stan #38, spot on, some right odd comments on here, fuck the RS. We need points on the board and momentum starting now, not hope for points next week or the week after that.
If you'd rather see Everton relegated if it means them not winning the league, then you're a moron.
Brian Murray
46
Posted 25/02/2022 at 15:11:49
Chris @30. Was that the infamous Leeds game? The ref took both sides off to cool down.
John Boon
47
Posted 25/02/2022 at 15:15:44
Could Not, Would Not and Will Not care about how we in any way affect Liverpool's position in the League. Never Care what they do. I am an Evertonian and always want to win.
Try to never let Liverpool even come into your thoughts.This is the only approach I have ever had over eons.
Colin Malone
48
Posted 25/02/2022 at 15:27:59
Stan #40.
The world has changed now that internet connection is here. Where Putin would get away with yesteryear propaganda, people all over the world have the facility to communicate to what's right and wrong.
Remember, the Russian people hate Putin.
Rob Halligan
49
Posted 25/02/2022 at 15:37:50
Barry #34.
You're right, it won't be this game that decides our fate, nor will it be the game that decides who wins the Premier League. We've got to go all out and try to win this game, and every game after it.
As Stan and Jeff say, anybody who wants us to lose this game just to hope it prevents the RS winning the league can fuck right off.
Besides, City can easily go on a mega winning run after tomorrow, winning every game which will make them Champions, but for now, we've got to beat them, or at least draw.
Dale Rose
50
Posted 25/02/2022 at 15:51:52
If we do our job tomorrow, we can win this. Simple. No bad passing, challenge for every ball, and keep pressing.
Chris Williams
51
Posted 25/02/2022 at 15:54:16
Brian,
No that was against Dunfermline in the Fairs Cup. Absolutely filthy.
October 1962, so a few years earlier. Jock Stein's first management job.
Kieran Kinsella
52
Posted 25/02/2022 at 16:00:43
Why are we even discussing the RS on this thread, much less suggesting we lose when we could find ourselves in the relegation zone before a ball has even been kicked? Come on. It's one thing to dislike them but to wish pain on ourselves just to annoy them is really sad.
P Ron Wells
53
Posted 25/02/2022 at 16:11:04
Chris, 51
Was that the game Alex Young got a yellow card for picking up the ball after a foul on him and booting it at an opposition player? Happened in front of the Bullens Paddock.
Philip Abbott
54
Posted 25/02/2022 at 16:13:46
Adult and junior tickets v Man City, contact Roy on 07894032243
Chris Williams
55
Posted 25/02/2022 at 16:19:18
P Ron,
I couldn't say for sure. It would certainly have been in keeping with everything else that went on that night.
Two headlines in the Echo and the Post afterwards
'No Holds Barred in Battle of Goodison"
"Reckless, Scrappy, Scruffy, Football Content Nil"
Courtesy of Blue Correspondent website. Well worth a browse.
Danny O'Neill
56
Posted 25/02/2022 at 16:36:19
This and the next game don't decide our season. The next 3 are more important.
The London born Liverpool supporting barman asked me last night whether I wanted Everton to lose on Saturday.
"Why would I want that to happen?" I asked him. If I didn't know him, I'd have been offended.
Dave Abrahams
57
Posted 25/02/2022 at 16:39:56
Chris (23) and Steve (28), both right with Dennis Stevens.
I went with Billy Bingham and my mate said Bingham took the corner from which Stevens scored the goal. I was at the game but couldn't remember who scored the goal.
As Chris (30) says, one of the dirtiest games imaginable with Dunfermline doing the bulk of the fouls from the off and Everton giving them some back.
Dave Abrahams
58
Posted 25/02/2022 at 16:45:02
No fan of Liverpool but I hope they are a lot closer to Man City tomorrow night.
Chris Williams
59
Posted 25/02/2022 at 16:46:10
Cheers Dave,
Typical Everton to play their first competitive 'European' game against a Scottish team. And then get beaten over 2 legs.
There's extended footage of the second leg on YouTube and we were rank. Gabriel looked immense though, pretty much on his own.
Ray Robinson
60
Posted 25/02/2022 at 16:58:56
We need points urgently. It doesn't matter where they come from. If we, by some miracle gain one or three points tomorrow and stay up by only one point, how can anyone willingly write tomorrow's game off? Doesn't matter where the points come from.
The sheer stupidity of the counter argument baffles me. Who in their right mind ever wants Everton to lose just to spite Liverpool? I just don't get it.
If Liverpool do benefit and go on to win the league, I'll just shrug my shoulders and get on with it. "We don't care what the Red Shite say, what the fuck do we care?"
Christopher Timmins
61
Posted 25/02/2022 at 17:05:24
If all fit and ready to go then we should start with
Pickford
Coleman
Holgate
Branthwaite
Mykolenko
Townsend
Doucouré
Allan
Van de Beek
Gray
Calvert-Lewin
Gordon to replace Townsend and Richarlison to replace Calvert-Lewin at the 60-minute mark.
Lyndon Lloyd
62
Posted 25/02/2022 at 17:14:49
I was asked yesterday if I'd actually seen anyone saying they'd either prefer us to lose to City or wouldn't be arsed if we did because it would help Liverpool's title chances. Well, it looks like we've found two at least on this thread.
Jesus wept – we need points; as many and as quickly as possible. I don't care what the shite win as long as we're in the Premier League because City denying that lot the title will feel pretty meaningless if we're in the Championship!
Ray Robinson
63
Posted 25/02/2022 at 17:16:32
Sorry, Christopher, but this is one game where Keane must start. We will be pressed back and we have no better deep-lying defender than Keane – for all his limitations.
Also, is this best game to introduce a Ukranian left back who has failed to impress so far? The defence you suggest would get shredded.
Jeff Armstrong
64
Posted 25/02/2022 at 17:27:54
Lyndon #62, Surely they have contravened the T&C's of this site,... ban em!
Just so they can take time to reflect.
Jay Harris
65
Posted 25/02/2022 at 17:28:52
Jamie,
Man City are just as lethal down the flanks as in midfield so it's important the whole team is alert and organized. It doesn't matter who the 11 are as long as they play as a team and stay organized to frustrate City and hopefully hit them on the break.
They are not infallible, but our lads need to be 100% on their game.
Denis Hignett
67
Posted 25/02/2022 at 17:39:49
The way to play Man City is on the break, as Spurs did last week.
Playing Calvert-Lewin is a waste of time as he won't get the support from the flanks. Play Gray, Richarlison and Gordon.
City love to play down their left. Right back will need some help.
It will be a tough night. City don't often lose two on the spin.
COYB.

Barry Rathbone
69
Posted 25/02/2022 at 17:45:09
Lyndon @62, That's just "better Evertonian" bullshit.
We could easily get relegated whatever the City result because we've been shit for years and doubly so this year. Equally the shite could win the title regardless of the result, it's in the lap of the gods, but the notion Evertonians don't care what Liverpool are up to because a few on the internet puff out their chests in indignation is utter bollocks.
Ask yourself why we call them the shite, murderers etc and they call us "bitter"? It's because we hate them. Not as individuals, there are some decent people afflicted with the red virus, but as an entity they are our sworn enemy. Anyone not understanding that, I would suggest didn't live through the 60s and 70s.
Brian Denton
70
Posted 25/02/2022 at 17:52:58
Have to agree with you, Barry (69).
Christopher Timmins
71
Posted 25/02/2022 at 17:55:10
Ray, Keane was not the answer when we played them at their place earlier in the season and we played very deep that particular Sunday afternoon. Did Sterling not cause him a lot of problems?
Stan Schofield
72
Posted 25/02/2022 at 18:00:29
Barry @69:
I lived through the '60s and '70s living near both grounds, and I don't hate them. I hardly think of them, and then only when they inevitably prattle on about various shite when they're sore losers or ungracious winners.
The trick is to give more back than you receive, and that's easy with respect to the modern era, where they've won the Premier League once compared with the numbers Man Utd, Man City and Chelsea have achieved, plus Arsenal. Too many of them are full of shit, and it's easy to deal with.
So fucking no, we need to focus only on us. It should come naturally, but obviously for some people it doesn't. More practice needed?
Lyndon Lloyd
73
Posted 25/02/2022 at 18:02:03
Barry (69), I didn't say that we Blues don't care what LFC are up to because, for all the evidence you raise, we clearly do. I understand where the hatred comes from and I don't want them to win so much as a corner.
But if you're so concerned with the reds that you'd further imperil our survival hopes by hoping we lose to City rather than gain a much-needed morale boost then, personally, that's just not something I can get on board with.
Ray Robinson
74
Posted 25/02/2022 at 18:03:01
Maybe so Christopher but your proposed defence would ship more than three in my opinion. You'd have two youngsters up against such a potent attack?
Ray Robinson
75
Posted 25/02/2022 at 18:11:53
Barry, got to agree totally with Lyndon. Nothing to do with being a "better" Evertonian.
I lived through the '60s and '70s but only grew to really dislike the Reds after Heysel.
If it was a dead rubber game, I might just bring myself to agree with you – and even then reluctantly. I never want Everton to lose – least of all when our Premier League survival is at stake. Don't understand your attitude at all. We can't pick and choose when we pick up points.
Jerome Shields
76
Posted 25/02/2022 at 18:18:57
They will probably play well against City.
Rob Halligan
77
Posted 25/02/2022 at 18:19:31
Jeff # 64. Totally agree, ban them only don't let them back.
Nick White
78
Posted 25/02/2022 at 18:20:36
I started a new job in Manchester 2 weeks ago and the amount of people asking me if I'd be happy to see us lose so City can stay ahead of Liverpool is mad. The answer to all is always No! Everton win every time!
I'll be there tomorrow with my dad and hoping we scrape something. I'll take a jammy 1-0 win now with a clearly offside goal.
Brian Murray
79
Posted 25/02/2022 at 18:25:29
Jeff Armstrong. Different views and perspectives doesn't make you or anyone a better or more deserved title as an Evertontonian. It's called free speech and if you want people banned why not go the whole hog, get a fury hat and do one to Russia? People as we speak are dying because of free speech or lack of it.
Allen Rodgers
81
Posted 25/02/2022 at 18:30:33
At this point I've given up thinking about the prospect of the shite winning the league. My only concern is my beloved Blues staying up; if that means taking points off City, so be it!
Barry Rathbone
82
Posted 25/02/2022 at 18:34:39
Ray Robinson 75
I have to say if you didn't take umbrage with Shankly raising them from the dead and his various declarations about us. The heathen celebrating the European Cup like it was the second coming, Emlyn Hughes enjoying himself at our expense at St George's Hall plus numerous other dancing on our grave moments you really must have a very sanguine approach to EFC.
Plus I think you and others have entirely misrepresented my original post. But if it makes you feel like a super blue, have at it, I really couldn't give a shit.

John Boon
83
Posted 25/02/2022 at 18:38:05
Simple:
(1). I always want Everton to win.
(2). I never care what Liverpool do.
Rob Halligan
84
Posted 25/02/2022 at 18:40:53
Barry, seeing as it's you that Lyndon is referring too, I take it you won't be attending Goodison tomorrow? After all, what's the point of splashing out on a ticket when you don't want your team to win?
I don't know where you live, Barry, so maybe you are not in a position to attend Goodison, for geographical or personal reasons, but just think of the fans who will be attending, willing their team on to win. Do you think any of them "Won't be arsed if we lose or not?"
For fuck's sake, get behind the team, everyone get behind the team, whether it's at the stadium, watching on TV on the other side of the world, or gathered around a radio. The club needs everyone's support and forget about the RS. They won't win the league tomorrow if we beat Man City, just as we won't be relegated tomorrow if we lose.
Brian Murray
86
Posted 25/02/2022 at 18:41:38
Nick post 78. Ha ha it maybe the one occasion the fella in the van actually gives us a call against their lovable rivals.
Lyndon Lloyd
87
Posted 25/02/2022 at 18:44:12
Brian (79), I think Jeff was joking. Lighten up, folks!
Bill Gienapp
88
Posted 25/02/2022 at 18:46:39
Glass half-full: If we show the same spirit and endeavor we did against Leeds, backed by a similar crowd, there's no reason we can't make life difficult for this lot. They're not invincible.
Glass half-empty: We haven't taken so much as a point off City since Koeman was here, and coming off the Spurs loss, they're not exactly primed for a banana peel.
Nicholas Ryan
89
Posted 25/02/2022 at 18:47:06
Every sports team has to seek to win every match it plays, regardless of the 'ripple' effect on others.
Stan [72] 'I don't hate them. I hardly think of them...'. You are wiser than you know.
I once heard a Professor of Psychiatry giving evidence in a bitterly-contested divorce case. The Judge said: 'So, Professor, these people really hate each other?'
'No, my Lord' said the Psych. 'This hatred is merely the other side of love. True hatred shows itself in indifference... If you mention my wife's name and I foam at the mouth, that is not hatred. If you mention my wife's name and I say "Who?"; THAT is hatred!!'
Brian Murray
90
Posted 25/02/2022 at 18:56:31
Nicholas @91. The world (our blue one) would be much easier with that indifference. Such deep profound words could easily have been Kipling (not the cake fella). I'm Gona chant that mantra to myself from now on.
Derek Knox
91
Posted 25/02/2022 at 19:11:24
Needless to say I want a win, and three points, highly unlikely (?) yes, but not impossible either, the only downside would be gifting the RS the equivalent of three points. Much as I hate to give them anything, even the steam off my Steak Pudding (kept it clean) our survival is more important than what they do!
COYB 💙💙
Jeff Armstrong
92
Posted 25/02/2022 at 19:13:48
Derek #97, I wouldn't give them the shit off my steam.
Rob Halligan
93
Posted 25/02/2022 at 19:21:30
The RS bastards are being very nice towards us all of a sudden this weekend…
I hope Chelsea twat them on Sunday!
Stan Schofield
94
Posted 25/02/2022 at 19:26:40
Nicholas @91: For me, I think it's just the way I was used to seeing football. Right from when I started going the game in 1962, it was all about Everton, and no other team came into it unless we were playing them. I always respected Liverpool, but then I respected every team. I call them the RS only on this site, otherwise I call them Liverpool.
I've always found their supporters to be less sporting than ours, but then I believe their team has had a win-at-all-costs attitude, dating from Shankly, that has set their culture. I find all that unpleasant, but also somewhat amusing and tribalistic in a crude sense. But then I was raised on Young, Labone, Ball, Harvey and Kendall, so football to me is something that's supposed to be sporting and pleasing to the eye, win or lose.
When they won the league a couple of years ago, I received messages from some reds telling me how shite the 'Blueshite' are, which was peculiar because they were focused on Everton even though it was their moment of victory. It seems that we get under their skin, in a way that they've never got under mine.
Anyway, I think we'll beat Man City tomorrow.
Ray Robinson
95
Posted 25/02/2022 at 19:33:21
Barry #82, I don't consider myself a super Blue - just Blue will do, thank you. Having a dad who was a committed red and a very decent person to boot, probably made me more "sanguine", as you describe it.
Admittedly I feel differently since Heysel but if we beat Man City and those 3 points save our Premier League status, then I won't give a shit if Liverpool win the league. I'd rather they didn't, of course!
David Hallwood
96
Posted 25/02/2022 at 19:44:44
Not interested if, by beating Man City we hand the RS 3 points, I'm only interested in what we do.
Supposing we get something from the game or even get beat but play really well, would it make you more or less angry at the shitshow vs Southampton?
Stan Schofield
97
Posted 25/02/2022 at 19:52:51
David, frustrated more than angry.
George Carroll
98
Posted 25/02/2022 at 19:58:11
Be nice if the two Ukrainians led the two teams out to demonstrate our support.
Tony Abrahams
102
Posted 25/02/2022 at 20:23:46
If Liverpudlians want Everton to win, then that's enough for me, and it's always the first question I ask them, if any of those phoney bastards ever have the temerity to ask me if I want Everton to lose!
Brian Hennessy
105
Posted 25/02/2022 at 20:43:02
I see Sky Sports making fools of themselves again tonight.
They put up a preview clip about how Ukrainian players in the Premier League are handling the events and then proceeded to show Zinchenko, Yarmelenko and our "Ukrainian" left back, Jonjoe Kenny.
Brian Wilkinson
106
Posted 25/02/2022 at 20:46:03
Genuine question here, with the banner we will have for the support of Ukraine, will Everton go straight into
Z-Cars
and drop the siren tomorrow?
Me personally, I think we should drop the siren for tomorrow.
Brian Murray
109
Posted 25/02/2022 at 20:53:03
Brian Hennessy @117. I suppose Ukraine could be mixed up with Kirkdale. Just shows you how infatuated they are with their favourite(s) and we just make up the numbers. Bollox to them, never took to them even before Bob Carlogees's lad got on board.
Brian Murray
111
Posted 25/02/2022 at 20:56:12
Just watching the training video. We do one-touch football Bally would be proud of. Ever so slight difference: he done it with opposition in tow.
Brent Stephens
112
Posted 25/02/2022 at 20:58:23
Catching up on various threads. Can't believe anybody wouldn't be arsed about our result against City. We're in survival mode, for fuck's sake!
Don Wright
117
Posted 25/02/2022 at 21:10:02
Even if we gift Liverpool 3 points by beating Man City, we will take them back when we stuff them at Mordor!
Paul Birmingham
119
Posted 25/02/2022 at 21:12:56
Massive game tomorrow as they all are now.
In football anything can happen and I recall in 1979/80, and the annals of history prove it was one of those seasons for Everton.
Ipswich were arguably the best team to watch for pure football in them days and Everton had got whacked 4-0, away and home that season.
The FA Cup quarter-final we had them at a Goodison, great crowd, true grit and Shaggy scored a fine winner with a low drive into the Street End, in the second half. How the world has changed.
No-one expected Everton to win, and so tomorrow, the squad needs to play for their lives. Go at Man City on the break and harass them all the way and take shots in range. Their keeper is open to positioning errors, in some games I've seen this season.
For me, Gomes isn't worthy of a squad place, he's not fit enough for a Vets walking football, in my view.
City are beatable, and every game Everton must play to win, only Everton counts.
Let's hope the referee and VAR will do justice as Everton are due the rub of the green with the chaos of VAR.
So the Goodison Park crowd 12th man will play a blinder tomorrow.
"What's Our Name?"
Neil Copeland
122
Posted 25/02/2022 at 21:23:27
Paul #130, with you all the way UTFT!
Brian Murray
123
Posted 25/02/2022 at 21:24:43
Paul @132. If it's the quarters I'm thinking of, then Latchford and Kidd scored in a 2-1 win. I think Dixie died in the main stand that day, or the derby the week before... not sure which. Might Second Division West Ham beat us in the semi-final replay with Frank's dad breaking my heart.
Brian Hennessy
130
Posted 25/02/2022 at 21:47:25
I see Southampton have just gone 2-0 up on Norwich, good start to the weekend for us.
Paul Birmingham
131
Posted 25/02/2022 at 21:57:02
Brian, yep, ironic now that at Elland Road, that night, how Lampard Senior scored his diving header, but Bob's trademark acute angle near post bullet header, was sublime.
I can't recall since them days, aside to Andy Gray who got similar headers – Sunderland, many Everton players scoring from such acute angles near post, right or left.
Paul Birmingham
132
Posted 25/02/2022 at 21:58:34
Spot on Rob.
Brian Murray
133
Posted 25/02/2022 at 22:00:40
Paul. It was like a home match that night with more than 3 sides of Elland Road all blue. Didn't and still don't deserve the support they get.
Steavey Buckley
134
Posted 25/02/2022 at 22:02:27
It will be a match of contrasting fortunes between two teams who deserve to be where they are in the league.
Manchester City are at the top, deservedly, because they pass the ball properly around, create openings that lead to a lot of goals scored, but also work extremely hard closing down the opposition and winning back the ball.
Everton spend a lot of time on the pitch giving the ball away and finding it hard winning back the ball. Chances are slim, especially away from home, where heads drop when Everton go a goal behind.
Tony Twist
135
Posted 25/02/2022 at 22:50:55
Strange as it may seem but I think it may be the beginning of the end for us as a Premier League club tomorrow.
If we beat Man City, which is possible, I can just see these shithouse players wrongly thinking to themselves, "That's us safe" – when we are not. If we lose to Man City, then these players will just run back to mummy saying how hard the world is to them.
You look at this team and it just sums it up that they are so desperate for the Goodison Roar to make them succeed. I just can't see where the wins are going to come from.
I hope that I am wrong but mentally Everton are the weakest team in the league with a manager who doesn't have a clue of how to bring out the courage that is so well hidden in these players. I just hope I am wrong.
Brian Murray
136
Posted 25/02/2022 at 22:57:13
Tony.
Well, Frank's the third manager in a row who has said the same quote: "I'm not a magician". He is in my opinion backed by a great set-up. Will it be enough? I don't know.
We have a Championship defence with Holgate, Keane and Coleman. Decent forward line when fit. As for the midfield, that's anyone's guess... but keep Gomes the fuck away from it.
True about the mentality. Weak as a wet lettuce. Scary times.
Tony Twist
137
Posted 25/02/2022 at 23:09:52
Brian, yeah it kills me to say that we are relegation fodder but I am feeling it being more of a certainty than with the two, last game of the season, dices with death.
We got money then threw away the ideals that had put us so close to breaking into the top four. Hard work is foreign to these players as well as pride of playing for the club.
Dale Self
138
Posted 25/02/2022 at 23:30:21
Cheer up, guys:
Norwich City @ 1/14.
Watford @ 1/3.
Burnley @ 4/6.
Newcastle United @ 11/4.
Leeds United @ 3/1.
Brentford @ 16/5.
Everton @ 4/1.
Not going down.
John Kavanagh
139
Posted 25/02/2022 at 23:44:31
I just hope that we put up a fight despite the odds being against us and at the very least keep the score down. Goal difference might be the key to us staying up this season. The crowd must get behind the team 100% in all of our remaining home matches and heads cannot be allowed to go down either on the pitch or the terraces.
Whatever team Lampard picks, we need to get right behind it. If Mykolenko plays, I hope he gets plenty of support in solidarity with Ukraine. I wish our team this season had 1% of the courage shown by Ukrainians facing overwhelming odds and Putin's bombs and bullets. COYB.
Nicolas Piñon
140
Posted 26/02/2022 at 00:56:11
Christopher Timmins #71,
I would start your team but Richarlison in for Calvert-Lewin. You just can't leave our most talented player out, he has the talent to get something out of nothing with the frequency any other player in the squad has.
Anyway, not sure Lampard will start Townsend, he seems to like more athletic and young players, and Gordon is playing really well honestly.
Tough game, just hope Doucouré starts with Allan and Van de Beek and maybe we can get something. No Gomes please.
COYB!
Ernie Baywood
141
Posted 26/02/2022 at 02:54:39
Pickford
Keane, Coleman plus two. Probably Branthwaite and Kenny.
Allan, Van de Beek
Gordon, Dele Alli, Rcharlison
Calvert-Lewin
Gray on after an hour in any of those 3 attacking positions if he's fit enough.
Enough with Richarlison up top. Get him on the left where he's always looked better.
Gary Jones
142
Posted 26/02/2022 at 07:17:01
We must pack the middle, and make sure there is no gap between midfield and defence. Hit fast and hard on the break to make them nervous enough to not throw the majority forward. Bravery and guts required.
Not going to happen, but I'd like to see.
Pickford
Patterson Holgate Branthwaite Mykolenko
Gordon Doucoure Van de Beek Allan Richarlison
Calvert-Lewin
Townsend, Gray and Alli on for Gordon, Van de Beek and Richarlison for the last 30 minutes… ideally after they've ran themselves into the ground.
Not feeling confident, but let's have a go! Coyb

Jay Evans
143
Posted 26/02/2022 at 08:06:03
The later kick-off will help us no doubt. The Old Lady will be whipped into a frenzy even more than it would have been at 3 bels and, personally speaking, I welcome the opportunity to sink a few more than normal to help with the nerves !
Still gonna struggle though most definitely, so would bite your hand off for a draw but can't see it happening, unfortunately. I fancy us to score but it will probably only turn out to be a consolation I'm afraid. Hope I'm wrong of course.
Us staying up this season will only be achieved by the points we pick up at home, as I just can't see us doing much on the road with our current crop. The points we need will not be added to this evening but let's keep the faith regardless.
Onward Evertonians.
Full support 💙

Ajay Gopal
144
Posted 26/02/2022 at 08:18:11
Brian Wilkinson (110) - good call! The club have announced that they will not be playing the siren before Z-Cars out of respect and support for the Ukrainians.
Brian Murray
145
Posted 26/02/2022 at 08:25:41
Ajay. Maybe replace it with Chic (Good Times) just to remind us how lucky we have been these last 27 years.
Kunal Desai
146
Posted 26/02/2022 at 09:08:59
Don't give a monkey's about those lot across the park. Focus all our efforts on getting 3 points today. We need them to move away further from the relegation zone.
Let Man City pip them to the title in the last game of the season.
Paul Birmingham
147
Posted 26/02/2022 at 09:14:27
Spot on Brian. I remember it being a bit tricky to get back to the car, near that round about close to the ground.
Before the game, we saw John Moores in his gold Rolls Royce parking up, chauffeur driven.
But those were the days, old John will be taking a deep sigh from the Top Balcony in the Sky, but hopefully today, Everton can at least atone for last week's performance and stick one on City, and win by any means.
John Hall
148
Posted 26/02/2022 at 09:19:15
Concerning the title race, it's easy. We beat Man.City and the RS and then no one can blame us. :)
Brent Stephens
149
Posted 26/02/2022 at 11:07:23
I can't see us getting even a point today. If Newcastle get just a draw against Brentford, and Burnley beat Palace, we're in the bottom three.
Shudder.
Jim Lloyd
150
Posted 26/02/2022 at 11:22:13
A lot depends on which Everton come out. If they play like the team that drew with Man Utd at their place, then we've got a chance. If not... well, I'm not hopeful, though a spawney goal might work for us.
Bill Fairfield
151
Posted 26/02/2022 at 11:26:57
Let's get behind the team, just like last time. Nothing else matters but 3 points for The Toffees. COYB.
Andy Walker
152
Posted 26/02/2022 at 11:29:44
Can't believe we're just carrying on as normal today. Where's the story about Usmanov, ToffeeWeb? Our club has a key Russian sponsor and investor who is a mate of Putin. How is our Ukrainian left-back going to feel about playing for a club with links to a crazed nutter who may be right now, responsible for killing some of his family?
Usmanov should have already come out and strongly denounced Putin, get on with it! If he doesn't, Moshiri should be chucking our Russian sponsor out of our club. Oh but wait…
At least Poland has shown some true moral decency and support for Ukraine by refusing to play Russia. Fifa needs to complete the job and chuck them out of the World Cup. We need to get the message to ordinary decent Russians that their leader is evil and dangerous. Sport has its role to play, Everton has a role to play too. Stand up and be counted, Moshiri and Usmanov.
Tony Twist
153
Posted 26/02/2022 at 11:30:12
Yeah, I see us in the relegation zone before the end of the day. This on its own, though, is not totally foreign to us, is a disgrace and is just gross negligence. If you are competent at the basics, you can avoid the relegation zone in the Premier League. My team today would be:
Goalkeeper: Pickford (let's be honest, who else is there?),
Right-back: Patterson (should have been playing away matches),
Centre-defender: Keane (backs to the wall today),
Centre-defender: Branthwaite (should have been playing),
Left-back: Mykolenko (should always play when fit),
Centre-midfieldes: Allan, Doucouré, Van de Beek,
Attackers: Gordon (the shining light of this crap season), Calvert-Lewin, Richarlison (these two really do need to work on their partnership because, let's face it, it is rubbish).
Best of luck, Blues.
Derek Knox
154
Posted 26/02/2022 at 11:43:09
Jim @150,
Hopefully the memories and fear of that 4-0 beating back in the day, may still linger and they will be wary of the 'Crouching Tiger' or the 'Angry Moggy'!
Tony Everan
155
Posted 26/02/2022 at 11:58:22
No white flags, get in their faces and enjoy doing it. They looked a bit wobbly recently against an average Tottenham side.
No team should be allowed to come to Everton and have an easy ride. Win lose or draw, I want to see the mindset be a fighting one from start to finish.
4-5-1 with a hint of 4-3-3
Pickford
Patterson Holgate Branthwaite Mykolenko
Gordon or Gray, Doucoure, Van de Beek, Allan, Richarlison
Calvert-Lewin
Gordon starts; Gray sub
Calvert-Lewin starts; Alli sub
Choose whatever defence you like, it's a massive test, there's some serious experience behind the scenes so I'll trust their judgment.
Jay Wood
[BRZ]
156
Posted 26/02/2022 at 11:59:22
Andy @ 152.
Look up the thread entitled 'Shame' currently on TW. Not directly questioning Usmanov, but certainly topical.
I agree with you. The stand by the Polish FA and individual players refusing to play Russia in the World Cup play-offs is exemplary and admirable.
Robert Tressell
157
Posted 26/02/2022 at 12:07:22
Tony # completely agree with your selection and observations. Unfortunately, I think it will be a 5 man defence.
On other matters, I think the football world should now refuse to play any match against a Russian club or international side at any level.
This sort of thing, possibly even more than sanctions, would put enormous pressure on Putin – given how it would affect his popularity.
Jim Lloyd
158
Posted 26/02/2022 at 12:08:15
The Angry Moggy would be a good 'un! Derek, the Springing Tiger would be wonderful, but the moggy'd do, as long as we're not like a bunch of purring pussy cats. :)
Dennis Stevens
159
Posted 26/02/2022 at 12:08:42
Andy #152 - I don't really know all that much about Mr Usmanov, tbh. However, if you do & feel there's a tale to tell that's pertinent to EFC then write it up & send it in. I'm sure it'd make for interesting reading & probably spark a response too.
Colin Malone
160
Posted 26/02/2022 at 13:48:53
All hands to the pump today lads. Any gaps on the field, they will make the most of it. So everyone behind the ball when citeh have it. No gaps between the midfield and forwards, its going to hard. If Spurs and Wolves can play that way, we can.
COYBB
Danny O'Neill
161
Posted 26/02/2022 at 14:17:38
Let's see how the results fall this afternoon. Regardless, we need to take care of ourselves.
2 points from the next 2 games to set us up for the 3 after that.
Kim Vivian
162
Posted 26/02/2022 at 14:43:57
I hav always been somewhat uncomfortable about our perceived association with Usamov, Moshiris's connections with him and his ties to the Russian kleptocrat, Putin. He is, of course, one of the sanctioned oligarchs. Personally (I have said elsewhere but will repeat) I will be disappointed to see any Megafon or USM advertising on those scrolling banners around the ground this evening or future home games.
For anyone interested in a little more background about Usmanov, the man – have a read...
https://www.spisok-putina.org/en/personas/usmanov-2/
Meanwhile – I had a dream, and in the dream we held on for a hard fought 0-0 draw. So that is my prediction and I would be quite happy with that today Despite everything I'm looking forward to the game as always, and so far as the other lot go, I don't even know who they are playing and don't really care right now.
Andy Walker
163
Posted 26/02/2022 at 15:29:22
#156, thanks for that, Jay, I hadn't spotted it.
David Hallwood
164
Posted 26/02/2022 at 15:37:25
Brian #111 Mentioning Alan Ball just illustrates how far this club has fallen, because none of this squad, repeat none of them, are fit to lace his white boots.
But allied with the skill was his mental toughness, we talk about the team wilting in cauldron of St James's Park... ahh poor dears. Compare and contrast to Ball playing in front of 120k fanatical Scots at Hampden Park and wiped his nose on the corner flag that doubled as the Scottish Saltire, and later said he wished there would've been 200k in the ground!
Dale #138, Sadly, football matches aren't played on the floor of betting shops, so best odds to avoid the drop or not, we need to pick up points.

Tony Waring
165
Posted 26/02/2022 at 15:53:40
Glad there will be no siren pre kick-off. Let's hope the club has the gumption to play the Ukrainian anthem with Mylolenko and Zinchenko holding the Ukranian flag aloft. Even better if they could locate Kanchelskis to be there also. And let's hope the Blues fight as well as the Ukrainians can.
Andrew Merrick
166
Posted 26/02/2022 at 16:02:43
Newcastle winning and climbing the table, we are in a hard place and need to be rock solid today.
A draw would be enough to stay positive.
Bill Gall
168
Posted 26/02/2022 at 16:22:21
Jay #156,
It would would be a better example if the Russian based teams were banned from European competitions, it may spark a larger demonstrations from their supporters.
---
Add Your Comments
In order to post a comment, you need to be logged in as a registered user of the site.
Or Sign up as a ToffeeWeb Member — it's free, takes just a few minutes and will allow you to post your comments on articles and Talking Points submissions across the site.