Kevin Thelwell becomes Everton's Director of Football
Friday, 25 February, 2022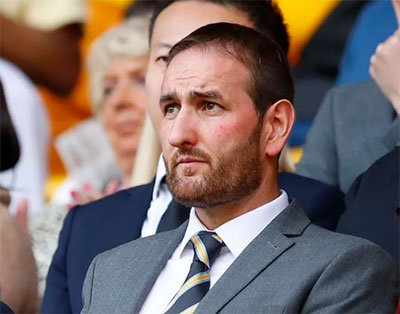 Everton have appointed Kevin Thelwell as the club's new Director of Football, almost 3 months after Marcel Brands left the role following a disagreement over the strategic direction of the football club.
The 48-year-old held the same position at Wolves having been promoted from Head of Football Development and Recruitment after originally joining the Midlands club from Derby County in 2008 as academy manager.
In 2020, he made a switch to the United States where he assumed the role of Head of Sport at New York Red Bulls, supervising Sporting Director, Denis Hamlett, and a former player of that club, Tim Cahill, may well have played a role in facilitating Thelwell's move to Everton.
As a player, Thelwell represented Northwich Victoria, Winsford United and Congleton Town in a semi-professional capacity after coming through the ranks at Crewe Alexandria and served an apprenticeship at Shrewsbury Town.
Article continues below video content
Having earned his FA/UEFA and FAW/UEFA Advanced Licences as well as the UEFA Pro Licence, completed a Bsc (Hons) degree in Sport Science at Warwick University and fulfilled the role of Director of Coach Education for all of Welsh football, Thelwell is arguably more qualified on the football and coaching side than the other candidate heavily linked with the job, Steve Hitchen, formerly of Tottenham.
According to a statement on evertonfc.com, Thelwell will report directly to the Board of Directors, "acting as the strategic lead for recruitment and all the club's football departments, including First Team, Academy, coaching, sport science, medical services and analysis."
"I'm so pleased to be joining Everton and to have the opportunity to play a part in the club's ambitious journey," Thelwell said. "I'm greatly looking forward to board with Frank and the players and to helping the owner and board achieve their long-term footballing objectives.
"The Owner, the Chairman and the CEO all presented compelling reasons for me to join this great club and I am really excited to have the opportunity to work with them all and to move Everton forward. I can't get wait to get started.
Everton Chairman, Bill Kenwright said of the man credited Thelwell credited with identifying and bringing in the likes of Diogo Jota, Ruben Neves, Adama Traore and Leander Dendoncker to Wolves:
"Following a rigorous search and recruitment process, Kevin was the stand-out candidate to become our new Director of Football.  He brings quality, experience and an outstanding track record for developing young players."
---
Reader Comments (90)
Note: the following content is not moderated or vetted by the site owners at the time of submission. Comments are the responsibility of the poster. Disclaimer
Bryan Houghton
1
Posted 25/02/2022 at 18:40:58
I'm reading we have a new Director of Football (and it ain't the ex-Spurs guy, but the ex-Wolves guy). So the Portuguese Jorge wotsit (super agent, name escapes me) – his influence to be re-ignited maybe, cos the guy recruited, from what I can see, every one of Wolves' Portuguese players. Via Jorge, I think. Could be wrong though.
Brian Murray
2
Posted 25/02/2022 at 18:45:16
Our new Director of Football, Kevin Thelwell, has been appointed. Anyone know if he's another savvy winner to go with Frank's army?
Spurs fans had not a good word to say about other proposed DoF, Steve Hitchen, so i hope we dodged a Steve Walsh-esque bullet!
Brian Murray
3
Posted 25/02/2022 at 18:52:05
Bryan @85 beat me to it. Hope his tentacles spread far and wide and he knows a raw talent when sees one. Make a change from smooth Marcel and bumbling Steve.
Robert Tressell
4
Posted 25/02/2022 at 19:11:07
I'd never heard of Kevin Thelwell till just now. Interesting resume though. Wolves and RB New York.
Wolves have recruited extremely well for an extended period and played some very classy football, too.
The Red Bull football empire is obviously doing extraordinary things with the Liefering to Salzburg to Leipzig conveyor belt - with New York and Bragatino in Brazil emerging now too.
He will have seen how clubs organise for success off the pitch.
We have people who appear to know what they're doing in important positions again.
That bodes well. The financial situation is now unclear because Usmanov's Uzbek riches may be subject to sanctions, I'm not sure.
Dennis Stevens
6
Posted 25/02/2022 at 19:17:49
I see Thelwell is the author of Coaching the European 3-5-2, is that an indicator of how Lampard intends Everton teams to line up in future?
Jeff Armstrong
7
Posted 25/02/2022 at 19:25:54
I would like to think Thelwell's appointment has been run by the coach, just for the fact of joined-up thinking, harmony, singing from the same hymn sheet, etc – and any other cliches that require the coach and DoF to work together!
Tony Everan
8
Posted 25/02/2022 at 20:19:22
Dennis, I think this is true.
Frank Lampard said he wanted direct input into the DoF decision and Thelwell's football philosophies must align with Frank's.
This passage from the book may just give us an insight into the structure of the future Everton and how the current players and proper targeted future signings will fit in.
It will be a refreshing change that we will have a clear direction and a coherent transfer policy to achieve it. It's a start in terms of being a more organised and professional outfit.
The clip from Thelwell's 'Coaching the European 3-5-2'
Thelwell describes the formation as a "springboard for compactness" that allows for aggressive team movement on both sides of the ball. He pinpoints the way the entire midfield – playmaker, shuttlers, and wingbacks – are in transition moments at all times and provide numerical advantages in almost all sections of the field. Perhaps most engaging is an entire chapter is dedicated to "defending from the front" and instructing attacking players how to cut off opposition passing."
Mike Gaynes
9
Posted 25/02/2022 at 20:54:26
Is it just me or does Kevin Thelwell look a lot like Frank Lampard?
Mike Hughes
11
Posted 25/02/2022 at 22:01:39
Marcel Brands left over the strategic direction of the football club?
I didn't realise we had a "strategic direction".
I just hope the other results go for us and we can get something out of this.
A draw would be like a win.
A win would be party time.
2-1 EFC with a double Gordon(s).
COYB
(Norwich stuffed tonight 2-0).

Lee Courtliff
13
Posted 25/02/2022 at 22:06:46
Never heard of this guy but the best of luck to him. Hopefully Frank was consulted on this.
Simon Dalzell
14
Posted 25/02/2022 at 22:25:35
Mike (9). It's just you.
Brian Murray
15
Posted 25/02/2022 at 22:32:49
Maybe they went to different schools together.
Jay Harris
16
Posted 25/02/2022 at 22:39:35
At least we've got a football man but will he be on the board and will he have any clout going against the chairman and his mate's wishes?
Tony Everan
17
Posted 25/02/2022 at 22:43:57
Mike, it's the eyes! Top half of his face is Frank Lampard, bottom half is Justin Rose. That ear is been transplanted from an unfortunate Chimpanzee.
Peter Mills
19
Posted 25/02/2022 at 22:53:38
Tony #8, the first part of your final paragraph could describe us in 1984-85, even though we were playing 4-4-2. Come to think of it, it more likely describes us 1969-70.
The second part could describe Liverpool with Ian Rush around the same time.
Dale Self
20
Posted 25/02/2022 at 23:00:45
That picture wasn't taken when his new appointment was announced was it?
Tony Twist
22
Posted 25/02/2022 at 23:27:43
Let's hope he is not a nodding dog to the owner. His job description doesn't fill me with hope.
Welcome to the mad house that is Everton Football Club and the very best of luck.
Danny Broderick
23
Posted 25/02/2022 at 23:30:47
I cannot believe we are committed to a Director of Football again. The model is flawed!! It may work in a handful of places but, as far as I can see, it fails far more than it succeeds! For every Wolves or Leicester, there's countless clubs where it has failed.
We had similar fanfare with Brands and Walsh, and they were both unmitigated disasters. Regardless of our structure before anyone defends them, their recruitment was piss-poor!!!
Walsh bought 3 Number 10s as well as countless washed up Premier League players – Bolasie, Williams, Sigurdsson, Walcott etc.
Brands brought in a load of cast-offs that were shite and earning top dollar – Bernard, Gomes, Delph, Gbamin etc.
Of course we should have a scouting department doing extensive research about prospective new targets. This team should stay in place, whoever is in charge. But the final decision for recruitment should be left to the manager.
What happens if Lampard wants to sign Connor Gallagher next season but Thelwell doesn't agree? Will we sign another Iwobi??!!
This is absolutely terrible news for us, make no mistake. I look forward to the next strategic review in 3 years time…
Mike Gaynes
24
Posted 25/02/2022 at 23:33:42
Tony #17, you wiped me out. Cannot stop laughing.
Danny #23, I get your point, but don't follow your reasoning. We've had shit recruiting for decades whether we had a DoF or not. Walsh and Brands didn't impress you so the problem is the DoF model? Maybe because your last few Prime Ministers were poor you should go back to an absolute monarchy over there.
Personally I feel it's more about the quality of the person than the job title. If this guy knows what he's doing, it won't matter what the org chart says he's called. And if not, he'll be to blame, not the business model.
Steavey Buckley
25
Posted 25/02/2022 at 23:35:55
There is a place at Everton for a Director of Football if he is negotiating transfers on behalf of the manager. Any football manager wants to spend more time on the training ground than on the phone or traveling to meet up with the clubs, players, or the players' agents.
Mike Gaynes
26
Posted 25/02/2022 at 23:47:01
Steavey #26, exactly. And whether his title is DoF, general manager, recruitment coordinator or whatever, it'll be about getting the job done.
Colin Glassar
27
Posted 25/02/2022 at 23:49:01
Never heard of him but good luck to him, he'll need it it.
Don Alexander
28
Posted 25/02/2022 at 23:50:46
Welcome Mr Thelwell.
I realise your mere namesake made his name as a cartoonist depicting useless fat ponies and horses back in the day but I'm hopeful you can adjust to working with donkeys, especially from above.
You'll need to, and be even more stubborn than those morons who appointed you, if you're to have a hope, with Frank and HIS coaches, of even beginning to halt the decades-long slide of our club into near world-wide obscurity.
Derek Thomas
29
Posted 25/02/2022 at 23:56:56
Peter @ 19; I think the collective term that you need is
Winners
...which is the only formation you need - A Winning One.
Time will tell.
Pete Clarke
30
Posted 25/02/2022 at 00:00:02
This would have to be Frank Lampard choice, I'm sure. I think if the idiots above tried to force something like this on Frankie boy, he would tell them to "Fack awf" and leave us.
Comes to us at a great age with a decent background and hopefully eyes around the world for future talent.
Dupont Koo
31
Posted 25/02/2022 at 00:16:28
IMHO, Thelwell certainly deserves credit navigating the Football League market to bring Wolves back up from League Oe in a short span (not an easy task, look at Sunderland), though I am not sure if the acquisitions of the Portuguese Brigade (I'd love to have Rúben Neves in our Midfield!) and Traore were more of the influence of Jorge Mendes on Wolves' owners than his own work.  
At least he has what I would consider good experience having worked with NYRB: 
1) Though NYRB has the guidance and support of the RB Football Empire, they are the Tranmere Rovers while NY City (Part of the Man City Empire!) is the Everton/Red Shite in the New York Rivalry Hierarchy (in terms of georgraphically, financially, level of fFanbase, media exposure).  He will know how to work from a disadvantaged starting point in a huge market.
2) RB Football Empire established a food chain with a singular football philosophy where every team is dictated to play a similar pressing style to the Big Brother (RB Leipzig) and recruit a certain group of young players who are strong, quick and have high football IQ with an ultimate goal of grooming them as an eventual first-team player with the Big Brother and/or even selling them to other big European clubs before reaching Leipzig (eg, Red Shite scouted RB Salzburg heavily and bought a lot from them recently). 
If he can bring similar structure and discipline to Finch Farm and have it established down the youngest age group like the U8s, I shall be delighted (IMHO, it is a big ask, considered the huge number of Kenwright's entourage in the club who had a hand undermining Brands's attempt to establish such philosophy, let alone structure & discipline).
In short, I'm cautiously optimistic with his appointment as long as Moshiri and Kenwright are not interfering. (I'm asking for the moon, ain't I?)
Danny Broderick
32
Posted 26/02/2022 at 01:08:01
Mike (26),
I'm sorry but you are wrong. The job title is important. If this Thelwell fella had been recruited as a recruitment coordinator, I wouldn't bat an eyelid. The fact that he is Director of Football places him above the manager when it comes to recruitment. He can veto the manager's choices. He's not just negotiating or getting the job done. He has overall responsibility for recruitment. There are only 3 possible outcomes:
1. He will be weak and simply carry out all of Lampard's wishes when it comes to recruitment (best case scenario, like a recruitment coordinator).
2. He'll lock horns with Lampard. We'll end up with some players Lampard wants, some players the DoF wants, and lots of hesitation and power play any time we want to sign a player.
3. He'll win and buy all the players, in which case Lampard will get what he's given. Lampard will have to use players that probably weren't his first choice.
You say our recruitment had been shit for decades prior to Walsh. Our recruitment was far superior before the DoF model was introduced!! Recruitment was never as bad as this in all my time watching Everton, and that includes Kendall 3 times, Harvey, Royle, Smith and Moyes!
Things didn't always go to plan, but even under Smith we bought some cracking players – the problems lay elsewhere. In the last 5 years, bad recruitment has caused our decline, and this has been completely within the remit of our last two DoFs.
A DoF is like zonal marking at corners. Sounds good, but no one is responsible when the inevitable goals go in.
Mike Gaynes
33
Posted 26/02/2022 at 01:14:19
Dupont Koo (great name, BTW), thanks for that background info. Great contribution.
Some commentary from Red Bulls writer Ross Haley on OnceaMetro.com, a bit peeved that Thelwell left just before kickoff of a new season on Saturday:
There are reports that former New York star Tim Cahill was reportedly involved and "pivotal" in the hire.
Thelwell leaves behind a complicated legacy, a series of actions that waned from the forefront to the backroom throughout the course of his tenure. He made an immediate splash by removing Chris Armas from the manager role and appointing a hot commodity in Gerhard Struber, fresh off a great escape with Barnsley. However, his transfer dealings have progressively leaned toward the future, with many additions appearing unable to provide immediate contributions. While never explicitly stated, the looming influence of Red Bull indicated the drive to establish New York as a self-sustaining conveyor belt for young prospects, matching the financial and silverware output of Salzburg and Bragantino.

Much of his behind-the-scenes toiling – involving everything from infrastructure to rebuilding the sporting and analytics department – will yield future benefits but scarcely be attributed to him, as roses are rarely given to predecessors. Thelwell was perhaps a minor victim of the current shift at Red Bull, as the footballing department searches for meaning and direction following the departure of the talismanic Ralf Rangnick.

The enduring memory of Thelwell will likely be the controversial loan moves thought to be born out of pandemic difficulties. The Red Bulls brought in several key players on a temporary basis during the 2021 season, seen at the time as a "try before you buy" transfer strategy. Many of the key performers would not return and, along with the departure of several other lineup stalwarts, left holes in the roster yet to be filled mere hours from Opening Day.

His move to Everton comes at a highly inopportune time for the Red Bulls, both in the immediate and long-term future. The club is still engaged in transfer dealings, as Struber criticized roster composition and lowered expectations at his first press conference of the season.
Mike Gaynes
34
Posted 26/02/2022 at 01:25:00
Danny #32, you state this as fact:
"The fact that he is Director of Football places him above the manager when it comes to recruitment. He can veto the manager's choices."
That's pure speculation. We do not know that to be the case here. A title does not necessarily grant veto power. Thelwell will have been clear on his brief before assuming the job, and you cannot know whether it includes absolute player authority over Lampard. You assume it does. I would tend to doubt it. We shall see.
Interesting that Tim Cahill, operating in an advisory capacity, appears to have been instrumental in the hiring of both men. Whatever his official role with the club will be, I cannot wait for him to assume it.
Ernie Baywood
35
Posted 26/02/2022 at 02:27:54
Why does anyone think the job title should come with absolute authority to the exclusion of views from the lower ranks? It's not the military, it's a business.
I'd imagine Thelwell will have accountability. Lampard will have accountability. They will figure out how to work together because it's their job to do that.
Thelwell will be focused on different horizons (I hate that phrase by the way) – he'll have long term in mind, while Lampard's job is very much short- to medium-term focused.
Kieran Kinsella
36
Posted 26/02/2022 at 03:14:44
Jeff & Pete,
Hopefully you're right. Frank seemed unsure about the whole DoF last week but if it's an amicable division of labour between similar thinking individuals there's no reason it can't work.
Frank manages the squad, tells Kev what he needs and Kev makes it happen. The problem will be Kev and Frank standing up to Bill and Farhad when they try to drop in random signings of their own.
It did seem as if Brands and Silva were on the same page — albeit a Steve Ferns wet dream page detached from reality — but Moshiri's picks, like Iwobi, made matters worse.
Derek Knox
37
Posted 26/02/2022 at 03:37:58
I was hoping for Tim Cahill to have been given a shout... after all said and done, he was apparently influential in the appointment of Frank and Co. Maybe they consider he is not experienced enough, I don't know.
Brian @ 3, "Hope his tentacles spread far and wide". Aye, Aye, a bit personal and painful, and would be a real ball-acher too! :-)
Mike Gaynes
38
Posted 26/02/2022 at 04:48:47
DK,
Terrible Timmy is a human conglomerate. He has business interests and/or homes in Australia, Dubai, England, China and the US, and he's on the board of directors at Eupen in Belgium.
Probably not in the market for a full-time job at Everton. If he decides to join our board, hallelujah, we'll take it.
Kieran Kinsella
39
Posted 26/02/2022 at 05:54:17
Mike/Derek
Maybe Tim can be our Jedi counterpoint to the Sith unofficial advisors like Kia and Philip Green?
Danny O'Neill
40
Posted 26/02/2022 at 06:43:29
My hope is that this DoF will be able to act as a DoF, which is far broader than recruitment. I think Lampard would operate well under a truly empowered DoF as my initial thoughts are he would rather focus on the training ground with the first team.
My fear is we still have broadly the same regime in place that has not allowed this to happen with our previous two dabbles at it.
Dennis @6 and Tony @8, I've said a few times that 3-5-2 is arguably the most attacking formation. But you need the players to be able to execute effectively and not leave yourself exposed on the flanks when possession is lost.
We don't have the players. Certainly not the defenders. Not yet and please, not today.
Colin Glassar
41
Posted 26/02/2022 at 07:08:48
Bill Kenwright's given him his usual hyperbole filled backing meaning he's not going to last long.
Mike Allison
42
Posted 26/02/2022 at 08:44:42
I'd say that, in Godfrey and Holgate, we have two players perfect for the wider roles of a back three. I don't think Mina or Keane are mobile enough for the central position though so that becomes a key recruitment area.
As for wing-backs, there's a French fella at Villa who would be perfect for the left side…
Rob Dolby
43
Posted 26/02/2022 at 09:23:35
Mike 42. Godfrey has potential but needs to vastly improve his footballing ability.
I have given up on Holgate, his decision making is terrible, passing awful and defending average.
Chelsea are probably best equipped to play that system. All of their centre-backs are good on the ball that's why Zouma couldn't get a game for them.
In all honesty, we haven't got the defence to play a flat back 4. For various reasons, none of them are fit for purpose.
Let's hope our new DoF can identify some bright young defenders and get them in the team.
Phil Wood
44
Posted 26/02/2022 at 09:26:45
Welcome, Kevin Thelwell.
I wish you every success and hope you can strengthen Everton FC.
It is difficult for many Evertonians to be optimistic in these times but any positive input to our playing side would be a positive.
COYB.

Jerome Shields
45
Posted 26/02/2022 at 09:28:26
Thelwell will be a Director of Football with the Board of Directors involved in his decision-making process. He will be at the same level as the Director of Football Operations, who is involved in player contracts, and the Director of the Academy, who is also U23 Manager. Head of Recruitement, Waldron, will report to him and he will also manage the Head of Development.
All of the appointments are part of a strategic plan with no public details which was reviewed because it was not working.
According to Tony @8, Thelwell's 3-5-2 philosophy is based on a system that Everton have singularly failed to implement with any consistency, which means he needs new players. With no budget and a reported mixed success in recruitment strategy, with a high loan content as a test strategy before purchase with questionable results at Red Bulls, Thelwell is going to find it difficult at Everton.
IMO, the Board has continued via the strategic review in building a permanent structure, the aim of the permanent strategic plan with questionable performance criteria. In the meantime, the relegation dogfight beckons.
Robert Tressell
46
Posted 26/02/2022 at 09:32:26
Mike # 42, quite right. I leant towards Nuno and Potter last summer because they both use a 5-2-2-1 (or variant) and work with a DoF. Holgate and Godfrey would be a good fit for that.
As for issues with the DoF model and formations etc, I do feel like a lot of fans cannot envision success other than through the route taken in the 1980s. We are a very old-fashioned club on and off the pitch, having allowed ourselves to fall well off the pace in the process.
Football, in terms of organisational structures and commercial operations, is now unrecognisable from the start of the Premier League era. Player quality at the top end of the division and tactics too.
We have to participate in the innovation and change on and off the pitch to stop falling even further behind – and hopefully claw back some of the ground lost over the last 30 years.
Danny O'Neill
47
Posted 26/02/2022 at 09:54:43
"
mobile enough for the central position so that becomes a key recruitment area".

Thank you Mike @42. Along with one or two others, I have been a near loan voice fading into the distance on the central defender position being more of a priority than a majority seemed to think for almost 2 years now.
Totally, Robert. We stood still many years ago. Standing still is effectively walking backwards as others walk past you and get further away.
New Stadium plans; tick.
Finch Farm (the facility); tick.
But, aside from a lick of paint and a cheap stand at the Park End, which itself lacked ambition at the time. Upper tier, opportunity for corporate boxes? Could have been done on the same plot if built steeper and with an overhang. No, not Everton. I love Goodison, but it's still pretty much the Goodison of my childhood and the club hasn't really changed.
I love tradition and history. Respect it, but don't live or wallow in it.
Limp over the line this season, dust ourselves down and look forward to the next one, the stadium and hopefully a new empowered structure being implemented throughout the club.
Just filled out the survey for the fan advisory board.
Steve Griffiths
48
Posted 26/02/2022 at 10:14:56
Just spoke to my lad about him and who's on a similar career path to his. He says he's highly regarded and certainly has a good background.
He went on to say it's a big step for him and, from what he's heard, Lampard will have had some input. Fingers crossed he's a successful appointment as others have said.
Gary Edwards
49
Posted 26/02/2022 at 10:31:07
Danny (#32),
I'm with your thinking on his one, ie, is the DoF strategy the right one for Everton ? and do so many people buy into it because that's what those with the loudest voices insist is the correct way.
I have no insights as to how a football club is run, especially Everton nor seemingly do the "loudest voices". I have however worked on several multi-billion $ projects and am familiar with the role of a Project Management Contractor (PMC) and see the similarities with a DoF.
The Owner / Company / Client will consider engaging a PMC to oversee / manage a project when it doesn't have the resources. Sometimes the PMC is simply a bodyshop supplying management and consultants, other times the PMC will also provide management systems, controls etc.
Rarely, if ever, have I seen this strategy work. Reasons why it fails: conflicts of interest, adverserial relationships, confusion re: responsibilities / interfaces. Also, the PMC has no 'skin in the game' and will always prioritise its own financial wellbeing.
I've worked with major Iranian & Iraqi companies where the PMC strategy failed miserably and honestly feel the same factors for those failures are at play in Everton.
I also think you make a valid point re: Everton enjoyed greater success before they began following the trend and appointed a DoF. If Moshiri had not chosen the DoF route yet Everton had eventually enjoyed great success, does that model then become the go-to strategy?
Ray Smith
50
Posted 26/02/2022 at 10:39:16
I just hope the board let him do his job! Otherwise, we won't go forward as others have said on this thread.
I don't know the man or his reputation but good luck.
Andy Walker
51
Posted 26/02/2022 at 11:15:27
Where's the story on Usmanov, ToffeeWeb? This Russian funds and sponsors our club. Show some class Moshiri and kick him out. Oh wait….
Good to see Poland refuse to play Russia in the World Cup qualifier. We need to get through to ordinary Russians what their crazed leader is doing. Our club can help.
Andy Walker
52
Posted 26/02/2022 at 11:19:41
Is our Ukrainian left-back going to want to play for a club whose sponsors include a Russian mate of Putin's?
Usmanov needs to come out and denounce Putin in the strongest possible terms. Will he?
Danny O'Neill
53
Posted 26/02/2022 at 11:26:30
I don't think there are loud voices, Gary, just different opinions.
Either way, Everton has failed to win a trophy in nearly 27 years.
Whichever way we look at it, the club is long overdue modernising and has stood still.
Jerome Shields
54
Posted 26/02/2022 at 11:51:50
Andy #51
It is not part of ToffeeWeb's remit. Even Paul the Esk confines himself to Everton finances. The Board has stated that sponsorship is from USM Holdings and not USM LLC which is the subject of sanctions. Apparently Usmanov is not associated with USM LLC, and Usmanov has no legal connection with Everton.
Jerome Shields
55
Posted 26/02/2022 at 12:06:14
To clarify: no legal ownership connections.
Andy Walker
56
Posted 26/02/2022 at 12:08:50
Jerome, the major shareholder of USM Holdings is Usmanov. Moshiri also is a shareholder. Easy to check this.
USM Holdings also owns 100% of a company called Megafon which sponsors Everton ladies.
It's completely disingenuous to state Usmanov has no connection to Everton. Unless you use the word 'direct' to play a semantics game. Sure he's not an Everton shareholder but his companies are sponsors. Man Utd just chucked out Aeroflot as one of their sponsors. MPs are right now calling for Usmanov and Abramovich to make statements about Putin.
We have a responsibility as a club to make our position clear.
Robert Tressell
57
Posted 26/02/2022 at 12:11:24
Like you, Andy, I would like to see the likes of Usmanov, Moshiri and the rest Abramovich etc, now stand up against Putin.
Steve Shave
58
Posted 26/02/2022 at 12:12:33
I'm sitting on the fence here, I don't know much about our new DoF but pray there has been some forward and joined-up thinking regarding the decision.
I am curious to find out if the club sees 3-5-2 as the future template for success. I have mixed feelings about that as, whilst it does free up development space for Branthwaite next season (ie, to learn alongside two others who can hopefully cover for mistakes) and the two new fullbacks we've purchased who both suit playing slightly further up the pitch.
Another plus is that it will allow 3 in the middle of the park (something we all know we need). The downside is where this potentially leaves Gray and Gordon? I can see us selling Richarlison in the summer and replacing him with an out-and-out striker.
Andy Walker
59
Posted 26/02/2022 at 12:14:34
Jerome, would you be happy if our new stadium was called the USM Arena? (That is a name Usmanov has suggested in the past.)
Andy Walker
60
Posted 26/02/2022 at 12:16:06
Well said, Robert! I was beginning to think I was the only one on here who was bothered about our Russian sponsorship and financial connections.
Tony Abrahams
61
Posted 26/02/2022 at 12:17:41
I'm not sure that anyone connected to Vladimir Putin is in a position to stand up to the man, although hopefully somewhere in the shadows, is lurking the enemy within. 🙏
Stephen Williams
62
Posted 26/02/2022 at 12:25:56
I am far from convinced (as some others are) that the DoF model is the cause of our poor recruitment. I'm not even sure that Marcel Brands as a person was at fault.
My belief is that the structure at the club was so dysfunctional with all and sundry sticking their oar in (manager, coaches, Board members, owner etc) that he wasn't allowed to do the job he was recruited for – hence he did the honourable thing and walked.
Every club has a Head of Football Operations or Director of Football, it's just they don't necessarily call them that. The better clubs entrust that person and allow them the space to carry out those duties. I don't think we have.
The big thing now is will we let Kevin Thelwell and Frank Lampard get on with their jobs without interference? If we do, then they've got a chance of moving us forward; if not then there's no chance.
Sam Hoare
63
Posted 26/02/2022 at 12:27:31
Very few top teams now operate without a DOF or someone in a similar role. It makes sense. Otherwise you risk the likes of Kenwright and Moshiri making the big football decisions.
Of course for it to work the DOF has to have talent, be allowed to do their job and probably have a portion of luck. With Brands and especially Walsh all three of those conditions may have been missing.
I don't know a great deal about Thelwell but Red Bull usually recruit very well which bodes well. Certainly sounds a better option than the bloke from Spurs.
George McKane
64
Posted 26/02/2022 at 12:34:40
Andy - - I put this on another Page this morning - - - Well "ye reaps what ye sows" - - I guess - - many of us thought that Usmanov's money (and his not so business-like sidekick Moshiri) were the answer to our prayers - - I remember writing at the time saying is this who/what we want associated with our Club - - but like most I really just shrugged and got on with it - - and interestingly/coincidentally our "links" to these two State Robbers has run alongside our worse runs in our PL History - - "money" answers everything hey - - what goes around comes around.
Like most - - I guess - - I am appalled at today's situation in Ukraine - - but I am also just carrying on and will be going to The Dark House later and then onto Goodison to roar Our Everton in the hope that we win and move up - - for that time my mind will be on Everton and nothing else - - but for a moment now sitting in my room at home before preparing for the game I cannot get the overtures of "war" out of my head - - I just listened to Turn Turn Turn by The Byrds:
"To everything (turn, turn, turn)
There is a season (turn, turn, turn)
And a time to every purpose, under heaven
A time of love, a time of hate
A time of war, a time of peace
A time you may embrace, a time to refrain from embracing
To everything (turn, turn, turn)
There is a season (turn, turn, turn)
And a time to every purpose, under heaven
A time to gain, a time to lose
A time to rend, a time to sew
A time for love, a time for hate
A time for peace, I swear it's not too late"
The song updated by Pete Seeger - - is from The Bible - - hile I am not religious I am fascinated by the history of religion - - here's a quote from "Ecclesiastes are the pain and frustration engendered by observing and meditating on the distortions and inequities pervading the world, the uselessness of human ambition, and the limitations of worldly wisdom and righteousness."
Personally I would prefer life at Everton without Usmanov and Moshiri - - but somehow we have to try to live in this world as it is and not hurt anyone along the way.
Danny O'Neill
65
Posted 26/02/2022 at 12:39:26
A classic song that George, one of the many I grew up listening to on my parents' play list.
I'll repeat myself again.
We have a modern stadium on the way.
We have a fantastic modern training facility.
Now modernise the structure and running of the club.
Jim Lloyd
66
Posted 26/02/2022 at 12:41:35
Seems to me that this thread is about our new director of football. There's a thread (supposedly) written by a furious Russian about our club and its owners, but this "supposed" supporter called us Nazis. That thread, to me is the one on which to discuss our club and its future after this invasion.
George, We can do our best, according to our own outlook, and position in life. Unless we have power we can argue the case re the fuiture of this club, but our options are stay a supporter, or leave.
Brian Murray
67
Posted 26/02/2022 at 12:47:41
Well said, Danny boy. I still maintain that, above Frank's crew, they are petrified of any modern forward thinking. Case in point: this governance report is a dirty word and, if they have their way, it's the kids marking their own homework.
George McKane
68
Posted 26/02/2022 at 12:58:37
Jim - - I was responding to Andy's and other earlier quotes on THIS thread - - and I had placed my comments on another thread - - but I felt that a response to Andy in particular suited THIS thread.
Not sure of your comment about "stay a supporter or leave" - - is this aimed at anyone - - me - - my opinions and others are whatever they are and do not exclude me or them as a supporter or having to "leave" - - I disagree with many posts and opinions on here - - I have dropped out of the LF because of some of the comments that I strongly disagree with - - I personally dislike most things about modern football - - but I do not need or ask anyone's permission - - including yours - - to comment or to stay or leave - - and I will continue to opinionate about the future of the Club for as long as I choose and as strongly as I feel - - I disagree with you totally you do not have to leave if you disagree with how the Club is run - - me - - I am a Everton Supporter -- have been for 60 years + - - in the past 6 or 7 years I have felt that the Club has been run dreadfully - - mismanaged - - incredibly poor football - - poor decisions throughout The Club - - but throughout have never thought of leaving.
Dennis Stevens
69
Posted 26/02/2022 at 13:13:39
Hear! Hear! George.
Danny O'Neill
70
Posted 26/02/2022 at 13:20:46
I disagree, Jim. There is only ever one option. Stay. It's non-negotiable.
Jim Lloyd
71
Posted 26/02/2022 at 13:24:53
Sorry to disagree, Danny, there is an option and it is for an individual to choose.
George, I did once when I was a kid, I boycotted the club for a while when Catterick was in charge... didn't last long though!
Danny O'Neill
72
Posted 26/02/2022 at 13:27:44
No need to apologise, Jim.
I admire your short-lived stand of principle. You're a better man than me. I'm a fool when it comes to all things Everton.
Brian Murray
73
Posted 26/02/2022 at 13:30:01
George, if we live in this world (Everton) without the likes of Moshiri, it's just a matter of time before we take the drop. I know it might still happen but finance is almost parallel to ability to a manager and club in this Sky age. We have never embraced the money since 1992. We all know why.
Jim Lloyd
74
Posted 26/02/2022 at 13:37:23
A fool of the best order then, Danny. No matter what the club's future is, we support it. I don't think Moshiri or Usmanov support that bug-eyed Dictator, they are rich men and interested in making money.
Whereas that Prince of Saudi Arabia was directly responsible for a foul murder. Our Premier League blessed that ownership. So morals is a quicksand and we can support our club, or take an option.
George McKane
75
Posted 26/02/2022 at 13:37:39
Agreed Brian - there seems an inevitability about " money" in football and where it comes from. All I am saying is I don't like it at all but have to accept that inevitability but does no harm to be critical.
My personal opinion is that Moshiri is a very poor office boy and Usmanov robbed his country and people – like many of the oligarchs and such. But, as much as I dislike it, they will not stop me supporting Everton.
I would prefer football free of these vultures but such is the world and we live in it. Now I am getting myself ready to leave for TDH and on to the game.
Andy Walker
76
Posted 26/02/2022 at 14:02:19
Beautifully put as always George. Let's hope we can enjoy the game and a beer or two before/afterwards.
Jerome Shields
77
Posted 26/02/2022 at 14:07:41
Andy#56
You are right that he is the majority shareholder in USM Holding,but the Club does not seem worried about this, since USM is not on any sanctions list and is a different identity than Everton.
I would prefer the Stadium was called the Johnny Scott Stadium and acknowledged Liverpools seafaring heritage, but now Stadiums are named after sponsors that have paid for the naming rights.
As a supporter the only interest to me is the team and how they play.I maybe speculate on why they play as they do and seek reasons within Everton.But ultimately it is not up to me, but whoever owns and runs the Club.
IMO it is two earlier to speculate on the rights and wrongs of what is happening in Ukraine, since the truth will be somewhere in between.It is guaranteed though that the innocent and vulnerable will suffer.
ToffeeWeb as a Everton Supporters website will not get involved.It will be edited to project football content and will correctly remove any other content, as it has done in my own case with content that was not relevant in the recent past.
Any posts that have been raised where regarding financial funding concerns for the New Stadium, which is natural enough.
Andy Walker
78
Posted 26/02/2022 at 14:23:51
Fair enough Jerome, but I think it's highly relevant to our club if some of our main sponsors, both companies and individual, are Russians/Russian owned and may well end up on a U.K. sanction list. That could have a direct financial impact on our club.
This point completely ignores the morality of what is happening in Europe right now and the fact we have a Ukrainian player in our first team squad. People may argue these are the softer issues, compared to finance, but that depends on our own personal perspectives and values.
Danny Broderick
79
Posted 26/02/2022 at 15:01:45
As ever, time will tell. But I was hoping for structural changes off the pitch to cure our dysfunctional decision-making, particularly when it comes to recruitment. In the last 5/6 years, Moshiri has reportedly signed players (Iwobi, El Ghazi), managers have signed players (Richarlison, Allan, Schneiderlin, Tosun), DoFs have signed players (Delph, Bernard, Godfrey, Gbamin), even David Unsworth signed players (Calvert-Lewin, Lewis Gibson).
Mike, Directors tend to be at the top of the chain. That is why they are Directors! If you implement this model correctly, that is how it works. The DoF looks after the long-term interests of the club as managers come and go.
The problem you have got is when the DoFs don't know their arse from their elbow when it comes to player recruitment, like Brands and Walsh clearly didn't. Or if the waters get muddied and the manager doesn't want the players offered by the DoF.
The DoF system can only work if everyone sings from the same hymn sheet. Youth coaches, first team, scouts, recruitment, owners etc. In my opinion, this is rarely the case…
Danny O'Neill
80
Posted 26/02/2022 at 15:42:39
Dare I say Danny B, everyone across the park is singing to the same hymn sheet.
Top to bottom / bottom to top system in place. The manager can disappear to the other side of the world with the first team and leave a deputy in charge of the kids to knock Everton out of the cup.
Because they have installed an institution and priciple of playimg throughout the club. Everyone knows what is expected at all levels. The step up is much easier.
That's what a truly empowered DoF / Sporting Diector can implement with the support of the first team coach. To reiterate, I think Lampard will benefit from this. If our board stands back and let's them get on with it.
Jamie Crowley
81
Posted 26/02/2022 at 16:10:29
I've not read a single post, and raced to the end to ask a question and concurrently make a statement.
I think - think with VERY limited knowledge - we just unearthed a gem?
Mike Gaynes - isn't this the dude that worked wonder at NYRB and had that team playing (admittedly MLS brand) beautiful footy??
Mike - enlighten me. My memory is that this fella was really, really good in NY.
Mike Gaynes
82
Posted 26/02/2022 at 16:46:46
Jamie, I'd say "wonder" would be a bit over the top -- in two years under Thelwell, NYRB was a .500 team and was twice knocked out of the playoffs in the first round.
For a Red Bulls writer's perspective on the guy, read my post #33.
Mike Gaynes
83
Posted 26/02/2022 at 17:12:23
Danny B #79, you've hit on the key point for me (which Danny O reiterates), which is what you call everyone singing from the same hymn sheet. The key to success of any model is a framework built around a top-to-bottom philosophy that everybody follows.
I respect your opinion on the DoF model -- you know waaayyy more about football club management structures than I do. I'm just not willing to write this guy off as a disastrous hire on Day 1 simply because of his job title.
In your post #32, you lay out "only 3 possible outcomes": Thelwell weakly accedes to Lampard's wishes, he locks horns with Lampard over players, or he dominates and forces Lampard to accept his chosen players. I'd like to suggest a 4th possibility -- he and Lampard work together on choosing and signing players they agree on.
I'm off right now to have a meet-and-greet with a new puppy (missing the game, will watch it back later). My wife and I have agreed that we will only buy the dog if we both love him. If only one or the other loves him, we move on to the next canine candidate.
I bring this up not just because it could be an example of the way the manager and DoF could work together, but because this particular puppy's name is...
Danny.
I swear.
Danny O'Neill
84
Posted 26/02/2022 at 17:16:33
Blue Danny.
I like that Mike!!
Right, let's get behind the boys.
Alan J Thompson
85
Posted 28/02/2022 at 08:59:00
Mike (#83); Probably summed up the position of DoF; a dog's life. A bone when it goes well and a boot when explaining to the Board what went wrong while the 1st team coach passes the buck by saying nothing and claiming credit for the good on-field performances.
I once coached a cricket team where the Vice Captain complained that the Captain rarely listened to his ideas. Now, we had a very good Captain and, as I advised the Vice Captain, he had to have a very persuasive argument as the Skipper knew that nobody ever shouted, "Sack the Vice Captain!"
Ernie Baywood
86
Posted 28/02/2022 at 10:04:41
Gary #49, I'd see Frank more like the Project Manager and the DoF more like an operational director.
I see projects fail all the time because they think they're just delivering a project. Then they bug out when the 'project' is done. Operations need to take a lead because it's they who actually need the asset, product or service.
Everton Football Club isn't a project, we're an ongoing concern. We might have some short- to medium-term aims and they are best handled by Frank with the playing squad and his own team. The Director of Football ensures that whatever we do is aligned to proper long-term planning.
Danny O'Neill
87
Posted 28/02/2022 at 13:15:08
Agree with that Ernie. Operational approach over a project approach.
Danny Broderick
88
Posted 28/02/2022 at 15:48:46
Fingers crossed it all works out guys….
Mike (83),
Did you get the dog???!!! Great story!!
Andy Finigan
89
Posted 05/03/2022 at 19:00:01
Kevin has just been speaking via the club and YouTube. Says all the right things. If Frank and Kevin communicate well, surely our club can only move in one direction.
Bill Gall
90
Posted 05/03/2022 at 19:55:48
I just watched the interview and liked the positive answers he was giving.
The position he was given is fairly new in the Premier League and raises questions on will it work at Everton. He seemed very positive with the relationship with the manager and his staff and the direction the club wishes to go, so the only thing to say is, Welcome to Everton, and hope that this position is as much a benefit to the club as he outlines it.
Time will tell.
Danny O'Neill
91
Posted 05/03/2022 at 20:14:53
He talks well. Let's just hope the role is defined, he is empowered, relatively free from interference and can act in a capacity as a Director of Football.
Jay Wood
[BRZ]
92
Posted 05/03/2022 at 21:13:20
The most significant he said for me was his passion for developing young players.
'The academy has to be a very important part of the club going forward. I always work hard to give young players opportunities where we can. Because young players can surprise you. The less you give them that opportunity, they you will never know what can happen. We should look internally first before even starting to think of the market place.'
I'm quite sure a few academy watchers can come up with a list of names from the last 10 years that have them wondering 'what if...?' those players had been given more opportunities with the first team.
Together with what he said about getting everybody on board, striving to achieve the same 'best' objectives, an encouraging interview.
Tony Hill
93
Posted 05/03/2022 at 21:27:48
He's not going to impress us with his fluency and there's a case for immediately disqualifying anyone who uses "going forward".
He may still be a fine DOF.
Colin Glassar
94
Posted 06/03/2022 at 09:32:54
Just read about him in the red echo. Says his dad has been an Evertonian for more than 60-odd years. I wonder if his dad knew Bill in the Boys Pen?
He also said he already knew people in the club before taking the job. Did his dad call his former Boys Pen mate to get his lad this job?
If this is all part of the old Boys Pen network, then we are in trouble. Moshiri has been duped again!
Danny O'Neill
95
Posted 06/03/2022 at 09:56:26
If he is that invested in youth development, lets hope he looks beyond the academy and sees the benefit of Everton investing in the grass roots that will feed it.
---
Add Your Comments
In order to post a comment, you need to be logged in as a registered user of the site.
Or Sign up as a ToffeeWeb Member — it's free, takes just a few minutes and will allow you to post your comments on articles and Talking Points submissions across the site.