Tottenham Hotspur vs Everton
Friday, 4 March, 2022
Match Preview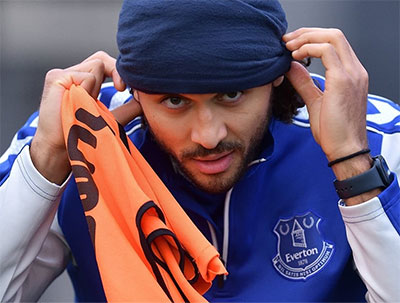 Dominic Calvert-Lewin has been pencilled into the matchday squad and was due to train with the first-team squad this weekend
Everton head to the Capital for the first time since December as they face Tottenham in the televised Monday night game.
Frank Lampard will be able to include Donny van de Beek and former Spurs man Dele Alli after both were cup-tied for the tie against Boreham Wood on Thursday evening and the manager is hopeful that Dominic Calvert-Lewin will be able to travel with the squad.
The striker has endured a stop-start return to action following his recovery from a serious quad injury that sidelined him for four months from late August until he played the full 90 minutes against Brighton on 2nd January.
Since then, Calvert-Lewin has picked up minor soft-tissue injuries, the latest of which, an adductor strain, kept him out of last weekend's match against Manchester City but he is due to train with the team at Finch Farm on Saturday as he tries to step up his preparations over the weekend.
Article continues below video content
The game will come too soon, however, for Ben Godfrey who continues to work in individual sessions as he works his way back from a hamstring tear. The manager anticipates that he will rejoin full training in the coming week.
Demarai Gray, who missed the FA Cup win over Boreham Wood through illness, is expected to travel with the party to London but Yerry Mina remains out of action.
Lampard has decisions to make over how to approach this match against a talented but unpredictable Spurs side who beat Manchester City at the Etihad, lost at Burnley and Middlesbrough in the Cup but thrashed Leeds, precipitating the departure from Elland Road of Marcelo Bielsa.
Everton's last League game, the narrow home defeat to City, was illustrative of the importance of the manager finally being able to field a strong midfield three of Van de Beek, Allan and Abdoulaye Doucouré and that will likely dictate a four-man back line and a three-pronged attack.
At the back, the need to make a decision over whether to persist with Jonjoe Kenny at left-back, where he was impressive on his last Premier League outing, was probably removed by the leg injury Vitalii Mykolenko picked up on Thursday
If Calvert-Lewin is passed fit and plays, that would mean Richarlison and one of either Anthony Gordon or Gray joining them in attack.
Antonio Conte, meanwhile, has a strong squad from which to choose, with only Japhet Tangaga and Oliver Skipp ruled out. New signing Rodrigo Bentancur is expected to return from an ankle injury while the dead leg that Lucas Moura sustained recently is unlikely to keep him out.
For Lampard and Everton, the key will be to try and replicate the tenacity, discipline and stubbornness of the performance against City and marry that with more effectiveness and penetration up front. They face a side that can be defensively vulnerable, as both Wolves and Southampton proved in both of Spurs' last two home games which ended in defeat.
As was the case last week, a point would be more than satisfactory but a victory would be huge in the context of the battle to move away from the relegation zone which will be just a point below heading into Monday evening's game.
Kick-off: 8:00 pm GMT, Monday 7 March 2022
Referee: Stuart Attwell
VAR: John Brooks
Last Time: Tottenham Hotspur 0 - 1 Everton
Predicted Line-up: Pickford, Coleman, Holgate, Keane, Kenny, Allan, Doucouré, Van de Beek, Gordon, Gray, Richarlison
---
Reader Comments (99)
Note: the following content is not moderated or vetted by the site owners at the time of submission. Comments are the responsibility of the poster. Disclaimer
Jeff Armstrong
2
Posted 04/03/2022 at 17:08:50
Start with the "in-form" Rondon and have Calvert-Lewin on the bench as an option.
Andrew Bentley
4
Posted 04/03/2022 at 20:32:21
If he's not 100% then we shouldn't start him. Put him on the bench as an option.
I would like to see 4-3-3 with a midfield of Allan, Doucouré and Van de Beek, with Gordon, Richarlison and Gray as the front 3.
Paul Kernot
5
Posted 04/03/2022 at 22:15:30
The concern playing against the pace of Son and Kane is always going to be Keane the carthorse.
Holgate and Branthwaite for this one? I'm still not over Holgate being one step away from a cock-up, even though Lampard and his coaching team seem to have his confidence coming back but what else do you do?
Neil Lawson
6
Posted 04/03/2022 at 23:52:34
Calvert-Lewin has to get fully fit and firing before he is selected to start. An excellent option from the bench but, in the meantime, I am with those advocating Richarlison, Gray and Gordon with 3 behind them.
Kieran Kinsella
8
Posted 05/03/2022 at 01:48:44
Paul,
It's weird with Kane and Son. Pochettino had them firing as cogs in a well-oiled machine. Jose put out nine defenders and left those two to be the midfield and attack by themselves. Conte so far doesn't seem to have figured out how to get the best out of them — especially Son. Hopefully he won't crack it for Monday.
Ajay Gopal
9
Posted 05/03/2022 at 06:33:43
I hope Calvert-Lewin is eased back into the playing XI. He will be a vital cog in our fight against relegation. Against Spurs, I would be careful of Højbjerg - he is a dirty bastard, got Holgate sent off for a clean tackle which caught him due to the momentum of the tackle. After rolling around like he had his leg snapped in two, he jumped up and started running around as soon as the red card was awarded.
I think the team picks itself (4-3-3):
Pickford
Coleman Holgate Keane Kenny
Doucoure Allan Van de Beek
Gordon Richarlison Gray
With Alli, Iwobi, Rondon, Calvert-Lewin as possible subs.
Eddie Dunn
10
Posted 05/03/2022 at 06:46:41
Rondon is now fighting fit and his finishing has improved too. He deserves a start and it would be sensible not to overload the returning Calvert-Lewin as he has had very little training and has already suffered from being rushed back too early.

Paul Birmingham
11
Posted 05/03/2022 at 06:50:19
I'd go with your team, Ajay, but I'm thinking of Branthwaite over Keane, in terms of mobility, recovery and transition of play.
If Everton are up for it and they can take their chances, then it's winnable, like any game, but which Everton will turn up?
Højberg is as you say, and Kane is a sly fox, and knows all the shit tricks, on how to con officials for fouls and penalties.
As long as Everton show the conviction they had vs Man City, and manage the game for 96 minutes, which is the minimal ask for every game, then they've got a chance.
Time to heal the away-day blues and pressure Spurs defence and their keeper, who increasingly seems error-prone this season.
But which Everton will turn up?
Gary Jones
12
Posted 05/03/2022 at 07:00:37
Calvert-Lewin should be eased back in from the bench, not thrown back in for the full 90. Without Calvert-Lewin though, I think we need real height in the centre-back two, so (whilst it's harsh on Holgate) I'd go with Keane and Branthwaite for this one too.
If Mykolenko is fit, he should be ahead of Kenny at left-back. Other than that, Ajay's team and formation all day, please.
Terry Farrell
14
Posted 05/03/2022 at 07:10:22
Eddie,
Rondon's version of fighting fit is still way too slow and he can't join in the press. If Calvert-Lewin can't start, then it's Richarlison and Gray or Alli.
Jim Bennings
15
Posted 05/03/2022 at 07:11:41
Not fit, hasn't looked fit, hasn't looked like his head's really been in it since returning in January.
Flood the midfield and start with Richarlison as a floating striker, use Calvert-Lewin as sub.
Sam Hoare
16
Posted 05/03/2022 at 07:53:08
Calvert-Lewin's inability to reach his standards of last season has been a massive loss, obviously in terms of his goals (16 in the Premier League last season; 3 so far this season) but also his hold-up play and ability to stretch the opposition. He's not looked sharp since his return and, till he gets fully fit, Richarlison or even Rondon might be better options.
Bobby Mallon
17
Posted 05/03/2022 at 08:03:55
I can't for the life of me understand people on here advocating Rondon as our main striker. I don't care how fit he is, he is not good enough and 2 goals vs Boreham Wood do not constitute a starting place. For fuck's sake, he should have had 4 or 5.
The front 3 if fit should be Richarlison, Calvert-Lewin, and Gray or Gordon. Swap one for the other when or if needed.
Midfield: Doucouré, Van de Beek, Allan
Defence: Coleman, Keane, Holgate, Kenny (my most improved player). Stop with the Rondon love-in.
Robert Tressell
18
Posted 05/03/2022 at 09:01:40
Calvert-Lewin needs to earn his place back. At the moment Richarlison, Gray and Gordon work pretty well.
Calvert-Lewin can come on for the last 30 minutes if something needs to change.
Quite what the club had in mind when signing Dele Alli, I'm not sure. But at the moment he doesn't get in the first XI either. Hopefully he can start to make an impact though. We will need a few moments of class / skill and he is capable of them.
Laurie Hartley
19
Posted 05/03/2022 at 10:53:25
I can't see Calvert-Lewin or Rondon starting in this game. This is the line-up I am hoping to see:
Pickford,
Coleman, Holgate, Keane, Kenny
Doucoure, Allan, Van de Beek
Gordon, Richarlison, Gray.
Jerome Shields
20
Posted 05/03/2022 at 13:02:00
Last season, Calvert-Lewin under Ancelotti had progressed a lot. This was the season that, with focus and work, according to Ancelotti, Calvert-Lewin would have the goal of being a top striker in his hands.
I was disappointed in his lack of acknowledgement of Ancelotti's contribution to his improvement, at the end of last season. But this season, he hasn't really played and it shows when he does, being well below the standard of last season.
There is no way he is currently worth the transfer values being bandied about and he will have difficulty making an impact in the remaining fixtures, if selected. The injuries must be frustrating for him, since he did work very hard to keep himself in contention for his position.

Justin Doone
21
Posted 05/03/2022 at 13:12:00
We have been awful away from home. Setup to frustrate and not concede.
Deny Kane getting on the ball and Son space to run into.
Not conceding first would be a good start. Not getting turned over is the minimum. I'd happily get a 0-0 just to keep a clean sheet and point in most always games.
Do not lose and I'll be happy!
Jerome Shields
22
Posted 05/03/2022 at 14:30:32
Justin #21,
Everton IMO have not been 'set up to frustrate and not concede' – either under Benitez or Lampard.
Both have tried to play open attacking football and have been frustrated by teams who are set up not to concede. Everton p!ayers are then exposed under targeted marking and wilt, conceding the midfield and being forced deep, only to be overwhelmed.
Ancelotti away from home, Big Sam likewise, frustated and denied the opposition, trying to nick a goal, and did give Everton the best away record for years.
Against Man City, a Top 6 side, Everton players were not targeted and were given space, but there was a failure to take advantage of Man City's high defensive line, like Spurs did. The necessary players to do so were not put on early enough to do so.
Spurs play a more open style, like a Top 6 side, but you can bet the farm that Son, the dirty bastard, will be targeting Doucouré.
Over to you, Frank. What have learn't so far?
Christy Ring
23
Posted 05/03/2022 at 16:39:08
If Calvert-Lewin is fit, I'd start him. He needs game time after injury and Rondon hasn't the pace, and play Richarlison in his best position, on the left in my opinion.
Brian Murray
24
Posted 05/03/2022 at 17:09:04
If Rondon is anywhere near even our bench, then we are asking for Barnsley fixtures. Ditto gobshite Gomes. Been proven time after time.
Justin Doone
26
Posted 05/03/2022 at 18:09:04
Who's bringing the sharpener for Dom's pencil? He's been rather blunt this season.
Sorry, to clear up my earlier message. I did mean that we have been poor away this season. Therefore, Frank needs to learn how to shut up shop. Frustrate Kane and Co and be delighted with an away clean sheet. Rafa did it against most teams looking to counter attack them.
We just didn't get the balance right and stood off the opponents too much in our own half. Chelsea worked out well but against Newcastle, Palace etc we stood and watched rather than engage and tackle.
I hope Gray is 110% fit, his pace and ability could really help us get something from the game.

Derek Taylor
27
Posted 05/03/2022 at 18:19:25
Brian @ 72, I think Rondon would be a real asset in the event of Everton suffering the drop. He looked good whilst playing for WBA last season!
Phil (Kelsall) Roberts
28
Posted 05/03/2022 at 20:01:54
As a defence of Dominic Calvert-Lewin. Through his career, he has scored in the Premier League one goal every 237 minutes.
This season, he has only been on the pitch for 682 minutes and scored 3 goals, one every 227 minutes.
So he ain't doing so bad (last season was a goal every 180 minutes before someone has a moan).
Brian Hennessy
29
Posted 05/03/2022 at 20:38:45
A really positive interview by Richarlison on the official site today.
Two paragraph's really stood out and tell me he doesn't want to move anywhere else.
"The club means so much to me. I am really settled in the city and it feels like being at home in Brazil."
And
"I have said for a long time I want to make history in an Everton shirt and score lots of goals here. I believe I can have a wonderful career at this club."
Joe McMahon
30
Posted 05/03/2022 at 20:43:22
Brain, he's the main player in our squad. He runs endlessly and gets kicked to bits every match. I really hope he stays too, but we will have to be in the Premier League.
Derek Knox
31
Posted 06/03/2022 at 08:18:19
Brian/Joe, if it came down to a choice of having to sell either Calvert-Lewin or Richarlison, it would have to be Calvert-Lewin for me. How many times has Richarlison been the difference between winning or drawing?
I like Calvert-Lewin, don't get me wrong, but he does not have the consistency in comparison to Richarlison. All players have the odd off-day but Richarlison probably has the fewest of any of them. Like you alluded to, he gets the club, doesn't want to go anywhere else, apart from playing for Brazil.
I know you can never believe the gossip columns but it has been mooted a few times that Calvert-Lewin would move 'down sarf' if the chance arose, no smoke without fire and all that!
Steavey Buckley
32
Posted 06/03/2022 at 09:22:34
Everton's situation is not helped when Everton are not creating chances and not scoring at one end of the field, while the Everton defence is another concern at the other end. But every time I notice fans naming Coleman as their preferred right-back it is though the Everton fans have already accepted the inevitable.
Danny O'Neill
33
Posted 06/03/2022 at 09:29:56
I don't care who is playing tomorrow evening.
Meeting at Liverpool Street with my brother and friends before heading to Tottenham.
Can't wait and we're bringing at least a point home.
Laurie Hartley
34
Posted 06/03/2022 at 10:25:06
Okay, Steavey #32 – come on, what is your 4-4-2 line-up? Is Lampard going to spring a surprise by playing Dele Alli behind Calvert-Lewin? (Or even Rondon?)
Question asked in the hope of some friendly football banter.
Danny O'Neill
35
Posted 06/03/2022 at 10:45:17
No 4-4-2 please. It is outdated and gets you overrun in midfield.
You control games by controlling the midfield. Not by virtue of having 2 players up front if they are not supplied.
Steavey Buckley
36
Posted 06/03/2022 at 10:58:59
What ever formation you prefer, but you can't change the size of football pitch. If there are 3 in midfield and 3 at the back they have to cover the extra width when there is 4 in midfield and 4 at the back.
3 at the back cover and 3 in midfield have to cover an extra 6 sq yards. May not sound a lot, but over 90 minutes+ can be the difference of winning, drawing or losing a match.
Christopher Timmins
37
Posted 06/03/2022 at 11:06:51
Frank will play with at least in midfield 3 as Allan, Doucouré and Van de Beek will all start unless injured. What's more interesting is who will he go with up top. Given it's away from home my guess is that he will go with Iwobi, Richarlison and Gray.
No reason why we can take something from the game.
Clive Rogers
38
Posted 06/03/2022 at 11:22:20
Phil, 28, two of his three goals this season were penalties. Only one in open play.
Fran Mitchell
39
Posted 06/03/2022 at 11:30:19
Calvert-Lewin shouldn't start. More than his form or fitness, he shouldn't start because Richarlison has been playing well in the role and I think will suit how we need to set up at Spurs.
Gordon, Calvert-Lewin and Gray should be our front 3 imo, with Allan, Doucouré and Van de Beek as the midfield.
Calvert-Lewin and Alli offer alternatives on the bench.
Steavey Buckley
40
Posted 06/03/2022 at 11:33:48
Laurie @34.
For a start, I do believe the last transfer window was not as good as Everton fans believe to the contrary. Benitez spent £30 million on unproven full-backs from lower leagues, who can't establish themselves in the first team, at a time when Everton are desperate for quality defenders. Benitez also loaned a player from Aston Villa 2 months ago who can hardly get a game.
Then there is Dele Alli, who has been written off by Spurs fans, who once worshipped him as a goalscoring maestro, who is not chosen to start a game even though Everton are committed to spending £40 million on him.
That leaves Van de Beek, who has been promising at home, when he has played in the last 2 Premier League home games. But at Southampton, away from home, he flopped like the rest of the team.
I do believe Kenny has been a revelation at left-back, and should start there tomorrow. At right-back, Coleman is not as good as defending anymore, and has been caught out quite a few times all season. Once Ben Godfrey is fit, he could solve the right-back problem. Holgate and Keane should continue at the centre of defence, because Mina is usually injured.
Against Spurs in midfield, I would have Gordon, Allan, Doucouré and Van de Beek. Upfront: Richarlison and Gray. I wouldn't choose Calvert-Lewinto start because basically lacks match fitness. Pickford as usual in goal.
Robert Tressell
41
Posted 06/03/2022 at 11:50:47
Steavey #36, things have moved on since the '80s. Full-back is now really a midfield position, top goalscorers often start from a wide position in a 4-3-3, the backpass rule means goalkeepers have become sweepers and pushed traditional sweepers into midfield.
Successful sides don't use it – and certainly don't play with 2 orthodox strikers. Burnley use it because it suits a very limited playing staff.
It causes us difficulties because Van de Beek and Alli are 4-3-3 / 4-2-3-1 specialists – as are Gray and Richarlison.
Steavey Buckley
42
Posted 06/03/2022 at 12:23:59
Robert, contrary to what you have commented, most teams play either 3 or 4 at the back or 4 or 5 or sometimes 6 in midfield. Not 3 in midfield. The reason why teams will play more in midfield than anywhere else is, because if midfield is lost to the opposition the match can also be lost to the opposition. It's due largely to the size of the pitch measuring: 115 yards by 75 yards.
If teams had 13 players instead of 11 then maybe teams would be tempted to play more attacking football. In five-a-side football, football is played at a higher tempo, because there is far less space to cover.
That's why today's Premier League footballers have had to become efficient athletes to cover more space on the football pitch. But as players become more like athletes, and become highly tuned and stretched, then they get more injured with hamstring, groin, thigh and calf injuries.
Brian Harrison
43
Posted 06/03/2022 at 12:26:11
I am sure that Frank and his coaches will be most worried about our appalling away form. Our last point away was at Chelsea on the 16 December and our last away victory was at Brighton on the 28 August.
I haven't checked but I am pretty sure we must have gone the longest without an away win of all the Bottom 6 clubs. We need to start picking up points away otherwise every home game becomes a must-win just to stay out of the relegation zone, and that puts real pressure on the players.
I think most of us are pleased with the improvements that Frank and his coaches have achieved in such a short space of time, and I am confident that he will steer us clear of relegation.
We have seen what happens when sides at the bottom pick up back-to-back victories, it has a big effect as most teams are down there because they rarely put back-to-back wins together.
The big plus is we have games in hand on all the other clubs in the relegation zone. I don't rule Newcastle out of that battle either. Yes, they have been on a good run, but their next 4 games are away with one of them being us.
The only slight concern I have is Frank was full of praise when we signed Dele Alli but, so far, he has only come on for 15 or 20 minutes, yet Donny van de Beek has started games.
Both had about the same game time for their previous teams before joining us, and that's why I am slightly concerned that our loan player is getting more game time than our permanent signing.
Although wouldn't it be great for Dele Alli to score the winner tomorrow.
Bob Parrington
44
Posted 06/03/2022 at 13:14:31
Fran, did you really mean the front 3 should start with Calvert-Lewin? I think not.
Fran Mitchell
45
Posted 06/03/2022 at 13:24:01
Indeed Bob, I wrote Calvert-Lewin instead of Richarlison.
Gordon, Richarlison, Gray – that should be our front three for now.
Gary Jones
46
Posted 06/03/2022 at 13:59:03
I think half the battle for us is we have a squad that's only ever an injury or two away from having to change our formations and setup. We lack any real chance of consistency because of it.
In fairness to the Fat Spanish knobhead dinosaur tit, he started out wanting to play 4-4-2 with Richarlison and Calvert-Lewin taking crosses from Gray and Townsend. Unfortunately, he was too stupid, and stubborn, to see that Rondon was simply no replacement for the front two.
So, whilst I admire his desire to embed a system (and really wish we can get back to a consistent one soon), I think for now the formation is based on getting the best training and performing players on the pitch and finding a suitable system to suit them.
For Monday, I'd suggest that's maybe:
Pickford
Kenny Holgate Branthwaite Mykolenko
Allan Doucouré
Gordon Van de Beek Gray
Richarlison.
Calvert-Lewin and Rondon off the bench if we're chasing it. Dele Alli on at some stage for Van de Beek.
Robert Tressell
47
Posted 06/03/2022 at 15:47:07
Steavey # 42, I don't really know what you're on about now - but fair play, you've got your opinions and it's an opinions site. We can certainly agree that numerical advantage in midfield is often key to winning matches.
I agree with Fran and like the look of Gary's starting XI. I suspect Lampard will go for the experience of Keane and Coleman for this though.
Jack Convery
48
Posted 06/03/2022 at 16:07:32
Seeing as Burnley and Watford have failed to stick us in to the Bottom 3, it's about time we did something to help ourselves.
A decent away display bringing at least a point but preferably all 3 is now needed. COYBs.
Joe McMahon
49
Posted 06/03/2022 at 16:16:25
Agreed Jack. Costly misses by Calvert-Lewin against Leeds, and Davies not shooting and passing to Mina in an offside position have cost is 4 points, in just those 2 games.
Then adding home defeats by Watford and Brighton, and away at Norwich... it's all a bit pathetic.
Lampard should have been appointed in the Summer.
John Kavanagh
50
Posted 06/03/2022 at 16:41:01
At least other results have gone our way (apart from those jammy Barcodes) and kept us out of the Bottom 3. If we take Spurs on from the kick-off and try to sneak a quick goal, we can get a result. Especially if VAR is given no chance to intervene on behalf of one of their favoured Super League traitors. They strike me as being almost as mentally fragile as us, which is saying something.
I'll take whatever team and formation Frank Lampard picks as he seems to know what he's doing. No more injuries please. It's about time that our luck changed.
COYB. Give our magnificent away support something to savour.
Matthew Williams
51
Posted 06/03/2022 at 17:44:01
A very good weekend for us but can we capitalise on it?.
I fear the worst as our record down in "The Smoke" ain't so good (unless we're playing Charlton). I will have to listen instead of watch it (no bad thing, sadly), as it seems Hesgoal has now pulled the plug on all Premier League games.
A comfy 3-1 win for Spurs is all I can see with this game, as we're still so sloppy, slow and negative for my liking, I'm afraid.
Please prove me wrong, eh, Blues!.
Mal van Schaick
52
Posted 06/03/2022 at 18:00:11
Put Calvert-Lewin in and give him plenty of crosses. We know he can score goals. A good win would set us off up the table with our games in hand.
Matthew Williams
53
Posted 06/03/2022 at 18:09:32
That predicted team has seven defensive players starting... jeez, I can only hope Frank doesn't pick it, or Spurs will be thinking it's another easy 3 points at home against an Everton side that has come for a point only!
Be braver, eh, Blues, we need three points badly... NOW.
Kunal Desai
54
Posted 06/03/2022 at 19:01:41
This game is almost a free hit based on the weekend's results, hoping to at least we get a point here but I think it will be a comfortable Spurs win.
I think we'll need to dig out 4 more wins. Wolves and Newcastle are the games we really must at least pick up 4 points from next week.
Derek Knox
55
Posted 06/03/2022 at 21:08:37
I don't know whether it's the optimist in me, something I ate or drank before, but I have a feeling in my water (hope it's not cystitis) that we could do okay tomorrow night. Spurs are a bit up and down at the moment, let's hope we catch them on the down curve. I really like their Manager but I don't think he is altogether happy, being there.
We have to start getting away points and as a lot of the sides around us are picking up the gap has narrowed to scary proportions. Come on boys make us proud in front of the Cameras.
COYB 💙
Peter Salisbury
56
Posted 06/03/2022 at 22:26:51
Mathew Williams-51:
As you say, HesGoal was EPL-less today, but CricFree showed the City-Utd shellacking perfectly well…
Phil Smith
57
Posted 06/03/2022 at 23:26:20
DCL better not start. Last 20 at the most. He's been gash since coming back, which tells me he wasn't really fit and ready. Don't rush him.
Tom Bowers
58
Posted 06/03/2022 at 23:28:54
Tottenham away usually give me a nervous time and there is nothing to change that feeling now..
Despite the games in hand over fellow strugglers we are desperate for points and if I could be assured that our defensive frailties won't re-appear against Kane & Son then I would feel better.
Tomorrow would be a good start to pick up points with some players back in the squad but it hasn't paid off in the past to get too hopeful about any Everton performance. We are due a league win but any reward tomorrow would be good with Wolves visiting Goodison next week.
The Soton game was a let-down so let's hope this time Lampard has the starting eleven up for the task from the off.
We have had some decent results over the years at Spurs including the first game of last season.
Dennis Stevens
59
Posted 06/03/2022 at 23:42:38
I desperately hope that we manage to come away from North London with at least a point. Every match that goes by without doing so just increases the pressure on the team for the next fixture.
Ron Marr
60
Posted 07/03/2022 at 00:50:19
Mark Taylor
61
Posted 07/03/2022 at 01:04:24
The front 6 pretty much pick themselves, VdB, Duke, Allan, Gordon, Gray(if recovered), Richie. DCL on the sub bench at best, he has looked several furlongs short of a gallop.
The back 4 may also pretty much pick themselves given Mina, Godfrey and apparently Myko are out, and our Rangers reserve full back was pulled after his first 45 mins for the club so is clearly not displacing Seamus any time soon. But as usual, that is where the weaknesses are which is a concern, given that is where Spurs strengths are.
I'd take a point and regroup for the real relegation battles coming up.
Bill Gall
62
Posted 07/03/2022 at 01:39:34
Talking about Tottenham...
I was going through some old programmes and found one from Tottenham v Everton at White Hart Lane on Wednesday 11 March 1970. Price 6d.
The team was, looks like 2-3-2-3 line up: West, Newton, Wright, Harvey, Labone, Kendall, Hurst, Ball, Morrissey, Royle and Husband.
I remember we won 0-1 with Wittle scoring. I have Labone's name crossed out but can't remember who replaced him. I think it may have been Kenyon.
Everton were 1 point behind Leeds for the title at that time. Time flies when you are having fun!
Laurie Hartley
63
Posted 07/03/2022 at 03:40:38
Steavey # 36 & 40 - although I don't always agree with your opinion I am always interested in it because of the way you present it – matter of fact without vitriol.
So your comments about how much area of the pitch midfielders have to cover and not being able to change the size of the pitch got me thinking.
I did a bit of research (Google) and came across this site which shows that pitch sizes / dimensions actually vary quite a bit.
I was surprised to discover that Goodison was the widest pitch and third largest in the Premier League.
For anyone who is interested I, have provided a couple of download links below showing the implications of pitch size for a 3, 4, or 5 man midfield.
You change the percentage of the pitch area that the midfield covers (Royal Blue Box).
If it is true that "fine margins make a difference" it becomes quite interesting.
About the game – I do think we can get something out of this one.
Jay Harris
64
Posted 07/03/2022 at 03:48:55
Provided Gray is fit I would go with Lyndon's and Ajay's team with the exception of Mykolenko if fit. Spurs are very strong down the right flank so I think we need a left-footer there.
I worry about Keane and Holgate every game but Frank and his boys must be working on them (??).
Up front, I like the variation and running that Gray, Gordon and Richarlison create so Calvert-Lewin has to work to get his place back, for me.
Pete Gunby
65
Posted 07/03/2022 at 04:02:53
Not sure if Jekyll or Hyde will show up tomorrow. It's Spurs so it will probably be a squeaky affair.
Bill Gall – I think you are correct with the Kenyon sub. My memory is not what it was but that team was unforgettable – best all-English midfield you'll ever see.
Sean Roe
66
Posted 07/03/2022 at 05:16:34
The lads hit the big time by keeping the scoreline respectable against City. We then followed it up with a thumping of a football powerhouse in the cup, it's hardly fair to expect another colossal performance tonight.
In the words of Lampard after the City game – ''Don't expect too much out of the next three games''
Thank god we're not in a relegation battle.
Jeff Armstrong
67
Posted 07/03/2022 at 05:52:15
Bill @62, Pete @65, there's a fantastic website called Everton Results, on the left hand side there are menus, click on seasons, find game from that season, click on home team and hey presto, line up, subs, attendance, league position etc – it is great for the foggy memories.
You're both correct: Roger Kenyon replaced Labone that night.
Danny O'Neill
68
Posted 07/03/2022 at 06:12:23
I fancy us for a point.
Lyndon's line-up makes sense with what's available. Holgate continues to concern me, but then so do all of our centre-backs.
In a 4-3-3, that's our strongest midfield in my opinion. I wouldn't argue with the 3 forward players either. It gives us pace and there are goals in that. Although, I always feel Richarlison is more effective from wider positions or as a Number 10, I would imagine he will be the central player in that suggested team.
Whetherspoons at Liverpool Street station around 6 pm then onto the Lane for a point or 3. The last time I was there was for a business meeting. The meeting "room" was actually on the roof top garden of their offices, which are connected by a bridge to the stadium. It was a week before their test run of an U23s game and we got shown around. Superb stadium. If we even get close to delivering something of that standard at Bramley-Moore Dock, we'll have done more than well.
Danny Baily
69
Posted 07/03/2022 at 07:39:20
Predicted lineup looks good. Odds against us but there's plenty of times this season where we've been surprised by the result (mostly at our expense!). An unexpected win today would be a big step towards safety.
Mark Taylor
71
Posted 07/03/2022 at 10:26:38
On the other hand, I'd go with Bill's team (@62) and upgrade expectations from a rugged point to a comfortable win.
Michael Kenrick
72
Posted 07/03/2022 at 11:21:12
Bill @62,
If Whittle scored, then there must have been another change in the starting line-up. I'm guessing he played instead of Jimmy Husband.
Jerome Shields
73
Posted 07/03/2022 at 11:21:49
I think Lampard has to find a different way to set up Everton away from home.Set up as they where against City will not work.Players that did make it work, will be targeted.One point that Lampard needs to learn is Keane needs to play on the left of the Centre back position.Play Holgate or Godfrey as back up at Centre Bank to Colman.
The defence midfield cannot be giving away possession and good quality ball has to be played into the forward.Playing Calvert Lewin straight off would be risky, since if he is not on the ball and helping Everton keep a pressing shape the Spurs defensive line will push up in support of midfield.
The second half will be critical and this Everton team will not turn around an inept first half.Lampard has to make changes early in the second half to seize the initiative, otherwise Spurs will comfortably apply pressure.
Conte against City was more tactically astute that Lampard was in the second half.
The good thing is that Spurs play well against top six sides and struggle against lower table sides that are set up to defend and frustrate.Hopefully Frank has learn't something on his travels with Everton.
Doucoure will be targeted by Son, for sure.I would play Rondon to give Spurs something to think about from the start .Keep the Spurs defensive line deep.
Tony Abrahams
74
Posted 07/03/2022 at 11:22:19
Just looking at the ref; and remembering that funny video that was played after Everton played Spurs earlier in the season at Goodison.
I just hope that fella who was shouting the wrong name when criticizing the referee, telling Atwell to put a white shirt on, isn't a clairvoyant!
I'd rest Allen, and play Deli Ali tonight. He's been here five weeks now and if he still isn't ready, then something must be wrong with the lad, who should now be wanting to get back and prove people wrong?
Roger Helm
75
Posted 07/03/2022 at 11:34:05
I like Monday night fixtures because Everton don't ruin your weekend.
Barry Hesketh
76
Posted 07/03/2022 at 11:50:19
Michael and Bill, the line-up at White Hart Lane included Whittle in the starting eleven. In the previous game against Burnley he also started in the first eleven. Husband was either injured or dropped for these fixtures, he was in the starting line-up against Nottm Forest prior to the Burnley game and he never returned to the starting eleven until the final game of the season at Sunderland.
Danny O'Neill
77
Posted 07/03/2022 at 11:58:40
Yes, but they can ruin my Monday evening Roger. I'll let you know later as I travel home surrounded by Tottenham fans, although by the time I get to Marylebone, they should have filtered out. In fairness, they were pretty passive on the way back to Euston after the home fixture earlier this season.
Random point. I always remember discussing Tottenham in the early '80s with my cousin. Even back then, we commented on how much more business-like they were than Everton.
I'm sure we'll get there, but we have wasted decades whilst others have stolen a march.
Heading in soon. wish me and us luck.
Tony Abrahams
78
Posted 07/03/2022 at 12:05:13
I kept pressing the next match, Barry, and we also beat Spurs on the following Saturday before going to Anfield and winning 2-0. Oh to have a team like that now!
Jim Bennings
80
Posted 07/03/2022 at 12:27:39
I wonder do any of the players look at the results we've had this season and the league table?
If they look closely they'll see we have won 2 in 19 matches.
It's an abysmal return for this group of players it really is, that should be quite embarrassed by it really.
Two solitary away points since we won at Brighton in sunny days of August.

Jon Harding
81
Posted 07/03/2022 at 13:28:09
I like the suggested team. Only concern is whether Gray is fit to start. If not, Dom or Dele instead? Or (look away now Colin Glassar) maybe Iwobi as Frank has used him a fair bit?
For me like Bobby Mallon @17, it's a definite no to Rondon. Did anyone who is arguing for the big Venezuelan actually attend the cup game last Thursday? Surely not!
Good luck tonight Danny O, Rob H et al. I shall be watching from behind my sofa.
Simon Dalzell
82
Posted 07/03/2022 at 13:45:05
Matthew (51) Peter (56). mygoaltv.org is very good. Brilliant HD picture and rarely falters.
Colin Malone
83
Posted 07/03/2022 at 13:51:00
Holgate or Branthwaite? Branthwaite.
Coleman or Kenny? Coleman.
Kenny or Mykolenko? Mykolenko.
Holgate and Kenny. You just don't know what you'll get in each game from these two.
Peter Mills
84
Posted 07/03/2022 at 14:16:24
Looking forward to the game, I've never been in a safe-standing area before. It's got to be safer than standing in a seated area, surely?
Chris Locke
85
Posted 07/03/2022 at 14:32:25
If Gray is not fit then Alli has to start. We all know only too well how players often perform against their former employers.
Not confident going in to this as our away form is nothing short of tragic.

Jeff Armstrong
86
Posted 07/03/2022 at 14:34:14
Tbf Colin #83, you just don't know what we'll get from the other 3 either.
Branthwaite has his brain fart moments.
Mykolenko is pretty raw, but admittedly gives balance.
Coleman has had quite a few moments too this season.
Jonathan Tasker
87
Posted 07/03/2022 at 15:17:03
It's only my opinion but seems to me that Dele Alli is finished as a footballer at the highest level. Daniel Levy was desperate to get him off Spurs' books. Kenwright's media mates compliantly put out the £40M story. Kenwright watchers will appreciate how mean he is.
Everton have to pay £10M if Alli makes 20 appearances. This won't happen. I'm so sure it won't that, if it does happen, I'll never post again on this site. Can't say fairer than that!
Jay Evans
88
Posted 07/03/2022 at 15:23:28
Massive game tonight but, then again, aren't they all at the moment. I wonder would Alli be a useful tool for us tonight – back on his old, patch, point to prove, etc, etc – but I just can't see where he would fit into our starting line-up?
Who knows, maybe a glorious stoppage-time winner from the bench? I can dream I suppose.
Onward Evertonians. Full support 💙
Derek Knox
89
Posted 07/03/2022 at 15:24:31
Danny @ 79 " I didn't finish my sentence. "
I didn't even know you had been in the nick ! What was it, time off for good behaviour ? :-)
Seriously, give a shout for all of us who are watching it on the TV, and all fellow Blues who have religiously made the pilgrimage.
COYB 💙
Rob Halligan
90
Posted 07/03/2022 at 15:40:13
Looks like loads are going to miss the game (us included). Massive accident on the M6 with possible fatalities. All lanes closed and could be until 5 pm. We are only as far as Stoke.
Dennis Stevens
91
Posted 07/03/2022 at 15:45:15
You could try to cut across to the M1 if you can get onto the A50, Rob.
Bill Gall
92
Posted 07/03/2022 at 15:46:20
Michael #72
Substitutions were first allowed by the FA in the 1965-66 season but only to replace an injured player.
The FA changed the rule to allow substitution of a player for tactical reasons after they found out that Don Revie was telling his players to feign injuries so they could make a tactical change; this came into effect in the 1967-68 season.
The first player to be used as a sub was Kieth Peacock for Charlton v Bolton in August 1965.
The programme I have Labone must have not been fit to start, and Whittle came on as a sub.
Rob Halligan
93
Posted 07/03/2022 at 15:58:17
On the move now, but even without a stop it's at least 3 hours to Spurs. Coach driver needs to put his foot down now!!
Mike Gaynes
94
Posted 07/03/2022 at 15:58:50
Go get 'em, Rob!
Danny O'Neill
95
Posted 07/03/2022 at 16:07:31
Clear and bright blue skies over London. A slight northwestrely breeze, but a glorious day in the capital. I hope the masses get here safely to meet me, and if necessary, delay the kick off to let our tremendous following to give their support to the team.
Just passing Wembley. I always give it a nod as I know I'll be back here next month.
Everton forever.
Andrew Keatley
96
Posted 07/03/2022 at 16:08:57
Jonathan (87) - You reckon Dele Alli will play less than 20 games for Everton? He's already on 4.
Fitness (and club finances!) allowing I'm expecting Alli to have comfortably clocked up 20 club appearances by the start of September 2022.
Your general positivity and geniality will be much missed.
Bill Gall
97
Posted 07/03/2022 at 16:21:01
Barry #76
Thank you for that information, on my post at #92 I explained why I thought he may have been a sub, apologies to Michael #72 who had it right as well.
Reading the programme had ruled out Labone as it was most probably been printed before the team was announced, don't know why never ruled Husband out.
John Otway
98
Posted 07/03/2022 at 16:52:56
Andrew Keatley, #96. Couldn't agree more. Jonathan Tasker, your constant Eeyore negativity sucks the very life out of me!
Jonathan Tasker
99
Posted 07/03/2022 at 17:03:15
Andrew 96 and John 98,
Chaps. You won't miss me because I'll still be around because Dele Alli won't play 20 games.
ps: I have said on here several times that Everton will win the FA Cup this season. Overall, I'd be more positive about the club if they gave me something to be positive about. The club is run by total charlatans. The players are shite, and I was never convinced by Lampard.
I was the idiot suggesting the club employ Chris Wilder, Steve Cooper or Graham Potter. And I said that before Benitez
Tony Abrahams
100
Posted 07/03/2022 at 17:22:58
Jonathan, whilst the club is ran by total charlatans, does it really matter who the manager is?
Pat Kelly
101
Posted 07/03/2022 at 17:23:23
Not sure I'd agree with the forecast that we'll win the FA Cup this season. But at least every game till the end of the season is going to be like a Cup final. Hope we get something out of tonight's game. Frank and the boys badly need some points.
Dale Rose
102
Posted 07/03/2022 at 17:41:56
If they play like they played against City, we will win this. Pep had a very relieved look on his face at the end of that game. Not something you see every week.
Jonathan Tasker
103
Posted 07/03/2022 at 18:00:57
Tony 101
You're right
Nobody will succeed under the current owners
Dale Self
104
Posted 07/03/2022 at 18:49:42
Chris Wilder is no dodgy donut JT.
Danny Baily
105
Posted 07/03/2022 at 19:00:27
Dale 102,
We need to stop hyping up a respectable showing against Man City. Brentford and others have run them close by that standard, it means very little.
Tom Bowers
106
Posted 07/03/2022 at 19:02:24
Keane reminds me of Mike Lyons, lots of heart and strong in the air.
However, he is slow on the turn which doesn't help the defence
and of course Holgate is quicker but rather erratic.
A fully fit Mina with talented and improving Branthwaite could be a strong combination but we need two competent fullbacks.
Until Lampard get's the defence sorted Everton will be an easy mark.
---
Add Your Comments
In order to post a comment, you need to be logged in as a registered user of the site.
Or Sign up as a ToffeeWeb Member — it's free, takes just a few minutes and will allow you to post your comments on articles and Talking Points submissions across the site.