A Tribute to Jimmy Harris – 1933-2022
Sunday, 17 April, 2022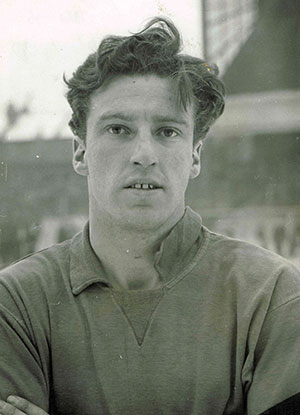 Jimmy Harris, who passed away this weekend, had been Everton's second-oldest former player (after Billy Bingham). He would have turned 89 in August.
Jimmy was raised on Temple Road, Birkenhead, in sight of Prenton Park and he would perform match-day ball-boy duties there. He attended the school across the road from his home and excelled at various sports. He told me:
'I was Captain of Birkenhead Schoolboys and then I played for Cheshire County Schoolboys. At school, I started as a left-half but, as I got a better shot and got faster, I was altered to inside-right. I'd play for Birkenhead Boys in the morning at left-half and then for Bebington Hawks in the afternoon at inside-right.'
His aunt Elsie put in a word about her 15-year-old nephew with an Everton director and he was offered a trial across the water. It was the start of an enduring association with the Toffees.
Article continues below video content
Jimmy's early years at Goodison saw him juggle training with serving an apprenticeship at a printers on the Wirral (at his father's insistence). He came through the ranks at the same time as his pal, fellow Birkenhead lad and near-namesake, Brian Harris. On returning from national service, he forced his way into the reckoning of manager Cliff Britton — displacing crowd favourite Dave Hickson as the wearer of the famous number nine shirt in 1955. He recalled:
'I was a different type of player to Dave. I was quick, 5ft 10½in, just under 12st, good with both feet and not bad in the air. I didn't get involved in as much trouble as Dave did. I took his place and made my debut at Burnley. I got brought down for a penalty - and we won 1-0. In the next game, we played West Brom at home, I scored early, and we won 2-0'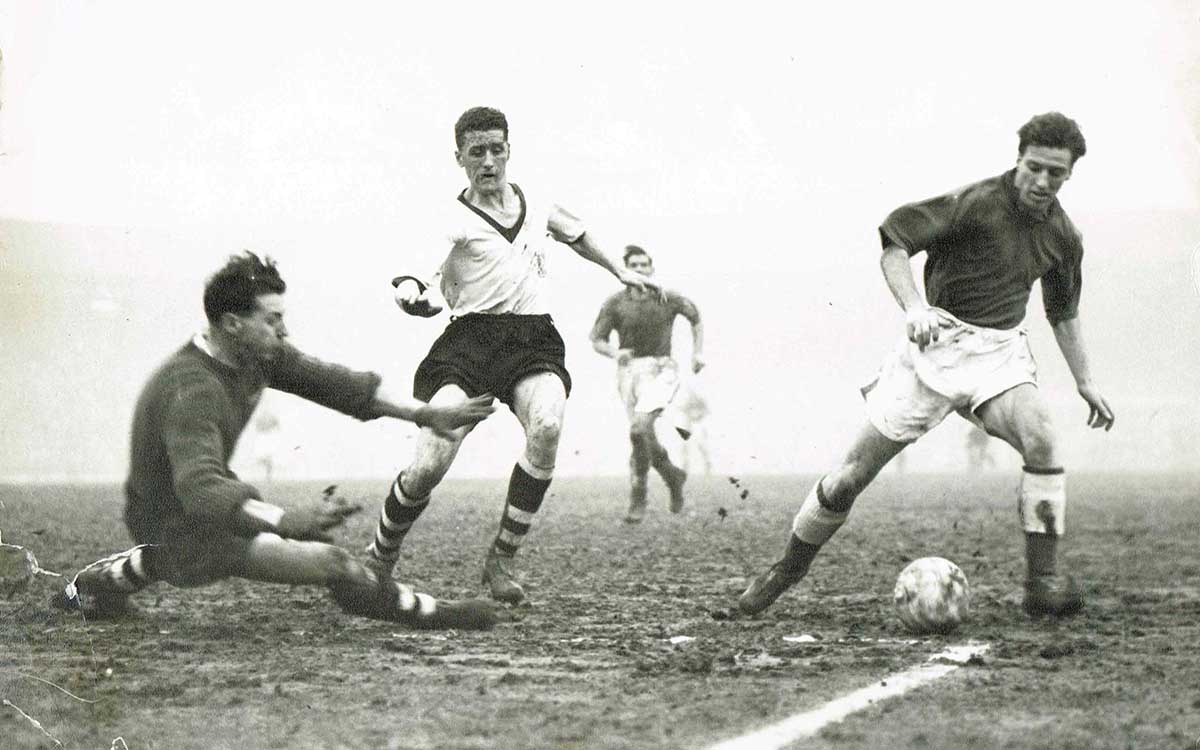 Jimmy playing against Port Vale, 1955-56
As a clever, pacy forward, there is little doubt that he would have thrived in today's version game, played on billiard table pitches. Jimmy netted 21 times in his debut season as a first teamer but went on to suffer hamstring issues — the bane of explosive sprinters. He won England Under 23 honours, lining up alongside Duncan Edwards, who he rated highly. He also was a huge admirer of Bobby Collins once the Scot joined the Blues in 1958.
Jimmy was converted to a right winger with the return of Dave Hickson to Everton, before e reclaimed a central striker position at the turn of the decade, just as Everton began to splash to cash. He didn't always see eye to eye with manager Johnny Carey and was transferred to Birmingham City in December 1960, where he was assured of the centre-forward position. He left Everton having scored a creditable 72 goals in 207 appearances. He told me that he regretted not staying put as he'd have relished playing under Harry Catterick (Carey departed Everton less than four months after Jimmy). He enjoyed four happy years in the Midlands — particularly his exploits in League Cup (a winner in 1963) and the 1960/61 Inter-Cities Fairs Cup, in which Blues overcame Inter Milan but lost to Roma in the final.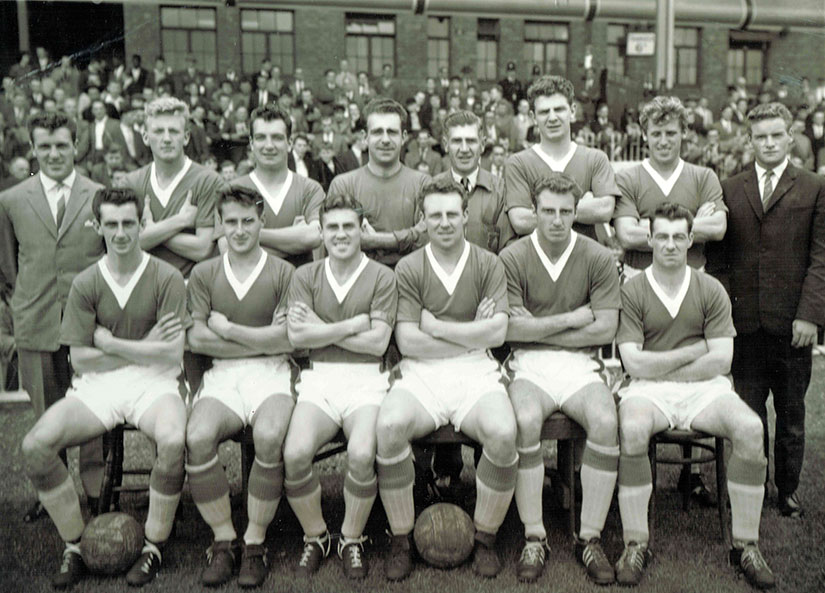 Everton team in 1960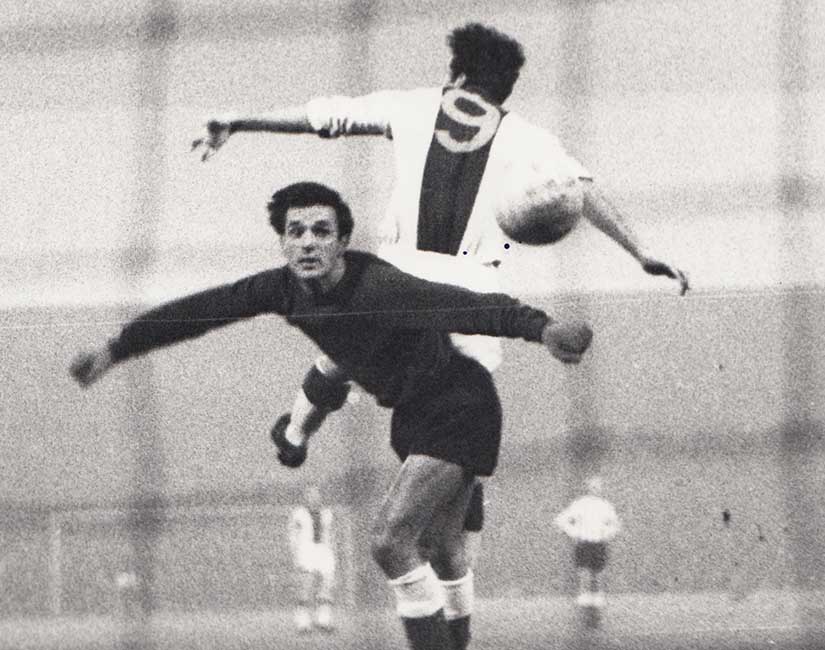 Jimmy scores for Oldham against Bristol City, 1964
Later he played for Oldham Athletic and St Patrick's Athletic of Dublin. Finally, in 1967, he became player manager of Ellesmere Port Town. During this period, he married Joan Boardman and they had two sons together — Jamie and Ian. Sadly, the latter passed away in the past year. Jimmy worked shifts for Vauxhall and played at Prenton Golf Club to a high standard — getting his handicap down to three. In the late 1970s, former Everton teammate Johnny King persuaded him to run Tranmere Rovers' reserve team and he did a fine job — helping Derek Mountfield, among others, to develop.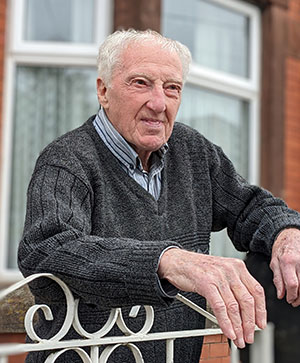 In retirement, Jimmy became a familiar face at Goodison Park matches — often accompanied by his grandson, Robert. He only stopped going when the pandemic struck, and he began to struggle more with his mobility. He was always delighted to attend Everton functions, including those organised by the Former Players' foundation. I've ways enjoyed Jimmy's company — he possessed an excellent recall of his own career and those he played alongside — and was always more than happy to assist me with my research for books/articles. He could display an acerbic sense of humour when describing his experiences as a, Everton player — including the infamous 10-4 drubbing by Spurs in 1958, when he scored his only hat-trick for the club.
But, above all else, Jimmy's life-long affection for Everton shone through. I only saw him a few days ago and he was in good spirits, this news came as a great shock. I send my condolences to the Harris family. Rest in peace Jimmy — it was my privilege to share your company.
Here is my 2014 article, written with Jimmy.
---
Reader Comments (36)
Note: the following content is not moderated or vetted by the site owners at the time of submission. Comments are the responsibility of the poster. Disclaimer
Ed Prytherch
1
Posted 18/04/2022 at 01:37:02
Jimmy scored in the first Everton match that I attended in January 1960, I think. My dad, who was a Man City, supporter took my brother Geoff and me because Everton were playing Blackpool and he wanted us to see Stanley Matthews before he retired. Everton won 4-0 with other goals from Bobby Collins and Roy Vernon (2). Geoff and I became Everton supporters that day.
Thanks and RIP Jimmy.
Chris Williams
2
Posted 18/04/2022 at 05:18:59
Ed,
I think that game was played on Good Friday, and Everton was a team in transition at the time. The 4th goal was scored by Micky Lill, and Tommy Ring was on the other wing. Collins and Vernon the inside forwards
Jimmy Harris was a good footballer, and always happy to sign autographs and chat to scruffy Walton kids like me, outside the players' entrance. A nice man in later life too, with the humility that was characteristic of that generation of players.
One of my favourite players from my earliest visits to Goodison in the monochrome days of the 50s and early 60s, and like you, I fell in love with Everton from those days onwards. Many fans were not best pleased when he left for Birmingham, for a good fee.
RIP Jimmy, And sympathy to his family.
Danny O'Neill
3
Posted 18/04/2022 at 08:01:56
As always, thank you for these articles, Rob.
Obviously, not a player I saw, but what stuck out is the comment about him being 5ft-10in and weighing under 12 stone. An era where English football focussed on ability rather than size, weight and power. We lost our way on that in my opinion.
Hopefully we are getting back to fundamentals. How good a footballer is the player? Not how big or quick he is.
Brian Harrison
4
Posted 18/04/2022 at 10:15:29
Jimmy Harris was quick and a good player, but it was hard having to compete with Dave Hickson for the centre-forward position.
I used to see Jimmy on the Number 14 bus, as at the time he was dating Roberta Brown, Miss UK, and she lived in Croxteth. How times have changed – an Everton first-team player on the bus.
Football those days was a lot different to now, and it didn't have the tribalism that TV encouraged. You went to games not only to support your own team but to see the stars in the opposing teams.
You have to remember back then there was no MotD so the only way you got to see players was to be inside the ground. Now people who never enter Goodison can watch games and see almost as much as the match-going fan.
I used to love going to away games with my dad and brother in the age that Jimmy Harris played, there was no segregation of fans back than and despite that, very rarely was there any trouble.
You couldn't imagine no segregation these days, football fans are a different breed than they used to be. Back then good play from either side was appreciated, there wasnt that animosity between fans as there is now.
Dave Abrahams
5
Posted 18/04/2022 at 10:53:38
Jimmy was a very good player both as a striker and a right winger, very fast and he played alongside Dave Hickson when Dave came back from Villa, in fact when Hicksonplayed at Goodison for Villa Jimmy scored the two goals that won the game for Everton, he played for the England U23's v Scotland, I think, at Hillsborough which was on TV, second half only.
That Burnley game when we won 1-0, the penalty was scored by Peter Farrell and the photo of the game versus Port Vale was a cup tie which we won 3-2 and I think Jimmy scored one of the although Brian Harris played in that game and he might have scored or maybe both of them scored.
Jimmy was still attending the game up to about four years ago and I used to have a chat to him as he sat not far from me, easy to talk, a bit of banter and he knew the game inside out and wasn't afraid to air his views.
I think when first joined the Blues he was one of four Harris's on the books, Brian also from the Wirral and a well known Blue, Joe a winger from Bootle who played when we were in the second division and Albert a goalkeeper who might have played in the first team a few times.
Jimmy was very under rated in my opinion and he didn't go cheap to Birmingham, around £20,000, to £25,000 which was a decent price then, Jimmy made his debut in a friendly game, if I'm not mistaken, against a German team who played in all green, unusual those days and their left winger only had half an arm, which was more than unusual.
Rest in Peace Jimmy I think you will be well remembered by those who saw you with lots of affection as a man and admiration as a footballer.
Mark Andersson
6
Posted 18/04/2022 at 11:14:51
Great comments about how it used to be...

Danny O'Neill
7
Posted 18/04/2022 at 11:36:33
I agree on the animosity between fans, Dave.
Totally random, but the Number 14 bus reminds me of when I temporarily lived at my mum's auntie's on Middle Way in Croxteth. The season we ended the red mist doing an invincible season with the Wayne Clark goal at Goodison.
Christy Ring
8
Posted 18/04/2022 at 13:58:54
So sad to hear of the passing of Jimmy Harris.
I had the pleasure of his company in the Winslow in 2020, when we had a commemoration for our cousin Tommy, who played with Jimmy and he came to meet us. I had a great chat with him and listened to his stories.He told me about the time he scored in both legs of the Fairs Cup semi-final for Birmingham against Inter Milan.
My brother Gerry had a drink with him only 3 weeks ago. RIP, Jimmy.
Rick Tarleton
9
Posted 18/04/2022 at 14:14:28
A really good player, when he first started, his pace was something else and he had a great shot. But when he lost that extra yard of pace, he was still a very good player, but no longer on the fringes of international honours. I know he played for the Under 23s and I think he also played for the Football League.
Always gave his best and was part of the transition team that changed from mid to lower table regulars in the late fifties to League Champions in 62-63. But by then Young, Vernon, Wignall, Temple, Bingham and Scott had come along and Harris was deemed surplus to requirements.
My thoughts to his family and I remember him fondly as a very good player.
Ken Kneale
10
Posted 18/04/2022 at 15:21:01
I really enjoy these articles on matters before my time - thanks to Rob as ever for a good story, well written.
Commiserations and thoughts to his family.
As an aside, Eugene Kearney's post at number -2- in the link about Bobby Collins would read true about today's squad. Bobby was well and truly ensconced at Leeds when I came to Everton's magnetism but older relatives tell of a true leader on the pitch with goals, passing, and great football skills all part of a terrier-like mentality. How we could do with that player now.
Jack Convery
11
Posted 18/04/2022 at 17:27:21
He sounds like he was a very decent footballer and a great guy with it. I used to get the No 14 bus too, though never to meet a beauty queen!! RIP, Jimmy. Condolences to family and friends.
Hopefully there will be a minute's silence or applause when we play Leicester later this week, so we can all show our appreciation for a Blue through and through.
Phill Thompson
12
Posted 18/04/2022 at 17:57:56
That's a wonderful article. I met him quite a few times back in 1977 when he took training at Borough Road College in Birkenhead. He was still a great striker of the ball and a wicked sense of humour. RIP Jimmy.
Howard Don
13
Posted 18/04/2022 at 17:59:12
Ed and Chris, I was one month behind you. My first match was Everton v Preston in February 1960. Co-incidentally it was also 4-0 and having just checked, I see Jimmy Harris scored in that match as well and his namesake Brian also played, a certain Roy Vernon got two.
The crowd was just under 51,000 and Everton blew PNE away (Tom Finney was in their team). 10 years old, I thought it was magical and from that day on I was in, hook, line and sinker and have been ever since. RIP, Jimmy, thanks for the memories.
Mike Owen
14
Posted 18/04/2022 at 19:10:32
I'm a bit too young to have seen Jimmy play, but just three months ago I was fortunate enough to be in his company for half-an-hour or so. He was in fine form and obviously quite a character.
As I recall, he believed he would have scored more goals for us, if he'd had been given more games playing in the centre rather than on the wing.
After meeting him, I looked up your 2014 article, Rob, and thought it was excellent.
Mark Dunford
15
Posted 18/04/2022 at 20:13:40
Lovely article. Thanks for taking time to write it.
Eddie Dunn
16
Posted 18/04/2022 at 20:27:20
Sad to hear of his passing but very much enjoyed the article, such detail, and contrast to the present day.
Christine Foster
17
Posted 18/04/2022 at 20:53:52
Off the top of my head..haha I wish..some memories in this lot..corpie buses.. pinched from somewhere... great god Google..
1/1A/1C/1E Dingle-Seaforth-Netherton. MT
3 Dingle-Walton. MT
4/5 Woolton South Castle Street. MT
6A/6C/6D Huyton-borwing Park-Pier Head. MT
9/9A/9C/9D Lyme Cross/Knowsley/Longview-Pier Head. MT
10/10A/10B/10D Prescot-Pier Head. MT
11 Huyton-South Castle Street. MT
12/12A/12C Page Moss/Cantril Farm-Pier Head. MT
13 Tower Hill-Kirkby Admin. MT
14A/14C/14D Croxteth/Gillmoss-Pier Head. MT
15/15A Kirkby Admin-Pier Head. MTI
15D Tower Hill-Pier Head. MT
15E Kirkby Admin-Pier Head. MTI
16 Seaforth-Pier Head. MT
17C/17D Fazakerley/Broad Lane-Pier Head. MT
18A/18B Kirkby Admin-Pier Head. MTI
18C/18D Fazakerley/Lower Lane-Pier Head. MT
19/19A/19C/19E Kirkby Admin-Pier Head. MT
20 Aigburth-Fazakerley. MT
25 Aigburth-Walton. MT
26/27 Sheil Road Circular. MT
28 Netherton-Old Haymarket. JS
29 Fazakerley Hospital-Crosby. RI
30/30A Crosby/Netherton-Pier Head. RI
31/32/ New Brighton/Liscard-Liverpool. MT
33 Everton-Seaforth. MTI
34/34C Longview/Cantril Farm-Seaforth. MTI
35 Northwood-Seaforth. MTI
36 Kirkby Admin-Seaforth. MTI
37 Croxteth-Seaforth. MTI
38 Penny Lane-Seaforth. MTI
39 Liverpool-Manchester. JS
40 Huyton-Pier Head. MT
42 Penny Lane-Edge Lane. MTI
43 Cantril Farm-Edge Lane. MTI
44/44D/44E Northwood/Knowsley-Pier Head. MT
44A/44B Kirkby Admin-Pier Head. MTI
45 Longview-Edge Lane. MTI
46 Penny Lane-Walton. MT
47 Croxteth- Edge Lane. MTI
48/49 Bootle Circular. JS
52/W52 Sefton-Walton. JS
53/53A/53B Netherton-Black Bull. JS
54/54A/W54 Lydiate/Netherton/Aintree-Bootle. JS
55/55A Netherton/Ford-Old Haymarket/Pier Head. JS
56 Netherton-Old Haymarket. JS
57/57A Netherton/Orrel-Old Haymerket/Pier Head. JS
58 Litherland-Old Haymarket/Pier Head. JS
59/W59 Old Roan/Netherton-Old Haymarket/Pier Head. JS
60/60D Dingle-Bootle. MT
61 Aigburth-Seaforth. MT
62/62A/63 Speke-Kirkby Civic Centre. MTI
64 Kirkby Civic Centre-Edge Lane. MTI
65/65B/65C Speke/Netherley/Halewood-Edge Lane. MTI
66/66B Garston-Netherley. MT
67 Old Swan-Seaforth. MT
68 Aigburth-Seaforth. MT
70 Page Moss-Huyton. MTI
72 Hunts Cross-Pier Head. MT
73 Woolton-Central Bus Station/Pier Head
73A Netherley-Central Bus Station/Pier Head. MT
75 Huyton-Sir Thomas Street-Pier Head. MT
76 Pier Head-Prescot. CR
77/77A Speke-Penny Lane-Pier Head. MTI
78/78A Halewood/Hunts Cross-Pier Head
79/79A/79B/79C/79D/79E Netherley/Lee Park/Belle Vale-Pier Head. MT
80 Speke-Pier Head. MT
81/81B/81D Speke-Bootle. MT
82/82B/82C Speke-Pier Head. MT
83 Speke-Halewood. MTI
85/85A Speke-Garston-Pier Head. MT
86/87A Pier Head-Garston-Princes Park Gates. MT
88/88A Garston-Halewood. MT
89/89F St Helens-Speke. JS
90 St Helens-Kirkby Station. JS
91 Northwood-Long Lane. MTI
91A Northwood-Gillmoss. MT
92/92C Huyton-Crosby. MT
92A Kirkby-Pier Head. MT
92B Northwood-Pier Head. MT
93 Kirkby Admin-Pier Head. MTI
94 Dingle-Kirkby Admin. MTI
95/95A Gillmoss-Seaforth. MTI
95B Netherton-Gillmoss. MT/RI Joint Industrial Service
96 Kirkby Admin-Black Bull MT/RI Joint Industrial Service
97/97A Page Moss-Kirkby Admin. MTI
97C Cantril Farm-Kirkby Admin. MTI
98/98C Huyton-Cantril Farm-Gillmoss. MTI
99/99A/99B Penny Lane-Lower Lane-Kirkby Admin. MT
99C Penny Lane-Gillmoss. MTI
100 Cityride. MT
211 Bootle-Maghull-Kirkby Admin. RI
300/302 Liverpool-Southport. RI
301 Liverpool-Ormskirk. RI
303 Kirkby-Southport. RI
305 Liverpool-Skelmersdale. RI
306 Liverpool-Ormskirk. RI
307 Liverpool-Maghull. RI
310/340/350 Liverpool-Maghull. RI
311/331 Liverpool-Ormskirk. RI
317/320 Liverpool-St Helens/Wigan. JS
321 Liverpool-Lydiate. JS
335 Liverpool-Skelmersdale. Ribble Limited Stop Industrial Service
336 Liverpool-Skelmersdale. RILS
341 Liverpool-Lydiate. RI
345 Liverpool-Skelmersdale. RI
351 Bootle-Ormskirk. RI
355 Liverpool-Skelmersdale. RI
361 Liverpool-Lydiate. RI
391/392 Maghull-Crosby/Bootle. RI
400 Speke-Seaforth. MT Rapidride
405 Woolton-South Castle Street. MT Rapidride
412 Cantril Farm-Pier Head. MT Rapidride
418/419 Heswall-Liverpool. JS Rapidride
438 Halewood-Seaforth. MT Rapidride
439 Netherley-Seaforth. MT Rapidride
478 Halewood-Pier Head. MT Rapidride
479 Netherley-Pier Head. MT Rapidride
480 Garston-Pier Head. MT Rapidride
486 Garston-Pier Head. mT Rapidride
500 Speke-Kirkby Admin. MT Limited Stop
510 Prescot-South Castle Street. MT Limited Stop
544 Northwood-Central Bus Station. MT Limited Stop
A1 Netherton-Aintree. MT
C1 Crosby-Thornton. RI
C3 Crosby-Waterloo. RI
A/B/C/D Formby Circulars. RI
E Alt Estate-Formby Station. RI
H1 Liverpool-Warrington. CR
H2/H3/H4 Liverpool-Rainhill-Warrington. CR
H5 Liverpool-Warrington. CR
H6 Prescot-Huyton. CR
H7/H8/H9/H10 Prescot-Pier Head. CR
H12/H13 Prescot-Pier Head. CR
H15/H18 Prescot/Huyton-Pier Head. CR
H17 Huyton-Knowsley. CR
H20/H22/H23 Liverpool-Chester. CR
H21/H24 Liverpool-Chester. CR
H25 Liverpool-Runcorn. CR
H99 Mosscroft-Huyton Station. CR
L3 Liverpool-Crosby. RI
L9 Crosby-Waterloo. RI
L11 Crosby-Little Crosby. RI
L21 Bootle-Crosby. RI
L35 Liverpool-Crosby. RI
L45/L85 Liverpool-Thornton. RI
M1/M2/M3 Maghull Circulars. RI
M4 Lydiate-Maghull Station. RI
M5 Dodds Lane-Maghull Station. RI
S2/S4 Liverpool-Formby-Southport
W13 Bootle-Freshfield. RII
W14 Liverpool-Crosby. RII
W15/W16 Crosby-Netherton/Litherland. JSI
W52 Bootle-Sefton. JSI
W54 Bootle-Lydiate. JSI
W59 Scotland Road-Netherton. JSI
X27/X37 Liverpool-Southport/Skipton. RI
JSI=Joint Industrial Service
RII=Ribble Industrial Service
Christine Foster
18
Posted 18/04/2022 at 20:58:29
Sad to hear of the passing of an Everton player I confess I knew little about or had simply forgotten. Thank you for sharing his memory, condolences to all his family as he collects his season ticket to that magnificent stadium in the sky...
Bernie Quinn
19
Posted 18/04/2022 at 22:23:29

Jimmy, you were one of my favourite players of the 1950s and 1960s. You were a good friend of my brother-in-law (now deceased) and I enjoyed having a few drinks with you both in the 1980s when I came over from New Zealand. God Bless and RIP.
Dave Abrahams
20
Posted 18/04/2022 at 22:35:07
Those "H" buses were Crosville buses. Sad memories using them going to visit someone I had a lot of time for in Whiston Hospital after they had suffered a nervous breakdown.
The Number 3, great memories getting this in St Anne Street going to see the Blues and sometimes seeing Dave Hickson, John Willie Parker, Ted Buckle and Jimmy Harris on this bus.
The 44 and 544 going to Northwood's terminus in Kirkby to see my future wife, must have been true love travelling into deep dark dangerous territory like Kirkby and on my own!!
Number 14 going to De La Salle school in Norris Green for 5 years. Number 19 more pleasure going to see the Blues.
L3 going for days out in Sunny Crosby. 25 and 46 more pleasure going to Goodison Park. 17 and 26 going to Anfield – pleasure depended on the result of Liverpool's games, some really lovely days and nights when Liverpool lost!!
Thanks, Christine, you've given me a glance back at some memories of travelling on Liverpool's buses over the last eight decades. I haven't mentioned looking out the window on the bus and ignoring the conductors, remember them, when they came upstairs looking to get the fares, worked quite a lot as well!!

Jay Harris
21
Posted 18/04/2022 at 23:27:01
Wow Christine,
That's quite a comprehensive list for an expat. Any chance you could add the tram numbers. LOL
I used to live just off Islington, where a lot of the buses came through, and we used to hop on and off them between Birchfield Street and Shaw Street. (Oh the games we used to play!)
Not forgetting the great Jimmy Harris. RIP, Jimmy – you gave me some great childhood memories.
BTW, can Dave or any of our "elder statesmen" identify all of the players in the photo? I recognise Jimmy Gabriel, Alex Parker, Roy Vernon, Bobby Collins and Jimmy Harris. Would that be a young Brian Labone in there?
Alan McGuffog
22
Posted 18/04/2022 at 23:40:16
Dave,
I was told that the Crosville buses were the only outlet where you could use, legally, Irish currency. Due to them operating as far as Holyhead.🤷‍♂️
Paul Ward
23
Posted 19/04/2022 at 06:40:10
RIP, Jimmy,
One of our fastest forwards in my teenage years. I have no problem identifying all except the suit on the far right.
Chris Williams
24
Posted 19/04/2022 at 06:42:49
Hi Jay,
I'll have a go at the names...
Back Row: Gabriel, Parker, Dunlop, Labone, Harris B, Lill, and Colin Green in suits, I think.
Front Row: Vernon, Temple, Collins, Jones, Harris J, Ring.
Gordon Watson may be the trainer in the photo, but Dave A may be needed to confirm that. His memory is far better than mine.
I met a few of those players in later years, and to a man, they were real gents, down to earth and humble. I worked with Tommy Jones for several years, and he was one of the nicest people I ever met. He'd kept in touch with many of his former colleagues, and seemed particularly close to Jimmy O'Neil, who was in poor health at the time.
Not a big-time Charlie amongst them.
I'm trying to work out where that photo was taken...
Bernie Quinn
25
Posted 19/04/2022 at 07:31:41
Heavens to Murgatroyd, Christine (17), why didn't you ride a bike – much cheaper!
You reminded me of when I lived in Ormskirk and used to catch the Ribble 311 to Liverpool, getting off at the top of the hill in Aughton, when I was courting my wife.
And Everton players on public transport – I lived close to Wally 'Nobby' Fielding and on home games, I used to catch the electric train to Kirkdale and Wally was always on the same train, though he got off at Orrell Park.
Players of that era included Eddie Wainwright, Cyril Lello, Jimmy O'Neill – and who recalls the (in)famous Oscar Hold?
To Christine, Danny and everyone, in the words of Bob Hope: 'Thanks for the Memory'!
Danny O'Neill
26
Posted 19/04/2022 at 07:32:42
Well, the bus talk has taken me down memory lane. Crosville buses were like contact with the outside world. The H1 and H25 spring to mind.
The 82C into town and the 81D along Queens Drive were my most frequented. Either to get off at the junction with Walton Hall Lane to walk up City Road to Goodison or to connect with the 19D on Queens Drive / Utting Avenue to visit my Grandad!
Saveaway days! Was it just me or did anyone else used to keep a Saveaway and use that sliver tippex type pen to cover up and try to re-use?!!!
Dave Abrahams
27
Posted 19/04/2022 at 09:04:56
Chris (24), well you did better than me, I honestly got all the players except for one, that was Colin Green but he fits in with what I remember of him. And like you not absolutely sure the trainer is Gordon Watson but 90% sure it is.
What I am sure of, like you, those players all had their feet on the ground and were all approachable and although idols to the fans they appreciated the massive support we gave them.
I also haven't got a clue where that photo was taken.
Chris Williams
28
Posted 19/04/2022 at 09:50:30
Cheers Dave,
A lot of the crowd in the photo seem to be wearing collar and tie, white shirt too, of course. Of course men tended to dress more formally then, even to go to the match. I've got photos of my dad in shirt, tie and sports jacket, on the beach!
Saturday morning used to be part of the working week then, and people used to knock off, and go straight to the match, via the pub. But even a couple of the players are formally dressed.
All the talk of public transport reminds of a story Paul O'Neill, Jimmy's son, told me about his dad. He used to walk down to County Road, after the game, carrying his boots in a brown paper bag. He had to queue for the bus like everyone else. People used to be chatty when they'd won the game. When they'd got beaten, they ignored him, and turned their backs on him.
He used to laugh about that.
Brian Harrison
29
Posted 19/04/2022 at 10:01:20
Like Chris and Dave, I don't know where this picture was taken, but probably a pre-season-friendly somewhere. The reason I think that is Alex Young signed for us in November 1960 and he isn't in the photo. For the younger supporters there wasn't any transfer windows back then so you could sign a player at any time.
Dave Abrahams
30
Posted 19/04/2022 at 11:03:29
Bernie (25),Oscar Hold, yes I remember him, a centre forward who played when I first started watching The Blues in 1948, I think he later made a name for himself as a coach in the Middle Eastern countries, he was getting on a bit, I think, when he played for Everton.
I don't know when Oscar Hold was born or if Oscar Wilde was still going then but it's an interesting fact that no child was christened Oscar for sixteen years after the infamous trial of the writer.
Bernie Quinn
31
Posted 20/04/2022 at 07:28:30
Dave (25) - Oscar was a striker but missed far more than he scored! You mentioned 1948 - Were you at Goodison for the Derby Game in Sept? I was in the Boys Pen and just about saw the 1-1 draw despite it being the record 78,299 crowd present. The year later, my Dad an ex-semi-pro with the Toffees - took me to Goodison as a birthday treat, to see the International between England and Ireland but only on the proviso (being a Liverpool/Irish Family) that I support The Greens. Naturally I did so and still do to this day. I was thrilled when Ireland won 2-0 with our own Peter Farrell scoring the second goal - lifting the ball over Bert Williams;s head into the goal. Thus Ireland became the first foreign side to beat England on their own turf - (Hungary was 2nd in 1953), Funny how these old memories come flooding back.
Dave Abrahams
32
Posted 20/04/2022 at 11:17:25
Bernie (31), yes Bernie I was at the Derby game and like you was in the Boys Pen and managed to see bits and pieces of the game because of my size and the Pen was packed tight, I had just turned eight at the time and I remember mostly of that day the crowds outside all the way round from Goodison Road down Gladys Street and into Bullens Road where the Boys Pen entrance was in those days, I think it was nine pence to get in, old money.
I never saw the England v Eire game, but remember the day, was it a Wednesday afternoon game? It's strange that Eire were never really recognised as the first foreign team to beat England on their own turf although of course they were.
Regarding memories my memory of the past is a lot better than the more recent ones!!
Bernie Quinn
33
Posted 20/04/2022 at 22:45:39
Dave, quite true about memories. I can clearly recall games between 1950 and the start of the Premier League. Mind you, there's very few games I want to remember from 1990 onwards.
Where are the players like Mathews, Shackleton, Finney, and Lofthouse etc? Just distant memories now…
Dave Abrahams
34
Posted 22/04/2022 at 11:03:07
Bernie (33) too true about memories. Here are two posers for you from that England v Eire game:
Who was the other Everton player in the Eire team and which player from that game played as a goalkeeper later in his career, he might have even played for Eire in goal.
Those four players you named were four of my favourite players along with Raich Carter, Danny Blanchflower and my all-time favourite, although I only saw him on TV, Alfedro Di Stefano.
Alan McGuffog
35
Posted 27/04/2022 at 08:29:07
Dave...was it Peter Corr ? Uncle of the singers
Dave Abrahams
37
Posted 28/04/2022 at 08:52:40
Alan (35), yes, Peter Corr is correct and the goalkeeper was Con Martin, he played centre-half in that 2-0 win for Eire but later turned his hand (or hands) in becoming a goalkeeper.
---
Add Your Comments
In order to post a comment, you need to be logged in as a registered user of the site.
Or Sign up as a ToffeeWeb Member — it's free, takes just a few minutes and will allow you to post your comments on articles and Talking Points submissions across the site.