Derby defeat leaves Everton in the bottom three
Sunday, 24 April, 2022
Liverpool 2 - 0 Everton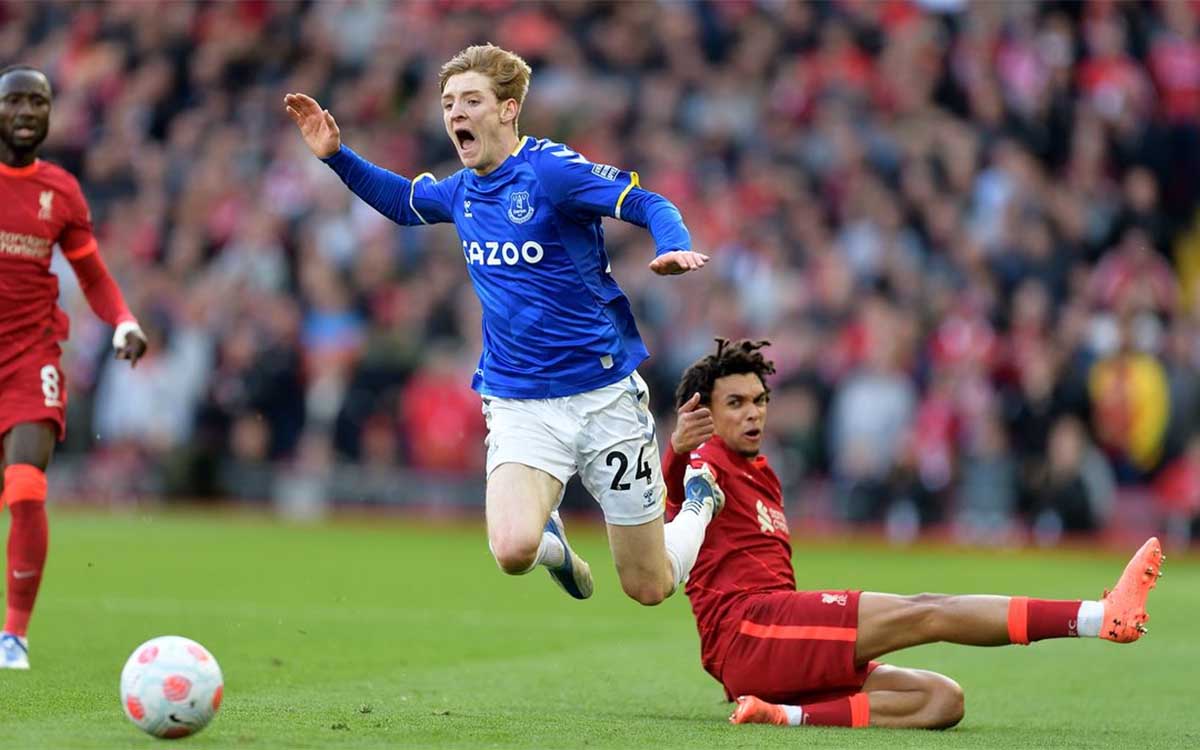 Anthony Gordon caused no end of problems for Liverpool and referee Stuart Attwell who refused to give the winger two key decisions before the reds eventually prevailed 2-0
Everton dropped into the relegation zone for the first time this season as they went down to a predictable, albeit somewhat controversial, 2-0 defeat to Liverpool at Anfield while Burnley beat Wolves in an earlier kick-off.
Having battled their way to half time at 0-0, the Blues couldn't hold the reds off in the second half with Divock Origi stepping off the bench to play a pivotal role and refereeing incompetence playing its part once again.
The Belgian was involved in Andy Robertson's goal that broke the deadlock shortly after the hour mark, and he then made the game safe by heading home after Luis Diaz's scissor-kick had bounced up invitingly for him in front of goal.
Everton, who lost Ben Godfrey to injury during the warm-up, had some chances on the counter-attack but lacked the quality to make a breakthrough of their own and ultimately were beaten by a much stronger side.
Article continues below video content
Burnley's victory meant that the Toffees kicked off the 240th Merseyside Derby in the bottom three and that is where they will remain, at least until they play Chelsea at Goodison Park next weekend.
Frank Lampard opted to rest Yerry Mina and Fabian Delph so soon after the midweek draw with Leicester but apart from Michael Keane coming in for Godfrey, his team was otherwise unchanged.
And his players did a sterling job of frustrating their hosts during the first 45 minutes and with better refereeing from Stuart Attwell, they might well have been given more chances to cause a surprise.
However, the official, who never really had control of an occasionally fractious contest, lacked the courage to award a clear shove in the back by Robertson on Anthony Gordon, one which would have put Attwell and Video Assistant Referee, Darren England, in the uncomfortable decision of debating whether it had prevented a clear goal-scoring opportunity.
Gordon would later go down in the area under a challenge from Naby Keita but was booked for simulation, an incident that will do a young winger no favours as a media narrative begins to build around his propensity to go down too easily.
For all their territorial superiority, Liverpool failed to test Jordan Pickford in the first half. Sadio Mané had their first serious effort in the 21st minute, a 25-yarder that flew over the bar as Lampard's disciplined, deep-lying formation did its job in keeping the reds at bay.
Diogo Jota also missed with a first-time shot off Robertson's cross and Mohamed Salah, doggedly kept under wraps for the most part by the excellent Vitalii Mykolenko, sent a drive sailing over late in the first half.
For Everton, Abdoulaye Doucouré had the only real opening of the first 45 minutes when Richarlison played him in behind the defence but he could only drag his shot across goal and wide of the far post.
Meanwhile, a bout of handbags after the Mali international hacked Fabinho down to stop play after Liverpool's players refused to with Richarlison down injured and in need of treatment threatened to get out of hand and Mané was, fortunate to only pick up a yellow card for clearly catching Allan in the face with a raised hand and then Holgate with a finger near the eye.
Another rare opening fell to Alex Iwobi who broke down the left channel early in the second half but he just ran into Joel Matip without getting a shot away before Gordon surged into the Liverpool penalty area himself and was clearly leant on by Matip but, again, the referee ignored appeals for a penalty.
Gordon, who was causing Jürgen Klopp's defence plenty of grief, was in again three minutes later but fired across the face of goal without testing Alisson and he drew a cynical foul from Trent Alexander-Arnold in the 59th minute after he had skinned Keita on the touchline but Iwobi could only glance the resulting free-kick by Mykolenko harmlessly wide.
Three minutes later, Everton's valiant defensive stand was broken. Origi, who had only just come off the bench to wreak his customary havoc against Everton, combined with Salah on the left side of Blues' area and the Egyptian crossed to the back post where Robertson arrived to head home.
Pickford then had to punch clear and Mason Holgate away from his line before Salah smashed a shot narrowly over while Demarai Gray's last contribution was flash an effort of his own a few feet wide of Alisson's right upright at the other end.
However, although Lampard introduced Dele Alli and then Salomon Rondon for Allan, it was Liverpool who scored next as a corner was cleared only as far as Jordan Henderson and when he sent the ball back in, Diaz's attempt at the spectacular merely bounced up in the six-yard box and Origi had the relatively simple task for heading it past the stranded goalkeeper.
Richarlison despatched a stoppage-time shot straight at Alisson but Everton were beaten by that stage and dumped into the relegation zone to rub salt into the wounds.
Lampard will take heart from the fight and resilience shown by his players but he will know he needs more offensive production from his side next weekend when Chelsea come to town for a fixture that has taken on added significance for the Toffees.
Ultimately, while they ceded over 85% of the possession to Klopp's men, Everton could feel aggrieved that the officials didn't give them decisions at key moments that might have changed the outcome despite the reds' dominance.
---
Reader Comments (67)
Note: the following content is not moderated or vetted by the site owners at the time of submission. Comments are the responsibility of the poster. Disclaimer
Dennis Stevens
1
Posted 24/04/2022 at 22:09:20
I'm still desperately clinging to the idea that Everton only get relegated when there's a King George on the throne!
Phillip Warrington
2
Posted 24/04/2022 at 22:38:39
What a load of shit, Lampard will take heart from the fight and resilience shown by his players. Were was this so-called fight and resilience shown by his players in previous games?
We had 15% possession and two forwards who are hopeless at diving; referees know this which is why they don't get the decisions.
Mina is a fucken leech, if Colombia were playing the same time he would have been the first person on the plane. People think we will win our home games and we will be okay... trouble is, by the time we get past Chelsea we could be 5 points adrift and more than five goals in the negative.
Lampard is a shit manager who, like all previous managers, relies on so-called seasoned professionals who couldn't give a shit about our club, it's like watching a bunch of amateurs:
"I don't feel like playing, I'll pull a hammy."
Maybe relegation will be a godsend for the club. Farhad Moshiri will sell the club and we will get rid of our so-called seasoned professionals and go back to youth.
In 50 years of supporting this great club, I have never been more disillusioned. We have a board that, instead of reacting in a positive way, panics. We have players who, when challenged, panic, and an inexperienced manager who has no idea how to motivate or improve the basics of playing football.
A culture where the senior players seem to run gunshot over team selection even though, and under Frank have no idea about the basics of football – how to pass, create space, man-mark and our biggest fault don't ball watch and forget about the players you're supposed to be watching.
We are a bunch of amateurs playing in a professional league.
Tony Everan
3
Posted 24/04/2022 at 23:22:49
We played okay, had an unfair, perplexing game-changing non-VAR referred decision, and we were weak and lacklustre again with our finishing.
We need a goalscorer. Since Calvert-Lewin's injury and the associated loss of form, we've got no threat and no focus. Chances come, some sitters, and they are not taken.
The defence has been looking more organised but the attack needs to be more ruthless. To stay up, we need goals. To get goals, we need a fully fit and on form Calvert-Lewin. I think our survival is dependent upon this.
Rondon is probably the best substitute for Dominic; even so, I'm not confident about him, I'd like to be proved wrong if we went down that route.
Jim Bennings
4
Posted 24/04/2022 at 23:58:29
You need to forget Calvert-Lewin. He won't be fully fit this season and that's if he actually plays for Everton again considering he's looked disinterested when he's been in the team this year.
We need to move on certain players and, as much as I like Mina, he's another one who's just becoming a complete waste of a wage now too.
I'll be honest, I think if Burnley win at Watford, then psychologically that 5 point gap kills our players and there's no getting out of it.
We play a Chelsea team that is fighting and scrapping for that Champions League slot and then face another away game in which we haven't taken a point on the road since before Christmas.
Burnley then face Slippy G and his half-arsed Aston Villa team at Turf Moor.
I'm getting used to the fact that we are going down this season now, it will take a minor miracle to stay up.
We've won three matches all year yet we expect a radical change within four weeks when it's obvious this team isn't up to it.
The run of one single win between October and early February has done us in. We knew that was always gonna lead to trouble and it has.
Paul Birmingham
5
Posted 25/04/2022 at 00:11:18
Stats are good, but are only statistics, in football or anything else, and can be changed, by the results.
Everton, please turn the form, and starting next week, at home v Chelsea.
There's positives to take from today's result, and I hope next week, it will show.
Next Sunday, 1 May 2022, is a massive and significant game for Everton Football Club.
"Death or Glory", it starts to go very close to that road, but Everton must win, and play and die for the Everton shirt.
But the chances must be taken, and ownership and responsibility for creating and scoring goals in a football team is a team responsibility.
UTFT!
Jim Bennings
6
Posted 25/04/2022 at 00:19:30
Right now I don't see who takes the chances though?
We've actually missed Sigurdsson (yes, I will fookin' name him) and also James more than I even imagined we would, at least they weighed in with goals.
You don't get anything from our central midfielders these days, Allan will never score, Doucoure has dried up and Gray has too.
We create very few chances and when we do it's usually Richarlison passing them up.
The fact that Andros Townsend is our top scorer says it all.
Paul Birmingham
7
Posted 25/04/2022 at 00:39:18
Jim, fair comments, and very true.
Everton need a Wayne Clarke, - a miracle scorer ASAP, from the current squad, any goal scorer to score the goals, and soon, as it's damming, in terms of Everton's chances of staying up.
Hope eternal, UTFT!
Kieran Kinsella
8
Posted 25/04/2022 at 01:04:33
I don't buy this narrative proposed by many that the games against Palace, Watford and Brentford are key and could see us survive.
Momentum is important. If we let the next two drift by we could be seven points adrift by the time those "winnable" games come along.
Does anyone see this lot suddenly raising their game and winning three on the trot? Even if they do, Burnley and Leeds would likely only have to pick up a win apiece in a dead rubber to top us.
I'll go further, if we don't narrow or at least sustain the gap on Burnley next weekend, we are finished. In predicting relegations you can usually say it's the teams who lose the most as opposed to say Villa two years ago who were draw specialists and survived. Burnley are also draw specialists.
We are outliers for losses, for fewest goals scored, have the worst away record and are only outside the bottom three on the goal difference rankings where we are 17th.
We are also 19th for results this calendar year. We really need something against Chelsea and for Burnley to lose next week. If not, we are toast.
Mark Andersson
9
Posted 25/04/2022 at 01:23:06
The perfect shit storm started when the idiot owner ignored everyones advise and appointed Raffa.
Im surprised we have only just dropped into the bottom 3.. make no mistake there will be no miracle saving us..
The Goodison bear pit cant save us this time..
Mosh has wasted his dosh and will pay the cost of RELEGATION
Jamie Sweet
10
Posted 25/04/2022 at 02:12:55
Just watched Ellis Simms goal from Hearts Semi-Final win, and the winning goal from this weekend. Absolute rockets.
Kieran Kinsella
11
Posted 25/04/2022 at 02:42:47
Jamie
Sweet. He should be good next in the EFL for us
Jim Bennings
12
Posted 25/04/2022 at 06:20:35
Jamie
Ellis Simms isn't ready for the Premier League yet.
He's similar in mobility and movement to Rondon and he's not the answer.
Whether he'll cut it in the Championship for us next season, maybe he will so let's keep that hope up.
Gary Jones
13
Posted 25/04/2022 at 06:38:34
"The kids aren't ready"
……well, let's put it this way; they can't possibly do much worse than the so called "experienced" pros can they.
The one bright note of our now almost inevitable relegation is we will have NO choice but to give them ago in championship.
Even if we cling to Frank, and he clings to the un-shiftable ones (Coleman, Holgate, Gomes. Rondon, et al). next year, the wider exodus should leave space for the Pattersons, Branthwaites, Simms, Dobbins, Onyango's, Prices. Warrington, Mills, etc. to be given a real go.
One way or the other, we'll find out how good they are next year.
Alan J Thompson
14
Posted 25/04/2022 at 07:27:06
Kenwright has to go now but before he does he should be boxing off a letter to whoever runs the Premier League and heads Referees stating that now we've had the apology what do they intend doing about substandard refereeing both on and off the pitch and when can we expect it to start and have results.
And then he can shuffle off to the retirement home where all the other fat albatrosses compare millstones.
Matt Traynor
15
Posted 25/04/2022 at 07:59:15
I disagree Alan #14. If we are to drop out the Premier League then the architect of our demise should sit through it, and then go. He'll still have the millions he banked from the sale to wallow in.
The rest of the fans will do what they've always done – put their hard-earned into supporting the club. Something he never did.
Alan J Thompson
16
Posted 25/04/2022 at 08:13:48
Matt. (#15);
It will take longer to get a reply and see something done than it will take us to play half a dozen games but we do agree that HE HAS TO GO!
Oh, and then let him stand on the pitch and make his speech how he'll never allow this to happen again!
Iain Latchford
17
Posted 25/04/2022 at 08:21:29
Losing to Burnley was the killer. Now since then they've taken 7 points from their last three games (thank God they lost to Norwich).
For months people have been saying 34 pts would be enough, and that now doesn't look to be the case. Three wins is an absolute minimum, and that still might not be enough. Absolute nightmare.
Michael Lynch
18
Posted 25/04/2022 at 09:38:10
If we go down, we go down. We – along with every other side outside the Sky Six – were actually relegated a long time ago.
Since we last qualified for the Champions League in 2005, 63 of the 64 slots available to English clubs have been taken by the same six teams. From next season, with the 5 subs rule, that grip will be even slightly tighter. We are only in the Premier League to make up the numbers, to provide cannon fodder for the big clubs.
We made our bid to join the elite when Moshiri came along, and blew it completely. But if we'd succeeded in making it a Big 7, we'd have been delighted. As it is, the complete opposite has happened, and we're destined to become the same as every other club outside that elite – yo-yoing between 7th and relegation. And so we can expect no sympathy at all from fans of other clubs.
Is it that big a deal, going down? We'll either bounce straight back up, or spend a few years transitioning to being one of the yo-yos, getting our house in order. But, under the current system, we won't be challenging the Champions League teams whether we go down or not.
Which is worse, just being canon fodder in the Premier League ad infinitum, or having a spell in the Championship, with the realistic aim of promotion or even winning the Championship? Maybe being part of the play-off finals at Wembley – possibly the most exciting game of the season?
I hate to admit it but, much as I've loathed this season, the last few weeks have been the most exciting I can remember in recent years. Goodison, when Iwobi scored in injury time against the Barcodes, exploded in a way I haven't seen since the famous Bayern Munich game. The Man Utd and Leeds games weren't far behind, and the equaliser against Leicester felt like a cup win.
Horrible season, like I say, but I'm not sure I want to go back to the dull, predictable crap of being mid-table, feeding off the elite's crumbs while they dine at the high table for ever.
Ajay Gopal
19
Posted 25/04/2022 at 10:00:20
Interesting view. Michael (18) - not sure if you are serious, but I would never be happy about getting relegated for 2 specific reasons - apart from not being part of the high table. As it happened with Leicester, you never know - miracles do happen in sport:
1. Everton should bow out of the Grand Old Lady and into the new stadium as a team in the Premier League, not a Championship team.
2. Now I get to watch all Everton's games on TV - I will be robbed of that pleasure if Everton drop into the Championship.
I have been saying for a few weeks now on TW, it is the goals that we score (or don't score) that will determine where we will end up. We have scored 2 goals in our last 3 PL games and that is just not good enough. I would have Dele Alli and Van de Beek both starting for the next game. VdB has not done anything of note since joining us, but he is our best option of unlocking a defence. I would drop Doucoure and Gray in their places. Lampard should also consider El Ghazi as a potential substitute - he is a goal scorer but has lost his way somewhat, but he has it in his locker to fire some rockets.
Charles Brewer
20
Posted 25/04/2022 at 10:01:52
There is a curiously positive comment in The Guardian this morning (https://www.theguardian.com/football/2022/apr/25/premier-league-10-talking-points-from-the-weekends-action) which suggests that Everton, if they keep up the attitude of Sunday, have enough to survive.
However, in the same article, there is a very interesting comment on Arsenal, in the form of Arteta, vs ManU, in the form of lazy, overpaid morons. It suggests that Arteta has - albeint not completely - transformed Arsenal by getting rid of the overpaid, undercommitted tossers - Henrikh Mkhitaryan, Mesut Özil, Willian, David Luiz and Pierre-Emerick Aubameyang - while promoting the likes of Saka.
Indeed, it's notable how the three England flops of the Euro final - Saka, Rashford and Sancho - have developed. One has become a good, if not outstanding player for a club which looks increasingly on an even keel, the other two are going rapidly backwards with a club imploding as fast as Everton.
The lesson is obvions. Get rid of overpaid troublemakers (the worst we had was Lukaku, I don't know about James, but he certainly didn't bring much solidarity and was always "injured" when the weather was a bit off), refuse to deal with "agents" - there will be sufficient Vardys, Colemans and Harry Kanes (HK of Ridgway Rovers and Watford fame) to make it worthwhile investing in scouting instead of buying the likes of Dele Ali).
Moshiri's naivety has demonstrated that spending money is no answer for a club riddled with complacency, entitlement and stupidity. I do not hold him responsible in any way for the problem except that he is clearly far too accommodating. If this club is to survive, it needs mass sackings from the top down.
Michael Lynch
21
Posted 25/04/2022 at 10:13:28
Ajay, I'm serious. Partly it's just trying to adjust my thinking, and seeing the positives in a negative situation. I'm probably kidding nobody, including myself. But the points I make are serious.
Leicester are having a great few years. But even they only finished in the top four once - it was an anomaly, not a game changer. In the medium term winning the title allowed them to consolidate as one of the better of the also-rans, but they will never challenge for the title again, and will probably never finish in the top four again.
Would I rather be them? Yes. And I'd rather be West Ham too, looking to appear in a final of a European competition. But neither of them have a realistic chance of ever breaking the monopoly of the Sky Six. Going by the last 16 seasons, 0ne in 64 is the chance of them getting a CL place via league position.
So, if we do go down, it's not the end of the world. We have a massive fan base compared to most, and better resources. We have a world class stadium in progress. There's no reason why we won't come up again and maybe challenge for a European spot, and have a tilt at an FA Cup final appearance.
I hear what you're saying about not watching us on TV but I'm in the privileged position of being a season ticket holder. For me, it's about the match day experience as much as anything, and that won't change hugely whether it's Burnley in the PL or Preston in the Championship as the visitors. Sure, I enjoy the visits of teams like Man Utd and Arsenal, but those games ceased being meaningful in any real sense years ago compared to what they meant in the 60s or the 80s.
Raymond Fox
22
Posted 25/04/2022 at 10:40:47
The Premier League is a farce as a competition. We have spent a fortune on players the top 5 or 6 clubs don't want. How you attract the 'stars' that you need to challenge the usual top clubs, I don't know.
That aside, the club has been a comedy of errors in every department which has brought us to this situation. I don't only put it down to managers, it's the quality of the players that is the main reason we are here.
I thought we were going down a couple of weeks ago, but it looks even worse now. Nevertheless, there is still a chance we may still stay up, stranger things have happened. We have had everything go against us for a long time now… maybe our luck will turn around.
Justin Doone
23
Posted 25/04/2022 at 10:41:31
There's usually always a team that sleepwalks into relegation and this season it is us.
Players, fans, pundits, bookies, owners and coaches believe a club to be to good, to big to drop, I'm afraid that has never been the case.
A team that struggles to create, score and concedes goals for fun is a recipe for trouble. I couldn't see us winning another 3 games a months ago and that is still the case, but we need to pick up a few draws instead of losses.
A manager that refuses or can't adopt the teams style to get the best out of the players rather than trying to enforce his principles isn't going to get a quick fix or any short term stability and confidence.
Mistake after mistake followed by mistake. I think half of us fans realised the issues years ago, but to little to late by the owner and board.
Never give up, because its sport, its a game and form and luck can turn quickly. We have to keep going.
I hope for the same tactics as against Liverpool in every away game. Frustrate the home team and counter. If this would have been adopted earlier we may have an extra few points on the board. But its not to late. Frank needs to realise its not just Liverpool that we need to adopt this against.
Keith Gleave
24
Posted 25/04/2022 at 10:49:21
A few thoughts.
My first is I presumed, maybe mistakenly that the VAR looked automatically at possible issues. Look at the Arsenal game where they looked for offside on a goal and gave a penalty for a different issue. It looked to me as though the ref and the VAR were constantly looking the other way.
This thought is not denying how poor we have been throughout the season; however, our propensity to pick up both serious and niggly injuries has been immense and interrupted picking a steady line-up. This has not been helped by some debatable red cards at important times.
Again, not denying our poor performances but this has not been helped by extremely poor referring and VAR decisions, look at yesterday, look at Rodri for Man City and more.
Finally, I have come to the conclusion that relegation can only be good for us. My reason: it's not just deadwood on the playing staff – we need to review the whole culture, top to bottom, and it needs to change.
We need a clear strategy to set the direction of the club, a style of play along with management and coaching to suit and then a scouting system that can pick up the players required and a youth system to produce the necessary quality. The management, from CEO down, have to be more professionally business-minded. It's more than players' heads that require to roll.
Len Hawkins
25
Posted 25/04/2022 at 10:51:28
Michael Lynch #18,
Strangely, the season has panned out with a genuine threat of relegation in fact it has become almost accepted and inevitable. When it comes to other teams losing for Everton to stay up, because Everton are seemingly unable to win, then I'm afraid the cards are stacked sky high against us.
Where do we go from here? Do we need a Scot or a Yorkshireman as manager who won't spend a penny when a halfpenny will do?
I never thought I'd say Everton have been ruined by money but, from having sod all to paying £Millions for worthless players, has perhaps done its job backing up the "money can't buy you success" theory. It has certainly worsened Everton more than people think.
As bad as it is to think about going down, it has almost come as a relief that it will certainly give the club the good shaking it needs. I know we aren't down yet but it almost feels like our destiny.
Man Utd, Man City, Chelsea and Liverpool have all suffered it since we last did so there is a grime-covered 40-watt bulb just visible at the end of the tunnel. If it comes, keep the faith.
Craig Walker
26
Posted 25/04/2022 at 11:18:58
I forecast that we would be relegated this season after the collapse at home to Watford. Everyone said that Benitez needed a flying start to get the fans onboard. He got a very good start but that capitulation caused the anger to be unleashed. We haven't recovered from that day.
A good win here and there (Arsenal at home, Leeds at home, Newcastle at home) have been followed by abject displays away from Goodison. The number of must-wins that have since come and gone now means we need possibly 4 wins from 6 remaining games.
The 24 hours after an exhilarating last-minute win against Newcastle summed up this season. It seemed like the tide might have turned. Leeds 2 goals down to Wolves at half-time. Jimenez gets sent off controversially and Leeds win the game 2-3.
When we look back, Wolves will have played a massive part in us ending up in the Bottom 3. Wolves beat us at Goodison in a must-win in a strangely flat atmosphere but went on to lose against both of our relegation rivals.
In hindsight, the writing was on the wall last season. We lost 9 matches at Goodison with some woeful performances. We dropped from 2nd in the Premier League at Christmas to end in the bottom half. We somehow managed to improve our away record and won at places like Anfield and the Emirates but, like a lot of teams, this was down to empty stadiums.
We should have known that the away performances would revert to their usual level this season. Sadly, our home form has only picked up since Lampard arrived but the away record is still atrocious.
I don't know what I feel this morning. Sadness and anger, mainly. I made the mistake of reading The Guardian's match report last night. Underneath were scores of RS fans commenting on how glad they'll be with us gone. How we're a nasty football club and anti-football.
Certain events have been airbrushed from history. It's like the Greedy 6 attempted breakaway never happened. The Sky coverage yesterday was so one-sided. The only surprise was that Kelly Dalglish wasn't leading the discussions.
Carragher is an absolute disgrace and how can he be given co-commentator duties on a Merseyside derby? This is a guy who spat at a Man Utd fan whilst driving, for fuck's sake, but can start pontificating on Richarlison's behaviour.
My only hope is that one day something emerges re the rumours of their asthmatics and the methods of their unbelievable energy levels. With 5 subs next season, the better clubs will prosper even further.
Even if we drop down to League One, I'll be a Blue through and through and will cling to the hope that someday, our time will come again.
Brent Stephens
27
Posted 25/04/2022 at 11:20:40
"The kids. can't possibly do much worse than the so called "experienced" pros can they".
Watch the U23s and the answer is they certainly can do worse than the experienced pros. It would be a gamble, a massive gamble. And I just don't think it's going to happen.
Peter Carpenter
28
Posted 25/04/2022 at 11:30:07
Just 28 days from now and it will all be over.
P Ron Wells
29
Posted 25/04/2022 at 11:33:35
A CLUB TO MATCH THE FANBASE
My Everton journey began watching Alex Young, Roy Vernon et al., and I wonder if I have seen my last derby game (which would be a relief given present conditions).
The only thing over the years about EFC that has been magnificent is the fanbase, year in year out.
Whether we stay up (possibly to be relegated next season) or go down (probably because we are not winning games) the BIG issue that remains is:
There must now be accountability for the present situation. And the buck stops at the board. Their resignation should be demanded. The writing has been on the wall for many years, and the warning lights have been ignored.
They are a disgrace to the committed fanbase of the club. Their amateurism must be removed at all levels of the club, starting at BBS Ken and the blonde sidekick and continuing right down to the perennial but not evergreen hangers on with a sinecure at Finch Farm.
They did not hesitate to do it at Mordor which is why they are where they are now. At Goodison we have remained an amateur old-boys network reeking of incompetency. Any company that works on those lines may as well have as motto "Abandon hope all who enter here".

There must be accountability for why all the rubbish player mercenaries were bought (a list of all the failures would be interesting over the last ten years. This should be made and put under the noses of the board). Continue right down to the question as to why our players (who play fewer games generally than those in teams in other competitions) are continually injured?
And please stop this Grand old Team, We're for ever Everton stuff, it is unrealistic when you are getting rolled over by Watford, Norwich and Burnley.

Andrew Ellams
30
Posted 25/04/2022 at 11:45:44
After the shocking refereeing, the bizarre TV coverage and their horrific fans yesterday would anybody really miss the stage show that the PL has become?
Shane Corcoran
31
Posted 25/04/2022 at 11:49:23
Repeatedly looking at the table has failed to make it change.
The coming week requires the skills of psychologist more than a football manager.
We can win all our games and if we do then we stay up. I think it's a good place to start. But, if we fail to beat Chelsea next Sunday then Burnley will most likely be five points ahead of us. Maybe Leeds are our best bet.
Everton are not near my priority in life, even in sport they're only second. But there will be something surreal about a season starting without them in the top flight. Would I watch the premier league? Would I follow the championship?
And despite some decisions that have gone against us, overall we can't play the victim. We've squandered hundreds of millions. All neutrals are and should be on Burnley and Leeds' side.
But escape is possible. We just need to win all our games, one by one.
Gary Jones
32
Posted 25/04/2022 at 11:51:12
Brent (27) I've watched the under23's regularly and in vast majority of games I've seen Simms, Dobbin, Branthwaite (and even Mills, Price, Warrington et al) play they've done very well. Patterson looked good for Scotland too. The fact the first group are surrounded by mediocre and supplemented by many u18s this year means your "team results means they're not good enough" conclusion is just bizarre.
They've certainly done better than I've seen the Rondons, Holgates, Keanes and Coleman's do in the first 11, and if you're idea of "they could do worse" involves being relegated twice somehow, perhaps a job in politics would suit?
Rick Tarleton
33
Posted 25/04/2022 at 11:54:19
The VAR did his job, he confirmed that the referee did not make a mistake. That is the purpose of a system that is run by referees to support referees' on-field decisions. This rule is doubled if the 50/50, 40/60 decision involves a Top 6 club. It is a truism that no penalty is ever given against Liverpool at Anfield.
Having said all that, we did not deserve a draw; yes, the players gave their all, I thought Keane in particular was outstanding in defence, but there was a degree of cynical gamesmanship that Simeone would have been proud of in yesterday's display.
I don't under any circumstances want to see a second game watching Everton in the second tier, my first was in early 1954, but I fear, unless we can miraculously find a clinical finisher, that is what I shall do.
Our strikers and midfield men are like rabbits in headlights when they get near goal. Effort is important, but so is skill and I fear that we have only the effort in the present squad.
Andrew Clare
34
Posted 25/04/2022 at 12:10:40
Everton have been 'sold down the river' by a corrupt board. Dodgy transfer dealings and managerial appointments have left the cupboard bare.
I have heard through someone who investigates financial crime that there have been lots of dubious dealings at Everton since our Russian friend has been on the scene.
It appears that a lot of the signings we have made in recent years may have had nothing to do with football but all to do with individuals making a lot of money.
Danny O'Neill
35
Posted 25/04/2022 at 12:55:15
Phillip @2, if you've followed Everton for 50 years, then we are roughly the same age.
Can you tell me over that time when we "went back to youth"? I don't recall it.
And, like you will have done, I watched Everton win 2 league titles, 2 FA Cups and a European trophy as well as a couple of near misses. I don't recall any of that being built on youth. It was a blend, built on experience alongside potential; and for potential, don't read youth.
Yesterday's opponents may have a couple of young full backs (as do we), but the spine of their team is built on experience, including the keeper, centre back, midfield captain and the now nearly 30 year old Salah.
I listen to the likes of Brent to get my take on the standard of our youth set up. As much as I'd like it to be different, our academy hasn't been and isn't producing to the standard required. It hasn't for my lifetime to be honest. Hopefully that will start to change with the recent changes, but we won't see the benefits for a couple of years at least.
I would like to call it a risk or at least a gamble to throw the current crop in right now. But it would be suicide in reality.
Bill Rodgers
36
Posted 25/04/2022 at 13:12:25
So we managed to give them a far tougher game than the Mancs.
Apparently, the players only bother to turn up when relegation is staring them in the face. You cannot blame Lampard for that, you cannot blame Moshiri, or the board. If players lack commitment, then there is something massively wrong at Finch Farm and it has been wrong for many years.
Michael Lynch
37
Posted 25/04/2022 at 13:51:34
I see we've made an official complaint to the Professional Game Match Officials about the non-penalties yesterday.
I doubt if we'll get another apology, but nevertheless I think it is a good thing to raise questions about the competence of match officials when the Sky clubs are involved, particularly on their home grounds.
Jim Bennings
38
Posted 25/04/2022 at 13:56:08
We've been through SIX managers since the Laughing German was appointed over there in October 2015.
Much like Watford who have been through the managerial alphabet, we are heading for the Championship.
Mal van Schaick
39
Posted 25/04/2022 at 14:14:04
Everton have asked for answers from PGMOL officials for the VAR failing to review the blatant penalty. Attwell should be demoted to League One.
Kevin Molloy
40
Posted 25/04/2022 at 14:22:36
we always get it wrong, don't we? 'I would like to lodge a formal complaint!' as we drop into the relegation zone on the back of a zillion dollars of dirty Russian cash.
Instead of lodging formal complaints, just get on with the coaching, you useless twats.
Barry Hesketh
41
Posted 25/04/2022 at 14:30:44
Apparently there have been 12 yellow cards issued for 'simulation' this season in the Premier League, Everton have received 6 of those with 3 coming against our friends from over the park.
It's not biased in any way whatsoever, is it?
Roll on the Government appointed independent regulator which will have the power to sanction clubs in English football who break financial and other rules! A new owners' test will be introduced and legislation will give fans more say in the running of the game.
Although the Premier League 'recognises and accepts the case for reform, it doesn't believe that a regulator is necessary. Source: BBC
Iain Latchford
42
Posted 25/04/2022 at 14:42:18
If (and it's a big if) we can get 3 wins in the next 5 games we'll be on 38 points. I can see Burnley or Leeds being on at least 35 by then, which means it's highly likely this is going down to the last day if we're going to do it. Not sure my nerves can handle it.
Michael Lynch
43
Posted 25/04/2022 at 15:02:52
The bookies have now got us at odds-on to go down. Took their time catching up with what we were seeing week-in week-out, but they got there in the end.
Ben King
44
Posted 25/04/2022 at 15:06:43
Kevin #40
You're completely naive
We have to play the game off the pitch to get what's fair on the pitch (shouldn't be the case but it is).
We need to inflate ourselves just as Frank is doing and highlight these ridiculous non decisions so that we start getting Justice. A Mane sending off and/or the penalty would have changed the match. We could have had 1 or 3 points instead of zero
I don't understand your post to be honest. It makes little sense
Anthony O'Brien
45
Posted 25/04/2022 at 15:09:33
I can't see us survive now and, to be honest, I don't think we deserve to with the season we have had. Mismanagement and to have blown the sums of money we have, and to have this squad of average players says it all.
I have been following this club for 32 years and this team is the most frustrating by far to watch. I actually think if we do go down, we have a chance of a total club overhaul and a chance to move a lot of deadwood from this squad, of which there are lots.
I'm so tired of watching Richarlison's antics every week, it's absolutely disgraceful, and he is so average a player too, like a headless chicken when in good attacking situations; he wouldn't get near any Top 6 club.
As for Calvert-Lewin, he is so limited can't create for himself and is a total ponce. I hope some club offers us the sums that are mentioned because he ain't worth it and he's got no fight.
As for Pickford, he is so erratic and doesn't command his area and just wishes he was a little taller, I can't believe he is still England's No 1.
Our only bright spot this season has been the emergence of Gordon and he has potential to be very good but as yet his end product just isn't there and I just wish he didn't go to ground so easy, trying to con referees – it's the part of today's game I hate. Maybe he is hanging out with Richarlison too much!!!
I could go on but... Rant over!!!!
Gary Jones
46
Posted 25/04/2022 at 15:18:37
Michael @ 43, just seen the same. Almost unanimous across bookies now, and Burnley hovering towards 2:1 and with Leeds out at 4:1 the bookies are either expecting Palace to lie down, or us to simply not get 4 more points either. I suspect it's both. We are in DEEP shit, and people need to start getting heads round how we survive next year.
Barry Hesketh
47
Posted 25/04/2022 at 15:23:48
Anthony @ 45
Without Richarlison's goals in recent weeks, we would already be down. I suspect the players you name in your post will all be plying their trade in the Premier League next season and perhaps with clubs who will genuinely be challenging for the top 6, even if sadly, Everton don't stay up.
If Everton do go down they will deserve to, if they survive, they will deserve that too.
Jim Bennings
48
Posted 25/04/2022 at 15:24:48
I don't seriously see Leeds getting dragged back into it.
I know I'd rather have their points total right now than ours, and I'd imagine another 6 points will be achievable for them.
It's us or Burnley, we've pretty much known that for weeks before that "Battle of Turf Moor" a few weeks ago.
I hate the fact that Burnley have to face Slippy G's Villa team who have zero to play for now and theres no way that Crease Head will do us any favours.
Barry Hesketh
49
Posted 25/04/2022 at 15:32:23
I didn't watch the game yesterday and I haven't got the stomach to watch the full 90 minutes on Everton's website, but surely it can't be true that Allan only made two passes in the whole game and both were made from the kick-off's ? That's a disgraceful statistic for any player, never mind a midfeilder.
Allen Rodgers
50
Posted 25/04/2022 at 15:41:05
Jim @48, Burnley have to play Villa TWICE. I can see the smirk on Gerrard's grid as he tells his lads to take it easy.
Danny O'Neill
51
Posted 25/04/2022 at 15:51:48
The league rarely lies and won't do at the end of the season. Let's see what it looks like in May.
Agree with the sentiment about playing the game off the pitch. Lampard will have brought that with him from Chelsea. A club with a winning mentality that didn't and doesn't make it easy for officials like we do. I know the ship has sailed, but I'd liked to have seen Ancelotti with a Goodison crowd behind him.

Kieran Kinsella
52
Posted 25/04/2022 at 16:09:36
Barry 49
In Allan's defence you'd have to watch it (which I don't recommend given the outcome to understand). We basically had zero possession because we set up really well to block every useful pass avenue for Liverpool. They spent probably 40 of the first 60 minutes passing it around the halfway line trying to pick out runners and our team just ran around blocking every viable pass. Every now and then they'd try a pass and it would invariably hit a defender and go out for a throw. Once in a while we got possession but then that guy (usually Gordon) would just go on a solo break away run at the Liverpool goal. The other 20 minutes consisted of Pickford holding onto the ball for as long as he could or our players time wasting before throw ins. It was working pretty well as a route to a 0-0 or even a win if Iwobi, Gordon or indeed the ref had done the business. But at 60 minutes my stream got disconnected right after Gordon missed. I told my wife "we might regret these misses." Then I checked the score on ToffeeWeb
Brent Stephens
53
Posted 25/04/2022 at 16:20:03
Gary #32 Yes, I'm a regular watcher too (at Southport tonight).
"I've watched the under23's regularly and in vast majority of games I've seen Simms, Dobbin, Branthwaite (and even Mills, Price, Warrington et al) play they've done very well. Patterson looked good for Scotland too."
Gary, I wouldn't count Branthwaite and Patterson (the latter currently injured?) as U23s but first team squad. Simms isn't with us, nor Warrington. Dobbin blows hot and cold. Mills more consistent, and Price too, but remember the level of players their up against in the U23s. Gordon was tremendous for the U23s but it took him time to find his feet in the first team - and time we don't have.
"The fact the first group are surrounded by mediocre and supplemented by many u18s this year means your 'team results means they're not good enough' conclusion is just bizarre."
My conclusion? Where did you get that quote from? I didn't say that. "Politics", eh!
Brendan McLaughlin
54
Posted 25/04/2022 at 16:35:03
The bookies have Everton as odds on (5/6) slight favorites to fill the third relegation place. Burnley are at 7/4 whilst Leeds are as long as 5/1.
Barry Hesketh
55
Posted 25/04/2022 at 16:55:44
Kieran @52
Thanks for the report, I guess I didn't miss that much after all, although you'd think we'd won the game, given the over-reaction by many in the media with regards to Gordon and Richarlison 'simulating'. I see Danny Murphy has said that he thinks that Jordan Pickford should join Newcastle if Everton don't avoid the drop - you couldn't make it up.
Anthony O'Brien
56
Posted 25/04/2022 at 18:32:39
Barry #47
Hey let's be frank Richarlison scored two penalties against Burnley and had other chances in that game that would have wrapped up the three points before that comeback and v Leicester again had numerous good chances again that he fluffed and right thankfully he scored at the death to rescue a point but got lucky with a mishit shinner. He is so over rated and is an embarrassment with his antics on the field, when you are in a relegation battle you need guys to stand up and fight back and we lack those players big time. I will always get behind anyone that wears the Everton jersey but if he was playing with another club I would be hating how he plays. Just hope he finds his shooting boots and scored enough goals to keep us up !!!
Phillip Warrington
57
Posted 25/04/2022 at 22:41:22
Danny (@35),
I agree, the perfect scenario would be to have an experienced quality backbone to the team, with some youth players to give it some pace. But at this stage, Everton are never going to attract the quality players you can build a team around.
The current crop of so-called experienced players have all been bought from good teams where they struggled to get game time at those particular teams. They were panic buys, as I believe Frank was; they were brought in to try and buy instant success without a long-term plan which has backfired badly.
Frank has not improved the team, the same players still make the same basic footballing skill errors, and soon as the opposite team score, they fall to pieces and lack pace and commitment. So why not give Dobbin, Branthwaite, Mills and Price an extended run, like we have with Gordon. Can they do any worse than the current crop?
I believe the club is at the crossroads, it will either recover from this (but I don't believe the current manager or board will do it) and come out stronger and challenge again or end up bouncing between the Championship and lower end of the Premier League.
Yes, the club has had some bad luck in my 50 years, especially after winning the European Cup-Winners Cup, then being banned from Europe. I believe that team would have brought so much success... but that's life.
Everton FC have to now take the bullet and rebuild because at present our first team is not good enough, our manager is not good enough, and our youth system is disillusioned, realizing there is no pathway to the first team.
The fanbase is there, we have supporters who will keep supporting the club no matter what, but even their patience is running thin. Let's face it, playing against a top team and only having 15% possession is just not good enough for a club with the motto "Nothing but the best will do".
Tom Harvey
58
Posted 26/04/2022 at 17:46:29
Phillip Warrington @ 57
I fear the 15% possession problem we had in the derby will reverse itself for many of the matches to come, our opponents will know we are desperate for points and allow us possession, with our slow ponderous sideways build up play, they won't be too concerned and they'll be waiting for the many mistakes we make.
Howard Sykes
59
Posted 26/04/2022 at 20:34:51
The last six years have been like Brewster's Millions.
Danny O'Neill
60
Posted 27/04/2022 at 07:23:11
I hear what you're saying Phillip. Yes, we've not been shopping at Harrods. Not even Waitrose or Marks and Spencer's.
To compound that, even when we went to Tesco's, several individuals ran off playing a football transfer version of Supermarket Sweep without talking to each other let alone having a strategy.
I do know what you're saying, but there is a difference between introducing ones and twos (Gordon) and throwing in practically a full team of what until now has only been playing at U23 level.
It's all opinions, but that is a huge risk. Bigger than the fingers crossed, praying to the Pope on a daily basis one that I am adopting right now.
Steve Brown
61
Posted 27/04/2022 at 07:47:44
We are in this position because we lost 29 goals and assists with the departure of James, Digne and the Nameless One. Add in the long-term absence of our main goal-scorer, who scored 21 goals last season, and that is 50 goals and assists lost from the team.
Gray and Townsend did well earlier in the season, but combined with Rondon they have contributed 24 goals and assists this season. A delta of 26 goals and assists.
None of the above happened on Lampard's watch but he was left to try to sort out the nonsensical decisions made.
Joe McMahon
62
Posted 27/04/2022 at 07:54:08
Steve, please don't forget this is the James who doesn't like cold North UK weather and was in his private jet when we were getting smashed by Man City.
IMO the loss of Sigurdsson not being available has hit both managers this season big-time. DCLs mind is elsewhere, but Man City ain't gonna call him as a replacement for Aguero, and Arsenal fans don't want him either.
Steve Brown
63
Posted 27/04/2022 at 07:59:38
Joe, we know that James and Digne left because the Spanish sociopath didn't want them. Otherwise, they would both still be here and we wouldn't be in our current situation

Joe McMahon
64
Posted 27/04/2022 at 08:02:06
Digne possibly certainly Steve, Rafa's ego took over. James I'm not so sure and we couldn't afford his £200k per week salary much longer.
Danny O'Neill
65
Posted 27/04/2022 at 08:02:10
I'd agree with that Steve. James, Sigurdsson (I don't see why we can't name him) and Digne has taken away a lot of creative quality from the squad. It goes back to the point I made elsewhere of gradually downgrading the squad. Not that it was in a great place before that.
I don't like that argument, Joe. Try a Munich winter. Much colder than anything we experience in the northwest of England. Rodriguez spent 2 seasons there.
In honesty, James was a get him off the wage bill thing by the club in my opinion. Sigurdsson, well that's just out of the club's hands. Digne. Poor decision to drive him out of the club but I'm increasingly impressed with Mykolenko.
Tony Abrahams
66
Posted 27/04/2022 at 08:13:37
I think it must have been Benitez's fault that he couldn't sign any players after being told he would have money to spend once he'd got rid of a load of players. Why couldn't he get rid of them? I think it was scandalous that he was allowed to take on a job with false promises, only a horrible cunt, would do this.

Joe McMahon
67
Posted 27/04/2022 at 08:33:46
Danny, yes good point about German winters. But yes I'm also being very impressed by Mykolenko, and to think his mind will be elsewhere (obviously). We may have found a player here.
Dignes form had been missing for a while and he was playing when Watford scored 5 at Goodison. So maybe he isn't being missed as much as we think he is? I dunno.
---
Add Your Comments
In order to post a comment, you need to be logged in as a registered user of the site.
Or Sign up as a ToffeeWeb Member — it's free, takes just a few minutes and will allow you to post your comments on articles and Talking Points submissions across the site.