Davies returns to training
Friday, 29 April, 2022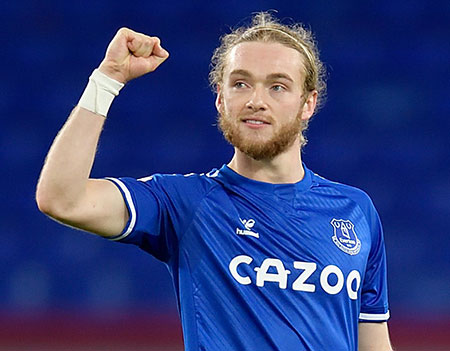 Tom Davies has resumed training with the first-team squad as he works his way back from surgery.
The midfielder has been sidelined since November after picking up a knee injury in the goalless draw with Tottenham Hotspur.
He then sustained a hamstring tendon injury that required corrective surgery and had not been expected to return this season.
He wasn't registered as an eligible player in Everton's 25-man squad on that basis but was reinstated after Jean-Philippe Gbamin joined CSKA Moscow on loan in February.
Article continues below video content
Whether Davies ends up playing again before the end of the campaign remains to be seen — given that the injury is similar to the one that has dogged Dominic Calvert-Lewin, the club's medical staff may take a cautious approach with his rehabilitation.
---
Reader Comments (44)
Note: the following content is not moderated or vetted by the site owners at the time of submission. Comments are the responsibility of the poster. Disclaimer
Tony Graham
1
Posted 29/04/2022 at 16:51:30
Sell him. He's rubbish – a waste of a wage...
Kieran Kinsella
2
Posted 29/04/2022 at 17:00:14
Tony
I wasn't going to put it quite as harshly but if he is fit I don't seeing him making a difference this season or any other.
Robert Tressell
3
Posted 29/04/2022 at 17:02:27
Seems like a long time since that excellent goal against Man City.
Michael Lynch
4
Posted 29/04/2022 at 17:16:03
It always seems to be "one in, one out" with us. Godfrey probably out for the rest of the season according to Lampard today.
Meanwhile Donny VdB is still out, as is Gomes, so Tom Davies might be rushed back faster than he and we expected over the next week or two.
Ed Prytherch
5
Posted 29/04/2022 at 17:26:53
Tony, Iwobi was "rubbish" until he worked with Frank Lampard's coaches. Wait and see is a better strategy IMO.
Andrew Ellams
7
Posted 29/04/2022 at 17:36:43
Wasn't Davies excluded from the PL squad registered for the second half of the season anyway?
Tony Everan
8
Posted 29/04/2022 at 17:39:11
He's 24 in a couple of months, coming into his prime years. I don't think it's fair to completely write him off, he's young player who has given his all to the club whilst we have been going through very turbulent times. As Ed says, see how he gets on. With the new coaching set up and a top class midfielder as manager he will benefit from that along with adding a bit more maturity to his game. It's been a hard slog getting back to fitness from a bad injury, so good luck to him , he's a human bing and needs some support.
Danny O'Neill
9
Posted 29/04/2022 at 17:51:09
Like many, I had hopes for Tom.
On one hand, he is a Jonjoe Kenny. You see potential and want them to succeed.
But on the other, are they good enough? I haven't seen enough to be honest.
But then how much have they both been victims of the uncertainty that has plagued our club? Let alone established players, how are youngsters supposed to develop when the right hand is not talking to the right hand and we have 6 managers in just as many years?
Nick White
10
Posted 29/04/2022 at 17:53:38
To be fair, if we go down, he will likely be a regular starter.
At times this season he could have done a job for us had he been fit too.
If we stay up though a squad player at best (thankfully a cheap 1 based on wages).
Rob Baker
11
Posted 29/04/2022 at 17:58:55
Like a new signing, NOT. Time for Tom to find new pastures in the summer.

Kieran Kinsella
12
Posted 29/04/2022 at 18:05:14
Nick
"To be fair, if we go down, he will likely be a regular starter."
Only because we will be in administration and unable to off load him to any buyer
Nick White
13
Posted 29/04/2022 at 18:07:28
Kieran, yep👍
Tony Twist
14
Posted 29/04/2022 at 19:06:56
Long term, yeah I agree with the comments but come on, what with Delph complaining of stiffness and unavailable for matches, if he can get fit and play strictly infront of the back four not go roaming about and he will be devastated, like us supporters, if we end up going down and fight on the pitch until spent of energy, I think he is worth considering for the remaining matches.
David Thomas
15
Posted 29/04/2022 at 22:56:44
Not good enough.
If this club really wants to move forward long term and try to push themselves up the table, then we are going to have to have better players than him.
Dave Lynch
16
Posted 29/04/2022 at 23:12:39
I remember him coming on against Newcastle when we where 2 up.
He made 2 errors and they scored twice within the last 8 minutes or so.
He's lacking pace, cant pass and his concentration is poor.
I know its negative but its what I've seen in him.
Phil Smith
17
Posted 30/04/2022 at 03:28:50
While we're on the subject of rubbish players getting back from injury, anyone know how Gbamin is doing over in Russia? See he's played in their last 3 games, completing the full 90 in his last 2. Can't be doing that bad…
Alan J Thompson
18
Posted 30/04/2022 at 03:40:02
Get rid of him, sign more of these… blah, blah, blah.
In case you've forgotten we are almost financially embarrassed and anybody sold will be to lessen the debt, not to lash out on new players until Mr Usmanov finds another way to sponsor something, which will be a long way away.
Players who put the effort in, like Tom Davies, will be needed whether we stay up or not and even if he isn't a first choice certainly a squad member and most definitely if we do go down as our "better" players won't want Championship football.
Kieran Kinsella
19
Posted 30/04/2022 at 05:03:49
Phil Smith,
Gbamin has been doing OK but he has a new manager now — Alan Pardew — who seemingly was so troubled by threats from Putin and Lavrov to nuke Britain this week that he's decided to move to Russia and takeover CSKA Moscow.
I know Alan Shearer after Kashogi, and Mike Gatting in South Africa wheeled out the old "I don't keep up with politics" line but FFS, what a moment for Pardew to go to Russia.
I liked him as a player at Palace and thought he was underrated as a manager but swanning off to Russia while they're bombing Ukraine and threatening to nuke your own country! Sorry Alan but you've gone down in my estimation.
Ron Marr
20
Posted 30/04/2022 at 05:30:21
I think Pardew went to CSKA Sofia in Bulgaria.
Danny O'Neill
21
Posted 30/04/2022 at 05:55:09
I'd agree as I have previously, Tom Davies is a decent squad player that I would keep.
Pardew? I can't go with underrated. For me he's in that batch of British managers that got away with it because they were British and kept getting jobs.
Also, wasn't he the one who done that awkward and embarrassing "dad dance" thing at Wembley? Not that I should judge his managerial ability on that. Just saying.
Kieran Kinsella
22
Posted 30/04/2022 at 06:32:08
Danny
I'm thinking of his time at Newcastle when he had zero money and had them in the Top 6 mix.
Danny O'Neill
23
Posted 30/04/2022 at 07:13:32
Sounds very Moyes-like Kieran. It can only get you so far without really having a chance.
I think the league has gone even more uncompetitive since those days. Forget the Top 6. There is now a Top 2 and a Bottom 2. The rest can literally finish anywhere in between.
Anyway, it's Saturday morning and we don't play until tomorrow. Give I called it, what's the view on embarrassing manager moments:
1. Pardew's "dance"
2. Tony Adams's sprint coaching session in Spain as the players looked on bemused.
3. Moyes's attempt at Spanish.
Vote / discuss.
Ian Jones
24
Posted 30/04/2022 at 07:22:10
For me...Danny's comment (see below) sums the situation up with both Jonjoe and Tom. Always easier for young players to fit in and develop in a decent side that isn't struggling or isn't in a seemingly constant period of transition.
'But then how much have they both been victims of the uncertainty that has plagued our club? Let alone established players, how are youngsters supposed to develop when the right hand is not talking to the right hand and we have 6 managers in just as many years?'
James Hughes
25
Posted 30/04/2022 at 07:39:53
Ron is correct, Pardew went to Bulgaria not Russia, but hey it's only geography
Christy Ring
26
Posted 30/04/2022 at 10:27:42
I'd still give Tom a chance under Lampard, it's unfair to write him off, and he hasn't been given a chance to establish himself in the team, being used in different positions across the midfield.
Ajay Gopal
27
Posted 30/04/2022 at 14:29:22
We would have been in a better position if Tom had been fit during our horrendous run. Hope there is U-23 game that he can play in to get his match fitness level up. I think he is vastly under rated by Evertonians, he has the ability in him. As Danny says, playing under multiple coaches means he has been tried out in various positions. Under a stable coaching regime, he will mature into a fine box to box midfielder, I have no doubt about it.
Ian Jones
28
Posted 30/04/2022 at 15:02:40
Ajay, not sure if there are anymore U23 games left. The last one ended 7nil to Man City!
Pat Kelly
29
Posted 30/04/2022 at 16:36:28
We shouldn't rush to write Davies off. He's making a good job of it himself.
Joe McMahon
30
Posted 01/05/2022 at 08:23:31
In reference to his goal 5 years ago v City, Lookman also scored and I can't help thinking we kept the wrong player.
But Tom is local and for some reason local players are given more slack, and have an easier ride. Just like Kenny, nowhere near good enough.
Steve Shave
31
Posted 01/05/2022 at 08:36:59
Joe (30) if Darren were still hovering on these pages, he would murder you for saying "But Tom is local and for some reason local players are given more slack, and have an easier ride".
I would hope the club recognise that the pressure on homegrown players is greater here at Everton. I'm afraid to say many of the fans love nothing more than knocking down a local lad, shortly after they have piled their enormous and frankly unrealistic expectations upon the player's shoulders for a season or two.
Agree wholeheartedly about Lookman though, he looks like the player now everyone expected him to be. Not sure if there is an attitude problem or not but he couldn't wait to get out of our club. It's almost like we mishandled him somehow, surely not though, that would be negligent and we all know how well run our club is.
Steve Shave
32
Posted 01/05/2022 at 08:39:47
Danny, how dare you mock Pardew's dad dance! It remains one of my favourite moments of his short and otherwise unremarkable legacy. :)
Steve Shave
33
Posted 01/05/2022 at 08:41:55
I would add to Danny's list of embarrassing managerial moments McClaren's Dutch accented interview. I might have to rewatch it now in fact.
Tony Abrahams
34
Posted 01/05/2022 at 09:14:51
Definitely a split decision between McClaren standing at the side of the pitch with his big umbrella, and Phil Neil's sniveling. Maybe I'm biased, but "your right boss" does take some beating,
Steve Shave
35
Posted 01/05/2022 at 11:54:55
Phil Brown holding his half time team talk on the pitch is a bit of a classic PL embarrassing manager moment too.
Annika Herbert
36
Posted 01/05/2022 at 22:11:05
Tony @ 1, disgraceful comment, no wonder players are afraid to play there natural game when they hear moronic comments like that.
He might never develop into the player we all hoped for but no need for such a crass comment
Martin Mason
37
Posted 02/05/2022 at 14:17:56
It could be said that our terrible run this season was because Tom Davies was unavailable. :-).
I think that he is underrated and his best is yet to come.
Andrew James
40
Posted 02/05/2022 at 21:56:45
In a season where the midfield has been so fragile in terms of numbers, I would definitely have taken Tom rather than not. He can play in the DM role, the box to box one or even higher up. He has his weaknesses but he always gives his best and works hard.
We've doubted certain players having the heart for this campaign. Well we know Pickford, Richarlison, Seamus and Gordon do. Tom would number amongst them if fit.
Justin Doone
41
Posted 03/05/2022 at 20:59:25
In the long list of players that are not good enough for our club let's just look at the league table.
Maybe that label can be tagged to every single player, manager, coach, physio and board member etc. of our great club.
On the flip side, if your looking at players that may be good enough for a top 4 / top 6 Premier league side I can't see too many stand out candidates.
I never understand why some fans always target the young local lads as being the problem. Frequent comments like, "he only gets a chance because he's young", "never good enough", "robbing a wage".
A good young player with potential will never improve if they are not given a chance.
If you think the ex-acadamy players are robbing a wage and are not worth the money, then I wouldn't like to witness what you would do to several expensive senior player's who have played regularly and got us into a relegation scrap.
I'd much rather a few Tom Davies' in the squad over a Siggy, Delph, Mina or Moise (?) Keans.
ps I rate Mina but if he's only fit for 10 games a season he has to go.

Liam Heffernan
42
Posted 04/05/2022 at 09:51:44
I hope Frank Lampard can turn Tom Davis into Frank Lampard
Paul Hewitt
43
Posted 04/05/2022 at 10:23:22
Liam, not a chance.
Si Cooper
44
Posted 07/05/2022 at 14:03:11
"I hope Frank Lampard can turn Tom Davis into Frank Lampard."
I'm hoping Mother Nature has at least done her bit and finally granted Tom his adult strength.
If he comes back a bit stockier and capable of a burst of real pace from a standing start or stepping in to nick the ball away from an opponent, then we may at least get a good, solid club player in the mould of, say, a Mark Noble.
Hope springs eternal!
Barry McNally
45
Posted 07/05/2022 at 14:18:58
Liam 42, only possible by Deed Poll.
Andrew Grey
46
Posted 10/05/2022 at 11:42:05
Our season fell apart when he got injured.

Dave Abrahams
47
Posted 10/05/2022 at 12:15:20
I would rather have a fit Tom Davies than the Dutchman from United, or El Ghazi, who have come here and done next to nothing but cost a lot of money in wages and signing-on fees. I must add that, in El Ghazi's case, he has had no say in the matter he just hasn't been picked. But I'd take Tom over Gomes with the vast difference in wages and also attitude.
As Danny says, neither Tom or Jonjoe have played in settled teams after being managed by about six different managers, they can still be part of our first team squad in the Premier League next season, hopefully.
---
Add Your Comments
In order to post a comment, you need to be logged in as a registered user of the site.
Or Sign up as a ToffeeWeb Member — it's free, takes just a few minutes and will allow you to post your comments on articles and Talking Points submissions across the site.