Everton vs Chelsea
Friday, 29 April, 2022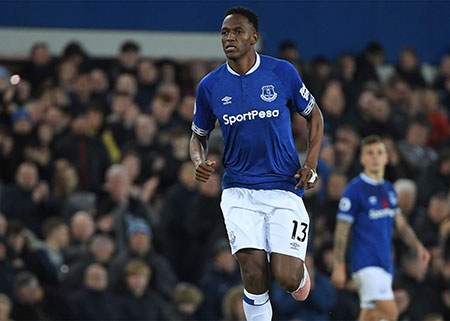 Yerry Mina and Dominic Calvert-Lewin are set to return to the squad but Donny van de Beek, André Gomes and Ben Godfrey remain out
Everton are back at Goodison Park and in need of another stirring atmosphere as Chelsea come to town for a fixture that has taken on added significance for the Toffees following Saturday's results.
Victory for Burnley at Watford means that the Toffees will kick off against Thomas Tuchel's side five points adrift of safety but with two games in hand over the Clarets and Leeds United who were thumped at home by title-chasing Manchester City.
The calculations for Everton may have changed and, psychologically, the increase in the points gap to those two clubs above them in the table is a concern but matters remain in the Blues' hands. It's unlikely, but if they can win all their remaining matches, including this one against the team currently sitting in third in the Premier League, they will be assured of safety.
More realistically, they will probably need to pick up another 12 points to avoid relegation, although Leeds's run-in is particularly challenging and it is they, not Burnley, whom Everton might now be hoping to catch in the coming weeks on that basis.
Article continues below video content
Yerry Mina will be back in Everton's squad this weekend after being rested for the Merseyside derby and he will be joined by Dominic Calvert-Lewin who has been training again this week.
Mina returned from an 8-week lay-off for the home draw against Leicester last weekend and his minutes are being managed due to a succession of soft-tissue complaints that have disrupted his season.
He is expected to start but Calvert-Lewin might only make the bench after doing lighter work at Finch Farm.
The striker has had a stop-start return from a long-term injury absence and didn't make the squad to face Liverpool last Sunday.
Frank Lampard will have to do without Donny van de Beek and André Gomes for another week as both are battling groin strains and Ben Godfrey is ruled out for "a few weeks" with the thigh issue he sustained in the warm-up at Anfield.
Since winning all their Premier League fixtures in March, Chelsea were stunned at home a month ago by Brentford who beat the 4-1 before they exited the Champions League as holders at the hands of Real Madrid.
In between, they thrashed Southampton 6-0 at St Mary's but lost at home to Arsenal, edged West Ham 1-0 and were held 1-1 by Manchester United at Old Trafford on Thursday evening.
The recency of that outing, their somewhat erratic form, and the fact that they have little left to play for will hopefully see a less motivated Chelsea arrive in L4 for what is a fixture that the Toffees have found ways to win when the chips have been down at times in recent years, not least in 2019 for Duncan Ferguson's first game at the helm as caretaker.
As was the case for most of Lampard's games in charge, the Goodison faithful are gearing up to play their part in providing the kind of bear-pit environment designed to will Everton on to victory. Should they help the players over the line to three points, it could be a massive boost ahead of the trip to Leicester next weekend.
Kick-off 2 pm, Sunday 1 May 2022 on Sky SPorts
Referee: Kevin Friend
VAR: John Brooks
Last Time: Everton 1 - 0 Chelsea
Predicted Line-up: Pickford, Coleman, Mina, Keane, Mykolenko, Delph, Allan, Iwobi, Gordon, Gray, Richarlison
---
Reader Comments (102)
Note: the following content is not moderated or vetted by the site owners at the time of submission. Comments are the responsibility of the poster. Disclaimer
Geoff Lambert
1
Posted 29/04/2022 at 20:58:39
Great news! we should finish 16th now, what a weight off my mind.
Clive Rogers
2
Posted 29/04/2022 at 21:14:20
DCL should not play. He's had his head turned and wants to go to Arsenal.
Neil Copeland
3
Posted 29/04/2022 at 21:16:03
I've been critical of DCL recently but we do generally look a better balanced team when he plays.
Nick White
4
Posted 29/04/2022 at 21:33:21
Are Chelsea still not allowed to sell tickets? If so no away fans? I've probably missed a U-turn on that 1.
Neil Copeland
5
Posted 29/04/2022 at 21:37:46
Nick, the embargo was lifted so there will be away support at the game on Sunday.
Nick White
6
Posted 29/04/2022 at 21:39:41
Thanks Neil. Pity!
Alex Kociuba
7
Posted 29/04/2022 at 21:54:52
I'd keep DCL rested until the end of the season so he's fit to sell. He looks completely disinterested when he's on the pitch. If was playing half-heartedly but scoring the odd goal then I could tolerate it, but he isn't.
Chris Hockenhull
8
Posted 29/04/2022 at 22:24:45
Alex (7). Sorry but absolutely bollocks. These two need to pay back the club for paying them to do absolutely next to nothing this season. They need to show some professional pride and do it for the next six games.
I don't care if they got screwed fitness-wise… they both already have questions over their fitness – Mina especially – so decent clubs recruiting will be, or should be, savvy to this.
They play for Everton. Everton are their employers. They play if fit. After that, they can well fuck off. Non-negotiable
Mark Ryan
9
Posted 29/04/2022 at 23:09:18
Is Yerry Mina seriously number 13 ? Ha ha class, sums him up
Derek Knox
10
Posted 29/04/2022 at 23:17:04
Chris @ 8, while I understand where you are coming from, I don't think any player should be a shoe in, just because he's returned from regular and prolonged injuries. Besides, in the case of Dominic Calvert Lewin, he has basically done nothing in his very few appearances to date. I know, but don't quite appreciate that his 'head has been turned' by Arsenal and Catwalks, but that should not automatically displace players who have given their all to the best of their ability !
I don't anticipate anything other than a difficult game, but one we must somehow pull on resources hitherto rarely witnessed and get the three points at all costs. We can't just rely on other results going our way !
Danny O'Neill
11
Posted 30/04/2022 at 06:15:04
Mina and Calvert-Lewin to get the goals in a 2 - 1 win then. I would have said 2 - 0, but I don't trust us not to concede.
Given the train situation, at least I don't have to sit amongst the travelling London away supporters tomorrow. West Ham I can handle and they are a good bunch. Tottenham tend to argue amongst themselves. Arsenal, well they are just boring. But Chelsea. They even test my reasonable tolerance levels.
Maybe even play Branthwaite to repeat his Stamford Bridge heroics. It's sad that a 1 - 1 draw remains one of my highlights of this season.
Marching down the Goodison Road. Come on Everton.
Jerome Shields
12
Posted 30/04/2022 at 06:36:07
Maybe Frank will play Mina, but to count on an attack with Calvert-Lewin in it at this stage would be risky.
Anthony Hawkins
13
Posted 30/04/2022 at 09:01:31
Whilst having another striker available is a positive, I've not seen anything this season to suggest Calvert-Lewin will get the goals we're so badly missing. He hasn't been fit enough or ready enough to provide what we need.
I hope I'm wrong and he arrives with exactly what we need – goals!Anything less and the fight is lost.
Christy Ring
14
Posted 30/04/2022 at 10:15:24
If Calvert-Lewin is fit, I'd start him and play Richarlison on the left, it gives us a better attacking option, which we badly need.
Brian Murray
15
Posted 30/04/2022 at 10:22:47
Sounds simple enough but don't give away cheap goals and take any chance we get. A draw would not be catastrophic even if Burnley win. No way will they keep that up. Just hold our nerve each game see if it's enough. I fckin hate not being able to run away from this. Enough has been said about the years and years bullied up to this. Just hope our owner captain pugwash on his yacht can finally see it.
Dermot O'Brien
16
Posted 30/04/2022 at 10:22:50
Bring DCL off the bench for last 10 minutes when we've gone 4 nil up.
Clive Rogers
17
Posted 30/04/2022 at 11:35:20
Dermot, I'll have some of what you're on!!
Christopher Timmins
18
Posted 30/04/2022 at 11:40:36
Mina has to start, that's a given. The Calvert-Lewin position is a lot less clear; playing him allows Richarlison to play on the left, he is more effective from this position. I would be inclined to start either Rondon or Calvert-Lewin and bring the other on with 25 minutes to go.
A bigger problem to address in the midfield selections. Against a slick passing Leicester, playing Delph and Allan was a mistake, so I suppose the manager will go with Doucouré, Allan and Iwobi.
The manager has had numerous opportunities to start Branthwaite and passed on them so l expect to see Mina and Keane in the middle of the back four.
We need something from the game and I expect that we will achieve same.
Paul Smith
19
Posted 30/04/2022 at 11:45:07
I suppose Calvert-Lewin should start, if fit, but by god, he's been gash lately. We can afford to lose this and win our last 4 games. 12 points should do it. ;)
Anthony Flack
20
Posted 30/04/2022 at 11:52:22
Calvert-Lewin has recently looked like the Calvert-Lewin we bought – pretty crap. The version that surprised many of us last season no longer seems accessible.
I don't think it's laziness or deliberate. He lacks the internal grit and drive that, for example Richarlison has – Richarlison might leave but will be fighting for himself and the club all the way to the end
Calvert-Lewin will be doing his eyeliner.
Dave Abrahams
21
Posted 30/04/2022 at 12:27:31
I wish Ronnie O'Sullivan played for us, the way he strikes and strokes the balls home from all angles we'd be going to Wembley for cup finals instead of bleedin' worrying about relegation.
Jim Bennings
22
Posted 30/04/2022 at 14:33:46
No doubt one of them will get goosed in the warm-up.
Mina must be on borrowed time really because as much as I like him and yes he is our best defender, there's only so long you can keep putting up with such a lack of games.
DCL is neither here nor there, average performance levels,and not much else to it.
Paul Kossoff
23
Posted 30/04/2022 at 14:50:04
Dave 21, We would need Buck Naked,Miles Long and
Flex Blake the way they strike and stroke their balls home from all angles to get out of this shit storm.
At the moment all we have is John Bobbit and that bloke from 40 yr old virgin! Ps, I had no idea who those men were, Wikipedia told me.
Michael Williams
24
Posted 30/04/2022 at 16:58:32
Burnley won today. Perhaps DCL really will be a Championship striker.
Karl Meighan
25
Posted 30/04/2022 at 17:12:51
Paul these mugs havent won 2 on the bounce all season so I hope your taking the piss, winning 4 seems like fantasy to me.
Michael Lynch
26
Posted 30/04/2022 at 17:19:23
Ironic really, cos I can't get to this one, so my last two home games of the season will be against the kind of teams we'd have excepted to play in the Championship. Mind you, I'm not sure I'll bother with the Palace game if we're already relegated, so Brentford might be my last top flight game ever at Goodison if the worst happens.
On the bright side, I've got some lovely salmon for my dinner.
Mike Keating
27
Posted 30/04/2022 at 20:25:56
Like you, Michael, I'm also missing the final game but it's sirloin steak for me tonight as I try to forget what we need to do between now and the final game of the season.
I think I'll open another bottle of wine…
Tony Everan
28
Posted 30/04/2022 at 20:53:52
For reasons of momentum and putting pressure on the other teams, a win tomorrow is now essential. We will get the chances, we must bang them into the net.
Somehow, we have to find the killer instinct that has been missing all season. I'd go with the front three of Richarlison, Calvert-Lewin and Gordon.
Brian Wilkinson
29
Posted 30/04/2022 at 21:44:26
Until we cross the whitewash tomorrow, it is still in our own hands.
Let's get three points, and keep it in our own hands.
Up the Toffees.
Terry Farrell
30
Posted 30/04/2022 at 21:47:20
Neil spot on mate Dom must play for the balance. He has said himself he is struggling with injuries but he will always give his all. Don't agree with anyone who says he is not interested. He is not at his best but that's a different point. He was good against Leeds and west ham away.
Mark Ryan
31
Posted 30/04/2022 at 21:47:58
Off piste but Sky Sports do a piece on Mino Raiola dying. Wtf has become of Sky TV. A parasite of a man. its meant to be a Sports Channel. He is everything that is wrong with the world of Sports that we now have to endure, staggering piece of journalism
Neil Copeland
32
Posted 30/04/2022 at 21:56:45
Terry, agreed.
Mark, it's what Sky is all about - money, however they can get it. They don't give two hoots for the game as long as they make money.
Kevin Molloy
33
Posted 30/04/2022 at 23:10:33
I remember an episode of the Sopranos when Tony said ' feels like somebody up there's put the malloik on me!' I remember thinking, what the fuck's that?' but I think I understand now. Cos the bucket of shit this season has become is not normal, I think we can all agree. It's like [apologies in advance] Tommy Smith and Emlyn Hughes have put their differences behind them in the hereafter and devised from up there the maximum crock of shit possible. Cos you''d have to brainstorm for hours to come up with this clusterfuck.
'how about Liverpool come out of their 30 year flunk, and Everton head in the opposite direction?'
no, not mediocrity, how about relegation?
Yes! and not just Liverpool winning, how about some insane quad?'
perfect. Liverpool literally sweep the board at the same time Everton are relegated. Perfect!
'Hang on though, how about this happens with Everton spending twice the money?
Yes, that sets it up nicely. Let's give them the best manager ever b0rn the previous year line up some fantastic stadium, and have them playing the worst football in the league, that'll mess with them, then he can bail, and start winning again, and Everton can get even worse.
'We can still get better, let's have the managers they booted come up when they get relegated, and actually relegation's not enough, how about just put them out of business. That should do it!'
Graeme Beresford
34
Posted 01/05/2022 at 00:16:44
We need to have shots. Was refreshing to see Lampard working on balls being fizzed into the box and first time finishes. Maybe says something about what he's thinking tomorrow. Get the ball up the line and whizz it into the box. First time shots, Jelavic style, come on.
Mike Keating
35
Posted 30/04/2022 at 00:22:28
Mark @ 30
BBC did the same but I agree your sentiments - these blood suckers are not an integral part of the 'beautiful game', they're like flies zooming around a pile of dog shit and do not deserve any sporting recognition when they drop dead.
Bernie Quinn
36
Posted 01/05/2022 at 03:06:33
So this game Really is the big one. I had a dream last night that Kenwright retired before the kick-off – Chelsea were all over us but our defence was brilliant and we broke away and scored five lucky goals!!! If only dreams came true.
But no sleep tonight – I will be with you all in spirit, shouting the lads on. And Christine, I only live about 599 miles from you, so I will listen out for your screams when we win! COYB
Pete Clarke
37
Posted 01/05/2022 at 04:29:32
Pretty precise with your distance there, Bernie. Another 4 miles and you have Land's End to John O'Groats!
I'm assuming one of you is up in the Bay of Islands and the other down in Dunedin or somewhere? Love New Zealand.
I'm sure somebody not too far away from me would have heard my cry of "Noooooooo" last night as Burnley's second goal went in. Minor damage to my iPhone again due to my frustration.
Don't really know how we are going to survive this with our bunch of misfits. Maybe Frank will get a favour from Chelsea for helping deliver a sackful of trophies. Maybe Tuchel thinks there are 3 easier points elsewhere to secure the 4th spot but expecting us to beat them in full strength is fanciful at best.
I would say we now need 3 wins and 1 draw at minimum from the remaining games. That does not sound too hard until you shake your head and realize this team of ours no longer has Dave Watson, Peter Reid and Kevin Campbell type players in it.
I think most of us have actually accepted that we're down but that does not mean there is no hope. Hope is all we have in our hearts but 'hopeless' is what we have in our team unfortunately and it may need an unlikely hero to give us at least one more week to cling on.
Hope is eternal though and I'll happily eat humble pie if we get something from today's game.
Kenwright Out Now!
Christine Foster
38
Posted 01/05/2022 at 04:38:05
Bernie, you will hear the yell if we get all 3 points! God knows there is only Cook Straits and a few hills between us!
I hope your dream comes true…
Bernie Quinn
39
Posted 01/05/2022 at 04:51:12
Peter, Christchurch is halfway down the South Island, about 400 miles from Cook Staight. Christine is about 300 miles north of the Straight. You must remember that New Zealand is a larger country than the UK but we do have strong voices – I will be listening for you, Christine!
Danny O'Neill
40
Posted 01/05/2022 at 05:16:41
We get a top grade manager and mess it up Christine. That lot across the park get one and enable him.
I could go on all day, but I need to get myself to Gatwick for the flight. Goodison bound.
I am self-declared mad bordering on insane, but wouldn't change it.
Let's bring the points home.
Christine Foster
41
Posted 01/05/2022 at 05:31:15
Safe journey, Danny, bring them home and enjoy the day! Mad? Insane? no, just an Evertonian.
Mind you, it reminds me of the definition of Purgatory... "a place or state of suffering inhabited by the souls of sinners who are expiating their sins before going to heaven."
It seems you don't have to die to go to purgatory after all.
Steve Brown
42
Posted 01/05/2022 at 05:31:56
We have played okay in our last 3 games and our fate is in our own hands. So the pessimism must be driven by Burnley's results. Leeds have always been the target, with a terrible run-in and a poor goal difference.
But today is a must-win, no matter how it is achieved. If we lose today, it begins to look tougher. Win and then we will all be a lot more optimistic tomorrow.
UTFT!
Bernie Quinn
43
Posted 01/05/2022 at 05:57:44
Danny,
Wishing you a safe flight and a very enjoyable day at The Grand Old Lady. I will be the invisible spirit beside you – eating my meat pie. Tell me, Danny, that we are going to win – please!!!
Lee Courtliff
44
Posted 01/05/2022 at 07:14:27
Been up since 4 am, about to go to work on overtime shift on my day off but I'll be home just in time for kick-off!!
Massive, humongous game today that we must win! My Burnley friends are already writing us off and giving it the Big Un, let's hope we silence them!
COYB
Sam Hoare
45
Posted 01/05/2022 at 07:52:07
Feeling anxious about today and the next few weeks. Struggling to find faith that we will suddenly be able to pick up points when we have failed to do so all season. I worry we are more likely to continue our form of the season and pick up 6-8 points rather than 9-11 and that our survival will depend on Leeds bottling it.
Usually I'm quite optimistic but I've just not seen the evidence that these players/coaches can get crucial results when needed. Really hope they prove me wrong.
A win today would be a real tonic and it's certainly achievable as Brentford showed when beating them 4-1 a month ago. But they don't have the distraction of the Champions League now and in their last 3 away matches they tonked Southampton, beat Real Madrid and drew at Old Trafford.
A draw would not be a disaster and would put us within 4 points of Leeds with a game in hand, better goal difference and an easier run-in.
I just want this season to be over now. In past years, I'd wished that we had a bit more at stake in the final month but I'd give anything for some mid-table mediocrity right now!!
Henrik Lyngsie
46
Posted 01/05/2022 at 08:02:04
I don't agree with the predicted line-up. I would not play Iwobi and Gray.
Iwobi has received much criticism but recently he has improved in many fans' eyes. But what is he bringing to the table? He is very good in the combinations and the simple passing in the middle of the pitch. He is furthermore credited for his work rate in particular after chasing the ball in three 30-m sprints against I think Man Utd.
These chases can be morale boosters but, in reality, it was just like a headless chicken. Because, of course, the opponent is just passing the ball. Any pressing must be a coordinated effort and not just one player running around. For me, Iwobi is really poor in the pressing game because his timing is awful.
Iwobi currently play as Number 10 (his preferred position). He offers basically no goal threat. He does not score goals and gets very very few assists. While his passing is good in the middle of the pitch, he seems to get nervous every time he needs to make a decisive pass. He has no instinct. He will never anticipate a situation. He will never score a tap-in because he does not have the goal instinct.
So for m,e credit for Iwobi's recent improvement and hard work… but he is still not good enough. Defensively, he is working hard but not smart. Offensively, he has far too little end-product and he completely lacks killer instinct.
I would much rather see Dele Alli in that position. He has shown glimpses of his ability recently. He has got that killer instinct that we need.
Gray is a little bit same story as Iwobi. No instinct and poor decisions. He started out really well for us and we thought he was the bargain of the century. But, apart from the first 2 months with us, I actually think he has been poor. Poor decisions and no end product. In fact, in the beginning, he scored a few but actually his career stats show even fewer goals and assists than Iwobi. I would bench him and play a striker. Calvert-Lewin if he is ready; otherwise, Rondon, to allow Richarlison on the left.
So Calvert-Lewin and Dele Alli instead of Iwobi and Gray.
Tony Everan
47
Posted 01/05/2022 at 08:11:29
Pundits and journalists are queuing up to write us off.
What do we do? Go along with it? Or fight?
Never give up and never give in, it's time to call on the spirits of Everton FC, we fight to the death.
We will stay up and ram it down the throats of all those who want us gone.
COYBlues! You can do it!
Ian Riley
48
Posted 01/05/2022 at 08:12:10
I have given up on who plays.
One day, in the dictionary, under 'hope', will be Everton FC!!
Just win!! No ifs, no more excuses! Do what you are paid for!
Safe journey all!! 🙏
Joe McMahon
49
Posted 01/05/2022 at 08:30:17
Terry @29,
The 2 sitters Dom missed against Leeds at Elland Road you refer to cost us 2 points. Like Tom Davies passing to Mina in an offside position instead of shooting at Old Trafford, another 2 points lost. Both games being early in the season but those points would be handy now.
Ian Bennett
50
Posted 01/05/2022 at 08:34:24
I agree. Gray shouldn't be in the starting 11. Has been really poor lately.
Rondon, Calvert-Lewin, Alli, or Doucouré come in for me. And if that means moving Iwobi wide, so be it.
Robert Tressell
51
Posted 01/05/2022 at 08:40:58
As with every home game, we can win this.
It will come down to the crowd, the referee and the players' desire.
Barry Hesketh
52
Posted 01/05/2022 at 08:47:30
The saddest part of today is the knowledge that this may be the
final time
that Everton Football Club lines up against one of the 'elite' clubs in a top-flight game at Goodison Park.
I know many have said we've had relegation written all over us since that home defeat to Watford, I too sounded the alarm bells pretty early on, but I thought we would have enough about us to avoid being in the bottom three at this stage, so to all of us who attend Goodison today, let's make some noise and urge the players on for what may prove to be a last hurrah for Goodison Park in terms of it hosting a Top 6 club in the top flight.
Like most Evertonians, I still hope beyond hope that we kick off in August as a Premier League club but, as many have said, it will take an amazing change in our results in order to stand a chance of avoiding the drop.
Eddie Dunn
53
Posted 01/05/2022 at 08:49:37
I just wrote out the fixtures for the 3 teams and I predict we will finish on 37, Leeds 38 and Burnley 36.
That is including a point today.
So relax.
Dave Abrahams
54
Posted 01/05/2022 at 08:53:15
Robert (47),
Well said, and those three factors are very important, the crowd, the referee and the players' desire. If the players can't get any inspiration from the team coach as it comes towards Goodison Park today and they see crowds of younger supporters urging them on with their banners, flags, flares and vocal support, then they never will.
I wish I was young enough to join these brilliant fans and they will be there to welcome the Everton coach – not to harass and throw bottles at the visitors' coach!!
Duncan McDine
55
Posted 01/05/2022 at 09:02:41
Eddie 49 - sticking your neck out there, but I like the positivity… in fact there's a lot more pozzy vibes than I was expecting on here. I'd like to get on board and share that hope, but the odds are stacked against us.
Tony Everan
56
Posted 01/05/2022 at 09:03:46
Henrik 42, I think that is a fair analysis of these two players. I couldn't put it better myself. The same failure to deliver could be levelled at a good few others too. Any other club would expect more from their attacking players, after all if there is no end product, what's the point?
It is going back about twenty years or more, but I remember an interview with or about Alex Ferguson. It was along the lines of ' when we win possession, he demands that there is a goal attempt that comes from it'. Anything less and he would deliver a bollocking.
ie, no faffing about, win possession and attack with pace and power, the rest of the team knows the drill and adjusts to it, players are bought, or nurtured to do it.
Goals come when defences are stressed and can't react in time to pace or quick balls into the box. We need more of it.
Paul Hewitt
57
Posted 01/05/2022 at 09:11:11
Thanks Eddie, that makes me feel so much better.
Jerome Shields
58
Posted 01/05/2022 at 09:13:47
Good Luck, Everton. I just hope that the proper work and preparation has been put in during the week. I have felt that, up to now, there has been a deluded belief at Everton that Everton were too big to go down and games in hand were seen as a comfort zone.
Blaming referees and talking about enough games left were avoiding the need to play for points. The whole relegation dogfight will be in flux till the end of the season. Everton have to realise they are in a dogfight.
Jonathan Tasker
59
Posted 01/05/2022 at 09:15:12
Of all the people on here, I'm amongst the biggest critics of the current regime yet I still don't see Everton going down.
Looking at the fixtures, today is a free hit. Chelsea are not what they were so expect Everton to have their moments.
Leicester away. Leicester have nothing to play for and will be massively distracted by Europe.
Watford away and they will already have been relegated.
Brentford and Palace at home. Where Everton are strong.
Arsenal away. You don't want to be needing points there.
So, even though Everton are 8/11 to go down, I still don't think they will…
Martin Mason
60
Posted 01/05/2022 at 09:18:42
I have a feeling that today is the beginning of the end. 2 games in hand for us doesn't equate to 5 points. I don't believe that we're good enough to take a point off Chelsea. Sorry but positivity is very difficult.
Paul Smith
61
Posted 01/05/2022 at 09:26:40
Indeed, Duncan. Always hopeful but I can't escape the pattern of poor displays from poor players continuously.
Gary Jones
62
Posted 01/05/2022 at 09:28:25
With a 5-point gap to safety, 3 points today are absolutely imperative. A draw is not enough.
Forget 'keep it tight' and play to win… just like Brentford did against them. No fucking round at the back, fast attacks, and long balls down the sides needed.
Pickford
Coleman Keane Mina Mykolenko
Doucouré Allan Iwobi
Gordon Rondon Richarlison

Neil Copeland
63
Posted 01/05/2022 at 09:31:11
Joe #48, I think Terry was referring to the home game against Leeds.
Gary Cash
64
Posted 01/05/2022 at 09:34:43
Barry (52),
The saddest thing for me is This is the last game were Everton have their own fate in their own hands!!
This is the cup final for me after the Burnley result yesterday.
This is it, Guys – lose today and we really are in trouble.
John Boswell
65
Posted 01/05/2022 at 09:35:50
We all agreed that Burnley was a "must not lose" game, while many expected a win. Oh what might have been. Today IS a "must not lose" game. A point from a draw will be acceptable in the context of 5 more games to play. Despite our season so far, I feel optimistic that a win today is most likely, so 3 points it is COYB.
Laurie Hartley
66
Posted 01/05/2022 at 09:43:03
If we win this game I think we will avoid the drop. To win it I reckon we will have to be tight at the back and take our chances on the break. For that we need a goal threat. Gordon and Richarlison will have to work their socks of - as they usually do.
Pickford,
Coleman, Keane, Mina, Mykolenko
Gordon, Allan, Delph, Richarlison
Alli
Rondon
Time for us to go on our run.
Up the Blues.!!!
Mal van Schaick
67
Posted 01/05/2022 at 09:57:51
DCL must be due some goals, if we can provide service to him, and let's hope he can stay fit, score goals and keep is in this league. After that, if he wants to leave, so be it!
Looking forward to an exciting afternoon of entertainment. No dodgy ref decisions against us, and no sendings off for us, and an Everton win.
Dave Williams
68
Posted 01/05/2022 at 10:01:33
Difficult to pick a team as it so depends on performance and attitude in training for such important games. If he is right then DCL has to start but is he right? If not then give Rondon an hour of putting himself about with Richi wide left and Gordon wide right. Frank will play Keane but Branthwaite is a far better bet and would be very confident after his goal scoring display against them
at the Bridge. Midfield is difficult but I'd start Allan who will be fired up after the way the so called experts pilloried him last week. Iwobi gives us pace, energy and drive( I never thought Id say that!) and for me, has to play. Do we then go for Delph, Doucoure or really gamble and start Deli who has been showing some signs that there may still be a player there? I'd start with Delph and see how we go. We mustn't concede early and he and Allan will help in that regard. Get a foothold then think about Deli.
A very tough game and the crowd and Chelsea's reaction to it really could be our twelfth man.
George McKane
69
Posted 01/05/2022 at 10:01:48
TW/Chelsea - - 1st May 2022
"Hope' is the thing with feathers –
That perches in the soul –
And sings the tune without the words –
And never stops – at all …"
Sunday morning here in New Brighton - - 8.00 am – arrived home late yesterday from Italy - - Salerno - - all around it's grey - - in the front top room - - the City still sleeps - - still and silent - - a seagull flies across the meridian as if lifting the curtains for the coming day - - there are stretches of gold coming through - - Naples yellow - - in front of the house a tremendous tree - - filling the window frame - - green with morning rain dripping from the tips of the leaves - - Masterpiece by Mother Nature - - we have Paradise in our grasp - - we cannot let it slip through our fingers - - we have to hold it, grasp it, protect it - - Love It
"To see a World in a Grain of Sand
And a Heaven in a Wild Flower,
Hold Infinity in the palm of your hand
And Eternity in an hour."
We have been gifted a Life as Evertonians - - like many on here I have spent best part of my 73 years' watching The Blues - - they have given me a lot - - filled my heart and my soul - - I measure a great deal of my life against Everton happenings - - 60 years' this week we beat Cardiff 8-3 - - I missed it - - - - my sister Joan had the audacity to get married that day in St.Alphonus Church Great Mersey Street - - without even asking my permission - - I was mad and I had to wear a suit and a tie - - Eeeeaaargghhh Joan died a few years' ago but is in my memory and my heart - - part of me - - who I am - - just like Everton - - no matter what we are intertwined - - Blues - - no false footy photosnatch fenanikens here - - Blues - - through and through - - and through everything - - together - - I am just now letting my mind and indeed my heart flow - - float - - for a moment - - just floating on The Astral for a moment - - close my eyes for a moment - - thinking about The Golden Vision - - The Holy Trinity - - Howard - - those days of dancing around The Dark House and races around the block in our undies - - "Many a tear has to fall - - Oh, but it's all, it's all in the game, child - - It's all in the wonderful game"
Take me back, take me back, take me back
Take me way, way, way, way, way, way, way
Back when I, when I understood, when I understood, yeah
Oh, ah, take me way back, when, when, when, when, when, when
When, when, when, when, when, when, when
I was walking down the
Walking down the street and
It didn't matter
Cause everything felt, everything felt, everything felt
Everything felt, everything felt, everything felt, everything felt
Everything felt, everything felt, everything felt so right, ha
And so good
Everything felt, so right, and so good
Everything felt, so right, and so good
Everything felt, so right, and so good, ah
Everything felt, so right, and so good
Everything felt, so right, and so good, so good
In the eternal now, in the eternal moment
In the eternal now, in the eternal moment
In the eternal now
Everything felt so good, so good, so good, so good, so good
And so right, so right, so right, just
So good, so right, so right, in the eternal
In the eternal moment, in the eternal moment
In the eternal moment, in the eternal moment
When you lived, when you lived
When you lived, in the light
When you lived in the grace
In the grace, in grace
When you lived in the light
In the light, in the grace
And the blessing.
No Tourist Trip for us Blues today - - our normal Pilgrimage to Goodison via our own Hostelries - - for me like a May Day Procession to The Dark House - - passing all those memories of the Old Processions - - God Bless Father Winder - - my sister Colette in her Holy Communion Dress with some lace curtains wrapped around her head - - me in a white shirt and short kekes with my Holy Communion Medal on ( I was 45 at the time - - God Help Us)- - today I will walk those same streets - - Scotty - - The Mother of Liverpool - - all our Ma Joads - - arms folded across their flowery pinnies - - still looking after us - - looking down on us - - Blessing Us - - "How can we live without our lives? How will we know it's us without our past?" - - Thanks Ma - - this is who we are - - no telly headlines grabbin' bandwagonnners - - history - - lived experience - - real - - Ma was right - - as always - - "We Are The People" - - Rave On Ma Joad and all our Ma's who made us what we are" - - along to Smith Street where as a rag-arsed kid I would play day and night and save my pocket money for the game on Saturday - - Whittle Street - - the Magic 33 Bus to Cardinal Godfrey - - The Dockers/Coughers Bus with the magical number 33 - - amazingly I live in New Brighton and the steps down to the beach are numbered and the steps at the bottom of our Road are number 33 - - magical - - mystical - - Holy - - coincidence - - no such thing - - History - - we have it - - others invent it - - Wessie Road - - first in - - Saturday morning baths - -with your cozzie on under your kekes - - a 4 of chips after in paper wet with vinegar - - and I shall search my soul - - I shall search my very soul - - and - - Listen to the Lion - - my heart and spirits sour lifting me like the boy in Ivan's Childhood above The Earth - - looking down on my Ma/Anne - - "go on son - - enjoy the match - - hope you win" - -
"Life is sad
Life is a bust
All ya can do is do what you must
You do what you must do and ya do it well"
Into The Dark House - - nods and greetings - - handshakes and hugs - - men women and children - -sons and daughters - - grandkids - - Blue Hearts - - no falseness looking for the camera here - - no half and half flags - - real people - - Real Love - - God Bless Everyone of Them - - me and dave will walk in - - honesty and truth and real life hit us in the face - -blow our hair - -whisper to our hearts - - lift our souls - - carry our spirits - - my ribbons around my neck whisper to each one - - unspoken words flow into the air - - Words of Love - - Blue Remembered Words - - I am going to grasp my mouth organ and give a toot to all those who for whatever reason cannot get to the game today - - there you go(for Laurie)
And the sky was blue
And you didn't have no worries, you didn't have no care
You were walking in a green field
In a meadow, through the buttercups, in the summertime
And you looked way out over, way out
Way out over the city and the water
And it feels so good, and it feels so good
And you keep on walking
And the music on the radio, and the music on the radio
Has so much soul, has so much soul
And you listen, in the night time
While we're still and quiet
And you look out on the water
And the big ships, and the big boats
Came on sailing by, by, by, by
And you felt so good, and I felt so good
I felt I want to blow my harmonica
Up to the bar - - Sandra - - "golden" she says:
"I was burned out from exhaustion, buried in the hail
Poisoned in the bushes an' blown out on the trail
Hunted like a crocodile, ravaged in the corn
Come in, she said
I'll give ya shelter from the storm
Suddenly I turned around and she was standin' there
With silver bracelets on her wrists and flowers in her hair
She walked up to me so gracefully and took my crown of thorns
Come in, she said
I'll give ya shelter from the storm"
It is a big day - - no need to be thinking about anyone else - - who is gonna do what - - we are our own masters: - - "We Are Artists Lovers and Poets - - We are the singers of our own songs" - - it's down to us - - as it should be - - who else to rely on except your friends - - companions - - brothers/sisters - - here is to All Blues -To Everton - - no matter what:
"O sweet To-morrow! –
After to-day
There will away
This sense of sorrow.
Then let us borrow
Hope, for a gleaming
Soon will be streaming,
Dimmed by no gray –
No gray!
While the winds wing us
Sighs from The Gone,
Nearer to dawn
Minute-beats bring us;
When there will sing us
Larks of a glory
Waiting our story"
Blue Boys - - A Day To be Together - - To Be For Everton - - We Are the People"
With A firm handshake with Blue Cosmic Grooves sent right out of the window here in New Brighton to float right across The Astral and drop "posso waves" right into your head - - and by tonight we will understand "the onesss" - - Into The Mystic - - your friend - - George

Paul Birmingham
70
Posted 01/05/2022 at 10:02:29
UTFT, "Whats Our Name?"
Fran Mitchell
71
Posted 01/05/2022 at 10:03:10
Go out a win.
6 games to save our skin. Play without fear, play with guile.
Leeds and Burnley (and everyone else) think we are down already. We won today, and all of a sudden they start looking over their shoulders and start getting worried. That's all it takes.
6 games. All winnable.
It ain't over till it's over.
Neil Copeland
72
Posted 01/05/2022 at 10:07:53
Everton - Everton - Everton
We can do this blues
UTFT
Benjamin Dyke
73
Posted 01/05/2022 at 10:21:41
Eddie #53 - I'm liking your optimism but Burnley will get more than 2 points from their last 4 games. Leeds may well struggle to get 3 or 4 more points. But looking at ourselves we will need a massive upturn in form to stay up. Is it possible - of course, but we'd be defying season long form to get lets say 9 points out of 6 fixtures and end up on 38 pts.
Benjamin Dyke
74
Posted 01/05/2022 at 10:22:00
Eddie #53 - I'm liking your optimism but Burnley will get more than 2 points from their last 4 games. Leeds may well struggle to get 3 or 4 more points. But looking at ourselves we will need a massive upturn in form to stay up. Is it possible - of course, but we'd be defying season long form to get lets say 9 points out of 6 fixtures and end up on 38 pts.
Peter Carpenter
75
Posted 01/05/2022 at 10:39:22
Play Alli.
Neil Copeland
76
Posted 01/05/2022 at 10:42:38
We have taken 7 points from our last 3 home games which are comparable in terms of difficulty to our next 3. So, if we can repeat that form we will have 36points.
It is our away form that needs to improve with the games against Leicester and Watford providing some opportunity. 2 draws may be enough but I think 39points will keep us up meaning a win in one of those 2 or less likely is a third draw at the Emirates.
3 draws on the spin away from home would be a huge uplift in form though. 1 win and 2 defeats would be more realistic but I think would still be enough based on my home results scenario
It is in our own hands and we need to keep it there. Forget about Burnley and Leeds and concentrate solely on our games. Win then and we stay up and every game is winnable,
UTFT
Ian Jones
77
Posted 01/05/2022 at 10:43:24
I think the Watford game will be an interesting one, could be a decisive one
They've lost 11 consecutive home matches.
Next up Everton.
Hmm any guesses
Mike Owen
78
Posted 01/05/2022 at 10:48:50
We've looked more of a team recently. Fans are behind the players now.
Even though only scored six goals in last ten league games, the rate is going up! Six in the last six games, more than the pitiful zero total in the previous four games.
Average of one goal a game, it's a start, and can be improved upon.
Even if we don't win today, there are still enough wins to be had. And don't rule Southampton out of the equation yet, they have only three games left.
This could be a season where 40 points isn't enough. And I wouldn't be surprised if there will be a lot riding on Brentford v Leeds on May 22.
UTFT.
James Hughes
79
Posted 01/05/2022 at 10:53:23
Cheers George another touching post and I loved the line - No half and half scarves here.
You, Jamie and a few others will need to pray a bit harder today to make up for the godless one like myself.
UTFT and 2-1 win to us
Brian Harrison
80
Posted 01/05/2022 at 10:57:22
I am not sure what side Frank will select but Richarlison has to go back on the left, I know he plays up top for Brazil but we are not Brazil. So for me it has to be Rondon up front we need to keep hold of the ball and Rondon will do that.
I fear Frank will select either DCL or Richarlison up top and I think DCL is to easily bullied and Richarlison is not a hold up player. I would also play Alli instead of Iwobi, I think Iwobi has put a lot of effort into games of late, but I don't think he carries the goal threat that Alli does. I think we will need more than one goal to win today and apart from Franks first 2 games against Brentford in the cup and Leeds in the league we don't look like a side with a lot of goals in us.
Like all Blues I will be there screaming and clapping and doing whatever I can to help the team win, the atmosphere has been excellent and will be again today, but will it be enough, I really hope so. When I look at the Burnley and Leeds squad compared to ours, how the hell have we sleepwalked into this position.
John Hall
81
Posted 01/05/2022 at 11:03:45
Henrik @ 46
You obviously know a footballer when you see one !!
Been kidding us from the day he signed.
That's what is taking us down but not much different from five or six others without mentioning names.
Most of the squad overpaid and over rated.
We live in hope, "a feeling of expectation and desire for a certain thing to happen" sadly it doesn't happen very often when one is in the trench with no ammo.
David Hamilton
82
Posted 01/05/2022 at 11:09:42
Greeting from Melbourne, everyone.
Game starts at 11:00 pm for me. Three hours to go and waiting with eager anticipation for what may amount to the most important game in my lifetime. We were last promoted shortly after my birth!
COYB
Dave Lynch
83
Posted 01/05/2022 at 11:11:00
After last night's shenanigans outside the Chelsea Hotel they will be well up for this.
I fucking despair sometimes I really do.
Typical kopite behaviour from so-called Evertonians.
Dave Abrahams
84
Posted 01/05/2022 at 11:20:28
James (79), I never pray for Everton to win games but coming out of church this morning one of the fella's I know, doesn't go the game, asked me if I was going today, I said yes of course, he asked me if I would take this with me, a very small piece of coal, he told me it had been blessed, I didn't ask him who'd blessed it but put it in my pocket, so it's going to the game, might not do any good but it certainly won't do any harm and every little thing helps, COYBB's.
Henrik Lyngsie
85
Posted 01/05/2022 at 11:28:36
John 81. I don't know if Iwobi has been kidding us. But for me he is maybe a product of a modern academy. Good technique, good in possession and probably good in training. But in order to be good in matches you need to be a mean bastard with a killer instinct and good decision making. I don't see that in Iwobi.
Jamie Crowley
87
Posted 01/05/2022 at 11:28:56
James Hughes -
I'm in Orlando today for #5's soccer tournament. Forced to watch the first opening minutes on my phone, race back to the hotel after the game is done (we're playing only 30 minutes from being rained out last night) to watch on the tv. The Boy's kick off is at 8 a.m.
At some point during that time I'll be chucking some prayers upstairs to the Big Man, reminding Him I'll be attending Mass later and I need him to do me a solid. 😜
Seriously though, this game is huge. If we win, I actually like our chances of survival. If we lose, I'm still not giving up and will hold to hope as Leeds' schedule coming down the stretch is utter hell.
UTFT
Neil Copeland
88
Posted 01/05/2022 at 11:32:28
Dave #83, I've just seen the fireworks on social media and thought the same, bellends. Most of our support is better than that.
Dave Lynch
89
Posted 01/05/2022 at 11:38:29
Knobheads Neil of the highest order.
BTW... Leeds will pick up 6pts at least as Brentford and Brighton will be in flip flop mode.
We need this today.
Julian Exshaw
90
Posted 01/05/2022 at 11:40:37
George @ 69. Poignant yet inspiring words. Wonderful.
Danny O'Neill
91
Posted 01/05/2022 at 11:43:24
Respect David. It takes dedication to follow wherever you are.
I'm not far off the city centre now. I can only think positive I have to. Along day, but they will make it worth it.
Dave, I've touched the Rosary Beads a few times this week.
I still don't think this is it though. A few more twists are to be had yet.
Geoff Lambert
92
Posted 01/05/2022 at 11:45:22
Dave #83 it was kopite gobshites who done it not us boss, might have been Chelski fans as well but not us.
Oliver Molloy
93
Posted 01/05/2022 at 11:47:13
We need to win - simple to say, harder to achieve.
Everyone wants us to lose as far as I can see, and the Burnley lads have got a load cocky - we need to ram that down their fucking mouths but can we ?
I don't give a fuck how we win - just win and if there is any luck going please let it be us that gets it for a change, we need everything to work today, let us all hope it does.
To all Evertonians going today, be the loudest you have ever been and get on the refs and linemen's back on every 50-50.
This game is so important in terms of morale, win it and we have a chance, lose and I believe we are gone.
COYB.
George, the sky is always BLUE until the devils come out!
Neil Copeland
94
Posted 01/05/2022 at 11:50:09
Danny, it certainly does, dedication of the highest level sometimes. But, like you, no matter how much they piss me off, I will always be there if I can. It isn't something that can simply be switched off and not something I ever want to be switched off either.
Agree there is likely to be more twists to come and today is not the be and end all but boy, could we do with a win.
Anyway, enjoy the game and safe journey home. On my way in a few minutes too, only travelling from Nantwich though so not bad at all.
UTFT
Gerry Clarke
95
Posted 01/05/2022 at 12:16:24
George McKane @69, thanks for sharing your memories and thoughts with us fellow blues, really enjoyable reading, it brightened up a very grey Sunday morning here on the other side of the Irish sea. I really miss my regular pilgrimages to Goodison and your fabulous city, covid has a lot to answer for. Hope to make up for lost time next season, let's hope I won't be watching Championships football.
Andrew Ellams
96
Posted 01/05/2022 at 12:16:29
The bellends who set off the fireworks are now claiming to have taken the Chelsea team chef (how did they know where to find this person) for a long walk along the beach to apparently stop the team getting their breakfast.
Minds of children
Derek Knox
97
Posted 01/05/2022 at 12:19:10
Thanks George @ 69, that has cheered me up as per usual with your words of hope and encouragement, I just hope that those who have our future in their hands, respond accordingly.
Not going today, just in case it was me that was jinxing them, but more realistically have been getting more and more despondent as we the fans seem to put more effort in going to support them, than they do where it matters.
COYB 💙💙
Kim Vivian
99
Posted 01/05/2022 at 12:31:20
Oliver says it for me, really.
Nothing to add except that the bellends outside the Chelsea hotel will have probably just motivated the chavs a bit more to do us over.

Michael Lynch
100
Posted 01/05/2022 at 12:35:06
If it's the same fans who made the "we know where you live Rafa" banners, they probably set off the fireworks outside the wrong hotel.
Laurie Hartley
101
Posted 01/05/2022 at 12:39:04
Thanks George - received loud and clear.
Mike Keating
102
Posted 01/05/2022 at 12:48:26
Fear not dear Blues - my friend from Thailand has just paid for 5 monks at the local temple to chant us to victory
🤞
Mike Keating
103
Posted 01/05/2022 at 12:52:12
UTFT
🙏
Raymond Fox
104
Posted 01/05/2022 at 13:26:27
If we can win 3 games its possible we stay up, any more would be of course welcome.
I hope the possible lost 1pt against City is not the reason we go down.
We have 3 very winnable games along with 3 unlikely ones including todays.
Its not impossible for Leeds or Burnley to blank the 4 remaining games each have, Leeds especially have very difficult games to come.

---
Add Your Comments
In order to post a comment, you need to be logged in as a registered user of the site.
Or Sign up as a ToffeeWeb Member — it's free, takes just a few minutes and will allow you to post your comments on articles and Talking Points submissions across the site.