Lampard charged for post-derby comments
Wednesday, 4 May, 2022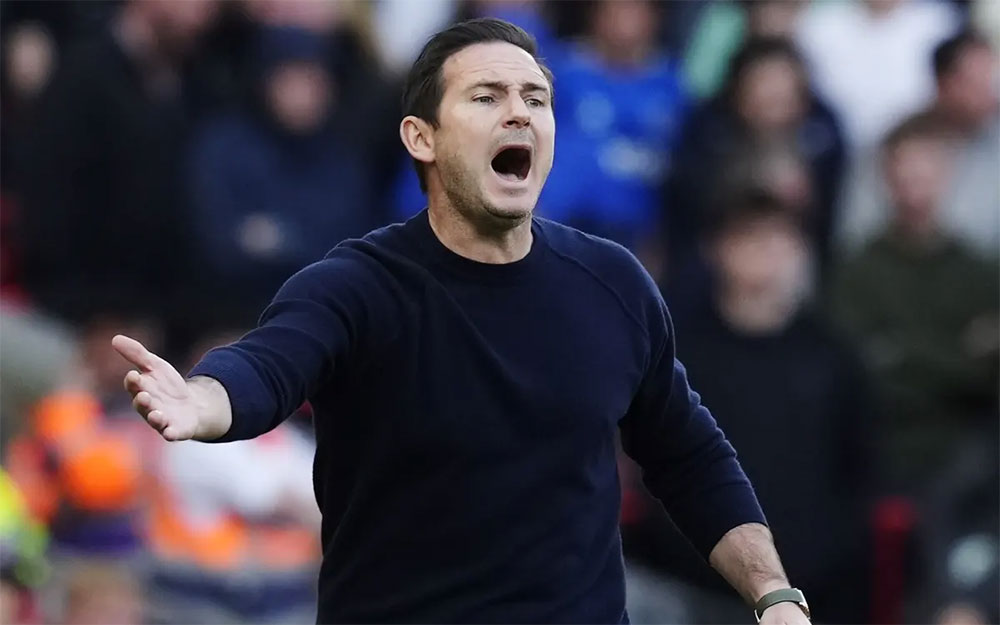 The Football Association have censured Frank Lampard for complaints he made about the officiating of last month's Merseyside derby, saying that the Everton manager's comments breached FA Rule E3.
Lampard was frustrated by on-pitch referee Stuart Attwell for his failure to award what television replays revealed to be a clear penalty against Liverpool defender Joel Matip when he fouled Anthony Gordon in the area and he suggested afterwards that those kinds of decisions rarely go in favour of visiting teams at Anfield.
Lampard's comments are backed up by data that reveal a stark difference between the number of penalties awarded against the Premier League's two best teams of recent years, Liverpool and Manchester City, when crowds were absent during the Covid-19 restrictions and when stadia were full either side of lockdown.
The Blues' boss was also moved to complain about the officiating when Everton played City at Goodison Park a few weeks ago where an even more obvious penalty, this time for handball by Rodri, was not given and the Video Assistant Referee did not advise the main match official to review the replays on the pitch-side monitor.
Article continues below video content
According to a statement by the English game's governing body, Lampard has been "charged with a breach of FA Rule E3" for what he said in his post-derby interview for the television cameras as it was "alleged that the manager's comments constitute improper conduct as they imply bias and/or attack the integrity of the match referess — or referees generall — and/or bring the game into disrepute".
Lampard has until next Monday to respond to the charge but it is likely that he will be fined.
---
Reader Comments (91)
Note: the following content is not moderated or vetted by the site owners at the time of submission. Comments are the responsibility of the poster. Disclaimer
Jack Convery
1
Posted 04/05/2022 at 17:56:30
So Frank has been charged by FA for stating the truth, about the RS and penalties. FA stands for Fuckin' Awful.
His comments to the players to follow up with another big performance are spot on too.
COYBs !!
Tony McNulty
2
Posted 04/05/2022 at 18:20:00
Froth and garbage. Waste of everyone's time.
What's that line from "A Few Good Men"?
"Maybe we could get him for the Kennedy Assassination."
There is another line from Bergman's "Wild Strawberries" which is even more apposite (I saw it in French: "Vous etes coupable de culpabilitie")
I suppose this was as inevitable as Richie soon to be hauled over the coals.
Allen Rodgers
3
Posted 04/05/2022 at 18:21:04
Atwell has apologised to Notts Forest for an incorrect offside decision. Didn't he referee the derby? and I think he was also the VAR for the non-penalty vs Man City? How many more mistakes?
Will Mabon
4
Posted 04/05/2022 at 18:30:21
Quelle surprise.
Maybe a system of investigation and fines for transgressions is justified when the other side of the relationship is similarly held to account. Would be nice to see them investigate what is causing a feeling of bias.
Will Mabon
5
Posted 04/05/2022 at 18:36:49
Allen - the apology was informal to Cooper, I believe. Wonder when the official investigation and possible action will take place?
Gary Jones
6
Posted 04/05/2022 at 18:39:11
Fucking Arseholes!!!!
About as apt as you get by the corrupt bellends.
Danny O'Neill
7
Posted 04/05/2022 at 18:40:47
What a surprise. How dare we or anyone question decisions given in the favour of Lucifer's children?
Well done for speaking out Frank. Let's have the balls to resist this blatant favouritism.
Ian Flanagan
8
Posted 04/05/2022 at 18:42:27
Premier League bias has now been confirmed.
Jurgen Klopp faced no action after his comments aimed at the referee after their 2-2 draw with Spurs, including about a penalty that wasn't given.
Lampard gets charged for his post-match comments about the referee after the Liverpool game, mentioning the penalty decision we never got.
There is only one conclusion to make!!
Andy Crooks
9
Posted 04/05/2022 at 19:02:26
Referees want to be mates with Klopp, Guardiola and couple of others. They seek their approval and, in a quite sad way, almost purr if one of their heroes should call them by their first name. They don't become referees for the money, the horribly ambitious ones do it to rub shoulders with Klopp etc.
They can't be mates with everyone so they choose their buddies in an increasingly unsubtle way.
The our lots of great people refereeing, sacrificing their time at lower levels to allow kids and amateurs to enjoy playing. However, to make it as a top referee requires a certain type. Every singlge aspect of their personality that leads them to be Premier League referees should actually disqualify them from it.
Name dropping, limelight seeking nonentities is what they are. Working for an organization utterly devoid of integrity, competence and decency. Perfect for Sky and the Premier League.
Stephen Vincent
10
Posted 04/05/2022 at 19:09:31
Hardly a surprise, I fully expect Richarlison to serve 3 months and the RSPCA to get involved over the club's treatment of Myra.

But I cling to Plato "He who commits injustice is ever made more wretched than he who suffers it."
Neil Copeland
11
Posted 04/05/2022 at 19:15:57
I assume then that Thomas Tuchel will face a similar charge for his comments after Sundays game? In fact, to me, Tuchels comments were worse because they were based upon general opinion rather than a specific incident.
The whole thing is a farce. Why can't the FA introduce a system that allows clubs to question why particular decisions were made and actions taken to prevent future injustices?
Mal van Schaick
12
Posted 04/05/2022 at 19:24:46
Take his lawyer, show them expert footage and analysis of the incident(s), and ask the FA to explain why the decisions were not given. Ask the head of the Referees Association to attend, also to explain the decisions.
Publish the Minutes of the meeting and expose them for their bias and lack of integrity.
Tony Abrahams
13
Posted 04/05/2022 at 19:29:10
I'd try and turn this into a much bigger issue if I was Frank Lampard.
Michael Lynch
14
Posted 04/05/2022 at 19:31:50
The Premier League is utterly corrupt. Not because of backhanders and cheating, but because the referees and the administrators are so enamoured by the celebrity clubs and celebrity managers, that they are completely biased towards them.
Instead of letting the Six Turds try to fuck up the game with their European Super League closed shop, the rest of the clubs should break away and form a new league. Be an opportunity to reset the beautiful game in a more sustainable and fair way.
Paul Birmingham
15
Posted 04/05/2022 at 19:44:57
No surprise but I hope Franks tells them how it is.
The EFA, and The Farce of VAR, is a permanent stain on the English game.
I hope Frank backed by the club use the examples of the City game at Goodison, the penalty not given, the pathetic dive by Jota at Palace, of how corrupt the referees and the translation of the rules of the game are misled every week.
The so called top 6 teams, get more gains than most and the fact that no teams gets a penalty at our old ground for 15 months tells its own story.
Year on year the pompous fonts of no knowledge of the game at the EFA are getting away with murder and bringing the game into disrepute.
The football agents are mercenary and out for their cutof the dough, the EFA, hide and deflect and should be held to account on an annual end of season audit.
For all the screwed up decisions, they should pay a fine to a charity close by to the club impacted by their corrupt descisions and processes.
Objective the clubs should drive for VAR to be pitch side adjudication and make the descision making transparent.
Now to recuperate and get the Team ready for Leicester.
UTFT!
They cab

examples of cheating
Roger Helm
16
Posted 04/05/2022 at 19:48:04
Not a surprise is it, the FA twats hate us, viz the three match ban for Allan's trip, the ban for Niasse diving (which he didn't) and others. No doubt Richie will get a similar ban for disposing of the flare.
Anyway, well done Frank for calling out the useless sods and taking one for the team. I'm sure he can afford it.
Paul Birmingham
17
Posted 04/05/2022 at 19:48:42
Poxy auto speller playing havoc.
Lol!

David Currie
18
Posted 04/05/2022 at 20:07:50
Mal 12, Well said.
Michael 14, Great post and agree with you on a different League. I wanted the top 6 to go and form a Super League with the other clubs who were for it. There are so many great clubs in England with big fan base that they would not be missed.
Anthony Murphy
19
Posted 04/05/2022 at 20:13:21
The Ancelotti red card springs to mind too
Need to make an example, but can't make it against the so called big six - so whose next in the pecking order?
Matt Ward
20
Posted 04/05/2022 at 20:14:23
I'm glad Frank has called it out, as the officiating in a number of our games has only exasperated what has been a shit show of a season. The standard of refereeing in the Premier League has been declining faster than we have.
Mike Riley stole a living as a referee, and now presides over the massive collection of Teflon coated fuckwits that officiate in the Premier League. In any other walk of life, you would get sacked if you continued to be that shit at your job.
Tony Everan
21
Posted 04/05/2022 at 20:35:36
Frank was 100% right in what he said, if the FA have any grasp of reality then they will know what he said is undeniably true.
The bias is almost subconsciously applied by referees nowadays for the likes of Liverpool. It's polluted their mindset before a game even starts. The fact that VAR didn't even review speaks volumes. Because if they did review they would have had no choice but to give a penalty. Avoid the review and no unwanted decision necessary.
It's another sad day that shows us nothing is going to change.

Christine Foster
22
Posted 04/05/2022 at 20:57:58
Let's face it, none of us are actually surprised are we? If I were Frank or the club, I would take it as an opportunity to expose it for what it is. Corruption of integrity. Bias without consequence. They can't handle the truth... apologies to a Few Good Men, but they certainly are not.
Take the evidence, in fact release it all in a press conference prior to the hearing. Go on the offensive. Bringing the game into disrepute... what's that saying, "Better to get hung for a sheep than a lamb"!
Bringing the game into disrepute is a charge that's not confined solely to clubs or its employees, the joke is sour, the VAR, the officials on the pitch and those adjudicating from afar have done more damage to the game than any manager has or ever will, because, with each example, each singular decision they are compounding the lie of fairness.
To condemn, charge or fine an individual with "Bringing the game into disrepute" is a lie in itself. You cannot bring a game into disrepute when the officials show clear bias or favour and the consequences are so huge. Disrepute must include those officiating and must be seen to be even-handed. It is a basic concept of fairness.
The facts speak for themselves, the bias is real not the domain of keyboard warriors, the application of rules and their interpretation is made to suit the offender, one rule for a few, another for the rest. With respect to officials, blatant errors go unchecked, lives, careers, financial survival, truth, all are damaged without consequence to the cause, yet wo betide anyone daring to question.
It's time a manager, a club and the media told them where to go and darn the consequences. It's called the truth, you're just not allowed to talk about it.

Dave Abrahams
23
Posted 04/05/2022 at 21:01:12
Frank is being charged with: "Attacking the integrity of the referees"
Integrity of the referees!! How can they use their integrity when they haven't got any to start with?
Colin Malone
24
Posted 04/05/2022 at 21:10:11
https://twitter.com/Jackoefc27/status/1521878773494423552?t=Kc4_QLMVW7aVKJ8Awazorw&s=19
Bernie Quinn
25
Posted 04/05/2022 at 21:16:19
Only to be expected from this corrupt FA. Everton is the favourite whipping toy of all the 'top' football authorites and Frank is merely the latest culprit. Keep standing up to them Frank - you won't win but the rank and file are on your side - and as others have said, take a lawyer, a video, etc. and give 'em hell.
Ken Kneale
26
Posted 04/05/2022 at 21:16:25
I suggest Frank Lampard finds every video he can of Messrs Klopp and co., insist on playing them to the committee, and then say what is the difference. The club should back him to the hilt on this
Christine Foster
27
Posted 04/05/2022 at 21:21:59
You know, there will be a hefty fine, I think every blue supporter should drop a pound coin in a bucket at the next match at Goodison to pay it. Every penny over the fine goes to the players foundation. Why? To show that every supporter backs the manager. You cannot censure 40,000 blues. We back his comments.
Christy Ring
28
Posted 04/05/2022 at 21:24:09
Absolute joke, show's the arrogance and how corrupt the FA are. Atwell cost Forest promotion last night with yet another howler, gave offside after goalie wipes out striker, SKY showed onside and keeper should have been sent off and penalty at 0-0. How much will it cost Forest financially, millions and a place in the Premiership. Brushed under the carpet by the FA, they answer to no one. When we got an apology for the shocking decision against City, did the FA charge or suspend the ref or VAR official? NO, it totally stinks. The RFU make them look like amateurs, look how they referee games and use VAR, and they talk to the captains,explain decisions, treat players like adults.

Colin Malone
29
Posted 04/05/2022 at 21:33:00
Sorry. Tried to post, if true. The shite have 22 players who have asthma. The same kind of asthma as other successful sports persons.
Mike Gaynes
30
Posted 04/05/2022 at 21:34:46
Tell ya what, if I was our billionaire owner I'd tell Frank to blast away, that his fines would be covered. Matter of fact, I'd blast away myself and tell the league to shove its fines.
But owners don't do this. Parish at Palace is the only chairman I've seen do it this season.
Attwell and Friend are really poor at making decisions under pressure. They rush to judgement, rather than taking a moment as Oliver, Tierney and Marriner do, and then stick to their guns even when they shouldn't.
Neil Copeland
31
Posted 04/05/2022 at 21:44:01
A single club or individual will not sway the FA no matter how much evidence is presented. The FA will dismiss it as inadmissible and simply increase the punishment.
The only way of bringing about change is for the clubs to get together and bully the FA into action. As with the Super league, Everton could take the lead but unless we have the backing of the others it will not go very far. I simply can't see that happening meaning that the circus will go on.
Finn Taylor
32
Posted 04/05/2022 at 21:59:28
Colin Malone @29 - I hear about this asthma thing frequently - where is the evidence? Where is this claim coming from - I mean, it wouldn't surprise me as they don't seem human how they expense so much energy - there is more to it that motivational talk and good training.
However, evidence...
Brent Stephens
33
Posted 04/05/2022 at 22:03:45
Mike #30 "Tell ya what, if I was our billionaire owner I'd tell Frank to blast away, that his fines would be covered."
Probably tax deductible as well, Mike.
Simon Dalzell
34
Posted 04/05/2022 at 22:18:18
Frank only confirming what any fair-minded supporter can see. Sickening.
Nick Page
35
Posted 05/05/2022 at 00:08:01
Finn @32 - read this
https://backpagefootball.com/why-liverpool-wont-win-the-premier-league-this-season/126313/
There's loads on line about who they've hired and their methods.
Christine Foster
36
Posted 05/05/2022 at 00:33:23
Nick #32,
I just read that article... no reason to doubt it but it has shocked me. For me the first thought that came to my head was I hope we don't have anyone using the same methods... probably not as we are at the wrong end of the table was the thought that came to mind!
Seriously, this is drug abuse. Not training support methods, not player care. Why isn't anyone in the game addressing this? We should hang the banner "Drug Cheats" when we play them next... dreadful!
Ernie Baywood
37
Posted 05/05/2022 at 00:39:39
Christine, drug cheats are the ones 'over the line' and the line is drawn where the authorities want it drawn. And they frequently move it - so what was once illegal is now okay. It's hard to muster as much moral outrage when someone is juicing legally. Kind of like the difference between tax avoidance (okay) and tax evasion (bad).
If the line was at 'no supplements or medical exemptions' then I suspect every professional sportsperson would be over it.
I hope that over the next 5 games our sports scientists are extracting every bit of energy from our team. Legally.
Ernie Baywood
38
Posted 05/05/2022 at 00:45:56
As for Frank being fined, it was nailed on. He publicly accused referees of bias.
The FA is right to fine him. They should also look into whether there's any truth in the matter and whether the current VAR implementation makes that bias worse (it definitely does!). And the fine will be worthwhile. It's the cost of getting it on the record.
Steve Byles
39
Posted 05/05/2022 at 01:30:35
On this occasion, Frank should take the fine and apologise. We need all his focus on the remaining games, not this sideshow.
I'd be worried the FA would find a way to deduct points if we got too difficult with them.
Tony Mace
40
Posted 05/05/2022 at 01:31:22
It has been well reported LFC have 6 X the average of registered asthma sufferers in their squad.
I brought this allegation to a forum on the local red rag (AKA Echo) some time ago
One Neanderthal responded by saying that the asthma sufferers at his school didn't do very well at sport
Totally missing the point that the sufferers at his school really did have asthma and the medication was given to bring them to a level of relative normality.
RS on the other hand…
Run around like nutters for 90 minutes and sweat less than the banned old Duke of York
Mike Gaynes
41
Posted 05/05/2022 at 02:44:00
APOLOGISE???
Are you kidding??
Wow, the Dalai Lama is on TW.
Ernie Baywood
42
Posted 05/05/2022 at 03:00:17
Medical and Therapeutic use exemptions are common right through sport.
Is our squad fed only organic products? If so, why? It's clearly not helping them!
Kieran Kinsella
43
Posted 05/05/2022 at 04:07:45
Steve Byles,
Frank should punch the FA investigator in the face. End of.
Alan J Thompson
44
Posted 05/05/2022 at 06:00:40
I'd like to think that Everton would get right behind their manager and present evidence that takes weeks to show and digest and start by insisting any hearing should be open to the Press.
Don't we have David Prentice on the staff? Surely there must be a story here for the Echo, at least. But this must now be made a matter of public interest, no hiding behind closed doors but a time for both barrels!
Jerome Shields
45
Posted 05/05/2022 at 06:11:12
Can't be the Ref, Frank.
Mick Roberts
46
Posted 05/05/2022 at 07:43:19
Atwell showed again last night with the offside decision why he should never officiate a match again but his bias and abysmal decisions will be swept under the carpet. As long as managers keep accepting these fines and apologizing to these corrupt bastards, it will just keep going on.

Eddie Dunn
47
Posted 05/05/2022 at 07:44:38
Mike Riley & Co need to have a review at the end of the season. The conversation between the VAR and the ref should be broadcast just like in Rugby. We need to hear the reasoning. We may still disagree with the outcome but it would remove some of the suspicion of corruption or bias.
At present, the Premier League, the way it organises fixtures and its refs implement rules is clearly attempting to placate the big clubs. The big clubs guarantee big worldwide payments from large audiences.
The pressure on the refs wherever the so-called big boys are involved is in the background. The media will make more fuss if the ref gives us a pen at Anfield, potentially denying their darlings the Title, and the hordes of ex-Liverpool media pundits would continue the outrage. The result is refs afraid to give penalties, cards, etc against certain teams.
Klopp, in particular is a law unto himself. Running onto the pitch after Origi's winner at Anfield a couple of years ago. No ban, no fine. If anyone else had done it, there would have been action taken.
Frank is right to make his feelings known. Whatever the FA do, he must continue to expose unfairness. It will encourage others to do the same and increase pressure on Riley and Co to rethink their flawed system.

Bill Fairfield
48
Posted 05/05/2022 at 08:25:52
We all know places like Anfield and Old Trafford have influenced refereeing decisions down the years. Of course you're allowed to think it but not allowed to say it. Frank being accused by faceless hypocrites for telling the truth.
Hope I've got it wrong, but looks like Craig Pawson is the ref on Sunday.
Ian Hollingworth
49
Posted 05/05/2022 at 09:10:38
Well, what a surprise!
There is a lot of money in football so we shouldn't be surprised at the corruption. We also shouldn't just accept it either and good on Frank for telling it how it is.
Everton need to back him now and we should present all the evidence etc. Make this a very public fight.
Mike Hayes
50
Posted 05/05/2022 at 09:29:11
Think we should all email the club to back Frank and email the FA scum and tell them exactly what we think of them corrupt bunch of bastards. 😡
In fact we should post all these comments to them instead. 🤷
Nick Page
51
Posted 05/05/2022 at 09:41:47
If I was Lampard (who is an intelligent individual with MENSA level IQ) I'd have the club compiling videos of all the shocking decisions that have gone against us vs the same decisions in games for the Sky 6, and all the comments from their favoured managers vs what he has said. Like Klopp running on the pitch in the derby. And then see what they say. And then go public with it.
There is definitely corruption. The law of averages supports that (penalties, red cards etc). But I don't think it's so blatant that they are ordered to "fix" matches, it's far more subtle than that. There is more likely a tacit agreement between the officials and the PL/sponsors to support the structure of the competition which is driven by money/greed (a powerful motivator). And this is how the bias manifests itself.
If they want to improve "transparency" and make the competition more accessible for all, then they should be mic'd up so we can all hear the decisions, especially with the VAR. That they aren't, in a game awash with money coupled with the fact that it's taken so long to bring in new technology tells you that something is wrong and things are being hidden for reasons unknown (we speculate money). And by operating a closed shop that is not accountable to anyone, and anyone questioning their integrity is silenced, they continue to show themselves up for the mafiosa-type organisation they are.
Finn Taylor
52
Posted 05/05/2022 at 10:53:53
Nick @35... that's an interesting article.
I am unsure of it's veracity - not a publication I am aware of with any notable track record and some of the evidence seems... circumspect. Still, the seed of doubt is there - but why is no one else talking about it? It's easy to say anything in this bizzare era where PR has took over, but proof, evidence will always help confirming the story. I wish it to be true, as I am sick to the death of all the moral high ground from them and other factors.
Everton should hire a forensic expert when it comes to all the decisions that go against them by the FA. Compiling a greatest hits of comparison decisions... be a big job. We seem to get punished for just being Everton or - being in the same city as that lot.
Nick Page
53
Posted 05/05/2022 at 11:05:19
The best thing about that article, Finn (apparently the journalist is quite well known) is that everything he said came true….lol
The comments beneath from the Kopites are the best bit though. Their usual bleating on about people having the audacity to dare to question their integrity. It's hilarious. Using caffeine I don't doubt. It's in a lot of pre-mix gym supplements but the use of inhalers is - if true - cheating. Having over 60% of the squad registered asthmatic is just astonishing and should be investigated. However, the media won't touch them because 1. Most of them are out of town kopite glory hunters born in the 70's and 2. The post Hillsborough Sun reaction means they're totally off limits (see total lack of reaction and press fawning over Suarez/racist chanting/ticket price hikes/furlough as a few examples). I hate the bastards. There's a higher power at work at that place.
Oh and Everton apparently used "drugs" in the 60's but I can't verify this. Anyone else care to expand?
Larry O'Hara
54
Posted 05/05/2022 at 11:08:07
Finn (52), yes the article is interesting but the key element in it is the attribution of numbers of asthma sufferers to someone "close to the club". Not enough detail there.
Ironically the fact the author is Russian-based might give it some credence: after all is not doping (literally) an Olympic sport in Russia?
Not saying the article is wrong but more verifiable data needed…
Finn Taylor
55
Posted 05/05/2022 at 11:18:50
I think Everton used drugs in the season 70/71... where everything fell apart...
Seriously though, the bit in that article that got me thinking was the dortmund dip - how Klopp's last season there was a bit of disaster which they just about salvaged, if I recall. Then of course, last season for them, when they suddenly because the worst team ever - so that does make you think because the body would naturally have a come down after so much abuse.
There are atricles online about how a lot of Olympic winners are asthma suffers - and wasn't there an American who was like in his forties who won Olympic gold?
Dave Abrahams
56
Posted 05/05/2022 at 11:26:14
Nick (53), the use of drugs by Everton players in the sixties is related to just one article in The SundayPeople by an embittered player Albert Dunlop, who played in 1963 championship winning team.
Albert was a local lad and a good goalkeeper but was a heavy gambler and got himself into debt through his gambling and his story got him a good pay day, his article was about " Purple Hearts" a tablet that kept many people going those days and made them hyper active,so I believe, never touched them myself, pints of Brown bitters was enough for me.
Anyway Albert said some of the Everton players were using them, whether they did or it was something Albert threw in to garnish his story nobody really took it up except the Redshite who just loved to repeat the story, the team was certainly good enough to win the title that season and in those days there were plenty of teams capable of winning the league because every player received the same basic wage of £20 per week, now they are on £20 a second at least!!
Nick Page
57
Posted 05/05/2022 at 11:36:46
Thanks Dave. I've seen some redshite mention it but never took it seriously.
Finn - agree on the Dortmund dip. They all said he burnt out the team (with his nauseating gegenpress bullshit) and then left. Looks like he's found a way around that, partially at least.
Derek Thomas
58
Posted 05/05/2022 at 12:02:51
If found guilty...which he will be. What will be the fine? £20k, £30k.
38 games X £30k = £1.14M, pull them up at every post match Interview - just a (relatively small) cost of doing business, but in reality - priceless.
They will over react and make a martyr and maybe the other 13 will speak up too...not holding breath on that one.
No more Mr Nice Guy*
*assuming we stay up, which we will...just, despite VAR and Reffs.
Finn Taylor
59
Posted 05/05/2022 at 12:03:53
He probably has found a way around it hence signing the contract extension. Didn't they hire more staff to the science, health, diet department last pre-season???
I guess we shall see if next season or the season after they have another bizarre dip. Even City have proved that they are human with the odd surprising defeat (last night a classic example.)
Football is now so protected in terms of PR and media departments... the truth will probably remain hidden.
Meanwhile the nauseating propaganda is pumped out... nothing is ever what it seems

Matthew Williams
60
Posted 05/05/2022 at 12:22:37
Firstly Frank was spot on with his comments,this bias shite has been going on for decades now.
Sadly the best chance to sort this bias out has passed when the "Greedy Six" threatened to leave for their so-called Super League!...that was THE perfect time to force them out through sheer numbers (14 is greater than 6, after all) but they all bottled it big time (including us Blues),we spoke out of course but it will never be enough without the concerted effort with the other 13 clubs!...so now unless a team walks off the pitch after a major injustice verses one of the Sky/BT/Amazon darlings,this bias shite will just continue for years to come!
Btw,the best Refs I've seen are in the Welsh league,even in N.Ireland refs are pretty decent too...time to rotate them...maybe?
Jerome Shields
61
Posted 05/05/2022 at 12:27:09
Earlier comment #45'should read:

'Can't beat the Ref, Frank. '
Paul Cherrington
62
Posted 05/05/2022 at 12:27:45
I do not agree with the FA's decision but am not surprised. As Corporal Jones used to say 'they don't like it up 'em'.
This is all about the FA not liking us having a manager now who will speak up, complain and question what he thinks is not right. They want us to be plucky little Everton as usual who never say boo to a goose and let them get away with what Lampard pointed out in the Derby (and other things that have gone against us this season which were obviously wrong).
It is actually the refs who make these questionable, illogical decisions (I'm putting that very mildly) that should be pulled up for bringing the game into disrepute.
Hope this doesn't put Lampard off from continuing to speak up and stick up for us. About time we had a manager who won't just let us get shafted and say nothing about it.

Ben King
63
Posted 05/05/2022 at 14:59:53
FA, EPL and PGMOL are either super incompetent or super corrupt.
It's not unimaginable: look at what's going on in Government, Yorkshire Cricket Club board, the Metropolitan Police… is it really unfathomable to believe that some of these large associations are on the take given the huge amounts of money in the game?
Problem is that it's a closed shop with no accountability.
It's dirty, corrupt and ugly. This is our beautiful game….
Paul Washington
64
Posted 05/05/2022 at 16:21:07
I've been waiting for this, is anybody surprised?
Although I don't think there's brown envelope corruption at Premier League and refereeing circles, I think it's a 'word of mouth' campaign to damage us, the amount of decisions and non-decisions the same teams get is unfeasible.
Re the asthma subject, Bradley Wiggins and his Tour de France 2012 win has been tainted due to his Therapeutic Use Exception for his asthma; he does vehemently deny any wrong doing regarding taking substances for gaining advantage.
If you can win arguably the world's toughest sporting event using certain stuff, what's kicking a ball around for 90+ minutes?
Roger Helm
65
Posted 05/05/2022 at 19:56:15
One line of defence could be that the game in general and referees in particular have such a poor reputation anyway that they can't be brought any further into disrepute.
Nick Page
66
Posted 05/05/2022 at 20:20:29
How many piss poor decisions have we had in derbies vs poor ones for the redshite? All the way back to Clive Thomas.
There have been loads …. and loads forgotten like Graham Poll when he blew up just as the ball was about to cross the line ... vs the amount of injury time played for the ridiculous Origi fluke goal. There are so many. So many.
We need some fans on our board so they can remind owners of these injustices, because we remember and we care more.
John McFarlane Snr
67
Posted 05/05/2022 at 21:02:18
Hi Dave [56],
You're spot on regarding Albert Dunlop, he was in financial troubles and gave The People information regarding Everton's alleged use of Purple Heart tablets.
I was at Molineux in the early Sixties on a really foggy afternoon. From my position on the Wolves Kop, it was impossible to see beyond the half-way line. Fans behind the goal kept shouting to Dunlop "What's going on" he informed them as best he could.
A St John's Ambulance man had to tell Dunlop that the game was over, and he left the pitch grabbing his cap and gloves. In his article, he said that he was so high on drugs, he had made a dive at the feet of the St John's man, a very good goalkeeper but a despicable man.
You'll also recall the 'Purple Heart derby' when a Kopite planted a Purple Heart placard in the centre circle before the kick-off, but we had the last laugh – a 4-0 win with a weakened side.
Brian Wilkinson
68
Posted 05/05/2022 at 23:25:35
Klopp called The ref Tierney out, was in his face, gave him abuse, no further action taken.
Klopp ran onto the pitch, while a game was still being played, a few years back, in the Derby, no further action taken.
Lampard speaks the truth and gets a fine.
I called it out a couple of weeks ago that we would get nothing after we got an apology for the Rodri incident.
Since then we have 3 players sent off and the two penalties against City and the shite not given.
After the latest incident I also said that nothing will be done at Goodison by the officials against Chelsea, but they will come after us in the away games.
Do not be suprised if we get a player sent off, or Leicester get a poor penalty awarded on Sunday, they want us gone for sure.
Steve Carter
69
Posted 06/05/2022 at 01:47:36
Well, entirely off topic, but John Lundstram (Liverpool born, Everton raised) puts Rangers into the Europa League final; meanwhile we're in the fight of our lives to stave off relegation. Funny game this.
Bernie Quinn
70
Posted 06/05/2022 at 02:39:10
Referring back to the heading. I know I'm an Old Grump, living in New Zealand getting most of my Everton News from ToffeeWeb (and thanks Lyndon & Michael) - but it bothers me that I haven't heard that our beloved Club Chairman has volunteered to stand with Frank to face the FA, nor have I heard of any Board Member publicly supporting Frank, Richarlison and Pickford against the nasty media comments by Roy Keane etc,
And what is happening to the club's debt over FFP and possible points deduction? Is Moshiri going to sell the club? Is Frank's job now safe following that wonderful support last week ? Eckuy-Thump – I wish this season was over!!!
Danny O'Neill
71
Posted 06/05/2022 at 07:41:37
Call it out. If you put it out there, eventually someone has to listen Brian @68.
The club should back him to the hilt here. Have a voice. Challenge the status quo Everton.
It will be over soon Bernie, but Leicester on Sunday first then Watford midweek!!!
Paul Thomas
72
Posted 06/05/2022 at 18:06:18
Frank charged by the FA for speaking the truth which sounds about right them. The FA don't like home truths being spoken, we all know that if that was at the opposite end of the pitch it would have been given by the Ref as a Stonewall Pen.
If memory serves, didn't we get an apology for the penalty that wasn't against Man City. The FA have a short memory which is very convenient.
Phil Smith
73
Posted 07/05/2022 at 03:57:43
Not much better with UEFA. See Moyes and Rice might get into trouble for their comments about some very poor officiating. Loved Rice telling the ref he was poor and then storming off. Anyone seen that? Hope Rangers win the whole thing.
Danny O'Neill
74
Posted 07/05/2022 at 07:42:15
I have never been a fan of sour grapes, but it's become too often for too long and obvious that the officials are a poor standard.
That's one thing, but the most important factor that should increasingly be under scrutiny is the accountability.
They consistently make poor decisions. But they aren't held accountable. They are afforded the luxury of hiding behind a protective screen and not being challenged to explain.
Speak out about their incompetency and players / managers are charged and fined. How dare people who play or have played the game challenge a decision? That's the mentality of the authorities.
It's all managed behind behind cloaks and daggers of those who control the game. The leagues and the competitions. Corruption and influence by stealth, even though it's obvious to most.
Bernie Quinn
75
Posted 07/05/2022 at 08:21:39
Danny - who the hell are these nameless members of the FA and Premier League ?
Rob Halligan
76
Posted 07/05/2022 at 08:35:16
Danny, quite simply we may have the best league in the world, but undoubtedly we have the worst officials. I doubt very much any officials read TW, but if they do "Then every single one of you are shite". I bet there's officials in third world countries, or countries such as San Marino, Gibraltar or the Faroe Islands who have a better standard of officials than the shite we have.
Tony Abrahams
77
Posted 07/05/2022 at 09:04:09
I think it would be the same if you got referees from anywhere in the world Rob, unless that word that Danny used comes into play. It is definitely all about accountability, and if there isn't something sinister going on, then why can't the refs speak?
Martin Atkinson has just come out and slaughtered Stubbs, and after trying for years to understand why he hates Everton so much, maybe he's just told us one of the reasons why?
John Boswell
78
Posted 07/05/2022 at 09:14:54
Players and managers are contracted to appear before the cameras after each game but the officials, who have participated, do not. Why not?
The EPL is the most wealthy league, they can surely afford to bring in the best Fifa ref's in the world. The EPL can also afford a panel of 3 refs to monitor VAR for each match. The FA could, should do so much more to level the playing field. Do they publish the reasons for their decisions or simply announce the result of their enquiry?
A second win on the road tomorrow please, COYB.
Ray Roche
79
Posted 07/05/2022 at 09:16:33
Tony, Atkinson slaughtered Stubbs?
When? How?
Rob Halligan
80
Posted 07/05/2022 at 09:24:14
Tony, you're right, officials should be made to explain their reason(s) for making a poor decision(s) in a game, but it wouldn't stop them making the same decision again in a future game, particularly against one of the so called big six clubs. It looks like who wins the title will go down to the last game of the season………..RS at home to wolves, and city at home to Villa. Can you see a penalty given to either away side in these games, because I can't. I would bring in officials from Europe just for these two games, and let's see how the crowds, particularly at Anfield try and influence them.
Gerard McKean
81
Posted 07/05/2022 at 10:16:57
Not a bad idea to bring in officials from Europe, Rob. Just not from Oslo though!
Danny O'Neill
82
Posted 07/05/2022 at 10:25:02
Regardless of where they come from, officials should be impartial. Not the star struck groupies we have been accustomed to.
I get the point Rob, would it stop wrong decisions being made? Nothing will ever be 100%, I get that and it would take time. But if they are accountable and have to explain, it will make them think twice and be more considered in their decisions because they have to answer to them.
Probably going off on one here, but it's a bit like the Alan Shearer argument that "if you give that, you'll be giving them every week". No, how about if you start pulling up fouls (which they are), players will stop doing it because they know they won't get away with it.
Derek Thomas
83
Posted 07/05/2022 at 11:20:08
They won't, can't, bring Reffs in - they would be admitting the English Referees are totally gash
None at the last world cup for a reason.

Rob Halligan
84
Posted 07/05/2022 at 12:26:48
Ged, if any officials came from Oslo, then you might as well just drag six people off the Kop and let them referee the match!
Alan J Thompson
85
Posted 08/05/2022 at 06:17:02
Overseas referees for the final fixtures especially for those two games should not be allowed, let them have the garbage everybody else has to put up with and hope that each are given ("awarded") an obviously highly dubious penalty decision that highlights what has been going on for some time now and how it devalues the competition.
May be next season VAR officials are appointed from the best technicians in the world but even that is only a step toward improving referees
on-field performances. As a matter of interest, or should that be ridicule, should one or two Premier League games lose connection to VAR does it void those results as games are played under differing conditions? Rules are rules no matter how ridiculous, aren't they?
Si Cooper
86
Posted 10/05/2022 at 15:09:03
Can you be held guilty for what others might infer from what you said?
Did Frank actually say the referee was biased or just imply that referees in general are susceptible to being swayed by certain factors, in this case the 'reputation' of renowned teams?
How else are people expected to interpret such farcical decisions as the Rodri one (for which we got an apology, didn't we?) or the latest one, which must have had a VAR review even if it that has never been acknowledged?
If the authorities really believe their refs are immune to unconscious or confirmation bias, unlike pretty much all other humans to some degree, then they should back themselves by making all the decision-making available for scrutiny.
Gary Jones
87
Posted 11/05/2022 at 10:51:24
Slippy-G in the press today "fuming with Moss" and calling for "FA Probe".
Be very interesting to see if he is charged too…..if not, the only logical conclusion must be corruption over incompetence.
Tony Abrahams
88
Posted 11/05/2022 at 10:54:38
Sorry, Ray, only just saw your post, mate.
Atkinson was in the press last week saying Stubbs was the hardest player he ever had to referee, a pure moaner, who tried to intimidate, and was also hard as nails.
James Hill
89
Posted 12/05/2022 at 08:03:52
Representative of today's world. Truth is not valued.
Christine Foster
90
Posted 13/05/2022 at 11:32:28
Any news of this yet? No mention of response or fines anywhere?
Dave Lynch
91
Posted 13/05/2022 at 11:38:21
No Christine.
But watch the Arteta post match interview from last night.
He was raging and states "I cant comment because I will be fined for my opinion".
The FA must at some stage be held accountable for what amounts to bullying and coercive control.
---
Add Your Comments
In order to post a comment, you need to be logged in as a registered user of the site.
Or Sign up as a ToffeeWeb Member — it's free, takes just a few minutes and will allow you to post your comments on articles and Talking Points submissions across the site.