Process to elect Everton's Fan Advisory Board begins today
Monday, 9 May, 2022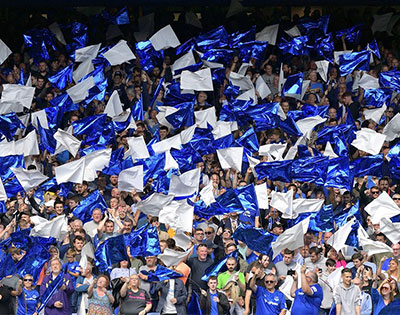 The process to elect members to Everton's independent Fan Advisory Board (FAB) has launched, with the final make-up of the panel set to represent key supporter groups and the diversity of the Blues' global fanbase, the club have announced.
Following collaboration between the football club and the recently-formed Everton Stakeholder Steering Group (ESSG) and further consultation with a wide range of fan and stakeholder groups, it has been determined that the FAB will comprise 11 members, seven of whom will be elected representatives democratically nominated by groups making up the ESSG ('reserved' positions) and four of whom will be determined by an open fan vote ('unreserved' positions).
Once established, the FAB will be consulted on long-term strategic issues and will meet regularly with the club's hierarchy, including members of the Board of Directors.
The seven reserved positions will be for a three-year term and will be occupied by one member each of the Everton Disabled Supporters' Association (ESDA), the Everton Fans' Forum, the Everton Supporters' Club Committee, the Everton Heritage Society, the Everton Women Supporters' Club, a member from a group associated to the Football Supporters' Association, and a representative of Everton's International Supporters' Club network.
Article continues below video content
The remaining four unreserved positions will be appointed by an open and independently-verified vote but will include at least one Everton shareholder and at least one supporter representing a group with a protected characteristic as defined by the Equality Act of 2010. To allow for an annual election process, two of the four elected unreserved positions will be for three-year terms, with the other two positions being for one-year terms.
Evertonians, aged 18 or over, wishing to put themselves forward for one of the four unreserved positions can apply online at evertonfc.com/FanAdvisoryBoard. Applicants will need to have had an Everton supporter number as of 1 May 2022 and will need to be nominated by a proposer and a seconder, both of whom must also have had an Everton supporter number as of 1 May 2022.
The application process will remain open until 11:59pm on Thursday 19 May and requires entrants to provide information about themselves, an image and a video submission explaining what makes them a suitable candidate to represent the Everton fanbase.
A panel comprising independent members and representatives of both the Club and ESSG will determine a final shortlist of 12, with a public vote to begin later in May. Supporters eligible to represent a group with a reserved position will be contacted by the relevant group independently but will not be precluded from applying for the open election for unreserved positions.
Further background
Everton confirmed in December last year that it was committed to collaborating with the ESSG to determine how meaningful fan representation at Board level on strategic matters at the Club could be developed following the findings of the Government's fan-led review of football.
The ESSG, a coalition of independent supporters' groups which represents more than 20,000 Blues, was established as Everton sought to inform its own responses to the Government's review. The group helped shape a fan survey that attracted responses from more than 10,000 Evertonians and which indicated overwhelming support (91 per cent) for the creation of a supporter committee or custodian group.
Working with the Club, the ESSG has since devised the Terms of Reference, informed by consultation with stakeholder groups and a fan survey, that outline the FAB's mission, objectives and composition. Once active, the FAB will be consulted on matters including the Club's strategic vision, plans for broader supporter engagement, the relocation to a new stadium and the subsequent Goodison Legacy Project, finance and revenue generation, and any proposals relating to club heritage.
Any supporters unable to complete the online application form can contact the ESSG (ESSG1878@gmail.com), who will be able to provide further assistance.
To read FAQs that outline the shortlisting and election process in more detail, visit evertonfc.com/FanAdvisoryBoard
---
Reader Comments (63)
Note: the following content is not moderated or vetted by the site owners at the time of submission. Comments are the responsibility of the poster. Disclaimer
Paul Hewitt
1
Posted 09/05/2022 at 20:22:01
Rob Halligan would get my vote.
Tony Abrahams
2
Posted 09/05/2022 at 20:32:40
Whoever has been instrumental in organizing our fans during the last ten days would get my vote.
Ernie Baywood
3
Posted 09/05/2022 at 21:05:02
If the last few weeks has proved anything it's that a club who thinks it doesn't need it's supporters doesn't understand football.
We defer to football people too much. No-one understands Everton like people who have been supporting them their whole lives.
I've dedicated my life to this club to a far greater extent than I have my profession. We are experts by any definition.
Actually tapping into that understanding is important. It's more than just window dressing.
Bernie Quinn
4
Posted 09/05/2022 at 21:57:20
Having been an Everton Supporter for 76 years, and having heard many viewpoints; I unreservedly support Christine Foster to represent the Global Section.
Neil Copeland
5
Posted 09/05/2022 at 22:01:56
Bernie, that is a very good shout – seconded!
ps: I hope you are feeling better.
Derek Thomas
6
Posted 09/05/2022 at 22:36:49
...Thirded.
Jamie Crowley
7
Posted 09/05/2022 at 22:58:10
Fourthed. If that's a word?
Tony Everan
8
Posted 09/05/2022 at 22:59:26
I too think Christine would be a very wise choice.
Paul O'Neill
9
Posted 09/05/2022 at 23:03:49
Fifthed!
Bernie Quinn
10
Posted 09/05/2022 at 23:52:42
Christine - to misquote Dickens: "Tis a far better thing I have ever done than I have ever done..." Please, love – do a Joan of Arc and accept the call to arms! (But stay away from bonfires!!!!)
Kieran Kinsella
11
Posted 10/05/2022 at 01:26:08
But does Christine have an "Everton supporter number" whatever that is. Perhaps season tickets holder?
But we should find someone on ToffeeWeb who qualifies and rally behind them so we get the inside scoop. I'd second Rob, not sure who on here has season tickets. Maybe Dave Abrahams?
Kieran Kinsella
12
Posted 10/05/2022 at 01:30:30
Bernie,
If you want Christine to do a real Joan of Arc, she can cut her hair fill in for Mina.
Mike Gaynes
13
Posted 10/05/2022 at 01:38:13
Everton International Supporters' Club Representative Christine Foster campaign buttons are being ordered at this moment. (Hope you already have your supporter's number, Your Grace.)
And I believe TW should put forward one candidate for one of the unreserved positions. We couldn't do better than Rob Halligan, the Emperor of the Traveling Blues. Big Rob, step up. We will unite behind you. (Kieran, amen to Dave Abrahams as well.)
Bernie #10, it would be unlikely for an international supporter to also be a season ticket holder. Unless they have a private jet.
Mike Gaynes
14
Posted 10/05/2022 at 01:46:53
Tony, you gonna vote for your dad?
Derek Knox
15
Posted 10/05/2022 at 01:54:34
All in favour of this, and the events of the last few days/weeks have shown how important the fans are to Everton Football Club, and the team. I also hope whoever is appointed doesn't just pay lip-service, but voices their and our (mostly) concerns over how our great club has been mis-managed for the last 28 years unchallenged.
I think Christine Foster would be a great candidate for the global representation. She gets my vote too. Although living in New Zealand would make any voting or decision making processes limited to emails or postal communication.
The Future's Bright, the Future's Blue! 💙💙💙
Christine Foster
16
Posted 10/05/2022 at 04:56:00
Wow... bloody hell!! Thank you for the many recommendations, I am truely honoured and flattered!
For a number of reasons, I would have to decline: first and foremost, I don't have a supporter's number – a prerequisite to apply – and you have to have had one by 1 May, already gone. (I'm not even sure what this number is?).
Secondly, New Zealand is at the bottom of the planet, communication is never great at the best of times, but I truly believe I would be hypocritical to throw my hat into the ring.
I have said it before that the Fans Advisory Board and more specifically, the ESSG, was a sop by the board to say they are truly interested in what the supporters think. Prior to this board, they didn't exist as an entity and materialised as the brainchild of the board itself, I believe... (?)
Lastly, as regular meetings are held with board members, I doubt I would be welcomed by the chairman as my dissent from his activities over the years, make working in cooperation with him, or even being in the same room, difficult (to say the least).
But it fills me with immense pride that I would be even thought of as being a representative of those brilliant fans of the weeks gone by... absolutely bursting with it!
Thank you, everyone... I really mean that! :-)
Alan J Thompson
17
Posted 10/05/2022 at 05:52:17
I've rather considered this Fans Advisory Board to be similar to politicians' interest in their constituents; at its height when an election is due and along Party lines at all other times according to the amount of publicity it might attract.
Danny O'Neill
18
Posted 10/05/2022 at 06:09:20
I hope the club has realised the importance of the supporters and also what they mean to us. The manager clearly has.
So I hope that this supporter representation is going to have teeth and influence. Within reason obviously, but be taken seriously and not just nodded at by the board and fall into the "be seen to do something" tick-the-box category.
They can't ignore what we've witnessed these past few weeks. In honesty, minus the flares and incredible scenes at Goodison (Chelsea) and Leicester, they shouldn't have been ignoring the passion of the following all season for those of us who have followed in person and from afar. For years in fact. 30 years, which I only quote because of the decline and neglect.
"Everton expects success. We've a very good crowd and our crowd are very loyal. But of course, they pay money and they expect us to do well. If we don't do well, then something should be done about it and something will be done about it."
Well, WE, the fans done something about it. Live by that. Live Everton.
Gerry Quinn
19
Posted 10/05/2022 at 07:26:04
I nominate that Christine be given a laptop and (mega)phone to be able to Zoom into that Board whatever would be right for Everton – no matter what time of night she calls – and I therefore seventeenth her!
Bernie Quinn
20
Posted 10/05/2022 at 07:36:51
Sad but not upset, Christine, that you decline. Therefore, I now go along with Mike @ 13 and second Rob Halligan. Heaven knows what a Supporter's Number is!
Gerry Quinn
21
Posted 10/05/2022 at 08:11:46
Off topic, but a quick "giggle" for you all. remember Myra the dog last week?

https://twitter.com/TomBeattie890/status/1523617688781991936/photo/1
Tony Abrahams
22
Posted 10/05/2022 at 08:30:49
Definitely not, Mike! Seriously but whoever has played the biggest part in years, by getting all the fans to come together, has probably already achieved more than this new advisory select committee will ever do.
Michael Kenrick
23
Posted 10/05/2022 at 09:25:39
Good to see someone else put up that pithy quote from Sir John Moores, Danny @18. Nice one!
It should be tattooed on the heart of everyone at Everton FC because it epitomises exactly what has been lacking from the imperious hierarchy on down, throughout all these awful Kenwright years.
Derek @15, it would be disingenuous not to recognize the challenge to Kenwright's wily ways, as presented by brave shareholders who tried to stand up to him and demand answers at a series of Annual General Meetings up to 2007. They were subsequently silenced by his decision to suspend such meetings, until the shareholders found the power to force their reinstatement.
But he would find another way to dispense with such embarrassing confrontations: the commitment of the club to hold such meetings annually was removed from the Articles of Association back in February.
Dale Rose
24
Posted 10/05/2022 at 09:44:26
Michael Kenrick, I hope you're standing. Tell it how it is.
Tony Graham
25
Posted 10/05/2022 at 09:46:49
With regards to Tony @2, I totally agree – whoever has done the organising of the fans support lately, has done a fantastic job of work. The team has responded and are doing what they should have done all season. Credit to whoever, WELL DONE...
Dave Abrahams
26
Posted 10/05/2022 at 09:49:38
Definitely make Christine an honorary member with three or four return tickets from New Zealand each year, paid for by Everton FC so she can put her considerable football knowledge before the Fan Advisory Board.
I also support Rob Halligan's nomination and either Mike Gaynes or Jamie Crowley to give an American voice to the proceedings.

Jerome Shields
27
Posted 10/05/2022 at 09:50:01
First of all, I will say that Christine has my vote.
I am sceptical of the way that this whole process was set up, against a background of recommendations on Fan Board involvement, as a response to fan protest, the evolution (on-going of #27 years), and the fans' selection of Frank Lampard.
The ESSG has been active on Twitter, calling – in a PR fashion – for togetherness, with a pro-Board slant. . . and taking a battering on Twitter, from myself and others. It looks like there is urgency to push the process on as a response to spontaneous effective Fan involvement in the relegation dogfight.
I think it would be good for all Everton protesters, protest groups, #27 years, etc to wheel in behind Christine. A genuine, worthy Supporter. Of course, with Christine's agreement and permission.
If not, my vote goes to Michael Kenrick. Representation of shareholders and their access is also important. Not having thatched is counter-productive to the so-called claims of fan - board representation. When your on money is on the line, the questions have an edge.
Brian Harrison
28
Posted 10/05/2022 at 10:18:15
I don't see how we transform the Premier League ownership model into anything remotely like the 50+1 rule that exists in Germany. I know Danny O'Neill knows far more about the German league set-up than me, and I would be interested to hear on how he believes we could move to a 50+1 model.
Although some clubs in Germany have slightly gamed the 50+1 model, such as RB Leipzig, as an example Dortmund have 140,000 members whereas RB Leipzig have just 20 and most just happen to be Red Bull employees as they have a very prohibitive joining fee. Also, there are a couple of exceptions: Wolfsburg are owned by Volkswagen and Bayer Leverkusen are run by Bayer Pharmaceuticals.
It is also worth noting that the 50+1 model hasn't made German clubs very successful in the Champions League, Europe's top cup competition, as – apart from Bayern Munich – only Borussia Dortmund and Bayer Leverkusen have got to the Champions League Final in the last 20-odd years.
Also, it hasn't made the German league anymore competitive, with Bayern winning 9 titles on the trot.
Tony Abrahams
29
Posted 10/05/2022 at 10:33:35
How could Christine, Rob or Michael K, be invited into this group?
Anyone who has ever read ToffeeWeb knows that with their views on our saviour, this would be nigh on impossible.
Tony Everan
30
Posted 10/05/2022 at 10:33:58
An idea: How about one of the fan representatives being not a person, but "ToffeeWeb" itself?
I know there are many different opinions and that includes Lyndon and Michael as well. But I think quite often a consensus of opinion evolves around many issues.
Most of the time, after many blue-blooded Evertonians have contributed to each issue, after considered thoughts and natural instinct born out of a lifelong devotion to the club.
When Lyndon does one of his reflective articles on the state of affairs, I often feel he has the finger directly on the pulse of majority opinion on the site.
I don't know how it would work in practice but I do think it would be a force for good for Everton. It would deliver popular, considered and intelligent opinion of thousands of Evertonians near and far, then focused into a consensus viewpoint.
Michael Kenrick
31
Posted 10/05/2022 at 10:37:14
Very nice of you to think of me for such an august role but I'm not sure I'd be fit for purpose, to be honest. I don't think I'd be good at representing the views of others – unless, as Tony Everan suggests, my strict remit was to somehow distil the disparate views of ardent ToffeeWebbers and represent to the club what I would like to see maintained as a truly independent voice through this entire process.
And there's the rub. It's Tony Abrahams's world of Everton Unity whereas, in truth, I don't see a whole lot of unity reflected in the broad range of comments and opinions that past through this particular organ (sounds disgusting!).
Yes, we all get behind the team during the game (well most of us!) And to be fair, Tony (on a different thread) recognizes that unity is a rare beast only seen briefly among the match-going crowd.
Diversity is the woke in-thing, of course, but it's quite a human skill to be able to put your arms around and embrace it all, then recast it for the benefit of the club hierarchy.
Perhaps the biggest obstacle is that I share a big chunk of Jerome's scepticism: is the ESSG edifice just a club-sponsored move to appear to be more friendly by ostensibly providing fans with "a voice" – but without any real end-product? If my readings of the Fans Forum Meeting Minutes (freely available to all with a supporter number and an abundance of patient fortitude, via the Everton website) is anything to go by... no, it's not really a job for me.
Rob Halligan
32
Posted 10/05/2022 at 10:46:33
Are you lot mad!! I would be booted off the first meeting before it's barely begun. I suppose I should be flattered that some think I could be part of this fan advisory board, but as Tony has just posted, my first words to Kenwright and I would feel a size 9 welly right up my rear. Thanks for the thoughts anyway.
By the way, a supporters number is also your reference number, a number allocated to every season ticket holder and member.
Derek Knox
33
Posted 10/05/2022 at 10:52:42
I meant to add before we are all proposing certain Members for the post, myself included, as if it was only going to come from TW alone. We are only one of many Supporters Groups, so let's not delude ourselves that all nominees will be TW's.
Perhaps we (TW) won't have any but, whoever is eventually appointed, let's hope he/she represents the majority's views, and not just appear to go through the motions with little or no change, which is drastically needed in my humble opinion, and has done for far too long now.
Christine Foster
34
Posted 10/05/2022 at 11:00:18
Tony 29# to be honest, that's how I feel too.. I doubt l would be welcomed with open arms given my views on ToffeeWeb over the years, but more so that, as I said, the FAB concept was a construct to show the board was listening to fans, when in truth it felt like an exercise in PR by the board. I remain a skeptic..Sadly.
Danny O'Neill
35
Posted 10/05/2022 at 11:07:06
Do it Rob. Barred for life from the boardroom within 5 minutes!!!
Steve Brown
36
Posted 10/05/2022 at 11:26:43
Tony A, Rob H, Paul T or Brent, given Christine has the justifiable excuse of being 1000s of miles away!
It's utility will depend on who gets nominated. Any of the above people would have a massive difference.
Brian Murray
37
Posted 10/05/2022 at 11:43:56
Ready to jump in my arl jalopy today if there are any spare Watford tickets?
Phone: 07782 552050
Brent Stephens
38
Posted 10/05/2022 at 11:47:49
Steve "Tony A, Rob H, Paul T or Brent..."
Steve, unaccustomed as I am... Sorry, getting ahead of myself.
Seriouly, Steve, I feel humbled by your comment but, after my spoof "2022 ToffeeWeb Predictions" at the start of the new year, Bill would take retribution and have me locked up in Prince Rupert's Tower!
Tony, Paul or Rob.
Tony Abrahams
39
Posted 10/05/2022 at 11:59:19
I do believe there is such a thing as unity, Michael, and this has been shown over the last ten days imo, mate.
I don't mind diversity, sometimes I've found myself a lot closer to someone with polar opposite views than I could have ever imagined, once I overcome my own arrogance, but this just feels like nepotism is going to be involved (to a certain degree at least?) and I've got no time for nepotism, especially when it's about something I deeply care.
I understand your own sentiments, Michael, I often listen to people with great ideas say something that I think is very intelligent but, because everyone wants to give their own two-pence worth, I sometimes think that intelligence gets lost amongst idiots!
Dave Abrahams
40
Posted 10/05/2022 at 12:03:05
Brent (38), you have every right to feel humble and many reasons,very best wishes from your friend Dave!!
Brent Stephens
41
Posted 10/05/2022 at 12:09:25
Dave, you never fail me - my friend!

Derek Thomas
42
Posted 10/05/2022 at 12:10:18
They will pick a safe (for them) option. It will be the equivalent of putting Sharp on the Board.
The gamekeepers won't appoint a poacher; it'll be another gamekeeper – just an outsider gamekeeper.
I've been an appointed member from the public on an Advisory Board of a monolithic bureaucracy – you sit at the far end of the table, both literally and figuratively.
Danny O'Neill
43
Posted 10/05/2022 at 12:10:45
You mention Prince Rupert's Tower Brent. Last week I done my usual thing and engaged with a few Chelsea fans on the train on the way up. We ended upnhaving a drink in the Northwestern and sharing a taxi. We went past the symbolic feature. I pointed it out to them from the cab and they all took photos.
I paid for the taxi and wished them a good day out, but not that good.
I cannot wait for tomorrow night.
Dave Abrahams
44
Posted 10/05/2022 at 12:18:59
Brent (41), That's what friends are for Brent, as the saying goes: " Friends in need are a pain in the arse", not you of course Brent!!
Tony Abrahams
45
Posted 10/05/2022 at 12:23:55
People are screaming for tickets, Brian. I actually went in The Black Horse before the Chelsea game, trying to find you and your kid, but I couldn't see you, mate.
Give us a shout if any tickets come available, though, Brian, although I reckon there's also going to be quite a few Evertonians in the home end, because I'm hearing this game is now a complete sellout.
Stephen Vincent
46
Posted 10/05/2022 at 13:00:55
You can still buy tickets on the Watford Web site, providing you have a non merseyside address I suspect, maybe worth a go though.
Danny O'Neill
47
Posted 10/05/2022 at 13:04:11
I'm struggling the other way around. I can't get anything for Brentford at home.
Danny O'Neill
48
Posted 10/05/2022 at 13:32:13
Brian,
The 50+1 is good in principle but not flawless. There are so called get out clauses. You rightfully mention Leverkusen as they have been effectively sponsored for a given period of time by a company so they become effectively exempt to it after 20 years.
Also clubs that grew outside of the top flight and were already owned by a company like Hoffenheim as an example.
And ultimately, as with any politics, even if you are only a 49% stakeholder / owner, you only have to sway a few votes to get your way. German politics in general works like that. Merkel was able to become the most powerful and respected politician in Europe without really having a majority. She often governed with about 35% of the vote. They do it but we don't do coalitions in this country; that would never happen here. It's alien to us. I don't mean to mix politics with football, it's just to add context to the cultural differences.
More accountable? Yes. Perfect? No. The owners (even though 49% at best) will generally get their way through influence and vote buying. But the supporters do in general seem to have more say and influence and be less ignored than in the UK.
And you are right, German football has become a 2 horse race just like the Premier League.
Below that, it's anyone's game as I saw when Schalke were relegated last season. Fortunately, the Konigsblauen (Royal Blues, who take their name from the norther district of the working class city they come from) have come up at the first time of asking. Confirmed on the same weekend their U17s won the German Youth Cup in their category.
And Everton won at Leicester.
Come on blues. Everywhere.
Jay Harris
49
Posted 10/05/2022 at 15:45:28
With Christine and Michael amongst many other notable Evertonians declining the nomination what about Lyndon as the International representative? Intelligent and literate with a great knowledge of our history.
Shaun Laycock
50
Posted 10/05/2022 at 16:43:31
Paul the Esk...
George Carroll
51
Posted 10/05/2022 at 16:51:12
Shaun @50 has beaten me to it: Paul the Esk is just what we need, someone with financial expertise. The Board lack it – along with their dearth of football knowledge.
Daniel Thomas
52
Posted 10/05/2022 at 16:58:53
Got a feeling there's going to be quite a few blues in the Home Ends tomorrow.
Myself and 6 others are dotted about the Rookery Stand.
For any others making the journey, is there a waterhole to descend on beforehand?
Mike Gaynes
53
Posted 10/05/2022 at 17:02:14
Rob (and Tony at #29), it's an elected position, not appointed. You'd have the weight of all of us behind you. And I'd like to see who'd be able to kick you out!
Christine, I get it, your skepticism is understandable. I'd still like to see you give it a shot.
Dave #26, between my smart-ass remarks and Jamie's expletives, we'd probably start a war.
Jay #49, Lyndon would be an inspired choice for the international representative. Well said.
How about it, Lyndon?
Christine Foster
54
Posted 10/05/2022 at 20:48:10
Mike, there is nothing more I would like than the honor of representing the brilliant fans of my club. To drive change and deliver great experiences. But this shiny new bus has a clapped out engine and the whole thing reminds me of the Magical Mystery Tour, all froth and little substance. Of course the driver knows where to take us, round the bend.
There is nothing wrong with the initiative, in fact it would be brilliant if the bus had a new engine and a map, never mind a replacement driver!
Tony Abrahams
55
Posted 10/05/2022 at 21:02:02
The fans who fought Everton and Tesco in the courtroom showed how savvy some Evertonians are, and also how much their club means to them.
Kenwright must have been delighted with them, because he said he was glad that we never went to Kirkby. Little substance indeed Christine!
Bernie Quinn
56
Posted 10/05/2022 at 21:07:36
Christine, I nominated you in the first place and I still consider you the best person to be on the Board. I note there is still plenty of support for you. So won't you please reconsider?
Bill Gall
57
Posted 10/05/2022 at 22:39:41
I wonder if my nephew will apply, i know he never misses a game home or away, even the trips in Europe, He doesn't write on ToffeeWeb but I hear he goes on the radio sometimes.
Mike Gaynes
58
Posted 11/05/2022 at 01:57:43
I'll endorse him sight unseen, Bill. This Fan Advisory Board needs all the Gall it can get.
Bill Gall
59
Posted 11/05/2022 at 03:24:04
Thanks Mike, but my nephew is not bitter and disagreeable, he is a true blue from when I new him from a child, he is also the Chairman of the Shareholders Association. and I know he has met both the owner and chairman.
Derek Moore
60
Posted 11/05/2022 at 04:34:35
I believe Mike G was using the word gall in a different manner Bill. (#59). In this context, I think he meant "brazen boldness coupled with impudent assurance" rather than referring to the product of the liver.
He was also making one of his many puns; he and Knox would have to be among the most consistent wisecrack wizards we have on here.
More than one can play at the game Mike!
We should obviously have moore fan representation. I'm doubtful we'll see any genuine Gaynes from the F.A.B but there's always hope.
As for your nephew meeting both owner and our chairman Bill, may I please extend to him my deepest sympathies. I also hope he suffered no long term ill effects.
Bill Gall
61
Posted 11/05/2022 at 14:14:54
No problem Derek
. I live in Canada and a couple of hours drive I am in the States, so used to American humor. Born in Liverpool and lived there for 36yrs so still got my scouse humor.
Most of them cant pronounce my last name correctly,they pronounce it as Gal, and I say how do you pronounce ball, fall, hall or call so why is Gall so different. Mind you most Canadians are the same.
I am lucky where I live as there are no supporters from the dark side and am the only one with an Everton shirt and on my deck there is a Goodison Park, L4 4EL plaque.Everton Football Club.

Mike Gaynes
62
Posted 11/05/2022 at 14:56:51
You're pretty quippy yourself, Derek. And you're right, I was using that definition for my Gall punning. (Bill, congrats on having such an accomplished nephew!)
And Derek, I caught your comment on the other thread about re-reading my Goodison odyssey -- I do that too once in a while. Can't believe it's five years ago now. A lifetime, in more ways than one.
Paul Burns
63
Posted 14/05/2022 at 09:02:54
It won't make the slightest bit of difference who it is. Anything they say will be ignored.
We need a mass clearout and a complete overhaul of the way the club has been run into the ground by Kenwright, he's ruined Everton FC and everything it stands for in his disgraceful tenure.
Anything less than removing the amateurs, liars and incompetents who have turned the club into an unambitious joke for decades will only result in putting off disaster.
The club has to be rebuilt from scratch, anything less will only result in the debacle we have had to suffer this season.
---
Add Your Comments
In order to post a comment, you need to be logged in as a registered user of the site.
Or Sign up as a ToffeeWeb Member — it's free, takes just a few minutes and will allow you to post your comments on articles and Talking Points submissions across the site.