Pickford and Coleman suffer international defeats
Saturday, 4 June, 2022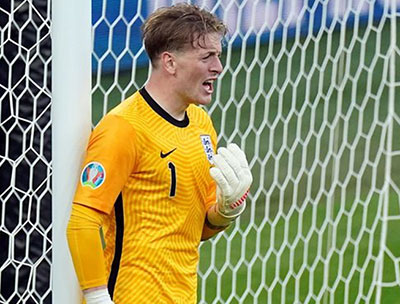 England lost in Hungary and the Republic of Ireland were humbled by Armenia as both Jordan Pickford and Seamus Coleman tasted Uefa Nations League defeats this weekend.
Pickford played the full 90 minutes as Gareth Southgate's jaded-looking Three Lions went down 1-0 in a stadium full of under-14 children in Budapest to Dominik Szoboszlai's controversial penalty after Reece James had harshly been adjudged to have fouled Zsolt Nagy.
Meanwhile, in Yerevan, the Republic went up against a side that had been beaten 9-0 by Norway in their last outing and also lost to a single goal, scored by Eduard Spertsyan, despite Stephen Kenny's men dominating possession.
There had been better news last night for Anthony Gordon who came on midway through the second half for England U21s as they beat the Czech Republic 2-1 in European Championship qualifying.
Article continues below video content
England's senior side are back in Nations League action on Tuesday when they travel to Germany while the Irish face Ukraine on Wednesday, three days after the Ukrainians play their decisive World Cup play-off final match against Wales in Cardiff.
---
Reader Comments (22)
Note: the following content is not moderated or vetted by the site owners at the time of submission. Comments are the responsibility of the poster. Disclaimer
Dennis Stevens
1
Posted 04/06/2022 at 17:25:39
Ah yes, I figured all the England supporters would be in here!
Rob Halligan
2
Posted 04/06/2022 at 17:39:31
About 30k kids in the stadium, and it sounds like every single one of them has one of those vuvuzela horns that were at the World Cup in South Africa. Doing me head in! 😡😡
Bill Gall
3
Posted 04/06/2022 at 17:51:42
England players are about as quick as seniors doing a waltz.
Brian Williams
4
Posted 04/06/2022 at 18:08:02
TAA has been shoite in that first half!
Looks like a player that's played for a team in three finals and not scored a goal.
Michael Kenrick
5
Posted 04/06/2022 at 18:24:30
Puskás Aréna, 67,215... impressive stadium, shows what you can do when you build big, not even half-full.
Dennis Stevens
6
Posted 04/06/2022 at 18:26:11
Excellent, Michael - that brought about an unexpected guffaw!!
Brian Williams
7
Posted 04/06/2022 at 18:27:32
With good reason though, Michael. Was supposed to be played in an empty stadium but they got round it somehow by allowing schoolkids with an adult to attend.
Ah! Irony. Missed it. 🤣
Michael Kenrick
8
Posted 04/06/2022 at 18:31:57
Thanks Brian, just reading about that.
Bowen shoulda scored with that!
Brian Williams
9
Posted 04/06/2022 at 18:47:01
England look like a team of tired players in need of a break.
Paul Hewitt
10
Posted 04/06/2022 at 21:26:17
A pointless competition. Players will be moaning soon they need a rest.
Mike Gaynes
11
Posted 04/06/2022 at 21:28:32
Not surprised, Brian. We're a bunch of tired fans in need of a break.
I tuned in to Italy v Germany. Yawwwwwnnn. I've seen laundry cycles generate more excitement.
Mike Keating
12
Posted 04/06/2022 at 21:36:39
Could be worse, Mike – try tuning in to the Jubilee Party at the Palace 😴 💤
Tom Bowers
13
Posted 04/06/2022 at 22:03:56
England and Southgate overrated and have been for a while.
Today's defeat was coming as they have been rather unimpressive in so many recent games.
Too many players are okay at league level but cannot step up to international level.
Southgate giving out caps like confetti.
Joe Corgan
14
Posted 05/06/2022 at 00:12:02
Behave, Tom. How can you call a team that got to the World Cup Semi-Finals and the Euros Final overrated?
What other measure are you using to rate them? We may not be the best in the world but we're absolutely up there, even if all the pieces haven't quite fallen into place yet.
As for tonight's match… it doesn't matter. A glorified friendly at the end of a long season. A few players being looked at for the World Cup or beyond. An experiment that didn't work. That's all. We move on.
Annika Herbert
15
Posted 05/06/2022 at 06:31:56
Joe @ 14, easy to call England overrated. They reached both the semi-final and the final of those competitions by having one of the easiest schedules you could hope for.
When they faced a decent team in those competitions, they were swiftly beaten. Tom is correct in his assessment, I am sorry to say.
Danny O'Neill
16
Posted 05/06/2022 at 07:27:14
I genuinely don't understand this competition and I'm very well quoted on being indifferent to England and international football other than enjoying watching the football whoever is playing.
I'm more interested in wishing away time until next season's fixture list is released and it's August.
Bernie Quinn
17
Posted 05/06/2022 at 07:44:17
A pointless competition with no thought of league teams having to prepare for the coming (and not far off) season. No doubt there will be injuries – and remind me, who pays their salaries? Just damn silly.
Eddie Dunn
18
Posted 05/06/2022 at 09:14:04
There has been a lot of talk about the workload on players and the authorities come up with these pointless competitions. Just give the lads a rest.
These guys should be in Dubai on a concrete Island watching private jets overhead.
Peter Carpenter
19
Posted 05/06/2022 at 12:06:27
Biggest waste of time since the Watney Cup.
Kim Vivian
20
Posted 05/06/2022 at 13:01:52
Well done Jordan for an open play clean sheet. Made a coupe of decent saves. Other than that, petty uninspiring all round.
Wales v Ukraine might be interesting though...
Christy Ring
21
Posted 05/06/2022 at 15:39:11
Ireland were shocking but, regarding the England game in Hungary, I believe Uefa are totally spineless and hypocritical.
The stadium was supposed to be empty because of the shocking racial Hungarians, but kids were allowed, with one adult with every 10 kids, and to hear the booing from kids to the English players for taking the knee – a disgrace rendering the Uefa sanctions a farce.
Mick Roberts
22
Posted 05/06/2022 at 16:09:55
Joe, the reason they got to the World Cup Semi-Finals was because of the luck of the draw – not because of how good they were. They only played one good side, Belgium, and got hammered, and then lost to a very average Croatia.
---
Add Your Comments
In order to post a comment, you need to be logged in as a registered user of the site.
Or Sign up as a ToffeeWeb Member — it's free, takes just a few minutes and will allow you to post your comments on articles and Talking Points submissions across the site.