Pickford in goal as England draw in Germany
Tuesday, 7 June, 2022
Nations League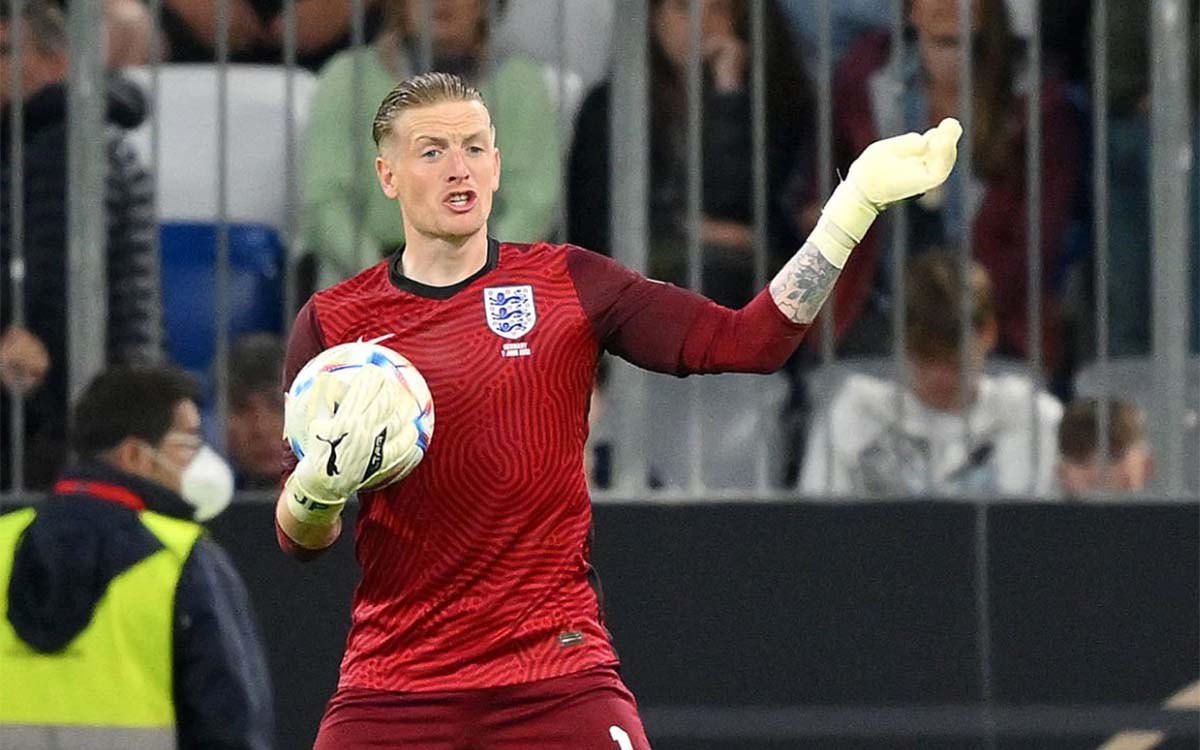 The Nations League continued tonight with England taking on Germany at the Allianz Arena in Munich. Jordan Pickford continued as first-choice goalkeeper despite pressure from Arsenal's Aaron Ramsdale, who was on the bench.
England were looking to improve on their lowly place at the bottom of Group A3 after losing their opening game in Hungary on Saturday.
But after Jonas Hofmann had opened the scoring they had to come from behind to snatch a draw thanks to a very dubious penalty awarded to Harry Kane who looked very much offside in the build-up to the foul.
A deliberate touch by a German defender was deemed to have reset the play, however, and the Tottenham striker duly converted with his usual efficiency.
Elsewhere, Anthony Gordon started for England U21s and had a fine game against Albania, claiming an assist for one of the goals in a 3-0 win.
Article continues below video content
---
Reader Comments (38)
Note: the following content is not moderated or vetted by the site owners at the time of submission. Comments are the responsibility of the poster. Disclaimer
Jason Hewly
1
Posted 07/06/2022 at 18:48:52
International football needs to stop milking these players. The summer recess should only be broken for a proper tournament, not some half-baked league. The players are getting injured through fatigue, and these games just add to the burden.
And yes, I know they used to play Christmas Day and Boxing Day, but the nature of the sport has changed. It's now much more about athleticism than it ever was. If we want them to stay out of the red zone during the season, we have to give them a proper rest.
All that said, I'll probably watch. Best of luck, Jordan. I hope you keep a clean sheet, get subbed for the second half, and then the German team gub the England team 6-0.
Peter Moore
2
Posted 07/06/2022 at 18:52:35
England vs Germany. What a cracking international fixture usually. However, this Mickey Mouse meaningless international tournament must be the dampest squib ever. The fact it is on Channel 4 says it all.
All I care about is the squad getting the much-needed overhaul it needs and having a hopefully good pre-season to be able to build a strong season that banishes the trauma of last season to the history books.

Jason Hewly
3
Posted 07/06/2022 at 19:35:47
If we cancelled all World Cup/Euro qualification, the calendar would have, at least, 8 weeks to play with. We could have World Cup tournaments with all the world's teams and Euros with all European teams. Plus, there could be fewer games to squeeze into a season.
Dennis Stevens
4
Posted 07/06/2022 at 19:42:26
If we must have international football (and I wouldn't miss it if it was canned), then it would be better to hold all the qualification matches in a block one summer and then the tournaments the following summer – no need to keep breaking up the domestic season then.
Brian Williams
5
Posted 07/06/2022 at 19:43:30
Watching as the camera passes slowly along the line of English players as the national anthem plays just made me think of Duelling Banjos in Deliverance.
Michael Kenrick
7
Posted 07/06/2022 at 20:15:11
Pretty lively game... not quite the drudge I expected.
Bill Gall
8
Posted 07/06/2022 at 20:29:09
Germany pressing hard, starting to control midfield.
Barry Rathbone
9
Posted 07/06/2022 at 20:35:46
Dodgem car football.
It's a given how shite England are but shocking to see germans so technically inept. 2 touches where one is required, the ball bouncing off flat footed chumps and simple 10yd passes mis-hit.
England could win this
Michael Kenrick
10
Posted 07/06/2022 at 21:02:26
Should Pickford have saved that?
Tony Hill
11
Posted 07/06/2022 at 21:12:46
Yes he should, Michael. Now wait for the Ramsdale and Pope choruses.
Daniel A Johnson
12
Posted 07/06/2022 at 21:13:23
I thought so, Michael, it was almost right at him.
Brent Stephens
13
Posted 07/06/2022 at 21:18:26
Pope for Pickford?
Followed by shouts of Ramsdale for Pope?!
Soren Moyer
14
Posted 07/06/2022 at 21:18:52
A split-second brain fart told him to punch it with one hand, not two!
Update: A redemption save by Pickford.
Paul Hughes
15
Posted 07/06/2022 at 21:22:27
If you look closely there was a deflection off Stones. Just a slight one, but enough to take it up and left. Enough to wrong-foot Pickford. The keyboard warriors and one-eyed pundits won't mention that, though.
Neil Lawson
16
Posted 07/06/2022 at 21:23:15
Poor by Jordan. Looking for the spectacular when the straightforward would have sufficed. He truly is an enigma. Great save later.
Bill Gall
17
Posted 07/06/2022 at 21:27:44
Paul,
Even the commentator thought there was a slight deflection but, apart from that, he is not being helped by a poor England side.
Andy Meighan
18
Posted 07/06/2022 at 21:35:49
Just as well that gobshite Lee Dixon wasn't co commentator. He would have leathered Pickford for the goal. I actually thought it did take a deflection, otherwise he's saving that. And while I'm on is it just me or is that Saka vastly overrated.
Neil Lawson
19
Posted 07/06/2022 at 21:40:27
Must be my ageing eyes but thought Kane was well offside before foul for the penalty.
Brent Stephens
20
Posted 07/06/2022 at 21:41:27
My take too Neil.
Peter Carpenter
21
Posted 07/06/2022 at 21:44:13
He was. Doesn't that count?
James Flynn
22
Posted 07/06/2022 at 21:49:38
Don't see blaming Pickford. That guy smashed it.
Paul Smith
23
Posted 07/06/2022 at 21:57:47
I thought England did okay. It was Germany away. This so-called poor side almost won the Euros. Don't understand the dislike at times for England by Evertonians.
Pickford's distribution was poor at times but no fault for the goal, he would've had to have been the best in the world (Neuer) to stop that and not the second best.
Barry Rathbone
24
Posted 07/06/2022 at 22:08:45
Paul Smith 23
I think it's because England are an international version of Everton - historically famous but in a death spiral going back decades.
Only so much hopeless delusion a fan can absorb

Paul Birmingham
25
Posted 07/06/2022 at 22:09:49
Typical two 2nd rate ex RS players, giving the big one on Pickford not saving the German goal.
If you see the way the striker rolled the ball before striking Pickford was already readjusting, his feet.
It shows how blight the football media has become and scrapping the barrel is Channel 4, with their football shoes.
But actually, not arsed about the England result, all that counts is Everton.
Gonna be a hell of a preseason in the transfer market and trying to understand where Everton can compete in this pre-season.
Bill Gall
26
Posted 07/06/2022 at 22:38:04
No mention of Pickford stopping another couple of goals with good saves. Just read the points for players on sky sports and they give Pickford the lowest with 5... I guess to improve your points all you have to do is move to a London club.
Brendan McLaughlin
27
Posted 07/06/2022 at 22:48:05
Paul #23
See Bill #26
Tom Bowers
30
Posted 07/06/2022 at 23:51:38
England lucky against a makeshift German side who showed up England's defensive weaknesses and Southgate's poor strategy. Southgate has his fave's and I think another manager wouldn't pick a few of them.
A poor performance against the Azzurri will see them exit this useless competition.
Eddie Ng
31
Posted 08/06/2022 at 07:17:21
Tom #30 not just exit the competition but "relegated" to Group B next year.
Danny O'Neill
32
Posted 08/06/2022 at 07:19:34
I half paid attention last night.
Both teams seemed erratic, but I thought that Germany, although nowhere near the standard of the team that emerged around 2008, entertained at the 2010 World Cup and won the 2014 World Cup, they still always looked more comfortable on the ball than England.
Pickford has improved these past 18 months, but I don't think there is a better keeper than Neuer in the world. Schalke Academy product. Bayern also took Nubel from Schalke, who came through their Schalke II team. He's been on loan at Monaco, but still a Bayern player. I'd keep an eye on him if we're needing to replace.
I don't even understand this competition, but it's football and can keep me going until August.
Terry Farrell
33
Posted 08/06/2022 at 13:11:44
Paul, spot-on, mate. The nick off Stones made all the difference to saving it. Slow motion doesn't show it, in real time it was noticeable.
John Burns
34
Posted 08/06/2022 at 20:38:32
I like Harry Kane and he will no doubt be England's highest scorer in the near future. However, I will always doubt this being a gold standard honour, due to the level of international teams he has faced. See the table below (courtesy of Wikipedia!).
Rank Player Goals Caps Average Career
1 Wayne Rooney 53 120 0.44 2003–2018
2 Harry Kane 50 71 0.7 2015–present
3 Bobby Charlton 49 106 0.46 1958–1970
4 Gary Lineker 48 80 0.6 1984–1992
5 Jimmy Greaves 44 57 0.77 1959–1967
6 Michael Owen 40 89 0.45 1998–2008
7 Nat Lofthouse 30 33 0.91 1950–1958
7 Alan Shearer 30 63 0.48 1992–2000
7 Tom Finney 30 76 0.39 1946–1958
10 V Woodward 29 23 1.26 1903–1911
10 Frank Lampard 29 106 0.27 1999–2014

Jimmy Greaves's ratio, for example, of 44 goals in 57 games is exceptional. I doubt there was an Estonia or San Marino goal amongst them. Surprisingly also, is that Frank Lampard is Number 10 all-time scorer. Never knew that!
Ray Robinson
35
Posted 08/06/2022 at 20:54:12
John, I accept entirely the point you are making about the cheapness perhaps of some of Kane's goals for England but let's not forget that some of the matches that are considered difficult nowadays were far easier back then in the sixties when Greaves played.
Without looking it up and relying on memory, I seem to recall England winning 8-0 at Wembley (vs Mexico?) and 9-3 against Scotland. Did Greaves bag any of those goals, I wonder? We certainly wouldn't achieve those scores these days!
Graham Mockford
36
Posted 08/06/2022 at 21:18:43
Ray,
Kane has scored
5 vs San Marino
4 vs Albania
4 vs Montenegro
3 vs Panama
Add to the fact a quarter of his goals are from the penalty spot.
He's a decent centre forward but the number of goals don't tell the whole story. He's well behind (imo) these in this order:
Charlton
Greaves
Hurst
Lineker
Rooney
Shearer
Owen
Ray Robinson
39
Posted 08/06/2022 at 22:04:23
Graham.
I'm old enough to have seen Greaves play. He was a poacher extraordinaire, without equal but Kane is a better all round player. It's not always possible to fairly compare players from different eras though.
Have a look at the goals Greaves scored. Also, quite often in batches. And in those days, the likes of Switzerland, Norway and Northern Ireland were the whipping boys, not San Marino.
Graham Mockford
40
Posted 08/06/2022 at 22:22:43
Ray,
All I would say is Greaves is the greatest British goalscorer ever. His record is without equal. It's always hard to compare across generations, as you say, but of course in this generation, there are two players with similar records: Ronaldo and Messi.
I wouldn't argue he's the best English player ever, he clearly wasn't. Just our best ever goalscorer.
Kane is a good player, no doubt. But if you could pick a top 10 current Premier League players list, I'm not sure he'd make it.
Ray Robinson
41
Posted 08/06/2022 at 22:28:58
Graeme,
I don't disagree with most of what you say. I guess all I'm saying is that we shouldn't downgrade Kane's achievement because he scored a lot of "cheap" international goals. So did Greaves!
Ian Bennett
42
Posted 08/06/2022 at 22:37:08
Greatest ever? Don't forget our goal machine, Dixie Dean. More senior goals, in 130 fewer games.
Greaves 389 goals in 579 senior appearences. 44 goals in 57.
Dixie 391 goals in 448 senior games. International record 18 in 16 games.
I am a huge Greaves fan BTW.
Dennis Stevens
43
Posted 08/06/2022 at 22:49:40
Aye, but could any of them compare to Robin Friday?!
---
Add Your Comments
In order to post a comment, you need to be logged in as a registered user of the site.
Or Sign up as a ToffeeWeb Member — it's free, takes just a few minutes and will allow you to post your comments on articles and Talking Points submissions across the site.