Don Hutchison
10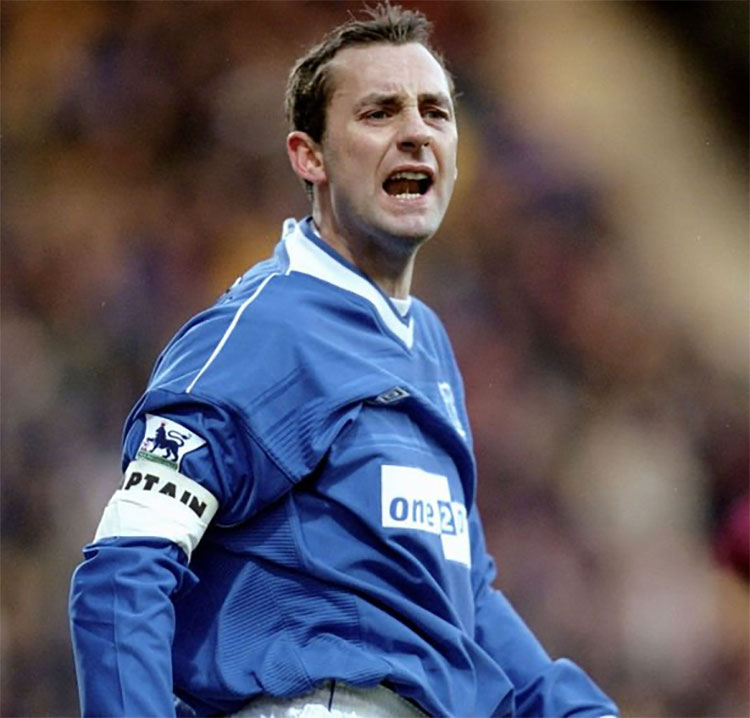 Howard Kendall showed great faith in a former player when he went back to his previous club, Sheffield United, to strengthen Everton's struggling midfield with Don Hutchison following the acrimonious departure of Gary Speed in February 1998. Though a former Liverpool player, the Gateshead-born midfielder would go on to become an important player for Everton under Kendall's successor, Walter Smith, but the club ended up losing him after just two years over a pay dispute.
Kendall originally bought the 26-year-old Geordie for the Blades from West Ham in January 1996, paying £1.2m for his services and went back to Bramall Lane for him during his third spell as Toffees boss to add cover to an injury-depleted squad. 
"I got on really well with Howard and Inchy so it is nice to be involved with them again. I still have got a few friends over the road at Liverpool but obviously I will not be able to talk to them anymore," Hutchison joked at the time.  "No, it's just good to be back. I am not sure what role Howard will want to use me in. Whether it's as a defensive midfield player or to try and get goals, it is not a problem." 
Hutchison had started his career with Hartlepool before moving on to Liverpool for £175,000 in 1990. He had a problematical four years at Anfield before Kendall took him to Sheffield. "Howard Kendall is probably the most influential person on my whole career because he took me to Sheffield United and then bought me again at Everton," Hutchison said later. "He just helped me with being relaxed.  I'll never forget the first time I signed for him.  He had a fridge in his office and he opened a can of lager for me.  We just hit it off and we were good friends.  Then I went to Everton, and, while a normal manager would shake your hand and say 'welcome', Howard gave me a cuddle and said 'it's nice to have you back'"
Evertonians took some time to be convinced, although Don at least put in the effort during the fraught final months of a dismal 1997-98 league season that almost ended in relegation.
Hutchison didn't really come good for Everton until Smith gave him a commanding role in midfield, and made him team captain when Dave Watson was absent.  Hutch showed himself as a solid defender and determined midfield general who held Everton together through the darkest days of another depressing winter at Goodison in 1998.  Hutchison's reward was an extended contract, and improving fortunes as Everton started to finally score some goals and win some games as the Spring of 1999 started to bloom.
However, speculation over his future surfaced in the autumn of 1999 with claims that he could go to Newcastle, followed by talk that he was angling for a move to Italy. The rumours rumbled on into the following year with Everton reportedly refusing to come close to Hutchison's demands for his salary to be increased to between £15,000 and £20,000 a week. Hutchison publicly labelled it "a disgrace" and was promptly stripped of the captaincy by Smith and dropped from the first-team squad.
Transfer deadline day passed without any movement on Hutchison's future so much as a glance at the telephone in such far flung places as Milan, Madrid, and Sunderland.  Rehabilitation back into the side came slowly almost a month later, when Hutchison replaced the suspended Mark Hughes at Leicester, and headed in an excellent equaliser that earned Everton a point.  For the remainder of the season he was gradually accepted back into the team, but the captain's armband stayed with John Collins.
Ultimately, though, Hutchison's Everton days were over by the end of that season as his request to have his salary raised closer to some of the team's top earners was denied and he was compelled to move elsewhere, a chance to move back to the North East to be closer to his ailing mother and join Sunderland proving more attractive than remaining at Goodison Park.
Many years later, in 2014, Don would give his side of the story in an article in The Journal:
I had joined Sunderland after Everton and saw Olivier Dacourt, Marco Materazzi and Kevin Campbell come into the squad on big money. I was being paid £6,000 a week and they were all on £25,000 or more. I knew I couldn't get to that level but I asked Walter Smith (then manager) to sort me out.

I remember sitting in El Choco restaurant in Pisa and Walter telling me to get a bottle of red wine and come for a chat. He promised to match Nick Barmby's wage, which was £16,000.

But when we got back to England, that had been forgotten. The offer was £8,500 from Everton and my agent Rachel Anderson called a halt to things.

I sought out Walter and asked what that was all about. He said he didn't have any recollection of our meeting but I told him he'd told me what other players were on, so I couldn't be making it up!

For the second time he pinned me up against a wall and told me I'd never play for Everton again. It was the day before we were due to play West Ham and I watched from home as Nick Barmby scored a hat-trick in a big win.

My days were numbered. Walter told me to go and train with the kids or train on my own, which I did for a month until there was a load of injuries and suspensions and I was back in the team against Leicester. I scored the equaliser with a header – one of my best moments – but I still left for Sunderland at the end of the year.
FactFile
| | |
| --- | --- |
| Squad number | 10 |
| Position | Central midfield |
| Nationality | English |
| Born | Gateshead |
| Date of birth | 9 May, 1971 |
| Height | 6' 2" |
| | |
| --- | --- |
| Joined | February 1998 |
| Joined from | Sheffield United |
| Signed under | Howard Kendall |
| Transfer fee | £1.1m |
| Left Everton | July 2000 for Sunderland (£2.5m) |
Previous Clubs
Hartlepool United
Liverpool
West Ham United
Sheffield United

---
Everton Career

| Season | Squad Number | League Apps (sub) | League Goals | Cup Apps (sub) | Cup Goals | Total Apps (sub) | Total Goals |
| --- | --- | --- | --- | --- | --- | --- | --- |
| 1997-98 | 10 | 11 (-) | 1 | - (-) | - | 11 (-) | 1 |
| 1998-99 | 10 | 29 (4) | 3 | 7 (1) | 1 | 36 (5) | 4 |
| 1999-00 | 10 | 28 (3) | 6 | 6 (-) | - | 34 (3) | 6 |
| | Totals | 68 (7) | 10 | 13 (1) | 1 | 81 (8) | 11 |
Previous Career
| | | | |
| --- | --- | --- | --- |
| Seasons | Club | Appearances | Goals |
| 1987-1990  | Hartlepool United | 19 (5) + 4 (1) | 2 + 0 |
| 1990-1994 | Liverpool | 33 (12) + 11 (4) | 7 + 3 |
| 1994-1996 | West Ham United | 30 (5) + 3 (1) | 11 + 2 |
| 1996-1998 | Sheffield United  | 71 (9) + 8 (2) | 5 + 1 |