FA Cup Trivia
Unequaled Records They may not have won this coveted trophy the most times, but:

Everton have won more FA Cup matches than any other club.
Everton have played in: more quarter-final ties than any other club.
Everton have progressed through FA Cup rounds more than any other club,
On the one hand, Everton can claim to be the most consistent FA Cup fighting team ever...
On the other hand, Everton hold the unenviable distinction of losing most FA Cup Finals: seven.
Early Disqualification Everton were late-comers to the FA Cup, not entering until its 15th season. Everton were disqualified in their first two years in the FA Cup competition:
In 1887 they were disqualified before the their first FA Cup tie against Glasgow Rangers when playing at Anfield, for attempting to field ineligible players.
In 1888 they were disqualified for fielding ineligible players.
They did not qualify for the 1889 season.
Hold Back the Crowd In 1923, the famous first FA Cup final at Wembley stadium attracted a crowd so large it encroached up to the touchlines and invoked the heroic actions of the famous mounted policeman with his white horse. Thirty years earlier, the 1893 FA Cup final suffered a worst fate, turning to virtual farce. Everton played Wolverhampton Wanderers at Fallowfield athletics ground in Manchester. The crowd encroached upon the pitch impeding play so much that Everton, beaten 0-1, unsuccessfully demanded a replay.
Goodison Park has hosted one FA Cup final and one replay:
The final was held at Goodison Park in 1894 between Notts County and Bolton Wanderers.
The replay was between Newcastle United and Barnsley in 1910.
Although Goodison Park was the best football ground in the country, the FA decided the hold the finals in London from 1895 onwards, with replays being staged elsewhere. The reasons were that they could administer the final arrangements properly after the 1893 farce, and that the final should not be played on a league ground but on neutral territory. The inadequate Crystal Palace exhibition ground was chosen.
Goodison Park was the first league ground to host an FA Cup final in 1894. The Racecourse Ground, present home of Derbyshire Cricket Club, former home of Derby County, did hold a replay in 1886.
Win Some Lose Some Everton were the first club to win an FA Cup final, return the following year to the final and unsuccessfully defend the trophy:
| | | |
| --- | --- | --- |
| 1906 | Newcastle United | 1-0 |
| 1907 | Sheffield Wednesday | 1-2 |
Big Scores Second division Crystal Palace beat Everton at Goodison Park in an FA Cup tie 6-0, in 1922. In 1931, in another FA Cup tie, Everton returned the complement and beat Palace 6-0 at Selhurst Park.
Number Nine The first match that numbers were worn by players for identification was in the 1933 FA Cup final.
Everton were allocated 1-11 and Manchester City 12-22, goalkeepers also wore numbers. William (Dixie) Dean was the first player ever to wear number nine. Everton won 3-0 wearing an away strip of white shirts.
Two-legged Cup-Ties? There was one season — just after World War II — when cup-ties through to the 6th round were played over two legs. Everton were drawn at Preston in the 3rd Round; they lost the first leg 2:1 at Deepdale and after 90 minutes the second leg was 1:0 to Everton, meaning extra time. Everton and Preston scored one goal apiece in the first 5 minutes of extra time and after the full 30 minutes the score was still Everton 2 Preston 1, or 3:3 on aggregate. So they played on to the death , with the side scoring the next goal (now known as the Golden Goal) going through to the 4th Round. And so, after 7 mins of extra time — the 217th minute of the tie — the Everton full back and captain, Norman Greenhalgh, fisted a shot from Preston's Livesey off the line with the Everton keeper well beaten. A penalty was awarded to Preston and duly converted by.... one William Shankly!
Young Kendall Former Everton player and manager Howard Kendall, at the age of seventeen, playing for second division Preston North End, was the youngest player up to that date, 1964, to play in an FA Cup final. West Ham United won 3-2 after trailing 2-1.
1966 and all that Mike Trebilcock was the first black player to score in an FA Cup final, scoring two goals for Everton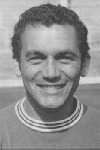 in the 3-2 defeat of Sheffield Wednesday in 1966. This turned out to be the first final where the losing team also acknowledged the crowd with a lap of honour. Sheffield Wednesday were leading 2-0 midway through the second half, eventually losing 3-2 to an Everton onslaught.
Thin Blue Line The second Everton goal that day was celebrated in a new way by Everton fanatic, Eddie Cavanagh. He could not contain his delight at Mike Trebilcock's second, equalizing goal. He staged a unique one-man pitch invasion, under hot pursuit by a squad of London's best bobbies. After losing his jacket to one pursuer, he was finally felled by an excellent rugby tackle in front of Gordon West's goal. Westie pleaded for leniency, but four rossers grabbed poor Eddie, one to each arm and leg, and carried him squirming spread-eagled from the ground. Poor Kenneth Wolstenholme, the BBC commentator, was torn between deploring the act, and providing action commentary!
The TV Derby Over 100,000 people watched the 1967 fifth round FA Cup tie between Everton and Liverpool. Over
65,000 watched the match live at Goodison Park and over 40,000 watched on eight giant video TV projection screens erected on the pitch at Anfield. Everton won the match 1-0 with a goal from Alan Ball. The match had the added spice in that Everton manager, Harry Catterick, beat his Liverpool counterpart, Bill Shankly, to sign Howard Kendall from Preston North End the previous day.
Finally in Colour The 1968 Cup final between Everton and West Bromwich Albion was the first final to be televised live in colour. Both teams wore away strips, with Everton rising to the colourful occasion by wearing bright amber shirts and blue shorts, aping Brazil. West Bromwich Albion disappointingly turned out in white shirts and shorts with red socks, but they had thr rub of the green on their side as Jimmy Husband missed a sitter for Everton, while Jeff Astle won the cup for WBA with a goal in extra time.
The first substitute to be used in an FA Cup final was Denis Clarke for West Bromwich Albion in the 1968 final against Everton.
Young Gun Eventual Everton player, Norman Whiteside, was the youngest player to score in an FA Cup final at 17 years 265 days. Unfortunately the goal he scored was the winner for Manchester United in extra time against Everton in 1985.
Early Bath - 1 The first player to be sent off in an FA Cup final was Manchester United's Kevin Moran against Everton in 1985. If Moran hadn't upended Peter Reid on an Everton breakaway, Everton would have had three players bearing down on goal with only the goalkeeper to beat.
Early Bath - 2 The quickest sending-off of a player in the FA Cup was at Goodison Park on 5th January 1997. The unfortunate player was the Swindon Town defender Ian Culverhouse, who was dismissed after just 52 seconds for handling the ball on the goal-line from an Andrei Kanchelskis shot. After Culverhouse was dismissed for this Red-Card offence, Kanchelskis scored from the resulting penalty, and Everton won the tie 3-0, with Swindon Town eventually being down to 9 men.
Super Subs Everton player Stuart McCall, in 1989 was the first player ever in an FA Cup final to come on as a substitute and score two goals. Ian Rush, an Everton supporter as a boy, equalled the record in the same match. Everton lost to Liverpool 2-3 after extra time.
Derby Days Everton have played Liverpool in more FA Cup ties than any other club. They have met in 15 FA Cup ties with a total of 20 matches. The clubs have met in 4 semi-finals and 2 finals. The total figures for Everton are:

| | | | | |
| --- | --- | --- | --- | --- |
| Won | Drawn | Lost | Goals For | Goals Against |
| 6 | 5 | 9 | 24 | 34 |
Best Cup Derby Ever The highest scoring FA Cup match between the two clubs is 4-4 in a 5th-round replay (after extra time) in 1991. This match had the added distinction of triggering the highly successful Liverpool manager Kenny Dalglish to resign immediately afterwards.
Royal Blue Jerseys In the eight FA Cup finals played at Wembley stadium Everton have played in their royal blue shirts on six occasions.

| | | |
| --- | --- | --- |
| 1933 | Manchester City: | White shirts - Black shorts |
| 1966 | Sheffield Wednesday: | Blue shirts - White shorts |
| 1968 | West Bromwich Albion: | Amber shirts - Blue shorts |
| 1984 | Watford: | Blue shirts - White shorts |
| 1985 | Manchester United: | Blue shirts - Blue shorts |
| 1986 | Liverpool: | Blue shirts - White shorts |
| 1989 | Liverpool: | Blue shirts - White shorts |
| 1995 | Manchester United: | Blue shirts - White shorts |

Based on information provided by John Burns