View from the Blue
Columnist: Lyndon Lloyd

A nasty bite from reality
13 May 2005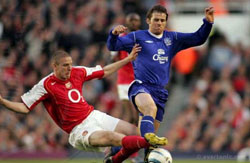 image © evertonfc.com
In a more competitive environment, it might have been the meeting of the irresistable force and the immovable object. Instead, in the context of an effectively meaningless end-of-season fixture, this was no such titanic collision between 2nd and 4th in the Premiership. Arsenal put on a performance of such breath-taking effectiveness and style that makes it hard to fathom how a decidedly average Liverpool and not they are competing in the Champions League final later this month.
After securing qualification for next season's Champions League themselves, Everton, who have stubbornly resisted the superiority of other teams in the Premiership this season, came to Highbury in relaxed mood but left with the humiliation of their manager and that of the loyal fans who still traveled to an inconsequential midweek away game hanging over their heads as they were steamrollered 7-0. Like an ugly scar on otherwise perfect skin, this is a result that we will try and ignore but we'll always know it's there — an unnecessary blemish on a magnificent season.
By the same token, however, it was just a defeat — albeit a highly embarrassing one in a week when Evertonians were doing their utmost to defend our team's proud achievements this season against jealous hacks who had the nerve to suggest that our presence in Europe's elite next season will some be an embarrassment to English football. It may have wiped out our goal difference and given ammunition to Liverpool fans who are clinging to the hope of beating AC Milan on May 25th so that they might join their rejuvenated neighbours in the Champions League in August, but it should be seen for what it is: a freak performance by an awesome attacking team preparing for an FA Cup Final date against a side playing for not much at all.
Silver linings from Wednesday night are few, but they do exist.
Firstly, that the performance of a few individuals among the Everton ranks may force David Moyes to re-think his cautious rhetoric regarding the coming summer's team-building opportunity. Arsenal's display should come as a warning of the kind of teams the Blues may face should they progress into the group stages of the Champions League, where the real money lies. It is clear that the players who were so effective in a stifling 4-5-1 formation — the Lee Carsleys, David Weirs, Alan Stubbs, Alessandro Pistones and Kevin Kilbanes of this world — will be no match for the free-flowing football epitomised by the likes of Real Madrid, Barcelona, et al.
That is not to denigrate in any way what these players have achieved for Everton this season. To a man they have been fantastic and it is through their efforts that we have attained the unthinkable. But the cold, hard reality is that next season we will be in the company of far greater teams and far loftier ambitions and we will need the personnel to satisfy those demands.
Secondly, that it was Arsenal who meted out our worst result for half a century and not a team as abhorrent as Liverpool's red horde, Manchester United's arrogant rabble or the spoilt brats of Chelsea. At times I've hated Arsenal and others I've merely disliked them, probably because of their "boring, boring Arsenal" days, because they play in red, and because they have been massively successful in an era which has been so painful for we Evertonians.
Gradually, however, that disdain has turned to admiration at what Arsenal are achieving under Arsene Wenger's tenure and where they are going, both on the pitch and off it. You look at Arsenal and you see a club that appears to be doing everything right: they play wonderul, enterprising football; they have invested wisely and, in comparison with their rivals, modestly in a team with jaw-dropping talent that has been bolstered by some magnificent young talent in the past year; and next year they will move into a superb new stadium that will, on the basis of the plans, be the envy of every club in the country.
Once a club with which you would never associate the word class, Arsenal have become an admirable club that oozes style, from the modus operandi of their manager right down to the attractive simplicity of the burgundy Highbury Commemorative strip they will wear in the 2005/06 season for their last season at their old ground. The team with which we share the top flight membership record — the Gunners boast the longest unbroken spell in the top division, the Toffees the most total seasons — provide plenty to which to aspire for a resurgent Everton and their ambitious young manager.
Vive la Revolution
Lyndon Lloyd
Reader Responses:
©2005 ToffeeWeb