Fans Comment
Martin Wallace
Burstin'
18.07.05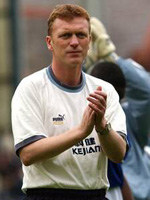 IMWT
Now I must admit, I'm not a trained fireman, but I'm afraid I'm gonna have to piss on a bonfire. It's a little one, (the bonfire, I mean,) but it needs pissing on sooner rather than later.
A glance at any Everton news feed over the last couple of weeks reveals a glut of stories with phrases such as 'fail to land', so and so 'snubs' and the unequivocal 'Who Is To Blame For Everton's Transfer Failings?'
There were also calls for Directors of Football at Goodison and, of course, plenty of flack for Moyes concerning his supposedly woeful abilities within the transfer market.
The sad part about this was that Evertonians supplied a fair old proportion of such 'fuel' for the impending pyre of misguided frustration.
Yes, the Arteta deal being stretched out to what almost seemed like breaking point was a bit unnerving, but it would have been daft to set ourselves up as a club who could so easily be held to ransom. As for all the players we've 'missed out on', who cares ?
Do we want players who don't want us ?
Of course it's frustrating to see Sissoko 'snatched from under our noses' but it's obvious he didn't want to come here and instead prefers the 'certainties' of being under his old manager, not to mention being cosy amongst the Champions League holders.
But it will be a long time before Everton have the pulling power of Liverpool. Nor does our city attract the flash Europeans the way the prospect of living in sexy London assists clubs like Spurs.
We need players who are smart enough to realise what being at Everton can offer them - a chance to shine as part of a team who are in the ascendency. The transfer market is about recruiting the RIGHT players for your team. It's not Monopoly and we have to be patient.
Everton's success last season has made us a target for this years' campaign. These negative transfer stories are a taste of what's to come. Everybody's waiting for us to slip up and then they can smugly write us off for another decade. Let's be sensible and not help them in this. Anyone else fancy a slash?
Martin Wallace
Responses:
"Fans Comment" articles are submitted by outside contributors to ToffeeWeb. The views contained therein may not correspond with those of the site owners. Editorial policy
©2005 ToffeeWeb