Fans Comment
Ian Macdonald
Ticketing — Yet Again!
14 September 2005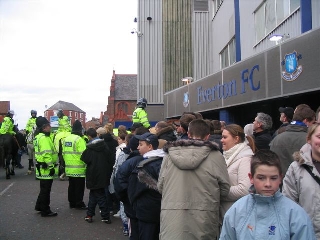 Ticket Madness: police called in to control
Everton fans queuing for tickets ahead of the
Man Utd FA Cup tie in March 2005

For years now, the subject of selling cup tickets has riled and exasperated many Blues. We can point to a number of occasions in recent years: The Orient, Boro, Preston, Man Utd cup fiascos — add to that ticketing and entrance problems for the local derbies. I warn you, this analysis is fairly long — but so have been our ticketing frustrations as well. Below is our latest experiences and recommendations for positive change.
Ticketing has become a lot worse this season with our first venture into Europe for years. Tickets for the home tie against Villarreal could have been printed weeks earlier, sold to season ticket holders in an orderly fashion with a ticket on it, the alternate dates, and opponent "to be announced later". Instead, we had hours of queuing by panic-stricken fans being allowed to buy six tickets at a time given to anyone, with no preference to season-ticket holders — who, weeks before, had paid out a substantial chunk of their yearly income on the implicit understanding that they would receive priority for such games
For the away leg, the club had a whole summer to sort out ticketing polices, we could even have asked European veteran clubs for guidance. But for a week, Everton held back the away tickets for this game to discuss how to sell them… why? A week lost means that travel deals get more expensive, it drove thousands to get their own tickets in the home end at great cost but delight to enterprising ticket sellers. There could have been trouble with the locals but thankfully there was not.
Did Everton ask for more tickets than the paltry 1600 at a stadium that turned out to be not even filled on the night by the locals? And it was never going to be filled, I was told by Villarreal fans, because of the price hike in a town of just 40,000 for a ground holding 21,000. After waiting and then losing faith in our ticketing arrangements, many of the hardcore fans got tickets in Spain.
The Club then from switched from requiring twenty vouchers or lounge membership (later on) with no Shareholder preference, they went on general sale — creating further unnecessary ill-feeling towards our club because we have not implemented a fairer ticketing scheme. Why is there not a system in place were a series of away tickets are sold on a rigid? The club card loyalty system is used by many of the big clubs and it needs to be brought in to Everton as soon as possible — just a swipe of a card is all it takes, or a phone call: no long queues. All the information is at hand and a gold mine for a customer database to boot. Some of the money invested in the corporate lounges that caused so much ill feeling should have been spent on this kind of service .
But until modern technology at that level in this department comes to Goodison lets implement the following:
If we get 1500 tickets (the lowest offered by most club unless improvement works are underway), then at least 950 would go to the voucher system for the loyal fan, 300 to supporters clubs, the rest sold to lounge members and shareholders with at least 4 away stubs on a first-come, first-served basis.
With 3000 tickets (the norm at most Premier grounds), 1800 to the voucher system, 500 to supporters clubs, and the rest to lounge members and Shareholders with at least two away stubs.
In the voucher system, away stubs of tickets for previous games are kept glued to a sheet and used for buying away tickets at the box office. If you have 20 away tickets stubs on this card, you normally get first chance to buy a ticket for a forthcoming away game. As the days go by on selling these away tickets, the amount of stubs required drops progressively.
But you see the above is only for the really big games, Football fans on Merseyside are finding it very expensive to follow their team away now. We never filled the allocation for our first away game at Bolton, despite it being very close geographically — the first time this has happened in my experience of following Everton for many years. I was told that, with early booking and low-cost air travel, it will be cheaper to see Real Madrid or Barcelona with a night's stay than it will be to watch Chelsea away this season! So you could go and see Tommy Gravesn rather than pay the extortionate Chelsea fare. I believe many are already talking about boycotting this game .
Why do I come down so greatly on the travelling fan with the voucher system? Two reasons One is that many of these fans live week to week and support the team everywhere they can, no matter what the team's current form is. The other reason is that, if you didn't follow Everton to away games, you would have enough money saved up to buy into one of the lower cost lounges and be guaranteed a ticket for anywhere. But would we want no support away from home? Two years ago, a document about ticketing by a working party from the Shareholders Association with recommendations was handed in to the Club with these kinds of ideas in it. Six weeks went by waiting for a reply but no positive changes were taken out of it.
Communication as to why there were delays in announcement of sales of tickets with Villarreal and Dinamo Bucharest. Was it Uefa being involved with ground concerns and protocol restrictions? No news is not good news to a eagerly awaiting fan wanting to book travel to support our team. Just inform us; most of us are adults. Time is precious with travel bookings, especially for a low-income fan; waiting until just a week before games to sell tickets is not financially friendly to any fan. Time delays force fans into buying tickets themselves in home ends.
The club must remember that most fans are not on the internet and have to rely on the beat of the drums lately with short-notice European sales. Information needs to go out on the local radio and in the papers as soon as possible. A refusal to address the inadequacies of selling tickets with an outdated system hurts the club's own front line staff and greatly inconveniences the fans.
Why is there still no ticket office with an on-line computer in Liverpool City Centre — after years of asking? Customers like to shop at convenience and town may be more acceptable to many fans rather than trecking out to Walton. Many tickets may be sold on a whim for Johnny's birthday instead of a gift voucher etc for low grade home games .
Why not use the Echo back inside page (free of charge I believe), for ticket announcements on a regular basis for league and cup games— as the Reds do? Why was the selling of Dinamo away tickets not allowed last Saturday when it would have been more convenient to out-of-town fans, especially with the short notice of sale? Postal applications with season tickets passports etc are a bit extreme don't you think?
Why are we going to a hotel in Bucharest to pick up the real match ticket as we only have a voucher up to now? I'm sure there is a valid reason but please just inform us.
There was a handy print out for the Bucharest trip on tips when there by the box office, which is quite good but lost to many as the ill feeling pent up trying to secure the away ticket get held up on hard line technicalities.
Why was the ticket voucher stopped at 12 o'clock on Tuesday when there are tickets left? Surely last thing Wednesday would have done as these vouchers must be going over with staff to meet fans in a hotel in Bucharest. A list already complied would just be added too. Hopefully, if we get through this tie, the list can be used in a positive way for future games to save time.

This is a letter I sent to Bill Kenwright ( Chairman )Keith Wyness ( CEO) David Harrison ( secretary) and Maxine Brown (Box Office manageress) early on Monday morning after days of frustration and hardship for our fan:

Dear All,

On behalf of our group of supporters, can you afford me a valid explanation, and reason, as to why our group-booking list, with the same criteria as others, was not acceptable for the Bucharest game?

The Croxteth Blues, Mark Denny's party and other groups did exactly as our group did, without unnecessary hassle. It's particularly maddening that these groups are using the same holding travel company!

It has caused a lot of grievance, hardship and confrontation for our
supporters at the box office when there was clearly no need.

Late on Tuesday night I was informed that tickets for the Bucharest game went on sale the following morning. I rang the travel firm and they emailed me the necessary criteria for bookings. The next morning I then gave some supporters individual booking slips - those who I knew were arriving early to queue and a concise list for others going later in the week with the asked for criteria.

This was as much as anyone could do at short notice for a large party.

It's only a month into the season and yet again there is chaos and ill
feeling over ticketing - when will this stop? Our fans don't need the
frustration and I'm sure the staff at the windows of the box office doesn't need these confrontations.

I have genuine sympathy for those at the coalface directly dealing with the fans at the box office.

We should be treated as valued customers; attendances are on the decline at 80% of Premier league grounds, more reason then that our customers be treated with the respect they deserve.

We are not Manchester United, where a disgruntled fan shuffles off only to be replaced by another.

You are driving good loyal fans away and that is a crime to present and
future generations of supporters.

The bad atmosphere towards the club is mushrooming as more and more fans become disgruntled. I can't believe you want it this way.

Communication is poor, particularly in reference to ticketing, giving little or no information as to why delays in ticket sales etc.
You honestly make a rod for your own back.

I am in constant touch with most supporters' groups and they are of the same ilk, losing patience with the club.

It saddens me that this has become a continuing criticism of the club – year in year out - with ticketing and there is no need at all in this present age.
We can only come to the conclusion that this facet of the club does not
care, or will not learn and is, to put it mildly, not up to the job.

Yours sincerely,

Ian Macdonald Independent Blues

PS Emma - can you make sure Bill gets this message as I would not like him to walk into a hornet's nest, not knowing why our fans are feeling so frustrated. It's not directly his fault.
As yet, I have received no reply from the club; hands up who is surprised by that? Only Bill's secretary rang to ask what it was about — and yet again Bill is unaware of a problem at Goodison.
With the above letter, I suppose more pettiness will come my way but I'm only saying what most fans think about ticket selling arrangements amongst other negatives. I am the messenger or soft one taking the flack. It has to stop as soon as possible. By publishing our experiences and recommendations, I hope this problem may be resolved at last.
For every good story emanating from Goodison there are at least eight bad ones. I don't care what they do against me anymore with the stopping of me talking with the local media etc. Believe me, Pravda is alive and well at Goodison. What I do care about, and many others are of the same ilk, is the ever growing refusal to listen and learn. Queuing for hours at a time only to be turned away on bizarre hardline rules is no fun for any customer.
When you go to an airport with a block booking for your family, would the staff at the check in turn you away because you didn't make individual bookings? Would they hell; they would try and treat you as a family and more importantly a customer. Fourteen times I had to go home from work and send individual confirmations on travel details when common sense should have prevailed and the compiled list we provided at very short notice adhered too.
I heard of fans arguing in the rain last Thursday after seeing their name on a list and being turned away. The criteria asked for European travel is your passport, season ticket and letter of confirmation of travel and accommodation —which is fair enough for security but as one fan said "it's easier to get a mortgage than an away European ticket "
Liverpool do this without any of this fuss. True, the reds have more years of experience than us but why was there not a European travel club card set up in the summer? We knew we would have at least two games in Europe unless unfairly displaced by the reds with the four teams from our country argument. It really is the crystal maze at times. One fan's dad paid for four season tickets but, because they were all in his name, that was not acceptable for the rest of his family. Yet, after much arguing it was relented! The police had to intervene on several occasions. How sad is this getting with ticket sales?
Surely it's better for Everton that we travel in organised parties — or are they trying to channel us into their more expensive official travel? An Everton fan working for Ford asked me "Would Ford treat a customer like this? If they did, the customer would buy another make and soon we would all be out of jobs." But there's the rub: where do we go after years of lack of customer care? It is a sad case of emotional blackmail until common sense (which is very limited when it comes to a football fan and his love for a club) kicks in and you walk away. Insulting your intelligence once too often can make a fan leave their second home. And once the fan finds something to do instead on a match day, it's hard to get them back. Remember the cost of going to a match these days compares with a short flight and a stay in a hotel.
Why do Everton seem to want yet more confrontation? Do they care about their own staff at the front office — never mind the fans? The box office girls and boys must be at their wits end and wondering themselves if it is really worth all the hassle at times.
But draw your own conclusion and let's hope this article taken in for the constructive view intended and does not fall on deaf ears. Some of the above may seem hard but it's been hard on loyal away followers for a long time now. An ever-increasing number of our loyalist fans are fed up of the atmosphere towards our club off the field, it really needn't be like this. Let's stop it now, and then — and only then — will we be considered 'The People's Club'.
There is a sting in the tail of the Dinamo tickets, hopefully I'm wrong but we'll see...
I hope Keith is listening — it's not too late to make things better. It takes a big man to admit things have been wrong.
Ian Macdonald
"Fans Comment" articles are submitted by outside contributors to ToffeeWeb and are edited to meet our publishing standards. The views contained therein may not correspond with those of the site owners. Editorial policy
©2005 ToffeeWeb