View from the Blue
Columnist: Lyndon Lloyd
Falling Short
1 September, 2005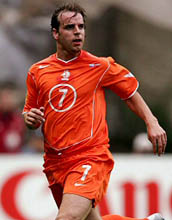 Andy van der Meyde: Carrying the hopes of the Goodison faithful
Cast your mind back to the 8th of May. It was the day that Everton's place in the Champions League qualifiers was guaranteed by Liverpool's defeat at Highbury, a result that meant that the Blues would finish fourth in the Premiership. It was the realisation of our wildest dreams we dared imagine in a season which most people thought would see our 51-year tenure in the top flight come to an end. The sky — or Cloud Nine at the very least — was the limit.
With unprecedented television revenue flowing in from Sky, millions of pounds in prize money and the second tranch of Manchester United's £20m payment for Wayne Rooney, the club was set up to finally make the leap from perennial bottom-feeders back to "big five" status with a well-targeted summer spending spree to match our lofty ambitions. Optimism was high that we could surprise a few people and make it to the group stages of Europe's richest tournament and cement ourselves in the top five or six in the Premiership.
Five games into the new season and with Champions League a fading memory and the transfer window shut firm until 1st January, how all that optimism is unraveling. The deadline for new player registrations before the CL Third Qualifying Round came and went on 4th August with just Phil Neville to show for David Moyes's transfer strategy. And as was made painfully evident in both legs against Villarreal, we paid for our lack of cutting edge with elimination at the first hurdle and it was the same story against Manchester United. We more than matched two excellent teams for large periods but a glaring lack of quality in the final third made it impossible for us to capitalise.
It was later revealed that Everton had extended an offer to bring Michael Owen back to England and the club he supported as a boy and also come up short with a £10m bid for Dirk Kuyt when Feyenoord wanted £12m. Those two highly — some would say overly — ambitious moves seemed to signal that Everton really were aiming high and that the manager had his sights set on bringing in a top-class forward and solve the position in his squad that was unquestionably the weakest link.
So, having seen yesterday's transfer deadline pass without a single striker being signed just leaves one incredulous that our hopes of emulating last season's heroics still lie with the same toothless strikeforce that has so failed to score the goals our performances have mostly deserved.
Let me get this out the way now and say quite categorically that I think in every other area of the pitch, David Moyes has assembled a very good squad with some astute signings that easily make this the best collection of players Everton have had in many, many years. People rightly point to the eight new players the manager has signed this summer — when was the last time we signed that many players in three months? — as clear evidence that bit by bit, Moyes is transforming the team into a force to be reckoned with. Kroldrup, Ferrari, Valente, Arteta, Davies, Neville... all appear to have been excellent signings.
Which is why it is mystifying why the manager didn't move heaven and earth to add the one key ingredient, the one that I and many Blues would have the been the catalyst for another remarkable season, and now can't address until January at the earliest.
The arguments over who the club were haggling over and desperately trying to lure to Goodison in the final couple of days before yesterday's transfer deadline are immaterial, really. Robbie Keane may have signed had Tottenham managed to land a striker of their own, and David Nugent may have joined if we'd offered Preston enough money, but none of that matters; we should have signed a striker weeks ago, and while Moyes did appear to try with bids for Baros, Bellamy, Owen, Kuyt, etc (and, no doubt, a host of others we never heard about), that is scant consolation now for the fans who now face four months frustratedly hoping the same forward line will suddenly start delivering goals where it has singularly failed up to now.
Marcus Bent, for all his effort, determination and commitment to the cause is simply not a 20-goals-a-season man and his record proves this. But even he has been openly displaying frustration with the poor service from midfield recently.
James Beattie has proved in the past that he is a 20-goals-a-season but that was playing alongside the creativity and pace of Marian Pahars, not strangled by a 4-1-4-1 formation that hasn't worked consistently since Boxing Day last year because opposition teams have learned to pack the middle of the park and put men behind the ball to keep us out. I truly believe that Beattie will score goals for Everton if — and it's a big "if" at the moment — he could stay fit for more than two weeks and Moyes stops deploying him as a lone striker. There is hardly anything about his game that remotely suits that system and while it was understandable playing him that way last season when we had precious few resources, the close season was supposed to see that issue resolved.
James McFadden, for all his success in the Scottish Premier League and at international level, has shown precious little evidence that he will ever cut it in the English Premiership — he might stand a fighting chance if played in his preferred role as striker but he lacks pace and physical presence — and Duncan Ferguson is essentially a spent force, retained at the end of the season to make up the numbers but by no means the answer week in, week out.
That leaves James Vaughan who, not being as mature in either a physical or footballing sense as Wayne Rooney, shouldn't be asked to bear the hopes of the Goodison on his young shoulders. If we had drafted in the prolific goalscorer we so badly needed this summer, the lad coujld be farmed out on loan to eanr valuble first-team experience or given an extended run in the reserves. And yet if his finishing is anything like his record at youth lecvel suggests, he is probably the best partner for Beattie even at the age of 17.
But cast an eye over that selection of strikers and it makes a mockery of our ambition to again finish in the top four or higher. One goal from three Premiership matches and just three from the opening five games in all competitions speaks for itself. And if the injury problems of Beattie and Bent — who I believe should be the first-choice partnership in a 4-4-2 formation —continue to coincide that goals to game ratio is not going to improve, especially as so far, the goals are not coming from midfield as they were last season.
The one glimmer of hope in all of this is deadline-day frustration is Andy van der Meyde, the winger who was the last man to arrive through the gates of Goodison after a nail-bitingly protracted medical that appeared to centre around his injured groin but, according to quotes in The S*n today, was actually down to concerns over his liver, of all things.
The Dutchman won't be available for selection for three weeks at least but when he is, he could provide the spark of creativity that the Blues so desperately lack. In the same way that Andrei Kanchelskis and his 16 goals took a journeymen team to away wins at Liverpool aand Arsenal and to within 6 minutes of UEFA Cup qualification, there is always the hope that Van der Meyde can act as the catalyst that brings the team to life in the final third of the field.
Hoping that he will remain consistently fit, become the attacking lifeblood of the team and supply goals where at the moment there are hardly any is asking a little much of the most patient fans in the country but that is pretty much what it has come down to.
Moyes is no doubt hoping that he can once again hold out to the next transfer window by wringing the most he can from the players he has assembled beneath him but many fans believe that he has wasted five games already by dithering over a striker and that we could struggle our way through the first half of the season until the transfer window opens again in January. But, as we saw last January, there is no guarantee that we'll find the answer to our striking woes then either. Then, Moyes complained that there we hardly any players available because clubs didn't want to sell half-way through the season. The situation will be no different next time. Keane may be four months closer to the end of his Tottenham contract and, therefore, more affordable but will our hopes of a top-six finish have taken a beating by then?
This all may sound overly negative and I fully admit that I'm being ruled by anger, frustration and bitter disappointment, but all I want is the manager of Everton Football Club to assemble the best team possible — and unless the Owen/Kuyt overtures were another pathetic ruse like the Alan Smith farce of last year, the funds were clearly there to do that this summer. When our peers like Newcastle and Tottenham are making bold and ambitious moves in the transfer market and putting bums on seats as a result, is it too much to ask for Everton to do the same; for us to go to somewhere like Highbury and not go in with the same game-plan as might Sunderland or another relegation-threatened club to pull eleven men behind the ball and pray we don't concede a goal; to address the one area of the team that could have made every signing made this summer that little bit more effective?
Moyes started his reign at Goodison as an ambitious, dynamic and raw talent who went out to win every game and, unlike his precedessor, wasn't afraid to throw caution to the wind and make attacking substitutions to win or salvage games. Somewhere along the line, with a five-man midfield system that was born of necessity but was eventually ditched in April because it had clearly been sussed, the manager has been overtaken by a negative and overly cautious streak that has extended into his transfer dealings.
While desperately trying not to disrupt the team unity that he has helped foster over the last 12 months he has effectively wasted three months in which to make the one signing that could be the difference between the top six and mid-table medicority in what appears to be a frighteningly competitive league this season. Let's hope the long-suffering fans who have been given a taste of what might-have-been with our brief flirtation with the Champions League don't find themselves gritting their teeth through 15 more games like last week's defeat of Fulham because the wheels are clearly wobbling on the "In Moyes We Trust" bandwagon.
Lyndon Lloyd

©2005 ToffeeWeb