Match Summary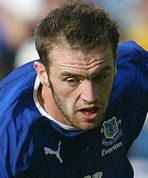 James McFadden: Worth playing in his natural position for once and at least giving Arsenal a game?

After the Dinamo debacle, what could be more daunting than our last-ever visit to Highbury? David Moyes made some changes, as promised, dropping Valente and Davies while bringing in Matteo Ferrari for his Everton debut, and welcoming Mikel Arteta back in a starting position, while retaining Osman. Kilbane and Ferguson on the bench.
Arteta got mashed by Fabregas inside the first minute and the Arsenal player was rightly shown a yellow card as Arteta writhed.
McFadden and Bent combined well and Bent took a good early shot to show at least some attacking intent, despite Moyes's adherence to 4-1-4-1, but at the other end, Pires easily evades Hibbert with worrying ease, leading to a couple of corners for the Gunners.
For once, a great turn of pace saw McFadden clear three defenders and cross well... but ahead of both Bent and Cahill. But a dubious free kick cruelly awarded against McFadden at the other end saw Campbell rise well with Martyn coming late. 1-0 to The Arsenal. To illustrate the contrast, a similar Everton free-kick minutes later was horribly overhit by Arteta, straight into Lehmann's grasp.
Everton were trying to play improved football, with more controlled passing through midfield, but a sweeping Arsenal move followed Neville over-committing in the middle of the park and Reyes hammered his shot past Martyn but onto the outside of the post. Pires went off with a damaged thigh, thanks to a clash with Neville, Hleb coming on in his place.
Another free kick, given away in the left this time, and Campbell once again rose to head down well beyond Martyn, who this time stayed on his line. 2-0. Everton's response was largely physical, both Arteta and Ferrari stepping close to the line with referee Riley. But it was Cahill who went into the book for barging into the back of Ljungberg. Campbell was not far off his hat-trick on the far post from the resulting free kick.
More nervy moments in the Everton defence led to another ugly block by Cahill, and another dangerous free-kick but Toure headed wide. Everton were trying, but each time possession conceded, Arsenal seemed that bit stronger, more skillful, and more hungry. No real surprise there. Neville finally got booked, to much Cockney delight, as Everton tried in vain to get their foot on the ball.
Everton's first shot on target came after 56 mins, when Bent cut inside and fired lamely at Lehmann's midriff. It was a pity because the Everton players were clearly obeying instructions to play the ball on the ground and move it forward with pace. But Arsenal were so quick and so eager, there was often simply no space and no time for the Everton platyers to pass to each other and they lost possession almost as quickly as with the dreaded lofted hoof-ball that too often defines their Route One style,
Cahill was finally give a bit of a rest when Ferguson tellingly came on for the last 25 mins.... so; how many hoof-balls? Well... not that many; they continued to pass at the back and push into midfield, only to inevitably lose possession. And deep defending meant that working it forward with patience was almost guaranteed to fail through intervention or lack of support.
Another Arsenal free-kick; Martyn parried, Ljungberg smacked it into the bar as fair warning how close Everton were to another mauling; meanwhile Arteta got his last warning from Wiley.
More changes from Moyes in the last 10 minutes but it proved too hard to really change the flow of the game, which Arsenal had controlled with comfort to get their campaign back on track. Davies appeared and had a couple of nice touches, including a rather hopeful long-distance lob.
Despite the somewhat inevitable scoreline, Everton deserve some credit for their second-half display, where they failed to be intimidated by a far better Arsenal side, and kept plugging away, using a much improved gameplan from David Moyes. But sadly no real result to speak of.
Michael Kenrick
---
Match Preview
The question on most Evertonians' lips right now is where to now? The terrifying answer is Highbury, the scene of some of our most humiliating defeats since the turn of the century. For Everton, arguably the worst place to go when you're at your absolute lowest ebb.
But the footballing gods are an unforgiving bunch and the Blues will be thrust back into the furnace on Monday night against Arsenal still in agony from deep wounds inflicted by Dinamo Bucharest this week and mindful of the 7-0 mauling they endured on this ground at the end of last season — a result that, like the Fenerbahçe defeat, was dismissed as meaningless at the time but, in the context of our Uefa Cup debacle, may have been an alarm bell that went unheeded.
Thursday's horror show rammed home the fact that changes in approach, formation and strategy are required, but with so few options available to him, it's difficult to see what David Moyes can do. Despite his efforts in the transfer market over the summer, Everton's squad remains one of the smallest in the Premiership and the injury crisis that has hampered the start of the season means that there are precious few options available to the manager for shuffling his pack.
He may just have to do something drastic because at the moment his team are utterly bereft of creativity, cohesion, passing ability and attacking threat. The 4-5-1 formation has got us nowhere since the turn of the year (one scintillating performance at Villa Park aside when David O'Leary's side just melted away) and should be ditched immediately.
The argument against that, of course, is that he doesn't have the personnel to play any other formation, but I beg to differ. First and foremost, the long-ball game and the wholesale dependence on set-pieces has got to be eradicated if we are ever to move the club forward again. And if we can't get players past the fullbacks and to the byline, the only way to do that is to remove Duncan Ferguson from the equation. He offers no movement, no pace and no skill; he is merely a lamp-post that gets moved around at set-pieces and the fact that an immobile 33-year-old in whom only Championship clubs would be remotely interested in signing is a damning indictment of the manager's failure to improve his attacking options this summer.
James McFadden was successful at Motherwell as a striker. He is successful at international level as a striker. He has been completely unsuccessful at Everton as a winger. He may not have always performed well on the few occasions when deployed in his favoured position but he can only be better than what we have at the moment — i.e. a lone striker being asked to do far too much and getting increasingly frustrated because of it. While James Vaughan and James Beattie are out injured, McFadden is the only player who can add a bit of flair to the front line and, personally, I think a partnership between him and Bent is long overdue for a trial.
And while I'm having flights of fancy... 4-4-2 with Neville, Cahill, Osman and Arteta in a diamond formation behind McFadden and Bent? 3-5-2 with Ferrari, Yobo and Weir at the back, Neville and Valente as wing-backs either side of Arteta, Cahill and Davies and behind McFadden and Bent? People will point to both ideas as ludicrous and say that the Portsmouth game proved we need Neville anchoring the midfield but his presence in Bucharest didn't stop us shipping five to a mediocre Rumanian team, did it?
I don't expect Moyes to be anywhere near as creative, especially against Arsenal, but it's a nailed on defeat so why not at least approach the game by having a go? Supposedly inferior teams like Southampton, West Brom and Manchester City all went to Highbury last season and gave the Gunners a run for their money; for once, it would be nice if Everton went into an away game at Arsenal without a defensive formation and everything crossed in the hope we don't get hammered.
Whatever happens, Moyes has to hope that Mikel Arteta recovers from the stomach bug that kept him out of the game in Bucharest because with Tim Cahill clearly exhausted, Simon Davies falling several orders of magnitude short of expectations — one would hope that's because of his shin splints problem, although that's probably something that will plague the rest of his career — and no one else really capable of pulling the strings, the Blues really are struggling for inspiration. At the moment, the Spaniard is it.
Predictions of a repeat of May's embarrassing 7-goal drubbing are probably pessimistic, particularly because Arsenal aren't firing on all cylinders themselves. If Everton can somehow get their act together going forward and can shore up the defence, we can hope to catch Arséne Wenger's side on an off-day and come away with a result. Any repeat of the second half against Bucharest and our goal difference is likely to take a real beating. The first day of the rest of our lives begins tomorrow in our last visit to Highbury; let's pray it's a good day.
Lyndon Lloyd
---
It's hard to believe that Everton finished just two places below Arsenal last season because tonight's ritual humbling of the Blues at the hands of Arséne Wenger's side served to further illustrate the enormous gulf between these two clubs in absolutely every respect.
That David Moyes's team were beaten by two text-book headers and not the free-flowing attacking football for which the Gunners have become famous made this result all the more depressing. Everton failed even at the things they got right last season and even recently against Bolton Wanderers and were punished by Sol Campbell who will probably feel hard done by that he didn't score a hat-trick.
Far from mark their last appearance at Highbury — barring, of course, another unfortunate domestic cup draw — by taking the game to the opposition and give them something to think about, Everton started the game with the same old ineffective 4-5-1 formation and one shot on goal in the first 45 minutes was the predictable result.
Nuno Valente, whose start to life at Goodison has been less than stellar, was dropped in favour of Matteo Ferrari who made his first senior start on the left of an otherwise unchanged defence. Simon Davies was also demoted to the bench — one would hope because of fitness concerns —while Mikel Arteta returned to the starting line-up having missed the horror show in Bucharest with a stomach bug. James McFadden, Tim Cahill, Phil Neville and leon Osman rounded out the midfield with Marcus Bent once more left to run his arse off with no reward up front.
The game started fairly evenly, with the visitors enjoying the greater share of possession but with the usual absence of any consistent attacking threat. Marcus Bent did have the first effort on goal after 6 minutes, a decent 25-yard effort that fizzed a yard wide of Jens Lehmann's right-hand post, but for the most part Everton showed np willingness to commit men forward and, as has been the case in almost every game this season, they didn't once manage to get a man down the byline past the fullbacks to get crosses into the box.
At the back, the Blues looked shaky, with Ferrari still feeling his way into his new role and neither Weir nor Yobo being able to establish any aerial dominance. The back four's flaws in the air were laid bare after 10 minutes when McFadden fouled Reyes 10 yards from the area and the Spaniard curled a perfectly-placed free kick into the danger zone. With none of the Blues' defenders seeming to take responsibility for getting a head to the ball, Sol Campbell capitalised and powered it past Nigel Martyn who had come to punch and ended up nowhere near it. 1-0 and there was the danger of the floodgates opening.
There were stark contrasts all over the pitch but none was as glaring or humiliating as Everton's execution of a carbon-copy situation of Arsenal's goal. Weir and Yobo had gone up for a free kick on the Everton left but Arteta over-hit the ball, it sailed 10 yards in front of any Blue shirt and into Lehmann's arms and the chance, supposedly Everton's speciality in the absence of any other attacking strategy, was lost.
Arsenal were, of course, bursting with attacking invention down both flanks and through the middle and Robin van Persie powered through menacingly on 26 minutes but two defenders did enough to force him wide and his shot clipped the outside of the post on its way into the crowd.
Three minutes later, however, after Robert Pires had been forced off with a deadleg following a collision with Phil Neville, the home side were 2-0 ahead. Reyes was again the architect with a free kick on the right and Campbell once again met his flighted ball, nodding into the far corner and past Martyn's despairing dive.
That was effectively game, set and match because even at 2-0 down and nothing to lose, Moyes refused to change the gameplan. The formation remained the same and the only attempts at getting through the home side's midfield came from aimless balls towards Bent and McFadden's valiant attempts at trying to beat three men at once down the left wing.
The frustration was tangible, particularly among the Blues' midielders. Arteta began clipping heels, Osman was regularly pulled up for innocuous challenges, and Cahill and Neville rode their luck until referee Alan Wiley lost patience and booked them both before the half time break. Ironicially, Neville was yellow-carded for a challenge in which he made absolutely no contact with the player.
That incident apart, the last action of the half saw another flowing Arsenal move end with Kolo Toure — a central defender! — as the man farthest forward and he was very close to making decisive contact on Ljungberg's low cross but, thankfully, he couldn't pull off a fancy back-heel and the ball skidded out for a goal-kick.
The half-time interval brought nothing by way of change to Everton's tactics or personnel. As was seen against Villarreal at El Madrigal, Moyes seems to put his faith in his side being able to do all their meaningful attacking in the final 30 minutes of the game, hoping that they can hold out in the prior 60. Here, with that strategy clearly blown out the water, the manager stubbornly started the second period in the same vein as he had the first.
And predictably, things went the same way for the Blues going forward. Bent again tried his luck from distance, managing to get his shot on target this time but it was straight down the 'keeper's throat. At the other end, Van Persie stung Martyn's hands with a fierce drive as the Gunners continued to create chances, although with less urgency.
Cahill was eventually withdrawn for Duncan Ferguson but while Everton were starting to string more and more passes together as their hosts took their foot off the pedal, there was still no end product. Instead, it was Arsenal who almost made it 3-0 but were thwarted by the bar as Ljungberg's half-volley crashed against the woodwork and the ball was hacked clear.
The tiring Bent made way for Kevin Kilbane with 10 minutes to go allowing McFadden to move into his favoured forward role and Arteta was withdrawn after 85 minutes in favour of Simon Davies but while the Blues were certainly better in the closing quarter of the game, they never tested the opposition defence in any meaningful way apart from a half-hearted attempted lob by Davies that was easily gathered by Lehmann.
This may not have been the massacre we were all fearing but Everton's performance was no less depressing to watch. We have come full circle back to the days of Walter Smith when we went to places like Highbury merely hoping to keep the score down. We have no creative outlet, no attacking invention and seemingly no idea what to do once we get into the final third of the field — the latter deficiency hampered by a refusal to push men forward to support the lone striker.
Supposedly inferior sides will come to Highbury this season and give Arsenal a far harder time, and that is perhaps the most galling aspect of it all. For all Moyes's talk of his team's resilience and refusal to be overawed by anyone, his team meekly surrended another three points this evening and offered little suggestion of how they are going to fight their way up the table this season.
Player Ratings
Martyn 6 — Didn't have much to do apart from pick the ball out of the net twice, although he was found wanting for the first goal when he dived into a clutch of players in an attempt to punch the ball clear
Hibbert 4 —As usual, he was OK for the most part defensively but remains shockingly inept going forward
Weir 5 —Little in the way of captain-like leading from example and outclassed in the air on numerous occasions
Yobo 6 — Probably as guilty as his defensive partner for the two goals but he did improve as the game went on
Ferrari 6 — Started a little shakily and was highly fortunate that when a suicide pass across the front of his area was intercepted that Reyes ended up fouling McFadden before Arsenal could capitalise. He did get better as time went on, though
Neville 5 — Offered little apart from flying legs and some mis-timed challenges. Any advantage he may have offered going forward earlier in the season seems to have evaporated into aimless balls over the top
Cahill 6 — An improved performance but still largely ineffective
Arteta 7 — Arguably the best player on the pitch for Everton and the only one conistently looking to find a Blue shirt with a pass
Osman 6 —Plenty of effort and willingness to make things happen going forward but he lacks the geuine skill to take a man on or the strength to hold off challenges and keep the ball
McFadden 7 — I actually felt sorry for him because he never stopped trying and was continually tracking back to make tackles but was frustrated by the fact that there were no options for him going forward. Time after time, he was faced with three people in front of him and not a Blue shirt in sight to pass to. Consequently, very little happened for him apart from a couple of nice early runs.
Bent 6 —Same old story for Marcus. Lots of running but next to no decent service and no support. Not once did we manage to work the ball into the area to give him a fighting chance of scoring
Ferguson 6 — Came on in a switch to 4-4-2 but offered nothing. His flick-ons and nod-downs almost always went to burgundy shirts and, of course, he didn't get a single cross from the byline to attack in the air
Kilbane, Davies — Not really on long enough to earn a rating
---
With Highbury being a ground I've always wanted to go to and this my last chance to do so I was delighted to have the opportunity to attend last night. It's a shame Everton needn't have bothered after another dismal and spineless performance. All I wanted today was a performance from Everton. Some sort of pride and fight to show everybody were not as bad as we demonstrated in Bucherest. Fine it wasn't THAT bad but it certainly wasn't good.
We arrived in plenty of time having set off at about 9am on the "megabus" which got us there for a fiver. This broke down a few times along the way but we got there at about 14:45pm and went for a few jars in some pub on Leicester Square. A bit later on we headed to The Nags Head off Angels and met up with another mate who lives down there for a few more beers. About 7pm we took the bus in the direction off Highbury. We noticed a flood of Arsenal shirts heading towards the ground and such was the traffic thought we'd get off and follow them. Probably not the best idea as we still had a good 25 minutes to walk which seemed like a lot longer with are bladders bulging.
I was very impressed with Highbury when we finally got there though. A stadium quite similar to Goodison Park in that it's just in the middle of nowhere basically. It has that old fashioned look and feel to it as well. It was also nice to go to an away match hassle free and not be bundled straight into the ground by the coppers which is often the case when you go to away games via coach. Everybody just seemed a lot more friendly here.
As we finally arrived inside we took to our seats somewere between the left side of the penalty box and the goal and right next to the barrier separating us from the Arsenal fans. That is except for one seat which was filled by an Evertonian who appeared to have dragged himself through hard time recently – he'd been to Bucherest.
The teams were read out before the players came out and it was quickly apparent that we'd stuck to the tried and trusted 4-5-1 formation. I can't believe it's effectively that same group of players who made us so proud of them last season. Confidence is clearly extremely low and eating away t the players. Ferrera replaced Valente at left back, McFadden kept his place on the left wing and Arteta replaced Davies in the middle. These were generally the changes I wanted but Everton were still pretty spineless throughout and didn't do anywhere near enough for me.
We had the first opening in what was quite a cagey start to the match when Bent fizzed a shot wide from about 20 yards. That was the only effort we had all half as the players looked genuinely clueless with regards to how to distribute and retain the ball. Play like that against Arsenal and they'll play right through you. Arsenal were hungry and didn't give us any time on the ball. We looked like a first division side for me.
Despite all this the most disappointing thing of all was the manner in which we conceded the two goals – both from set pieces. With the first one Reyes threw himself to the ground in a challenge with McFadden which was never a free kick. Alan Whiley did not hesitate in giving this one. The ball in from I think Reyes was perfect but Everton's defending was far from so. Sol Campbell practically unchallenged as Martyn went to punch only to more or less run into Weir and the ball nestled into the corner. Really poor.
The second was equally bad. On the other side this time Pires going down theatrically. From where I was I couldn't tell if it was a foul or not but it mattered not with Whiley who delightfully blew. The ball was played in and there was Campbell with another free header. He buried it with Martyn stranded. 2-0 and pretty much game over. I don't know if I'm just paranoid or what but I go the impression that Whiley was excelling in making ridiculously biased decisions towards the home side. One which infuriated me was when Cahill was chasing Laurend on by are corner flag. As he came towards him Lauren turned and Cahill simply just caught him. Fine a foul but how Whiley came to the decision of a booking is simply ludicrous. Then down at the other
end Bent was caught incredibly late by Toure in what was a clear case for a booking and Whiley only gave a free kick.
The Arsenal fans began to taunt and there hilarious "UEFA Cup, you're having a laugh" quite hurt. It hurt the fella next to me more though who got the most ridiculous police warning I've ever seen I think. While some fan comically held up five fingers on one hand and one in another in reference to our recent pounding at the hands of Dynamo Bucherest) he shouted back "get a hair cut you greasy puff". He got a warning for being homophobic! The guy was close to tears. I thought he was joking at first but he really was serious. Unbelievable.
We could have been further behind before the break from a few opportunities which Arsenal had/received. More theatrics from Reyes produced more free kicks. I can moan till I'm blue in the face about how they weren't free kicks but our inability to defed them hurts more. Toure was given a free header which he headed well wide from one and the other one was just a bit too high for Campbell. Van Perise hit the outside of the post from another drive when slipped through by Reyes – somehow the ref saw it as a corner. Van Persie would have scored with his next chance had McFadden not gotten back and blocked bravely inside his six yard box. This was diabolical and needed vast improvement in the second half.
At half time one of the large screens said it all Arsenal Shot: 4 Everton Shots: 1. Arsenal Shots On Target: 3 Everton Shots On Target: 0.
I was hoping for some changes straight away in the second but Moyes decided to stick to his guns and came back out with the same side. The second half showing was somewhat improved but still not good enough. I think had Arsenal moved up a couple of gears we'd have got a pasting but they had us at arms length all game. We created a few chances but nothing major. Osman wriggled into the box and drove high and wide; Bent and McFadden both curled a shot each into the grateful arms of Lehman and that was about it. Arsenal might have scored again when everybody was busy turned round at some fat bastard about 10 rows behind us when somebody shot and Martyn saved and then somebody else hit the bar. I couldn't care less who. We made are substitutions too late as we looked as though we'd practically accepted defeat. Ferguson replaced Cahill who was crap. A bit later Kilbane replaced Arteta who wasn't much good and even later Davies replaced Bent who for me in the second half was a disgrace – he couldn't be fagged. Not the Bent we know who chases lost causes. The fella next to me reckons it's 'cos he knows he'll be playing every game so can't be arsed anymore. Maybe he's right.
Arsenal painfully passed the game out effortlessly and are spineless performance was complete. A dismal showing by Everton which has to get better. We MUST win our next game at home to Wigan, particularly so with the run of games we've got coming up. In his programme notes Wenger had these somewhat generous comments about Everton's confidence and injury situation at the moment:
"Although people talk about systems, much of football is about confidence. They have lost a few games this season and it's difficult to get it back. It's a psychological game, football….I think that Everton have plenty of players who can make the difference, plenty of players who can score goals, but they are suffering a lot through injury at the moment. No matter how many players you have, you can always become short when you get hit by injuries."
Well we need confidence back and quickly. Hopefully a win at home to Wigan Athletic on saturday will provide this.
Player Ratings:
Martyn: Possibly at fault for the first goal and his kicking was poor. 5
Ferrari: Better than Pistone, Naysmith or Valente. A lot more solid. Didn't do badly. 6
Yobo: Nothing great. Nothing bad. 6
Weir: Played OK but has to take some responsibility for the way the two goals were conceded. He's the captain and has to organise better than that. 5
Hibbert: Solid defending and improved distribution. His distribution appears to improve when we play away. Maybe the pressure gets to him at Goodison. Did collecting a booking for a bad challenge. 6
Neville: Did better than most. Won't have liked the "Your worse than your brother" chants from the Arsenal fans. Might as well be captain. He communicates more than anyone else and is never afraid to take responsibility or put a tackle in. 6
McFadden: Worked harder and provided a lot more spark than most. Quite easily are best player. My man of the match. 7
Cahill: Really poor. Again I think he needs break. Speaking to Ste after the game and he was saying that it could be 'cos he's got his contract now and feels as though he's made it. I really hope not. 5
Arteta: A bit of flair here and there but not really as good as he can be. Maybe he still had a touch of flu. Plays much better at home generally. 5
Osman: Struggled to get into the game and should have been replaced for Davies I felt. 5
Bent: Did not appear to care in the second half. He'll be out in January if he keeps this up. Even though he is currently joint top scorer. I can't believe we've only scored one Premiership goal. 5
Subs:
Ferguson (for Cahill): No time and no service equally no result. 5
Kilbane (for Bent): Couldn't really get into it. 5
Davies (for Arteta): Didn't get into it. 5
Lyndon Lloyd
* Unfortunately, we cannot control other sites' content policies and therefore cannot guarantee that links to external reports will remain active.