Norwegian Blues
By
Ian Macdonald
: 17/02/2008 :

Comments
(8) :
I was sitting in the Grasshopper bar in Amsterdam full of Evertonians on the Friday after the Alkmaar game waiting for the draw for the next round of the Uefa Cup. We were like expectant fathers. Ee had an idea who we could get, I had hoped for Hamburg as our European tour rolled on.
Our name came out of the bowl and we got SK Brann. Hmm, I thought, that?s in Norway where I?ve never been before... or it was a breakfast cereal? Later on the draw continued and if we beat the team from Bergen we would play in Italy or Norway again. Happy days, though, when you reflect on how we have been these last few years.
David Moyes has made me eat humble pie on a few occasions but I?d like to thank him for taking our loyal support to places in Europe with our kids and mates. And so as outright winners of our group we were to play away first in Bergen, Norway?s second-largest city, I believe.
As usual our tour fact finders and travel options kicked in. As I?ve said before, travel agents ring us up now to see what the best route to worldwide cities is. First part of the debate was the price of ale. Let's not kid ourselves, it?s a big factor and topic of debate amongst our following in the main. Just as long as they can handle it and not embarrass fellow Blues and locals. Wild assumptions of ten pounds-a-pint were thrown about and greeted by laughs but when we got there were alarmingly confirmed.
As I always think, we are an extended family. We decided to travel together with our group and friends. We booked with Pure Sports, flying direct from Speke, who took us to Nuremburg with the organization of the SAS. Opting for a day trip as we optimistically thought we would get past the Norwegian champions, hopefully rusty by their close season period, and save money for later rounds. A hell of a lot of Evertonians went via Newcastle, good old Stansted and Manchester, but whatever way you went this was never going to be a cheap excursion.
Next on the list was getting the golden tickets. Let's face it, acquiring one of the paltry 950 available is like striking gold when you see the size of our away support. I don?t envy the ticket office people who have to distribute these tickets fairly after the corporate planes are catered for. It's not their fault our last two venues have had such small stadia. I know a lot of Blues who could just not get in at Alkmaar even with home tickets as they fell at the first hurdle at the turnstile when asked a question in Dutch. If the game was four hours later they would have gained entry as most of us then were talking Spanish or double Dutch.
Looking at where Bergen lies in Norway I was surprised how close it was from Aberdeen. In fact I think it?s just a bit longer than to go to London to Aberdeen. The currency in Norway is the Kroner and we roughly got 9.5 to 10.2 depending where from. Here?s a tip for later rounds: go to Marks & Spencer?s or the Post Office, not Thomas Cook!
A load of Blues got tickets in the home end helped by Norwegian-based Blues and touts paying anything from £35 to £100. These transactions will never stop, sadly. What we do is divide the costs of tickets between ourselves so no one misses out on price.
On the morning of the game we assembled at Speke like something out of the Normandy landings, all of us prepared to go that extra mile for the Blues and suffer the extra the price of a pint. We got no medals but T-shirts celebrating our tie with SK Brann. The official travelers with Everton looked on with envy as our souvenirs were put on, all one size ? XXL thankfully! I gave a few out to the lads I recognized and told them to come out and play with us next time? snobs! Only joking, a lot of Blues will go with the official trips because they get tickets and are well organized, usually.
There are some amazing Evertonians who travel long distances well before they meet up with us. There was a party of six, Wayne?s gang, who drove up on the morning of the game from Northampton. Another three lads from Belfast, Paddy, Neil and David plus Michel from Holland. Cap doffed to you all.
When we got onto the runway tarmac another reminder of our waist sizes was there before us. The name of the plane carrier was XL! The cabin crew were all dressed in Blue, an omen. Everybody was in high spirits... Vodka, Bacardi and Whisky. But those that drank too much before the plane lifted off became victims of the white light of keeping your belt on with bladders bursting. The rush of when the belt light goes off to the toilets is like the Charge of the Light Brigade or the Women?s January sales on the first day. Incidentally, we had to get a belt extension for Big Graham and Barry and strategically place certain people around the plane for weight distribution. Thoughts of how this plane can take off with so much weight on aerodynamically crossed my mind, but there again a Bumble Bee defies logic.
Our famous centre half Derek Mountfield came with us but after years of knee problems we had to place him on the front row for leg room with the breastfeeding nappy changing mothers. Sorry, Derek.
The flight only lasted an hour and a half we were then greeted at Bergen airport by the police with their pet dogs who like sniffing us for some reason. Then to the duty free which was still dear compared to our own but stocks had to be replenished for the day ahead. I like Bailey?s in a pint glass!
The players stayed at Clarion Hotel next to Bergen Airport and must have seen the fans embarking on the waiting coaches thinking hopefully we can?t let this lot down.
It took about twenty minutes to get to the Bergen town centre we went past the FC Brann ground situated amongst houses with white picket fences and a background where Orca the Killer Whale would not be out of place visiting. The scenery we saw was like a postcard, I do regret not staying longer but there are more venues to visit on our European tour and the divorce is getting close enough.
First port of call was the pub aptly named Fotballpuben. The Bergen Evertonians use this pub as meeting place on match days. This time, however, they first went to Champions pub instead. The locals, though dressed in red and white, were a nice bunch; very helpful and friendly. The women here are lovely and thoughts of my divorce and living here instead crossed my mind. Evertonians massed inside exchanging information on tickets and where to drink next. My mate, Lawrence, was like Tonto; he scouted for us staying here the night before and told us the best places to go.
He basically said outside, ?See that truck there, Ian?? "Yep." ?Well, if you go past there for a drink it will cost you between seven and ten pounds a pint!? Come with me and I?ll take you and your mates to the better pubs. Happy days.
The night before Lawrence was with Sharpy and Snods drinking in the Radisson. Then after a Ming vase was accidentally smashed, some Blues having pics with our former players were asked to leave with an authentic whale harpoon as an assistant. Come on, Tony Evo?s not that big!
Outside the Futballpuben the Brann player Robbie Winters came for a chat as he a mate of my mate. Robbie was on the bench for tonight?s game as he has been injured. I asked him who was their danger man. ?Helstad?, he told me a bit like Torres. Hmm... Robbie said that their influential captain had left close season and were short of match games although they played Copenhagen pre-season last weekend. Robbie played for Aberdeen and one game for Luton, a Glasgow lad who has enjoyed his stay in Bergen. He told me we were lucky with the weather this time of year as normally it?s a lot colder and rains a lot. He was a nice fella and took photos with some Blues and next to one of our flags, no problem.
Off we ventured like tourists to the next pub. Someone said shall we go to Finnegan?s Irish bar? I asked why, we're in Norway not Ireland, let's sample the local beers. It was to be proved a wise shout as some of the lads were charged ten pounds for a Guinness in there. Wessels bar was next, I thought was he not making enough money as a goalie? It was alright but Hectars bar was good where we met up with more mates. Joe was wearing a Russian hat type from Ukraine. Memories of Kharkiv came flooding back where seven pints cost three pounds, now we were paying for Champagne disguised as lager.
Off then to the Champions bar downstairs where we met James Vaughan?s Dad, Eddy, again. A cracking fella, always laughing and enjoying his son's success. Eddy said that James was on the bench tonight. I remember when Duncan set up young James for his goal against Palace making him our youngest scorer ever. Eddy was mobbed by fans in the main stand and my mate Dave won £400 on his bet. Drinks all round. One of the songs sung in the bar was ?Find the Yak and he will score? he?s been a very naughty boy has our Yak not coming back.
We were asked if we wanted to go to Scruffy Murphy?s bar, err what are you trying to say? There were no trackie bottoms between us. Met me mate Barry. He had only been barred out of six pubs today. I thought, he?s slipping as he gets older. I think all the red and white was getting to him like a red flag to a bull or the prices he was getting charged for a round. Barry may be a lot of things but he buys drinks for everyone. This time though he must have thought he had bought a share in the pubs. Tell you what, there can?t be many alcoholics in Norway or fat people. Twenty five pounds one lad paid for a pizza and eight pounds for a Big Mac.
After a few more visits to the churches I wanted to visit we ended back at Futballpuben where I met our mate Rune, a local lad and teacher. Rune and his mates have been coming over to Goodison for ages. They must think they are in heaven the prices of stuff here compared to theirs. Rune was at the Reading game last week. Everton songs on CDs alternated with Brann songs. It was a good atmosphere, some of the locals were buying us beer. They must have seen the shock on our faces when getting a round in. Katie, my mate Eddy?s daughter, had her new flag proudly on display. It read ?There are more Koppite?s in Bergen than Merseyside?. Ha ha, Katie is Everton mad, she?s had some cracking flags made over the years. Flags were never really a Everton thing in the past but why not, we're proud and like making statements with banter. Sadly, because of the circumstances were carrying a lot of flags now for respect and loyalty to deceased great Evertonians. AJ Clark, Mick Fearon and Stan Tyrrell come to mind. We can?t help but think they should be with us enjoying these trips. But respect to those who carry the flags and carry our thoughts, there are some good people about.
On to the game, we got on the coaches outside the Futballpuben and ended up fifteen minutes later outside the ground. It was not a big ground (17,500 capacity) but had sold out easily for the visit of Everton who have a lot of followers in Norway. I had tickets for the home section next to the Everton-allocated area in the corner after swapping mine for some young Evertonian's. Such was the volume of Evertonians around the ground the police let the Evertonians with home tickets in the away section if they wanted to go in, hence all the Blues standing in the corner in front of a hot dog stand.
The home crowd was singing red and white for ages as if they were trying to brain wash us. Can?t happen, you're born Blue and you don?t defect through envy of trophies. It was great to see twice in a week two games with team shirts without sponsorship logos on. The Manchester derby evoked old memories of the shirts and scarves held high with big colours intermittent. My Dad taking me to the game with a wooden box to stand on, I?d need a metal box now. Was Hafnia our first shirt sponsor? Tommy got Tony Hibbert?s top. God, those shirts don't half stretch but other than on Tommy it looked good with the Uefa badge on the sleeve and just the Everton crest.
The first half was poor. I wondered if both teams had had a month long break. Even our fans were quiet at first, getting their second wind after being up since half four or traveling journeys via boats and trains to get to this pleasant town. It had nothing to do with drinking all day and not eating, honest. Some did take the NOK for a few minutes but woke up to see Ossie score a cracker. When Julian sent that cross in to Victor and he scored the second fans went mental. Honestly, it nearly came up to the celebrations when Victor scored at Mentalist. Victor only needs a couple more to beat Fed Pickering?s record in Europe. Incidentally, we're breaking records all over the place, with a record six wins on the trot and ending AZ Alkmaar?s best-in-Europe unbeaten home run. Happy days indeed in Europe for us all, especially Big Vic.
Anyway there are enough match reports about so I won?t go into who was poor on the night but you have to factor in that I was told most of the team went down with a bug. It would have been better if they went down the pub and subsidized our drinks!
The game finished and hopefully the tie over now, we can relax and do our path-finding for the next round which is looking like ending up in Italy. If we play ?the Vio;a? (Fiorentina ) maybe we will see how good Koldrup, our former, player is. I wonder if he can head a ball yet? Mutu, the ex-Chelsea striker is re-born and they have a few handy players, currently fourth in the league like us. Kanchelskis left us for them and ten grand extra a week!
The local police in Bergen were good and laid back, evaluating situations and not taking an aggressive attitude. It was good to see. It won?t be like that in Italy. I only hope they get the ?fan? who threw the snooker ball at Tim Howard. The damage he/she could have done to him for playing in a opposition team could have had catostrophic consequences. I think throwing the idiot to Orca the Killer whale would be fitting or tying him/her on a Viking ship and setting fire to it like Kirk Douglas in the Vikings. But you see how one person can tar a set of good fans?
There?s been condemnation in some quarters for some of our fans running on the pitch at the end of the game but believe me it?s a spontaneous thing, not premeditated, like bringing a pool ball into the ground. I?m not condoning those who ran on the pitch but let's get a perspective.
Since the days of Eddie Cavanagh it?s been an Everton thing to get on the pitch to celebrate although over the last couple of years its stopped due to banning orders, point deduction threats etc. Their guard went down after a great trouble free day in Bergen, it did stop the team coming over to celebrate but never threatened a life. They have been given a yellow card over it by others, let it lie now.
A quick banner at Goodison reading ?Running on the pitch can get Everton run out of Europe?!
I fancy Hamburg or Bayern Munich in the coming months, fingers crossed.
Ian Macdonald
EISA
PS ? When we got home to Speke airport, Paddy, Neil and David stayed there for their seven o?clock flight back to Belfast. Great Evertonians. Like Harry Wildman, our ex fan of the year who was taken again in a wheel chair to Bergen for this latest adventure in Europe. People like these make you proud to be an Evertonian. Long may our European adventure continue and end up on our door step in Manchester using sterling as our currency. Happy days indeed.
Thank you Mr. Moyes. Any chance of a loan mate?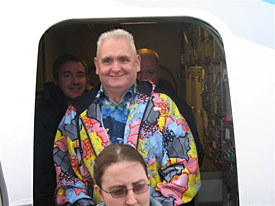 Chubby Brown's brother came with us to Bergen.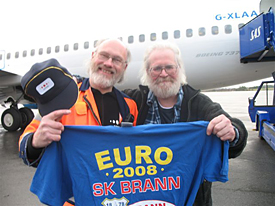 Paddy McGrath and his long-lost brother at the airport
James Vaughan's Dad with Ian jnr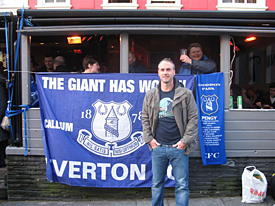 Brann player Robbie Winters
Katie's flag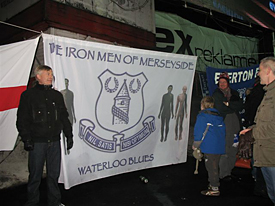 Waterloo Blues' flag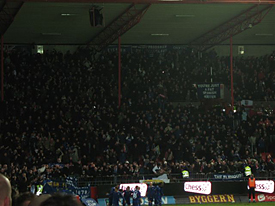 Celebrate good times. Ossie scored a cracker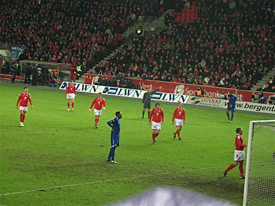 Hang on a minute, Victor. ,Joleon will cross soon
Happy days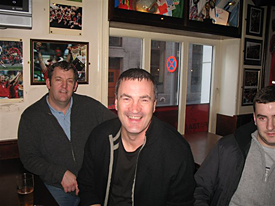 Derek Mountfield in Futbolpuben
Do you have the tapes, Comrade?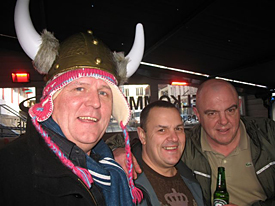 Great times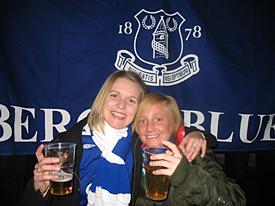 We brought some lovely ladies too
Officer, will you mind our flags, please?
Reader Comments
Note: the following content is not moderated or vetted by the site owners at the time of submission. Comments are the responsibility of the poster. Disclaimer
Phil Roberts
1
Posted 17/02/2008 at 17:54:48
Ian - an even better trick on the currency is to get it from the hole in the wall when you get there. Better rate (I know I travel to Europe every week).

Only drawback is no buyback!
Karl Masters
2
Posted 17/02/2008 at 22:20:31
Great post, Ian. Went to Nuremburg and it will always live in my memory, just like Rotterdam has for so long.

I too am hoping for a trip to Bayern or Hamburg later on - big game and more importantly, big stadiums so we can all go.

May have to get past Fiorentina first though. Words of caution if we do are that although Florence / Firenze is a cultural, historical masterpiece, their fans are the absolute opposite and some of the worst ultras in Italy. Organised travel such as yours or the Club's may be a good idea for anyone going as you know that the Police out there are the worst culprits of all. Safety in numbers.

A couple of headed goals with Pienaar & Ossie outjumping Kroldrup seeing us through and then back to Germany for the Quarter finals. We can dream!! :)
Steve Hogan
3
Posted 17/02/2008 at 23:11:19
Ian, glad you enjoyed your Bergen trip, I too enjoyed my three-day stay there.

My only fear is the behaviour of a small minority of our fans, leaves me fearing for the future.

I?m not sure that because running on the pitch to celebrate an Everton goal or victory is ?an Everton thing? we should treat it lightlty?

I witnessed some pretty disgusting things in Bergen by a number of young and old fans alike, including the abuse of the two young girls who were manning the hot-dog stand in the Everton section as well as some pretty awful behaviour on the public bus to the game right in front of some very young Bran fans.

I think we have been quite fortunate so far in the attitude of the police in Nuremberg and Bergen has been fantastic; however, if we eventually play in Florence, I fear the worst.

I hope I am proved wrong.
Steve Lyth
4
Posted 18/02/2008 at 09:28:06
Alright Ian it was great to see you and Barry over there, good lads n funny with it.
How many times was Barry asked to leave the football bar when they discovered him drinking pints of Baileys ??? Ha Ha, regards from me and Elly mate.
Brian Donnelly
5
Posted 18/02/2008 at 10:12:54
Ian, a good article.

I think the people running on the pitch were a pain in the arse. One or two of them were lucky to still be in the ground even before the match began - the stewards and police were too tolerant in my opinion. By running on the pitch they spoilt the celebrations that the team and support should have enjoyed together.

On the money side, get yourself a Nationwide flex account. No admin charges & no conversion charges. Just draw your foreign currency straight out of the ATM. I got an average of 10.75 Kroner to the pound. Even used it in Bulgaria the other year, so no problems with the major countries in Europe.

The Nationwide credit card is also a good way to pay, but not for actual currency!



Nils-Erik Moe-Nilssen
6
Posted 18/02/2008 at 14:13:32
Great article! We really enjoyed talking football,drinking and singing with the Evertonians. The police has nicked the "fan"- lucky bastard that we (SK Brann Bataljonen- supporterclub) did'nt catch him first. He is banned for life and SK Brann will make a legal claim so he has to pay the fine we wil get from UEFA.
Iestyn Jones
7
Posted 20/02/2008 at 10:22:54
Other fans are just as bad as Everton, Brann have one of the worst hooligan problem in Norway, The Pool ball throwen at the ref wasnt even in the refs report. That ball could of killed someone easily. As for tax free in Norway than the uk ;) I llive in bergen and travel back often!
Havard Sletvold
8
Posted 21/02/2008 at 21:44:03
I was in Bergen at the Brann game. I haven't watched Everton away in Europe before so I don't know what is looked upon as "normal", but I was surprised to see some of our fans in Bergen. At the Champions pub they were smoking inside and throwing the rest of their sigs on the floor still on fire, doing drugs all over the place, bringing bear bought from the store inside and destroying toilets.
Add Your Comments
In order to post a comment to Column articles, you need to be logged in as a registered user of the site.

Log in now
Or Sign up as a ToffeeWeb Member — it's free, takes just a few minutes and will allow you to post your comments on articles and MailBag submissions across the site.
© ToffeeWeb