The Italian Job
By
Ian Macdonald
: 25/03/2008 :

Comments
(5) :
Only read if bored.
Well, we all know now where it ended but I?d like to reminisce for others on the story so far after Bergen away.
The draw for Everton was in two parts, if we beat FC Brann then we would play the winners of Rosenborg and Florentina. After the first legs the gambling, knowledgeable Evertonians booked travel to Florence with low-cost airlines at some great prices although many routes were via Milan, Rome etc.
I?ve been told since that the low-cost airlines now employ football watchers to look at destinations the moment the ball is taken out of the hat ? whether its cold or hot for our red conspiracy theorists ? and bump the price up from nearby airports to the teams home.
Intrepid Blues flew eventually to Italy via Bristol, Glasgow, East Midlands, Glasgow and good old Stansted. We are intrepid travel agents now.
I heard some Blues bet on a Rosenborg to win at Florentina as a safe bet if they won and the airline booking was rendered useless for the next round back in Norway.
Rosenborg, one nil down, never reversed the tie in Florence and so our brave gamblers were paid out with cheap fares... happy days. Let's meet the Viola then, so named after their purple shirts, but would they have purple hearts?
Our group decided to go on a one-nighter the day before the game direct from Speke. We regretted not staying over in Bergen although our bank manager, with their prices, never did. So I cashed in what Kroner I had left and went back to the Euro which at this time is battering the pound as we have the dollar. Being in Italy with all their football troubles there was a bit of apprehension as it was never going to be like our other European ventures, Nuremburg and Kharkiv will be hard to beat, if ever. I did a bit of ringing around to other fans whose clubs have been in Italy lately and the summary was: don?t mess about with the Carbonbateri and watch your backside for sneaky Italians with knives.
Next on the Evertonian?s agenda was, as always, tickets; how many are we getting and how do you qualify? I got told Man U last time there got 3,800 but we were given 2,400 for whatever reason.
Our box office was under stress again feeding the five thousand with only half the tickets given.
Like many other venues we had visited, we tried to get tickets for the casualties with no tickets in the safe areas of the home end, despite many national calls to friends over there in that region it was proving very hard to say the least. Everton sent out our tickets with an added bonus, they were just eight pounds each, more money for the ale kitty. One of my close friends was taken ill, Barry Murray, with Bells Palsy. He looked like Peter Beardsley, his words not mine but it did worry us. I told him to leave this trip if the doctors advised so; Everton won?t keep your family mate.
Thankfully he was given the all clear to fly but Barry has to take 23 tablets a day just now, he rattles as he walks. The nurse had to get some blood samples from Barry who said to her he does not like needles, this from a man who has more tattoos on him than the tattooed lady at the fair, best one is the Liverpool on his arse. I wish I had a pound for every time Barry has dropped his kecks for the unbelievers to see!
We are on a terrific run hunting down the reds every step and breathing down their necks in the fight for fourth spot and ultimately more European days out in the Chumps league. We beat Pompey 3-1 on the Sunday before our journey to Italy. Our hopes were high and many of us confident of getting a result against Italy?s fourth placed team. Off we went Wednesday morning our route to Speke well trodden this season. We picked up Harry Wildman, our disabled fan of the year, with his wheelchair for ease of movement from pub to pub. At the end of the night it?s like pushing a barrel of Guinness around the amount of pints Harry drinks. We were met at the airport by Paul Wharton who is recovering from pneumonia; what with Barry and Harry I thought we might divert the plane to Lourdes!
This time we flew with Hamburg airlines. I thought it was a sign as that?s where I?d like to get next round. As the bus wound its way around the waiting planes looking for ours, Paul pipes up, ?Ian do we have to flag one down like a taxi??
As the plane took off the banter started. Barry is a look-alike Pavarotti; will we get special treatment with him and were we going the Vatican to kiss the Popes ring etc? Not the norm, on such flights we were treated to a hot breakfast and as many rolls we liked, Tony Prince had twelve, we had to get the seat belt extension for him after he finished and drank six cans of beer.
The flight path took us over France. Belgium and Luxemburg and lasted just over two hours to our destination, Pisa. As we got off we were asked for passports and match tickets at the control. Panic set in as there was quite a few without tickets traveling, so the Scouse improvisation kicked in, we passed our tickets back as we went past control to the next Blue to get through the police cordon ? a taste of things to come I thought.
Our coaches were outside the airport we had no time to straighten the tower in Pisa even with all the tradesmen on board it was straight to that historic city Florence to check in our hotels and venture to various watering holes as scouts for the lads who were coming on the day of the match.
Our hotel, Visa, was near the city centre so we decided to explore on foot with our tourist maps at hand. I don?t know what it is about the Irish but they have pubs in every bloody city you visit in the world even in Kharkiv in the Ukraine there was one.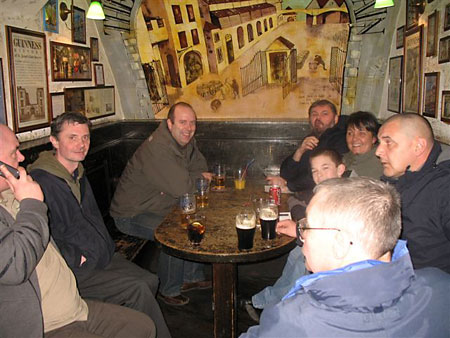 The Lions Fountain pub
We went into the Lions Fountain, the haunt and home of the Florentina Ultras but there were none of these ninjas to be seen thankfully we just want to enjoy ourselves; if we wanted to fight we would join the army.
The thing is about Florence is the closeness of the buildings and the keeping of the traditionally-built theme. There are squares but not lending themselves to football culture with in the main restaurants and cafes surrounding them, the Italians seem to like wine and cappuccinos to beer. Let?s face it two thousand years or more is not going to change for a two days visit from our fans. I imagine it would be a nice place to visit in the summer with your wife or girlfriend, if you do go to Pizzale Michelangelo for the view of the city. In Florence you never met all your Blue usual suspects; it was full of backstreet small pubs and cafes. I visited the main attractions of the City I told Graham I was off to see Michelangelo?s David, Leonardo da Vinci and Galileo haunts? ?Where are they drinking Ian, I?ll catch up?, was the reply.
Barry on medication could not drink so I asked him what was it like with all of us drinking .He told me he noticed I got most of the rounds in and Graham and Tony dodged them plus coke is as dear as beer. ?I?ve seen the light?, Barry said and ?after watching you lot I may not drink anymore? .I went to try and get some tickets in the safer section of the home sides, the Tribiarna side, but still no luck with an English passport and we couldn?t even bribe the locals. A lot of the places we have visited this year have ticket booths or shops in the City centre ,I asked Everton years ago to do something similar .Jack Sharps use to sell tickets in town about twenty five years ago .It would gain more custom I?m sure.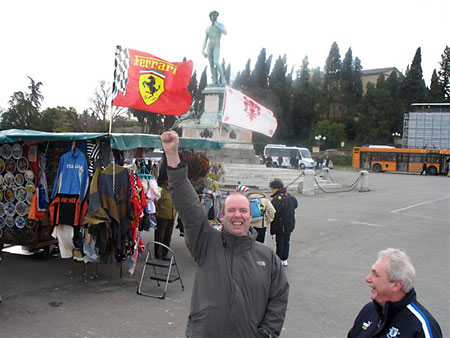 Michelangelo's Plazza
We visited the Michael Collins bar where they wanted Dollars not Euros ideally to pay for your drinks ,must think the IRA are still fundraising or a cheap shopping trip to New York. Anyway it was a good night out the day before the game no hassle anywhere, but things where to change the next day. 
The day of the game came, I went with Sparksy in the morning to visit the Duomo Cathedral in the City centre and get a few presents. It was confirmed that alcohol would not be served in the city centre till after the game, so we just went to the bars on the outskirts. Dark clouds gathered over the city the theme continued as I got calls from mates whose planes were being diverted to different airports miles away .Even those on the trains were getting a hard time from the authorities with alcohol taken off them and demands to see Blues passports and match tickets. A very different picture from our other European visits was being painted. True we did expect this to a degree.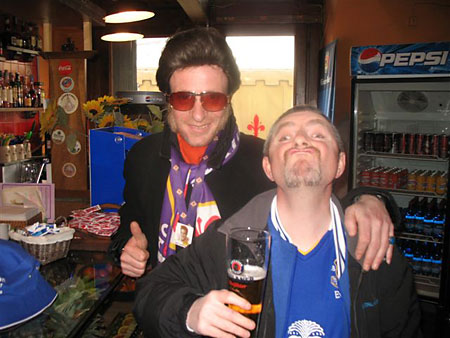 We found Elvis hiding in a bar in Florence
It seemed to me that the police and authorities never cared less about our excellent credentials of Ambassadors in Europe for our city. To them we were English and we still carried the disease of hooliganism shouted out on the front pages of their local papers .With headlines of 200 hooligans flying in on one plane alone! So put the pieces together and see that our chartered planes were deliberately delayed and brought to airports further away last minute .You can?t tell me that travel operators change airports at will unless there is an emergency. Every other venue we visited was like clockwork but not here it was more like clockwork orange in its darkness. European away fans are not wanted in Italy in a nutshell they enough domestic problems of their own. I?ll bet if England had half the problems this lot has had of late we would be banned again.
The rain started to fall heavily ,we got on our coaches to the ground two and a half hours before kick off I said at the time I bet they will keep you in the compound at the ground. Sure enough treating us like cattle mentality kicked in with greeted by row after row of heavily suited up Police ready for action.
I think in a way the heavy rain stopped any confrontation as it dampened a inflamed atmosphere of intimidation by their Police towards our fans. There was no need to be heavy handed in approach.
So off into the ground, the Stadio Artemio Franchi, it was not one for the book of top class stadia of the world, apparently there is listed building order on it .How did it gain this? It never looked like a coliseum and if so how come our fans were imprisoned in a Perspex cage .Or did the Romans invent plastic? I took Harry and my son to the opposite stand the only one with a roof and no it was not Romany tiled.
The rain was dripping off my nose and it was freezing .I spoke with a Italian who said they have never experienced weather like it in March. Just our luck, the other teams we play every season go to Italy with the sun on their backs, oh and the odd baton.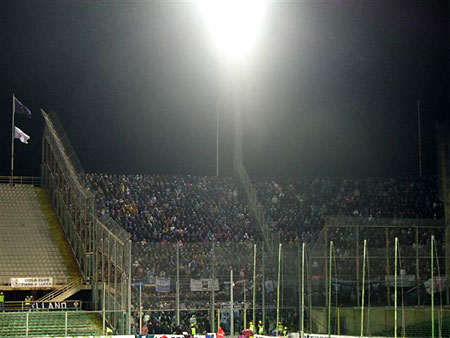 Evertonians braving the elements and the Carbonetary
We turned up in numbers but sadly our team never did except for Howard, We were like scared rabbits in headlamps .Why did we serve up our worst display of the season here? As I sat in bewilderment amongst the Italians I heard noise?s first hand I have not heard in years. When Yak and Piennar got booked monkey noises piped up by quite a few of one of our oldest civilsation descendents even one or two stewards were being racist. And before anyone says why did I not complain ,who too? It was like being in the middle of Millwall fans in eighties they were staring at us like the Gargoyles I saw earlier in the day.
Our corporate fans where higher up from us and give them their due they sang and backed Everton in the middle of the stand with no segregation while the Italians threw animal gestures at them looking at our fans more than the game .I did think of the wisdom of putting our fans there at the time and what was I doing there. Despite the torrential rain our fans did us proud with a whole new meaning of singing in the rain on masse .Eat your heart out Jean Kelly!
After the game we were back on the coaches to an unscheduled airport, Forley, an extra hour away than Pisa and the last kick in the teeth. In a way after that performance and the all round conditions I was glad we were to be back home in a few hours.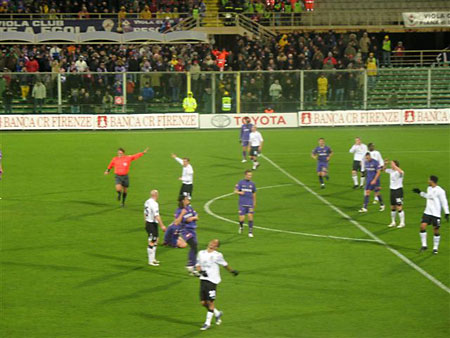 There was more Tom-foolery at Goodison by the Italians
So on to the second leg at Goodison the following Wednesday. The days before the return leg every Blue was counseling each other if we could overturn the deficit, most thought we could beat them but would it be enough? I wanted us to get the right result on the night for all our kids? sake and let?s face it there are no bigger kids than us lot. The game had sold out days before the final conflict, phone calls of can you get us a spare Ian I?ve messed up. Really this season Jesus would have been gainfully employed blessing the tickets and making enough to go around .I must applaud Everton for their ticketing policy during our home European campaign charging fair prices for cash strapped Evertonian?s with numerous games under their belts this season.
Well like Christmas expectancy the game arrived. Our team was greeted like Roman conquers as they came out of the tunnel, we were that twelfth man this night, Goodison rocked .Every man woman and child played a part to help our team give us a memorable night. If KEIOC want to make a video as to why this ground should be redeveloped then just play parts of this game, especially when Arteta scored the second goal to make the tie all square, everywhere was bouncing. Where there?s a will there is a way, Goodison can be developed end of.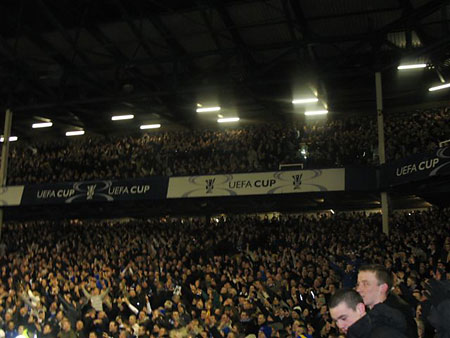 Goodison was bouncing
It was not to be on the night you just knew when it came to penalties that the Gods would favour the Roman?s, it was another R A night .We just don?t get that luck other teams get. Can you tell me after the amount of goals we have had in the league this season and possession in the goal mouth area we should not have had a penalty at some point, we?ve never been fouled eh in the box?Again this night we were denied a blatant penalty. AJ will have to be hit with a four by two by the defender for one to be considered now.
The Italians took the penalties with German efficiency, Yak?s pen hit the inside the post and out again, you just knew then it was not to be. Throughout the game their goalie Frey was inspired and lucky, he reminded me of Tomasezski when Poland knocked England out of the Euros. Goal bound balls hit his feet and knees. I thought it was a game made for Duncan to excel but I suppose he would have been sent off
Yet again our civilized Italians made racist noises in the corporate section they were given on the night, complaints were made but I don?t know if they have been seen through, maybe we could get the team chucked out. Nah we want to win fair and square. My mate Paddy hates racists and said we should have played the bagpipes not Z cars the Italians would have ran off like they did during the war.
Every Blue was proud of our teams display but we could not get that extra goal. Florentina knew they had been in a game and this was not the Everton team who turned up in Florence, they resulted to time wasting and re-enactments of soldiers being shot in Full Metal Jacket when tackled. The referee made some bizarre decisions which never helped but we could not finish the Italian job. Victor was not to beat Fred Pickering?s European record.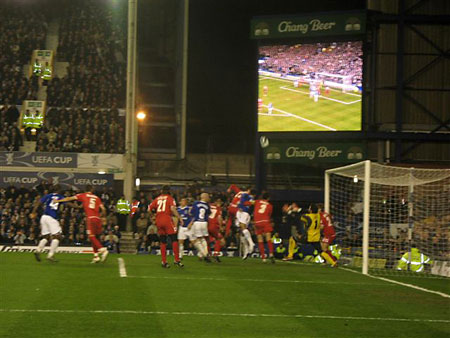 We just could not get that third goal
The Champagne we had on ice after the game was to be left unopened, for another time maybe, hopefully soon.
We have beaten the champions of Russia, Ukraine and Norway plus ended the longest European unbeaten home run at Alkmaar. I?ll have more of this next season please. Grahams busy writing a book on a guide too kebabs in Europe, do you know Graham buys another kebab for through the night to eat when he wakes! Barry has taken the oath and is also thinking of celibacy. I?ve enjoyed traveling with our extended family around Europe.
We still looked in on the next rounds draw like watching a car crash again you don?t really want to but feel you have too. We would have got the conquers of Spurs, PSV, ah Holland again happy days would have ensued. It?s bizarre that the Chumps league gave us a Merseyside / North London fixture we could have done the same with Spurs.
Oh well lets take stock eh? We have to date had a very good season no silver ware possible now in reality but we got to the semi final of the League cup we are currently fifth and could go on to get fourth. We got to the last 16 of the EUFA cup which has more rounds than a Gattling gun We have had some great games and days out, a plethora of when fit strikers and a team on the up .I?ve been guilty of eating humble pie with Moye?s on a few occasions having watched the highs and lows of his tenure.
But look at our squad now with what we had when he took over. Its not only the age difference but the value of the squad gradually pieced together .Sure its not quick enough for many fans but lets get real we have no real money or have had an injection of money to really get to challenging the top three any quicker. Spurs, Newcastle, Man City, Westham even Portsmouth regularly out spend us, we are well above them just now .Moyes has been given what every top manager needs, time.
We never look at the last fixtures now to see if we can stay up with hopeful sleepless night formulas.
There are two or three players needed now to have a really good side next season. Like Moyes says to take the next step up we need real money, but where from?
So lets take a deep breath be thankful of our European adventures this season and all the great memories of these trips, except Florence for many, and plan for next season .For now lets make Goodison a fortress again for the last home games this season like the Florence game and do our bit to get our passports out again next season. Let's go to Castle Greyskull and show no respect and get the luck and the type of ref they had this season at Goodison.
Reader Comments
Note: the following content is not moderated or vetted by the site owners at the time of submission. Comments are the responsibility of the poster. Disclaimer
Arthur Jones
1
Posted 25/03/2008 at 19:01:46
I?ve enjoyed reading your "European Adventures" this season Ian. I never went to all the away legs so you?ve filled a few gaps for me. Here?s hoping next season's chronicles have a piece of silverware at the end of it! Oh yeah I hope Barry is ok, I don?t really know him but like a lot of blues I know of him ? a legend amongst true blues.
Andrew Norbertson
2
Posted 25/03/2008 at 19:20:45
"Goodison rocked .Every man woman and child played a part to help our team give us a memorable night. If KEIOC want to make a video as to why this ground should be redeveloped then just play parts of this game, especially when Arteta scored the second goal to make the tie all square, everywhere was bouncing. Where there?s a will there is a way, Goodison can be developed end of."

Never a truer word spoken!
Monty Carlo
3
Posted 26/03/2008 at 12:45:45
Great review Ian. However, you forgot to mention that the Viola 'keeper Frey looked like Wolverine from the X-Men
Giuseppe Mangino
4
Posted 27/03/2008 at 15:49:17
Well, well, well.... another lesson of arrogance from our English friends.

So dear Ian, I have to remind you some things:

1) When English fans come to Italy and drunk like horses believe me... you are not very friendly. You can say that drinking beer is part of English culture..well, we also have culture...drink wine and cappuccino and maybe you also feel better when you go around the Italian streets.

2)Yes, Florence is good in the summer with your girlfriend or your wife...it?s more beautiful and more relaxing.

3) I wonder why many problems come with the English teams come to Italy.. WHY???? We have never had any problems with Germans, French or Spanish...Why?? I don?t know..it?s a mystery!

4) "The Italians would have ran off like they did during the war." ....Ian wake up, it?s 2008 not 1945...and by the way you must thanks the help of Americans...go to read a history book!

Good luck to your Premier League and your English (i reapeat: E-N-G-L-I-S-H...not French, Spanish or others) players to your national League..you need it!

Bye Bye Ian, from Italy with love!
Ian Macdonald
5
Posted 27/03/2008 at 20:46:16
Hi Giuseppe,
Most of the above is in humour like the War comment and Elvis... you do have humour in Italy?
If you got in touch with Kharkiv, Nuremburg, Alkmaar and Bergen our reputation as Ambassadors of our City is held high so why the no-alcohol ban, planes diverted last minute to further airports etc? We were English, that?s why. Like every BIG club we carry some baggage but not as much as many clubs.
Best of luck in the Cup. See you in the Champs league next season.
Arrivaderci!
Add Your Comments
In order to post a comment to Column articles, you need to be logged in as a registered user of the site.

Log in now
Or Sign up as a ToffeeWeb Member — it's free, takes just a few minutes and will allow you to post your comments on articles and MailBag submissions across the site.
© ToffeeWeb