Venue: Goodison Park, Liverpool
FA Cup
Wednesday 4 February 2008; 8:10pm
Gosling (118')
HT: 0-0 FT: 0-0
Attendance: 37,918
Referee: Alan Wiley
Gosling grabs derby glory with late strike
He only turned 19 two days ago and this was just his fifth appearance for Everton but Dan Gosling cemented his place in Goodison folklore when, with two minutes left of extra time and an utterly dreaded penalty shoot-out looming, he dispatched a curling shot in off Jose Reina's post to break an almost interminable deadlock and send the Blues through to the last 16 at Liverpool's expense.
For Everton, their first derby win since September 2006 was no more than they deserved after frustrating their bitter rivals so impressively at Anfield 10 days ago to earn the replay and then gradually ratcheting up the pressure as Liverpool seemingly dug in for a penalty shoot-out. After losing Steven Gerrard early on to injury and then being reduced to ten men when Lucas Lieva was shown a second yellow card with 15 minutes of normal time to go, Rafael Benitez — he who had complained so bitterly about Everton shutting up shop in the first game — signalled his intentions when he withdrew Fernando Torres midway through extra time and pulled his remaining red shirts behind the ball.
It looked to have worked as time ticked on towards a first ever derby shoot-out. The Blues had, up until that point failed to make their almost complete control of the preceding 40-odd minutes tell and there must have been many Evertonians who felt that the writing portending more cup agony from the spot was on the wall. Then, two unlikely heroes in the form of Goodison's forgotten man, Andy van der Meyde, and Gosling, an untried teenager signed from Plymouth Argyle a little over a year ago, combined to send the home faithful into unbridled ecstasy and set up a date with Aston Villa 11 days from now.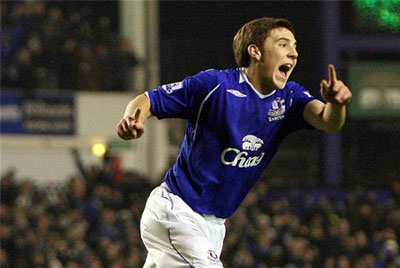 19 year-old Dan Gosling grabs a slice of history
As expected, David Moyes had named an unchanged line-up from the team that had lost at Manchester United at the weekend; indeed, there was little to distinguish between what was a disappointing performance at Old Trafford and the early going tonight as Liverpool controlled the first 20 minutes to so, but without really threatening Tim Howard's goal at all.
Xabi Alonso bouncing a long-range shot narrowly wide from 20-plus yards was the only meaningful attempt on either goal in the first quarter of an hour and Liverpool's prospects of either creating or scoring a goal were dealt a hammer blow at that point when their captain and inspiration, Gerrard, limped off with what appeared to be a hamstring strain. He was replaced by Yossi Benayoun but the Israeli was to pose Everton little threat all night.
In truth, so tight was this encounter that in the entire regulation 90 minutes only one clear-cut chance presented itself to either side. That fell to Leon Osman in the 71st minute when, after Mikel Arteta had brilliantly found Cahill in the box with a slide-rule pass and the Australian had laid it off neatly into the space ahead of the Everton no. 21, he drove his shot off the upright when he really should have scored.
If the pattern of play up that point were any indication, it probably would have been the match-winner. With exception of Gerrard's injury and a knock to Steven Pienaar that would eventually force him off after an hour, the first half had been a virtual non-event. Cahill had picked up the first booking of the game when he led with his elbow in an aerial challenge with Jamie Carragher, Pienaar the second for catching Lucas late, but in terms of goal attempts, that early Alonso shot, an Osman volley from outside the box, and an Arteta free kick that was driven into the defensive wall were the sum total of the action before the break.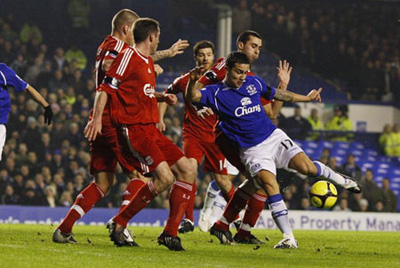 Tim Cahill has a rare chance blocked at close range
Th second period wasn't much better, Liverpool passing the ball about to little effect and Everton stuck in a rut of relying on the long ball from the back and giving the ball away too cheaply too often. Fellaini was as close to ineffective as you can get without actually being off the pitch, Cahill was a peripheral figure, Osman was still largely anonymous, but Arteta was at least getting forward a little more than has been the case in recent games.
There were bookings for Phil Neville and, crucially, for Lucas, both for late tackles before Fellaini was withdrawn seven minutes into the second half, presumably because of the shin injury that he picked up against Arsenal and which would surely explain his performance tonight. Gosling came on to replace him and he was joined by Jack Rodwell who came on for Pienaar.
Meanwhile, Liverpool caused Howard his only real moment of concern the entire game after 61 minutes when Alonso capitalised on the one mistake Phil Jagielka made all evening to thread a superb angled ball through the heart of the Everton defence to meet the run of Albert Riera but Howard raced off his line and blocked the Spaniard's shot.
Everton had already started to move up a gear by the time Lucas was sent off for a second bookable offence, this time for a deliberate check on Joleon Lescott as the defender maurauded across the halfway line, but his dismissal definitively swung the pendulum in the Blues' direction.
They had a couple of opportunities in the closing stages of the regulation 90 to make their threat from set-pieces pay but Arteta was guilty of wasting a corner and a free kick opportunity and the match rolled into 30 minutes of extra time.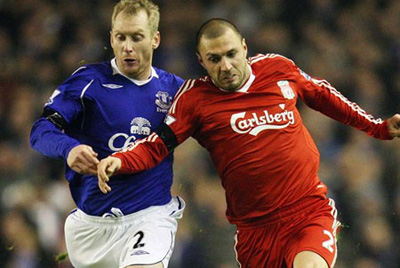 Tony Hibbert kept Dossena well shackled on the right
It became abundantly clear, though, that this was Everton's game to win and with Rodwell and Gosling showing composure, enterprise and confidence beyond their years, they took control after the second restart, coming forward in waves of attacks as they looked for ways to break down the reds' entrenched defence.
It looked as though they had in the 97th minute when Reina palmed Osman's deflected shot into the path of Gosling but the Spanish keeper recovered well to divert the shot behind. From the resulting corner, Cahill's stunning, salmon-like leap above two Liverpool defenders deserved better than for his glancing header to drop inches wide of the far post and have the Gwladys Street holding their heads in frustration.
As the teams switched sides for the second period of extra time, the game had begun to take on an air of inevitability. Never before had a penalty shootout been required to decide a Merseyside derby but it looked like that little piece of history was going to be rewritten this evening.
Benitez seemed content with a spot-kick lottery and withdrew Torres, really his only attacking threat, for the remaining 20 minutes. The Spain international's evening had been ruined by Jagielka who was absolutely majestic at the heart of Everton's defence. He had Torres in his pocket all game long and reduced him to a whining, petulant mess by the time he trudged off to the Liverpool bench.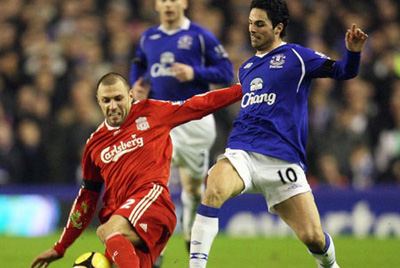 Mikel Arteta: got more license to pull the strings in forward areas
Moyes, however, who has taken his fair share of criticism for his substitutions during his seven years in charge, played what would prove to be a third trump card from the bench when he threw Andy van der Meyde on for Phil Neville with 14 minutes to go.
The match was 118 minutes old when the Dutchman collected the ball on the right flank and floated a delicious cross that dropped nicely to the feet of Gosling. The teenager faked to drive towards the byline before cutting back onto his right foot and, despite the close attentions of two defenders, a curling shot goalwards. The ball brushed off Martin Skrtel's boot just enough to carry it past Reina's despairing dive and in off the inside of the far post... and Goodison went ballistic.
All the credit sould go not only to Everton for the way they capitalised on Liverpool's misfortune and Lucas' misbehaviour but also to the two young substitutes who made it all happen.
After so many tough games, niggling injuries and the consequently jaded displays by the likes of Fellain and Osman, Gosling and Rodwell were revelations when they came on in the second half. Both grew in stature as game wore on and, together with Arteta, revelling in the ability afforded by Rodwell to come forward more and dictate matters in the final third, they really led the charge in the closing stages.
And who would have picked Van der Meyde to play such a crucial role in the winning goal? It was a superb cross, the like of which that is usually so lacking on that side of the field from Everton, and it may have done wonders for the potential revival — if it was ever alive in the first place — of his Goodison career.
So, into the fifth round and a chance to gain revenge over Aston Villa who, until United on Saturday, were the last team to beat the Blues, way back in mid-December. The pain of the last-minute defeat inflicted by Ashley Young has not diminished much in the interim and passage into the quarter finals at the expense of Martin O'Neill's side would be especially gratifying.
Match Preview
And so another Merseyside derby looms, the third in a fortnight and, for Everton, a fifth successive game against Sky Four opposition. No doubt fatigued and a little bruised, the Blues will nevertheless be hopeful that an FA Cup replay at Goodison, a game that has to be decided one way or another on the night, will provide not only a first win against those four so-called elite clubs since March 2007 and passage to the last 16 but also another night to savour for years to come.
The Premier League clash and the first Fourth Round tie both ended all square, these two old enemies unable to be separated on either occasion, and the replay promises to be just as tight. Liverpool struggled to assert their dominance over the Blues in two games at Anfield and David Moyes's side will be confident of killing the reds off on home turf.
They will have to play a lot better than they did at Manchester United on Saturday though, a game in which they looked tired and were singularly incapable of troubling Edwin van der Saar's goal. Much was down surely to the fact that none of Marouane Fellaini, Tim Cahill and Mikel Arteta were fully fit, each battling through injuries because of Moyes has no other options in a perennially threadbare squad.
Similarly, Leon Osman, a player who is long overdue surgery to correct a long-standing injury, continued in his recent vein of virtual anonymity. Nowhere to be seen has been the twinkle-toed midfielder with an eye for goal during this sticky part of the fixture calendar but it's hard to be critical of any of these players who have been running at 100% capacity for the two months since the manager lost his first three striking choices to injury.
Nevertheless, Moyes's reluctance to pitch Dan Gosling in particular into the fray when he could only have been more productive than a burned-out Ossie is troubling. Gosling wasn't able to contribute much when he came on a sub for the closing stages of one of the Anfield derbies but his precociousness and desire to get forward offer a different dynamic.
Only Steven Pienaar has shown any kind of potency in attacking midfield and, in stark contrast to the Hibbert-Neville-Osman axis on the right, has struck up a really useful rapport with Leighton Baines down the left. Baines was the source of some frustration among some quarters for his failure to deliver telling balls against United but the fact that he was even getting into those positions — sometimes thanks to his own skill, sometimes thanks to Pienaar's vision — is cause for genuine optimism... particularly as it was pin-point cross that provided Tim Cahill with his goal against Arsenal a week ago.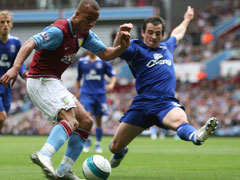 Leighton Baines:
in a rich vein of form
And Everton are going to need the Baines-Pienaar partnership to flourish again against Liverpool if they aren't to rely entirely on set-pieces. Moyes surely can't rely on Rafael Benitez's defence to allow Cahill to embarrass them for a third time — though you wouldn't bet against it! — and he will, therefore, need some more inspiration from his attack-minded midfielders.
That includes Arteta who, perhaps due to his injury or perhaps due to his manager's pragmatism, has been playing awfully deep of late and contributing less and less in the last third of the field. That has contributed to a general dearth of attempts on goal in open play from outside the box and a lack of imagination when delivering the final, telling ball.
Of course, Everton coming out of their well-fortified shell is what Benitez will be counting on. The Spaniard will be hoping that the Blues attack more than they did in the initial tie at Anfield and leave more spaces at the back for the likes of Ladyboy Torres and Stevie Me to exploit.
It's expected that Everton will be unchanged from the United game which represented their first defeat in nine games with Cahill leading the line once more. Assuming there is substance to reports in the gutter press yesterday that Victor Anichebe had a verbal slanging match with his manager and was tossed out of training, the 20 year-old striker won't even make the bench. Corroborating rumours suggest Moyes will cut off his nose to spite his face and hand Anichebe's place to untried youngster, James Wallace.
New signing Jô will watch from the stands as he us cup-tied and both Lukas Jutkiewicz and John Paul Kissock have started loan spells elsewhere but there may be a place on the bench for Lars Jacobsen who has recovered from a dislocated shoulder but now needs playing time to get fully fit.
Nothing beats Goodison under the lights and Everton have a great record in these kinds of games where the atmosphere is electric and the 12th man in the stands is roaring the Blues into victory. Indeed, 18 years ago Everton came back from the death four times in that epic 4-4 draw and went on to beat the reds 1-0 in the second replay. A repeat of the latter would do very nicely.
* Unfortunately, we cannot control other sites' content policies and therefore cannot guarantee that links to external reports will remain active.
EVERTON (4-5-1)
Howard
Hibbert :113'
Jagielka
Lescott
Baines
Neville {c}:48' (108' Van der Meyde)
Arteta :71'
Osman
Pienaar :43' (60' Rodwell)
Fellaini (51' Gosling)
Cahill :19'
Subs not used
Nash
Jacobsen
Castillo
Yobo
Unavailable
Yakubu (injured)
Saha (injured)
Vaughan (injured)
Valente (injured)
Jô (cup-tied)
Kissock (loan)
Jutkiewicz (loan)
LIVERPOOL (4-4-2)
Reina
Dossena
Skrtel
Carragher
Arbeloa
Alonso
Lucas :50' :71'
Riera (79' Mascherano)
Gerrard (16' Benayoun)
Kuyt
Torres (100' Babel)
Subs not used
Agger
Hyppia
Cavalieri
El Zhar
Cup Replay Scores
Tuesday 3 February 2009
Burnley
3-1
West Brom
Wednesday 4 February 2009
Aston Villa
3-1
Doncaster
Blackburn
2-1
Sunderland
Everton
1-0
Liverpool
Nott'm Forest
2-3
Derby County