David Moyes reverted to the line-up that did so well to beat Blackburn last weekend, Hibbert, Bilyaletdinov, Neill, Yakubu, Gosling and Jo all on a very strong-looking bench.
Cahill had a poke from distance early on but straight at James after the initial exchanges. Dindane looked well up for it and beat three Everton defenders before fouling. Cahill won a corner taken by Baines to swing it in but it failed to clear the first man. Everton had the better possession but Portsmouth were like tigers when they had the ball, well bouyed by the lively Fratton Park atmosphere.
A brilliant chest-down by Saha from a throw-in allowed Cahill to put in a great half-volley that dipped too early and allowed James, off his line, to make a dramatic save. Heitinga was too easily by-passed by Boateng but Dindane's shot was across the goal after subtle intervention by Heitinga making amends. Portsmouth were direct and energetic, with no little determination as Boateng got past Heitinga, Everton's clearances hurried and hoofed. Far too many attacks down the Everton right were getting in a little too close for comfort as Portsmouth sought to take the initiative.
Distin and Dindane were having quite a tussle, the ex-Portsmouth defender mostly coming out on top against the tricky striker. Osman was looking weak and ineffective, too easily brushed off the ball. Everton had been increasingly rushed but looked better when they played it on the ground. Out of nothing, Saha turned beautifully and struck a nice shot from distance that flew just a foot or two off-target.
Then a great run in from Saha drew the challenge and won a dangerous free-kick. But Heitinga's delivery was straight into the wall, an opportunity wasted. Fellaini gave away free-kick that the wall dealt with effectively off Kaboul. Heitinga failed to cross properly, losing possession; the resulting Pompey attack saw Howard fumble a high ball and kick it away in panic.
After a great run, Pienaar under a lot of pressure crosses well, straight at Cahill, who had to check his forward run and could not direct the free header. Fellaini and Pienaar played some great football on the ground to get the South African in close but his cross/shot was poor. As Everton looked to play football, Osman was again the weak point, too easily brushed off the ball. A superb free-kick swung in deep by Baines looked like a great chance but James came out to punch decisively.
Portsmouth attacked through the middle and Smith played a superb through ball for Dindane that well beat Distin but Howard blocked superbly as Distin recovered to nudge him at the critical moment. Baines won a corner but again failed to beat the first man. Osman cleaned up, beat his man, and swung in a nice cross straight to Fellaini who should have scored but his header was blocked on the line by James's despairing left foot. At the other end, Boateng was tricky but could not beat Distin.
Heitinga again looked poor, letting a high ball bounce and allowing Pompey to mount an attack that needed defending. But with half-time looming, a deep, deep hoof by Heitinga was superbly controlled by Saha's face(!) and then smashed brilliantly past the advancing James into the back of the Pompey net with the deftest strike of his left foot, a fantastic striker's goal — his seventh of the season. Cahill had a free header off a much better Baines corner but it was straight at James.
The start of the second half was scrappy and Pienaar was penalized; from the free-kick, Ben-Haim got a free header from close range that Howard saved brilliantly with a twitch of his left shoulder! Pompey looked the brighter, until Kaboul flattened Cahill and a good attack followed, Pienaar scooping in a great cross. Pienaar then suffered a bizarre head-butt to the groin that looked to have twisted his knee. He tried to come back on but went down again and had to be stretchered off... very worrying for the Blues.
Bilyaletdinov came on in his place at the hour mark and nearly got decapitated by a high boot that ripped the shoulder of his shirt. Saha did brilliantly to beat a couple of players and draw another threatening free kick that Bily swung perfectl deep to the far post and James had to stretch to clip over Fellaini's great header. Bily's corner was superbly headed down by Cahill to beat James but Smith cleared it off the line.
Portsmouth attacked with vim and vigour, a prolonged period of attack stretching the Everton defence, Mokoena heading onto the bar with his last touch of the game. Hibbert came on for Osman, but Portsmouth kept attacking, Smith having a couple of close pokes at the Everton goal. Everton seemed content to hold the lead and rely on their commanding defence, with increasingly rare Everton attacks coming to nothing.
With 10 mins left, Saha won a corner that Bilya could not deliver properly and on the retreat, Rodwell blocked, and was booked for interfering with the quickly taken free-kick. Portsmouth continued to beat away unrelentingly but could not really get the penetration they desperately wanted through the resolute Everton defence. Yobo stopped Dindane's run and earned a yellow for it, Kanu threatening off the free-kick and Baines clearing off the line from the corner. The half of living dangerously...
With time ticking on, Jô came on for Saha as Fellaini clipped heels for a third yellow card in 10 mins. 5 mins of added time as Weber came on for Smith and Portsmouth launched wave after wave of attack. Solid stuff from Howard to stop a late drive from Boateng and Everton secured a firm if at times desperate win where they lost last season, condemning Pompey to seven successive defeats in their dismal start to the season.
In many ways it was a reprise of Fulham (A)... except we won! 3pts takes the Blues up into the top half of the table.
Match Report
Everton escaped from Fratton Park with their first away points of the season thanks to a consummate striker's goal by Louis Saha, some brilliance from Tim Howard, and a bit of help from the woodwork as plucky Portsmouth tried in vain to make the breakthrough in the second half.
The Blues were full value for their half-time lead, having displayed some of the poise and patience that has been the hallmark of their European exploits. They could count themselves as perhaps fortunate, though, to leave with all the spoils following a second-half display that became increasingly ragged and frenetic, particularly after Steven Pienaar went off on a stretcher with a worrying-looking knee injury.
As expected, David Moyes plumped for the same XI that started against Blackburn and the Blues got off to an impressive start and Tim Cahill almost fashioned the opener when he unloaded on Saha's chest-down from a throw-in but the Australian's left-foot half-volley was saved at full stretch by David James and gathered at the second attempt the goalkeeper.
Pompey, roared on by a raucous and annoyingly repetitive home crowd, then wrested the initiative from the visitors and seemed to have found a profitable avenue down the Everton right where they were repeatedly getting in behind John Heitinga with ease. Thankfully for the Blues, however, Paul Hart's side demonstrated all too clearly why they had lost their opening six games prior to today with poor end product in the final third.
Everton, meanwhile, spurred on by Pienaar and Cahill from midfield, continued to carry the greater threat and Saha cracked a volley narrowly over before Heitinga wasted a direct free kick in a dangerous position outside the box by crashing it inelegantly into the wall. Leighton Baines had scored from a similar position here in the spring and he would surely have done better.
Both sides might have scored before Everton eventually did. Tommy Smith slipped the ball between Joseph Yobo and a slightly ponderous Sylvain Distin and Dindane was in one-on-one with Howard but the American was equal to the task and denied him with an excellent one-handed save.
At the other end, Leon Osman chipped the ball back into the mixer after Baines's effort had sailed across the box and Fellaini's header was destined for the back of the net until James stuck out a foot and kicked his effort off the line.
Three minutes before half time, though, the Blues scored what would prove to be the winning goal. Heitinga hoisted an angled ball into the area to meet Saha's run and the French striker controlled it with his face and when the ball dropped invitingly in front of him he lashed it into the roof of the net. A terrific finish and his seventh of the campaign in all competitions.
As was to be expected, the second half brought more pressure from Pompey, and when Pienaar was adjudged to have fouled his man near the touchline, the Everton defence went to sleep as the resulting free kick was swung in allowing Tal Ben Haim a free header from six-yards. Howard instinctively flexed his left shoulder and made a miracle save from point-blank-range to divert the ball over the bar and out for a corner. Quite rightly, he berated his defence, particularly Heitinga who hadn't even attempted a jump to challenge the Israeli defender.
Pienaar's game was ended a few minutes later when Aaron Mokoena clattered through him and caught the South African's knee, leaving him hobbling on the sidelines trying to walk the injury off. Although he came back on for a few seconds, he slumped back to the turf almost immediately and was stretchered off.
Diniyar Bilyaletdinov came on to replace him and proceedings became increasingly bad-tempered and scrappy. Portsmouth seemed to resort to kicking anything that moved in their desperation to get something out of the game and referee Alan Wiley seemed quite happy to do everything he could to help them out.
A succession of fouls that might have warranted yellow cards from other referees went unpunished but when the Blues did get a decision from the official in the 66th minute, they almost put the game beyond their hosts. Bilyaetdinov swung a free kick into the area and Fellaini's header at the back post was tipped over by James. From the corner, Cahill rose in typical fashion and he too looked to have scored but Smith booted the ball off the goalline.
That effectively ended Everton's attacking threat because the last 20 minutes or so largely belonged to the home team. And with 18 minutes of the regulation 90 remaining, they almost grabbed an equaliser. Smith headed a corner from the Pompey right back across goal to Mokoena who rose to head unchallenged by Heitinga but his effort came off the face of the crossbar and was ultimately helped away from danger by Fellaini and Distin.
Smith himself went close a couple of minutes after that with a dipping half-volley after his initial shot had been blocked by Yobo before Osman was withdrawn in favour of Tony Hibbert and Heitinga moved into right midfield, though the switch did nothing for what was at times an awful performance by the Dutchman.
After yet more unbelievably lapse officiating by Wiley where repeated fouls went unpunished, the baying Pompey fans looked at last to have been rewarded for their faith on the 90-minute mark when the substitute Yebda connected with a corner and had beaten Howard with his header, only for Baines to head off the line and preserve three precious points for the Blues.
On balance, Moyes will feel as though his side deserved the win and they did, though they did ride their luck a little in the second half. More concerning will be how noticeable their threat going forward diminished after Pienaar had left the field. Fellaini tried in vain to spark a few moves to life but he was often clumsy and wasteful in possession and even the usually unflappable Jack Rodwell put a few stray passes to blue jerseys instead of to embarrassing black and pink.
But three points away from home is all that matters and we can only hope that the injury to Pienaar is not a severe one as we can ill afford to lose another of our most crucial team members.
Player Ratings: Howard 7, Heitinga 5, Yobo 7, Distin 6, Baines 7, Rodwell 6, Fellaini 6, Osman 6, Pienaar 7, Cahill 7, Saha 7, (Bilyaletdinov 6, Hibbert 7, Jo 7)
Match Preview
Eleven goals without reply in three games, some wonderful football played, especially against Blackburn, options throughout the team, and in Steven Pienaar a player who has stepped up to fill the creative void left by Mikel Arteta in admirable fashion.
The South African was outstanding against Rovers last Sunday and, after taking a breather on Wednesday by sitting out the Blues' mauling of Gull City in the League Cup, Pienaar will hopefully be raring to go against Portsmouth who were one of only two clubs who did the double over Everton last season.
Pompey are a very different proposition this season, though. Without the likes of Jermaine Defoe and Peter Crouch and rooted to the bottom of the Premier League with six straight defeats, Paul Hart's side are suffering from the kind of crisis in confidence that would make them easy pickings... or it'll be another case of Everton again obliging a struggling club with their first win of the season!
If the confidence they've displayed in the last three games is anything to go by, though, the Blues should be fired up for this one, as will Yakubu be as he is in line to face his former club if he shakes off a slight thigh strain that he picked up at the KC Stadium in midweek.
Then there's Louis Saha who also sat out against Hull but who is in a rich vein of form with six goals so far and he could well start this one on that basis alone, although the Yak's match fitness — or lack thereof — may tip the scales in the Frenchman's favour. And how nice for Moyes to have one more goalscorer up his sleeve in Jô who will be buouyed by getting his first away goal for the Blues in the Cup on Wednesday.
Joseph Yobo will surely return to central defence after being rested against the Tigers, resuming his increasingly solid partnership with ex-Portsmouth man Sylvain Distin, and it would not be a surprise if the manager reverted to the team that started against Blackburn last weekend, with the exception of Leon Osman.
That would mean Johnny Heitinga lining up at right back, Marouane Fellaini slotting back into central midfield alongside Jack Rodwell, DIniyar Bilyaletdinov making his first Premier League start, and Steven Pienaar coming in on the right side of midfield.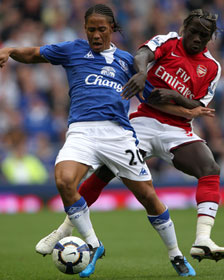 Steven Pienaar:
in scintillating form
Pompey will, at least, have taken heart from their own emphatic Carling Cup win at Carlisle United and, as with Craven Cottage, where the Blues came a cropper in their last Premier League away game, the small confines of Fratton Park don't always bring the best out of the Blues.
Certainly, the traveling faithful will be hoping to see more of the eye-catching pass-and-move football that helped blow away AEK and Blackburn and less of the hoof-and-hope strategy that was so singularly ineffective at Fulham.
Victory would get the Blues off the mark on their travels in the League this season and provide further evidence that they've the put their horrendous start behind them.
* Unfortunately, we cannot control other sites' content policies and therefore cannot guarantee that links to external reports will remain active.