FAN ARTICLES
The Way Back
Dave Roberts's piece on the decline and fall of Everton highlighted a number of historical occasions when, in hindsight, those in charge of the club appear to have taken a safety-first attitude (you could substitute, careless, clueless or stupid at this point)  But today?s football club is a million miles away from the animal of the 60s, 70s or 80s.
The Chairman & the Board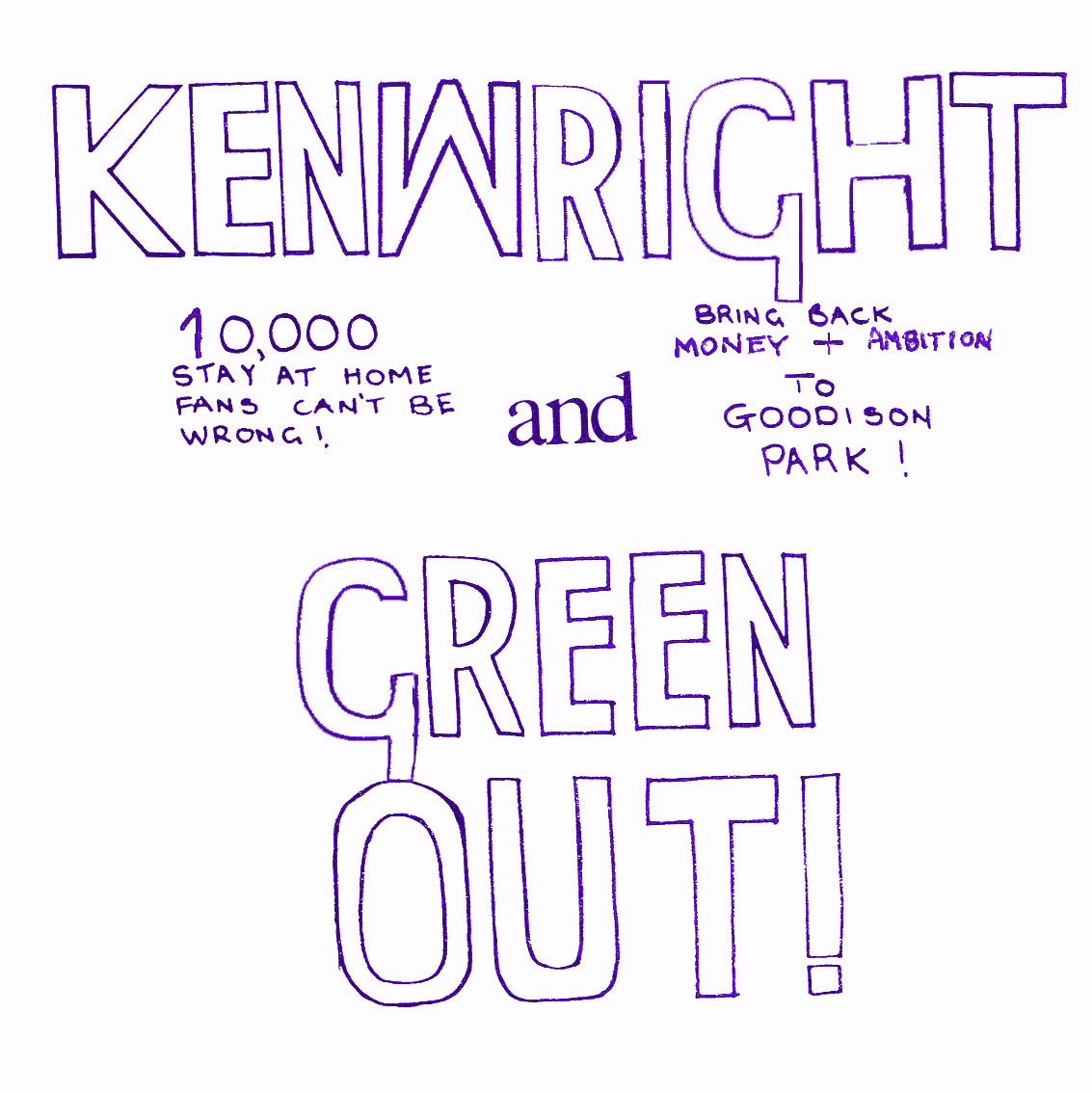 As a board member of an ailing club, there is guilt by association; but the Chairman is seen as being directly responsible. It?s a clean and clinical difference. Of course it?s not been all been Kenwright?s fault, only an idiot would claim that, but the responsibility for getting us out of trouble is.
And that?s the problem. It?s the guilt by association to a poor board that undermined his tenure from the start... but, on top of that, he lost credibility with fans for so many reasons, all well documented.
He lost and abused the trust that we gave; he and he alone split the fan base, alienated shareholders, oversold and under delivered. His credibility with most Everton fans is severely and irrepealably damaged and rightly so. The face that the world sees is not the face we live with.
Faith in his leadership has disappeared and turned to anger. This is tainting all things in the club now, everything is seen with a critical eye and souring any good that may be done by some very dedicated staff and players.  It is this reason that the club needs to be sold immediately. Not for all the broken promises or the contracts but for the good of the club. We are walking a very fine line that could see us have a good future or a demise that would be hard to stop and recover from.
The Fans
Faith in the club, its leadership and the fans needs to be restored.  The club needs to have faith in its fans, needs to have a consolidated fan based that supports the club wholeheartedly in its vision and direction. That needs to be won back. It won?t make everything ok, but it will make us stronger.
As fans, we need something and someone to believe in. We support the team, but not the club. That needs to change and perhaps so do we. But right now it?s imperative we survive.
The Manager
David Moyes has taken us to a level and, with what he has available, done very well overall. But he is not dynamic in his tactics and often a cause for frustration; he is conservative when sometimes we needed to go for it. His continual support for Bill Kenwright is damaging his own achievements even though his veiled warnings regarding investment must have ruffled Kenwright's feathers.
He is becoming tainted by association and, although he is the better half of the partnership in most eyes, it does open him up to criticism. At the moment, he is the only one we see, the only one who sticks his head above the trench, so he will cop all our frustrations. It's wrong but it?s more a reflection on how the club is run and its leadership than the personal integrity or ability of the manager.
The Future
A fresh start: Something and someone to believe in; Change, because the spiral will continue. Some good people will fall as well as the deadwood when change happens, but it still needs to happen.
Forget the investment. We need selling at a price that will enable our debts to be paid and a future vision to be set in place. Although good management without a change of owner could mean survival, it will not mean progress on the field. Good management with a clean slate is required, people with vision, skill and desire once again.
We need a voice too, a unified voice. A vehicle for interaction with the club, a little transparency goes a long way to ensure understanding and a rekindling of faith.
I wrote a while back on the need for Faith and Hope... I now add Change.
We need a future we can believe in.
Reader Comments
Note: the following content is not moderated or vetted by the site owners at the time of submission. Comments are the responsibility of the poster. Disclaimer
Add Your Comments
In order to post a comment to Fan Articles, you need to be logged in as a registered user of the site.

Log in now
Or Sign up as a ToffeeWeb Member — it's free, takes just a few minutes and will allow you to post your comments on articles and MailBag submissions across the site.
© ToffeeWeb