COLUMNIST PAUL TRAILL
Liverpool Invasion
By
Paul Traill
:: 30/10/2011

6
Comments
(
»Last
)
Back in the summer, on a visit to Everton?s pre-season assignment in Bremen, I got to know a Nurnburg supporter who has grown fond of Everton since our trip there in 2007. Stefan, who has stayed in touch with several Blues since the Nurnburg vs Everton match, brought with him an army of Nurnburg / Everton supporters for yesterday?s fixture with Manchester United. It's always fantastic to meet Blues from alternative parts of the world.
With a German invasion scheduled, my girlfriend (who?s also German) wasn?t going to miss this, whilst a few other friends recently back from serving from Afghanistan joined the usual rabble for the visit of the champions.
We took the bus to the game and, on exchanging buses at Queens Square, Katja recognized a few distinctly Franken accents behind us boarding he bus though I couldn?t see Stefan amongst them. The early kick off put everyone in just a bit more of a rush and the bus was packed. We finally got to the pub at about 11:15 am and squeezed in a quick pint before the match.
No great surprises with the team? Howard of course involved and Hibbert and Osman in for the injured pair of Neville and Cahill. Man Utd looked threatening with their attacking line-up including Rooney, Hernandez and Welbeck. The referee was Mark Halsey.
Into the ground and it was pretty noisy for an early kick off. Everton attacked from the off with Coleman dribbling into the box and getting his shot away but straight at De Gea. At the other end, Park nearly nicked a goal for Man Utd when he nipped into the box though jabbed his shot straight at Howard from short distance.
It was rather edgy from both teams following that until Man Utd seized control and took the lead when Hernandez got on the end of an Evra cross to tuck home. The fella behind me went ape at the referee for a supposed push on Jagielka by Rooney as the cross came over. Jagielka looked miffed too. I?ve seen it since and I?ve got to say I didn?t see much in it really. 1-0 Man Utd and at that stage of the game it was certainly fair.
What wasn?t fair, as I take the stage to bleat on about this once again, was the referee?s bias towards the supposed bigger team. I don?t think he gave us much at all in this one. Correct me if I?m wrong but other than offsides I believe we didn?t actually get a free kick until the 36th minute? surely some sort of record? Halsey did have opportunities to give free kicks also and just refused to do so.
Its things like this which make me lose more and more faith in the game. We?ve now seen us play Man City, Liverpool, Chelsea twice and Man Utd and got very little from Atkinson, Webb, Jones, Mason and now Halsey. Well, OK, Mason wasn?t really a bad referee and though I thought he was rather biased, Jones made no difference as we lost at Chelsea because we were woeful but I?m getting rather sick of this from the referees now. It?s particularly tough competing with other teams financially at the moment but for me it?s just not a level playing field and for the first time I?m starting to question if it?s all worth it any more.
Back to the game; despite all this, Everton did finally get it together towards the end of the half, first when Osman stabbed a half-volley at goal though it was comfortable for the keeper and then Rodwell took hold of the ball in the midfield and carried it forward but zipped his strike just wide of the post.
The closest we came however was from one of those rare free kicks when Baines clipped it deliciously up and over the wall but back off the crossbar? exactly the same as his effort in our first game against QPR. Saha also had a chance just at the end of the half but his effort was also straight at De Gea. At half time, though trailing, we were at least buoyant given what we?d created and felt we could do more in the second half.
Moyes changed it at the break, replacing Bilyaletdinov with Barkely? you?ve gotta feel Diniyar is running out of time at Everton. The crowd have it in for him big time and his confidence is totally shot. Anyway, Barkley started the half brightly though faded.
Everton pretty much dominated the half but everything was all sadly predictable with no real flair and chances were at a bit of a premium. The closest we came was probably when Rodwell drove at goal and De Gea dived to his right to save. The other good chance came amidst an almighty scramble but we just couldn?t force the ball home. The only Man Utd chance of note was when Welbeck got into the box on the counter attack and Howard saved his powerful drive. The talking point was the possible penalty when Evra collided with Gueye in the penalty area. Having seen it again, no, it probably wasn?t a penalty but you can bet your bottom dollar it would have been given down the other end of the pitch.
Whilst it?s difficult to criticize the team for their efforts, I think it?s fair to criticize Moyes for his tactical decisions in this one. I think he played the Barkley card too soon and a better sub later would have been to drop Coleman to right back and take Hibbert off and get Gueye down the wing to get a bit more quality of ball into the box. Bringing Vellios on was good as it got another striker on? but then he took Saha off for Gueye. I?d have liked to have seen us have a go with two forwards on the pitch, so Stracqualursi would have been a useful sub instead.
All just my opinion of course but I regret that we didn?t just go for it a bit more, particularly towards the end of the game. Oh, I almost forgot, the comedy moment came when the linesman fell over near the end of the game and had to be replaced by the Fourth Official. ?He must have put his flag up that quickly he dislocated his shoulder? quipped the guy behind me.
Following the match, we saw most of the second half of a quite unbelievable game at Stamford Bridge (see what happens when you go for it a bit, Moyesie) in the pub before heading on to The Ship and Mitre in town to catch up with the Nurnburg / Everton fans. It was great to catch up with Stefan again, albeit briefly, and nice to mingle with some other Evertonians he knew and hear their stories.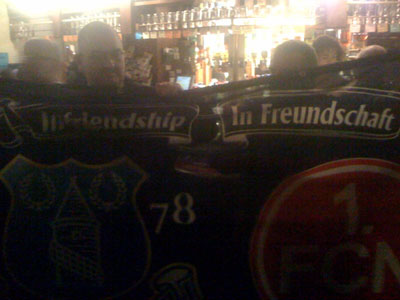 I also bumped into a mate Jay who I haven?t seen for a while. He?s about as staunch a blue as they come. He used to get to every game, everywhere, though he was saying he no longer gets to away games quite as much anymore ? basically as he?s had enough of the Board? a sad sign of the times really.
More positively, seeing the Nurnburg supporters was great. They?d brought with them a fantastic Everton / Nurnburg banner as a gift. It all brought back great memories of that fantastic trip to Nurnberg in 2007. That was about as good a trip as you could wish for? oh how we all long for more days like that one.
Well we?ve unsuccessfully hurdled the tough games now? let's hope we can climb that table now with the run of games we?ve got and you just never know?maybe more trips like that one.
Player Ratings:
Howard: Helpless with the goal, though saved well when he needed to. Kicking so-so. 7
Baines: In a bit of a sticky spell but he?ll come through it OK. I think he needs a settled player in front of him to combine with. Maybe Drenthe can fill that void. Very unlucky with the free kick. 6
Jagielka: Very good. I?m quite a fan of Distin, I think he?s possibly been our best player this season but I thought the partnership of Jagielka and Heitinga was excellent yesterday, probably the best we?ve defended all season. Might be worth given them both a go. 7
Heitinga: Excellent. My man of the match. Much more like the Heitinga we had when he first arrived. Good defensively and with distribution. 8
Hibbert: Was alright but just didn?t have the quality with crosses and should have been replaced by Coleman I thought to get more quality in there. 6
Fellaini: Excellent. Covered a lot of ground. Will be missed at St James Park next weekend. 8
Bilyaletdinov: Suffering very, very badly. His confidence is totally shot. Probably best for everyone if he moves on in January. Shame it hasn?t worked out because he has got the ability. 4
Rodwell: Did quite well. A bit unlucky not to score with at least one of his efforts. Now starting to get back to form again? it's been quite a while. 7
Coleman: Ddid very well I thought. Also starting to show form. 7
Osman: Did well first half though faded in the second half before being replaced by Vellios. 6
Saha: Poor. Perhaps tired from Wednesday. 5
Barkley (for Bilayletdinov): Began brightly though faded. You can see why Moyes is holding him back a bit just for now. 5
Vellios (for Osman): Didn?t really get going. 5
Gueuye (for Saha): Looked fairly lively. Would like to have seen him have an opportunity a little earlier. Hopefully his time will come. 5
Reader Comments
Note: the following content is not moderated or vetted by the site owners at the time of submission. Comments are the responsibility of the poster. Disclaimer
Phil O'Rourke
1
Posted 30/10/2011 at 13:49:48
Had the pleasure of arranging the 16 tickets for the lads and girls from Nurnburg.

Also a pleasure having a "few" beers with Stefan and the invading Frankonians on Friday and before and after the match on Saturday.

The flag Paul talks about is superb, although same was given to Kevin as a thank you for his friendship with the lads. So may not be seen at the match.

I have to say a thank you to them all for the Nurnburg shirt and various badges/pennants they brought over for my lad Ciaran.

If any of the powers that be at Everton read these things make next years European friendly in Nurnburg!!
Dave Wilson
2
Posted 30/10/2011 at 13:28:54
Its driving me fucken nuts the way we are not getting the decisions too Paul.

I`m not sure the refs are biased towards us though, its more a question of our players and manager making it too easy for them to rule against us.
We can all know Sportsmanship and fair play were replaced by replaced by cynicism and Gamesmanship years ago . . so why doesnt somebody tell Davey Moyes ? His teams sportingly accept shite decisions against them every week.

When Fergie/Wenger/Dalgliesh`s team get a decision against them, the referee is put under so much pressure he is terrified to rule against them again.

I was tearing my hair out when they were getting away with niggly foul after niggly foul, by pointing out it was 36 minutes before we got a free kick you've sent my blood pressure through the roof again

Man U parked the bus, Rooney spent the entire second half in the "Carsley" role as they concentrated on getting nine men behind the ball. Hernandez would have needed binoculars to find support. If Everton did this Moyes would have been slaughtered, Fergie leaves a 100 million quids worth of talent on the bench in order to "spoil" the game and nobody bats an eyelid
Jem Traynor
3
Posted 30/10/2011 at 19:37:48
Me too! So obvious that these so called referee's are patently one sided! I mean what was Baines's yellow about! No contact and no free kick, All that says to me is, BIAS! and all th other games we've had! I mean Come on they call it a draw at Soho Square (if I'm not Mistaken) so how come the draw ended up like that way and we always seem to get a bombardment of the so called 'top clubs' in one go! WTF! I know they would all prefer if every Evertonion just gave up and said ahhh Fuck it I'm not following them anymore but that's were we are and to the Board et all Fans of The Club are getting pissed off with the lack of activity and the way they are being treated by everyone involved in football (afficiando's) Do some thing about it!
Pat Finegan
4
Posted 30/10/2011 at 20:38:16
Talk about the refs being biased... At one point in the broadcast when a United player took a dive, one of the commentators said "there doesn't have to be contact for it to be a foul."

I thought Bily looked really awful. Remember when he first got here? He won player of the month and looked a good buy. I don't know what's happened.

I thought we dominated most of the game but, as usual, we couldn't find an end product. At least this time we went for it and made it entertaining.
Jimmy Sorheim
5
Posted 31/10/2011 at 08:50:12
It appears Billy needs to play in a more forward central role. He is at his best right in front of goal, and at the moment cahill is injured so he is our only alternative there. He needs to play more evenly and in the right position. He does have pace problems so Gueye and Drenthe has to be preffered on the left. Hope Moyes does get his pick right against newcastle. Though he never does.
Dick Fearon
6
Posted 31/10/2011 at 11:23:46
I agree with the claim that mobbing the ref could be part the game plan of some clubs. The perceived bias in favour of those, usually 'big' clubs probably does sway decisions in 50/50 cases.

Quite clearly Everton's non-complaining attitude does not gain us any appreciation or advantage from match officials. SAF, Daglish, Wenger and VBM never admonish their own players for ganging up on the ref or by simulating injury to get opponents carded. The same hypocrites scream from the roof tops if they think opponents are pulling the same tricks.

Add Your Comments
In order to post a comment to Column articles, you need to be logged in as a registered user of the site.

Log in now
Or Sign up as a ToffeeWeb Member — it's free, takes just a few minutes and will allow you to post your comments on articles and MailBag submissions across the site.
© ToffeeWeb