Gibson starts light training
08/11/2012

Comments
(41)
jump to end
Looking to return against Reading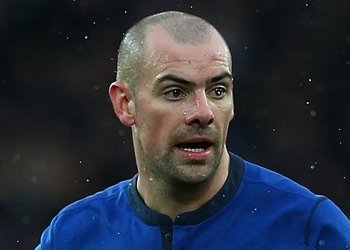 Darron Gibson took another step on the road to making his long-awaited comeback from injury when he resumed light training this week. The Irishman, whose absence has been keenly felt in Everton's midfield, has his sights set on a first-team return against Reading in nine days' time.
The 25-year-old has been out for well over two months after being forced to withdraw from the 2-0 defeat at West Bromwich Albion on 1st September. He has missed eight matches after his thigh tendon problem proved more complicated than the Blues' medical staff at first thought.
His recovery has been slow but the club have been patient with him, being careful not to rush him through rehabilitation and risk a relapse.
It's unlikely, therefore, that he will be risked in this weekend's home clash with Sunderland; more likely is the following weekend's game at the Madjeski Stadium.
Quotes or other material sourced from Chester Chroonicle
Reader Comments
Note: the following content is not moderated or vetted by the site owners at the time of submission. Comments are the responsibility of the poster. Disclaimer
James Martin
650
Posted 08/11/2012 at 16:36:03
Hopefully in place fit and firing for our tough run over December.
Minik Hansen
659
Posted 08/11/2012 at 17:04:03
James you got it right, all the best wishes for Gibson, may he be well and take the fight up with the rest of the lads in december! COYB.
Andy Meighan
674
Posted 08/11/2012 at 18:53:04
It could be argued you're right but the truth is we haven't really missed him that much. And I really like Gibbo but at least he's on the mend so he ll strengthen the squad there's no easy games in this league.

And even though the Sunderland game looks a home banker we all know how football has a nasty habit of smashing everyone's fixed odds coupons to smithereens I'd settle for a scrappy 1-0 win now
Ian Bennett
677
Posted 08/11/2012 at 19:02:25
Don't rush him back. We need a fit gibbo for the title run in.
Paul Kelly
702
Posted 08/11/2012 at 20:41:31
Think he needs replacing. would like to see him play more obviously but I think he's another 'sick note'. Hope I'm wrong but his injury record speaks for its self. Better spending wages on someone who could play
Ben Jones
704
Posted 08/11/2012 at 21:04:06
Paul,
How does it speak for itself? I know hes been injured quite a bit, but was he injured a lot for Utd? Is it worthy of the sicknote tag?
I'm not having a go, I just don't really know if I'm honest
Paul Kelly
717
Posted 08/11/2012 at 22:02:44
Fair play Ben but in response gibbo has made 18 apps and it will be game 36 sat since he joined.
Now he may of been rested for tactical reasons but i'm pretty sure he's missed most through injury.
If i'm wrong please someone let me know and as for why UTD let him go, injury or just surplus to requirements i'm not sure.
Ben Jones
734
Posted 09/11/2012 at 01:05:15
Yeah fair enough Paul, that is a massive chunk. But I think sicknote isn't a fair label unless he did get injured a lot at Utd, I mean he could've done, I'm sure somebody will answer that.
Now that James Vaughan, he was a sick note!
Christopher De Costa
743
Posted 09/11/2012 at 07:04:50
Paul
Would you call Fellaini a sicknote? Or how about Cahill, Arteta, Osman, Jags, Hibbo or Neville? I could go on! They have all spent time on the injury list in the past.

My point is that players get injured in football, it's part and parcel of the game. The lad only signed in January and you've labelled him already. The only thing that speaks for itself here, is that you're talking complete bollocks!
Ian Bennett
744
Posted 09/11/2012 at 07:28:12
CDC - I agree, it's a bit harsh. Yes he's been injured a bit, but most is now, so of course the stats are going to look crap.
If the same happens over the next 100 games we have a problem.
Christopher De Costa
745
Posted 09/11/2012 at 07:20:38
How much did we pay for Gibson? £500k? The shite payed £15 million for Joe Allen!!!! Yes he's a good player, but it certainly puts into perspective just what a good piece of business it was to get him for that amount of money. He has had a good steady start to his EFC career and I would imagine that by the end of the season he will have played a vital role for us. Replace him? Sicknote? I think not!
Ciarán McGlone
749
Posted 09/11/2012 at 08:18:45
I fear we'll never get an extended use out of him...
Paul Kelly
760
Posted 09/11/2012 at 08:50:28
£500? Chris, that would have been a bargain, agreed.
As for what the Shite paid for Allen has got to do with Gibbo's injuries, enlighten me. No need to bring that shower across the park into it to bolster your argument when it's got fuck all to do with what were on about.
As for talking bollocks, I based my opinion on facts; he's missed a lot already. I can only base my opinion on what I've seen, I hope I'm wrong and he goes on and plays many more games. Only time will tell.
If any of the above is wrong, someone let me know, I'm man enough to apologise... Anyway must go and re-employ John from accounting who got sacked for missing half his shifts since joining the company in January before I end up at an industrial tribunal.
If only everything in life was as simple as being a footballer.
COYB
Christopher De Costa
764
Posted 09/11/2012 at 10:21:01
Paul,

I brought up Joe Allen as a comparison to what we paid for Gibson, as in my opinion there is not any gap in quality between them. My point about that is, even if he has had a few injuries at Man Utd (and I don't know if he did) £500k is hardly a massive gamble to take.

The reason I think you're talking bollocks is the fact that you think he should be replaced, and also the fact that you call him "sick note". Yes, he has been injured and could've played more games, but he has only been here since January. Do you not think that you are pre-judging him?

He deserves to get a hell of a lot more time than that before you start to put that kind of label on him. I'm not questioning your facts I just think you're a bit to quick to judge. Give the lad a chance to prove himself!!!!
Paul Kelly
769
Posted 09/11/2012 at 10:51:22
Taking it all on to context. I ain't pre-judging him, just judging him on what's in front of me, albeit a bit harsh, maybe, probably.
I shall retract the 'sick note' comment, he ain't quiet Darren Anderton yet. But the jury is still out.
He is a quality player and like I said before, please Gibbo, prove me wrong.
Norman Merrill
793
Posted 09/11/2012 at 14:49:37
As good a footballer as Darren Gibson is, I really hope he can shake off his fitness problems? His Utd career was blighted by his inability to get a really good run in the team. Let's hope things improve, so that the team benefits from his regular presence.
Christopher Kelly
795
Posted 09/11/2012 at 15:00:02
If we had half decent cover we wouldn't be so nervous about his time out. I blame this on Moyes unfortunately.
Graham Hammond
804
Posted 09/11/2012 at 15:23:27
I am pleased to hear that Darren Gibson has finally returned to light training.
I think we have genuinely missed him and our starting 11 has been weakened by his prolonged absence. In my opinion, our balance and our ability to defend have suffered (in his absence) and the team has lost a little momentum sadly.
Despite having been a good Club Captain, I cannot say I am happy having Phil Neville in the side in Midfield at 35 years of age, so I genuinely hope DG can put his injury problems behind him, return to the team and help it to move forward.
Paul Kelly
809
Posted 09/11/2012 at 16:09:21
Chris D 745
How did you get your post altered or did the editorial team do it?
Gerry Quinn
816
Posted 09/11/2012 at 17:42:27
From Wiki:
Starting 2005 - League and Cup appearnces
2 years at Man Utd - 1 appearance
1 year Antwerp - 33
1 year Man Utd and Wolves - 24
4 years Man Utd - 60
2 years Everton - 14
Total in 7 years, 132 appearances, average 18 League and Cup per season
Gerry Quinn
817
Posted 09/11/2012 at 17:50:41
I know, I know, I know – that adds up to 10 seasons on the left hand column, him going out on loans screw me up!
Christopher De Costa
819
Posted 09/11/2012 at 17:45:49
Paul K
The editorial team must have done it.
The main thing is, that the lad is back in training now and hopefully it's behind him, because we really need him back for the festive period and the rest of the season to follow.
Fingers crossed that Moyes can get in some decent cover in January.
Paul Kelly
822
Posted 09/11/2012 at 18:21:30
That my friend, I agree on.
COYB
Ciarán McGlone
842
Posted 09/11/2012 at 08:18:45
I fear we'll never get an extended use out of him..
Michael Kenrick
Editorial Team
858
Posted 09/11/2012 at 22:11:06
Paul,
Christopher had originally written "£500.000" which I interpreted to be continental-speak for "£500,000" (that's what they do apparently, switch the dots and the commas in long/decimal numbers) and I abbreviated it to "£500k". Sadly I wasn't fast enough to prevent you reading it as "£500.00"
Paul Kelly
860
Posted 09/11/2012 at 22:19:23
Thought we'd got him for a monkey, that would of been good business.
Ian Bennett
861
Posted 09/11/2012 at 22:31:48
£15m for Allen, sorry I can't see it. Swansea must have pissed themselves plus £5m Rodgers.
Henderson, Allen, and downing must have cost more than nearly all the midfields in world football. With most premiership sides equal or better, even a 35 year old right back,, a £500k united reject, and a little lad from wigan.
Eugene Ruane
862
Posted 09/11/2012 at 22:37:11
JESUS WEPT!!!!
Sorry but the blonde one on the mature dating ad - too much!
(nice tiles though)
Ted Smeethes
864
Posted 09/11/2012 at 22:45:57
Gibson is a brilliant player and a great buy. He's the unsung player who adds security at the back and will allow the flair players to do their thing. We haven't lost a game while he has been in the team. Reminds me of Joe Parkinson though who was also injury-prone.
Paul Kelly
866
Posted 09/11/2012 at 22:48:19
How bad Eugene? On my phone, she don't come up. Can't be any worse than the one on sitting on the bed that's usually on.
Drew O'Neall
868
Posted 09/11/2012 at 23:07:31
Phew!! That's a relief, I thought it was just me.. Thought the Internet had me down as a granny grabber!!
Mike Green
871
Posted 09/11/2012 at 23:38:02
I was in the chippy earlier and Neighbours was on. Susan Sullivan! Jesus! She's 56! Time and tide.....
Si Cooper
883
Posted 10/11/2012 at 01:42:21
It has been rumoured that Gibson was in danger of pissing it all away at Old Trafford which is why he became surplus to requirements and we were able to snap him up.
Apparently that has opened his eyes and his attitude since joining us has been exemplary. Think most people will agree that he looked a lot fitter at the start of this season.
If his cavalier attitude was also evident during periods of rehabilitation then that would go someway to explaining his long periods out. I am hoping that improved fitness and improved application will help him put the apparent susceptibility to injury behind him. Not writing him off just yet, and not rushing him back may be the best thing for the long term.
Michael Kenrick
Editorial Team
884
Posted 10/11/2012 at 01:53:26
Ted (#684):
"We haven't lost a game while he has been in the team."
Sorry to piss on your chips, Ted; that was true for quite a while... But it ain't no longer. I shouldn't need to remind you when and where...
Anto Byrne
893
Posted 09/11/2012 at 08:45:17
Well, we don't want to rush him back so let's just get him on the bench first and foremost and get him back to full fitness over the next month or so. This Man Utd reject looks like becoming a pivotal player in our success going forward.

He had a lot of niggling injuries before he signed for Everton and seems to be prone to these soft tissue injuries. We just have to accommodate him as a squad player if this continues and look at bringing in a couple of players in January that will help with the drive to the top.

I see no reason why we cant push the top 3 for their spots. It will come down to form, injuries and suspensions — and that commodity we never seem to have a great deal of... LUCK! Still, if we continue to work hard and play well, I'm sure we will get our share of luck over the course of the season.

Big game today need to keep up with the big boys. Oh for a 7-goal feast eh?
Peter Bell
906
Posted 10/11/2012 at 09:21:40
I have to disagree with those on this forum who say Gibson has not been missed. Take a look at the number of goals conceeded and it tells its own story. If Jelly, Fellaini & Co had not continued to bang them in at the other end, I don't think we would still be fourth. Gibson plays that holding role better than anyone else I have seen – better than Carsley or, dare I say it, Hamman who was allegedly the best.

Gibson never got many chances at Man Utd but then who would with the class players they used to continually buy for big money. Gibson was sold when he broke that pre match drink curfew whilst out with a certain Mr Rooney. Keep his recovery on hold, I say, he will be needed more in the December run than in November.
Christopher De Costa
913
Posted 10/11/2012 at 09:50:54
Michael
Thanks for clearing that up for me, all petty comments aside, im sure we all agree that 500k looks like a great piece of buisness.
Ian Bennett
916
Posted 10/11/2012 at 10:07:19
Not lost a league game whilst he has been on the pitch?
James Martin
919
Posted 10/11/2012 at 10:17:17
Think you're right Ian, lots of the media were quick to jump on the fact that Gibson had started the West Brom game and we had lost so therefore he lost his record. Anyone who watched the game would have realised that it was 0-0 when Gibson was taken off so he shouldn't be to blame for the meltdown that happened afterwards. Its no coincidence that we conceded when he came off against Villa and that our best defensive performance of the season came against Man U one of the few games he played. (Ironically our only other clean sheet was Swansea which wa sprobably one of our worst defensive performances but fortunately one of Howard's few good performances this season)
Steve Sweeney
922
Posted 10/11/2012 at 10:38:39
Maybe it is because he has not reached full fitness and his body
is not used to playing 7,8,9 games in succession - he never got that
sort of run of games at Utd.
Playing every week makes a big difference lets see if once
Fit he stays injury free. If he has another muscle problem then maybe he does have issues.
Jamie Barlow
929
Posted 10/11/2012 at 11:04:47
Steve, I've got a mate who has been watching Man Utd for 20 odd years and he says exactly that.
He said he likes him as a player (although a lot of Man Utd fans didn't) but because he never got a good run of games, he'd pick up muscle injuries because he wasn't really match fit.
Hopefully that'll change at Everton.
Add Your Comments
In order to post a comment, you need to be logged in as a registered user of the site.
Or Sign up as a ToffeeWeb Member — it's free, takes just a few minutes and will allow you to post your comments on articles and Talking Points submissions across the site.