Power and The Glory
By Rob Sawyer
03/08/2013

Comments (26)
jump

Paul Power in Conversation with Rob Sawyer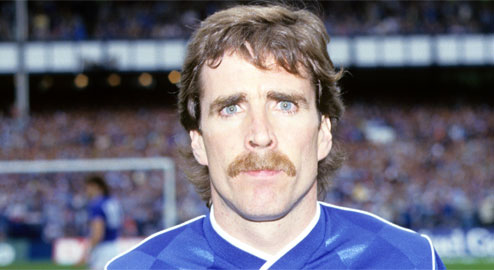 The Spring of 1986 had seen Everton pipped at the post, in cup and league, by Liverpool. Subsequently having lost Gary Lineker to Barcelona, with no stellar replacement in sight, Evertonians were not filled with optimism of regaining the league crown in the 1986-87 season.
However, the big-money purchase of Dave Watson on the season's eve and surprise acquisition of Paul Power proved to be masterstrokes. The duo were near ever-presents as a patched-up team won the title with games to spare.
Power, after near-misses at Manchester City in the FA and Full Members Cup, finally found himself in a position to win silverware in the Indian summer of career. After retiring in 1988, Paul joined the Goodison back-room staff before subsequent spells with the PFA and his first love, Manchester City.
I caught up with Paul to reflect on his 40 year career in football:
My Mum and Dad were both Man City fans from east Manchester which was a big Blue area; it's where the new ground is now. From being about 4 years old, every Christmas present I got was football boots or a City shirt. A lot of people supported United as it was the Busby Babes team era but I was brought up a Blue and that's how I carried on.
My favourite player as a kid was David Wagstaffe but during the halcyon era of the late 60s and early 70s it was Neil Young because he was left-footed like me. They call it the Bell, Lee and Summerbee era but it should be Bell, Lee, Summerbee and Young.
I was brought up in Wythenshawe; there was a square just outside our house and I just used to be out there playing with my ball. I went to a school called St Anthony's RC Primary School and I was lucky that we had two teachers, who were involved in Manchester Boys and the County FA, that coached and understood football.
I played for Manchester Boys Under-11s but not in the Under-15s team as there was a Manchester United lad called Danny Healy (who went to the same school as Eamonn O'Keefe). I was a late developer physically we did lot's of fitness work but I'd never get a game at the end – so I got a little bit disillusioned. So I studied for my A-Levels and then played for Manchester Boys Under-18s team and that's when Harry Godwin, who was a renowned scout, saw me playing and invited me down to Manchester City and that got my football career really going.
I always hoped that I would make it as I was above average but it was a question of getting an opportunity. I went to Leeds University and was able to get home easily to play for the City B team, A team and then the Reserves. So everything worked out well for me and City – if they had had to make a decision on me at 16, it would have been a "no" but they had longer to look at me whilst I was at University.
As soon as I graduated, with a Bachelor of Law, Tony Book signed me as a full-time pro and then, after a pre-season, I made my debut in August 1974 wide on the left. I had a really good attitude and I could run forever; we played 4-4-2 so the wingers were expected to track-back. I did but Peter Barnes didn't; however Barnesy offered a lot more going forward because of his dribbling skills.
Malcolm Allison made me Captain in 1979 and I kept the captaincy until I left for Everton in 1986. I was 32 and had just signed a one-year contract with City but at the end of that season I'd have got a free transfer. City had Andy Hinchcliffe coming through as an 18-year-old so it was good business on City's part to get £65,000 from Everton for me.
It was a hard decision but Billy McNeil and Jimmy Frizzell made it pretty clear that they'd accepted Everton's offer. The only stumbling block was that I was due a testimonial at City but Howard Kendall said "No problem – Everton will play in your testimonial" – so I was an Everton player when I had my City testimonial! Howard showing that he really wanted to sign me really influenced me and made it feel the right decision to move to Everton.
It was easy to blend in as the lads were brilliant. Kevin Ratcliffe was captain but there were five or six in there – notably Peter Reid. For training, Adrian Heath used to drive up from Stoke and pick me up at Knutsford, then we'd collect Dave Watson from Warrington so that made it easier.
When I first came, the two players that impressed me were Trevor Steven and Kevin Sheedy. I'd played with lots of good players at City like Trevor Francis and Dennis Tueart but Trevor and Kevin were different class – better than anyone I'd trained or played with before. In training, Trevor just seemed to know which side I was marking him on – he seemed to have a sixth sense of where players were around him, so he could beat them and score goals.
Sheeds never gave the ball away. In practice games of 4-a-side you'd want him on your team as he never gave the ball away. He had the best left peg ever and it's a myth that he couldn't run; in pre-season training, Gary Stevens would always be at the front, maybe with myself and Dave Watson, but Kevin was never near the back.
I had played under a lot of good coaches but at Everton it was the first time I learned how to press up and hold a high line – the full back never drops deeper than the centre back – it was like a new lease of life for me. Howard and Colin were instrumental in putting that programme together. I'd played in some teams at City where people would do their own thing – like Roy of the Rovers and it could be all over the place whereas at Everton there was discipline right through the team. We'd have Reidy and Alan Harper in front protecting us – that was their job. Sheeds and Trevor did their bit to protect us but were their job was to create and score goals. Sharpy and Inchy played off each other, then later on Wayne Clarke came in.
Training was serious but enjoyable. Colin took training and Howard joined in – he was still probably one of the best players. Early on in a practice game he had the ball I made a run on the overlap and shouted "Yes Howard, Howard!"; as I was running back past him he said "Hey – you might be the same age as me but call me boss" – so in the nicest way he laid down the rules.
Howard didn't promise me 1st team football – I think he was looking for experienced cover for Pat van den Hauwe who had an ankle injury – I assume that Howard knew how serious the injury was. I played at left-back for the first part of the season and then Kevin got injured and I ended up moving forward to left-side midfield. My first game in midfield was at Maine Road and I scored; I think I could have saved my shot – it just crept in the side netting! I always enjoyed scoring but it was difficult to celebrate in front of my mates – I couldn't run around flailing my arms and rubbing their noses in it.
When Sheeds was fit again, he played in central midfield and Alan Harper was left out. It was a fantastic season for me.
The best game of the whole season was Newcastle away – we absolutely battered them despite them being a decent side. Trevor was unbelievable that day – magnificent and unplayable.
I had an arthritic problem on the outside of my left knee and had a couple of knee injections just to see me through the run-in. Then, as we'd won the league, I thought if I missed the last 2 games of the season it would give me longer to recover ready for the start of next season. They trimmed the cartilage away but it was a bit "bone-on-bone" so they drilled the bones so that they formed a marble surface when it healed. It was never the same afterwards, so the next season I only played about 14 games.
It was a shock to me when Howard left – he was so popular it was unbelievable – but the players knew that Colin would get the job so they were happy with that as well. Colin was the serious one and Terry Darracott was the joker in the dressing room, that was a good combination.
They wanted me to be around and work with Mick Lyons, the reserve team manager, and Graham Smith the youth team coach as I had got my coaching badge in the summer. There was a good group of players then like Eddie Youds and Ian Marshall. I used to play at left-back in the reserves with Lyonsy at centre-back – we just added a bit of experience for the younger players. At the end of that season Colin asked me to work with the first team more which was a massive surprise and I didn't think it was right as people like Mick and Graham (who worked really hard for the club) would have been better choices as I lacked a bit of experience. Also coaching players that you played with is never easy – for me to tell Graeme Sharp how to make runs into the box is a bit ludicrous really. But that's what Col wanted and so I was more than happy to work with them.
I think Colin was let down by the Board as all sorts of players were allowed to leave like Reidy, Trevor and Gary. New players were coming in like Pat Nevin, Neil McDonald, Martin Keown and Stuart McCall – there was a little bit of "them and us" with the old school and the new boys. So it was a really difficult for Colin and eventually he lost his job after we lost away at Sheffield United.
When Howard returned I went in to Bellefield as normal and Terry's gear was hanging up but he wasn't there – so I thought it was strange. So I went upstairs and Howard pulled me into the office and said, "Listen, I've just had to sack my best mate in football and it's a really difficult morning for me but I'm going to make changes". He told this to me, Mick Lyons – an Everton Stalwart – and Graham Smith who had worked unbelievably hard with the youth team. When I went to see the Chairman I defended Graham more than myself as I felt he was very unlucky to lose his job.
I then went working for the PFA Community Programme as Area Manager for the North West. I was responsible for ten clubs including Everton. I used to sit on a forum and Bill Kenwright was the director responsible for community activities so I got to know him quite well. I worked for the PFA for 8 years and then I went to City when Franny Lee was Chairman.
I've left City now – the new Academy Manager has now come in and the people from Barcelona. I think they want to do things their way; it's disappointing but they have been very fair with me and I have no complaints.
I'm 60 in October and I'm lucky that I can afford to retire. I bought a house about 8 years ago in Languedoc, France. I Iove it down there – it's peaceful with lovely weather so I can go for a jog through the vines and chill out a bit. I may do a few bits again in football but I'm in no hurry to work full-time
---
Reader Comments
Note: the following content is not moderated or vetted by the site owners at the time of submission. Comments are the responsibility of the poster. Disclaimer
Peter Laing
796
Posted 04/08/2013 at 00:08:03
Most underrated player of the 87 team, raised a few eyebrows to say the least when he signed but became an integral component of the team that wrestled the title back from the dark-side. Paul Power probably will never go down as an Everton legend but to debutise for Van Den Hauwe and Sheedy in one season tells you all that you need to know regarding the man's commitment and versatility.
Si Cooper
806
Posted 04/08/2013 at 01:00:42
Was a revelation for me when he came to us. Fitted in effortlessly in one of our best ever teams, imo.
If he had been with us for longer could easily have become an Everton legend; memorable nevertheless.
Jim Potter
816
Posted 04/08/2013 at 01:53:07
Thanks for the memories Paul - all the best for the future.
Eric Myles
882
Posted 04/08/2013 at 05:59:26
I missed the eighties being in the sandpits pre-sattelite and internet era but it's always nice to read how ex-players are doing.
I hope you enjoy your retirement Paul and keep these ex-player interviews coming Rob.
Barry Rathbone
887
Posted 04/08/2013 at 06:44:08
Thought he was rubbish at City often playing mid field with that peculiar 70s affectation of running with hands splayed out to the side.
Presumably a balance thing but it just looked as camp as xmas.
Thankfully he ditched that bollocks and much to my amazement became an absolute fantastic full back integral to that title winning side.
Athletic, rangy, technically adept with a great attitude - I was wrong about Paul Power he was a great player for us - many thanks.
Colin Glassar
967
Posted 04/08/2013 at 14:34:33
Paul Power - Blast from the past.
Norman Merrill
976
Posted 04/08/2013 at 15:16:17
Reading that article was certainly a blast from the past, but one things for sure, one of our successful periods.
Paul Power slotted in perfectly, and served the club well, I'm happy to
hear he great feelings for our club.
Best wishes Paul.
Eugene Ruane
992
Posted 04/08/2013 at 16:18:24
I remember when we signed him (even though I never thought he'd be a first team regular) thinking "Well that's a backward step" (nb: in much the same way as many do now when we sign someone 29/30).
Then when he was selected for the first team, I was even more convinced "This is NOT good".
Christ, how wrong could I have been - his attitude was as good as I have ever seen.
Prepared to run his guts out, he worked his plums off game after game after game.
The epitome of unselfish and exactly what a team player should be.
I honestly believe without his contribution, we probably wouldn't have won the title - he was that season imo, that good.
Glad he's enjoying life and fit and well.
On a side note, the piece says - "..there was a little bit of "them and us" with the old school and the new boys. So it was a really difficult for Colin and eventually he lost his job after we lost away at Sheffield United".
Now I'm not pointing the finger ONLY at Sharp but having read some of his opinions in the past, I get the impression (and that's all it is) that he might not have been the best influence at this particular time, possibly a bit of an 'oul tart in some ways - "who does she think SHE is?" type...stuff.
In recent years, players arriving at Everton have all said they have been made to feel at home right away (whatever my thoughts on PN's footballing ability, I think he had a big part in this) but my guess is after 87, some of the 'us' went out of their way to make some of the 'them' feel uncomfortable.
(I accept I could be 100% wrong, just an impression)
Tony McNulty
996
Posted 04/08/2013 at 16:47:04
Eugene.
You might be wrong on the Sharpie issue, as you say. But you and others might be interested in the following by way of some background.
You may know that Sharpie was the speaker at the ESCLA meeting last month. He spent a lot of time talking about his debt to Colin Harvey: Colin had confidence in him when no-one else did; he worked and worked with him and kept telling him he would make it.
Sharpie said that Colin was very nervous and intense when he was manager and became more so. He felt that one of the reasons Everton fell away at that time (although for a while we were closer to the top under Colin than we are now, I recall) was that Colin's nervousness began to transfer itself to the players.
This doesn't necessarily counter what you were saying, but perhaps makes it less likely that Sharpie would set out to undermine the manager to whom he felt he owed so much.

Eugene Ruane
998
Posted 04/08/2013 at 17:05:23
Sorry Tony, I can see where I didn't make myself clear (ie: the quote I copied and pasted mentioned Colin Harvey) but I actually meant regarding the new signings/players coming in 87/88, 88/89..ish.
I repeat, just a feeling.
Tony McNulty
020
Posted 04/08/2013 at 19:15:05
Eugene, I obviously misinterpreted.
The bit I found most interesting was that piece about the negative characteristics of the manager transferring themselves onto the team. You can guess where I might be going with that one…

Joe McMahon
036
Posted 04/08/2013 at 20:19:51
I miss pros like Paul Power, no bling, Girls in clubs, iphones with diamonds in, arms plastered with tatts, cars you expect to see a gangster rapper in etc etc.
Eugene Ruane
039
Posted 04/08/2013 at 20:35:11
Tony (020) - "You can guess where I might be going with that one…"
I can (and one guess will do).
Tony Doran
057
Posted 04/08/2013 at 22:27:19
Often think about Power and when we signed him. Thinking how bad it was that we had stumped so low, how bad for the image it was. How I would love a player now with his attitude, energy and ability. All round good pro. Hope your reading all these nice comments Paul.
Karl Masters
063
Posted 05/08/2013 at 00:29:10
Maybe one day we will view Alcaraz in a similar light?
Bob McEvoy
099
Posted 05/08/2013 at 09:24:33
Rob Sawyer....do you know if Power ever played for his university Ist team .In Dec 73 I played for Bradford Uni and we turned Leeds over with me having one of my best ever games rampaging up and down our right flank and tearing their left sided players a new one!. Now if Power was playing for them that would last me till I die .
Gary Reeves
231
Posted 05/08/2013 at 19:28:30
I'd always rated Power. A modern wide player at the time, athletic and quick. You used to expect your full-back to be "solid" and your winger to be "tricky" but the times they were a-changing. He wasn't that highly regarded by fans when he was at City (though always by Managers) but I think his unusual running style didn't help.
I worked on Goodison in the Summer of '86 and we saw a few comings and goings (Langley, Lineker). We were in one of the Main Stand suites when an apprentice came up and said "Guess who I've seen downstairs? - that Paul Power,from Man.City!" To which a Joiner replied "He must have brought a message".
It wasn't a wise-crack riposte, or an intentional joke, he genuinely thought (in the days before e-mail and fax) that that was how Clubs communicated. Like the school monitor!
Jon Hall
295
Posted 05/08/2013 at 23:01:35
Paul was always a hardworking player but more than a utility player, he had a quality about him that shone but always trying to work harder for the cause whilst meshing like a cog in a well-drilled machine.Good luck in France.
Optimistic about the forthcoming season and about our new "saint" Roberto and his assembled aquisitions — almost as strong as the misery after Wigan in the FA Cup 2013. COYB
Steve Carter
315
Posted 06/08/2013 at 04:07:46
A most engaging article. I was particuarly interested to read about Paul completing his university studies before fully becoming a professional footballer. No doubt he was a bright lad, and had careful and insistent parents. But even in those days I imagine he was something of a rarity – I remember reading an article in the 70s marveling that Steve Heighway actually had a degree in mathematics from Liverpool University.
Reading the regular reports on this site about this or that lad being 'released' or transferred to a lower league side, does make one wonder what the vast majority of the aspirants who don't make the Prem have to fall back on – particularly when they must have devoted most of their time and energy from their early teens on trying to make it in football. Anybody know what programs or processes Everton has in place in that regard for players in its youth system?
Graham Mockford
320
Posted 06/08/2013 at 06:52:24
Eugene #992
You would be right not to point the finger only at Sharp. I know he has attained almost saintly status on TW but Kevin Sheedy was a bit of a gobshite with the new players. Martin Keown famously sparked him on a pre-season tour.
Gary Reeves
542
Posted 06/08/2013 at 19:52:30
Graham, I think you'll find it was in a Southport pub – on a team building day off!
Graham Mockford
203
Posted 08/08/2013 at 09:08:30
Gary
Makes sense, sounds like Howard's idea of team building.
Tom Edwards
329
Posted 08/08/2013 at 17:41:03
Watched every game home and away that season. Paul's signing had my match going mates and I tripping over our dropped jaws, but he proved us all wrong. A fine player and very instrumental in our championship winning campaign. I always held him in high regard for the efforts he put in in the proper shade of blue. Maybe not a legend, but up there with the best of the rest, certainly. Good article and many good memories recalled.
Dave Charles
828
Posted 10/08/2013 at 09:10:50
Always felt sorry for Paul as he was on crutches when they paraded the League trophy around Goodison and didn't get the applause he deserved. A great player who I wish came to Goodison more earlier in his career.
Andrew Clare
835
Posted 10/08/2013 at 09:52:05
Good luck to Paul who was an exceptional player for us and City.
I note his comments about the coaching at Everton at that time and the importance of pressing high up the pitch.I hope the present coaching incumbents take note too. It was no mistake that Everton were one of the best teams in Europe at that time.
HK and his coaching staff were second to none in that period.
Add Your Comments
In order to post a comment, you need to be logged in as a registered user of the site.
Or Sign up as a ToffeeWeb Member — it's free, takes just a few minutes and will allow you to post your comments on articles and Talking Points submissions across the site.
© ToffeeWeb