Mick Meagan — The Man Who Spanned the Eras
By Rob Sawyer
28/10/2013

Comments (16)
jump

Mick Meagan — In Conversation with Rob Sawyer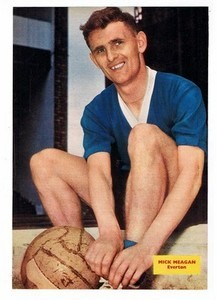 At the Fulham match in April 2013, five former Everton player were introduced to the Goodison Park crowd at half-time in recognition of their League Championship success fifty years earlier: Tony Kay, Alex Young, Derek Temple, Billy Bingham and Mick Meagan. Mick appeared the sprightliest of the lot, bathing in the applause and saluting the crowd with a clenched fist.
Mick joined Everton as an 18-year-old and served the club for 12 years (1952 to 1964). He witnessed, at first hand, the transformation from Division Two doldrums to Division One Championship glory. Although not blessed with great pace, he was valued by four managers for his sure touch, football brain and versatility. Bobby Collins, no less, rated Mick as one of the finest exponents of the one-two pass he had played with.
Departing Goodison in the deal that brought Ray Wilson to Merseyside, the genial Irish international saw out his English playing career in West Yorkshire before returning Ireland where he played for, and managed, the likes of Drogheda, Shamrock Rovers and the Irish national team.
79-year-old Mick remains super-fit, sharp as a needle, and very perceptive about modern football. It was my pleasure to have him share his football memories with me:
In 1952 I was an inside-right or insight-left; I played for the Irish Youth team in a match against a Liverpool County side. Harold Pickering was the scout for Everton then and luckily enough he liked me so I was invited over for a trial. I went over, initially for a month, and played a few matches for the Lanacashire League A team before eventually graduating to the Central League Reserves team.
Everton had been relegated from the old First Division before I came over but it was a great era for football with the likes of Matthews, Finney, Billy Wright, Liddell, Lofthouse and Milburn all at the peak of their careers – it was a highlight for me playing against the likes of them.
At Everton there was a big Irish contingent with Peter Farrell, Tommy Eglington, Jimmy O'Neill, Don Donovan, George Cummins and John Sutherland – there was a great connection between Everton and Irish football then. I myself played 17 times for the Irish national team but it was not compulsory for clubs to release you then – you'd play on Saturday afternoon and get the boat over to Ireland on Saturday night.
It annoys me a bit now when people over here go on about Manchester United... Everton had great support in those days – Peter and Tommy had been playing for Shamrock Rovers so there was great interest over here when they came over to Everton. The boat from Dublin was packed every Friday night going over and on the Saturday night coming back. People still say to me "We had great fun on the boat – singing songs there and back".
It was a great help when I first arrived having all the Irish lads there but the Liverpool people were great too. From Dublin to Liverpool was like from home to home – the people made me feel so welcome. I had digs with Mr and Mrs Jackson; he was a mad Evertonian and crazy about Dixie Dean so I called him "Dixie". I don't think he was 100% a lover of the Irish but we got on great together and he'd fight for the Irish if anyone was giving out about me at A-team matches at Bellefield! There were three lads on the ground staff – Jack Kealy, John Clayton and Keith Williams – who made me feel welcome and they became great friends to me.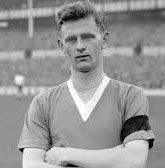 In those days, the teams were very settled and it was hard to make your first-team break-through. Eventually players in my age group like Albert Dunlop, George Kirby, Jimmy Harris and Brian Harris came through within a year or two of each other. My debut was against Wolves at Goodison in the first match of the 1957-58 season; Billy Wright was playing for them and they were a great, powerful team. I scored my only Everton goal in my first season against Sunderland – it went in like a butterfly from 20 yards. Don Revie was playing for them and I disposed him before scoring.
Cliff Britton was the Everton manager but then there was a falling out with the Board and they brought down Mr Buchan as Head Coach. Peter Farrell, Tommy Eglington, Eddie Wainwright and Nobby Fielding were getting on a bit so Mr Buchan went in for all the younger lads who'd been playing in the second team. We had a great start to the year... I think we were the first team to bring in weight training but instead of us easing off we kept building up on the weights. He had ambitions to build us all up and get some power into us!
Dave Hickson had gone but later came back to us. Tommy Jones was centre half, Jimmy Tansey was at left back whilst Kenny Rea and Kenny Birch were also making the breakthrough.
The team spirit and atmosphere were great – at training we knew we were going to work hard but there was also that fun factor – it was like a school playground. I remember that got a knock on the thigh... so I went to Mr Cooke, the physio, and with my Irish accent said "I've got a knock on the tie"". So Harry said: "Lads, listen – Mick has had a knock – where is it again, Mick?!" and he'd make me say it again and again!
Stan Bentham, an ex-player, was a great guy looking after the third team and there was also Gordon Watson. Jackie Carey then came in as manager in 1958, he was another lovely person and we all looked up to him as the first Irish player to really make it in England.
By now, I had already moved back to wing half, as I was very slow, but when Harry Catterick came in he moved me back to left-back. I was right-footed but growing up you were always told that you'd never make it if you couldn't kick with both feet. Harry appreciated that what I lacked in pace I made up by using my brain a bit.
In the 1962-63 season, Tony Kay was a terrific player and just coming into his peak. Tony was always delighted when I moved over to right back as he could move further forward and not be covering for me! It's a real shame what happened to Tony, I could never see him throwing a match because he was not that type of player – even in 5-a-sides.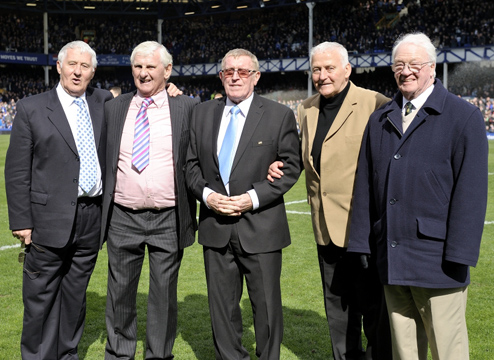 Mick with his 1963 colleagues at Goodison Park in 2013
Dennis Stevens was a real hard "up and down" player, Alex Young was a brilliant footballer and Vernon was so clever. Bobby Collins was a great player – he and Johnny Giles were two of the best I ever played with. Bobby was a brilliant signing by Revie as he was tough little customer and I think he was brought in to give Leeds some "needle". I had once played against Leeds reserves with the likes of Bremner, Hunter and Madeley and they were lovely lads – a pleasure to play against. Then a few years later we played them in the cup and they had changed completely and become Rottweilers – I think that was down to Bobby a bit.
In 1964, we were on our way to Australia for a post- season tour having played West Ham and The People had a bit about me: Ray Wilson coming to Everton with me going the other way in part-exchange. Harry never opened his mouth about it until we got home and then he said that he'd like me to go to Huddersfield in part-exchange. When I was leaving Everton, I wondered whether to go home to Ireland or go to Huddersfield but in the end I joined them and enjoyed five lovely years there.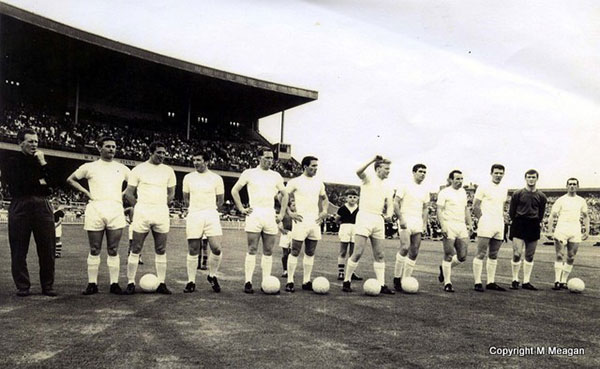 On the 1964 tour of Australia
I went to Halifax for a year then. Training as you went down was harder and more physical as the injuries began to hit me. Alan Ball Senior was manager at Halifax and he said "Mick, now is the time for you to go home and coach". To be honest, I never really enjoyed being a manager, even with the Irish team. I always liked to be with the players and I wasn't cut out to be a manager.
I went back to Drogheda, Shamrock Rovers as player coach and then local teams – I could never give up. It's amazing – you think it is all finished with but one of the best trips I have been on was when Rovers went on a tour to Tokyo and we played three matches against the Japanese team. The Japanese couldn't do enough for you – it was a great experience. All-in-all I enjoyed every minute of playing football.
After I finished at Shamrock Rovers in 1976, I worked as a recreation officer in a mental hospital. I had great fun playing with the patients, they were wonderful and the fun factor was brilliant – some of them were so skilful.
Nowadays I swim every morning in the sea at a place called The Forty Foot with a bunch of football fanatics. I also play golf most days and head tennis with a few lads every Saturday morning. It's great fun, we play down on a walk way by the river and it's amazing how many people come down to watch us old fellas trying to play. People have a laugh and say – "what are you trying to prove". So I have been very lucky that my health has been so good but the legs are a bit wobbly.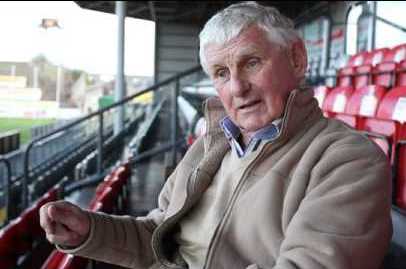 I still follow Everton, Huddersfield Town and Halifax. I watch football on TV – without it I'd be lost. At Everton, I like Seamus Coleman – I love his enthusiasm. James McCarthy was wasted as a holding player at Wigan – he was too good a player – it's maybe OK to play there when you're an old man.
Football now is too much about "The Gameplan". It's all about wingers tracking back – it's not what you do going forward. If you track back you are a good player – but if you go forward and beat a few players it doesn't count anymore. It's all about "don't concede" but in the old days it was about trying to score. I see potentially great players being stuck in "zones".
Sometimes there's a great player just wanting to be released – that's where a good manager comes in to give you belief and make you feel that you're "the player".
I had £50 on Everton to win the league last season at 200:1 and I felt they should have done a bit better. People say "Oh we finished in the top 6" but I don't agree with that at all – it's there to be won and you should have a go. I was over for the Fulham match last season and I have a daughter living in Wallasey so I go out and have a few drinks with some real Evertonians. Back home I always say "Nil Satis Nisi Optimum" to the other lads and then have to explain it to them!
---
Reader Comments
Note: the following content is not moderated or vetted by the site owners at the time of submission. Comments are the responsibility of the poster. Disclaimer
James Flynn
737
Posted 29/10/2013 at 13:53:39
Thanks Rob - I love when you fellows talk about the players from the past.
Trevor - I seem to remember you mentioning going to a game a couple years after WWII. Far as I can tell, you're our oldest member in here. Let me ask, you ever see Dixie play? I know his career was over, but even in one of those testimonial/charity kind of games?
With that, I'm certain you grew up surrounded by the many who saw him in his pomp. Was there any particular characteristic about him you can recall hearing most?
Ian Tunstead
760
Posted 29/10/2013 at 16:25:01
Hello James, I don't know if you've seen these couple of videos but I found them very interesting, it mentions a few characteristics of the great man from another great man.
http://www.youtube.com/watch?v=qqXM9AFL_10
http://www.youtube.com/watch?v=V1YuqyORRAM
Derek Williams
802
Posted 29/10/2013 at 19:23:17
He played in the first game my dad took me to, in about 1960 I think, Dunlop, Parker, Meagan, Gabriel, Labone, Harris, Scott, Stevens, Young, Vernon, Temple. Won 6-1. Hooked for life.
Ray Atherton
815
Posted 29/10/2013 at 19:42:11
As Rob said, Mick wasn't blessed with pace. He was a wholehearted player and a good servant for the Blues. Never liking speedy wingers a Number 7 with a mop of ginger hair named Mike Hellawell, of Birmingham City and Sunderland, gave him a torrid afternoon when we met.
Trevor (#636) – do you remember an FA Cup tie versus Blackburn Rovers at Goodison Parkk in 1958? Attendance was about 75000; I think Mick scored an own goal in a 2-1 defeat.
He was our left back when we won the League Championship in 1963. After his service to the Blues we signed one of the best full backs in the world: Ramon Wilson, who did have great speed and recovery.
Andrew McGuffog
835
Posted 29/10/2013 at 20:42:46
I saw Meagan up against Stanley Matthews in about 1962, in what was probably Matthews last season for Stoke. He didn't tackle him once, probably too worried of breaking his spindly legs and forever being remembered as the man who finished Stan's career.
Trevor Lynes
843
Posted 29/10/2013 at 20:49:52
I actually started watching the Blues in 1948 so did not see Dean play... but I saw Lawton playing for Notts County at Goodison Park and he scored twice against us in a 4-1 win. We had a pretty poor side at the time. Catterick played for us and he was distinctly average. I also saw Matthews and Finney towards their twilight.
Liddell was without doubt the best Liverpool player in those days, I well remember Liverpool being called Liddellpool as he stood out so much.
John Carey built the best footballing team I ever saw at Goodison but they finished 4th as the away record was not good. Catterick added steel to the team by signing Kay and he would have graced any team. He would have been better than Ball if he had not been banned. When we won the title in 1963 I well remember Kay being called Cassius as he strutted his stuff at the final whistle smoking a big cigar. That was the best side I ever saw playing in EFC colours.
Rob Sawyer
861
Posted 29/10/2013 at 22:46:14
Trevor (843) - can I pick your brains? Please drop me an email via robsawyer1970 "at" gmail.com . Thanks
James Flynn
904
Posted 30/10/2013 at 10:23:49
Thanks Ian - Great stuff. Trevor too. As I mentioned, I love hearing this stuff about te great players and teams of the past.
Richard Tarleton
912
Posted 30/10/2013 at 11:07:30
I actually saw his debut and always felt he was a good honest professional, very typical of the players of the era. He was a better wing half than full back, but once Gabriel was signed from Dundee and Brian Harrisemerged as a wonderful wing-half after being a left winger and later Tony Kay was signed, he moved and became a very efficient left back who played most of the 1962-3 season when we won the League. I felt he wasn't as good as George Thompson at his best, but Mick was more consistent, but never a match for Ray Wilson, the prince of Everton left backs.
I wish Mick well and remember him with great affection for his loyalty and his 100% attitude, a true Everton stalwart.

Patrick Murphy
408
Posted 01/11/2013 at 19:42:47
Maybe it's me but doesn't that early picture of Mick Meagan tying his bootlaces have a passing resemblance to Owen Coyle?

Trevor Powell
515
Posted 02/11/2013 at 10:40:19
I used to live Wallace Drive in Huyton, and just up the road lived two Everton unsung heroes, Mick Meagan and Tommy E. Jones in a pair of houses originally owned by the club. Great days!
Trevor Powell
516
Posted 02/11/2013 at 10:40:19
I used to live Wallace Drive in Huyton, and just up the road lived two Everton unsung heroes, Mick Meagan and Tommy E. Jones in a pair of houses originally owned by the club. Great days!
Ken Farrington
166
Posted 05/11/2013 at 12:11:15
Great article that evoked so many memories from a lovely era when football was not so dominated by high finance as it is now and most supporters believed their club was in with a chance of winning a title.
I remember Mick as a wholehearted, committed player, always giving 100% with respect for the fans and opponents whilst playing the game in the spirit that was intended.
Though Everton born and bred I moved to Huddersfield in 1969 by which time Mick had moved on but supporters spoke fondly of him for his solid performances while the player that moved in the opposite direction, Ray Wilson, did not prove to be a bad signing for us and I fondly remember a memorable night in his local pub near to his where his funeral business was located following a game of table tennis chewing the fat over his Everton and England career (I was fortunate to attend the 1966 World Cup final) and still see him occasionally in Huddersfield town centre.
I could tell his love for Everton was undiminished even though he never took to Liverpool as a city, much preferring te town and country life that Yorkshire provided him with.
Back to Mick, thanks for the memories and hope you have many happy years to come.
Add Your Comments
In order to post a comment, you need to be logged in as a registered user of the site.
Or Sign up as a ToffeeWeb Member — it's free, takes just a few minutes and will allow you to post your comments on articles and Talking Points submissions across the site.
© ToffeeWeb