A Tale of Two Harrys - Everton FC and its Debt to the Cooke Family
By Rob Sawyer
08/01/2014

Comments (8)
jump

Has any family has given more dedicated or lengthy service to Everton Football Club than the Cookes? Between them, Harry Cooke Senior and Junior gave 109 years to the Toffees cause. Now, finally, their full story can be told.
Henry Edward "Harry" Cooke ("The Gray One")
Henry Edward Cooke was born in Liverpool in 1878, the son of Joseph and Sarah. When Joseph passed away Sarah remarried Joseph Stillby, who ran a carpet business, and relocated the family across the Mersey to Wallasey. "Harry", as he was known, would marry Maria Pye in 1901 and their only child, William Canning Cooke, was born in 1903.
After an early career as a window cleaner, Harry came to Everton's attention in December 1903 as a forward playing for Liscard CEMS in the West Cheshire League. Initially an amateur, he signed professional terms in May 1905 for the princely sum of £1 per week. Everton declined a request from Liscard for a grant in lieu of transfer fee!
His first-team bow came early in 1906 in an FA Cup tie against Chesterfield. The Liverpool Courier reported: "Cooke made a creditable debut, as partner to Sharp, who despite one particularly bad miss was by far the most conspicuous forward on the field."
Though noted to be a "thorough trier" he would always struggle to usurp the likes of Jack Sharp and Sandy Young in the first team. Having been "12th man" in the 1906 FA Cup Final, Harry returned to reserve football before a leg injury brought his playing days to an end and he was "offered for transfer" in April 1908. His first-team career had seen just 9 starts and yielded 3 goals.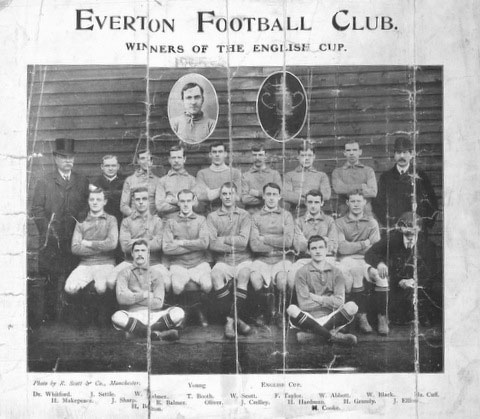 Everton's FA Cup winning side of 1906
By August a fresh opportunity soon presented itself. Everton's trainer, Joe Lofthouse (the former Blackburn and England forward) fell ill with rheumatism so the Everton Board engaged Harry for 25 shillings per week on a "temporary" basis as Assistant Trainer. He would coach the A-team whilst studying to be a masseur. He remained in this role under Jack Elliott until 1925 whereupon he was promoted to 1st Team Trainer – in the absence of team managers in this era the Trainer was a key figure in any club.
As well as supervising training, became responsible for the care and recuperation of injured players – none more so than William Ralph Dean. With the centre-forward's career hanging in the balance following a motorbike accident, Harry fretted that "Dixie" might not be able to return to the rigours of football. On Dixie's return to action he instructed right-winger Ted Critchley to get a floated cross slung over to the striker at the earliest opportunity. Sure enough the ball flew into the net and the great man, to Harry's relief, had proved his fitness.
With Dixie stuck on 57 league goals in the 1927-28 season, Harry was charged with getting the forward fit for the season's finale against Arsenal at Goodison.
Dixie recalled:
"Harry was bandaging and putting plasters on my right leg through the week...he stuck with me right to the morning of the match and we went across to Goodison together."
Harry's round-the-clock vigil to nurse Dixie's ensured that the great man took to the field and scored a hat-tick to secure the goal scoring record.
Over the years Harry amassed a remarkable collection of jars filled with pieces of ligament, cartilage, bone and muscle removed from players on the operating table. What became of them later – who knows?
Harry's worth to Everton was highlighted in a 1931 Liverpool Evening Express article titled What Goodison Owes to Harry Cooke: "It is Harry Cooke's fifth season as Everton trainer, and during that time the club has won the First Division twice, the Second Division once and reached the semi-final of the FA Cup….He is conscientious in his work and nothing is too much trouble for him. He has made a special study of each player so that he knows just what each man requires to attain and maintain fitness."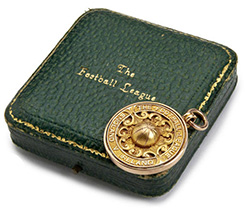 Harry Cooke's medal from England vs Ireland in 1928
Cooke was held in such high esteem that he acted as trainer for England teams on a number of occasions –notably the encounter with Ireland in October 1928 at Goodison. Fittingly Dixie Dean scored the winner. In 1939, having trained the team to another League Championship Harry was summoned before the directors to receive their praise and thanks.
Local journalist "Pilot" would enthuse further about Harry in 1946, extolling him as one of the pre-eminent trainers in the land – "...never lacking a smile, never lacking a kindly word of sympathy or praise and who in his arts has no peer"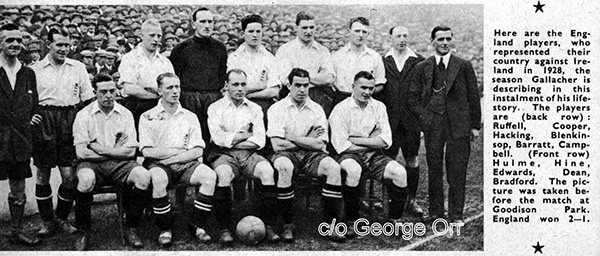 Harry Cooke with the Englanfd team in 1928
Harry would be a virtual ever-present on team photographs from the 1920s to the 1950s – in white coat or suit with watch chain. He remained with Everton way beyond the normal retirement age – outlasting the likes of Theo Kelly, Cliff Britton, Ian Buchan and Johnny Carey. In the 1950s his role had been reduced to that of physio work and maintaining training equipment. Patching up Dave Hickson was, in itself, probably a full-time occupation.
Jimmy Harris recalled spending a lot of time with Harry in the mid-fifties when struck down with hamstring problems:
"I got to know him well – a deep thinking man. He had the white coat on in the treatment room – which was just off the dressing room in the main stand. We were still in the ancient days of treatment and he used the old methods like hot and cold water for swelling. There were new electric treatments like machines with plastic pads to work your muscles up and down – but nobody understood them really. He would repair your boots until they had the last piece of leather on them; he'd add new studs laces to try and make them look brand new – saving the club money. I wanted new boots but he wouldn't give me a voucher to go down to collect any at Jack Sharp Sports shop!"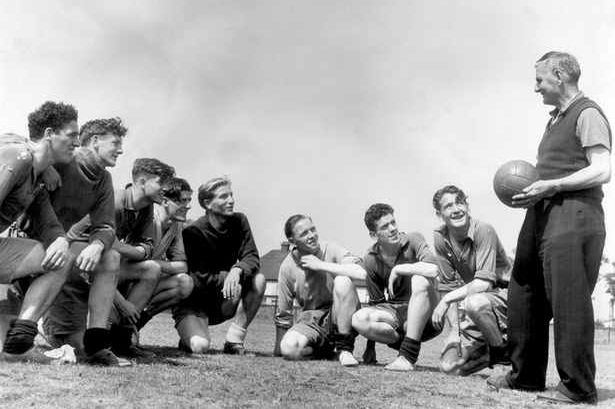 Harry Cooke in August 1950
By this time Harry was rubbing down the players with, what David France described as, "a proprietary blend of iodine and wayward cigarette ash". Brian Labone recalled:
"When I joined in 1957 Harry must have been about 75 then and he used to have this dirty old cloth. He just used to rub your leg. Whatever was wrong with you, he just used to rub your leg with oil and stuff. He had the dirty old cloth which hadn't seen soap and water, I don't know, since Dixie Dean's day perhaps, and after he'd rubbed your leg down your leg would break out in a rash or something a few days later."
Colin Harvey, still a schoolboy in 1960, also encountered Harry:
"I remember getting a treatment. I played a game at school in West Derby and hurt my knee so the trainer told me to report to Goodison for treatment on the Sunday morning. Some of the older players like Jimmy Harris were in there. Eventually I got heat treatment off him – he put a heat lamp over my knee. Actually I think he forgot about me and burnt my leg a little bit as he was too busy working with the seniors. I asked him if it should be on that long and he said 'Oh no' and took it off!
In 1961 the return to the Club of a past-recipient of his ministrations, Harry Catterick, signalled the end of the 82 year-old Gray One's remarkable career. The new boss was determined to make the changes that would turn a team of entertainers into winners.
Norman Borrowdale was drafted in as a qualified physio, from St Helens RLFC, as Catterick sought to bring Everton to the forefront of sports medicine. Harry's retirement was agreed to come into effect in July 1961 with a pension of £5 per week. When the day came Harry donned his famous white coat one last time as John Moores and the players gathered at Goodison to present him with a wrist watch. The wan smile, seen in photographs taken at the presentation, reveals the sadness felt by Harry in having Everton – his life – taken away from him.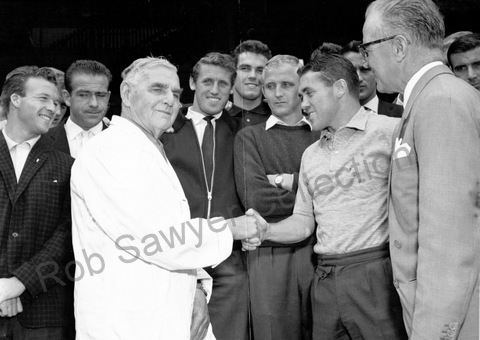 Harry Cooke's retirement presentation with Bobby Collins in 1961
Harry continued to live on Goodison Avenue, absorbing the sights, smells and sounds of match day; however without stimulation of day to day involvement with the Blues his health soon began to deteriorate. Not long before the end, having had a leg amputated, Harry received a hospital visit from his old friend, Dixie Dean. They marked his 88th birthday with an Everton-themed cake. Harry passed away to little fanfare in Newsham General Hospital on December 1966, aged 88. Had the Everton Former Players' Foundation been around in those days things would have been very different.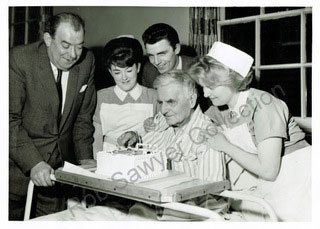 His collection of medals from over 60 years in football, and a silver cigarette case monogrammed with the initials HC, went under the hammer at Bonham's auction house in Chester in June 2013.
William Henry "Harry" Cooke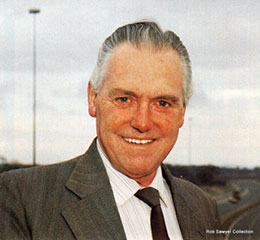 Whilst Harry Cooke Senior was coming to the end of his remarkable career in 1961, his grandson was at the zenith of his own. Harry's son, William Canning Cooke, carved out a career path away from football, as a commercial artist. However the arrival of William's only child, William Henry Cooke, in July 1924, ensured that the Everton links continued.
Young "Harry" (presumably nicknamed in recognition of his illustrious grandfather) grew up on the Wirral and proved an adept cricketing-all rounder. However football was his calling and he joined Everton's playing staff as a 15 year old in 1939, just as war approached. Perhaps due to his grandfather's influence he was also given some administrative duties under Theo Kelly. Young Harry would go on to make a number of junior appearance for the Blues but in 1942 was called up to the RAF and served as a tail-gunner on Lancaster Bombers – something he rarely talked about in later life.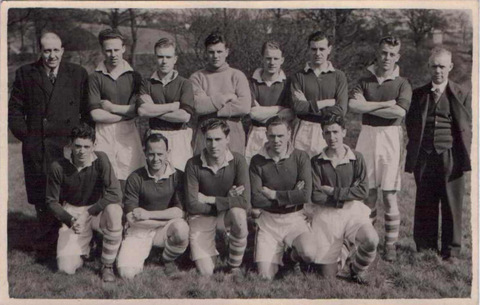 Harry Cooke Jr as a player circa 1939
Upon returning to Everton in 1947, he decided it was prudent to focus on the administration side of the game and became an administrator and and scout for Cliff Britton. Away from football he married Maureen at St Peter's Church Aintree in 1950. His father, on the wedding photos, bears an uncanny resemblance to Harry Senior.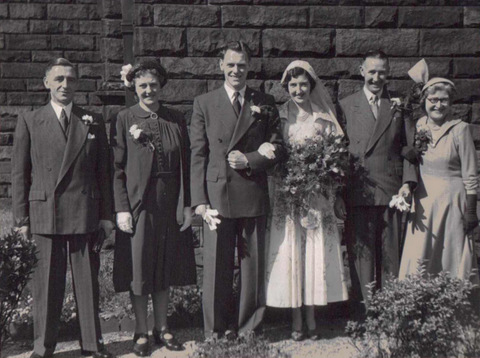 Harry Cooke Jr's wedding in 1950
As the Ian Buchan regime came to an end in 1958 Harry was confirmed in post as Chief Scout. The job entailed 60,000 of miles of travelling per annum (the directors approved a loan for him to purchase a car) watching raw talent and more established players at other clubs. Soon, with the might of the Littlewoods empire behind the scenes at Goodison, the club was able to compete financially for the finest talent across the British Isles.
It was perhaps with Harry Catterick that he worked closest during his career. The two had known each other since the War and would frequently work as a double-act to secure the signature of starlets such as Colin Harvey, Jimmy Husband, Howard Kendall and Gordon West. Often their "cloak and dagger" operations would be masked under the smokescreen of golfing trips. They would make it a golf holiday cum game watching expedition –they both enjoyed their golf –one such example being a raid on Scotland to secure the services of Sandy Brown in 1963.
Colin Harvey recalls being door-stepped by the Chief Scout:
"Harry actually signed me. I had just started in work the NHS as a clerk the day that he came to my house in Fazakerley in the evening and offered me apprentice terms. I said 'I just started work today in the NHS' and he said 'Well what do you want to do then?' and I replied "I want to be a footballer'. I actually had to work two week's notice with the NHS before I could join Everton as a player".
In the early 1970s, Ray Minshull, the former Liverpool goalkeeper, joined the Goodison staff as Youth Development Officer; this allowed Harry to focus on acquiring senior players. He had a five or six scouts across the country and then travelled around to view players.
Colin Harvey recalled:
"He always wore a collar and tie –always immaculately dressed until the day he retired. He was a very true judge of a footballer with a good eye for talent. He was not very outgoing but hard working, very thorough and assiduous about the way he went about his reports on players. After he retired he rang me every now and then and used to visit me when I was at Wrightington hospital for my hip problems; he'd pop in and see me and have a good chat.....I always had a lot of time for him."
Everton's "Cooke years" came to an end in 1990 when, 66 year-old, Harry retired. Fittingly the farewell presentation was made by the man he signed in 1961 – Everton manager Colin Harvey . He was also awarded with the Liverpool Echo's Joe Mercer Memorial Bowl for 51 years of service to Merseyside football. Perhaps his last act for Everton, after retirement, was to try, in vain at the 11th hour, to dissuade Howard Kendall from signing Mo Johnston in 1991.
Harry remained a visitor to Goodison matches until on one occasion, having been warmly greeted and announced by the commissionaire ("Look who it is...Harry Cooke!") he was met with blank faces by the people in the room. He concluded that it was time to move on and restricted viewing of his beloved Everton to the TV.In later years Harry would recall his favourite signing was Graeme Sharp whom he met at a motorway service station on the M6 with his second wife, May. He was also greatly impressed with Stuart McCall as a person as he seemed truly humbled and grateful to have been brought to a club of Everton's stature.
Having been widowed a second time in about 2007, Harry lived in Wigan – with love and support from his family – until his death. Sadly he never had children tocontinue the Everton tradition. The news of Harry's death in December 2012 seemed to pass under the radar – he was cremated and his ashes laid to rest with May in Wigan's Westwood Cemetery.
Hopefully this, perhaps the ultimate Evertonian family, can now be properly celebrated.

Acknowledgements
My thanks to:
Keith, Jemmah and Jan (relatives of the two Harrys)
Colin Harvey and Jimmy Harris
EFC Heritage Society
The Everton Collection
James Corbett (Everton Encyclopaedia article)
Dave Prentice (Echo article)


---
Reader Comments
Note: the following content is not moderated or vetted by the site owners at the time of submission. Comments are the responsibility of the poster. Disclaimer
David Ellis
366
Posted 09/01/2014 at 02:21:18
A really great article Rob. Thanks for putting it together.
Matt Traynor
399
Posted 09/01/2014 at 07:54:39
Fascinating and thought-provoking read Rob. Some of the points got me thinking about the importance of a player's personality. I wonder what the younger Harry would've thought of a lot of the players' attitudes to the game today, with the trappings they enjoy from a young age if they're tagged with any sort of promise.
I always found it strange the way HK (throughout his career) seemed to not rate players who went on to achieve great success elsewhere - I wondered if it was more of a clash of personalities rather than their abilities on the field?
Paul Wharton
460
Posted 09/01/2014 at 12:45:01
Rob
Fantastic, great Evertonians the Cooke family. Just a pity nobody interviewed Harry Snr.
Peter Mills
573
Posted 09/01/2014 at 20:26:17
Matt, I agree that a player's personality is important. I'm not sure which players you are thinking of who moved on. Steven and Stevens achieved success elsewhere, but I'm sure Howard would always have time for them, they moved for the same reasons he did, European football. McMahon and Keown left, seemingly, because they thought they were better than the club, and HK would have no time for that.
I'm just interested, not being argumentative!
Howard was interested in personality, it made him capable of getting players to put in that bit extra for him. Martinez seems similar. I suspect the Cookes were the same.
Rick Tarleton
753
Posted 10/01/2014 at 14:35:26
Harry Cooke was part of the fabric of Goodison in my young days. But thee were other some volunteers like Tommy Fairfoule who had played for the Everton junior team just pre-war, he may even have played for the reserves, but who carried on as a volunteer trainer and would run on the pitch at bellefield, looking after the youngsters in the B and C teams in the 50s. His son Andrew used to be a regular writer to this site. Tommy was a big friend of one of my uncle's and was best man at his wedding and I remember him fondly, both as a man and a devoted Evertonian.
Nowadays it is so scientific and professional, but men like the Cookes and the volunteers were the fabric of football till the advent of the age that followed the abolition of the maximum wage.
Danny Broderick
870
Posted 10/01/2014 at 20:19:26
It seems like we have gone from the 2 Harries to the 2 Ronnies, when you think Alcaraz signed and then needed an operation, and so did Koné. But joking aside, what a good read. I can't believe Colin Harvey had to serve 2 weeks notice with the NHS before being allowed to join us! How times have changed.
The kids at Everton would probably turn their noses up at being asked to do a day's work now. They start so early at the academies that there would be no possibility of someone having to give up a trade to sign a professional contract with us. Funny how times have changed...
Janet Cooke Rutherford
267
Posted 21/02/2014 at 11:07:20
Harry Cooke was my great Uncle, This article was fascinating to read. My family has long been associated with Everton my Dad was Blue through and through, he had signed to play for Everton just before the war, but duty called. Thank you for putting up this article.
Add Your Comments
In order to post a comment, you need to be logged in as a registered user of the site.
Or Sign up as a ToffeeWeb Member — it's free, takes just a few minutes and will allow you to post your comments on articles and Talking Points submissions across the site.
© ToffeeWeb