Dave Hickson passes away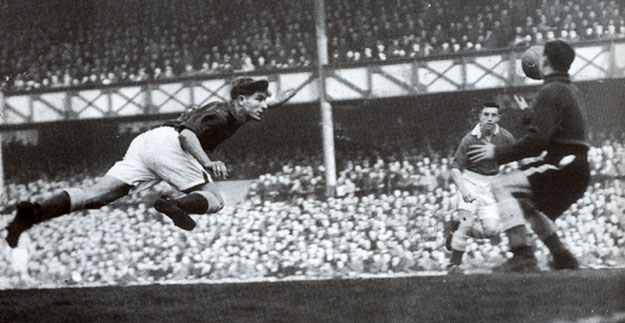 Everton lost a legend today with the news that Dave Hickson has sadly passed away at the age of 83 following illness.

Nicknamed the "Cannonball Kid" for his cavalier style, he was a Blues hero in the 1950s who had the rare distinction of playing for all three Merseyside clubs in his career.

He was an unabashed Evertonian, though, once saying that he would have broken bones for any team he played for but he would have died for Everton.

In his Everton Encyclopedia, James Corbett encapsulated the the much-loved Goodison Great:
A swashbuckling cavalier, he played like a human battering ram, running through opposing defences with the verve of a Boy's Own hero. With his trademark blond quiff, he looked the part, too.
His commitment to the club he loved continued long after his playing days and he remained a club employee right up to last season where he conducted stadium tours of Goodison Park and he was a matchday regular.
Described universally as a true gentleman who had time for everyone, Dave will be sorely missed.
Watch » Video of some interviews with Dave posted by the Everton Former Players Foundation
Reader Comments
Note: the following content is not moderated or vetted by the site owners at the time of submission. Comments are the responsibility of the poster. Disclaimer
David Greenwood
527
Posted 08/07/2013 at 17:54:48
So sad.
A true gentleman.
My wife and I were lucky enough to meet him a few years ago.
A modest, humble man who loved Everton and everything associated with the might blues.
Phil Sammon
530
Posted 08/07/2013 at 17:56:41
Very sad news. He was still doing matchday tours of Goodison up until last year wasn't he?
That image above is absolutely brilliant.
Hopefully there'll be some marking of it at one of the games so we can show our support and appreciation.
Barry Rathbone
531
Posted 08/07/2013 at 17:56:47
One of my dad's great heroes so he must have been a fabulous player.
Sadly dad passed away a few months ago after a short illness - one great man following another - they will talk Everton for eternity.
God bless him and all his family.
Andy Amey
536
Posted 08/07/2013 at 18:09:04
Very sad news indeed
My mum and dad's favourite player...........and they saw a lot!
All the best to his family.
Dennis Stevens
537
Posted 08/07/2013 at 18:03:53
How very sad. I met him just the once, about 15 years ago, when he hosted a stadium tour at Goodison & he was knowledgeable, charming & humble.
Matthew Williams
539
Posted 08/07/2013 at 18:08:35
A truly sad day for Blues everywhere, the club has lost another legend, a true great.

RIP, Dave.
Lyndon Lloyd
540
Posted 08/07/2013 at 18:11:18
It's rare that someone is spoken of with such universal admiration and love, proof enough that Dave was an Everton treasure.
We at ToffeeWeb extend our sympathies both to his family and the employees at Everton who will no doubt miss him in equal measure.
Andrew Ellams
541
Posted 08/07/2013 at 18:15:00
RIP to the only blue my Grandad ever spoke about as fondly as Dixie
Patrick Murphy
544
Posted 08/07/2013 at 18:15:24
A true Blues' legend and a very pleasant guy, sympathies to his family and friends. RIP Dave Hickson.

Norman Smith
547
Posted 08/07/2013 at 18:19:28
my boyhood hero...true Evertonian....true Gentleman....RIP Davy
Dan Brierley
548
Posted 08/07/2013 at 18:17:25
Never saw him play, not even on video! But from the way that people spoke about him its very clear that he was someone very special in our history. RIP Dave Hickson, deepest sympathies to the family.
Tom Bowers
550
Posted 08/07/2013 at 18:17:57
My hero and my Dad's hero. A superstar back in the fifties in the mode of the old centre forward who battled ruthless adversaries but usually won out.
Used to get kicked and cut but unlike today's whining prima donnas he got up and got on with it.
A legend till the end. R.I.P. Davie.
Colin Glassar
552
Posted 08/07/2013 at 18:25:40
RiP Dave. Never forgotten.
Chris Corn
554
Posted 08/07/2013 at 18:25:05
I was in the Winslow at an evening game in the run up to the 95 cup final..it was rammed and Davey walked in. The whole of the pub just burst in to a chorus of 'One Davey Hickson' for about twenty minutes. It made the hairs on the back of my neck stand up. Absolute legend. RIP Davey
Peter Truin
556
Posted 08/07/2013 at 18:29:27
A lovely fella
sad news
rest in peace Dave
Norman Merrill
557
Posted 08/07/2013 at 18:27:09
R.I.P. DAVE, This was a Man who wore his Royal blue shirt with PRIDE.
I was fortunate to see him play in the 1950's.
Graham Haines
559
Posted 08/07/2013 at 18:30:25
Had the pleasure of meeting Dave on a stadium tour about 15 years ago. Smashing bloke who really knew his stuff about EFC and took the time to take a photo of me & the wife in the stadium also.
RIP Dave an Everton legend
Amit Vithlani
561
Posted 08/07/2013 at 18:32:36
Very sad news indeed. Never had the privilege of seeing him play, but a well known face around GP (especially in the 90's, when I used to attend) and I am sure will be missed by all.
Dave Charles
562
Posted 08/07/2013 at 18:33:55
Shocked and saddened to hear the news. An absolute Gentleman and you never hear a bad word said about him. Goodison is going to miss him on match days and we will miss him too. RIP The Canon Ball Kid.
Paul Andrews
563
Posted 08/07/2013 at 18:38:02
Quote from Davy.
" I would break every bone in my body for any club.I would die for Everton"
God bless you Davy.RIP.
Paul Ferry
564
Posted 08/07/2013 at 18:36:39
RIP Dave
Much missed
Never forgotten
Class
Stephen Marsh
567
Posted 08/07/2013 at 18:39:33
Absolute Legend....R.I.P.
Ryan Sloan
570
Posted 08/07/2013 at 18:36:40
I remember reading a match report of a cup game in the fifties, when we where in the 2nd Division against a much fancied Man Utd where he busted his head open, got patched up and came back on to head the winner!
His famous quote comes to mind; that's what you call a real legend. RIP, Davie.
Gavin Ramejkis
571
Posted 08/07/2013 at 18:43:09
An utter gentleman if you were ever lucky enough to meet him, condolences to all of his family and friends
Steve Ferns
573
Posted 08/07/2013 at 18:42:44
Sad, sad news. I was too young to see him play, but you can tell how good he was by the regard all Evertonians held him in. The man was dignity personified. I only met him in a box last season. Although, he wasn't doing the meet and greet anymore, he still had time for anyone who wanted to meet him and shake his hand, and there was a long queue.
Everton and the World is a poorer place for his loss. My thoughts go to his family.
Tom Edwards
576
Posted 08/07/2013 at 18:43:04
Sad news indeed. Another legend gone. He was my dad's hero. When he spoke of Davey, my dad took on a faraway look. I was not lucky enough to see the great man play but he must have been some sight in full flow. I have a scrapbook of press cuttings which my dad collected over several years, all dedicated to Davey.
A true gentleman and a true Evertonian. One of those chosen ones who will live forever in the Goodison folklore.
My sympathies to his family and friends.
Trevor Powell
579
Posted 08/07/2013 at 18:48:14
Sadly, I never saw him play but my Dad and Uncles were great fans. It's so sad to see these great ambassadors for the club disappear into the mists of time. I have heard nothing bit high praise for his playing days and his attributes as a very decent man off the field.
Carl Sanderson
580
Posted 08/07/2013 at 18:48:51
He was a true legend, a genuine Everton No 9.
RIP
Tony Marsh
581
Posted 08/07/2013 at 18:43:24
I have had the privelage of knowing Dave Hickson for a good few years as he sat next to us in the Alex Young with his familly. Dave never really re-covered from the death of his wife Pat a few years back. Since then, he was very fragile and it was plain to see he was heartbroken.
RIP, Dave a real legend and an example to all these Johnny-come-Latley types who haven't a clue about class and how to conduct themselves. We will never see his like again... God Bless
Will Leaf
586
Posted 08/07/2013 at 18:51:47
This has really saddened me.
Condolences to his family.
RIP Dave, Evertonians will never forget you.
Mike Hughes
588
Posted 08/07/2013 at 18:58:22
Very sad news.
I met him in 1997 and had my photograph taken with him.
Really nice man - a true gentleman and Evertonian.
R.I.P.
Tony Draper
589
Posted 08/07/2013 at 18:53:58
Me Mam's all time favourite, and she "knows her history".
So sad, more Dave Hickson's would set "The Grand Old Lady" afire.
Thanks Dave, you will always be as important to your club as your club was to you. Say hello to William Ralph, Tommy and Joe.
NSNO
Richard Reeves
593
Posted 08/07/2013 at 19:01:52
RIP Mr Hickson. A true gentleman and 100% Evertonian.
Graham Lloyd
595
Posted 08/07/2013 at 18:54:22
Very sad and unexpected news,he was my boyhood hero and was what you would expect from a great Everton legend I met him several times over the years the last being just before Christmas at a 'No 9's evening in Runcorn he had time to speak to everybody and was the last of the former players to leave which was approx 11-30,he signed an action picture of himself at Spurs in 1954,
A true gentleman and will be sadly missed.RIP
My sympathies to his family and friends
Ross Edwards
596
Posted 08/07/2013 at 19:04:50
A very very sad day for all Evertonians, young and old. A legend and an absolute gentleman has been lost, and will never be forgotten.
RIP Cannonball Kid, these modern day wannabe mercenaries are not and never will be good enough to lace your boots.
RIP Dave Hickson, now joining the likes of Catterick, Dean, Labone and Ball in the great Goodison in the sky.
Antony Matthews
597
Posted 08/07/2013 at 19:02:13
R.I.P. Dave. I'm sure the Everton greats including Bally and Labby have you pencilled in to play on Saturday. A magnificent Evertonian will be sorely missed.
Tom Evans
605
Posted 08/07/2013 at 19:12:02
My first true sporting hero from seeing him playing for Tranmere. His memory was sharp as a button when I spoke to him about an incident between him and a centre half playing for Aldershot behind the Kop at Rovers at half time.
In my mind you are the type of man for whom the word legend should sit easy on your shoulders.
RIP.
Lenny Kingman
607
Posted 08/07/2013 at 19:14:53
Best flowing locks in the history of the game. And not a bad player either. Enjoy your peace Dave.
Geoff Trenner
611
Posted 08/07/2013 at 19:26:41
I met him many times at Goodison, a lovely, lovely man. RIP. My thoughts are with Dave's family
Paul Melarange
613
Posted 08/07/2013 at 19:23:22
Very sad to hear the news about Dave, we used to see him quite a lot in the old Blue House after the game with his wife, a really nice fella to speak to. He must have wondered sometimes what we had been drinking when grown men were bowing and showing there affection to him even though most of us were too young to watch him play. The stories from dads and grandads really painted the picture of how great a player he was for the Mighty Toffees!
RIP, Dave Hickson — the Cannibal Kid!
Kunal Desai
614
Posted 08/07/2013 at 19:29:10
Thoughts are with his family and friends at this deeply sad moment in time and for all associated with Everton Football Club. RIP Sir. Everton legend - You'll never be forgotten.
Brian Denton
617
Posted 08/07/2013 at 19:22:55
I never saw him play, but met him at a couple of former players functions. A true gentleman, to use the cliche; he might be from another planet compared to today's players. That's progress.
One of my dad's heroes too, and my three uncles. All Blues, and now alas all dead too. The Everton family mourns one of its own.
Brian Murray
618
Posted 08/07/2013 at 19:35:27
May he rest in peace.
Brian Keoghan
620
Posted 08/07/2013 at 19:16:25
Sad day for us Blues of a certain generation — Dave played in the first game I ever saw in 1952 and I was there on that great day (14 February 1953) when he scored the winning goal against Manchester United in the FA Cup before 77,000 ecstatic Evertonians.
I also watched his debut for Liverpool against the Villa when he scored both goals in a 2-1 win and I recall seeing him play for Tranmere against Chelsea in a cup-tie.
I met him a few times in later years and he was always approachable,friendly and happy to talk about games gone by.
RIP, Dave
Mike Hayes
621
Posted 08/07/2013 at 18:50:41
True gent true blue true legend. Met him at home games after the match. Always happy to chat and have his photo taken with fans and signing autographs. Will treasure the signed photos of a true blue hero. RIP Dave. Gone but never forgotten.
Peter Warren
623
Posted 08/07/2013 at 19:49:23
Never saw him play but spoke with a few times when I was a teenager watching us in mid 90s onwards. A real presence about him and absolutely enthralling to listen to his views. A true Evertonian. R.I.P.
Mark Griffiths
624
Posted 08/07/2013 at 19:49:57
Very sad indeed. RIP Mr Dave. We used to see him all the time when we were teenagers in Ellesmere Port and say hello in his rat catching days for the council.
Brian Denton
628
Posted 08/07/2013 at 20:05:19
Pity Ashley Cole won't have to do a rat-catching stint after his career is over !
John Crawley
630
Posted 08/07/2013 at 20:18:26
Was just speaking about him today with an evertonian I met who sometimes used to drive him to the game. He had an amazing passion and desire for the blues, a gentleman off the pitch but a lion on it. Condolences to his family and his friends.

Jay Harris
631
Posted 08/07/2013 at 19:59:02
True Evertonian and lovely man.
Condolences to his family.
Tom Clarke
632
Posted 08/07/2013 at 20:16:00
Alan Ball, Brian Labone... Now we have lost another Everton great. Having worked alongside Dave as a Blazer Steward, I came to realise just how much he loved this club.
He used to leave his beloved wife in the Joe Mercer lounge to meet and greet as many people as he could before the ref blew his whistle to start the game. Lovely Pat didn't mind — she knew what the club meant to him.
Now they are together; Rest in Peace, Dave.
Ray Robinson
634
Posted 08/07/2013 at 20:27:09
Mark #624 - lived in Ellesmere Port during the sixties. Didn't he player / manage the Port when they were at York Road? Seem to remember ructions when he got sent off in a match and refused to leave the field, which seems to be totally out of character. Or is my memory deceiving me?
Never saw him play, nor met him but I know from others that he was a true Blue, legend and gentleman. RIP Dave.
Peter Cummings
639
Posted 08/07/2013 at 20:14:35
In my eyes, Dave Hickson ranks with Dixie Dean as a true Everton legend. I was privileged to watch him home and away for many years in my youth when he literally shed blood in many games from head wounds when the team hardly changed from season to season:

O'Neill
Moore, Donovan
Farrell, Jones, Lello
Wainwright, Fielding, Hickson, Parker, Eglington,

Sadly we all have to go sometime, but that doesn't lessen the pain when true legends leave us. Dave was as good as his word — he DID die for Everton.

Thanks For The Memories Lad, now rest in peace.
Joe Bibb
642
Posted 08/07/2013 at 20:40:16
Dave Hickson is the reason I am proud to be a Blue. He loved Everton Football Club and he was a TRUE EVERTONIAN. A Fan who was lucky enough to play for Everton.
Condolences to all who knew him. A true gent from an era sadly gone.
Mark Griffiths
647
Posted 08/07/2013 at 20:52:27
Ray (634) not sure about that bud, although it does ring a bell from some of my grandads stories relating to all things e port and football. I used to talk to him late 80's & early 90's.
Ray Robinson
649
Posted 08/07/2013 at 20:59:46
Mark, looked it up. Seems that I'm not yet senile. Last para of:
http://www.lfchistory.net/Players/Player/Profile/319
Sorry, seems to be a RS site!
Steve Jones
662
Posted 08/07/2013 at 21:21:58
Great man; my father-in-law used to say he dragged us back into the First Division, and how he played with his head in bandages.
I played against him once when he guested for the over-the-hill mob, he must have been 65, his boot laces wrapped round his old style boots. He barged into me and knocked me over, it was brilliant. I told him I would never wash my kit again!
Last time I spoke to him was a couple of years ago on an Easyjet flight with his wife to the south of France where he was staying for the summer – I carried his cases from the plane, through passport control and into a taxi.
What a gentleman and a true blue for ever.
Anthony Manning
663
Posted 08/07/2013 at 21:31:45
Gutted, R I P Dave.
Ray Atherton
665
Posted 08/07/2013 at 21:10:01
Another legend has left our Goodison home. I saw him play for the blues in the late 50's, so courageous and fearsome. Most upset when he signed for the shite, I went to see his debut at anfield he scored 2 goals for them in a 2-1 win over A Villa. Didn t go there for a few years as the RS were in 2nd division. I went to away games to see the blues.
Thomas Newton
666
Posted 08/07/2013 at 21:32:51
I met him last year when I was doing work at the sheltered housing building he was living at in Willaston. What a lovely man! Job took twice as long as I talked the hind leg off him! Mind still as sharp as a tack, though sadly not so good getting about.
A true Everton legend who will be sadly missed.
Martin Handley
667
Posted 08/07/2013 at 21:31:47
I've been lucky enough to meet him a couple of times over the years, what a gent, nothing ever too much trouble. He was proud to play for Tranmere and that other lot but it was always Everton: once a blue, always a blue.
R I P Legend.
With him and Dixie up there in heaven, there's a few centre halves looking for a way downstairs!
Thor Sørensen
669
Posted 08/07/2013 at 21:33:39
A great loss. My condolences goes out to his family and friends.
As I live abroad I regrettably don't get to attend matches at Goodison very often.Back in 2007 I had saved up money so I could make the trip to Merseyside, and during my visit I was going on a stadium tour hosted by the legend himself.
Sadly, only a few days before the tour, Hickson suffered a heart attack and was hospitalised for some time. I was absolutely gutted missing out on the chance to meet the "Cannonball Kid" in person, but thankfully he recovered well from the incident.
Dave Hickson will live on forever in Everton folklore.
Liam Young
671
Posted 08/07/2013 at 21:51:46
RIP Cannonball Kid, Dave Hickson was a legend in every sense, from the player, the everton fan, to the man himself, a true gentleman. And a man who for many years has done the tours of Goodson, he loved Everton, and Everton loves him, now and always.
Alan Khan
673
Posted 08/07/2013 at 21:57:56
I am really sad to hear the news that Dave Hickson has passed on. I was honoured to have met him a few years ago at Goodison. I loved his stories and insight into our beloved club... My photograph with him has pride of place in my home.
My sympathies to his family, friends, colleagues and loved ones... May he rest in peace.
Thank you for your contribution Mr Hickson!!!
Al Philby
674
Posted 08/07/2013 at 22:09:50
RIP
Harold Matthews
676
Posted 08/07/2013 at 22:06:53
Very sad news. Dave was my hero.
Rest In Peace.
Eugene Ruane
677
Posted 08/07/2013 at 22:07:07
Very sad news, a genuine Everton legend. R.I.P
David Pearl
684
Posted 08/07/2013 at 22:17:16
He was loved and admired by everyone and if ever the word Everton legend is given to anyone there is nobody more deserving. Added to his playing career the years of service around Goodison Park. Irreplaceable.

Mark Frere
686
Posted 08/07/2013 at 22:09:46
R.I.P Dave
Colin Wainwright
687
Posted 08/07/2013 at 22:25:09
Didn't see him. Too young, but my arl fella said he was crackin' player and a hardcase. Legend.
Jim Burns
688
Posted 08/07/2013 at 22:15:29
Absolutely floored by this news. I was lucky enough to spend a little time with Mr Hickson at the end of the Man City game at Goodison last season. He, like all blues that day was buzzing at the result, enthusing at length about Seamus Coleman's performance in particular....a real fan clearly still very in much with his club.
We spent a priceless few minutes talking about football as it used to be played, and shared the irony and satisfaction of having just embarrassed a club that contradicted everything that Dave stood for.....undying loyalty to his club where the glory and enjoyment of playing came second to the money.
A gentle and modest man , who seemed genuinely pleased and humble that a mere mortal like me should consider a short chat with an icon like him.
He played before my time, but I can recall everything my late Dad told me about Dave as a player in his heyday......and I feel a bit empty tonight.
God bless Mr Hickson.
Danny Kewley
692
Posted 08/07/2013 at 22:20:11
Strange how some of our legendary players have graced both sides of Stanley Park but it is fair to say this lad gave his all for the Blues!!!! RIP Davey lad and condolences for all your family and friends.
John Daley
694
Posted 08/07/2013 at 22:35:58
Similar story in that I'm much too young to have ever seen him play but, as he was one of my arl fella's favourites when he was a kid, I was brought up on tales of his all-action approach and blood matted blonde mop of hair. Always a great pleasure to see him smiling away at Goodison.
Players from that period (50s/60s) always seem to have a real affinity with the club and the fans that would be impossible to foster in this day and age. They were truly working class heroes that interacted with, and inspired, the local community. Dave Hickson may not have been handed the lucrative contracts & luxury lifestyle that nowadays comes as standard to sub-par players who would struggle to even lace his boots, but he earned something much more enduring.....true legendary status.... and the admiration and respect of generations of Evertonians.
And what about that nickname? 'The Cannonball Kid'! Kicks the crap out of 'Pip' or a yawn-inducing 'y' whacked on the end of every single surname.
Paul Andrews
695
Posted 08/07/2013 at 22:28:06
Some great stories and memories there.
A good player by all accounts, my dad loved him, and a nice man to any Blue he met. Very humble as well.
Steve Jones, that is a great post. Hairs on the back of the neck stuff there.
James Marshall
696
Posted 08/07/2013 at 22:45:53
"I would have died for Everton. I would have broken every other bone in my body for any other club I played for but I would have died for this club."
RIP.
Dick Fearon
698
Posted 08/07/2013 at 22:38:12
My first football hero, I was among others pictured in the Echo parading around Goodison with a banner, 'IF DAVY GOES I GO,' — and I would have only I didn't know where Birmingham was.
Colin Wainwright
700
Posted 08/07/2013 at 22:59:14
Great post John.
Mike Green
701
Posted 08/07/2013 at 22:39:30
I'm 40 so never saw him play in any shape or form, have just seen the photos, heard the stories from those who did and read what I could.
He was a man who clearly loved the club though, and was deeply loved in return.
Seeing him in the stands he always looked to me like a member of a family - not a supporter, ex-player or guest, but part of the fabric of the club - and someone who made you proud to say you were an Evertonian. One of the greats.
All thoughts to his family.
R.I.P.
Tony McDonald
713
Posted 08/07/2013 at 23:36:55
Everything said about him is so true. My late dad raved about him and when we had enough money to buy season tickets in the Alex Young lounge, I'll never forget the look on our faces when he walked over to us, shook everyone's hand and chatted away as if he'd known us for life.
One thing not mentioned is his love of the horses. We'd be sitting there, waiting for some words of wisdom over the team selection and Dave would point us in the direction of the 2nd favourite in the 3:00 at York!
All the fans, and I would add the other ex-players wandering through the lounges all treated him with the utmost respect. He had a store of awful jokes, but of course everyone laughed. So proud to have met him...
Joe Beardwood
715
Posted 08/07/2013 at 23:58:42
Really sad to hear this news – a true Everton legend. I never saw him play but my dad idolised him and would tell me continually as a kid how Joe Royle and then Bob Latchford weren't a patch on the king of the forward line.
Obviously I can't confirm if it was true or not, but my dad would sing to me to the tune of Davy Crockett (I think it was a 50s tv series??)... "Davy, Davy Hickson – king of the forward line".
RIP Davy.
Anthony Lamb
717
Posted 09/07/2013 at 00:06:54
What a wonderfully "honest" footballer – I'm genuinely saddened by the news of his death, He was such a genuine hero to us when we were growing up and without doubt he was a genuine inspiration to the teams in which he played and the crowds who watched him.
Without doubt, the perfect illustration of that was the wonderful winning goal he scored against Man Utd in what I think was a 5th round cup game at Goodison when he had returned to the pitch with his head bandaged. What a header from almost the edge of the box if my memory serves me right.
In addition, as youngsters we remembered his battles against centre-halves whose names I think were Ken Chisholm (Plymouth I think) and Malcolm Barrass I think at Bolton at the time who were "uncompromising" to say the least! Even as young boys we knew that these were real "battles" but "our Dave" never seemed to flinch.
I can even remember my first experience of real sadness associated with Dave Hickson – when he went to play for Villa and even worse – Liverpool. But that was simply were he went to "work" – we all knew that deep down he was an Evertonian.
As an Evertonian I can only express my thanks for the part he played in my early days of learning to be a Blue and to extend my genuine sympathies to his family.
Steve Green
721
Posted 09/07/2013 at 00:43:14
My Dad's hero, and dad was a red. Met Dave when he took us on the Goodison Tour and my old man was in his element swapping tales and yarns with Dave. Dave fulfilled my Dad's dreams that day – he met his hero and his hero fitted up to the bill – how many people can say that?
Both now sadly gone but hopefully dad will have a beer waiting for him at Heaven's Bar so they can continue to reminisce. His 'Break Every Bone' quote is right up there, together with Labby's 'One Evertonian' and Bally's 'Never Leaves You' quotes, as the best description of our special Blue family. Not wanting to wish my life away, but, get a pint ready on the bar for me men so we can continue our footy chats. RIP, The Great Dave Hickson.
Chris Bond
723
Posted 09/07/2013 at 01:46:44
Just heard the sad news. A legend of our club. Proud to be a supporter more than ever today. Thank you Dave, God bless to all your family. A true Evertonian! This season is for Dave COYB!!
Karl Masters
726
Posted 09/07/2013 at 02:01:18
Very rare the term 'legend' is appropriate, but it certainly is in this case.
RIP Dave Hickson, Everton Legend.
Alan Baillie
730
Posted 09/07/2013 at 04:42:47
Dave, Say hello to all the Everton greats in our Blue Heaven. A true gent and a great footballer.
Ken Buckley
737
Posted 09/07/2013 at 07:41:01
Dave Hickson. Born a Blue. Lived a Blue. Died a Blue. R. I. P. In our Blue Heaven.
Lenny Kingman
738
Posted 09/07/2013 at 08:02:54
That photo above, marvellous. Grace under pressure.
Bumped into him at the players entrance at GP back in 96. It was a Monday night game on Sky against Coventry and my son was attending his first match. When Dave found out he made a real fuss of him, with his love of all things blue. He still goes to this day, with memories of the great mans words still in his head.
Darren Warkcup
739
Posted 09/07/2013 at 08:15:14
RIP Dave. He was a true gentleman, he was always around the Lounges on matchday and ready for a chat about anything Blue. He used to take us around the stadium as part of the match sponsor package. His health had been failing ever since his wife passed a couple of years ago.
Dessie Murdock
741
Posted 09/07/2013 at 08:34:23
Sad news indeed. Dave was a true gentleman, legend and Evertonian. Never got to see him play in his beloved royal blue but I watched him when he was player/manager of Ballymena United my local Irish League team in 1963-64 and I've been an Evertonian ever since. Sadly never got to meet him due to his ill-health when I did a stadium tour a couple of seasons ago. RIP Cannonball Kid.
Andrew Laird
743
Posted 09/07/2013 at 08:36:35
Condolences to Dave's family, a bona fide legend who lived the dream of every Evertonian with unmistakable passion and pomp.
Gone but never forgotten.
Derek Thomas
744
Posted 09/07/2013 at 08:32:30
The real, the one and only, the true; Once a Blue, Always a Blue (unlike some )
Don Harris
752
Posted 09/07/2013 at 09:14:50
I went on a stadium tour with my 80-year-old dad, mum, Man Utd wife (Aaaah – but she loved the tour), and son (4th generation Blue) about 10 years ago. We were a bit late, and Dave, the host was waiting for us outside.
On seeing us coming, he hid behind a pillar, and did the Harry Worth thing, if you remember! – sticking one leg and an arm out from behind pillar.
A gentleman, wonderful company for those couple of hours. RIP.
Ken Crowther
753
Posted 09/07/2013 at 09:04:10
"Born on a rubbish dump in Ellesmere Port,
Football was his favourite sport,
Went to Goodison for half-a-crown,
Then to Villa and Huddersfield Town.
Davy, Davy Hickson....."
Peter Cummins #639
That team made my heart skip a beat, except that I think you've got Fielding and Parker swapped around.
"John Willie" was always inside-right and "Wally" was inside-left.
RIP Davy.
Kevin Jones
754
Posted 09/07/2013 at 08:59:49
Very sad to hear the news about Dave, what an absolute gent. I tell this story about him to anybody within ear shot.
From time to time I'm very lucky to be invited on corporate days by a friend, and some suppliers myself and my wife deal with. About 4 years ago we were invited to a day in the 300 Club, and whoever is man of the match comes in for photo's etc.This day it happened to be Jags who was introduced by Dave. We had my Grandsons autograph book so we asked Jags to sign it which he obviously did. I then asked Dave could he sign it which he was only to happy to do. Now fast forward to the following year, and we where again invited on another corporate day, only this time in the Joe Mercer Suite. As I was walking through the suite I saw Dave coming the other way and nodded in his direction, he stopped shuck my hand and said nice to meet you again, I thought he was just being nice but he actually said, " you where the chap who asked for my autograph in the 300 Club". To say I was amazed is an understatement, obviously I recognised him but for him to recognise me made me feel ten foot tall
All the best to his family and thanks for everything Dave.
Kevin Tully
766
Posted 09/07/2013 at 09:58:47
One thing the club excels at is looking after former players. Dave would stop and talk to anyone, and never turned supporters down for a photo or autograph.
I didn't know until this morning he played for an amateur team until he was in his in his 70s!
Only one of 8 players to pass the 100 goal mark for the club.
Got to mention all the nice things our red neighbours are saying about the man also - the mark of a true great!!
Alan Humphreys
787
Posted 09/07/2013 at 10:53:26
Michael/Lyndon - classy touch having a picture of the Cannonball Kid in the ToffeeWeb banner.
Fantastic article in the echo today with photos of Dave in his prime.
http://www.liverpoolecho.co.uk/sport/football/football-news/farewell-dave-hickson-true-merseyside-4888565

Ciarán McGlone
789
Posted 09/07/2013 at 10:58:47
Legend.
Brian Harrison
790
Posted 09/07/2013 at 10:58:08
Dave was my first idol, he was just brilliant you always knew you had a chance to win any game when Dave was in the team. I met Dave on numerous occasions and he was the most charming mild mannered man you could wish to meet. I always remember talking to him about his time at other clubs and he summed it up perfectly when he told me that he gave everything for every club he played for but he would die for Everton, my hero.
RIP Dave.
Daniel Starkey
800
Posted 09/07/2013 at 11:45:41
Got to know about him from my dad, he was a great crowd favourite because of his commitment to the cause and bravery, iconic I suppose, sad we won't see him on matchday's any more, one of the greats of our club, RIP Dave.
Jeff Beaumont
808
Posted 09/07/2013 at 11:14:34
Born in 1942 in Ellesmere Port – a Blue from birth. However, times were tough & I never was able to get to Goodison Park.
When I was 9 or 10, a mate of my Dad (Bill Warrington) promised to take me to a game. Very few cars them days so our journey would be by public transport.
On the Saturday, we caught the Crosville bus to Birkenhead for the first leg of our journey. A couple of stops later (Cemetery Gates), I looked out of the window to see my hero waiting to get on. I didn't know at the time that Dave & Bill lived in the same street, so imagine my feelings when Bill beckoned to Dave to come over. I'm in heaven – not only on my way to Goodison, but my hero is sat within touching distance & he's talking to me.
We chatted all the way to Birkenhead & walked down to Woodside where guess what - Dave actually paid for me on the Ferry & again on the bus from the Pier Head up to the ground.
The rest of the day is a blur – but even now, over 60 years later, that day seems like yesterday.
Thank you Dave for my most magical childhood memory.
RIP.
Peter Cummings
820
Posted 09/07/2013 at 12:27:59
Ken (#733)
Actually I still have a programme showing that lineup, maybe a misprint as I was always able to rattle that team off as it was the same one for ages, unlike today when you sometimes can't pronounce the names let alone the lineups.
Being 75 and a lifetime Blue for around 70 of those years, my memories of both the Everton greats and those of other clubs could fill a book. Keep the faith, lads.
Robert Workman
831
Posted 09/07/2013 at 13:14:08
A true legend. I was fortunate enough to see him play for the second team on Merseyside - Tranmere Rovers - towards the end of his career. He was still getting really stuck in - a born crowd pleaser. The only time that I was behind the scenes on Match Day at Goodison I saw him, recognised him immediately and he actually smiled at me just like I was an old friend. A fantastic man.
Pete Bridson
835
Posted 09/07/2013 at 13:20:38
Respect to a True Blue. Rest in Peace.
Colin Potter
861
Posted 09/07/2013 at 14:45:53
A true Legend, R.I.P. Davy
Maybe the number 9 should be sent on it's way with him.
David Donnellan
909
Posted 09/07/2013 at 16:24:24
I'm not old enough to have seen him play, like most on here. But, I knew all about him growing up, my dad saw him play regularly when he was a child & always spoke glowingly of him to me, a true legend! RIP.
Paul Andrews
920
Posted 09/07/2013 at 16:45:36
I tell you what .I fuckin love this club
Brian Denton
935
Posted 09/07/2013 at 17:25:45
Colin (861) - 'retiring' a shirt number is just the sort of modern Americanised media crap which would have had no part in the world of Dave Hickson.
Allan Hough
937
Posted 09/07/2013 at 17:21:11
Rest in peace, Davey. God bless you.
At your best with the club you loved, Everton. I first saw you at Tranmere at the end of your career and you still had flashes of class. You loved the game.
I remember having kickabouts around 1964 on the football pitches at Ness.

Patrick Murphy
938
Posted 09/07/2013 at 17:36:33
I agree Brian - a far better tribute for him would be the next holder of the number nine shirt to score as many goals as possible for the Club that Dave Hickson loved and played his heart out for.

John McFarlane [Snr]
002
Posted 09/07/2013 at 18:20:09
Ken Crowther [#753]
Peter Cummings is right regarding Wally Fielding and John Willie Parker, John Willie played the vast majority of his games at inside left, he made a handful of appearances at outside left (his debut position against Blackpool in a 2-0 defeat) this game was also Jock Lindsay's home debut, he was given a torrid time by Stanley Matthews. I witnessed this fixture from the boys pen. (Before the Bill Kenwright era!)
I have many great memories of Davey Hickson most notably the Man Utd FA Cup tie in 1953 and that wonderful night at Boundary Park in 1954. The most memorable moment for me, however, didn't happen on the football pitch; it was when Davey was playing for the Reserves in the old Central League.
I was at the time an avid collector of autographs and one Saturday afternoon, prior to a Central League game, I asked Davey to sign my book. As he prepared to do so, he broke the point of my pencil (Biros were few and far between in those days) his words were "Ah, I have broken your penceel". He then took me into the newsagents opposite Wally's Cafe and had my pencil sharpened, and completed the autograph signing. It's hard to imagine any of today's professional footballer (at any level) treating an 11-year-old schoolboy in the same way.
A couple of years ago, a friend of mine had purchased an Everton book for me prior to going on tour of Goodison Park, and he relayed the pencil episode to Davey and asked him to sign the book; Davey did so as follows:
"To Johnny Mac,
I have written this with my own pen
Best Wishes
D. Hickson."
A true example of once a Blue always a Blue. Rest in Peace, Davey.
Peter Howard
039
Posted 09/07/2013 at 20:09:25
My late dad's idol. As he taught me (to the tune of "I love to go a wanderin"):
"He is the idol of our crowd
He is our pride and joy
You'll always hear the Goodison roar
When out trots Davie boy"
RIP, Davie boy.
Dick Fearon
101
Posted 09/07/2013 at 22:59:49
The gentleman who everyone speaks of turned into a raging lion once that whistle blew.
In the first minute against Doncaster Rovers the ball was in our half. Davy and the Rovers centre half, a mountain of a man were alone in their half. Not seen by the referee the centre half knocked Davy unconcious with a headbut.
Dave was stretchered off with blood streaming down his face.
There was an almighty roar when Dave returned with his head bandaged. ( no subs allowed in those days)
With any by your leave Dave calmly strolled up to Noble a dropped the big fellow with a right hander.
The whole of Goodison saw it and unfortunately so did the Ref who sent him off.
Dave calmly walked to the tunnel to a mighty roar from the faithful.
Matthew Lovekin
244
Posted 10/07/2013 at 14:45:54
I'm doing a bit of research about Dave Hickson. Does anyone know what number shirt he used to wear?
Obviously, the players changed match-day numbers, unlike today, but what number did he most commonly wear?
Peter Cummings
280
Posted 10/07/2013 at 15:29:45
Just watched an hour long interview Dave did and it brought tears to my eyes, if ever a man deserved the accolade of 'Legend', Dave Hickson was that man. You could still see the scars on his heavily furrowed brow from the dozens of wounds he suffered in the Blue cause.
He had no word of criticism for any of the clubs he played for or the hard case defenders he came up against in his marvellous career. His love for Everton was incredible; his only regret, not playing for his country, an honour he richly deserved. My only deep regret is not being able to see him going to his final rest, but I will hope to visit his grave when we come over in September. RIP
Ken Crowther
295
Posted 10/07/2013 at 16:17:05
Matthew #244 - don't ever remember him wearing anything other than no. 9; however, I don't go back far enough to know about his early days - I started in 1954, the last season in the old second division.
Michael Kenrick
300
Posted 10/07/2013 at 16:21:48
Matthew,
If you can trust Everton – The Complete Record (co-authoured by Ian Ross!), then it was exclusively No 9...
But with one exception:
At Preston NE on 11 September 1958, when he wore No 8 (Harburn wore 9) and scored Everton's consolation goal in a 3-1 defeat.
James Flynn
515
Posted 10/07/2013 at 21:24:10
Dick (101) - Amongst all the great stories here for this Everton newbie to read, yours is the best.
Let's face it, he couldn't keep playing. The only reason to come back on was to lay that fucker out.
Will admit some envy. I didn't get to see him.
Allan Hough
578
Posted 11/07/2013 at 03:40:07
Dick 101 That centre half you talked about was Bill Paterson, an animal, who later played for Newcastle and Rangers.
There's a a DVD sometimes available on eBay of the Tranmere / Chelsea FA Cup tie in 1963 in which Dave played. Score was 2-2.
Peter Laing
874
Posted 11/07/2013 at 22:32:18
Davie Hickson......King of the forward line. Met him a couple of times in the Winslow over the road from the ground, he never drank alcohol always an orange juice. True gentleman in every sense of he word, R.I.P
Tom Evans
957
Posted 12/07/2013 at 11:18:44
Not my newspaper of choice,but todays Independant carries a very good obituary for Dave.
Richard Tarleton
004
Posted 12/07/2013 at 14:55:30
Just read Dave Hickson's obituary in 'The Independent". He was my first blue hero, the one who as a boy I went to Goodison to see. His shock of blonde hair made him instantly recognizable any where on the pitch. He was brave and energetic in the way 1950s centre forwards had to be.
I remember getting his autograph when I was about 12 in Horton's restaurant in New Brighton on a Sunday afternoon. He was with Alex Parker and their respective wives and he was so nice, a weedy word, I know, but he was that overused word nice sums him up. I remember crying a few months later when Everton sold him to Liverpool.
I feel shocked, he was a hero to all Evertonians of that era and he has gone. Sympathy to all his relatives.
Lee Gray
665
Posted 14/07/2013 at 21:34:12
Truly one of the finest footballers to grace the old lady and continued his work or our club and his club for many many years a wonderful gentleman. Thanks Dave RIP you will ALWAYS be a legend!

Add Your Comments
In order to post a comment, you need to be logged in as a registered user of the site.
Or Sign up as a ToffeeWeb Member — it's free, takes just a few minutes and will allow you to post your comments on articles and Talking Points submissions across the site.
© ToffeeWeb