Howard heroic in US defeat
Belgium 2 - 1 USA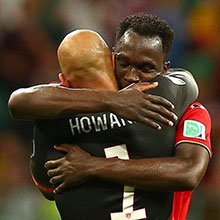 Howard and Lukaku embrace at the final whistle

Tim Howard came up with a superhuman goalkeeping performance for the USA, making the most saves in recorded World Cup history, but he couldn't prevent his team-mate from last season, Romelu Lukaku, from sending Belgium through in a dramatic match in Salvador.

The last two current Everton players involved in the 2014 World Cup, Howard and Kevin Mirallas, went head-to-head at the Arena Fonte Nova in Salvador aiming for a quarter-final date with Argentina.

Mirallas made one start and one substitute's appearance in the group phase for the Red Devils and had to be content again with a place on the bench but Tim Howard started for the US as expected.

The 35 year-old was the busier of the two goalkeepers in the first half without being unduly tested by the enterprising Red Devils. The US had to be on their guard at the back on a number of occasions in the first 45 minutes but Howard was equal to Divock Origi's equal effort before Thibault Courtois saved Clint Dempsey's side-footer.

Belgium went closest when Jan Vertonghen got in behind the defence on the overlap down the left but Demarcus Beasley hooked the ball clear under his own crossbar with Marouane Fellaini ready to pounce at the bck post.

Howard was called into action at the start of the second half, too, batting a looping header over the crossbar for a corner, and Origi despatched a similar effort onto the top of the crossbar 10 minutes later.

Mirallas made his entrance with an hour gone in a like-for-like switch for Dries Mertens.

And Howard was there again for the Americans with 20 minutes to go to deny Origi with his legs once more after a mazy run by Mirallas had opened up the US defence before deflecting an effort by Mirallas himself just wide with best save so far in the 76th minute.

Belgium kept coming, though, and another Mirallas run opened up a chance for Eden Hazard from Fellaini's touch back but Howard beat the Chelsea's man's shot away to safety and then palmed another powerful Origi shot over the bar.

As the game ticked towards the end of the regulation 90, Howard had to come up big for the umpteenth, time, parrying Vincent Kompany's shot behind.

The US' resistance broke two minutes into extra time, though, when substitute Romelu Lukaku rolled out of a challenge near the touchline and surged into the area and fed Kevin de Bruyne who took it around two defenders and slotted past Howard.

And Lukaku added more pain for Howard when he was slipped in by De Bruyne and he lashed a left-foot shot past the American 'keeper to double Belgium's advantage.

Julian Green gave the US hope though a minute into the second half of extra time, toeing a volley past Courtois off Michael Bradley's delicious ball over the top but even though they pressed hard, Jurgen Klinsmann's side couldn't force an equaliser.



Reader Comments (42)
Note: the following content is not moderated or vetted by the site owners at the time of submission. Comments are the responsibility of the poster. Disclaimer
Dan McKie
1
Posted 01/07/2014 at 20:58:46
Lukaku on the bench. My 㿀 on him before the start of the World Cup to be top scorer was money well spent, I must say!
Roger Sunde
2
Posted 01/07/2014 at 22:10:25
Dan, Hehe... good one.
But it's good for Everton at least that Lukaku is having a miserable World Cup; keeps his price down and interest away.
Jim Bennings
3
Posted 01/07/2014 at 22:23:05
Close game.
The only things really learnt up to now is I hope, sincerely hope the Shite don't get that Origi. He's better than Lukaku if I'm being brutally honest.
Also, Howard still looks shaky at times... desperately done good blocks.
Jim Bennings
4
Posted 01/07/2014 at 23:14:11
Mirallas and Lukaku changed this game.
I take it back, Rom – you're a flipping frustrating but damn good finisher.
I said on another thread earlier today, if you sign Lukaku, then you instantly know you're getting a striker who scores 18-20 goals a season.
Terry Murphy
5
Posted 01/07/2014 at 23:35:13
Damn it, Lukaku... all we ask is that you give up your chance of World Cup glory so we can sign you on the cheap – if it's not asking too much?
Patrick Murphy
6
Posted 01/07/2014 at 23:42:02
It would have been very interesting if the last-gasp miss had've gone in because he was clearly well onside. USA can be very proud of the spirit and heart they showed in that final period of extra-time; with a bit of luck, they could easily have taken Belgium to penalties.
Graham Mockford
7
Posted 01/07/2014 at 23:41:36
Tim Howard was outstanding tonight. The great news is he's probably got six years at the top level in him.
He was an absolute steal at the price we paid. Hardly missed a game in eight seasons. I would go as far to say the best keeper in the PL last season.
Christopher Wallace
8
Posted 01/07/2014 at 23:58:08
Jim #3
Tim has had some shaky moments in group stage, but I thought that tonight was the best individual performance of the World Cup so far!
American hero.
USA!! USA!! USA!!
Christopher Wallace
9
Posted 02/07/2014 at 00:05:32
Graham #7
I had 㿀 on 0-0 tonight. Lucky the 2 best keepers on planet were on show, as it coulda been about 5-3!!
Trevor Lynes
10
Posted 02/07/2014 at 00:00:02
Howard is NOT the most athletic of goalkeepers but he had a blinder today — although Belgium should have been out of reach by full-time. Howard is a fine professional and constantly talks to his defenders and made more saves today than any goalkeeper in World Cup history during one game.
Mirallas created loads of trouble when he came on and big Rom was too strong for the tiring USA defence. He is a genuine striker who will score goals if fed correctly and he is well worth a 㿀 million fee by today's standards.
The lad is not yet 21 years old and would be a solid investment if BK gets his hands out of his pockets and gives Roberto at least 㿊 to 㿔 million — that is of course if he is serious about having ambitions for our club!
Milos Milenkovic
11
Posted 02/07/2014 at 00:07:21
We've been discussing Tim's performances over the years. I always thought he is one of the best keepers in the world and felt frustrating that many people are not realizing how good he is. Not catching the crosses is his only minus.
Christopher Wallace
12
Posted 02/07/2014 at 00:16:46
It's often a thankless job being a keeper, Milos. I'm glad he will receive some well-deserved recognition after tonight.
He broke the record for most saves in a World Cup game (16).
Jamie Crowley
13
Posted 02/07/2014 at 00:28:19
Timmy Howard is a fucking legend. SOOOO proud of him.
Evertonians, God bless you all, we are so fucking critical of anyone in Blue.
Timmy is an amazing keeper and I love the man – the Everton keeper!
Neville.. SOUTH-HAAAAALLLLLLLL......
Yes... No better.
But you've all been spoiled. Embrace Timmy! He's gold.
Gutted.... Just gutted....
Andy Crooks
14
Posted 02/07/2014 at 00:37:58
Jamie, a great effort from a real TEAM.
Jamie Crowley
15
Posted 02/07/2014 at 00:41:05
God bless Andy.
I'm tired, drunk, and despondent....
We set up wrong IMO. Belgium had one center-half out and another injured. We pulled Beckerman and put a CB in at CDM.
We shoulda had Mix in MF terrorizing a depleted defense...
Oh well....
Terence Leong
16
Posted 02/07/2014 at 00:46:18
Wondered how the US would have fared if they had Donovan to call upon for this game?... At least as some kind of impact sub???
Christopher Wallace
17
Posted 02/07/2014 at 00:50:05
Unlucky, Jamie. You rode your luck at times tonight but at least you had a go!
USA have been great to watch and done themselves proud. Teams like USA, Chile, Costa Rica, Mexico and Colombia have shown what teamwork in football is all about.
All the focus on Rooney and Sterling, and selfish senior players like Lampard and Gerrard... England were doomed from the start!
James Flynn
18
Posted 01/07/2014 at 23:59:56
Well, I've calmed down. Thus:
1. We're stuck with this SoCal European, who thinks European, and as such is doing is best to make Americans understand how the game SHOUD be played.
2. He gave no consideration, in his selection, to Jozy going down (No Monday morning quarterbacking there. Jurgen wrapped our "attack" around Jozy and that was that.) Klinsmann had no ... anything. He had Wondo and ... just Wondo. Eddie Johnson? Big, physical attacking player? Nope. Wondo was better.
Nicely done.
3. Defensively, our midfield was OK. Nothing special, but not bad. Bradley was pretty good today, for a change. Attacking? Belgium treated us as the teams in our group did. Press the US midfield and they'll cough it up. No denying it.
Christ, in what way shape or form, in control or attacking, could Landon Donovan have contributed more than ... pick a name.
Jurgen, you live in reality, not illusion, God bless you. The reality is, you've chumped our National Team Organization into believing Germany in 2006 was some master-stroke of yours instead of the obvious; a bunch of talent coming thru.
We're stuck with this guy. Yet another European. Christ, bounce him and bring back Arena.
Ant Dwyer
19
Posted 02/07/2014 at 01:32:18
I watched the game tonight, and I thought Tim was excellent. Done the Blues really proud... as did Mirallas on the opposing side. Well done to the both of you.
Ant Dwyer
20
Posted 02/07/2014 at 01:45:37
Haha some heavy stuff, James!!
To be honest, I can't get my head around Klinsmann's decision not to take Landon!! Even if he's to keep him on the bench as a back up plan!
He's gotta still be one of USA's best players... I think ya may be right... Get Arena back.
Jamie Crowley
21
Posted 02/07/2014 at 01:58:35
James.... where to start....
You can second guess Jurgen. I have! I didn't like the Cameron at CDM and Beckerman on the bench move this game. In fact, I think it was a horrible decision.
I also think our exhausted midfield needed a substitution. That was THE massive error by our coaching staff in my opinion – not putting on Mix for Bradley (or Cameron and shifting positions).
But...
To say we're stuck with this guy, and then go on to say "another European" is a bit... Un-American. Jurgen has lived in CA for 18 years. He's emigrated from Germany and he absolutely loves the USA.
This country is frankly a bunch of mutts. We ALL come from somewhere or another.... Your USMNT coach isn't just some "European" – he's a German-American who loves his country and has "soccer" moving in the right direction here.
Bruce Arena? God above help us.
The ugly American card will get us nowhere. Believing we are growing, we have that intangible asset of the never-say-die attitude, we have a man leading the charge who knows football and wants it to succeed in this country so badly... That's what we need and that's reality.
And Jurgen is the man to get us there.
I'm proud of our effort. And I believe we are headed in the right direction in a macro sense, despite my misgivings in this ONE GAME against Belgium in a micro sense. And my utter gutter feeling after this loss...
But we ARE heading in the right direction.
Reminds me a bit of a team in Blue I also love dearly....
James Flynn
22
Posted 02/07/2014 at 02:37:35
Jamie - However interweb discussion boards go, you're the one guy I refuse to argue with.
Klinsmann is an illusionist, plain and simple, A fine playing career, no doubt. Individual and national success.
What, in any way, shape or form, has he done to improve our USMNT? Jozy went down and Dempsey had to push forward (or, worse, not). We're toothless. I don't care what problems Johnson was having at his club. He was big, strong, physical, and loved to attack.
I love our guys, Mix and Aaron? Love em. How did they do? Jurgen gave them no or minimal light. Yeah, fuck that Eddie Johnson. Jozy won't get injur- ... Whoops!
Speaking of attacking, our midfield was pathetic. We both know it. Why didn't we throw Brad Davis in? After all, Brad Davis is available in the midfield, why would a Head Coach pick Landon Donovan instead? Perhaps Jurgen thought their being the same age made them interchangeable.
Look, I said nothing during the World Cup, because when the games are on, to me one shouldn't do it. Who coaches coaches, who plays plays, and let's go get em.
Klinsmann didn't pick the strongest squad. If we do better in 2018, it'll be because we had talented kids come thru. Klinsmann will have nothing to do with that. Just like in 2006 with Germany's team.
But hey, he was born in Europe, played in Europe, and speaks English with a German accent. He must be good.

Jamie Crowley
23
Posted 02/07/2014 at 03:52:44
James -
One thing we can both agree on:
Let's go punch that Ann Coulter cunt in the fucking gob!
http://www.anncoulter.com/columns/2014-06-25.html
I hate that bitch with a red hot intensity!
Russia, 2018... We hoist the World Cup. :0)
Off to bed. Gutted... Looking forward to signing Rom and winning the title; my world is back to all things Blue now...
Anto Byrne
24
Posted 02/07/2014 at 03:52:22
Can we keep Mirallas? We know he is a bit inconsistent... so what is he worth? 㾻-20M?
Dan Parker
25
Posted 02/07/2014 at 05:14:56
So proud of our Tim, I'm beaming he's one of ours. Can't say much more than that really.
Andrew Clare
26
Posted 02/07/2014 at 07:03:09
Tim had a great season for us and continued it into the World Cup. Well done, Tim you're one of the best!
Tony Abrahams
27
Posted 02/07/2014 at 10:45:44
I haven't watched all the games at the World Cup but, when I have, most teams have impressed me in one way or another. USA always play as a team, and their great unity is what identifies them.
Contrast that with England who, despite having talented individuals, look scared, lost even, and the Great English Spirit seems to be an even Greater Fallacy!
James (#18): what is it that you don't like about Europeans? Or do you just want a fellow American in charge of The National Team? European football, whilst not always the most skillful, is definitely the most organised, and that's one thing that was really impressive about the USA at this World Cup.

Aidan Wade
28
Posted 02/07/2014 at 12:52:25
Well done Tim and I'm delighted to see him get the credit across the wide interweb where his giant performance in defeat has stolen the top line from the victorious Belgians. He won't appreciate it but we can.
I hope way the World Cup has piqued interest in the USA leads to a lasting engagement with the sport beyond the niche. The sport is richer for greater participation.
The difference in attitude to soccer since my first trip to the USA in 2007 and my last trip, last year was incredible. I met loads of passionate Everton fans who came onboard to follow Tim and Landon during his (all too) brief cameo.
Julian Wait
29
Posted 02/07/2014 at 13:59:56
Everton should immediate realign summer plans for a trip to the USA. Market the thing to death, and preferably hire a US firm to make it work and understand the market.
Please?
Texas that way
v
v
v
v
v

Gerry Quinn
30
Posted 02/07/2014 at 14:07:22
Julian - you nailed it - get the boys over here to Texas NOW!
Never mind playing Tranmere...
Gerry Quinn
31
Posted 02/07/2014 at 14:15:44
http://www.dailymail.co.uk/sport/worldcup2014/article-2677575/Tim-Howard-virals-The-best-internet-pictures-praising-USA-goalkeepers-great-display-against-Belgium.html
Patrick Murphy
32
Posted 02/07/2014 at 14:32:40
The last two World Cups have seen the group stage winners progress 15 out of 16 occasions to the Quarter-Finals with only the USA failing to do so when winning their group when they went on to lose their last 16 game to Ghana in 2010.
Jay Harris
33
Posted 02/07/2014 at 14:57:55
Although Tim and Lukaku deserve all the plaudits, I thought the young RB Yedlin did extremely well. He reminded me so much of a young Seamus – one to keep an eye on for the future.
I agree with other posters – don't know why Donovan wasn't taken. He could potentially have saved this match by giving them an outlet and goalscoring ability.
Andrew Ellams
34
Posted 02/07/2014 at 15:12:20
I think we all assume Donovan is still the same player that came to us, but there were posts from some of our US readers when he was left out of the squad saying that it was the right decision and his time at the top is fading.
Gavin Ramejkis
35
Posted 02/07/2014 at 15:22:08
Have to agree with you about Yedlin there Jay, both the games he came on as a sub he showed real class and power down that side of the pitch, currently plying his trade in Seattle but am sure there will be a few clubs who noticed him.
Everton will fail to capitalise on the US market, just as they did in Australia when we had Tim Cahill and the years we had Tim Howard already, and the loans of Landon Donovan – they couldn't organise a piss-up in a brewery
Jay Harris
36
Posted 02/07/2014 at 17:41:21
Spot on, Gav.
I'm over in the US now and the way they are here, Howard could run for President.
I suppose Elstone is still in his little office at GP counting the pennies while Bill is looking up his "A" list to see who else he can con for a few bob while living his dream while the rest of the world is milking every opportunity the Prem throws up.
Kevin Tully
37
Posted 02/07/2014 at 18:08:34
There was an article in the Echo about Everton capitalising on the popularity of the World Cup in the States.
Has no-one heard of the Kitbag deal? It doesn't matter if we sold another 1M shirts, they've sold the rights and it's still got another 5 years to run!
I wonder if it includes BK mugs?

Colin Glassar
38
Posted 02/07/2014 at 18:17:59
I'd love a BK mug Kevin, where can I get one? I heard BK's got thousands of mugs.
Paul McGinty
39
Posted 03/07/2014 at 00:21:50
I am a joint US and UK citizen so no axe to grind. I think it's misguided to think there is no football culture over here. There is a ton of competition for attention of any sport, but during my 25+ years over here, the game has grown dramatically as a participation and spectator sport.
But sadly the Everton brand is really not known to anyone but the diehard fans. Liverpool are in this year's edition of the Guinness championship this summer .. I was in Miami last year .. Maybe a thousand blues out of 50 thousand... The Reds will have 20,000 there this summer.
It is criminal that, after 10 years with Howard in goal, I still cannot buy an Everton shirt in his home state of NJ at bloody "Soccer post" retail stores...
Onwards and upwards!
Chris Wilson
40
Posted 03/07/2014 at 01:58:18
Andrew Ellams; to support your comment about Donovan. Klinsmann has never really trusted Landon since he missed three World Cup qualifiers in order to take his self-imposed "sabbatical" to Cambodia and Minnesota for two months.
He was gradually working his way back into Jurgen's good graces, but then Donovan's game started to show a noticeable drop. His form in MLS had been really poor up until the US training camp – in fact, he had yet to score a goal. He's put on some weight in the year between the Gold Cup and the training camp; as one tends to do when they hit 32, (Yes, it's hard to believe that he's 32 now...) and he's lost some of his pace and quickness as a result.
Jurgen had to make a decision about whom to take, and I guess he didn't envision Landon getting himself properly fit in time for Brazil. And it was probably also to alleviate any headaches he would have in the press if he didn't start Donovan.

James Flynn
41
Posted 06/07/2014 at 02:24:11
Jamie (21) - Jurgen it is then. Have to hand it to him. The massive gap he had to jump our boys from 2010 dwarfed the disaster of 1998 Arena had to bridge taking our lads to the quarter-final in 2002.
You know that's not true.
I'll speak fairly: Germany regressed in 2006 under Klinsmann compared to 2002. In his own country, no less. The record book says I'm right. Not to mention, he was fired and replaced by Loew.
He manages our Mens Nats, I support him. But he ain't shit.
James Flynn
42
Posted 06/07/2014 at 03:01:10
Jamie (23) - Brother, you know we don't call women cunts. However much that word describes them. don't say it.
Most in here are from England and "cunt" is a different word to them.
Take it easy.
---
Add Your Comments
In order to post a comment, you need to be logged in as a registered user of the site.
Or Sign up as a ToffeeWeb Member — it's free, takes just a few minutes and will allow you to post your comments on articles and Talking Points submissions across the site.
© ToffeeWeb