New club crest makes its debut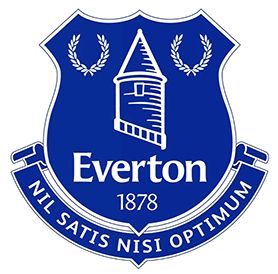 The new crest selected by the fans

Everton have begun using their new crest, which was voted for by supporters from a selection of three 'finalists' promoted by a backlash over the badge the club used last season.

For the first time in the Club's history the crest has been selected by Evertonians and it will begin appearing around the stadium this week as the Club makes the official switch.

The crest was following supporter consultation in October 2013, and it received an overwhelming 78 per cent of the online fan vote.

The new crest strongly reflects the Club's heritage and status as an authentic, respected football club.

It brings together the key icons of the Club's tradition - the Tower, Nil Satis Nisi Optimum and the Shield, rendered in the strongly preferred Club colours of royal blue and white.



Reader Comments (39)
Note: the following content is not moderated or vetted by the site owners at the time of submission. Comments are the responsibility of the poster. Disclaimer
Michael Kenrick
1
Posted 04/07/2014 at 18:52:43
It's clean and tidy... without being iconic.
Better than the foregoing abomination, though, that's for sure!
Eugene Kearney
2
Posted 04/07/2014 at 19:21:24
Looks a whole lot better and more stylish than that cartoon effort that was on show for a year.
Paul Hewitt
3
Posted 04/07/2014 at 19:28:04
Great crest and great kit.
About time.
Lakovos Lasonidis
4
Posted 04/07/2014 at 20:04:38
The one I voted.
Gary Reeves
5
Posted 04/07/2014 at 20:50:48
It's shit! Cluttered, old-fashioned and completely forgettable. I hate it.
It felt like a new era last season, under Roberto. Now, we're going back to Umbro and this abomination. Two steps back me thinks.

Steve Jones
6
Posted 04/07/2014 at 21:45:19
The proportions are all wrong, it looks cluttered and forced. They should have just gone back to the badge we had prior to last season once they'd admitted it was a mistake.
Lewis Barclay
7
Posted 04/07/2014 at 21:53:55
Hate it.
Paul Smith
8
Posted 04/07/2014 at 22:00:02
It could do with a bit of yellow on it!
Jamie Yates
9
Posted 04/07/2014 at 22:00:19
Agree completely, Steve Jones. The 'Everton 1878' has just been shoehorned in under the tower. I went to art school and several of my close friends have managed to carve out good careers in graphic design, asked a few of them (none of them Evertonians) to have a look when the vote went up and the reaction was along the lines of all of the offerings being distinctly GCSE standard. Change for the sake of change.
If the problem was with reproduction across the EFC product range, online, etc, they could have sharpened the original design and font without any need for moving bits of it about. Really looks worse every time I look at it. At least if the point was to change the thing then last season's effort actually did that, like it or not.
Jon Ferguson
10
Posted 04/07/2014 at 22:11:47
I voted for it and prefer it to the last one, but I love the nee ToffeeWeb badge more (tower surrounded by a single wreath). I think if the club had designed something like that I would have been accepting of the change.
Doug Harris
11
Posted 04/07/2014 at 22:12:45
Better than the shit badge we had to put up with last season. But nowhere near to the one on my leg — and I'm not going to change that unless me leg falls off...
Jim Bennings
12
Posted 04/07/2014 at 22:16:01
It's pretty ordinary really and not all that much better than last season my opinion.
I have said for ages now that too much has been made of the badge and so far the whole thing has been a sideshow this past few months whilst the transfer business has as per usual taken a back step.
What's more important really, Blues? Are we going to start the new season with Osman on the left and Naismith the lead striker??
Michael Kenrick
13
Posted 04/07/2014 at 22:47:02
I think it might be a bit of a stretch, Jim, to claim that redesigning the badge has interfered in any meaningful way with our pursuit of transfers in. Especially as it was all decided months ago. Can we have a bit of patience... and some sanity to these posts, please?
Dennis Ng
14
Posted 04/07/2014 at 23:14:10
Tidy looking crest! To be fair, were we expecting much transfers this year? Especially with RM in Brazil? I'd love him to sign James Rodriguez while he's there but that's even unlikelier than a dream. I am unhappy that Barry has not signed on though.
Peter Warren
15
Posted 04/07/2014 at 23:47:39
Hindsight - what a fantastic thing.
Last year Roberto (also many years before that) my no1 choice as manager.
Petition - I've only ever signed or voted for two. First one was to move to Kirkby - what a bad vote.
Second was to get rid of badge. How shit was it - I was outraged... It was unbelievably bad. But almost from the start of the seaso I actually started to like it... By the em I defo liked it. Oh and the new badge thought it was pretty rubbish from the start and now it just outlandishly terrible.
78% ( and more) have messed up – old badge far better. I wonder what percentage will admit their mistake.
Daniel Flosi
16
Posted 04/07/2014 at 23:49:18
NBC sports was using the 'old' one throughout last year which I thought was pretty funny since all the trouble the club went through. So we'll probably see last year's crest all over out here.
Anyway I do like it, its not perfect or so terribly different but it looks good and I always thought the yellow looked generic and dated. It looked too yellow. If that makes sense.
Duncan McDine
17
Posted 05/07/2014 at 05:57:07
I'm glad I'm not the only one that thinks this badge looks GCSE standard.... When the 3 new options came out, I found myself much more in favour of the 2012-13 badge. Had they just wiped out the yellow, that would have done for me. Now we have a 'kids drawing' version of the good old badge!... And it's all our fault.
Liam Reilly
18
Posted 05/07/2014 at 09:45:33
I was with work last night; many positive comments on the football the team played last year from Redshite, Man Utd and Chelsea supporters. Then one of the Redshite guys mentions 'the Badge' controversy. Q; laughter all around.
Couldn't care less if its Yellow, Orange or RED; for me it's all about the football.
Eugene Ruane
19
Posted 05/07/2014 at 09:55:48
It's not wonderful of superb or genius or anything special at all... until you put it next to the piece of shite Fisher Price 5-year-old's badge we've had to put up with for the last year.
Then it becomes the single best piece of design I've ever seen.
As for the criticism 'too cluttered', that's what they said about Canaletto (...probably).
Kevin Jones
21
Posted 05/07/2014 at 10:59:30
Don't want to go all Jordan Maxwell here, but we haven't selected anything, we've elected the best of a bad bunch. The powers that be at the Club have conned most people into thinking this is our doing. All we've actually done is pick the one that they wanted us to pick. There was at least 20 better design's than this one floating round, but we never got to "vote" for them.
"The masters make the rules for the wise men and the fools"
Eugene Ruane
22
Posted 05/07/2014 at 11:18:09
Kevin (21) - "There was at least 20 better design's than this one floating round, but we never got to "vote" for them"
True.
Tamhas Woods
23
Posted 05/07/2014 at 12:13:35
Sod the lack of yellow – I think this badge is actually better than the one we had before last year's iced gingerbread house.
I don't see yellow as one of our heritage colours, it's just a change colour that became tradition.
Black is, however, a heritage colour, and although it wouldn't be useful in this badge, I am certainly glad that it's re-implemented into the kit.
The 2000-2013 badge, though well-designed, had light blue in the gradient, which is not our colour – Royal blue is... and our new badge is exactly that.
Chad Harper
24
Posted 05/07/2014 at 12:18:20
I think the new design is fine. It will always be strange when a crest is changed but this one contains all the vital components of the Everton crest. Compared to last season, this is great!
Eugene Ruane
25
Posted 05/07/2014 at 14:11:55
Tamhas – "I don't see yellow as one of our heritage colours, it's just a change colour that became tradition"
Like our blue being Royal Blue, our 'yellow' is actually (or should be) amber.
Paul Andrews
26
Posted 05/07/2014 at 15:09:57
I never thought of a Canaletto as being cluttered.
A few too many chopped nuts on the Classico admittedly....
James Newcombe
27
Posted 05/07/2014 at 15:38:59
Hated this to start with but I'm quite liking it now we are seeing it in application: new shirts, side of Goodison, website.
Last years wasn't as bad as everyone was making out. It looked a lot smarter in a single colour.
Anyway... let's sign some players Billy!
Richard Reeves
28
Posted 05/07/2014 at 19:12:01
It's only bad when you compare it to the proper badge but I agree with what Eugene Ruane was saying – when you compare it to last year's it's almost a piece of art. Hopefully one day we'll be so recognised that the club will be able to go back to the 90s badge but at the moment i'm glad the new one is still quite traditional-looking, even if it is a bit stretched and congested.
Joseph Bell
29
Posted 05/07/2014 at 21:33:25
Rubbish! This was our chance to create a modern identity. Instead we have the old badge made even worse by cramming things onto it.
Barry Roberts
31
Posted 05/07/2014 at 23:08:17
Seriously, is the new crest so important? Give me a team that can win something on the pitch. The whinging on here makes it seem like the badge is our major problem. All that this achieves is to distract us from our lack of transfer activity.
I support the team, not the badge, so give me a team that I can be proud of. Would it matter if Roberto won something this year but the badge was crap?
Chris Leyland
32
Posted 06/07/2014 at 00:42:40
Erm, it is a slow news day? I bought a mug from Everton One on 13th May with the 'new' crest on it.
Dennis Stevens
33
Posted 06/07/2014 at 02:12:07
The original club badge was perfectly fine until they cluttered it up unnecessarily. Then after the Toys 'R' Us style abomination last year we had the phoney vote where the least worst option was selected &, lo & behold: it's just another over-cluttered variation on the original design. What a waste of time!
The sad thing is that the fiasco of the awful badge we had last year inspired many Evertonians to come up with some great designs that could have offered us a real choice of something different, if they really felt it was necessary to change the badge at all. Based on how little the design has changed from the one we were using the season before last, I really can't see what the point of the exercise was.
Eric Myles
34
Posted 06/07/2014 at 07:07:19
Duncan #17, better a GCSE design badge than the kindergarden design it's replacing.
Eric Myles
35
Posted 06/07/2014 at 08:16:41
Jamie #9, what did your graphic designer mates think of the badge we're getting rid of?
Eugene Ruane
36
Posted 06/07/2014 at 09:37:17
Barry Roberts (31) - "Seriously, is the new crest so important? Give me a team that can win something on the pitch. The whinging on here makes it seem like the badge is our major problem. All that this achieves is to distract us from our lack of transfer activity"
What are you 7?
You can only deal with one issue at a time?
This is a website that post threads on all sorts of different Everton-related subjects.
The badge is one subject, transfer activity (or lack of it) is another and you can have views and post on BOTH.
As for getting 'distracted' about our lack of transfer activity, what EXACTLY are we supposed to do?
Do you think Everton haven't signed players because TWers took their eye off the ball re the badge?
"Come on, we need to forget the badge and concentrate on a much more important issue... one that we have absolutely no fucking say in whatsoever and can't influence in any way, shape or form"
You add "I support the team, not the badge."
Again, ludicrously simplistic nonsense, it's Everton Football Club and like every club, a lot of different individual elements go into making up the whole thing.
Or maybe you'd be happy to see us play bollocko?
"The shirt, shorts and socks don't matter, I don't support the shirt, shorts and socks, I support the team" etc blah.
Chad Schofield
37
Posted 06/07/2014 at 10:16:20
I hated last year's badge, and although the strength of my feeling has gone down a bit, I think that's perfect more to do with the fact I knew it was going.
Yes, there were better options, but we were consulted in some way at least. The "funny" thing is that, after several years of flat design, gradients (colour fades from one tone to another) are seemingly back in...
Chad Schofield
38
Posted 06/07/2014 at 10:37:54
Gradients as seen on our older badge.
The club will unlikely make any changes to the badge over the next few years because of the (rightful in my opinion) backlash. So we'll be stuck with the fact "ticks all boxes" Milton Keyes version for a while.
Nick Armitage
39
Posted 06/07/2014 at 22:38:58
Dreadful, insipid kneejerk reaction. The idea with the last crest was to move into the future, this is a step back to the past.
Joseph Bell
40
Posted 06/07/2014 at 21:05:29
Barry #31 Your comment is like an Alex Nyarko performance. Eugene #36 Your comment is like a Barry Horne volley. Everything about Everton matters to some of us: badges, length of grass, colour of nets, size of pitch, style of play, kit, beer served, the bird shit on our seats every home game etc.
Of course the performance on the pitch and the success of Everton is the most important thing. However, that does not mean everything else pales into insignificance. This is a FORUM and we post things that matter to us however trivial they are. We whinge because we care.
If you don't like whinging, why read the posts and then whinge about whinging? Hang on, I am now whinging about people whinging about whinging.. I hope you get my point.
Steve Barnes
41
Posted 10/07/2014 at 09:05:44
This badge is the best of the ones on offer to us. I was disappointed that we missed an opportunity to go for a design that was more 'designed' –that built from components already in existence.
Much better than last year's 'Fat Rascal' but could have been better still.
---
Add Your Comments
In order to post a comment, you need to be logged in as a registered user of the site.
Or Sign up as a ToffeeWeb Member — it's free, takes just a few minutes and will allow you to post your comments on articles and Talking Points submissions across the site.
© ToffeeWeb