Tim Howard: I bleed Blue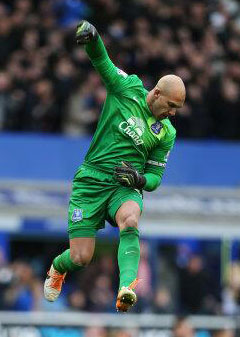 Tim Howard has restated his commitment to finishing his career with Everton, saying that he doesn't see himself playing in the MLS back in the United States before be retires.

The 35 year-old goalkeeper signed a new long-term contract extension with the Blues at the end of last season that ties him to the club until the age of 39. His outstanding performances for the USA in the World Cup, however, have prompted questions as to whether he would capitalise on that new-found fame and return home to play in his home league before he hangs up his gloves.

The American league is seeing an influx of more and more star players from the Premier League and European clubs, with David Villa, Kaka and Frank Lampard among the latest imports, but Howard wants to keep playing at Goodison Park.

"For me, I think the MLS ship has sailed,' the New Jersey native told SB Nation. "I signed a new four-year contract with Everton.

"If you cut me open, I bleed blue and I want to finish my career there. I can't foresee myself coming back. I think there was probably a chance before I signed the contract, but not anymore."



Reader Comments (33)
Note: the following content is not moderated or vetted by the site owners at the time of submission. Comments are the responsibility of the poster. Disclaimer
Shane Corcoran
1
Posted 25/07/2014 at 16:07:20
He says he may have moved back before he signed his contract but now, having signed it, he bleeds blue.
A bit over the top and the type of stuff some fans will lap up. I'd prefer if he just cut the drama out and said he was happy and looking forward to the new season.
Dave Williams
2
Posted 25/07/2014 at 16:12:09
I'm with Mike!
Tim didn't say that he bleeds blue since he signed the contract but is simply saying he loves the club and was happy to sign for the rest of his career.
That does nicely for me!
Andrew Humphrey
3
Posted 25/07/2014 at 16:15:32
Maybe be was talking about all that tattoo ink?!
Sam Morrison
4
Posted 25/07/2014 at 16:36:11
Shane, all he said was that he considered a move to his home country - hardly worthy of cynicism.
I get that lots of people - me included - are slightly skeptical of footballers proclaiming loyalty. But this critiquing everything they say is getting kind of silly.
Scott Bosworth
5
Posted 25/07/2014 at 16:43:52
Shane,
Seems to me that the implication was that signing a new contract is a two-way street. IOW, Tim Howard is saying that he wants to play only at Everton, but if he had been unable to sign a new contract (i.e., if the club didn't want him), then he would have considered plying his trade elsewhere until retirement age.
Chris Funk
6
Posted 25/07/2014 at 16:40:45
When I read it, I assumed that the possibility of returning to the MLS hinged on how long he would continue playing for Everton, i.e. whether Everton wanted to extend his contract, and, if so, for how long.
If Everton either didn't want to extend his contract, or only wanted to extend it for 1-2 years, he would have considered a move back to the MLS after fulfilling his final contract, because he'd still have a desire to play even though Everton no longer required his services.
Because the contract extension takes him to an age of 39, he probably thinks he'll be ready to retire at the end of it, so there is little to no chance he'd end up back in MLS.
I don't think there was any chance Howard was going to leave Everton before they wanted him to go. I deeply suspect any move was contingent on how long *Everton* wanted to keep *him*.
James Stewart
7
Posted 25/07/2014 at 16:54:22
Great as long as its the Howard of last season and not previous ones. Was outstanding at the World Cup
Mike Gaynes
8
Posted 25/07/2014 at 17:42:19
Scott (12) that was certainly my reading of the comment. He really wanted to stay and was delighted that Everton still wanted him.
The pattern of EPL players going to MLS has been that they only make the move when they are no longer wanted by their current employers.
Steve Pugh
9
Posted 25/07/2014 at 17:40:54
Shane, don't all true Evertonian's bleed blue?
Don't you?
Are players not allowed to be true Evertonians?
Maybe, occasionally people should just accept that some of our players would prefer to be at Everton than anywhere else. Including Old Trafford.
Jon Withey
10
Posted 25/07/2014 at 17:48:49
A nice thing to say and why not – one of Moyes best signings. Always seems like a decent bloke. I'm sure there are plenty of MLS teams that would be happy to get him after his World Cup show and heightened profile – glad to have him.
Derek Knox
11
Posted 25/07/2014 at 18:01:14
Good on you, Tim!
What does worry me, like I have mentioned in previous posts, Tim can't be expected to play every game on four fronts this coming season.
I am still not convinced about Robles being a dependable understudy, should they be 'rotate' or, god forbid, Tim ever got injured!
Sam Morrison
12
Posted 25/07/2014 at 18:05:09
Shane, I respect your right to comment and obviously wasn't implying that it's you, personally, responsible for critiquing everything any Everton players say. At least as far as I know.
But I have a right to comment too – and I happen to disagree with you. That is (also) what the comments section is for!
Eugene Ruane
13
Posted 25/07/2014 at 18:19:09
If he started coming off his line for corners, I wouldn't care if he stripped bollock-naked and recited the Gettysburg address (which I think is Number 1, Gettysburg Street, Gettysburgville, USA).
Mike Green
14
Posted 25/07/2014 at 18:13:08
In other words "when my contract was up for renewal I naturally considered my options, one of which was potentially going home, but I'm settled here, it's the best league in the world, I was given an offer I couldn't refuse and given my age I imagine it'll be my last contract - besides (and some people might not believe this bit) I love the club, I'm a decent guy and when I make someone a commitment I stick to it. So, it's EFC for me here on in."
Imagine if he'd said "never say never".....!
Danny Broderick
15
Posted 25/07/2014 at 18:25:31
Shane, I disagree with you also. I love it when players who had no allegiance to us previously end up becoming massive Evertonians. The likes of Graham Stuart, Ian Snodin, Big Dunc, Tim Cahill etc. Some players just get us. Tim Howard can join that lot.
Mike Green
16
Posted 25/07/2014 at 18:29:15
And all this when pros are slated for showing no loyalty, pride in the shirt etc...
Damned if they do; damned if they don't.
Duncan McDine
17
Posted 25/07/2014 at 18:28:00
It seems Tim Howard is one of those guys that isn't naturally lovable... considering his loyalty and obvious love for the club, I can honestly say I don't put him in the same list of 'true blues' like Cahill, Ferguson etc... but when I read stuff like this, it feels great to know he thinks that much of our club.
Good on you Tim... and by the way – your new girlfriend isn't a bad looker!
Mark Pendleton
18
Posted 25/07/2014 at 18:57:49
I think Tim may have doubted the Club offering him a long term deal before he signed this one, which is when thoughts of going back to the States will have entered his mind. The Club offered him a contract, he jumped at it and loves it here.
Honestly, these guys can't win – they show loyalty and still get criticised. We're lucky to have this guy on balance and lucky he thinks so much of the Club. The more players we have with that attitude, it can't help but rub off on others.
Thank you, Tim Howard.
Stu Green
19
Posted 25/07/2014 at 21:01:50
He's a good bloke, and even though this contract was signed before his miraculous performance in the World Cup, he probably thought he could do some good over the pond, helping promote "the game" and giving something back to his nation. Glad he's stuck with us though, and hope that form continues!
Ray Robinson
20
Posted 25/07/2014 at 21:10:10
Danny #25,totally agree with you. Don't know how old you are but add Andy King, Gordon West, Neville Southall, Alan Ball, Jimmy Gabriel, Howard Kendall to your list – there must be others too – perhaps even Kevin Campbell? The bug does tend to bite with frequent regularity.
Tim Howard doesn't have a very outgoing personality but he's a legend in my eyes. A true ambassador for the club! And not a bad keeper either!
Darryl Ritchie
21
Posted 25/07/2014 at 22:40:04
The difference between player and fan; player is paid to be at Everton for a set number of years. He's an employee. The club is making him a millionaire. As long as it mutually beneficial for both player and club, he will remain a blue.
The fan is here by choice. The money, in most cases is, flowing the other way.
As has been stated above, some players become Evertonians, but they are relatively rare, and all the more precious because of it.
I still believe Rooney is a blue at heart, even with all his badge kissing bullshit. Howard is a blue!
Mike Green
22
Posted 26/07/2014 at 00:45:12
Darryl (#47)
I think you're absolutely right. I also think there's a lot more than the average club too.
Harold Matthews
23
Posted 26/07/2014 at 00:05:56
Bill. Did a very poor oil which was purchased by Whitbreads but I wasn't painting seriously in those days. Have to agree, for me he will always be the greatest. Apart from Red Rum, Dessie, Kauto Star and Denman, not really concentrated on NH. My London gallery specialised in Royal Ascot type stuff. Horses, Ladies with big hats etc.
Ant Dwyer
24
Posted 26/07/2014 at 01:35:32
Wow it's amazing how people can read into things.... Our current goalkeeper of about 7/8 years has probably been offered the chance of becoming a star man in his native country, and declined, choosing to stay with the blues. In my eyes, that's fantastic commitment. He can certainly earn big money in the States as well as the Premier League, so credit where it's due, please, men.
Also, I believe Tim is a steady goalkeeper; he has his faults, like all players, but overall he's consistently been a top 4/5 goalkeeper in EPL. Great news, in my opinion.
Willie Daniels
25
Posted 26/07/2014 at 01:38:46
Tim Howard = True Blue

Shane Corcoran
26
Posted 26/07/2014 at 07:50:07
Posts being deleted again boys?
Michael Kenrick
Editorial Team
27
Posted 26/07/2014 at 14:37:16
Seems it might be something funny with the numbering system, Shane. When I look on our side of the fence, there are only 26 comments on this thread, with none showing as deleted. Although I did notice some odd gaps in the database last night...
I'll point it out to Lyndon and see what he says.
Shane Corcoran
28
Posted 26/07/2014 at 14:46:09
Don't worry about it Michael. Probably best to leave it from my point of view anyway although there were other threads a few weeks back where I could see fewer posts than other viewers.
Julian Wait
29
Posted 26/07/2014 at 17:52:42
I am torn on this one, living in the USA and loving me some Tim Howard and the conversations it brings up with US soccer fans — and real credibility for Everton as a result of that.
Clearly Tim Howard is a great asset to Everton at this time, on and off the field, and I am not convinced that — even if he keeps playing for the United States Mens National Team (USMNT) — that it will really benefit Everton. In a nutshell, we've arguably the highest profile and most universally popular US sportsman of 2014 playing for us — and I mean across all sport, not just soccer.
It might benefit Howard (commercially) more to stay with USMNT, but frankly he's earning enough money to not worry too much about that really, and I think he's got value even if he retires from USMNT, or, per Landon Donovan, he takes a break (which I doubt Klinsmann would take kindly to given how he dropped Donovan, albeit perhaps with justification given the soulless TV appearances that the jilted player punished us with over here).
So perhaps we could have a TW poll: Should Tim Howard (A) quit while he's ahead in US terms, and give up USMNT, to focus on Everton for the rest of his career? Or should he (B) stick it out as long as he can to cement his legacy and enjoy (possibly) another World Cup?
Julian Wait
30
Posted 26/07/2014 at 19:35:48
FYI - Comment #64 (above) was submitted separately in context of an article on SB Nation indicating that Tim Howard was currently considering retiring from the USMNT. That is what I am "torn on" ...
As for "bleeding blue", seems like a very harmless metaphor to me, and not necessarily meaning being "of blue blood" which has a different meaning. Much like being a "bluenose" or actually being "a toffee". We're neither yet we identify with both easily enough!!
Michael Evans
31
Posted 26/07/2014 at 21:31:33
My 'Better than peeing Blue I suppose?' post was deleted
Decent gag I thought .... not overly offensive
Gutted when good comedy material like this gets rejected.
Oh well back to the day job.
Michael Kenrick
Editorial Team
32
Posted 26/07/2014 at 22:04:59
I don't recall seeing that, Micheal... nevermind deleting it. No record that I can find (did you press Submit?)
But we do seem to be losing a few at our end, so probably our fault — though in this case, not intentional.
I know we have some very sensitive souls but they are hopefully not repulsed by Blue pee...
[Hmmm that didn't come out quite right!]
Jonathan Fletcher
34
Posted 29/07/2014 at 14:35:01
USNMT
Jesus wept.
I know, I know. We can't really comment on others when England finish bottom of a rubbish group in the World Cup
---
Add Your Comments
In order to post a comment, you need to be logged in as a registered user of the site.
Or Sign up as a ToffeeWeb Member — it's free, takes just a few minutes and will allow you to post your comments on articles and Talking Points submissions across the site.
© ToffeeWeb