Everton announce new Barkley contract
Blues star signs new four-year deal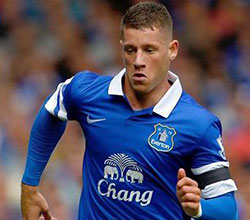 Everton have secured their England international midfielder Ross Barkley to a new long-term contract after he put pen to paper on a four-year extension to his existing terms. The 20 year-old's new deal, which commits his future to the Blues until 2018.

Asked at a live press conference at Finch Farm if it was an easy decision to tie himself to the club on a long-term deal, Barkley said: "It didn't take any persuading. As soon as I got told about it I wanted to sign."

"It means everything to me. It's a dream playing for Everton. As soon as I got told about it I wanted to sign. This is a big thing for me. I see this as my home."

Later at the event, questions inevitably shifted to Martinez and his squad-strengthening efforts and the manager reiterated that he is looking to have three strikers this season.

The Catalan cautioned again, though, that he will not be bringing in players for the sake of it and that any new signings would have to be right for the mix of the current squad.

"We need three strikers," he said. "We know our priorities. We've got such a good squad every addition needs to add something. I won't bring in players for the sake of it. If that takes us to the last day of the window then so be it."



Reader Comments (167)
Note: the following content is not moderated or vetted by the site owners at the time of submission. Comments are the responsibility of the poster. Disclaimer
Kevin Jones
1
Posted 29/07/2014 at 15:35:04
Ohh oh oh I'm all excited.
Derek Turner
2
Posted 29/07/2014 at 15:35:08
Am I allowed to be excited, or should I assume we sold the stadium to the Council and moving to hackney marshes to save on overheads as other footballing costs have spiraled out of control? Come on Roberto, give us Lukaku.
Derek Turner
3
Posted 29/07/2014 at 15:35:08
Am I allowed to be excited, or should I assume we sold the stadium to the Council and moving to hackney marshes to save on overheads as other footballing costs have spiraled out of control? Come on Roberto, give us Lukaku.
Derek Knox
4
Posted 29/07/2014 at 15:36:23
According to SSN it will be doubtful if it is about any incoming signings, and especially the one we have all been waiting for !
It is more likely to be a significant contract extension to Ross Barkley or similar .
I would not have thought, that would merit a special announcement in dramatic style, but funnily James McCarthy is being ' sniffed ' by SpongeBob Squarehead at Manure !
We will all be more aware shortly, fingers crossed it IS good news, but then again IT IS US !
Gerry Quinn
5
Posted 29/07/2014 at 15:46:06
Fernando Torres is on his way....
Peter Laing
7
Posted 29/07/2014 at 15:46:20
Farcical if we are arranging press conferences to announce contract extensions, although it's imperative that Barkley and Stones are signed up to new long term deals surely a press conference should be to unveil a new signing ?
Dominic Tonge
8
Posted 29/07/2014 at 15:51:55
Oh please let Sewer rat have bitten Messi, we pounce and take advantage..... Messi on loan
Ernie Baywood
9
Posted 29/07/2014 at 15:54:24
We didnt hold them for Coleman and Bobby did we? Though I guess we did for Rooney and Hibbert.
1am here. This would want to be good.
Derek Knox
10
Posted 29/07/2014 at 15:53:36
After seeing the OS Live conference , it was about Ross signing a new contract extension !
While itis great news for us , did it really merit all the smoke and mirrors and drumrolls to boot ?
Funnily enough, I expected it to be about something more sinister, with Ross's extension the smokescreen !
Things are looking up !
Derek Knox
11
Posted 29/07/2014 at 15:53:36
After seeing the OS Live conference , it was about Ross signing a new contract extension !
While itis great news for us , did it really merit all the smoke and mirrors and drumrolls to boot ?
Funnily enough, I expected it to be about something more sinister, with Ross's extension the smokescreen !
Things are looking up !
Derek Knox
12
Posted 29/07/2014 at 15:53:36
After seeing the OS Live conference , it was about Ross signing a new contract extension !
While itis great news for us , did it really merit all the smoke and mirrors and drumrolls to boot ?
Funnily enough, I expected it to be about something more sinister, with Ross's extension the smokescreen !
Things are looking up !
Alan Humphreys
13
Posted 29/07/2014 at 16:34:49
I agree with Derek. And Derek. And Derek.
With all these Derek's about we just need a Dr.Who to turn up...
Kunal Desai
14
Posted 29/07/2014 at 16:36:03
This club is fucking stupid. Why do they need to hold a press conference for that. Muppets! Bottom line is Ross will be sold next season just like Bale and just like Suarez.
Ian McDowell
15
Posted 29/07/2014 at 16:35:41
Contracts mean very little these days. Didn't Suarez sign a new deal at the RS last November and then join Barcelona 8 months on? Having said that great news for him to sign for another 4 years. Hopefully we can achieve champions league football in that time.
Congratulations Ross COYB!!!
Jack Plant
17
Posted 29/07/2014 at 16:34:26
Great news, I know you have to take everything footballers say with a pinch of salt but he seems to be making all the right noises in terms of wanting to be here long term. Lukaku, Traore and a winger and I'll be a happy man

Patrick Murphy
19
Posted 29/07/2014 at 16:36:06
Of course extending a contract of a highly valued and much coveted member of the squad deserves a press conference - it's not too long ago when we were extremely worried about losing the services of such players and hopefully Roberto will be given the money and the time to build a proper squad of players who can entertain and thrill us in the coming seasons. I can understand some thinking it is a little over the top but if it means that a couple of other players who are considering moving to Goodison are persuaded to join a happy and stable club then what's wrong with that?
Dominic Tonge
20
Posted 29/07/2014 at 16:36:48
Well that got a few of us excited for not a lot. So one of our players is still one of our players.... hold the front page. The lad has been touted as signing a new contract for ages. Just get the Lukaku deal done Bill. That would be worthy of a press conference.
Dominic Tonge
21
Posted 29/07/2014 at 16:36:48
Well that got a few of us excited for not a lot. So one of our players is still one of our players.... hold the front page. The lad has been touted as signing a new contract for ages. Just get the Lukaku deal done Bill. That would be worthy of a press conference.
Ian McDowell
22
Posted 29/07/2014 at 16:40:32
Sky Sports mentioned the fee for Lukaku as 㿄 million paid over 3 years just before the press conference.
Ged Simpson
23
Posted 29/07/2014 at 16:37:56
Some on here really are the most depressing buggers. We keep a potentially great player and your comment is on how appropriately we announce it. Wood for the trees or what?
Tony Draper
24
Posted 29/07/2014 at 16:39:40
Delighted.
Great to see a bright talented young Evertonian so committed to our wonderful club which he describes as home. How refreshing.
Tom Bowers
25
Posted 29/07/2014 at 16:38:21
Well, I for one think this is good business as it will for a while lay to rest any negative speculation about him leaving.
After his breakout season last year we all hope that Ross now brings to the table the kind of consistency that really will cement his arrival in the Premier League.
Under RM he was given the opportunities that the previous gaffer denied him, and some may argue the value in that, but Ross now has the world at his feet and one hopes that Everton will start to reap the benefit.
Tony J Williams
26
Posted 29/07/2014 at 16:41:21
Fuck sticks.....
Don't need a press conference for that kind of news....
James Stewart
27
Posted 29/07/2014 at 16:41:54
Same old Everton. While we wait for players to be added to a paperthin squad, all the club do is hand out new contracts to existing players.
Great news but hardly news. Why isn't it a 5 or 6 year deal anyway?
Shane Corcoran
28
Posted 29/07/2014 at 16:43:27
What's this on TW twitter about RM saying we need three strikers?
Also, what exactly are SSN saying about Lukaku?
Al Reddish
29
Posted 29/07/2014 at 16:43:50
Betfair say Lukaku is now in advanced talks with us and have suspended betting on him joining us.
Karl Masters
30
Posted 29/07/2014 at 16:44:30
Great news, although reading some of the frankly pathetic, negative comments on here you would think we had just sold him to the Shite for 㿞k.
Al Reddish
31
Posted 29/07/2014 at 16:45:56
SSN say they believe we have agreed a 㿄m deal but want to pay it over 3 years which Chelsea are discussing. We may end up taking him on loan if we can't agree. Also Atsu is in talks with us and Villa after Chelsea gave him permission to do so.
Kevin Tully
32
Posted 29/07/2014 at 16:41:51
This club or ours never ceases to amaze. What the fuck was all that that about? A player has signed an extension to an existing contract - and that is deemed worthy of a press conference all on it's own?
Everyone was expecting a 'significant club announcement' as the tagline said in the Echo.
To me, that is a major story such as a club record signing, a new stadium deal, or the club being sold.
Fucking imbeciles.
Ged Simpson
33
Posted 29/07/2014 at 16:46:18
James & tony 29 & 30
You take the art of a winge to new depths
Ian McDowell
34
Posted 29/07/2014 at 16:46:56
Shane Sky said the Lukaku deal has moved closer with the fee 㿄 Million. Also Atsu has been given permission to talk to 2 premier league clubs (Villa and Everton) and has been left out of Chelsea's tour.
Danny Kewley
35
Posted 29/07/2014 at 16:34:40
On a positive note it was a major statement of intent and fucking good luck to young Ross--The message goes out to the Rich greedy gluttonous bastards like citteh chelsk et al to get fucked! We are Everton and you cannot buy our top players under Bobs leadership wer'e gonna beat yer!
Naive sounding I know but we really do need to keep hold of our family silver to stand any chance of advancing to a higher level and of course we need new players---especially a top striker! Funny enough I think Bobby's going to do it!
Derek Knox
36
Posted 29/07/2014 at 16:44:25
Apologies for the triple posting , although I have been having problems connecting to the site today for some reason !
Keep getting time out server cannot be accessed etc.!
Don't suppose I have missed anything , did Lukaku sign while I was in Cyberlimbosphere ?
Ah well , it was worth atry ! :-)
Karl Masters
37
Posted 29/07/2014 at 16:48:10
Don't worry Al. Despite all the good news you are spreading, you can be sure yet another doom manger will find a reason to condemn it.
Maybe this site should be renamed Toffeedoom the way a sizeable chunk of posters are behaving at present.
Chris Wilson
38
Posted 29/07/2014 at 16:35:33
It's good for us and for Ross. It rewards Ross for the good first year he had. It locks him in for awhile; as RM said it will drive away speculation for some time from clubs like Man U who believe it's inevitable that Ross will be joining them. It gives Ross a platform to discuss his passion for the club which is great for OUR PR. And let's be honest, this is a smoke and mirrors move by the club-"We haven't brought in the players we want, but look fans, Ross Barkley signed a new contract!"
It's very good news. It's not what we hoped for, but I think any MAJOR transfer business would have been leaked, so it's not too surprising that it is an internal news story, and one we were told would happen at some point. We can hope that this is the first step to locking in our young core... and maybe soon bringing in a significant young forward talent... OK a big Belgian... to lock in a very young and exciting spine – a Ross and a Romelu until 2019. Fingers crossed!
James Richard
39
Posted 29/07/2014 at 16:41:13
Definitely no need for a press conference. A simple notification from the Everton app would have been sufficient. Hope this wasn't just to keep fans happy and consumed. We have been getting a little restless to say the least at the amount (or lack) of funds being spent that we all know should be available.
Ged Simpson
40
Posted 29/07/2014 at 16:49:56
Exactly Danny. And not naive
Shane Corcoran
41
Posted 29/07/2014 at 16:49:08
Thanks Ian.
Kevin, I don't think they're imbeciles, just playing the PR game.
Ryan Holmes
42
Posted 29/07/2014 at 16:45:24
I totally agree with Patrick. If I was a player looking at potential moves, I'd go to the one keeping all its coveted players (Barkley/Coleman). Shows strength at a time when we need it most and shows we at least have a plan.
I also recall lots of other clubs having press conferences when their big players sign contracts....why are people reacting so poorly when we do it? Take a breathe lads.
Dominic Tonge
43
Posted 29/07/2014 at 16:42:47
Ffs Ged, shall I go and crack one off because a lad who we all knew would sign a new deal has done? Call the worlds press . We have him on an existing deal, he has expressed his love for the club, and we have had no offers for him. Why is it worthy of a press conference? It simply isn't. Had we signed him from another club, then yeah sound. Maybe we are depressing, or maybe some of us just see past the bullshit and spot the fact that the big reveal was ummmm..... actually not really a shock, and probably should have been lukaku sat where ross was.
Jim Bennings
45
Posted 29/07/2014 at 16:39:43
Doesn't mean much other than he will be here one more year.
A mutual agreement that we will allow him to leave next year and Ross knows that Everton will get more money by being tied to a longer contract.
Did Fellaini not sign a new 5 year deal a year or so before he was sold?
Hardly significant news really!
Steve Fletcher
46
Posted 29/07/2014 at 16:41:34
Patrick @ 22 spot on. What it also does is close off the Barkley to ManU/City/Chelsea garbage for the rest of this transfer window at least, allowing the club to do what it needs to do and the rest of us to worry about who is coming in, not going out. If and when Barkley goes, it also means it will be for realistic money, and not given away for a song, a la Rooney.
Ged Simpson
47
Posted 29/07/2014 at 16:53:05
Dom... try raising each corner of your mouth. You may stumble upon a smile. Who gives a poo how the frigging media hear it?
Kevin Jones
48
Posted 29/07/2014 at 16:47:03
"Get in", "back of the net", "hurrah", "whoop whoop whoop", "you da man, get in the hole fuddymucker" (Just a little something for all our new American Fans there...)
"EVERTON SIGN A PLAYER WHO ALREADY PLAYS FOR THEM"
Or should that be "whom" I never know
Danny Kewley
49
Posted 29/07/2014 at 16:52:58
Cheers Ged

Liam Reilly
50
Posted 29/07/2014 at 16:38:57
Disagree that this didn't warrant a press conference. Ross is arguably the most exciting British talent since Gascoigne and whilst contracts are almost worthless these days; this does send out a statement that he is not for sale at this time. I would suspect that is we are to have any chance of getting Rom to sign then this is the type of message that we need to be sending out.
Also, this should stop all the rumors of a City bid before the window closes and we can focus on trying to secure the champions league place. It would also mean that any bids for him next summer would have to be on the very large side; so makes good business sense.
Thomas Surgenor
51
Posted 29/07/2014 at 16:53:37
We live in times where players can move freely between clubs without a transfer fee (Bosman), and we have just had one of the highest rated youngsters in Europe sign for us for 4 more years! That's major enough for me!
Although, I will admit to a knee-jerk reaction of WTF was a press conference used for this? I've had time to think about it, and consider it to be a well spent use of resources and adequate fanfare.
If Ross wasn't our player and we were signing him for a significant transfer fee with a 4-year deal... would so many people object to a press conference?
Tom R Owen
52
Posted 29/07/2014 at 16:53:33
Delighted he has signed and have to say a good PR move to announce it to the world and verbally sticking it right up all the Sky "big" teams
Julian Wait
53
Posted 29/07/2014 at 16:59:58
Martinez indicates that signing Ross was "vital to every aspect of assembling the squad"; does that mean we might have needed to secure Ross longer term to then sign Rom and / or some others?
Drew O'Neall
54
Posted 29/07/2014 at 16:57:50
They started late, perhaps they wanted to announce something else at the same time which they couldn't quite get over the line in time.
Danny Kewley
55
Posted 29/07/2014 at 16:58:13
Liam from a business point of view-Exactamundum!!!
Gregg Sergeant
56
Posted 29/07/2014 at 16:53:07
To be fair, guys, this is news worth talking about if Ross has signed up for 4 years now, he's one of the best young players in Europe, the most naturally gifted English man since that young man from Croxteth... maybe better.
I've been harsh on us this transfer window, and personally don't think Lukaku will be coming, but, in signing Ross up, we've got him for the next few years at least and, more importantly, we've protected our asset. If his development continues, the club's sitting on 𧴜 million potentially. So I think it's a bit harsh, the negativity, especially as some were pointing out recently how he hasn't even signed a new deal.
George Freeman
57
Posted 29/07/2014 at 16:54:14
Great news. Not sure it warrants a press conference. From his comments Ross really does want to play for us for the long term. We should now tie Stones to a long contract. Perhaps then they will appear on the list of Everton players on the official Premier League website as they are not at present although Besic is there.
Dominic Tonge
58
Posted 29/07/2014 at 17:00:47
Ged, I agree it warrants a smile, I agree it is good nrws, I agree Ross is a rare talent. My point is that the club have over egged the ommlette with a press conference, an announcement and defcom 4 levels of secrecy. Whack it on the website, everton tv and yoube channel, sound.
It would also have made sense to show Besic doing keepy-ups , holding a scarf etc.... He got no press conference did he?
Paul Smith
59
Posted 29/07/2014 at 16:56:19
So far I've refrained from posting re: transfers, as I don't want to be too reactionary whilst there's a month left of the window. However IMO that was a cynical move by the club to placate the fan base. And it's worked, the fan base are polarised. I'm firmly in the smoke & mirrors and Bills theatrics faction.
FFs even The Lord Major of Liverpool agrees it was over the top.
Tony Draper
60
Posted 29/07/2014 at 17:01:04
Yesterday on the Mo Besic signing thread, Michael (Kenwrick) commented appropriately upon the negative content of some posters even when good news is the topic.
Allow me to quote a portion of his comments:
"I've tried not to comment on the abject level some posters descend to... but to bitch and moan ten to the dozen, for what seems like months on end, about the lack of new signings, and then state that you are "disgusted" with this excellent singing of Mo Besic... well it sickens me to the core. What the fuck is wrong with you people?"
I frequently feel the same way, and a number of you are doing exactly the same thing again in this thread. Knock it off.
Trevor Thompson
61
Posted 29/07/2014 at 17:05:41
We've just signed up, potentially at least, one of most gifted player we've had in a long time and one that has been sought after by many top clubs - if the rumours are to be believed -on a long term contract, I think a press conference is warranted. Nice one, Everton
Dan Nulty
62
Posted 29/07/2014 at 17:02:48
Honestly, on one thread the board get slammed for not extending Barkley's and Stones' contract, now they have they get slammed for announcing it! This kid is the best talent in English football right now. That conference was all about turning round to the rest of the world and saying, he is ours, he wants to play for us, hands off unless it is an obscene amount of money!
Well played I say!
Mike Childs
63
Posted 29/07/2014 at 17:07:09
I swear we could win the PL title and half of you would be complaining we didn't win the treble. It was good news something of note to share with the fan base so why not a press conference?
James Marshall
64
Posted 29/07/2014 at 17:10:39
I have a terrible memory, but have we, or any other club, ever called a press conference to announce a contract extension before? I don't remember this ever happening.
Sue Brown
65
Posted 29/07/2014 at 16:59:19
Yes it all seems a bit ott but looking at the press conference and the look on Ross's face says more to me. He was more than chuffed and I thought showed his blue blood when he said it was a "dream come true and it meant everything to him". For the cynics who keep planning his transfer elsewhere I thing he'll be around for a while yet.
Jon Ferguson
66
Posted 29/07/2014 at 17:09:22
The level of negativity on ToffeeWeb at the moment is putting me off coming on the site.
Barkley signs a new contract and states how he loves the club but some posters feel the need criticize the way in which it was announced. Who gives a shit how it was announced, our top youngster just committed himself to the club.
Things aren't perfect, but you don't have to be negative about every story. This is one of them!
Geoffrey Caveney
67
Posted 29/07/2014 at 17:02:30
I read this quote from Barkley: "I knew what it meant to me when Rooney left. We were all down. I know how the fans felt. Now I want to help us push on."
That does not sound like a player who is planning to leave next year. Anything is possible, things could change, and all that. But he wouldn't say such a thing if he were already thinking about moving to another club down the road.
Mike Manchester
68
Posted 29/07/2014 at 17:03:43
Good little exercise for Ross. He's gonna have the interviewers mic forced on him a few times this season, its important he gets a grip with media work, and the increased pressure of being a household name.
Good motivational tool, build his confidence that he IS a top player and deserves notoriety.
Contract announcement means we'll get top whack if the worst should happen, and tells our rivals/neutrals to beware/admire.
Paul Mackie
69
Posted 29/07/2014 at 17:15:36
Fantastic news. Sends out a message that we're done selling out best and brightest every season and won't get picked apart like Southampton.
Now get Lukaku back in and a couple more and I'll be vaguely optimistic of our chances next season. We're not going to win the league but we can certainly hold our own against the 'top' clubs.
Phill Thompson
70
Posted 29/07/2014 at 17:11:25
Of course it's important , we presumably now have a Release Clause trigger of 㿞 mill. Next one up got to be Luke Garbutt , 4 year needed for him too
Paul Hughes
71
Posted 29/07/2014 at 17:19:04
Come on guys!
Barkley has been linked (in the imagination of the gutter press) to all of the Sky darlings, throughout the summer. This is worth a news conference to say, "get stuffed, he's ours!"
If Rooney had stayed in 2004, you bet your life we'd have had a conference to announce it.
Stop being so miserable, we'll have another press conference when Lukaku signs!
Derek Turner
72
Posted 29/07/2014 at 17:09:41
Don't get us wrong Dan/Tony, we are happy Barkley signed, its just we were hoping for a major signing with the hype. We are hungry, no?
Tony J Williams
73
Posted 29/07/2014 at 17:19:16
No-one is complaining about the news.
it is great news, but not news worthy of a "major news conference"
Nothing to do with negativity, just voicing our opinion on the bullshit way it was presented beforehand.
Where was Besic's news conference? He is an actual new signing.
Karl Parsons
74
Posted 29/07/2014 at 17:13:19
Get a fucking grip! Did you see the smile on the lads face? He wants to do it for our Club and he couldn't be happier. Yet all I hear is OTT statements.
No-one is saying it's like a new signing. When I got the text from the Club it was welcome news indeed.
Whatever the future brings, it brings. For now one of the Country's best young talents gets to put an Everton shirt on. Made up, me, lad.
Paul Andrews
75
Posted 29/07/2014 at 17:22:45
A good signal sent from the club.
We are signing our young stars up on long term contracts.
We are building a side that can develop together.
Doom and gloom merchants please see the positive side of this.
Phil Walling
76
Posted 29/07/2014 at 17:21:42
I think we can be sure that Ross will be here for the coming season at the very least.
2013-14 was his breakthrough season and he showed enough to become (almost) a regular and gain caps for England. He reinforced his reputation at the World Cup.
Now he has to add consistency to his game and score a few more of those scorchers. But the trouble is that, if he becomes a real star, the clamour for him to move to 'a big club' will become overwhelming – and probably irresistible.
Let's just enjoy him whilst he's ours!
James Marshall
77
Posted 29/07/2014 at 17:29:01
So now we've signed Coleman, Barry, Barkley and Besic this summer. Now all we need is Lukaku and Traore, and we'll have the same amount of players we had last season! I think :-)
Tony Draper
78
Posted 29/07/2014 at 17:25:11
If you guys are not moaning or complaining then you really are overwhelming the complimentary & celebratory elements of your postings (if there actually were any) with the "whingeing nitpickery".
When there are things which are wrong, then let's complain. When they are good, lets celebrate.
Ross Barkley signs a new 4 year deal = Celebrate!
Paul Ferry
79
Posted 29/07/2014 at 17:26:12
This is getting sillier and sillier by the minute.
Paul Smith 6: "IMO that was a cynical move by the club to placate the fan base. And it's worked, the fan base are polarized."
It worked! Clearly Smithy you did not feel the need to comb through the thread before hitting submit.
This 'placate' line is utter dogsbollocks! So, at the same time as we pin down the brightest English talent for two or three decades, reports long term – 'reports', I know – are that the Lukaku deal seems – 'seems, I know – to be ever closer.
This 'placate' bollocks is somewhat like the Bobby Rio holiday window stripping line: so, we cannot get our stars' contracts extended at the same time as we bring in new players?
I wonder if conspiracy theorist Smithy – it was the papists who burnt down London in 1666, the papists I tell ya – (and all the other long-faced whiners on here – he's one of ours, fuck me, one of ours!) will have the good grace and decency to come on here and put his hands up in the air and say, "I got it all wrong, guv" when incoming arrives, as it will. I very much doubt it.
Brill news, great day for the club, spring in the step and all that. Can't wait now for the other bits of good news coming our way.
Come on, Smithy lad – they haven't told us you know, they haven't – aliens, aliens in Eastbourne and the Dakota Hills... aliens, but they won't tell us....
Chin up, have a smile, go for a walk and talk blue — coz these are good times to be blue.
Anthony Hughes
80
Posted 29/07/2014 at 17:31:10
Great news about Ross, thought it was going to be Lukakau though. Just heard on Talksport the Redshite have signed Origi and loaned him back to Lille for next season. Come on Everton sort this striker issue.
Mike Powell
81
Posted 29/07/2014 at 17:32:06
Yes, it's good news... but what about signing a new striker and another midfielder? The RS were linked with the Belgium lad yesterday and now he is signed up; what is going on behind the scenes at Everton? If Lukaku don't want to sign for us, then lets move on to another forward.
Kevin Tully
82
Posted 29/07/2014 at 17:35:56
Let me explain - If this was announced on the OS with accompanied by an interview with the lad, then my post would have read "This is great news, absolutely made up we have secured his signature for four more years."
But when this news was greeted with a hastily arranged press conference, a live link, and local news channels reporting 'significant developments at Finch Farm,' I expected something out of the ordinary. It's good news that Ross has signed, but the fanfare was way OTT.
If we sign Lukaku, will Bobby be running around in the nip? FFS.
Dominic Tonge
83
Posted 29/07/2014 at 17:45:24
No , kevin, there will be a parade and a lukaku-likey competiotion.
Anthony Flack
84
Posted 29/07/2014 at 16:54:41
Statement of intent and really important a shame that there is an isolated negative comment. Ross has the potential to be one of the most valuable players in the Premier League. Just maybe Martinez will grow a team worthy of his talent.
Positive positive positive.
Now bring on Lukaku.
Brent Stephens
85
Posted 29/07/2014 at 17:52:37
Must admit I was expecting some significant news other than this. Having said that, I think the big fanfare was not so much for us fans, but rather for Ross himself (perhaps) but more so to tell other clubs esp the big guns that we are keeping our big guns and we are going places - a statement of intent and ambition and no bad PR ploy.
Jay Harris
86
Posted 29/07/2014 at 17:51:20
while I am delighted that Ross signed and stated his commitment to the club I am still puzzled about a couple of things.
What impact will this pantomime presentation have on Besic, let alone Coleman and Barry, who was just ushered in and why give Besic a 5 year contract and only get Ross to commit to 4.
I fully expected this to be about Lukaku unless it WAS intended to be Lukaku and that fell through at the last minute so Ross was ushered in.
Also why no details on James McCarthy.
Paul Livesey
87
Posted 29/07/2014 at 17:43:58
This is great news. Totally worthy of a press conference. I personally love nothing more than watching our local lads coming through the ranks. Without doubt this should be celebrated. Especially when they are as good as Ross and have the potential he has. Hopefully Stones is next to sign up.
I'd also like to add that those of you moaning need to take a long hard look in the mirror and ask yourself if you actually SUPPORT this great club of ours, or are you more determined to be proved right with all your whines over the years? I cannot understand why there would be one negative comment on this thread, yet it is full of them. Maybe one of you should set up your own website where you can all hang out and berate everything the club does together, so SUPPORTERS of Everton don't have to put up with it.
John Audsley
88
Posted 29/07/2014 at 17:59:10
A big press conference was probably a bit excessive but its excellent news and all we are short on are top quality front men. Roberto says we need 3 and I'd be very happy with that. Ross is a superb player and Moyes missed a real trick by loaning him out when he did. Good news all round.
Chris Sillett
89
Posted 29/07/2014 at 17:55:32
Great news about Ross, hopefully the speculation about him leaving will now be put to bed. I am however a bit worried about Martinez's comments about a striker "I won't bring in players for the sake of it. If that takes us to the last day of the window then so be it." If we start the season without a recognised striker I can see us dropping a lot of points in the opening games which is something which cost us last year. Come on Roberto, we cannot start against Leicester without a striker!
Raymond Fox
90
Posted 29/07/2014 at 17:38:41
I think the moaning was mainly sparked off because members were probably expecting to be told that Lukaku or similar were signing!
It is good news and was all about sending out the right message to the Sky darlings and us supporters that we have ambition and we intend to give them a run for their money.
On a negative note 'ahem' our total wage bill for the players must be climbing at a rate of knots with all these improved contracts, will it affect our spending on new players, it well might.
Fraser Auld
91
Posted 29/07/2014 at 17:58:14
Haven't posted for a while but I can't beleive some of the reaction to this.
As far as i'm concerned this is great news and I mean great as in AWESOME! Barkley is the most hyped young English player in the country, all the big clubs would love to have him and there have been rumblings in the press all summer about him. Those rumblings would have gotten louder the longer he went without signing a contract and the closer his old deal got to expiry.
Whether they hold a press conference to announce it or whether they simply announce it on the OS with an interview is by the by - just be delighted that Ross has signed a new deal, it is a big statement of intent and it will go down well with current and prospective players alike.
Maybe the disappointment is because some expected it to be news of Lukaku. Compared to our record transfer deal it isn't as big, fair enough, but it is still excellent news and I hope Ross isn't reading some of these negative posts.
Paul Smith
92
Posted 29/07/2014 at 18:03:15
Here we go, unless your swinging from the lamp shades, you're a moaner & should set your own moaners web site up. Some posts don't always require feedback, if I say I'm underwhelmed by the press conference, that's my shit, no one else's. If I wanted feedback on my thoughts and feelings I'd pay for a Counsellor,
Harold Matthews
93
Posted 29/07/2014 at 17:33:50
Derek.. For me, your technical hitch was good news. I couldn't get into the interview or TW. Thought my desktop was knackered.
The interview got us on SSN and will have impressed Besic, Lukaku, Atsu, Henen, Galloway and every lad in the academy.
Wonder if Alex McCarthy was watching. Yes Alex, we are a big club with superstar players.
Ian Burns
94
Posted 29/07/2014 at 18:17:51
The last time I posted on TW was just before the end of the season and although I have been following the threads religiously, I haven't really had anything to add to the comments.
However, I am so upset by the negativity on this thread that I am forced to come out of hibernation to comment.
Paul Livesey - 92 - many sincere thanks for putting this whole story into perspective. We are Evertonians, this signing is something well worth celebrating.
Now I am going back to sleep
Derek Knox
95
Posted 29/07/2014 at 18:16:12
Thanks Harold !
I thought it a bit strange, when I eventually got back on to the site , when I saw that several fellow TW posters had also had ' double posts ' .
I suspect they were possibly updating the site , or , all of us ' news starved TW'ers ' stampeded toeards the site at the same time and it was overloaded or whatever !
No doubt Julian would know better on that score , than you or I .
Jamie Barlow
96
Posted 29/07/2014 at 18:10:46
Fraser, to be fair, I don't think there is one negative post about Ross signing his improved contract, just the way it was paraded.
I just think a press conference and count down on the OS raised a few peoples hopes and they are a bit disappointed that it wasn't a signing.
Dummies out of pram sort of thing.
It'll soon be forgotten about when Lukaku signs and we have his face blasted into the night sky, Batman style.
John Raftery
97
Posted 29/07/2014 at 18:05:05
Ross signing a new contract is good news for the club which should be celebrated. Unfortunately a lot of TW posters are habitual moaners who need a daily whine fix. I pity them.
John Audsley
98
Posted 29/07/2014 at 18:26:28
Mr Barlow nails it @101
The count down etc was excessive
Gawd knows what it will be like if we sign a top player
Ed Fitzgerald
99
Posted 29/07/2014 at 18:16:44
It is good news but not worthy of the significant press conference build up, which was a little embarrassing. It is a rather transparent attempt to reassure us that the club means business and is not selling off the the family jewels cheaply at least! It is also neatly sidesteps a lack of signings to date whilst other clubs brandish money like confetti. I am not sure a contract extension makes Barkley anymore secure than he was yesterday but it bumps the price up I suppose. I do think we will sign players at the 11th hour as this seems to be our modus operandi of late.
What was interesting was to witness the speculation when we thought it was significant news - to be truly significant good news it would need to be connected with a new stadium, new investment helping buy players or a massive investment allowing us to take over Liverpool FC and raze them to the ground! That would be significant good news!!!

Andrew Clare
100
Posted 29/07/2014 at 18:33:35
Great news. Delighted.I am sure we will get the players we want and have another successful season.
Ross Barkley is hot property and it is great that he is an Evertonian. Very happy.
Brian Burns
101
Posted 29/07/2014 at 18:39:22
Okay, I've read most of the comments on here about the big news conference. I'm pleased Barkley has signed, but as nearly everyone knows, signing new contracts means jack shit.
As for the current squad, we are down on our numbers from last season. So how we are going to cope being in four competitions, I'll never know. The finger, as it is every year, is fecking Kenwright. All I want him to do every year is to come out and explain our woeful transfer attempts – then fuck off.
Jimmy Hill
102
Posted 29/07/2014 at 18:32:23
Who gives a shit how they announced it. It's great news. Is the 1st thing some of you do is put on your black hat when something is announced from this great club. It is really getting tiresome.

Kevin Tully
103
Posted 29/07/2014 at 18:57:19
Maybe some might take notice of what you had to say if you posted under your real name, 'Jimmy.'
Dean Adams
104
Posted 29/07/2014 at 19:01:00
Good to see that Ross is a real blue then. Hopefully this squad will get the new signings required and will go from strength to strength. Great news that our best players love the club. Long may it last. Nil Satis, lots of optimism!!
Mike Gaynes
105
Posted 29/07/2014 at 19:08:25
The biggest news today is we had an Ian sighting. Now let's keep our voices down and let the man go back to sleep.
Chris Funk
107
Posted 29/07/2014 at 18:35:09
The news itself is just fantastic. You'd have to be a real curmudgeon to think otherwise. Like many, however, I was initially a bit nonplussed at the manner in which it was announced.
But I've been gnawing on it for a bit now, and I think I've finally decided it makes sense.
This gave Ross - one of the emerging stars of the English game - a chance to tell everyone very publicly how happy he is to play for the Blues and Roberto.
This was a recruitment PR opportunity. I think it was an opportunity to tell Lukaku (among others): "You're worried about our ambition? Here, we just tied down one of the best talents in England for the next four years to keep getting you scoring opportunities. Now do you think we're serious?"
Okay, so that's the "glass is half-full" version of my thoughts anyway...
Harold Matthews
108
Posted 29/07/2014 at 19:13:06
Cheers Derek.
Vinny Garstrokes
109
Posted 29/07/2014 at 19:12:57
Great news as far as I'm concerned and glad to see that since Roberto signed his contract extension, he has a firm and solid group of our younger players with a near similar commitment. Unfortunately, I think the transfer window closing on 31st August and us playing Chelski on 30th gives Moaninho the perfect opportunity to let his egomania go into overdrive and 'allow' Lukaku to come to Goodison on the final day so that he is not eligible to play for us against them the day before.
Paul Dark
111
Posted 29/07/2014 at 19:23:58
Great news re Ross! He loves it at Everton, and we love him!
Have Betfair really suspended betting on Rom? I can't believe we'll get him.
Phil Walling
112
Posted 29/07/2014 at 19:04:12
I'm beginning to think that Everton FC and particularly our manager thinks we are all as thick as pig shite.
Everything but everything is over-hyped and aimed at 'managing our expectations. The one NEW signing is billed as the 'best he's ever seen' on the strength of a couple of performances for some unpronounceable country whilst new contracts for players who were here last season are hailed as 'master-strokes'.
No wonder our neighbours laugh at us.
Ps I'm talking about Wigan. They've seen it all !
David Hayes
113
Posted 29/07/2014 at 19:09:57
Yeah, great but where are the signings the siginings, am fed up with RS at me werk takin the piss, they sign a player every day why cant we. Its all that kenwright fellas fault its all turned to shite.... Thank god when this playground wingeing is over and I never have to read it again . And thank you to the many who celebrate being a toffee and all that goes with it, for pointnting out how silly the whiners are.
Rob Halligan
114
Posted 29/07/2014 at 19:24:15
So that's Besic yesterday, Ross today, who will it be tomorrow?
Seriously though, while most of us probably expected something slightly different it is still great news.
I had Talksport on the car radio when it was announced and for a second or two had the horrible feeling they were going to say he had been sold.
Now that would well and truly had got everyone in a right rage! Thankfully it wasn't the case.
Ed Fitzgerald
115
Posted 29/07/2014 at 19:25:59
Tony Draper
You are talking rubbish, do you believe a current player signing an extension of his current contract warrants the 'significant' tag on a press conference. I think not, RS fans will be pissing themselves no doubt, not that I care a jot about that personally. Does it make Barkley less likely to go if he has a great season, grow up FFS.
You are too easily gratified, Evertonians are too easily gratified in general it wasn't talksport who built it up, it was the club.
Andy Crooks
120
Posted 29/07/2014 at 19:56:16
If Barkley was, say, leaving today for Chelsea I think we would be having the biggest ever thread on ToffeeWeb. So, surely a new deal is worth shouting about.
Paul Andrews
122
Posted 29/07/2014 at 19:54:50
The next piece of the jigsaw falls into place.
The Masterplan,as planned by the master,is progressing.
The best day for many a year the day we signed Roberto.
David Nicholls
123
Posted 29/07/2014 at 19:55:29
I think the OTT press announcement is just a case of great man management by Martinez. I don't personally feel the signing of a new contract warranted such fanfare but I think it is clearly a case of the manager making the most talented player to come through our ranks in over a decade feel really special.
Patrick Murphy
125
Posted 29/07/2014 at 19:46:51
This time last year we were fearful of losing Ross, Baines and Fellaini only one of those three players has left and two of them have lengthened their contracts. The Fellaini money enabled us to bring in McCarthy, Del Boy Gareth Barry and Romelu Lukaku either permanently or on loan. Kone, Alcaraz and Robles also joined the club on a permanent deals.
Barry is now a permanent member of the club and there remains a good chance that Romelu might join him. Add the signings of McGready and Besic to counter-balance the sales of Jelavic, Anichebe and Heitinga. and I personally would say that all-in-all that is quite a turn around in just over 12 months, now people can argue about the quality of the incoming players all they want but few could argue with those that have left the club..
If and when we add the necessary quality striker into the mix things will look a lot brighter than some seem to see it at the moment. I would advocate that those who cannot see anything good about the club either on or off the pitch should ask themselves why they bother to buy season tickets or match-day tickets in the first place and perhaps re-consider their position.
I am as cynical as the next Evertonian but I don't constantly focus on all of the negative aspects of the club or the team. It is the easiest thing in the world to find something that suits your world view and then harp on about it, but supporting the team even if you don't necessarily support the club's hierarchy is not always easy but it can be a lot more fun if you at least try to do so.
If other club's supporters are taking the mickey so what they have done that for donkeys years and would continue to do it even if we spent 𧴜m every year it's the game always has been always will be. My opinion is the more they laugh the more we will enjoy beating their expensively assembled teams.
James Elworthy
126
Posted 29/07/2014 at 19:11:07
Stones and McCarthy next on longer contract now.
Good news and when the most talented youngster in English football signs a long term contract it deserves a press conference.
Lukaku Traore and Atsu next please
Brent Stephens
127
Posted 29/07/2014 at 20:01:32
I think a lot of posts miss what in my guess was the point of the press conference and build up to it - it was less for the consumption of blues and more a message to our other big rivals, some of whom would have been wanting this lad, and its also telling them we mean business and are not necessarily a selling club.
Joe O'Brien
128
Posted 29/07/2014 at 19:56:33
Great news to have Ross signed up. One of the best in the world. Can't understand all the moaning. Fair enough they prob over did it with the top secret press conference, but it is big news. Massive to have such a talented player who's a mad Evertonian commit his future to the club. Especially when City utd and Chelsea hovering. Cheer up its not bad news it's good news.
Lukaku will be next to sign I reckon. . But he'll prob be shit once he signs for us permanently; )
Tony Draper
129
Posted 29/07/2014 at 20:13:34
James @ 131, I can only concur with your "three wishes".
Preferably Lukaku permanent and the other 2 as loans.
I still have the feeling that Roberto has another trick (maybe two) up his sleeve to surprise & intrigue us with before the window closes.
He is continually positive, but it's not hollow words.
James Elworthy
130
Posted 29/07/2014 at 20:20:53
Am sure an unknown Barcelona youngster on loan may occur also who knows what happened to Henen
Matt Traynor
131
Posted 29/07/2014 at 20:21:06
Of course Brent #132. Because that'll stop them putting in a bid...
Rob Halligan
132
Posted 29/07/2014 at 20:10:39
Well said Patrick.
If you check the sky sports website there are already plenty of posts saying "it will only push his valuation up" and "he will still be sold in 12 months" and "he would have been better signing for us" blah blah blah!!!
It was an announcement from the club FFS!! As I said earlier on imagine the uproar if the announcement had been that he had been sold? I can just imagine Billy boy standing to the entrance of finch farm trying to explain the sale of Ross ala Kevin Keegan when Newcastle sold Andy Cole!!
Jealousy can be the root of all evil and right now that's what fans of most other clubs are, because we have the hottest property in English football since Mr Rooney, the only difference being Ross is as loyal as they come and I honestly believe he will be with us for many years to come.
Raymond Fox
133
Posted 29/07/2014 at 19:57:32
Phil, there's me thinking you were gradually getting an inkling of some kind of positivity!
Then you revert back to type, we finished in 5th place last season and you were telling us all we were certain to be 7th or lower because we had now a crap manager.
Your still having sniping comments at Martinez, in a so far a vain attempt to discredit him.
Seems like you'll not be happy until he falls flat on his face and the team fail to reach expectations, your some supporter!
David Chait
134
Posted 29/07/2014 at 20:19:12
David 128.. You got it spot on.. Myself along with probably every Evertonian was completely underwhelmed.. But Barkley must have felt like a king... Way to treat our most valuable asset...
James Elworthy
135
Posted 29/07/2014 at 20:34:36
Ross is not a money hungry vulture like Rooney and his multi Luis Vuitton bag hauling wife who spends most of her time sitting by the pool drinking cocktails paid for by her granny shagging hubby who gets overpaid for his limited talent.
Good on the lad staying with the club and not having some greedy agent engineering a transfer for his cut
Colin Glassar
136
Posted 29/07/2014 at 20:46:50
Why's everything underlined? Ross is a real Evertonian, not like that money obsessed, shrek lookalike. I still blame colleen for him moving.
Drew Shortis
137
Posted 29/07/2014 at 20:44:24
This pre-season has been quite a turnaround for Everton. Ok, things have been a little slow on the incomming transfers front but I can't remember a transfer window in a long time where we haven't been desperatey trying to fend off advances for our star players (Rooney, Lescott, Arteta, Baines etc...). With the great seasons the likes of Coleman, McCarthy and Barkley had I was braced for the inevitable onslaught. It has not happened (so far). Now we haven't taken the two steps backwards it's time to get Lukaku for the big step forward!
Colin Leckey
139
Posted 29/07/2014 at 21:29:57
Let's be honest, there's almost certainly a "release clause" in there that somehow didn't make it into the press release... four years strikes me as a bit short, and as we all know the general rule is that you flog someone who only has two years left on their contract if they haven't signed an extension.
So in other words, we probably have him for one more season, fingers crossed for two, beyond that, well...
Denis Richardson
140
Posted 29/07/2014 at 21:27:23
Great news but a bit confused by the OP. It says he's signed a new deal taking him to a further 4 years on his current deal. It then says he new deal runs to 2018, which would imply he was actually out of contract.....no?
Also 4 years is not what I would call a long term deal, 3-4 is pretty standard these days. Anyway, he's here for a while unless we're offered silly money, which is the main thing.
Now onto stonesey....
Patrick Murphy
143
Posted 29/07/2014 at 21:47:06
I know a lot of people are a little put-off by Roberto's overuse of superlatives and flowery language but I think this quote about Ross published in the
Echo
underlines the fact that Roberto is a shrewd operator who knows exactly what he wants from his players and his team.
"When you start thinking 'I need to score more than seven goals this season' or 'I need to do this' or '˜I need to do that', then you can lose focus.

"When you lose focus on what you have to do to be in the first-team, then everything becomes very complicated.

"For Ross, it will be the same as every other player in the squad: you need to earn the right to be in the first 11."
Colin Glassar
144
Posted 29/07/2014 at 21:49:49
Totally agree Chris. Some people are never satisfied. And these lines are doing me 'ead in.
Phil Walling
145
Posted 29/07/2014 at 21:40:01
Raymond Fox @ 138 : Surely I don't have 'to worship at the shrine 'of Saint Roberto to be classed an Evertonian. Just because I don't buy into all his and the club's patronising bullshit on this and every issue, it doesn't mean that I don't support the boys in blue come match day.
'Spin' has become a dirty word in politics but nobody does it better than the acolytes of Toffee Blue Bill. What will they do when Romelu signs on ? Provide prayer mats for us to pay homage?
Christopher Wallace
146
Posted 29/07/2014 at 21:52:16
Villa spent 㿎m on N'Zogbia and Bent.
Sunderland spent 㿗m on Johnson, Borini, Gordon and Fletcher.
Hull spent 㾸m on Jelavic and Long.
West Ham spent 㿈m on Jarvis and Carroll.
Liverpool spent a lot of money on a load of sh*t.
Newcastle spent about 㿼m on a plague of frogs who can't jump and will never turn into princes.
Fulham spent about 㿀m on Mitroglou and Johnson.
QPR bought relegation for about 𧴜m
Norwich got Van Wolf, Hooper, Fer and Elmander for about 㿀m
Soton just sold everything and their soul.
Why oh why can't we panic-buy our way into mediocrity like the rest of our rivals???
Patrick Murphy
147
Posted 29/07/2014 at 22:04:22
A whole new opportunity for Everton FC's commercial department - specially spun silk prayer mats with every inch covered in Roberto sound-bites and Luvvie speak - Phil You're a genius - take a bow mate.
Ernie Baywood
149
Posted 29/07/2014 at 21:48:47
I think there's two camps here. Those who were part of the hoopla and those that just heard the good news after it happened (actually it came out before in the end as we seemed to have some technical problems)
I'm in the former. For those who don't realise, the club announced a significant press conference to be held. Then they put a countdown clock on the site to the conference. TW fell over, Twitter went crazy. Then they announced a contract extension.
Brilliant news, no-one is disputing that but they created too much of a circus around it.
Raymond Fox
150
Posted 29/07/2014 at 22:03:00
Phil, apologies for the supporter jibe.
But come on, both the club and the manager are hardly performing badly at this time.
As far as the managers spin is concerned, he does lay the superlatives on a bit thick at times but it cant be easy having a microphone stuck under your nose every 5 mins.
Fire away if we fail, but do us a favour and throw in a few compliments in the meantime.
Christopher Wallace
151
Posted 29/07/2014 at 22:23:25
But Raymond, surely he should stop being so optimistic and complimentary about the squad, no?
Maybe some sort of cliche about bringing a dagger to a jousting contest??
Colin Glassar
152
Posted 29/07/2014 at 22:17:43
Christopher, you are fast becoming my TW hero. Spot on mate and take a bow. We have a solid, solid core of excellent players who need a few more players to ensure the dreaded rotation. Whatever we do as a club there will always be a hard core of moaners, it's just part of our DNA I suppose.
I remember as a very small boy watching the Holy Trinity with my dad and some old farts shouting "Get yer finger out, Kendall, you useless sod", or "Get a move on, Bally, you ginger ball bag" etc.... Some things never change.
Paul Andrews
153
Posted 29/07/2014 at 22:25:31
"Och, it's like taking a knife to a gunfight"?
Orrrrrr Martinez upbeat comments?
Mike Manchester
154
Posted 29/07/2014 at 22:23:12
There has been a countdown clock on all live broadcasts from the club (which is every week pre-match presser) for a couple of seasons now. Keep up, guys.
Mark Taylor
155
Posted 29/07/2014 at 22:06:29
I'm more pleased about what Ross had to say about the club, which seemed genuine, than about a contract extension, when we all know contracts are far from rock solid evidence that a player will stay long term. In fact, recently, it seems the ones who have signed new contracts at other clubs have moved on shortly after. But if Ross means what he says- and why doubt him- then he looks like he'll be here for a few years yet.
And that is good news because we all know Ross could be a marquee player and we haven't had too many of those in the last decade or two. Whether it warranted a big press conference is another matter. I would have thought not, but it's not a big issue either way.
Unlike many, I'm not champing at the bit with Lukaku because I'm not convinced he is worth 㿄m. I thought he looked a bit of a square peg in a round hole at times last year and he is not exacly blessed with sublime control. However, I'll trust RM's judgement given he's got most things right.
I'm also willing to be patient on transfers but this is the last window I'm prepared to see no significant net spend, given all the bullsh$t of the previous windows. We have to expand the squad, it is most certainly not that good and right now, even if we signed Lukaku, we would still be no stronger than last year, but with an additional and very demanding competition to play in.
Ian Hollingworth
156
Posted 29/07/2014 at 22:16:08
Hibbert, Coleman, Barry, Besic and Barkley that's five signings
Nearly all sorted for the assault on domestic and European competitions.
We should hold more of these press conferences to show the world we mean business now
Gerry Quinn
157
Posted 29/07/2014 at 22:32:43
Shout it from the rooftops — Ross Barkley is an Everton player and remains an Everton player by choice.
Good on you, son... and good on Everton for shouting it so well!
Christopher Wallace
158
Posted 29/07/2014 at 22:33:32
I know all about it the pessimism Colin! I grew up in the 90's so, granted, this is easily the best everton side I've watched.
I'm not from Liverpool but I absolutely love the city. I also enjoy Goodison but away games are so much better for me these days. The expectation, the negativity, the pessimism, the hounding of certain player and/or coaching staff... it really gets to me, probably more so because I'm not there every week. The away games are 10 times better in my opinion, which is a bit sad really.
On topic... Ross, Seamus, Leighton, James, John, Kevin and Tony going nowhere (despite a pathetic rumour of McCarthy to utd the day after we sign a CM), that's a great summer so far.
We are def going to sign a striker, hopefully Lukaku. This should fill us all with excitement and anticipation, not doom and gloom. If we do end up with Bendtner and Cisse, I'll be the first to post my letter bomb to Bill but, until then, can we all just relax and admire our chickens?!

Kev Johnson
159
Posted 29/07/2014 at 22:53:27
Where are you from, Christopher?
Christopher Wallace
160
Posted 29/07/2014 at 22:57:50
Belfast mate. Sorry if I was on a rant there, I looked into thread expecting a lot of happy toffees, read first 10 or so comments and just couldn't believe the negativity!
Colin Glassar
161
Posted 29/07/2014 at 22:54:59
Christopher, I've been privileged enough to see some great Everton sides since the late 60's, late 70's, 80's and now this one has the potential to be a really great side. There will always be a vocal minority who seem to enjoy having a go at our lads but then I suppose it's the same everywhere.
Ian Riley
162
Posted 29/07/2014 at 21:53:51
Great News on Barkley signing a new contract, but why is this such big news on Sky. Everton are a big club and I would have been disappointed if he had not put pen to paper. A press conference to announce an Everton player signs a new contract. This is not a new player and not our major signing of the summer!
I like many others thought it might be the confirmation of the Lukaku deal but this drama will carry on into the summer. Every year is the same drama with transfers. Thank god the transfer window closes as it forces the club to act with a deadline and puts the fans out of their misery.
It is refreshing to hear the manager tell the press we need three attacking players. If the club could sign Lukaku and players on loan, I believe this could be the best squad in quality and depth in 25 years supporting Everton. I know myself and others moan about the chairman but I know he has best intentions for the club.
Best Wishes to All
Christopher Wallace
163
Posted 29/07/2014 at 23:02:42
My Dad had me well versed on those sides Colin. My greatest memories are the cup run in 95 and the relegation escapes, along with a few individual games here and there.
I don't expect our current squad to win any particular game, but I believe we can win every game, regardless of the opposition. I've never had that same belief in any team in my life-time. I'll get back to you on that in 2-3 weeks!
Keep the faith! COYB
Steve Barr
165
Posted 29/07/2014 at 23:59:55
Like many posters, I agree this is great news as far as it goes (given the frailties a signed contract mean today) but you've got to be a little disingenuous if you weren't just a little disappointed at the content of the press conference?
Re-signing a current player, no matter how brilliant, is good news but you've got to admit, we were expecting something else/more!
Some say it was a masterstroke in positive psychology by Roberto in giving Ross the attention and fanfare he rightly deserves with this announcement.
From where I was watching, Roberto came over rather low key, seemed less articulate and enthusiastic than usual. Overall a damp squib to be frank.
Nevertheless, I live in hope and look forward to this great club making more announcements that further cement our intent and ambition to get back to where we once were.
COYBs.
Ant Dwyer
166
Posted 30/07/2014 at 00:11:13
I've read through most of the comments and they're split two ways! I can see both sides too and partly agree with both.
Ross signing a contract extension for me is a great great bit of news. I also think it is probably worth putting out a conference too. But I'm a little bit annoyed that we haven't signed up a few players like Rom and Traore too, so when you see a conference due you can't help but wonder if Romelu has come home!
Frustration is kicking in now and I can see why. I'm hoping that it ends very soon with the signing of Lukaku, then I'm sure ToffeeWeb will become a happy place once again.
Ant Dwyer
167
Posted 30/07/2014 at 00:31:46
ps: I meant to add, I'm sure the RS had a conference for the contract extension for Luis the rat!!! Ignore the shit them kopites are giving us all, men, they've spent 𧴜m and not even found a player to improve them – and lost their only top-class player too!!!
Luis out, Lambert in!!!
That's like us selling Barkley and getting Aspas.
Eric Myles
168
Posted 30/07/2014 at 01:43:46
That was it? That's what the perss conference was for?
Glad I fell asleep and didn't wait up.
Gary Edwards
169
Posted 30/07/2014 at 02:01:30
To me it stinks of .. "Roberto, grab hold of Ross, we'll get the cameras in and we'll hold a press conference. That should placate everyone as we've got sod all to tell them".
I was waiting for Kenwright to close it out with a Woody Woodpecker~esque "That's all folks (for the transfer window) ".
Of course Ross on a 4-year deal is great news but lets not delude ourselves, this was yet another sad, ham fisted attempt by the club's owners to disguise their shortcomings. I wish this is phase 1 of a magnificent multi-phase PR strategy that in the course of the next 2 weeks reveals 2 top class strikers, a speedster on the wings and quality squad members.
Dennis Ng
171
Posted 30/07/2014 at 02:47:09
This won't stop big money from trying but at least they are doing the right type of talking.
http://www.espnfc.com/everton/story/1965180/barkley-recalls-rooneys-exit
Dan Parker
172
Posted 30/07/2014 at 03:25:50
I was a bit disappointed it wasn't the signing of a new striker but, after watching the interview, it once again reminds me that we're a great club. There's something special about it.
It's easy to forget that, 10 years ago, players of Ross's calibre wouldn't have seen a future at Everton, but now they do.
Money talks of course but I'm sure he could easily have got more at the likes of Man City and Co.
I'm chuffed we have Roberto, he's proven me wrong and his quality has shone through. Here's to a promising campaign...
Brian Wilkinson
174
Posted 30/07/2014 at 04:30:36
My first reaction was, press conference? I was expecting a signing of a new player not an existing one.
Now I have had time to reflect on this before commenting, I am with the majority, it's sticking two fingers up to the media and their Sky darlings, it sends out a strong message we are no longer a selling club.
Granted it does not mean that he cannot be sold but, if we land Lukaku, it sends out all the right vibes; we do not need to sell to land Lukaku.
I am sure the media and Sky are quietly hoping we do not get Lukaku; after all the moaning last season about our loan signings, it would be great if we bought the guy.
I also agree could do a lot worse than put a cheeky ٤ million bid in for Remy — I bet the guy plays more games than Kone, whichever club he signs for.
Jason Lam
175
Posted 30/07/2014 at 04:32:16
What is it with half the TWers always moaning and complaining. Is this the generation where no-one's grateful anymore, spoilt, and just expect freebies and everything for granted as though it's your birthright? I am just really grateful and relieved that Ross has signed and if our club wants to shout the good news over the rooftops so let them.
Players are not cattle anymore and managers and clubs needs to look after them the best we can. Otherwise they'll be off where they're more appreciated. Here's one for you armchair managers, 'Accept the fact that we have to treat almost anybody as a volunteer'. Just because Ross is on our books and getting paid doesn't mean you treat him merely like a production line. Humans thrive on the good feel factor. Give Ross the number 10 jersey.
Paul Andrews
176
Posted 30/07/2014 at 06:40:30
Have any of the posters with negative comments watched the interview?
To hear the lad talk about his love for Everton was well worth having a press conference.
We have just signed a player who will be the best English player in the Prem,a lad who after this season will be among the top players in England.
If that doesn't encourage positive comments I don't know what would
Jimmy Hill
177
Posted 30/07/2014 at 07:18:51
Sorry Kevin Tully it is my real name I suppose I could change it to James if that suits you better. Is Kevin your real name
Ian Hollingworth
178
Posted 30/07/2014 at 07:08:31
I think everyone agrees it is great news signing Ross on an extended contract regardless of your views on what a footballers contract actually means these days
This thread comes down to expectations regarding the clubs ability / desire to make new signings that will improve the team / squad.
Just because some on here are disappointed with the clubs showing so far does not mean they are negative towards Ross signing, far from it I would say.
So you either believe this was a major statement of intent by the club and a message to all that we don't sell our best players
Or
It is an attempt to mask our failings and an attempt to pacify the fans.
We all have our own views on this and unfortunately for me the current boards history does not fill me with optimism that it was the first one,
James hill
179
Posted 30/07/2014 at 07:32:01
There you go go Kevin Tully my real name. Hope that makes feel more comfortable. Unfortunate I know but my name is not unique unlike yours obviously is.
Tony Draper
181
Posted 30/07/2014 at 08:07:58
Ian @ 183
"Just because some on here are disappointed with the clubs showing so far does not mean they are negative towards Ross signing".
Your certainly right about a number of posters here who were expecting "something more" and have said so with comments along the lines of "Good news but not what I was hoping for", so fair comment.
However, what a significant number of posters myself included are rightfully tackling are the serial & perpetual "wet blankets". Those who always post negatively no matter what the issue, no matter how good the news, these curmudgeons will always post yet another negative comment which blindly and deliberately oversteps any & all positive aspects of an issue no matter how significant in order to simply pick fault with the merest detail.
Given that these perfectionists apparently know absolutely everything, how come they are not so immensely wealthy that they have not bought the club in order to run it "perfectly" ?
The reason is simply that they are "armchair trolls".
James Hill
182
Posted 30/07/2014 at 09:07:16
Yes, Tony, you're bang and I have to change my name because I was unfortunate that Jimmy Hill was not a well known name when I was born and named in 1956.
I didn't agree with the moaning multitudes on this site that believe everything the club does is substandard or some kind of conspiracy to line Bill Kenwright's pockets. I for one am glad he is in charge and think he is a saviour of our tradition and in the end we will prevail over the other rich gobshites who will eventually leave our shores and a broken mess behind them.
Paul Andrews
184
Posted 30/07/2014 at 11:55:26
James/Jimmy,
You are in a small minority there
Michael Penley
187
Posted 31/07/2014 at 03:56:10
I was just thinking - how disappointed would you be if you woke up and found out Lukaku was staying put and Ross was moving to Chelsea?
Eric Myles
188
Posted 31/07/2014 at 05:57:15
Jimmy #187, that "saviour of our tradition" put a toy town badge on our shirt and stadium last season.
Darren Hind
189
Posted 31/07/2014 at 06:19:19
True Eric
But credit where it's due. One way or another (I can't make head nor tail of payment details), Kenwright got the manager his main target yesterday.
I've been a long time critic of Kenwright, but I'm having a day off today.
James Hill
190
Posted 31/07/2014 at 06:45:08
Eric, all opinions, my friend. Look at some of the wallies who have picked up ownership of other clubs. How would you feel if he changed the colour of our shirts?
---
Add Your Comments
In order to post a comment, you need to be logged in as a registered user of the site.
Or Sign up as a ToffeeWeb Member — it's free, takes just a few minutes and will allow you to post your comments on articles and Talking Points submissions across the site.
© ToffeeWeb