Naismith's latest gesture is just the ticket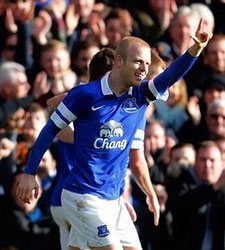 Steven Naismith has bought tickets for Everton home matches to donate to unemployed supporters, the gift he hopes will "bring joy to many people".

The Blues' striker has requested that the tickets be distributed to different job centres around Liverpool and given to selected supporters looking for work.

Naismith, who is already known for his big-hearted assistance at homeless shelters in Glasgow and Liverpool, says that he wants to show his gratitude for his personal position by helping out those less fortunate in those local communities.

"I come from Ayrshire in the West of Scotland and spent a lot of my life in Glasgow," he explains, "a city that, at times, has suffered from high unemployment.

"Liverpool has a similar history and I am aware that, through no fault of their own, there are many unemployed in Liverpool trying hard to find a job and may not be able to afford a ticket.

"Every day I feel very fortunate for the opportunities and lifestyle my job as a footballer has afforded my family and me, and also to be in the position where I can help the community in some small way."



Reader Comments (94)
Note: the following content is not moderated or vetted by the site owners at the time of submission. Comments are the responsibility of the poster. Disclaimer
Mike Hughes
1
Posted 04/08/2014 at 16:05:44
Really great gesture.
Danny Kewley
2
Posted 04/08/2014 at 16:15:48
Nice gesture from a nice feller!
Denis Richardson
3
Posted 04/08/2014 at 16:19:25
Nice gesture, hope the people working at the job centers don't nab them for themselves!
Kevin O'Regan
4
Posted 04/08/2014 at 16:27:33
Steve, this makes me very proud to be a blue, and for you to be a blue. No scandals, no elbowing, no screaming 'I want to play' - just gets on with the job, very effectively and quietly and this kind of gesture is wonderful to see from someone who knows what it means to be grateful. Fantastic bit of news in a football world gone mad.
Jimmy Ho
5
Posted 04/08/2014 at 16:31:15
Great gesture! Thumbs up !
Paul Thompson
6
Posted 04/08/2014 at 16:30:50
Restores a bit of faith in football/ers in an era of overpaid, under-talented mercenaries. Nais has quietly become a fan favourite.
Jim Bennings
7
Posted 04/08/2014 at 16:33:11
I just can't help but love Steven Naismith..
I love his attitude, his work ethic, his Tim Cahill -like ability to nab goals.
And he is a top class fella to go with it.
Kevin Tully
8
Posted 04/08/2014 at 16:36:23
Not the first time Naisy has contributed to the less fortunate in the city. Seems like a really genuine guy. Well in fella!
John Audsley
9
Posted 04/08/2014 at 16:43:39
Great gesture and from the heart. Nais has really improved under Bobby and clearly is a top bloke.
Ged Simpson
10
Posted 04/08/2014 at 16:26:17
Fantastic gesture but I cannot wait to see the criteria the job centre come up with.
Must be willing to spend all day searching for work (including match days)
Must have no illness/disability or live in a house with more than 1 metre of spare space
Must be willing to agree to having benefits reduced by same amount as the face value of ticket
Must publicly admit to being a burden on "hard working" tax payers (and non tax paying rich people) regardless of amount of tax paid before losing job
Must allow The Sun to do story on spending tax payers generous dole money on luxuries...regardless of the truth
Once these criteria have been agreed by DWP, person must accept a tag on right ankle to reassure Cameron and Clegg those up north aren't taking the piss.
But nice gesture Steven.
Craig Hayes
11
Posted 04/08/2014 at 16:43:22
Sheer class, well done Steven. Never commented before but I couldn't keep quiet about this. Brilliant
Derek Williams
12
Posted 04/08/2014 at 16:44:23
Great work Nais - this club has class and dignity in abundance.
Paul Andrews
13
Posted 04/08/2014 at 16:50:14
Ged Simpson
14
Posted 04/08/2014 at 16:47:09
By the way...the charity I work for receives the offer of discounted tickets from the club when game is undersold or away fans are few in number. Aimed at disadvantaged.
Both things give one hope.
(and no...never have used one)
Ged Simpson
15
Posted 04/08/2014 at 16:53:48
Yeah did come across like that Paul but you get my point comrade
Derek Knox
16
Posted 04/08/2014 at 16:54:59
How refreshing it is in these money orientated times, especially in the higher tiers of Football. We have a lad from humble beginnings in life who has made it to the top, but never losing sight of his roots, and not taking for granted, his own standing !
Steven I salute you !
I just hope this may serve as a reminder to his peers at other clubs, that they can create a feel good factor, by a similar gesture !
Like a fellow poster mentioned, that the JobCentre's Draconian Selection Criteria hopefully will not result in either one of two scenarios.
1) We couldn't find a suitable and deserving candidate, so a member of staff had to use the tickets instead !
2) We couldn't find a suitable and deserving candidate, who could prove he was a blue, so we gave it to a Red !
Garry Corgan
17
Posted 04/08/2014 at 17:06:25
Hopefully the next lot will be for the gainfully employed who, perhaps owing to wage-freezes and the ever-rising cost of living, work 40+ hours a week and still can't afford to splash out on a ticket for a match.
Ron Sear
18
Posted 04/08/2014 at 17:05:14
A thoroughly decent chap and some well deserved praise, but I still sometimes think we need a type of player who practices by kicking cute kittens into the net.
Keith Glazzard
19
Posted 04/08/2014 at 17:21:41
No doubt about where his heart is. Have a good season Nais!
Duncan McDine
20
Posted 04/08/2014 at 17:13:50
I love that comment ron... You mean a sewer rat type?
Ajay Gopal
21
Posted 04/08/2014 at 17:39:31
Makes you proud to be a Blue. And a very nicely taken goal yesterday, I may add. It is easy to overlook his not inconsiderable skills as a footballer, but I think he will continue to surprise a lot of fans, like he did last year.
Mike Hughes
22
Posted 04/08/2014 at 17:48:56
The amazing thing about Naismith is that he came with Jelavic but was over-shadowed by him in the first season. Bit of a tortoise and hare scenario with the less-heralded Nais outlasting Jela.
He's a hard-worker and knows how to finish and has been somewhat under-appreciated.
Ray Roche
23
Posted 04/08/2014 at 17:54:16
If you can recall, Nais provided Christmas Dinners for homeless people last Christmas. Decent man.
Brent Stephens
24
Posted 04/08/2014 at 17:56:13
Great stuff, comrade Nais. Get yerself a pair of ragged trousers!
Mark Tanton
25
Posted 04/08/2014 at 17:59:51
He's a top lad and possibly most improved at Everton. Just seen his goal from yesterday - a) Blue nets again!! b) His goal reminded me of the well taken Arsenal goal.
Sue Brown
26
Posted 04/08/2014 at 17:50:40
A great gesture and a genuinely nice guy who hasn't lost sight of his roots. Well done
Jimmy-Ã…ge Sørheim
27
Posted 04/08/2014 at 18:03:46
Mike has a point. Jelavic had scored more goals then Naismith, but in the end it was Naismiths hard work and constant running that made him most of those goals.
I have become to like Naismith as the perfect example of a captain for Everton with his top work rate. He also scores goals pretty regularly and is a bit underrated in my view.
We need more players like him, who can score regularly and put in the hard work no matter what.
A great example for the youngsters.
Paul Smith
28
Posted 04/08/2014 at 18:12:33
Renews my faith in footballers. There not all greedy self serving egotists. As Ross's remarks last week prove. Good to be a blue today; up the Tolpuddle Martyrs!
Richard Farrington
29
Posted 04/08/2014 at 18:27:06
As some of my previous posts will testify I was not Steven Naismith's biggest fan, that's probably an understatement, I couldn't see how he was playing for Everton and I was quite vocal about it. I was wrong. Great gesture, sounds like a great guy too, well in Naisy.
Tony Draper
30
Posted 04/08/2014 at 18:33:22
Well done Nais! Top class.
Unlike many, I've always been a Naismith fan, when he arrived he was still recuperating from a complete 12 months out and was not a regular for Rangers.
He admitted that he does take time to settle in at a new club, and he did so apologetically.
We have not yet seen the very best that he has to offer on the pitch, not by a long shot. But we are beginning to appreciate how important that he can be.
An idea crossed my mind, could we TW'ers not "club together" and make even just a couple of tickets available via Nais' scheme ?
I'll be perfectly open and say, I'm often strapped for cash myself these days, but I'd happily throw in "a few quid" when I can to make sure a fellow blue who is down on their luck gets to the match. A bit of encouragement can do wonders.
Sean Kelly
31
Posted 04/08/2014 at 17:38:16
A really nice gesture from Nessi. It is part of " the right character" that we look for as a club when signing players. No prima donnas wear the blue shirt of Everton and if they tried would be put back in their rightful place.
Throughout this great club of ours this "character" is obvious. Well done Steven.
Matt Traynor
32
Posted 04/08/2014 at 18:54:19
Sean #31, largely agree with the sentiments, but in the past, even the recent past, we've signed our fair share of utter toss pots. Mainly Dutch... (and I don't include Johnny Heitinga - just in case he's reading!)
Shane Corcoran
33
Posted 04/08/2014 at 18:57:27
Lovely gesture. It's one thing just throwing your plentiful money at something but Naismith seems genuinely interested in his many ventures.
As has been mentioned, it goes against the general trend of the multi-millionaire football player.
James Stewart
34
Posted 04/08/2014 at 19:02:24
Naismith seems to be a true gent. Refreshing to see when most footballers these days only seem to care about the latest swag and cars
Chris Lawlor
35
Posted 04/08/2014 at 19:04:24
Lovely gesture by a thoroughly decent guy. Proud that he plays in our colours. I thank the big man he saw fit to make me a Bluenose. There is no better side.
Jamie Barlow
37
Posted 04/08/2014 at 19:17:48
Top man and a favourite of mine. An all round good egg.
Has anyone seen the huuuuge picture of Martinez on Goodison yet?
Mike Jones
38
Posted 04/08/2014 at 19:21:27
Ive not read any comments above...just the story. He does seem like the type of guy you could have a pint with doesn't he. Good lad Steven!
Nick Armitage
39
Posted 04/08/2014 at 19:22:05
I notice that he didn't try to bring any joy to the fans under Moyes, might have sent them over the edge.
The story about him helping the homeless at Christmas along with this one - all around good egg, a rare commodity in today's game which is largely filled will arrogant media seeking whores.
Steven Twine
43
Posted 04/08/2014 at 19:42:38
Never been so proud or happy beening a everton supporter. All of us are in different circumstances but isn't it great to here of a footballer doing something like this for people who would like to forget for a while their problems. Cashley cole and people like that give footballers a bad name so well done Steven Naismith and isn't it great to have evertons name in a good light again. Top 4 certain with rom and defiantly a trophy
Phil Gardner
44
Posted 04/08/2014 at 19:51:14
Nice gesture from a good lad.....either that or his taking his empathy for OFM a bit far, after all, technically, he's eligible for one!
Harold Matthews
45
Posted 04/08/2014 at 20:33:15
Obviously a good man. Well done Naisy lad.
Mike Hughes
46
Posted 04/08/2014 at 20:48:07
Nais is one of us. Class.
(As opposed to Cilla bleeding Black currently on BBC1 Room 101. Placky Scouser. Can't stand the sight or sound of her. Or Edwina Currie come to think of it. Rant over.)
Mike Green
47
Posted 04/08/2014 at 20:40:03
Top man.
Mike Childs
48
Posted 04/08/2014 at 20:40:23
Just made my day to read this. Just goes to prove that in 2010 when I became a fan of real football not only did I choose the right sport to follow I also picked the right team. Way to go Steve.
Hats off to Ron (18) and Phil (44) for their wit.
George Pearson
49
Posted 04/08/2014 at 21:08:25
In a world of footballers like Marlon King, Ravel Morrison an that animal that's just left the RS, this confirms to me that we have in Steven Naismith a complete down-to-earth person and football player! A great ambassador for the People's Club.
Gerry Quinn
50
Posted 04/08/2014 at 21:18:19
Everton in the Community does such a fantastic job for our club, but isn't it also re-assuring, heartwarming and incredible to have Leon Osman donate his Testimonial money to two fabulous charities followed on by Steven Naismith showing such humble and genuine feelings for those less fortunate in life than himself, and not for the first time. Good on you both, guys, we the fans are indeed blessed to have such a lovely club to follow. True love.
Gerry Quinn
51
Posted 04/08/2014 at 21:25:46
This is also a fantastic thought.... by Portsmouth FC..in remembrance, the 1,400 names of those who gave their lives have been woven into their home shirts...
http://www.bbc.com/sport/0/football/28642187
Shane Corcoran
52
Posted 04/08/2014 at 21:29:23
Do you reckon some Liverpool fans will see it as a publicity stunt of sorts like some Blues saw Gerrard's donation earlier in the year?
Paul Andrews
53
Posted 04/08/2014 at 21:29:13
Ged Simpson 15,
I not only got your point, I thoroughly endorsed it.
Kevin Tully
54
Posted 04/08/2014 at 21:46:57
Shane # 52 - regarding the other lot, they have been showing up all over the States wherever disaster has struck. Quite shamelessly, they have been planting 'You'll Never Walk Alone' memorabilia and Liverpool scarves at Ground Zero, and the site of the Boston Bombings. Dalglish, Rush and Rodgers are like a gang of ghouls haunting America.
A clearly orchestrated PR stunt by their American owners. Sickening.
Mike Hughes
55
Posted 04/08/2014 at 21:51:32
Shane #52
Who cares what they think?
(Stevie Me - while I loathe the scumbag, he's given me enjoyment for years to come with his 'don't let this slip' speech followed by subsequent slip against Chelsea. Then there was the CP game and the World Cup.)
Just to stay on topic, Nais you are a top man!

Kev Johnson
56
Posted 04/08/2014 at 21:51:24
Good on you, Naismith. Spread the love.

Patrick Murphy
57
Posted 04/08/2014 at 22:01:47
To compare Naismith's generous gesture to the shameless way that Stevie Me and LFC always use the J96 prior to the Anfield derby or indeed any important match that they play is pretty poor but shame on Everton FC and its supporters for occupying the moral high ground because it should always consider how our neighbour's fans will see things - not!

Shane Corcoran
58
Posted 04/08/2014 at 22:13:41
Mike, I don't really care. I thought both gestures were genuine.
Some didn't and it was just a thought that sprung to mind.
Some Blues thought Gerrard's was a stunt which I thought was very unfair.
Mike Hughes
59
Posted 04/08/2014 at 22:26:01
Shane
You're probably a nicer bloke than I am!
I can't see anything from a red perspective.
I just see manipulation and spin in everything they do.
Shane Corcoran
60
Posted 04/08/2014 at 22:38:52
I'm a right prick Mike but I do have a tendency to play Devil's Advocate. I think it's best to at least try to see the other side. I'm sure I fall down similarly elsewhere in life. Not seeing LFC's point of view isn't the worst thing to be blinkered on.
Mike Hughes
61
Posted 04/08/2014 at 22:48:34
Blinkered or not, we're all agreed on Naismith being a top bloke.
I'm going to check the odds on him getting into double figures next season.
Odds for Top Prem Goalscorer:
Lukaku 20/1 - worth a tenner.
Kone 80/1 (!!!!!!)
Naismith not listed.
Paul Smith
62
Posted 04/08/2014 at 23:09:07
Gerry #51 I live opposite Fratton
Paul Smith
63
Posted 04/08/2014 at 23:11:22
Oops too hasty. As I was saying, I live opposite Fratton park & the Pompey supporters fund were able to make that lovely gesture happen. They had been trying for years to no avail. Just proves the power of people ownership.
Andrew Hawes
64
Posted 04/08/2014 at 23:21:00
Mike #61 :Naismith to get Double figures for next season?
He's scored 4 Premiership goals to date in his illustrious Everton career, so good luck with that bet!!
Sorry he's obviously a nice bloke and " always puts a shift in" But he's not and never will be the standard required for a side evidently going for a Champions League spot.
Chad Schofield
65
Posted 04/08/2014 at 23:35:16
Wow, what a fantastic gesture... Brilliant thing to do and give people who need a bit of a lift some help without coming across holier than thou.
John Daley
66
Posted 05/08/2014 at 00:01:44
"Cilla bleeding Black currently on BBC1 Room 101. Placky Scouser"
Jesus. Is she still alive?
There's no justice in the world when someone with teeth so big has still failed to bite her own fucking tongue off.
Must look like a morticians masterpiece these days.
Ant Dwyer
67
Posted 05/08/2014 at 03:55:01
Nice to see some players remain grounded!!!
Brilliant, Stevie.
Geoff Harrison
68
Posted 05/08/2014 at 07:07:17
A good heart and a 'Braveheart'. Outstanding, Steven.
Ciaran Duff
69
Posted 05/08/2014 at 09:28:21
Shane, I don't think that you are the only one who might wonder whether some people do some charity for PR purposes.
In the case of Naismith, it seems very genuine. It is noticeable that he has been doing charity work for a long time and not only locally but back in Glasgow. Good on him. Seems a top bloke.
Andy Meighan
70
Posted 05/08/2014 at 10:47:37
What a lad. And not the first time he's done something like this. Won every sceptic over with his performances last season and this latest gesture just proves what a smashing lad he is. Top notch, Nais!
Ian Burns
71
Posted 05/08/2014 at 10:54:53
Just had to add my comment and say wonderful gesture Nais and I mirror the thoughts of my fellow posters. Take a bow young man.
Also Tony Draper (#30) – nice post,Tony.
Mark Andersson
73
Posted 05/08/2014 at 14:46:48
John Daley worra laugh you gave me. Cilia is as overtated as some Premier League players
Rick Tarleton
74
Posted 05/08/2014 at 15:32:03
A great gift and one that shows a footballer aware of the social reality. Well Done, Steven Naismith.
Frank Key
75
Posted 05/08/2014 at 16:17:49
I wonder if Moyesy is in line for a ticket? Fair play to Naisy for remembering him when the football world seems to have forgotten.
Paul Andrews
76
Posted 05/08/2014 at 16:28:45
Frank Key,
Hahahaha,a corker my friend.
Colin Glassar
77
Posted 05/08/2014 at 16:40:39
It's been reported he's been seen in a job centre in Preston.
Eugene Ruane
78
Posted 05/08/2014 at 16:37:42
John Daley - "Jesus. Is she still alive?"
Oh yes.
A mate of mine (a mad blue) recently worked on a TV film of her life (he was painting sets and..stuff).
It 'stars' Sheridan Smith (is that her name?) and is, if I remember rightly, out/on in November.
After it was over ('That's a wrap love!') my mate filled his boots with enough discarded timber to build a massive big shed in his back garden.
Eugene Ruane
79
Posted 05/08/2014 at 16:47:36
By the way, great stuff by Mr Naismith.
Colin Glassar
80
Posted 05/08/2014 at 16:50:45
Why yous getting on the back of our Cilla? I saw a programme last night of 60's music and it's true, she was rubbish then and she's still rubbish. Same as Ken Dodd and that bloody jimmy tarbuck.
Paul Andrews
81
Posted 05/08/2014 at 16:58:06
Cills is alive and thriving chuck.(She is the only scouser I have ever heard use that phrase)
She looks like a fuckin chipmunk,with the same skin condition as a wrinkled ballbag.
Her maroon 'airdo sets it off.
Christopher Wallace
82
Posted 05/08/2014 at 18:26:26
Andrew 64
Strange opinion, considering Naisy probably has more Champions League experience than any other player at Everton.
I watched every game he played in the CL and, for the most part, he played very well. Great player to have around the first team and he certainly has a lot still to offer.
Paul Livesey
83
Posted 05/08/2014 at 18:25:40
I too echo everyone's comments and particularly Gerry #50. well done Steven Naismith. I too think he will hit double figures this season (in all competitions mind). He's becoming a great little finisher. Having worked at Claire House I can wholeheartedly say what amazing work they do supporting families across the North West and North Wales. How fantastic for Leon to support them.
Tony #30, I like what you are saying and more than happy to contribute a 'few quid' to help a fellow blue get to the match. Having just got my season ticket back after saving for a house, wedding, then changing career and going back to uni, I can testify what a lift going to the match can give you in hard financial times.
Proud to be blue.

James Hill
84
Posted 06/08/2014 at 08:27:21
That's why EFC are class and as much as we need investment we need to be wary of changing our values and the character of this fabulous club of ours.
We now have Roberto , good things come to those wait our time is coming. COYB
Shane Corcoran
85
Posted 06/08/2014 at 09:36:11
On the topic of people being nice, hats off to whoever was involved in this, red or blue.
Link
Patrick Murphy
86
Posted 06/08/2014 at 10:10:26
Shane - nice story but I wonder if you have thought about being Liverpool's public relations officer for Ireland you certainly like to point out when they are doing something good or when we Evertonians are over-stepping the mark when berating them or making claims that would upset their wonderful supporters. Keep up the good work.

Shane Corcoran
87
Posted 06/08/2014 at 10:19:12
Patrick, I came across this story purely by coincidence.
This story doesn't mention that the people from Liverpool that were involved were LFC fans at all, just that the Irish guy was.
Let's just keep posting our respective views. I enjoy counter-arguments. If people believe strongly enough in their views and actions then I'll be very quickly put in my box. If their views are mindless "I hate LFC fans regardless of what they do and everything they do is wrong" well then people can make up their own minds on such things.
Neil Bowman
88
Posted 06/08/2014 at 12:28:22
What a nais gesture. Nais is ace!
Conor Waters
89
Posted 06/08/2014 at 15:09:29
Looks like the 'blues' north of the border are not so impressed with Nais and his recent offering. So much bitterness and hatred. This link is not for the faint hearted...
http://forum.rangersmedia.co.uk/index.php?showtopic=272116&st=0%22%20title=%22Previous%20page%22%20rel=
Shane Corcoran
90
Posted 06/08/2014 at 15:28:50
Fuck me Conor, I thought I liked to highlight an alternative side to things. Now lets all leave out anything about it bring Rangers, sectarianism or Mickey Mouse league etc and think what would TW posters think if they were in the Rangers' boys shoes.
Paul Thompson
91
Posted 06/08/2014 at 15:32:05
Indeed Conor. I particularly enjoyed 'Back stabbing bastard , as for everton , they can go fuck themselves big style'.
Conor Waters
92
Posted 06/08/2014 at 16:00:00
Shane - their major gripe (*PG wording) is related to the fact that Naismith claim upon his arrival from Kilmarnock, that he was a boyhood Gers fan. Essentially this was his dream move to Ibrox. But when the club was dismantled following their attrocious running of the club into the ground by the likes of Green and Murray, he claimed not responsibility to the 'Newco' Rangers.
He, along with a number of other players basically were facing an immediate paycut and serious jolt to their finances. Only a handful of 'loyal' players hung around. Of course the fans were upset by the sudden backtracking by these group of 'traitors', but the venom used on that forum is nothing short of disgusting.
Shane Corcoran
93
Posted 06/08/2014 at 16:09:24
Conor I understand that's what their gripe is; I actually read through all seven pages to get the full view and I agree that it's way way over the top. I just wondered if it was our club would people feel the same. I also wonder if they have a point about the publicity his generous act as attracted. Could it not have been done quietly?
Patrick Murphy
94
Posted 06/08/2014 at 16:10:00
That's fine Shane - I don't want TW to become a hate fest about the other lot but neither do I want to read endless posts about their exploits either, good or bad, there is enough of that in the mainstream media and apart from their geographical proximity I have little or no interest in them or their fans except of course when the Mighty Blues are playing them.
Shane Corcoran
95
Posted 06/08/2014 at 16:14:02
Indeed Patrick, but Gerrard's gesture was criticised by some (just a few) and this was the a good place to highlight it. It could have been another club's player but it happened to be Liverpool.
For the record, I hope LFC are relegated with zero points and that I do myself an injury laughing at the event, just so my position is clear.
Patrick Murphy
96
Posted 06/08/2014 at 16:29:13
Shane - I never doubted that for one moment fellah! That would be one hell of a summer especially if we ended that said season as Champions - A long held dream that one day some lucky Evertonians will see but I fear not in my lifetime unfortunately.
Brian Hill
97
Posted 06/08/2014 at 16:26:21
Shane, I share your desire to see LFC relegated with zero points, but, for the record, should it ever happen, it would not be their fault.
Tony J Williams
98
Posted 06/08/2014 at 17:13:12
It will be a Chelsea fans fault Brian.....
Geoff Evans
99
Posted 09/08/2014 at 09:49:47
Class!
---
Add Your Comments
In order to post a comment, you need to be logged in as a registered user of the site.
Or Sign up as a ToffeeWeb Member — it's free, takes just a few minutes and will allow you to post your comments on articles and Talking Points submissions across the site.
© ToffeeWeb