Coleman's preparations disrupted by hamstring injury
Irishman out of the rest of pre-season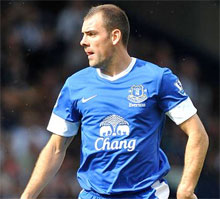 Darron Gibson will also miss the Celta Vigo friendly but should play against SC Paderborn

Seamus Coleman is an early doubt for the season opener against Leicester City in 11 days' time after Roberto Martinez revealed that he will play no part in either of the team's two remaining pre-season fixtures against Celta Vigo and SC Paderborn.

The Irish defender tweaked a hamstring in the warm-up match against Tranmere Rovers two weeks ago and neither he nor Luke Garbutt, who has a similarly minor groin complaint, will be risked further before the campaign kicks off as they continue their recoveries.

While Coleman's injury could have cleared up by the time the Blues kick off the 2014-15 campaign at the King Power Stadium on 16th August, his lack of full pre-season preparation would make him an unlikely starter in that match. Martinez may elect to keep him in reserve until the visit of Arsenal the following weekend.

The manager recently revealed that Romelu Lukaku will also be rested for the last two friendlies but is expected to start against the Foxes, with Martinez unfazed by the Belgian's lack of action since the World Cup.

The likes of Ross Barkley and Muhamed Besic, who also had extended breaks following their own involvement in Brazil, could both start against Celta Vigo at Prenton Park tomorrow evening, however. Martinez is keen to see if both players can complete 90 minutes in an effort to build their fitness back up to peak levels.

Darron Gibson, meanwhile, is likely to miss tomorrow's game and play against Paderborn next Saturday instead.

"With Darron Gibson it's very much a case of giving him the right amount of work from now until the start of the season," Martinez says on evertonfc.com.

"If he's not involved against Celta Vigo, he'll be involved against Paderborn at the weekend, so it's not a real issue.

"Seamus Coleman and Luke Garbutt are different. They are recovering from soft tissue problems and I wouldn't expect either of them to be fit for the next two games."



Reader Comments (129)
Note: the following content is not moderated or vetted by the site owners at the time of submission. Comments are the responsibility of the poster. Disclaimer
Scott Bosworth
1
Posted 05/08/2014 at 16:31:42
The best part about this new season is that it already looks like last season!
Tony J Williams
2
Posted 05/08/2014 at 16:35:34
Hibbert to start then....not a bad replacement, defensive wise
Colin Glassar
3
Posted 05/08/2014 at 16:38:00
Poor gibbo, already he needs to be rested. Seamus is a tough lad and I wouldn't be surprised if he starts against Leicester.
Scott Goin
4
Posted 05/08/2014 at 16:28:58
Yikes. I hate hamstring injuries. They always take a long time to heal and tend to flare up again if the player tries to speed up his recovery.
A "tweak" sounds like a Grade 1 strain. If so, he may only have to rest it for a week or two. Hopefully it's not worse.
I'm assuming Stones would start at right back if Coleman is out. Not sure where Hibbo sits on the depth chart.
Patrick Murphy
5
Posted 05/08/2014 at 16:40:07
RM may also go for a back three with five in midfield but we will miss Seamus at both ends of the pitch.
Tony J Williams
7
Posted 05/08/2014 at 16:50:58
Might be three at the back but I would certainly play Hibbo before Stones at right back.
Stones looked awful there last season before moving inside and blossoming
Denis Richardson
8
Posted 05/08/2014 at 16:47:58
Geez - I missed the 'pre' bit in the title of the OP and thought FOOK!!
Then re read it and managed to calm down again - still not great but a lot better than I originally (incorrectly) thought!
Get well soon Seamus - more respobsibilty on KM down the right to produce something. Hibbo might actually get a game!
Tony Draper
9
Posted 05/08/2014 at 17:02:17
Scott @ 4
Completely agree about hamstring injuries, over caution seems to be the right way to go IMHO.
This is a warning signal for us though. As positive and realistic as I am about the upcoming campaigns, we really all need to factor in having less than a full squad to select from, because that just never happens.
Seamus was a great performer last season so let's hope that he takes his time and returns free from repeat injury.
Phil Walling
11
Posted 05/08/2014 at 17:09:30
Something wrong with a training regime that sees so many players out of action before we've played a game.
Too tough.....or too soft?
Phil Walling
12
Posted 05/08/2014 at 17:12:10
Guess we'll kick off the season with Stones at right-back and Hibbo on the left !
Brent Stephens
13
Posted 05/08/2014 at 17:20:13
Phil, sounds a bit bollocky to me. Who else are you counting as being among the "so many out"?
Derek Knox
15
Posted 05/08/2014 at 17:34:57
Phil # 11 & 12
Look on the bright side Phil, if we really get stuck, we can always negotiate with Wigan, to see if they have any more ' gems ' ! Simples :-)
Patrick Murphy
16
Posted 05/08/2014 at 17:34:56
What an absolute silly and stupid thing to say Phil!
We notice the absent players more because we have a small squad and an even smaller pool of first-team players and because we are Blues we notice it more because we are interested in all things Everton.
I have no idea how many players of other Premier League teams will miss the start of the season but there are bound to be a few. I don't know whether you believe most of what you write Phil or just like to see a reaction but on the whole that old maxim - if you can't say anything good say nothing at all is probably a useful one to bear in mind.

Phil Walling
19
Posted 05/08/2014 at 17:41:42
Why have we still got a small squad, Patrick ?
Wasn't this window supposed to see the end of that excuse?
What about all these young stars just queuing up to be selected?
Pablo Connelly
20
Posted 05/08/2014 at 17:51:54
Didnt Besic play in defence in Hungary? Looks to small to have been a centre half, surely he is the best option given our depth in midfield
Eric Myles
22
Posted 05/08/2014 at 17:49:48
Phil #12, maybe not too far off regards Hibbo, second half in Bangkok he played left wing in the forward Baines position with 3 centre backs.
Paul Thompson
23
Posted 05/08/2014 at 17:54:30
Defensively not worried - Hibbert is good cover. But without Coleman our attacking threat is blunted down the right flank.
Dan Brierley
25
Posted 05/08/2014 at 17:51:33
Whilst it might be unfair to suggest the training could be causing injury, I certainly don't think it is unfair to ask why we don't seem to be at the races this pre-season.
Yes, it would be easy to say 'its only pre-season', but anybody who hasn't recognised Van Gaal's 'win every game' mentality would in my opinion be a bit foolish. Anybody who has played football at any level, knows that you go and have a look at the results of your opposition before you play them, whether it be friendly or whatever. And I am quite sure that before a ball is even kicked in anger, Leicester will be feeling a lot more comfortable than Swansea going into their first match.
Ultimately all that matters is what happens on that first day, but going into the game full of confidence in your own level and those around you cannot be a bad thing. Lets hope we can step it up during the next two games and give ourselves a confidence boost, and the Leicester players something to think about. I think having Lukaku leading the line will be a good boost just by itself.
Patrick Murphy
26
Posted 05/08/2014 at 17:50:21
Come on Phil we all know that the squad is not as strong as we would like it to be and that hasn't suddenly changed since Roberto took over the same problems beset the club today that have existed for 15 years.
The young stars if they come through will be a bonus and we can't rely on them over long stretches of the season. Perhaps Roberto is more careful with soft-tissue injuries than some other managers due to his knowledge of those type of injuries from his physiotherapy training or perhaps he knows he can't play fast and loose with important members of the first-team squad.
I am not as bullish about the coming season as I ought to be, more due to our lack of dynamism in attack not because I believe that Roberto has the wrong training methods in force or because he has taken his eye off the ball.
If the buying has come to an end for this window I also believe that the board has failed another manager as the drip payment terms for Lukaku doesn't really represent the necessary investment that an Everton FC manager requires to take the club to where it wants to be.
Anyway whatever the starting 11 in a couple of weeks time we shall see and by the close of the transfer window we will have a better idea of what sort of season we may be in for.
I just hope that we put a few points on the board early doors because I won't be able to visit TW as regularly, if we don't, mostly due to the few who will fill the boards with total negativity at the first sign of problems and who forget that we are still a club that finds it difficult to provide 'real' money for the manager.

Derek Turner
27
Posted 05/08/2014 at 17:41:29
Oh Phil, what would we do without you. I love TW, we are a broad family. Or so my councilor tells me. COYB. Lukaku, on the permanent! Besic. Roberto. Big Dunc on the team! I love this.
Drew Shortis
29
Posted 05/08/2014 at 18:26:01
Off topic but I have just seen Sunderland have signed Jack Rodwell for (allegedly) 㾶m and Everton are due ٠m as part of a sell on clause! The deal we got for Rodders keeps on getting better and better! Perhaps we can put this money towards a winger.
Brian Cleveland
30
Posted 05/08/2014 at 18:24:43
I haven't counted them... but didn't we have a lot of hamstring injuries last season? And now cropping up again pre-season.... just bad luck?
I guess the training staff will be more aware than us and checking to see if there is any correlation....
And with regards to pre-season, whilst it doesn't count for any points I tend to lean towards agreement with Dan (25).... we haven't won a pre-season game yet, and it is not only about fitness, there is the mental approach too... so far we don't seem to anything close to ready, either physically or mentally... hope we can pick it up soon.
...and no, this is not panicking, looking forward to seeing if we can maintain at least the level of last season and even go one better.
Ross Edwards
31
Posted 05/08/2014 at 18:38:19
I'm sure Coleman will be back in time for Leicester, but I'm intrigued about Phil's claim of "so many out" during our pre-season. As far as I'm aware Coleman is the only casualty at the moment.
Andrew Hawes
32
Posted 05/08/2014 at 18:32:49
Let's face it, Hibbert is no longer anywhere near a replacement for Coleman. Seamus is probably one of the best wing backs in the business who scores goals and as important to us offensively as he is defensively.
Will Leicester's right back be quaking in his boots with the prospect of Tony Hibbert? Suppose having the defensive side covered is a plus but not what we want in our opening game.
Phil Walling
33
Posted 05/08/2014 at 18:36:17
Brian.... and others, I have written a full condemnation of our non preparedness for the coming season on the Porto thread so wont repeat my reasons for believing our team will go into the Leicester game seriously 'undercooked'.
OK , so I do seem to see the negative side of things but how the hell is a team - and its supporters - supposed to get into positive mode with such a dysfunctional preparation. For crissake, some of our players haven't got back to action until this week .....I bloody ask you !
Please don't hammer me with all the 'you hate Bobby' shite because I don't. I just think he's acting too half soaked for his - and our - good !
Ray Robinson
34
Posted 05/08/2014 at 19:05:49
Phil, I agree with you. I don't want to sound negative but, frankly, the pre-season arrangements have appeared amateurish. I really do hope I'm wrong, I really do.
Denis Richardson
35
Posted 05/08/2014 at 19:02:19
Phil - understand where you're coming from but I do feel that this thread has gone a bit OTT. At the end of the day Seamus has a minor injury that can easily turn into a major one and RM is not taking any risks. Am happy to have him sit out if it means he's back ready to go a week or two later, as opposed to being rushed back and be out for about 2 months.
Not the greatest news but not the end of the world either - our team should still (hopefully) be good enough to get a result against Leicester. Hibbo can cover and we need to stop overly relying on Seamus and Bainsey on the attacking front - the AMs need to step up.
As for being under prepared in pre season, we still have a couple of friendlies and a week and half before the big KO.
Lets bash preseason once we've played the first couple of games....
Karl Jones
36
Posted 05/08/2014 at 19:16:01
And what's happened to Kone? Haven't heard a thing about him for weeks.
Eric Myles
37
Posted 05/08/2014 at 19:19:21
Eid has just finished Karl, he'll be back to normal in no time.
Trevor Lynes
38
Posted 05/08/2014 at 19:34:03
I reckon the pre-season has been poor! The only win we have had was against Wrexham.Every team plays a variety of players but they still want to win games.
I have not seen much promise from any of our youngsters apart from Garbutt.
Phil Walling
39
Posted 05/08/2014 at 19:34:55
Don't pin all your hopes on Arouna Kone ! He is an accomplished goalscorer with a very chequered history.Just go to Wikapedia for the full, sad story !
Ray Roche
40
Posted 05/08/2014 at 19:26:54
I must admit that I'm another one who thinks our pre-season is poor. In my opinion we have lacked games against quality opposition and we are behind the other top 5-6 sides in our preparation. Like it or not, the RS , Utd etc. have been playing against top class opposition with all or most of their World Cup players back. I can see us getting stuffed at Leicester. And if the likes of Kone aren't up to it, get shut. He has yet to do anything in an Everton shirt and but no doubt he'll be fit enough for the AFCON in the New Year.
Kevin Tully
41
Posted 05/08/2014 at 19:24:14
I suppose we don't know what instructions the players are sent on the pitch with during pre-season.
Is it 'make sure you don't get injured, but get plenty of sprinting / running in.' With such a small squad, maybe they are under instruction to keep away from serious challenges, running too hard etc.
As a qualified physio, you would have thought Bobby knows more than most regarding pre-season conditioning. We'll soon see if this relatively relaxed approach pays off.
Got to agree, we haven't looked as sharp as you would like, but as stated above, they may be under instruction to take it easy at this point.
Darren Hind
42
Posted 05/08/2014 at 19:25:18
Hibbo will not let anybody down
but it has to be said that our pre season so far, has been shambolic. its been embarressing watching us cobble together a handful of Matches at the last minute.
If Roberto has his boys ready, everyone will slap him on the back. . . .But if we blow our CL hopes in the first few games because the team isn't ready, there will be hell to pay.
Thems the stakes when you manage at the top
Anthony Flack
43
Posted 05/08/2014 at 19:34:23
The club seems damned re preseason no matter what it does, I do not recall much praise for the set up under Moyes, not sure what seems so wrong with what is occurring this season.
Phil Walling
44
Posted 05/08/2014 at 19:50:59
Kevin, what's with this 'small squad' shite? Including only Garbutt, Duffy and McAlney - all over 21-from the Academy section on TW - we have 27 mature professionals.
The Regulations allow us 25. How many players do you want the Club to sign before we have a full roster ?
Dean Adams
45
Posted 05/08/2014 at 19:55:20
I could not care less who we play in pre-season, just as long as we win the Europa League, FA Cup and the League Cup. If we finish 7th, I will not be unhappy as we will have qualified for Champions League and got silverware. Pre-season games mean absolutely nothing.
Wayne Smyth
46
Posted 05/08/2014 at 19:50:12
Pre-season is not about winning, its about preparation for the season....and not the first few games either, but the entire season which lasts till next May. Anyone going to be worried about losing to Leicester in Thailand come May 2015? Thought not.
If we look out of shape and we're not sharp in our first few matches you can criticise the manager by saying our pre-season was insufficient.
On the other hand, Martinez could be calculating that to give the World Cup guys a few extra weeks and taking it relatively easy at this time, might earn us points in April and May when everyone else is flagging after playing so much football in the last 18 months without a rest.
I bet half the people moaning about our pre-season here were moaning last week that we didn't have a striker, wouldn't be getting a striker and were being out-spent by [insert name of shit team].... again.
Martinez hasn't let us down yet, so let's have a bit of faith.

Kevin Tully
47
Posted 05/08/2014 at 19:58:45
Easy big Phil - I thought we were starting with same numbers as last season? Won't be long before half a dozen are in the treatment room.
Ray Robinson
48
Posted 05/08/2014 at 20:07:58
Pre-season is not about results although winning does breed confidence. It's about a) match fitness b) mental readiness. You can get the former playing against workman-like sides but the latter only usually comes by playing quality opposition who shift the ball around quickly.
I'm convinced that we're undercooked in the second category. Sorry, but the likes of Man Utd, Liverpool, City, Arsenal will hit the deck running. I sincerely hope we do too.
Phil Walling
49
Posted 05/08/2014 at 20:13:19
But you can only register 25, Kev. And you can't replace them because they get injured. So the usual 'sicknotes' have to be included the numbers.
Kevin Tully
50
Posted 05/08/2014 at 20:22:31
Can't see Kone, Alcaraz, Gibson or Pienaar making it through the first month. Distin will find it difficult at his age if he gets a knock, and Hibbo is coming back from a very serious injury. Hope we've got plenty of magic sponges ready!
Mike Oates
51
Posted 05/08/2014 at 20:17:35
To me we have too many things not right, only nightly things but with Coleman, Gibson, Kone, Oviedo, Garbutt all out already, and Lukaku won't be playing in any pre-season games nor likely Mirallas.
Why have we let some of our top players come back so late, Chelsea's, Utd's, Liverpool's all returned early and have ready got 4-5 games under their belt , our top lads 2 at most . Roberto might be right and the rest wrong but I feel distinctly underwhelmed this pre-season.
James Richard
52
Posted 05/08/2014 at 20:37:46
Can't say seeing Hibbert at RB fills me with glee. Coleman offers so much going forward. Hibbert offers next to nothing. Fingers crossed he's back for arsenal.
Darren Hind
53
Posted 05/08/2014 at 20:24:06
I think we are a better team than Porto, but we looked light years behind them in terms of preparation.
less than a fortnight to go. Is that enough time ? I don't know. the game is played at such break neck pace these days
Perhaps somebody who has studied or works in this field can give us the benefit of his / her experince
James Flynn
54
Posted 05/08/2014 at 20:51:04
The top 7 teams are going to have a tough row to hoe this season, the other 6 just as much as our lads. If Roberto sees a nice-and-easy pre-season schedule as the best way to have the team ready to go when real games are played, that's fine by me.
Sean Kelly
55
Posted 05/08/2014 at 20:46:27
Mike #51 of the first five names you mentioned only Coleman was a regular first team player last season. You have to be realistic about players' ability to perform at a high level throughout the season. The season is a marathon not a hundred yard sprint in August.
It's not just Roberto who says whether a player is ok it's the whole back room medical team. They will know the condition all our player are in. Have faith brother and fuck the rs and the Man U"s of this world. Even monster head at Man U won't risk van persie for the first few games so why shud we be different. He's looking at the big picture to have van persie fit for most of the season after the World Cup.
Roberto also said he may do a behind closed doors match to help get players match fit. Trust him and his medical team, for God's sake.
Phil Walling
56
Posted 05/08/2014 at 21:07:34
The proof of the pudding.......... but I hope we don't see the first few matches discounted as warm ups. Points early season are just as precious as those we play for in April.
Those of us who express concerns should not be dismissed as moaners because we voice our fears. TW is a discussion board, after all.
Paul Andrews
57
Posted 05/08/2014 at 21:15:12
One thing we can be 100% certain of.
Roberto will know how to prepare a football team better than the negative posting doubters on here.
Wait until the season is started before passing judgements on his methods.
Phil Walling
58
Posted 05/08/2014 at 21:18:54
Sorry we spoke, Paul.
The spirit of Dodd lives on – another manager beyond any comment or criticism.
Paul Andrews
59
Posted 05/08/2014 at 21:35:04
What are your criticisms of Martinez, Phil?
Be specific, please.
Dan Brierley
60
Posted 05/08/2014 at 21:34:26
I just wonder if we would still see the "It's only pre-season, just for fitness, doesn't mean anything, nothing to read into, can't be judged" posts if we had won every pre-season game up to now 4-0?
Andy Crooks
61
Posted 05/08/2014 at 21:36:27
Paul, I don't often agree with Phil Walling but surely expressing concern at what has been a, so far, disappointing pre-season is fair enough. Also, I think Dan Brierly makes a fair point. I 'd like us to be starting the season brimming with confidence with a winning mentality.
James Stewart
63
Posted 05/08/2014 at 21:51:52
Hibbert is not at all good cover. Likeable guy, yes, but barely Premier League standard, let alone for a side with top 4 aspirations. Stones will move to right back for Leicester should Coleman be unfit. Hibbert will only be used against weak cup opposition.
Kev Johnson
64
Posted 05/08/2014 at 21:46:36
'Expressing concern' (ie, moaning) is all Phil Walling ever does. Woe, woe and thrice times woe! Perhaps he would be taken more seriously – or given more leeway with his negativity – if he threw in the odd constructive or, even better, upbeat post. Otherwise, it's all a bit of a downer – which is perverse, given the fact that (despite a dodgy pre-season) we have good reason to be cheerful about the coming season.
Dominic Tonge
65
Posted 05/08/2014 at 21:46:07
I think if you agree with Phil or not, his concerns are still valid. I am more worried about the second game in than the first. I think that' if Coleman's injury is as described, and he felt a tweak then rest him, get him right. Of late though' the injuries suffered by our boys have tended to take a little longer than first thought to fix.
Darren Hind
66
Posted 05/08/2014 at 21:46:15
I don't know why those who arent prepared to deny the evidence of their own eyes are called Moaners or negative.
Does anybody seriously believe Martinez himself wouldnt have been a little concerned at how far ahead of us Porto are right now
Maybe not, he's only back for a little over a fortnight himself, Maybe he's trying to ensure that nobody leaves their best work in the gym
Kevin Tully
67
Posted 05/08/2014 at 21:58:27
Regardless of pre-season preparations, you would think all the players who went to the World Cup won't need much in the way of fitness training. Barkley, Baines, Jagielka, Stones, Mirallas, Besic and Lukaku should all be in prime condition.
I think we're over-analysing our pre-season performances to be honest. You would obviously want us to win all our pre-season games convincingly given the choice, but I doubt the players or the manager will be thinking about any of these games come the 16th.
Brent Stephens
68
Posted 05/08/2014 at 22:09:32
Aye, Kevin, Roberto said as much about Lukaku - "the period he has had is long enough for him to refresh but not long enough for him to detrain". He knows more than I do, so aint gonna argue.
Patrick Murphy
70
Posted 05/08/2014 at 22:12:20
I don't suppose many of the posters on this thread commissioned the huge mural of Roberto on the side of Goodison Park – I wonder how long it will remain there?
Whilst I like Roberto, I do think it's a little too soon for that sort of treatment and would have preferred a collage of Everton greats past and present rather than a single person representing the club albeit an amiable and knowledgeable person.

Kev Johnson
71
Posted 05/08/2014 at 22:15:13
What does "detrain" mean, Brent? Is it a bit like debriefing? Or it it a kind of new-fangled anti-training?
Colin Glassar
72
Posted 05/08/2014 at 22:19:07
I agree Patrick. It's like one of those North Korean leaders.
Raymond Fox
73
Posted 05/08/2014 at 21:55:08
So if we make a disappointing start to the season, its going to be the manager's fault because they are not in 'peak condition'.
Leaving aside we play Arsenal (h), Chelsea (h), Liverpool (a), Man Utd (a), and Leicester (a) in their 1st home game back in the Prem, with their supporters baying for blood, so that going to be easy! And they are among our first 7 games.
Comfy start isn't it.
God help Martinez, when he does get things glaringly wrong.
Dan Brierley
74
Posted 05/08/2014 at 22:11:42
You are right about fitness Kev, I would agree that all the players are 'fit' enough to in terms of physical stamina with exception to those who have been injured. The question is more about if they are 'match fit', which is more about how sharp they are in terms of reactions, awareness and most importantly, playing together in a competitive environment. None of the world cup boys have kicked a ball in anger in over a month, which seems a long time considering the opening game of the season just 10 days away now.
It might sound picky highlighting this, but at the end of the day we just want whats best for the team. Nobody is saying that the manager does not, but as fans we have the right to question things about how our club is managed. We have a really tough set of fixtures all the way up to Christmas, so a good start is going to be critical in putting a challenge in for a CL place. Roberto has spent more than 㿞 million since taking over, without having to sell a single player that he did not see as part of his future plans so we should be optimistic and have high expectations.
James Flynn
75
Posted 05/08/2014 at 22:30:24
What Raymond said.
Better we're ready for the start of the season, rather than "look" ready during practice games. Players, especially a veteran crew as our lads, don't give a shit about pre-season "games". They save it for when the bell rings.
Coleman and Garbutt healed and no other injuries. THAT'S a successful pre-season.
Darren Hind
76
Posted 05/08/2014 at 22:21:58
If the players of any team are not in "peak condition" it is definitely the manager's fault. That's part of his job, isn't it? Or perhaps the tea ladies should be held responsible...
Drew Shortis
77
Posted 05/08/2014 at 22:32:04
We still have two more pre-season matches to go. Of course it would be great to watch us in full flow banging in loads of goals, but as long as the team is ready for Leicester then I will be happy. After all, who really remembers the pre-season, it is all about getting prepared for the real show. Hopefully the next two matches will see us up to speed for the big kick-off!
Kevin Tully
78
Posted 05/08/2014 at 22:36:03
I'm hoping for 5-7 points from our first three fixtures. Three tough games, and the first may prove to be the hardest of them all. Hate playing promoted sides early in the season, they seem to run their socks off those first few games back in the P.L.
If we could guarantee that return, I would take it now.
Denis Richardson
79
Posted 05/08/2014 at 22:32:40
Dan - am pretty sure players only get match fit and sharpness after playing 3-4 competitive games. The pre season friendlies help to get there but they're never enough. Players only get there through playing in intensive competitive matches - so none of the players for any team will be truly match fit /mach sharp come the 16th.
Am more worried that Colemans injury doesn't get bad as opposed to whether our players will be ready for the 16th. They'll be just as ready as Leicesters' players.
Paul Andrews
80
Posted 05/08/2014 at 22:51:52
So that's set in stone then. The lads won't be ready for our first game of the season. The training schedule has been handled wrongly by the manager, or indeed the cafeteria employees.
Some bollox spoken on here.
Kev Johnson
81
Posted 05/08/2014 at 22:58:52
I think Denis is right. Match fitness comes with playing proper matches. Our players will be as fit as anyone else's, certainly as other teams with World Cup players.
I've been taking a sneaky look at Man Utd's teamsheets in their recent friendlies, mainly to see who LVG fancies and who he doesn't. In all of their matches, they've replaced most of their team at half time. Yeah, sure, it's partly so he can have a look at everyone, but it's also because none of them are fit enough for the full 90.

Dan Brierley
82
Posted 05/08/2014 at 22:53:46
Yes, you are right Denis. Nothing can replicate the intensity of the PL season once it gets underway. Its just questionable whether games against the likes of Tranmere, Celta Vigo and SC Padersborn are the right choices for building up to the right level in terms of the challenge they present.
I will go with Kev's prediction of 5-7 points for the first three games. This will be the kind of start needed if we are to really be challenging top 4 by Xmas. If we get off to a bad start, I don't see any run of games that I would consider ' more easy' until January. But I guess this is just typical Evertonian pre-season nerves kicking in......
Steve Carse
83
Posted 05/08/2014 at 23:23:08
I'd take 5 from the first 3 since that would mean we'd be unbeaten in 3 testing games. Bit optimistic though.
Colin Glassar
84
Posted 05/08/2014 at 23:34:28
I never bother with the results of pre-season friendlies. They are to get the players in optimum condition, the tactics and strategies for the upcoming season are worked upon behind closed doors. We might be playing 4-4-2 or 4-5-1 in the friendlies but I bet you we are practicing with a 3-5-2 and 4-3-3 formations as well. Roberto likes his tactical flexibility and will have the lads well prepared for any eventuality.
James Flynn
85
Posted 06/08/2014 at 00:08:28
Steve - I'd take 9 from the first 3 and you agree with me.

Eric Holland
86
Posted 06/08/2014 at 00:22:27
Steve, James.
I will split it with you & take 7 points from first three.

Colin Glassar
87
Posted 06/08/2014 at 00:32:23
78 points this season. There, I've said it.
James Flynn
88
Posted 06/08/2014 at 01:15:05
Eric - You'll take 9 and like it young man.
Julian Wait
89
Posted 06/08/2014 at 01:50:13
If Seamus is not definitely 100% fit for Leicester, he shouldn't play. We have Arsenal and Chelsea to follow in big TV games; he needs to play on those. Not saying we shouldn't respect Leicester away, absolutely we should expect everyone too give us a tough game, but Hibbert can do a job. Or play Stones or Jagielka there if you really don't trust Hibbert (but then why sign him for two years?) - expert Hibbert to play in the opener, maybe Stones to come on as a sub with us switching to three across the back, and Hibbert to score cutting in onto that cultured left foot of his from wing back ...
(wakes up)
Harold Matthews
90
Posted 06/08/2014 at 00:41:49
With the likes of Rooney, Sterling and co getting so much competitive practice, it's easy to understand the general air of concern. Porto were much sharper all over the pitch and, according to Roberto, Celta Viga will have a similar advantage. There is also the fact that a number of our boys are just going through the motions. Under orders of course, but avoiding situations which may cause a pulled muscle. With two fullbacks added to the sick list, we need to reach the big kickoff without further mishap.
Listening to coach Dennis Lawrence during the Austrian stint, it would seem that everything is being monitored carefully and scientifically with gradual increases in workload aimed at producing a fullyfit squad when the season commences. Rather like a top trainer getting his colt ready to run for his life in the Derby. Sharpness will be honed at Finch Farm and eleven supremely fit athletes will stride onto the pitch at Leicester.
I'm far from being an expert in this particular area but, according to all the interviews, that is the plan.
Derek Turner
93
Posted 06/08/2014 at 05:19:07
I can see it Julian.
Derek Knox
94
Posted 06/08/2014 at 05:46:24
Wish I had your vision Derek ' must have gone to Specsavers' !
Darryl Ritchie
95
Posted 06/08/2014 at 05:57:14
Personally, I think the schedule is exactly what we need. Leicester-away, and Chelsea and Arsenal at Goodison will show where we are. We will find out right away if we have improved on last season....or not. If not, we have 2 week window with no fixtures right after, for RM to get it right.
Just be firing on all cylinders come Sept 27. It's my birthday and I've already let the lads know that if they get me 3 points across the park, they don't have to get me anything else.
Hell! That would be a birthday for the ages.
Darren Hind
96
Posted 06/08/2014 at 05:39:09
We are light years ahead of Leicester in every department and should be absolutely confident of seeing them off, whether they "run their sox off" or not. Then we have two fixtures we won quite easily last season.
I'm with James Flynn. forget the excuses before a ball has been kicked, 9 from our first 3 is very doable.
Leicester are exactly the sort of team we need to be beating if we are serious about next season.
Derek Knox
98
Posted 06/08/2014 at 08:32:36
Darren # 96
I agree with all you say there mate, but without sounding too pessimistic, the pre-season has not exactly inspired any confidence thus far ! Before anyone jumps on me, positive displays and results do affect the mentality aspect. It has to !
The other factor to take into consideration, is that most sides take a few games to get into gear, especially those who have made wholesale changes to their side during the summer transfer window, or indeed brought a new manager in. ( different style of play etc.)
This is something we should try to guard against, last season we had three games which on paper ' looked like three pointers ' largely due to not having our team fully assembled, and having a reliable frontman, result six points lost.
We have the armoury now(though could do with a bit more) so we must guard against complacency, there are no easy games in the Prem. who'd have thought Crystal Palace would beat Chelsea at Stamford Bridge (last season)
It is exactly teams like these, who will take the points off us if we don't approach them with respect. Thankfully these teams will also surprise our rivals too, let's hope they do !
Andrew Ellams
99
Posted 06/08/2014 at 08:53:30
Derek,
Crystal Palace didn't beat Chelsea at Stamford Bridge last year. I guess you are thinking of Sunderland.
Sam Morrison
100
Posted 06/08/2014 at 08:49:29
While I respect everyone's right to criticize, I'm pretty sure that come the first game of the season the players won't be thinking "Ooh, we didn't do that great against Porto without our first-choice striker, first choice wing-back, and that plethora of substitutions". As somebody intimated above, the objective of pre-season isn't actually to win games at all costs, but to prepare you for the real thing.
Sure, part of the preparation is mental and a string of defeats is not ideal from that point of view. But I don't think Martinez will be debriefing players from a results perspective, bloody hope not anyway.
Phil Walling
101
Posted 06/08/2014 at 09:09:39
So, as the majority of TWers go into the new season confident that our squad will be well honed for the challenges ahead, what sort of level will they need to aspire to in order to achieve an improvement of just one place on last season?
An examination of Prem stats since we last achieved 4th place shows that on average the final Champions League place goes to a club who manages a record of W21 L8 F68 A37.
Now when you see that in 2013-14 Everton managed W21 L8 F61 A37, it becomes clear as how very much 'there or thereabouts' we were and that in all probability only a marginal improvement will be needed to see Bobby deliver us to the promised land.
Now who says I'm a negative force on here?
Derek Knox
102
Posted 06/08/2014 at 09:50:54
Phil # 101
Now surely nobody would ever think that of you, Phil.
Statistics are all very well and good but tend to be retrospective (by nature of the subject) and can be no more than a speculative punt on forthcoming fixtures.
I do hope however that this season we can, ruthlessly, relentlessly, rigorously rodger the Redshite on no fewer than two occasions, more if we get drawn in a Cup!
Now that would be a statistic!!!
Denis Richardson
103
Posted 06/08/2014 at 09:44:47
Phil 101 - we need two things to go for us to make CL imo and that is neither Manu or Liverpool clicking in the few couple of months of the season.
I really believe that the RS will struggle this season without Ratboy and trying to gel so many new faces. I predict they'll not make the top 4 this season.
As for Man Utd, they really under-performed last year but I expect a big improvement this year and they also don't have Europe to worry about. Then again, they also have a new manager and a few new faces to integrate, nevermind a completely new defence to sort out.
If both these clubs get off to a wobbly start (and we don't) then we've got a sniff. I cannot see any way in which we'll finish above Man City or Chelsea and Arsenal will be better than last year having added Sanchez and with Ramsey and Walcott back. (I am not too worried about Spurs although Eriksen and Lamella will be better and they have a really good manager now.)
Assuming no major injuries and a couple of decent additions before the end of the window and a massive amount of luck – I don't think 3rd is an impossible target. Looking at the fixtures, I firmly believe that the first 5 are winnable; if we manage to beat both Arsenal and Chelsea at home in August, that would put down a massive marker for the season. I would be disappointed with less than 10 points from the first 5 games tbh.
(I'll get me coat.....)
Kevin Tully
104
Posted 06/08/2014 at 09:48:52
We are the shortest price for a top 4 finish that I can ever recall - 7/1.(We started last season at 22/1) At least Paddy Power has a bit more faith than some on here!
As long as we can keep that two points per game average up, we should be right in the mix. Even Sky & Shoutsport have begrudgingly admitted there is now a 'top 7' in the Premier League. There is no way all 7 teams will perform as expected, so let's hope we can take advantage. I personally think the shite will buckle under high expectations and Champions League football. Spurs will fail to deliver and Arsenal always have a wobble. Man Utd are in another 'transition' season, so that only leaves Chelsea and Man City as nailed on for the top spots in my view.
Sam Higgins
105
Posted 06/08/2014 at 09:01:34
Phil Walling already getting people's backs up and we haven't even got started yet!! I look forward to a cracking season ahead on the field and indeed an even better one on ToffeeWeb. Walling, Entwhistle, Ferry et al, priming themselves for a many a battle of words over the next 9 months, disagreements and spats will be triggered by opinion and observation, characters will be called into question and sarcasm and wit will be the order of the day.
Matchday forums will play host to the majority of these battlegrounds as live games dictate emotive outpourings, heated debate and borderline slanderous accusations and assertions! I particularly enjoy some of the more trivial spats, for example, when the likes of Entwhistle take serious umbridge to the audacity of Ferry for spelling his surname wrong on purpose.... I love it when a small disagreement escalates to ridiculous proportions and ends up in the school playground! God bless ToffeeWeb.
Phil Walling
106
Posted 06/08/2014 at 10:12:57
Sam, I've long wished we could drag Doddy out of retirement. The arch disciple of OFM, he seemed to lose interest once his great hero moved on.
Tony Marsh is another we miss badly. Nothing Moyes did or said received his approval and criticism of his anti-hero seems to have been Tony's reason for living.
Who remembers Richard Noble? Now you can call me a miserable bastard but Nobby was different class. His pet hate was Bill Kenwright although Moyes and Wyness followed close behind.
I do hope 'they are all still with us', their contributions are sadly missed... if only because they often got up my nose!
Brent Stephens
107
Posted 06/08/2014 at 10:26:26
Kev #71 - Oxford Concise Dictionary "Detrain - to get off at Edge Hill"
Brent Stephens
108
Posted 06/08/2014 at 10:36:04
*Concise Oxford Dictionary.
COD - "Pedant - excessively concerned with minor details".
Kev Johnson
109
Posted 06/08/2014 at 10:38:19
Brent - I honestly couldn't work out what you meant when I posted. But I woke up in the middle of the night shouting "Retrain, he meant retrain"... Correcting people's spelling on a forum is indeed a pointless and patronising thing to do. I was befuddled, I tell ya.
'Getting off at Edge Hill' is probably my favourite Liverpool slang. A couple of weeks back I was returning to sunny Kent after a visit to my home town and I found myself giggling happily as the Lime Street to Euston train went through Edge Hill station. I drew some funny looks, I can tell you.
John Daley
110
Posted 06/08/2014 at 10:50:57
Dodd still pops up on here now and again does he not?
I actually... and unbelievably... kind of miss the mad musings of Martin Mason, the man whose only means of proving a point was...erm... proudly proclaiming himself 'AN ENGINEER'... like it was the most impressive superpower since some shortarse with massive sideburns got an adamantium skeleton and razor sharp claws.
Maybe he meant 'an Engineer' like in Prometheus? Judging by some of the stuff he used to come out with, he was definitely a fucking 'space jockey'.
Derek Knox
111
Posted 06/08/2014 at 10:58:59
Kev # 109
"I found myself giggling happily as the Lime Street to Euston train went through Edge Hill station. I drew some funny looks, I can tell you."
Were you fully and respectably attired?

Brent Stephens
112
Posted 06/08/2014 at 11:04:51
Kev, I was actually quoting what appeared in the paper, which did have Roberto saying "detrain". He was saying Lukaku hadn't been away long enough to "detrain", and when you think of it, I suppose it makes sense – ie, falling back from a "trained" position. On the other hand, it was in the Grauniad – so enough said.
No laughing when you get to Edge Hill – the whole point is to be able to control yerself!
Kev Johnson
113
Posted 06/08/2014 at 11:18:13
Derek - I was fully attired but, as usual, in the style of a musketeer. What can I tell you - it's how I hang.
Brent - now you've confused me all over again!
I can't see any way of predicting our final placing at this point. To repeat myself: we'll be strutting our funky stuff in the 4th to 8th zone. I've tried to narrow it down a bit more, but the tea leaves are shrouded in mist... Peering intently, I thought I saw the shape of a cup somewhere in there, but it might have just been the, er... well, you know, the tea cup, like.
Steve Cotton
114
Posted 06/08/2014 at 11:46:55
But here's the rub: Naismith will play in every pre-season game as our only recognised striker, but come first game then he will be dropped for Lukaku.
Can anyone tell me what's the point in that? Also, where the hell is Traore? apparently we kept him all second half of the season because we were getting him this season thrown in! If he does arrive 1 September 14, then he won't have trained with his team mates when they needed him most.
Do any of the 'glass ceiling' teams run their club this badly?
Derek Knox
115
Posted 06/08/2014 at 11:42:14
Kev # 113
That almost explains it then.
Tous pour un, un pour tous! – All for one, one for all !
You can't beat a swashbuckling Evertonian, let alone a ToffeeWeber! Still can't figure how you drew some funny looks though!
Brent Stephens
116
Posted 06/08/2014 at 12:16:19
Derek, I think it must have been as Kev pointed out of the window and ejaculated "Edge Hill".
Shane Corcoran
117
Posted 06/08/2014 at 12:40:17
Manchester City's Micah Richards is now 6/4 from 25/1 to join Everton after heavy interest this morning. Previous favourites Liverpool have drifted to 3/1.
Patrick Murphy
118
Posted 06/08/2014 at 13:07:29
1st Team: Howard; Coleman, Baines, Distin, Jagielka; Barry, McCarthy; Barkley, Pienaar, Mirallas; Lukaku
2nd Team: Robles; Hibbert, Oviedo, Stones, Alcaraz; Gibson, Besic; Osman, McGready, Naismith; Kone.
Subs: Garbutt, Duffy, Stanek...
Obviously many of the second team are either unfit or likely to miss many games due to injury – but it indicates that we do need another couple of players before the 16th August.
Sam Higgins
119
Posted 06/08/2014 at 13:10:25
Yeah good point Phil - I too miss Tony Marsh but I think he is a contented man these days with no need to post. I loved his anti-Moyes rants and to be fair he was spot on most of the time. But for me it was the Paul Ferry - Nick Entwhistle feud last season that had me in stitches.
Derek Knox
120
Posted 06/08/2014 at 13:05:21
Brent # 116
By that, I assume you meant he 'came' early, ie. the match wasn't till the day after!
Shane #117
I don't know about you, but I would certainly welcome him with open arms, it wasn't that long ago, that they were talking 㾶M+ for the same player, he has always impressed me when I have sen him in the past, plus he can play in any of the defensive positions as far as I know.
The other minor bonus would be that he wouldn't have to move domestically, with his family etc. Not too keen that the RS are in the running too, let's just hoe there is some mileage in this one.
He could even be used in goal if Tim was unavailable, although that is not his position, he'd be better than El Teflon! (Robles)
Tony J Williams
121
Posted 06/08/2014 at 13:38:57
I miss Marshy too because he was a feckin head the ball.
Sam, he was far from "spot on most of the time" but some points had merit but were lost in the tirade of mad ramblings and swear words.
Tom Bowers
122
Posted 06/08/2014 at 13:49:04
A blow to Everton especially after the great season Seamus had last season. It will affect the attacking bonus he always gave and, to be honest, Hibbo doesn't measure up these days.
I would prefer Stones instead of Hibbo especially as he has more height to aid Jags when free kicks and corners come in.
Hopefully Seamus is back soon but he shouldn't be rushed with this kind of injury.
Derek Thomas
123
Posted 06/08/2014 at 13:51:01
Tony J; Doddy and Marshy, we won't get them back as a regular feature as their main raison (deliberate) d'etre – OFM / TGT – has gone. Doody has no need to defend him and Marshy has no need to berate him.
I didn't think Marshy was a nutter (as I agreed with him) but jeez Doddy was seriously pollyanna about Moyes and Bill, but good enough fun for all that.
Maybe with the rug pulled out from under them, they feel their quest is over, I do feel them lurking though...waiting... As for Mr Mason, I fear he's been sine died.
Kev Johnson
124
Posted 06/08/2014 at 13:53:47
Derek and Brent - our exchange would be better suited to the Atsu thread, given the fact that we.... wait for it... pulled out at the last minute.
Now then, where's that Cardinal Richelieu? I'll have his guts for garters...

John Hazlewood
125
Posted 06/08/2014 at 14:01:21
We need to track down Tony Marsh (or Harsh as he was affectionally known)!
Kevin Tully is desperate to get in touch with him to invite him to join him in the Alex Young Suite next season. Can anyone shed any light on why he has not posted for ages?
Bring back Tony Marsh!
Shane Corcoran
126
Posted 06/08/2014 at 14:28:20
I'd have thought that Richards would be on big money plus I'm not sure how his style of play would fit in.
Anyway, it's probably a few fellas with too much cash looking for an available right back to cover Coleman that has seen the price slashed.
David Stuart
127
Posted 06/08/2014 at 14:36:17
Can't really see why we'd be in for Richards. Hibbert just signed a new deal and Browning has looked the best of the youngsters so far this preseason. Just a striker and a winger now surely.
Sam Morrison
128
Posted 06/08/2014 at 14:58:09
I found Tony Marsh tedious to be honest, but even at the time (and definitely in retrospect) he made some very valid points, albeit through a frothing mouth. Hats off to you Tony you mad bastard.
Doddy I am still convinced is some kind of social experiment.
Eric Myles
129
Posted 06/08/2014 at 15:31:32
John#125, Tony Marsh only used to post anti-Moyes hatemail so since Moyes ' departure I reckon he has been hanging out on Red Cafe, and a certain wine bar in Cleethorpes.
Sam #128, I'm convinced that Phil Walling is really Doddy and it's his sick way of getting us all back for all those years of complaining about his constant sycophancy.
Si Cooper
130
Posted 06/08/2014 at 15:11:03
Brent, sorry to be 'excessively concerned with minor details' but there appears to be some confusion over the meaning of 'getting off at Edge Hill'.
Finishing before anything has really begun and deliberately 'alighting' before the end of the line are not really the same thing.
On the subject of the football, whilst you cannot easily replicate the full 'blood and thunder' of a competitive game Roberto's training methods are supposed to maximise the players confidence on the ball. I have been more concerned with the reports of our apparent wastefulness of possession and lack of quick, slick passing - which I had hoped the players would have been better prepared for than 12 months ago - than any signs of less than perfect physical fitness.
To break defences down and get the good start we want we are going to have to be much sharper and more incisive when in possession.
Derek Knox
131
Posted 06/08/2014 at 17:16:20
Si # 130
I note your comments, which were intrinsically directed at Brent, following his comments regarding a certain Liverpool Railway Station, which in turn were initiated by our mate Kev Johnson.
So before we descend into, in the famous words of one of my fellow Scots, namely : Walter Scott " Oh what a tangled web we weave, when we first practice to deceive " if I can, without, complicating the issue, but at the same time referring to it.
Suggest that we get Vinny Garstrokes involved !
Brian Williams
132
Posted 06/08/2014 at 17:33:20
"Getting off at Edge Hill" is the same as "Catholic contraception" or "withdrawing in a timely manner (cough cough)"..........I hope nobody's STILL confused ;-).
Tony McNulty
133
Posted 06/08/2014 at 17:48:26
Etymology and dialectology now. Is there no end to the erudition on ToffeeWeb? I still challenge any of you to translate for Jamie Carragher, though. He makes Cilla Black sound like Lord Olivier.
Ray Said
134
Posted 06/08/2014 at 17:43:53
Tony Marsh was often very funny even if you didn't agree. I mostly agreed so enjoyed his posts.
Doddy once bollocked me over a post saying Moyes played 'Zombie Football' in which he removed the players' free will even down to screaming which player a throw-in should go to. I found Doddy to be humorless and pretentious with constant reminiscences of 'The Freshy'. He seemed more of a Moyes fan than an Everton fan.
Although some of the old hands may have not posted for a while, this site has had some cracking contributions over the last 18 months and some of the live forum banter has been hilarious.
Derek Knox
135
Posted 06/08/2014 at 18:08:04
Well said, Ray Said!
Paul Andrews
136
Posted 06/08/2014 at 18:11:10
Tony Mc,
He talks like that because he talks like that. No phoniness in him at all. Unlike others (including our former centre forward) who take elocution lessons. I know which version I prefer.
Wayne Smyth
137
Posted 06/08/2014 at 18:01:02
One of the first things I learned in work, was that people who make decisions generally don't like it when people come to them moaning about X, Y or Z. However, when those people have a concrete suggestion for improvement along with their moan, its a different matter.
So, it's all very well and good saying our pre-season has not been up to the standards of other teams, and that we're not breeding a winning mentality, but what exactly do people expect Martinez to do? There doesn't seem to be a lot of meat on the bones of the complaints other than "it's shit" and "the team aren't prepared".
So, do you think he should've brought back our World Cup players earlier? Maybe not waited to buy Rom and got 2 or 3 "okay" players instead a few weeks earlier to provide numbers that he could use in pre-season? Something else maybe?
The teams we're fighting against have a ton more money than we do to buy a first class first team. Their squads are deeper and they have vast benches of players who have to be loaned out each year just to get some football. I'm sure Man City, Utd or RS aren't short of a right back, or a striker, even if their first and second choices were out for some reason.
On the flip side, against Porto, we had Tyias Browning playing out of position at left back, and brought on 3 not very good u21 attackers towards the end. At right back we also had the aging hibbert who is barely adequate on the pitch, and Besic playing his very first game for the club.
Of course to top it all, Martinez was changing the formation around, perhaps trying one or two tactical things, and rotating the team on the pitch so everyone got some game time and players got rested before they got injured. So do we keep our better players on the pitch risking injury just to get a better team performance? Perhaps Martinez should use the actual League games to experiment with different tactics?
When you take our World Cup players out of the squad, add in a few key players recovering from injury, we don't actually have much depth or quality and the performance is therefore necessarily poor.
We were always going to struggle against quality opposition like Porto who've won the Portuguese league 7 times in the last 10 years and are a constant in the Champions League. Quite why people are surprised we struggled baffles me.
Colin Glassar
138
Posted 06/08/2014 at 18:39:06
Spot on Wayne, I wrote something similar myself.
Tony McNulty
139
Posted 06/08/2014 at 18:43:27
Paul Andrews - in truth it's the vacuousness of the content which bothers me more than the method of delivery.
I spent my first 18 years in Liverpool so I am not unfamiliar with the lingo. However it is a conscious effort of will trying to extract any nuggets of information or insights from the man, in the midst of the incoherence.
You have to listen really closely, and when you finally understand something you realise that you have heard whoopee cushions making more sense.
Paul Andrews
140
Posted 06/08/2014 at 18:56:25
All opinion, Tony, of course.
I like the Carragher v Neville slots on Sky. I am not looking for them to educate me; I can use my eyes for that.
Ross Edwards
141
Posted 06/08/2014 at 18:52:12
I miss Doddy, I'll be honest. Although I disagreed with everything he said, his total loyalty to Moyes had to be admired. We had a few run ins obviously, with him being pro Moyes and me as part of the now infamous MOB, but I hope he does come back.
I could name all of the people I've had run ins with, and believe me, it is an incredibly long list, but this is what makes our site great. The contrasting opinions and arguments on one single thread. Fantastic stuff.
I remember Paul Ferry describing one particular row between me and Nick Entwistle last season as being similar to Scargill v Thatcher.
Doddy, if you do read this, please come back mate. And you too Marshy. As much as this site is great, debates aren't quite the same without your presence.
Alex Carry
142
Posted 07/08/2014 at 15:16:11
I've had my fair share of hamstring injuries playing GAA here in Ireland, as has Seamie, I'd say. What always worked for me was to ignore it and hope for the best!
---
Add Your Comments
In order to post a comment, you need to be logged in as a registered user of the site.
Or Sign up as a ToffeeWeb Member — it's free, takes just a few minutes and will allow you to post your comments on articles and Talking Points submissions across the site.
© ToffeeWeb