Everton unveil 2014-15 third kit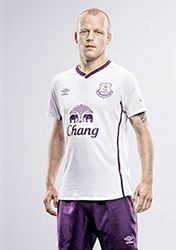 Everton have unveiled the team's third kit for the new season, a white, blackberry and yellow number that will make its debut in the friendly against SC Paderborn this coming weekend.

The new strip completes the club's trio of strips for 2014-15 after the launch of the Umbro-designed home kit last month and the imminent release of the all-black away kit that goes on sale later this month.

Forward Steven Naismith said of the new design on the official website: "It's a really smart, stylish kit and will really stand out on the pitch. I like that it's so different to the home and away strips.

"I know the third kit is popular in the dressing room so hopefully the fans will like it too."

The third kit will be available for pre-order on 18 August and goes on sale on 18 September.



Reader Comments (70)
Note: the following content is not moderated or vetted by the site owners at the time of submission. Comments are the responsibility of the poster. Disclaimer
Tony J Williams
1
Posted 07/08/2014 at 16:19:48
Oh Dear!
Liam Reilly
2
Posted 07/08/2014 at 16:30:53
Sweet Jesus.
Even the mention of Blackberry in a football kit is disturbing.
Sam Morrison
3
Posted 07/08/2014 at 16:33:51
You have to commend Steven for giving it a go in the pic.
Unfortunately it's not salvageable.
Scott Bosworth
4
Posted 07/08/2014 at 16:38:25
Huh. I quite like it.
Gerry Quinn
5
Posted 07/08/2014 at 16:43:16
Like it - collar is normal - not one of those awful button up type thingies! Trim colours are not too plain - definitely my type of shirt for buying.
...and, guys, please do not come back at me with comments about tarts or pooftahs, please :)
Sue Brown
7
Posted 07/08/2014 at 16:24:27
Oh no, What is all this nonsense about!? Does someone sit there and say yes "blueberry"(purple?) is in fashion so we'll make a kit of that?
Why this need for a third kit that will rarely be used. We only ever had a home and away kit and it was enough in times gone by. So much for Umbro's nod to the past – where did they find this color, what is Everton about it?
The new home kit is ok; white shirts, black shorts and socks for the 2nd strip would suffice surely. Just another way to get money out of the fans I think
Sam Morrison
8
Posted 07/08/2014 at 16:53:24
I think it's blackberry, not blueberry Sue.
I'm glad some people like it. I can't see it growing on me, let alone going on me.
Michael Penley
9
Posted 07/08/2014 at 16:53:05
Blackberry? Looks more like a deep plum-lavender to me but what do I know.
James Smith
10
Posted 07/08/2014 at 16:58:45
I really like it.
Matthew Williams
11
Posted 07/08/2014 at 16:58:04
The shirt looks like the Keijan 3rd kit from 2003, made by Puma. Not too shabby like. shorts look a bit dodgy though!
Sue Brown
12
Posted 07/08/2014 at 16:57:26
Blackberry / Blueberry both crap, Sam. I can just hear Gwladys Street "Come on, you Blackberries!"
Mark Pierpoint
13
Posted 07/08/2014 at 17:06:33
Far better than the away kit. I like the design of this, much more modern design and much fresher. I do prefer white for a kit as opposed to black though. Always looks much better regardless what you do with it.
Pete Owen
14
Posted 07/08/2014 at 17:15:03
Ugly, efette, pointless....unless its just to add some much needed funds to the running of the club....if that's the case then everyone SHOULD buy this kit....everyone except me :)
actually it'll look good on the feminine form..
Iakovos Iasonidis
15
Posted 07/08/2014 at 17:14:01
Crap....was my first spontaneous reaction. Σκατά! Of course it could be worse, pink for example.
Patrick Murphy
16
Posted 07/08/2014 at 17:20:29
Pete - You've probably hit on the real reason for the colour scheme as the purchasing power of the young girls and ladies far outstrips that of many of the boys and menfolk.

Tony J Williams
17
Posted 07/08/2014 at 17:29:11
It's the first step towards a shared stadium.......blue and red = purple, sorry Blackberry.....ermm....plum.
Gary Russell
18
Posted 07/08/2014 at 17:31:19
I foooooking love it! Whats wrong wid ya..... coo as
Gary Russell
19
Posted 07/08/2014 at 17:32:08
cool as 8- /
Chris Wilson
20
Posted 07/08/2014 at 17:10:26
I gotta say I kinda like it. But the University I attended in Texas wore purple and white for their uniforms (yes I know we're calling it 'blackberry'-whatever it's purple), so I'm cool with this. Don't know what PL matches we would need it for, maybe the scheme has been brought out for Europe? Probably inspired by that special third kit in 2009-10.
Kev Johnson
21
Posted 07/08/2014 at 17:34:28
You can't beat a bit of purple. It gets a gigantic thumbs up from me.
Approximately one million miles better than the ultra-dismal second kit.
Mark Tanton
22
Posted 07/08/2014 at 17:41:21
I really like it - just trying to think when we'll use it in Premier League.... Palace and Burnley away perhaps and maybe Chelsea too? Black or the home kit at West Brom and QPR probably... Are we definitely wearing black at Leicester?
Denis Richardson
23
Posted 07/08/2014 at 17:59:48
Was excited by the OP but then saw it.............oh my...
Blueberry, blackberry whatever berry - the thing is PURPLE!
Hope this won't be making too much of a showing this season - better than a tux anyway!
http://metro.co.uk/2014/07/31/cultural-leonesas-new-tuxedo-football-kit-really-is-as-good-as-it-sounds-4816634/
Anthony Fielding
24
Posted 07/08/2014 at 18:04:41
It's crap, in fact all three are crap, Umbro are crap, do they actually employ designers? Think this may be the first year for about 15 years that I wont be parting with my hard-earned money for the new kit!
James Stewart
25
Posted 07/08/2014 at 18:06:17
I like it.
James Stewart
26
Posted 07/08/2014 at 18:09:52
The badge looks pretty sweet on white... I have to say it's a good job.
Iakovos Iasonidis
27
Posted 07/08/2014 at 18:19:49
http://bleacherreport.com/articles/2137359-lugos-new-beer-octopus-kits-are-the-most-ridiculous-football-shirts-ever
Peter Z Jones
28
Posted 07/08/2014 at 18:30:19
Love it.
Tony J Williams
29
Posted 07/08/2014 at 18:34:11
Probably use it more in Europe.
That octopus kit is genius...I would buy that one...
Eugene Ruane
30
Posted 07/08/2014 at 18:42:00
Worn with black ankle socks, trainees, nails bitten down to the knuckles and a scowl. Know what I'm sayin' my mate?
Gerry Quinn
31
Posted 07/08/2014 at 18:52:02
Lakovos, bet you can't beat this "Tuxedo" kit...
http://www.itv.com/news/update/2014-07-23/spanish-team-unveil-new-tuxedo-football-kit/
Sue Brown - what would you do if Everton brought this kit out? :)
Dan Brierley
32
Posted 07/08/2014 at 18:54:59
Getting Naismith to parade it, kind of says everything.
It's alright. Not great, not shit. Just alright.
Tim Lampshire
33
Posted 07/08/2014 at 18:58:32
Think Fiorentina and it doesn't seem so bad....
Chad Schofield
34
Posted 07/08/2014 at 19:04:24
I think some people are being a bit harsh, Nais isn't a plum, a berry... oh I see their talking about the trim. I quite like the mauve/scarlet and how they offset his eyes.
Harold Matthews
35
Posted 07/08/2014 at 19:19:42
Very slimming.
Sue Brown
36
Posted 07/08/2014 at 19:37:44
I despair Gerry!
At least it's nice to see these kit designers are getting in touch with everyone's feminine side...I'm impressed with the descriptions of...purple..!
Jim Bennings
37
Posted 07/08/2014 at 19:54:57
This kit is class what's wrong with people?
It makes a change from the usual illuminated bright yellow efforts that we seemed obsessed with for a long time.
For the first time in many years I'd have to say the three kits that have been brought out for a season really impress me, all three from the home, away and third are all very very smart and classy.
This for me is almost as nice as our wonderful third kit from 2010/11 that class cream coloured kit with the collar, the one we won the FA Cup penalty shoot-out at Chelsea in.
I loved that kit.
Mark Griffiths
38
Posted 07/08/2014 at 20:16:50
Hmmmm....can't make my mind up. But the good people at Cadbury's should be thrilled!
Colin Glassar
39
Posted 07/08/2014 at 20:20:25
I've seen worse. Some of the kits in the 80's and 90's were atrocious.
Philip Roberts
40
Posted 07/08/2014 at 20:29:49
John Stones is wearing something very similar in his new contract photos, but with black and yellow trim. Looks good. Not sure about the purple though.
Kristian Boyce
41
Posted 07/08/2014 at 20:32:07
I quite like the Ribena kit, apart from the yellow trim. I'm not quite sure why its needed as its not really a matching colour.
Mike Green
42
Posted 07/08/2014 at 21:00:19
There's something about the socks that I kind of like, and good for them trying to mix it up a bit.
Apart from that though, absolutely rancid, on many levels.
Looks like it belongs in the Blue Square Premiership at best, the bin or the bonfire at worst.
Kev Johnson
43
Posted 07/08/2014 at 21:19:30
Well observed, Kristian, At last, a colour-literate comment! I was beginning to think I'd come to the wrong place for the chromotherapy evening class.
Having said that, as far as I'm concerned our pre-season kit launches have gone tolerably well. Now if only we could get the lads to remember how to play football...
Pat Finegan
44
Posted 07/08/2014 at 21:14:24
This is exactly what a third kit should be. You have your standard club colors for the home kit. You have a classy away kit of reasonable pattern and coloration. You can have fun with your third kit so long as it is within reason. This kit isn't exactly conservative. Some will love it, others will hate it. That's perfectly fine because we won't be wearing it that much. I happen to love it.
The last set of kits I really liked was 2011/12. This is on par with those.
Jamie Crowley
45
Posted 07/08/2014 at 23:14:00
Hideous.

Alex Kociuba
46
Posted 07/08/2014 at 23:55:01
It looks ridiculous. Those saying you like it.. If it was the Leyton Orient third kit would you be saying that?
Patrick Murphy
47
Posted 07/08/2014 at 23:58:50
Obviously some posters believe it to be more Raspberry than Blackberry.

Kev Johnson
48
Posted 08/08/2014 at 00:08:08
Yes, Alex, I would. Purple is an underused colour in football kits. I know Fiorentina play in it, as do Hearts (in a darker shade, I think). Too meany teams play in the same colours. Leicester have got a bloody cheek playing in blue - that's our colour.
Ant Dwyer
49
Posted 08/08/2014 at 00:27:54
What's up with you all??
The kit's sound, light coloured and smart. We had a purple kit only a few years back, had white many many times, so it's just a continuation of that.
Chill out, Blues ;-)
Si Cooper
50
Posted 08/08/2014 at 00:43:06
Perhaps some people are a little too set in their gender stereotypes? Purple is the colour of royalty / leadership, which historically has mainly been very powerful men. Not sure you can sweepingly characterize them as effeminate.
I like the colour and I like the kit.
David Duffy
51
Posted 08/08/2014 at 01:16:25
Shouldn't the 2nd kit be white instead if black cos the home kit is blue...
1st dark colour
2nd dark colour
3rd light colour
If opponent wears dark colour, away team will have to wear light.
Denver Daniels
52
Posted 08/08/2014 at 01:56:38
Not sure about the colour but I do like the collar.
It reminds of the 1987 "NEC" kit. That one will always have a special place in my heart.
It's ok I guess.
Darryl Ritchie
53
Posted 08/08/2014 at 02:05:32
It's fine.
Ryan Scails
54
Posted 08/08/2014 at 02:08:29
Si Cooper, I completely agree with you. Purple is a historically loaded color, and I see this kit being used for Europe a lot. It reminds me of the color scheme Austria Vienna has used.
Minik Hansen
55
Posted 08/08/2014 at 02:22:16
Like it better than the black one, definetely gonna get me one, and it's coming out on my birthday! Yes.
Gerry Quinn
56
Posted 08/08/2014 at 02:26:04
Hideous? Royal? Underused? Blue Square Premiership? Bin? Bonfire? Love it? Octopus? Blackberry? Blueberry? Crap? foooooking love it? Ugly? efette?pointless?
Kin'ell - even that shitty badge with yellow in it from last year never got this many differing reactions!
I love the ToffeeWeb Political Party conferences to death - so many hymn sheets being sung from - had me thinking - maybe we should run the country?
Harold Matthews
58
Posted 08/08/2014 at 04:15:32
Kristian. You obviously don't understand the colour wheel or contrasting colours like red/green or blue/orange or purple/yellow. If I put purple in a painting I must also add yellow. They bring out the best in one another, ..and it's been like that from Leonardo to Picasso.
Michael Penley
59
Posted 08/08/2014 at 05:03:56
Everyone will love it when we play in it (our first game possibly?). These photoshoots never look real anyway. Even Naismith doesn't look real, more like a computer-generated version of him.
Eric Myles
60
Posted 08/08/2014 at 05:54:29
Maybe we should have a poll?
Spragg Johnson
61
Posted 08/08/2014 at 06:29:02
We've had a Pole ... He was called Warzycha and he was rubbish.
Sorry ... I'll get my coat ...
Duncan McDine
62
Posted 08/08/2014 at 07:39:42
The only thing I really noticed was that Ossie has the face of a boxer (dog) instead of a left knee.
The kit looks fine BTW.
Sam Morrison
63
Posted 08/08/2014 at 09:30:03
I feel that many people have been tarred with the same you-don't-like-it-because-you're-not-comfortable-with-your-sexuality brush.
Just to be clear, I don't like it because every time I look at that picture I think "white polyester".
And Nais looks like an alien is about to burst out of his stomach.
Dave Roberts
64
Posted 08/08/2014 at 09:49:09
Their bums will look big in that.
I feel sick!
The one thing I hate about the city is all those disgusting purple bins all over the place. This reminds me of that. Absolutely awful.
Dave Roberts
65
Posted 08/08/2014 at 09:51:25
As for Naisy's comments.....he's hardly going to say...' I fucking hate it. I hope I'm not picked for any games we have to play in it'...is he?
Tony Steele
66
Posted 08/08/2014 at 09:54:28
Thumbs up from me.
Joe Bibb
67
Posted 08/08/2014 at 10:04:16
It's the 100th anniversary of the First World War; Everton were Champions that season. Portsmouth have produced a kit with the names of all the players that played that season woven into the material. Everton bring out a plain white 3rd strip?
The only thing to commemorate Everton winning the League in 1914-15 is the book by George Orr on Everton Footbaall Club Champions 1914-15 — 'Over the Top' available on ebay for ٦. It pays homage to every player who played that season and details match by match over the season.
Why can't the club tap into the fans passion? We have a wonderful, unique history; Everton should be the leading club in this field.

Simon Smith
68
Posted 08/08/2014 at 10:09:10
I kinda like it

Karl Masters
69
Posted 08/08/2014 at 20:42:16
Gash.
Alan Donougher
70
Posted 09/08/2014 at 09:47:56
If you cant see past the jumper and appreciate the name Everton on the scoreboard, well, I wonder. Last saw a game at home in 1955. Would watch an Everton game in polka dots if the fire was there.
James Marshall
71
Posted 10/08/2014 at 23:24:25
Sue (near the top), why would the Gwladys Street be cheering for anyone other than the team in blue? Just to recap on the concept presented here - this is our 3rd kit, which well only wear for away games on the odd occasion. At Goodison we'll still wear blue, FYI ;-)
Incidentally, I quite like it.
James Marshall
72
Posted 10/08/2014 at 23:26:30
Oh and one other thing - to all the people complaining about it, go have a look at the shambles the RS will have to trot out wearing in some of their games next season - that should cheer you right up!
Up the Blackberrys!
---
Add Your Comments
In order to post a comment, you need to be logged in as a registered user of the site.
Or Sign up as a ToffeeWeb Member — it's free, takes just a few minutes and will allow you to post your comments on articles and Talking Points submissions across the site.
© ToffeeWeb