Everton confirm Atsu loan signing
Ghanaian signs after successful medical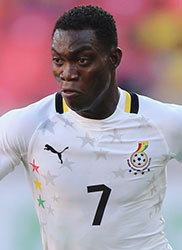 Christian Atsu is officially an Everton player for the season after the club confirmed his arrival on loan from Chelsea.

The 22-year-old, who joined the London side from Porto a year ago but spent last season on loan at Vitesse Arnhem, completed a medical at Finch Farm today and has been handed the No 19 shirt.

Atsu's transfer has been completed in time for him to be eligible for the season opener at Leicester City and he is expected to be included in Roberto Martinez's squad.

His arrival adds much-needed depth to the forward and wide areas of the team, filling the void created by Gerard Deulofeu's return to Barcelona.

Atsu expressed his happiness at having concluded the move to Goodison Park and his belief that, with hard work, the Blues can be successful this season.

"I'm very happy to be joining Everton," he said. "It's a great club, which likes to play football, and it's a great pleasure to be here."

Roberto Martinez said of the Ghana international: "He fits in with the culture and the way we want to play. He's very gifted and he's got the right personality to fit in with the group."



Reader Comments (118)
Note: the following content is not moderated or vetted by the site owners at the time of submission. Comments are the responsibility of the poster. Disclaimer
Ant Dwyer
1
Posted 14/08/2014 at 01:26:53
Great news! Lots has already been written on this guy as we have had links with him for some time now. Great to see it all come together in time for our opening game weather or not he is needed.
I'm very happy with his first interview, I like the fact he claims he's honoured to join us and he describes himself as a quick player who likes to beat his man and also likes to work hard!

One other thing I'd have likes would have been that we had signed him with a fee in place for a permanent transfer for next year instead of having to try to live in hope that he performs well but still Jose doesn't want or need him as we have had to do with Romelu.
All in all though, happy with this deal.
Gary Creaney
2
Posted 14/08/2014 at 01:30:10
Good man Christian... Ats you in now lad.
All jokes aside I liked the look of this guy at the World Cup before I even realised who he is so I'm glad to see him in.

A lot of people will probably just see him as back up but to me the midfield at its best will now look like this:
Barry (Besic), McCarthy
Atsu, Barkley, Mirallas
Mike Gaynes
3
Posted 14/08/2014 at 01:41:25
Should be fun to watch Roberto turn all that talent and speed into a top player... who will contribute off the bench in the early going.
But no, he's nowhere close to slotting into the starting lineup.
Ant Dwyer
4
Posted 14/08/2014 at 01:43:35
I agree, Gary, although I do feel Pienaar still has a lot to offer!!!

Paul Ferry
5
Posted 14/08/2014 at 01:43:03
But did we get the ٤.5 million option to buy that is the icing on the cake. That said, I agree 100% with Gary, as I also watched him closely in the WC front he first USA game on (I lived in Ghana for quite a while and love the place) not having known much about him and thought yep, he's the ticket...
I do disagree, however, that many will see him as 'back up'. He's here to play on either flank or through the middle.
We have here a more mature Del-boy with buckets of flair and more team-minded.
I'm excited by this, I really am, and Bobby's skill in the window so far (and, crucially, getting those present and future stars nailed down and signing on the dotted line himself) and there is more to come, rest assured of that.
But, if nothing was to change in the spirit of the good old counter-factual: Howard, Coleman, Stones, Distin, Baines, McCarthy, Besic, Atsu, Barkely, Mirallas, Lukaku - Joel, Browning, Oviedo, Jags, Barry, Pienaar, Naismith, Long/Kone (not including McGeady, Osman, Garbutt, Hibbert, Ledson, Alcaraz, to name six). And there will be at least one and I bet two more incoming. Thought that we had a shallow squad?
But did we get that option to buy?
Paul Ferry
6
Posted 14/08/2014 at 02:02:12
Bet Amo put a good word in for us.
Paul Ferry
7
Posted 14/08/2014 at 02:05:04
Could not disagree more - 3 - 'he's nowhere close to SLOTTING into the starting lineup'.
Erm, a Ghanian international, the best player on the pitch when they were beaten by the US but were by far the better team.
Erm, we lack pace.
Sub Saturday will start one of the next few games.
Jamie Sweet
8
Posted 14/08/2014 at 02:22:19
Anyone know if there's an option to buy? Much prefer a loan deal with that written in if possible.
When he was first linked it was certainly mentioned that there would be.
Harold Matthews
9
Posted 14/08/2014 at 02:41:56
Yes Mike. There will be few surprises early on. The dynamic, brave, full intensity team, mentioned by Roberto yesterday, will gradually evolve over the next 2 or 3 years.
Darryl Ritchie
10
Posted 14/08/2014 at 03:11:37
That's Lukaku, Barry, Besic and Atsu, plus Galloway and possibly Henen into the U-21's. And nobody of any importance leaving....so far. If things stay as they are, even if no one else is brought in, it will have been an excellent window.
Does anybody (Colin) know if there's anyone else on RM's radar....or is the bank account empty?
Christopher Kelly
11
Posted 14/08/2014 at 04:42:50
Speed kills in this game. We finally have some! Better late than never. Now we have to use it and not rely on 50 strung passes at a relative standstill to score.
David Ellis
12
Posted 14/08/2014 at 04:51:01
The jigsaw is falling into place nicely. The main deficiency of last season (no cover at DM - now provided by Besic) and replacement of the 3 loan players has now been completed. We can now look to longer term replacements for Osman and Pienaar and perhaps a reserve right back and a reserve 'keeper. But I think these are things that can wait until next summer.
Nice to see on the BBC and other websites PL predictions that we are usually placed as 6th with little objection from the comments list. Perception has finally caught up with reality here - we are a genunine member of the Top 7 mini league and an ever present outside shout for top 4.
This is an important pshcyological step as we have now got clear daylight between us and former recent rivals such as Villa and Newcastle. This will lead to better exposure, better players wanting to play for us, our top players not leaving (both already in evidence this summer) and ultimately more TV and merchandising revenue. Now to chuck one of the Sky teams out of the top 4 and the gap will begin to close further.
Brian Cleveland
13
Posted 14/08/2014 at 05:17:16
So will Chelsea fans now complain about being Everton's feeder club? :-)
Sam Hoare
15
Posted 14/08/2014 at 07:06:07
Think he will be starting games for us sooner rather than later. Deulofeu but with better work rate and slightly less step overs.
Hope we have a buy option as another young talent who could become a top class player.
Balance in the team looking much better now though we need another striker and I still think we could use a central playmaker to pull the strings. Our David Silva/ Mata/ Eriksen/ Cazorla etc That piece of the puzzle may have to wait till next Summer or maybe Barkley will find that creative ability in his locker...
Derek Knox
16
Posted 14/08/2014 at 06:50:54
I agree with my fellow posters on here that, this a great signing for us, and personally have a gut feeling that this guy, under the tutelage of RM, will have a bigger impact than we could ever imagined.
I too, am anxious to know whether we have had the acumen to have that option to buy at ٤.5m, inserted into the deal, (Ant, Paul F and Jamie S) have already raised the same concern. The negotiaitions certainly took long enough, and as I have mentioned, looking forward we don't want a drawn out saga again with Chelsea before next season starts over the fee.
He has certainly sounded very positive about joining us, with the usual soundbites you hear from a new player, but somehow (intuition tells me) that this lad means it.
I certainly hope we get a chance to have an early rendition of his footballing terpsichory at Leicester, even if it's just a cameo part.
I presume, as is the case with all loanees, that he will be prohibited from playing against Chelsea. We shall also lose him to the ANC in January, along with Kone (how will we cope without Arouna?) so potentially there are a few games in total that we will not have him with us.
Welcome aboard the good ship Chris, long be it an enjoyable voyage!
Duncan McDine
17
Posted 14/08/2014 at 07:36:14
Good news, my god this one has dragged on! I think one more loan will be all we need to compete on all fronts... This time a striker.
I share the concern for backup in RB and GK but hopefully Hibbo and Robles will prove me wrong.
James Elworthy
18
Posted 14/08/2014 at 07:54:28
Amo is a Nigerian, Paul '6'

Brian Furey
19
Posted 14/08/2014 at 07:52:36
Great news as was worried there would be some last minute hitch. I've a feeling this guy will show you all how much Del promised but did NOT deliver. I felt last season a lot of you had very rose tinted glasses for the young lad just cos where he came from.
Anyway, I delighted to get Atchoo to feed the Luke Akoo.
Also delighted to see Irish channel Setanta Sports 1 are showing the game live on Saturday. There's always live games on Sats on Setanta so ye could sign up on an Irish sky card if you know someone over here.
Matt Traynor
20
Posted 14/08/2014 at 08:07:34
Brian #19, agree with you on Delofeu. Lots of pace and trickery but had a poor final touch / finish. He was frustrating at times, but there were glimpses of what he could become, and I hope for him he continues to develop.
Wingers down the years often were inconsistent, and seemed to be a barometer of how good a team was performing overall, at that time. In the 80s they tended to be either all pace, or all skill, very seldom would you get both (and occasionally you'd get neither!)
If they had the analysis and metrics systems back then that they have today, it'd be really interesting to see how patterns of play have changed, and how players to day are much more athletic in the main than they were then. Well, I'd be interested anyway...
Derek Knox
21
Posted 14/08/2014 at 08:15:05
Duncan# 17
"I share the concern for backup in RB and GK but hopefully Hibbo and Robles will prove me wrong"
I think there is more chance of 'Nelson getting his eye back', or the 'Titanic being refloated' .

James Elworthy
23
Posted 14/08/2014 at 08:25:09
Micah Richards ideal replacement for Hibbo
McCarthy of Reading for Robles
Traore on loan as back up striker.
Please no Eto'o he is over the hill and wages too high. Can't understand why many Africans from poverty stricken countries demand more wages than the national income of their country ie Drogba, Toure, Eto'o, Kalou, etc

Peter Warren
24
Posted 14/08/2014 at 08:36:58
It's hard to know who else to get as RM says you want the right players. However Richards for both cover / challenging to start at full back and centre Half seems a good shout
Pablo Connelly
25
Posted 14/08/2014 at 08:21:59
I wonder if the comments that Atsu is an upgrade on Del are based on knowledge or just the fact that he is a current Everton player and Del isn't. Theres no doubt Del has alot of development needed in his game but that why Barca let him come in come in the first place. However he had the unique talent to produce a wonder goal out of nothing in the last minute at the Emirates, he also had the talent to terrorise defences on most of his starts, most notably Newcastle away. It remains to be seen whether Atsu has that in his locker? I certainly hope he has and that those saying he is an upgrade on Del have more knowledge than youtube to back up their predictions, but I am gonna have to reserve judgement.
David Ellis
26
Posted 14/08/2014 at 08:45:30
Sam Hoare 15 - yep agree on the playmaker point - that would be my hope for a long term replacement for Osman in the squad, but that's definitely for next summer, and maybe Barkley can grow into that player.
Tony Abrahams
27
Posted 14/08/2014 at 08:46:17
"I'm very happy to be joining Everton, it's a great club, which likes to play football, it's a great pleasure to be here."
What a difference a year makes, and hopefully he can play a big part in taking us to the next level.
Atchoo to Luke Akoo, gona sound funny after a few pints, Brian!
Mark Taylor
28
Posted 14/08/2014 at 08:53:02
A decent replacement for Delboy and it now means we are at the same strength as last year, with the addition of Besic and (arguably) the substraction of Traore. I confess that's how my maths calculates it, not the 4,5,6 or 7 addtions that have been talked about.
We still need striking back up especially as the Guardian were reporting this morning, at the same time as confirming that the Atsu deal is done, that Kone is up for sale. Very odd given RM's comments on Monday night. Can't see us getting close to re-couping our outlay if it's true.
Mike Iddon
29
Posted 14/08/2014 at 09:02:22
Mark #28 the comment about Kone being made available was in the Times today too; maybe him out and another in?
Jim Lloyd
30
Posted 14/08/2014 at 08:50:49
It's been a great transfer window for us so far and maybe more to come yet. I like the look of Besic, he is going to be a top class player (not too bad now!) as not only can he tackle he is an aware player and has the skill to make 50 yard passes look easy. I've also got a feeling that he's going to be our Captain in the future. Well maybe a toss up between Him and Jimmy Mac (what a great dilemma!)
Rommy! What we've seen so far is mainly just natural talent. I think after another year or so with Robbie, he'll be one of the best in the Premiership.
I think this lad Atsu is more mature than Gerry was and he's played at a higher level of football and done really well. That is no slight on Gerry, nor is it because he is no longer with us. I think this lad will show more awareness of his team mates than Gerry does and I think he'll be in the team sooner rather than later. Only time will tell but I'm excited about this lad and I think he'll provide the crosses for Rommy but he'll also terrorise defences with his running at them.
Whether we have a "to buy" clause or not, at least for this year we have another Evertonian who wants to play for the club. That's not to be sneezed at!
I hope we get Henne as well but it seems that we're being held to ransom for him and I don't think we'll just pay any amount for a player. We'll get him if Robbie thinks he's worth it.
It's looking good but I agree with the posters vwho have pointed at Micah Richards. If we could get him he would be a fanatastic addition to the team As well as being a quality player, he's another who has that "mean streak" attitude that we want. He'd be right in the opposing players face,
I'd love to see us get Ben Arfa, as he's a tremendous player but a) we might have run out of money by now, as BK will be having a fit of the vapours and b) maybe his attitude is wrong. Still a cracking player though.
Patrick Murphy
31
Posted 14/08/2014 at 09:04:59
Pablo it is a usual trait, on this site in particular, to praise those players who have left us and to harshly judge those who are on our books. I really don't get all the love that Del Boy received, as his end product was on most occasions notable by its absence. Yes he did produce the odd moment of real skill and had tired defences twisting and turning but as was proved by that old stager David Thomas many moons ago it is the quality of the cross that is all important not how many people you beat to cross it. Let's hope Atsu is more David Thomas and less Del Boy, exciting as it was on occasions to watch the young lad play at times.

Ray Roche
32
Posted 14/08/2014 at 09:03:39
James Elworthy @23
I tend to agree with you on the wage demands of some of these guys but, to be fair, Drogba has been raising plenty of money for different charities to combat malaria and to provide hospitals in impoverished areas.
Anthony Lewis
33
Posted 14/08/2014 at 09:07:09
Be happy to see Kone go and have him replaced by some other younger upgrade.
Paul Thompson
34
Posted 14/08/2014 at 09:09:44
From what I've seen of Atsu he has the pace and trickery of Del, with a better decision-making, but a weak shot. I think he will be used a bit more than Del, in part because we must have promised Mourinho. As with others, still think we need another striker and creative central mid to challenge at top level.
James Stewart
35
Posted 14/08/2014 at 09:20:45
Won't take him long to be in the starting Xl. Let's be honest, it wouldn't take much to displace Pienaar or McGeady.
Atsu is a speed demon but very little end product whenever I have seen him. Let's hope Roberto can bring out the best in him.
Derek Knox
36
Posted 14/08/2014 at 09:15:35
Ah Patrick my friend, Dave Thomas, I remember him fondly(not romantically, now come on) and the plethora of quality crosses he consistently delivered to Bob Latchford.
Obviously as one poster has already mentioned, (Matt Traynor) they didn't have all the statistical analysis, they do now ie. distance covered in a game, speed etc.
Dave Thomas certainly worked tirelessly( think we got him from QPR) to provide the 'Latch' with what I would estimate 60% + or - assists. I would be interested to make any comparison, should there be any, to todays, although sandwiched between massive changes in just about everything really, the ball, boots, training, tactics and wages.
I remember being at that game, ironically against Chelsea, where we scored 6 and Bob got his 30th goal, and even then, I often thought that feat would never have been achievable, without Dave Thomas.
Things change sometimes for the better, but not always so. Even Nostalgia, is not what it used to be. :-)
Stephen Brown
37
Posted 14/08/2014 at 09:43:34
Who in their right mind would buy Kone unless its a free? I'd say keep him, let him prove his fitness and then decide to persevere or try to get some of our money back. Either way we still need more back up for Lukaku.
Jim Lloyd
38
Posted 14/08/2014 at 09:41:36
Patrick, Derek, too true. What a crosser, and on pitches that at times resembled a quagmire. I can remember him legging down thew left, socks round his ankles (health and Safety police 'd have a fit) and plonking the ball on Latchford's head...brilliant player. If Christian can provide some crosses for Rommy anywhere near as good, we'll have to buy some new nets!
James Elworthy
39
Posted 14/08/2014 at 09:43:09
At this rate transfer deadline day is going to be boring with only a back up striker and arguably a backup keeper and right back required
I recall we bought a Czech teenage keeper called Stanek in the last window, how has he progressed?
Tony Steele
40
Posted 14/08/2014 at 09:51:44
I was very impressed with this guy at the World Cup.
Phil Walling
41
Posted 14/08/2014 at 10:00:09
Never got a single minute in the pre-season, James. So it looks like he is Robles' apprentice !
Phil Walling
42
Posted 14/08/2014 at 10:01:42
We always focus on who is coming IN. Who do you think is on the way OUT?
Kone, Robles, Alcaraz, Duffy..............?
Joe O'Brien
43
Posted 14/08/2014 at 09:53:32
Brilliant to get him in. It's been a great window so far. Can't see any truth that Kone up for sale. Who would buy him with him been injured for so long?
I'd say once he's fit and ready to play, RM says 4-5 games I'd say it'll be more like 8-9, he'll end up being a good squad player for us. He was very handy with Wigan. Didn't have a great start with us but didn't have much playing time to impress.
As for the keeper situ RM had to give that lad Stanek a chance. Robles gets me feeling so nervous when he's on the pitch.
This talented team needs silverware (as well as us fans) this year but if RM pays Robles in the cup games to give a Timmy a rest... We're sure to be left empty handed again this year.
Shane Corcoran
44
Posted 14/08/2014 at 10:16:36
Poor ould Atsu isn't one for interviews.
Dominic Tonge
45
Posted 14/08/2014 at 10:09:28
Rommy? Really?
James Elworthy
46
Posted 14/08/2014 at 10:23:19
The last young keeper we had called Mason Springthorpe bought from Shrewsbury was released and was signed by a team called Ellesmere Rangers in some obscure league in Shropshire. Stanek went to Thailand as backup and played in the U21 friendlies.
We had a Polish keeper too but not sure if he was released.
Harold Matthews
47
Posted 14/08/2014 at 09:38:55
Delboy must have belted a dozen crosses along the goal-line which should have been tap-ins but Lukaku and others failed to get on the end of them. Strangely enough, from video evidence, Traore would have put them all in. The best strikers don't wait till the cross is hit. They read the situation and risk an early run.
An earlier post suggested that Besic is the ideal backup for Barry. I can't have this one at all. There will be red cards, yellow cards and free kicks aplenty. In fact, unless someone is being secretly coached for the job, we're still a man light in that position. Gibson is not an anchor man. Trained to attack from his schoolboy days at United, he doesn't have a defensive mindset but I suppose he could play the Arteta Gunners role with McCarthy as cover.
Graham Mockford
48
Posted 14/08/2014 at 10:32:26
James #23
It's a strange point you make. Why should someone's continent of origin determine what wages they can demand?
Are you suggesting Africans demand higher wages than their European contemporaries?
By the way the GDP of Côte D'Ivoire, a country in which I regularly work, is about $24 billion.
Tony J Williams
49
Posted 14/08/2014 at 10:37:49
"If Christian can provide some crosses for Rommy anywhere near as good, we'll have to buy some new nets!"
Jim, brought a smile to my face on a busy Thursday morning, thanks
Derek Knox
50
Posted 14/08/2014 at 10:23:59
Shane# 44
Clearly the lad was quite in awe of the situation, but also at the same time quite clearly said the right things, and I know you always get that from new signings, 'I always watched them as a boy, and dreamt that one day I would be lucky enough to realise those dreams' etc.
Open the window please, there is an overwhelming aroma of concentrated bullshit!
I honestly, and actually think that Christian's comments were genuine, either that or there is a definite future for him in the legal profession (Gladstone Crooks, Injury Liars etc.) or even as an actor.
What did concern me a little though having watched the OS video re: www.evertonfc.com/evertontv/home/10551 and as some of us have mentioned before, that the interviewers asked Roberto (having drawn parallels to Rom's situation,and from the same club) the answer from Roberto he just laughed and said more or less ' No he is here for ten months to improve his football '.
Whether that was just diplomacy on Roberto's part, but should he be the player we believe him to be, I can foresee almost the same scenario as with Rom, it seems almost inconceiveable that any loan deal would not contain such clauses. Otherwise, we get stiffed for what ever the parent club want, again.
James Elworthy
51
Posted 14/08/2014 at 10:43:00
Yes I am saying a lot of African players wage demands seem to be higher than South Americans or Eastern Europeans are.
$24b probably 3 billion less than what Kolo & Yaya Toure and Drogba earn in a year then, granted Drogba does a lot of charity work.
James Elworthy
52
Posted 14/08/2014 at 10:51:46
Emmanuel Adebayor and Michael Essien another pair of big earners and in the case of the former a seriously greedy bastard.
However if clubs are prepared to pay them good luck to them
Makes you think what Alan Ball on 𧴦 a week would earn now, there won't be any players in 30 years time scraping a living introducing matchball sponsors to the ref
Jay Harris
53
Posted 14/08/2014 at 10:44:32
I heard that Kone's knee was a real mess and there is concern it may not be up to the rigours of the Prem.
They are trying to get his strength up and see how he goes before deciding on his future and replacements.
Phil Walling
54
Posted 14/08/2014 at 11:04:37
Derek when does 'diplomacy' and 'sincerity' environmentally degrade into 'bullshit'?
Harold Matthews
55
Posted 14/08/2014 at 10:42:37
Have to admit that Robles is pretty scary. With such a great goalkeeping coach, I expected him to improve but there's no substitute for experience and this lad is woefully short in that department. In fact, looking at his history, he has played in less competitive games than most young keepers in Europe. While they are playing for the youth teams he sits on the bench. All his life he has been 2nd or 3rd choice. He managed three starts, think it was at Malaga, then Courtois arrived. Somewhere else he played 2nd or 3rd fiddle behind De Gea. Even in the youth international tournaments, he sat on the bench. Wigan was the one place he managed to put a bit of a run together but it was far too brief. He's now back on the bench and learning nothing.
Shane Corcoran
56
Posted 14/08/2014 at 11:11:41
Derek, I couldn't fully hear what he was saying but he probably bleeds blue like Howard.
As far as the deal goes, I can't agree with you.
Everton get a player for 10 months without having to pay a fee. Chelsea get a player back with more experience. Are you suggesting that Vitesse had some sort of agreement to buy him last season?
Derek Knox
57
Posted 14/08/2014 at 11:15:41
Phil# 54
Unlike you to disagree mate, or be pessimistic, or negative, but I was not referring to either Atsu or Roberto. I was alluding to the usual soundbites you get in general from players when they initially sign.
Maybe, I didn't make that clear enough, so apologies if I have ruffled your quills.
David Ellis
58
Posted 14/08/2014 at 11:28:47
Not sure why so many on here expect there to be a clause allowing us to buy Atsu for an agreed price. Chelsea are not looking to sell him. He's only been there 12 months. They will loan him out to other clubs to see how he develops. They will only sell him when they decide he is not going to make it and he only has two years or less on his contract - which is what happened with Lukaku.
And we won't have to pay whatever the selling club wants - we will pay the market price whatever that is. If they really want to sell him then they will need to accept the then market price...or they will end up keeping him for another year (and paying his wages).
Chris Sillett
59
Posted 14/08/2014 at 11:29:40
Very happy with Atsu signing he looks an exciting player, direct, skilful with pace and a good shot on him. All we need now imo is another striker (I'd have Eto'o or Traore) and another right back and we are sorted!
Patrick Murphy
60
Posted 14/08/2014 at 11:36:41
Harold judging by the lack of game time for Robles it would seem prudent to have the younger keeper on the bench and let Robles turn out for the reserves / junior sides but I'm not sure how he would react to that scenario.

Kev Johnson
61
Posted 14/08/2014 at 11:44:56
What David Ellis said.
Phil Walling
62
Posted 14/08/2014 at 11:55:06
Psst... Derek. I think 90% of what they all utter is unadulterated bullshit, anyway!
Graham Mockford
63
Posted 14/08/2014 at 11:54:28
James
"Yes I am saying a lot of African players wage demands seem to be higher than South Americans or Eastern Europeans are."
Stereotypical bullshit I would say. I think you will find lots of huge earners from South America. Neymar, Suarez, Tevez, Aguerro. As for Eastern Europeans I'm struggling to think of any really top players who could demand the big wages.
A report published last year by the Daily Express had the top 10 players in the PL by earnings as
3 English players, 2 Spanish, 1 French, 1 Belgium, 1 German, 1 Dutch and 1 African (Yaya Toure).
Maybe the absence of any other Africans is they not really cut out for a windy Tuesday night at Stoke.
Jon Withey
64
Posted 14/08/2014 at 12:05:17
We need another striker for sure but I'm not sure about calls for a right-back. I'd expect John Stones could cover there adequately and then Tyias Browning or Hibbo in an emergency.
As for the keeper, we also have Stanek along with Robles but a safe pair of hands at the end of his career would definitely be handy.
Harold Matthews
65
Posted 14/08/2014 at 12:09:41
Yes Patrick. It's a difficult one.
I thought Atsu came across as an honest, intelligent young man. Wish I could say the same about the people asking the questions.
Andrew Hawes
66
Posted 14/08/2014 at 12:13:10
Having just watched Roberto and Atsu's press conference, I have never heard anything so positive in at least 20 years! Our manager is happy with all aspects of his team, has everyone fit apart from a few that might be a few weeks behind. He has stated that he is not desperate to make any more signings but, if the opportunity arises, he will.
It was also interesting to hear his view on Gibson, Last pre-season, Roberto suggested that he would be our new playmaker and has just said as much again. Of course, it depends on his tendency to pick up injuries...
But never have we been in such a strong position starting a new campaign. If we can come out of a very tough opening 9 games anywhere near the top 4, then we our in for a very interesting season.
Col Wills
67
Posted 14/08/2014 at 12:23:42
Ring-a-ring o' roses,
A pocket full of goals,
A-TSU A-TSU
We all fall down!!
I'll get me coat......
Kev Johnson
68
Posted 14/08/2014 at 12:33:02
Put your coat back on, Col - that was funny!
If I could make a constructive criticism: how about replacing the syntactically disastrous "goal's" with the equally incorrect but somehow more effective "goalses"?
Then, instead of 'doing a Poznan' when a goal is scored (ie, turning our backs) we could all fall down with Atsu scores. I can just imagine it!
James Elworthy
69
Posted 14/08/2014 at 12:16:19
Kolo Toure & Adebayor must of been too and in the past Essien and Eto'o and now Drogba.
Jelavic or Besic must not be big earners otherwise we would not of signed them, Dzeko is highest earning Eastern European around and possibly Cech.
Graham Mockford
70
Posted 14/08/2014 at 12:44:34
James
You say they must have been. You know this for sure, of course you don't.
Your original post said
"Can't understand why many Africans from poverty stricken countries demand more wages than the national income of their country."
Apart from being obviously factually massively incorrect, it is a lazy stereotype of African players. You keep claiming African players demand more money than other players, yet other than tossing a few names around you have absolutely zero evidence to support your claim.
And just for the record, neither Jelavic or Dzeko are from Eastern Europe.
Col Wills
71
Posted 14/08/2014 at 13:03:45
Kev – I'll give you that one.
I just hope he isn't a diver – otherwise, every other team will be singing it.
Derek Knox
72
Posted 14/08/2014 at 13:06:36
Col & Kev (#67/68)
Either suggestion is not not to be sneezed at!
Peter Cummings
73
Posted 14/08/2014 at 13:05:52
I just watched a panorama of him in action. The guy certainly knows where the back of the net is and some of his trickery was (sorry to mention his name) Suarez-like. I can see us getting a few penalties as well as goals out of the lad but he will definitely be a marked man.
Well done, Roberto.
Craig Bellew
74
Posted 14/08/2014 at 13:34:52
A few have mentioned on here the NEED for another striker. Would it not be more prudent to possibly give the 2 young lads a go (McAleny & Long) who must be chomping at the bit to get a decent run in the team. If they don't come good by say December then RM can start compiling a list of possible replacements for the January window.
I think giving Eto'o, Traore or Kalou a place in the team when the two lads mentioned are on the cusp of getting first team action will only IMO hit their confidence hugely knowing RM has no faith what so ever in their abilities to step up to the mark. I am the only person who thinks this and apologies for going off topic slightly.
Back to the post. Welcome Christian to our Blue family and I for one am really looking forward to seeing you in blue/black/white this season tearing a new one for all he comes up against.
Steve King
75
Posted 14/08/2014 at 13:33:50
David Ellis #58
I think the reason many are asking the question about an agreed future fee is because that's what the media have been telling us for the last month while this particular negotiation has been going on.
I agree that given his short time at chelsea and young age it would be strange, but for numerous different media outlets to mention it then it must have at least been part of the negotiation. I for one hope that it has some grounding, otherwise if he's ace we may find ourselves 㾻 million+ poorer next summer to make it permanent.
Ray Roche
76
Posted 14/08/2014 at 13:43:55
Shane Corcoran @56
"Everton get a player for 10 months without having to pay a fee."
Shane, we had Lukaku last season and paid ٣m for the privilege of having him on loan. I can't imagine that we won't be paying a loan for Atsu as well.
Col Wills
77
Posted 14/08/2014 at 13:56:03
I can see it now: Pienaar and Mirallas for 70 minutes, Atsu and McGeady for the last 20 mins – not a bad change over?
Besic on last 30 to close the game out.
Dave Abrahams
78
Posted 14/08/2014 at 13:41:35
Definitely need a backup for goalkeeper. Stanek is only 17 or 18 and Robles just invites confidence in most of what he does.
Derek Knox
79
Posted 14/08/2014 at 14:21:56
Just seen him on SSN, I didn't realise how small he is. Not that size matters, it's what I've always said to my girlfriend, she begs to differ. Ouch.
He reminds me in stature and looks to Shaun Wright-Phillips, so if he turns out to be like him, I would be well happy. He was dynamite for a while and had some high profile transfers, Chelsea, Man City and then seems to have faded into obscurity.
Maybe he got bigger.
Rob Esteva
80
Posted 14/08/2014 at 14:33:09
Doubt it would happen now but looks like Geri Deulofeu is likely leaving Barca on loan again. Sevilla being linked:
http://www.marca.com/2014/08/14/futbol/equipos/barcelona/1408014507.html
I'm happy to take Atsu over him given his greater experience.
Tony Abrahams
83
Posted 14/08/2014 at 15:37:20
Who has ever come out and said Lukaku cost ٣ million to take on loan Ray? Or does that include wages?
James Elworthy
84
Posted 14/08/2014 at 15:52:13
The last time I looked at a map both Croatia and Bosnia where in Eastern Europe being part of the former communist republic of Yugoslavia
Graham Mockford
85
Posted 14/08/2014 at 15:59:04
James
Well I guess it depends which map you look at, the general UN classification places them in Southern Europe. However the geo-political history of the region is a tad complicated and probably doesn't merit an argument.
Let me just tell you what I think. African footballers are no different than those of other continents. Some are good guys, some are bellends. Where they originate has fuck all to do with anything.
Peter Z Jones
87
Posted 14/08/2014 at 16:11:39
Pablo 25. I think the general consensus that Atsu will be an upgrade to Deulofeu comes from his experience. While, I think in the long run, Del will be the better player, at this moment, Atsu is significantly more accomplished and older. He's already played the top competition in Portugal and Holland and was player of the year for Rio Ave and Vitesse. So not only did he get his feet wet, he was his team's best player. Then, you've got his international exploits. You saw the World Cup. Germany was scared shitless on the break against Ghana in that 2-2 draw and our man was a big part of that. Deulofeu was and is a much more raw prospect that had never even played in a top league anywhere. There was so much more he had to learn jumping into premier league football. I don't think Atsu will have as hard a transition so his contribution should theoretically be greater.
James Elworthy
88
Posted 14/08/2014 at 16:34:56
I have no problem with African players and their wage demands, you get what clubs are prepared to pay and the inflated wages the EPL pays at the moment means every mercenary in the football world wants to play here, you have turned this into a political debate not me. We have had some good African players such as Amo, Yakubu, Pienaar and Yobo (who did not get the credit he deserved) and some duds Nyarko and Bakayoko to name 2

Mike Allison
89
Posted 14/08/2014 at 16:29:49
Graham 'Eastern Europe' to me means former communist bloc countries.
In fact, I just did a quick search and there's a Wikipedia page called 'Eastern Bloc' which includes and explains all the countries I would consider 'Eastern European'.
Maybe it's an age thing and you grew up after the fall of the Berlin wall? Otherwise surely you knew what he meant by Eastern European.
As for the Atsu deal, if Chelsea wouldn't agree to a set fee next summer what can we do? He's their player, if we want him we have to do what they say. If they say things we don't like we look elsewhere
James Elworthy
90
Posted 14/08/2014 at 16:57:57
Thank you Graham I'm my time if you were behind the iron curtain you were in Eastern Europe and you where in a former communist republic, part of the Soviet bloc
James Elworthy
91
Posted 14/08/2014 at 16:57:57
Thank you Graham I'm my time if you were behind the iron curtain you were in Eastern Europe and you where in a former communist republic, part of the Soviet bloc
Paul Smith
92
Posted 14/08/2014 at 17:01:45
Players have power these days. Yes! Who wouldn't want to play for Chelsea and compete for major honours. That's why it's all the more important that if this kid is good, we the fans, the players and the club make him feel like he belongs here, then who knows, he may pick us next season and say "up yours Jose".
Graham Mockford
93
Posted 14/08/2014 at 16:55:51
James
Maybe you just don't get my point.
You have already stated
"Yes I am saying a lot of African players wage demands seem to be higher than South Americans or Eastern Europeans are."
This is blatant unsubstantiated nonsense.
You latest post talks about 'African players and their wage demands.'
My problem is you are portraying African footballers as greedy mercenaries. Some of them may be but that is an individual character issue rather than a result of their geographical heritage.
Mike as I said it depends on the map you look at. How can I say this not everything on Wiki is true. By the way I was born four years after they put the thing up in the first place. Wiki will tell you when that was.

Tony J Williams
94
Posted 14/08/2014 at 17:17:53
You can't believe everything you read on Wiki lads......
Graham Mockford
95
Posted 14/08/2014 at 17:19:31
James #90
You managed to get one thing right. Yugoslavia was a communist (or socialist) republic.
However other than the the three years after the end of WW2 is was never part of the Soviet or Eastern Bloc. In fact it was part of the Non-aligned movement having no allegiance to either the East or the West. He was a stubborn old bastard that Tito.

Ray Roche
96
Posted 14/08/2014 at 17:33:59
Tony Abrahams @83
Tony, it was quite widely reported at the time (and since) that Chelsea received ٣m loan fee from both Everton and WBA for the two seasons he spent at each club. This (below) is just one of the articles.
http://www.statsbomb.com/2013/09/the-curious-cost-of-the-everton-loans/
Kev Johnson
97
Posted 14/08/2014 at 17:38:21
I think there's some truth in James Elworthy's assertion that African players are more money-oriented. If so, it's not a matter of individual greed but of coming from a background of genuine poverty in which extended family ties are profoundly strong. If they don't make it as footballers they remain dirt poor - if they do then they redistribute their wealth. Yes, they keep a nice chunk for themselves but they also share it out among their former communities. Before anyone says it, I'm aware that this is a generalisation.
If anyone wants to read a serious article on the Africa-to-Europe football migration, have a look at this: http://www.spiegel.de/international/world/a-new-slave-trade-europe-s-thirst-for-young-african-footballers-a-698508-5.html
Kev Johnson
98
Posted 14/08/2014 at 17:48:30
Tony Abrahams
99
Posted 14/08/2014 at 17:57:05
Thanks Ray, I've just read that. It actually says we paid 㾶 million on Barry and Lukaku, and says that this also includes wages. I say it's bollocks, but what do I know. We must have paid all Barry's wages if it's true, so why would we have had to give City money for a free agent? Surely to Re compensate them for the money they must have paid Barry whilst he played for Everton?
James Elworthy
100
Posted 14/08/2014 at 17:50:54
I will concede to that one.
Another Eastern bloc mercenary I forgot about Berbatov from
Bulgaria.
In 1946 it became a single-party socialist state as part of the Soviet-led Eastern Bloc.
I recently got quoted by 2 Lithuanians half the cost that a scouser quoted for a new bathroom and they did a great job
Rumour has it Liverpool One was built by Polish brickies at half the cost of local brickies.
So people from that part of the world do a good job at a competitive price they are not all greedy mercenaries like footballers.
Graham Mockford
101
Posted 14/08/2014 at 18:09:05
Kev,
You are right it is a generalisation. Not sure how many times you have been to Africa, I spend half my life there especially in West Africa where the majority of African professional footballers come from.
Yes there are lower levels of income especially in rural areas but believe it or not, not everyone is 'dirt poor'. Cities like Abidjan, Dakar or Accra are seeing an emerging middle class.
I need to get off my high horse now but I stand by my original opinion that it is just lazy stereotyping.
Dean Adams
102
Posted 14/08/2014 at 17:22:05
The eastern block was always clear to me! All these "semantics". Still think Atsu will be a proper improvement on what we have. Oh and I think nearly all footballers regardless of where they come from are mercenaries, unless of course they are bluenoses in which case they are very nice people!!!!
Martin Mason
103
Posted 14/08/2014 at 18:22:34
I hope soon to see some credit and thanks given to the board of the Club for how they have managed the transition from the grimness of the Moyes era to the genuine hope that we see now even though the reality is that we are still broke.
How we will do this year is in the hands of the Gods but from the magnificent purchase of Lukaku to Atsu, the latest brick in the wall, we can go to the gunfight with more than a pen knife and I give massive praise to the board for facilitating that. We are not going to be sold to a benevolent benefactor but we can live with that now.
We won't click from minute zero on Saturday but we have hope now.
Ray Roche
104
Posted 14/08/2014 at 19:01:34
Tony Abrahams @99
Yes, Tony, seems daft but there you go. Chelsea certainly know how to do business, they got almost all their outlay on Lukaku back in loan fees and then sold him for 㿈m!
Phil Walling
105
Posted 14/08/2014 at 19:02:15
'All heil Blue Bill and his Magnificent Board. To dedicate the entire proceeds of the Fellaini sale to the purchase of Lukaku is indeed generous to the point of extravagance. We kneel in gratitude at your benevolence '
Strong enough for you, Martin?
Patrick Murphy
106
Posted 14/08/2014 at 20:25:19
Hail Hail to the Emperor who can't afford his own clothes! The board whilst being good to Roberto have not given him a penny more than the TV money allows. Another thing to bear in mind is that the last time a ground move had momentum the board splurged a load of cash on players only to draw in their horns when it all went pear-shaped.
I expect an announcement on ground moves before Christmas if not sooner it it fails to materialise the board will start selling our assets as soon as they deem it necessary.
David Chait
107
Posted 14/08/2014 at 20:49:47
I was born and bred in South Africa and live in Tanzania. I was having the discussion today about African player greed with a Ugandan and Tanzanian colleague. The issue was they didn't feel too much support for their fellow African teams in the World Cup because their own countries were having to ship cash over to them because they were refusing to play unless paid incentives... not all but some... this is common by teams like Cameroon to hold the country to ransom while most of these players ply their trade in lucrative European markets..
So, before we try and make greed sound like feeding the nation — it's not.
Tom R Owen
108
Posted 14/08/2014 at 20:54:59
Martin 103
I really hope your tongue is firmly in your cheek!

Mike Allison
109
Posted 14/08/2014 at 20:48:58
Graham, it's in the same place no matter what map you look at. Things can be in the South and the East at the same time, it's called the South-East. If you lived during the cold war era then it is at very best disingenuous to claim a Bosnian and a Croatian aren't from Eastern Europe.
Also to claim that 'not everything on Wiki is true' counts as evidence that a particular thing on Wikipedia is not true, correct or useful is a logic fail of epic proportions. Are you claiming that the Eastern Bloc page on Wikipedia has been hacked by some bored teenager in his IT lesson to make it look like Yugoslavia was part of Eastern Europe during the cold war when really it wasn't?
You're managing to make yourself look silly despite having been right in the first place about the lazy stereotyping, quite a feat. (I see from your post #90 that you read up on the Wikipedia page anyway...!).
Anyway, a separate point, maybe African players do ask for more when in a position to do so, because they can take the money back home and do some genuine life changing work with it. That's pure speculation, but it makes sense and there are definitely some African players who take their own earnings and set up foundations, orphanages and sometimes football academies with it. Why wouldn't you demand more when you know it means you can help more people?
Tony Abrahams
110
Posted 14/08/2014 at 21:08:58
Depends how you read it Ray, but I agree that Chelsea haven't done badly out of Lukaku. Let's hope we can do even better, and I'm sure we will, if we can get another striker in, to help share the physical burden.

Kevin Rowlands
111
Posted 14/08/2014 at 21:09:31
Well looks like we can now put the Gerry D coming back talk to rest, thankfully. Being reported that he is joining Sevilla for the season in a lot of places.
That Spanish Sky Sports presenter also tweeted earlier that Martinez spent a lot of time last season telling Gerry that the game still goes on when you've lost the ball, kind of explains the numerous times last season where I saw Coleman screaming at him during the game, Atsu will be better imho.
Richard Reeves
112
Posted 14/08/2014 at 21:34:43
Kevin,
I hope it isn't put to rest. I wouldn't care if it went right down to the last minute of the window if it meant we get him for another season.
Imagine this scenario: Barkley needs a rest, so Mirallas plays in his position, the ball comes out of defence to McCarthy who passes to Besic; Besic twists, pulls the ball back and moves forward, evading two players, moves forward and looks up to see who to pass to; he's got the option of Mirallas in front, Atsu on the left, and Deulofeu on the right with Lukaku upfront. I don't think there would be too many teams able to deal with that pace.
It would be a great option to have; saying that, now I've typed this, he's no doubt signed for Sevilla.
Graham Mockford
113
Posted 14/08/2014 at 22:48:16
Mike
I was trying to give up on this one as it was way off the point I was originally stating.
But as you took the trouble to post let me try and explain.
Firstly there are a number of definitions of Eastern Europe. The United Nations does not place the Balkan States in Eastern Europe, it defines them in a grouping with Spain, Greece and Italy called Southern Europe. The EU definition says they are in Eastern Europe, hence it depends which map you look at.
My reference to Wiki was a light hearted one to state any online resource that can be edited by the public may contain incorrect information.
Finally Yugoslavia was never part of the Eastern Bloc. It was a non-aligned country from 1948 following a fallout between Stalin and Tito. Therefore any claims that any country in the Eastern Bloc or behind the Iron Curtain are by definition Eastern European does not hold water in the case of Yugoslavia. Being a Socialist Republic does not by definition make you European, ask the Cubans.
Hope that helps
Graham Mockford
114
Posted 14/08/2014 at 23:00:36
Mike
I just read the Eastern Bloc page on Wiki and it actually confirms what I just said

Sean Kelly
115
Posted 14/08/2014 at 22:59:28
Geri D — not for us this season. He exposed our full backs when he bombed forward. Decent player but hasn't learned that he has to defend too.
Atsu will give us that extra bit of cover. If there is any spare cash left, let's try for a loanee striker to help Lukaku. As much as Naismith improved last year, he is not good enough to lead the line on his own.
And Santa, can you please please get us a backup goalkeeper as the one we have is a dud. Marshall would be a good shout if you can manage. I know it's early to do my Xmas list but if we could have them in the next week, all us ToffeeWebbers will be good lads and not moan for the season.
Feck — I must take my medication.
Kevin Rowlands
116
Posted 14/08/2014 at 23:25:10
Sorry Rich, disagree, if he was THAT good he'd be staying at Barcelona, he's had all pre-season there and they want to loan him out again, show pony for me, I know Mcgeady is a target for the boo boys but I watched every pre season game and the lad was easily our most dangerous player but still got stick from some, what's wrong with Atsu on the left and Mcgeady on the right or vice versa? AM is a better player and option at this stage than Gerry, there I've said it! dons tin hat.
Laurie Hartley
117
Posted 14/08/2014 at 23:16:13
Derek @ 36 your right - "no even nostalgia is the same as it used to be". Watching Atsu on U tube I was taken by the composure he shows before crossing the ball. He places it on a sixpence. It reminded me of the type of service Johnny Morrisey (one of my all time favourites) used to provide Joe Royle. Aa ah nostalgia creeps in!
While I'm at it the way Lukaku heads the ball reminds me of Joe Royle.
Is lightning going to strike 3 times at Everton - I hope so.
I'm looking forward to another great season.
UP THE BLUES.
Mark Pierpoint
118
Posted 14/08/2014 at 23:39:05
Agree with Kevin. Gerry has all of the potential to be top drawer, but he is a very rough diamond. For me at times last year he showed the problem with the loan system as I thought he seemed more focused on himself than the team. How many times did he try to beat a player multiple times instead of playing the ball? How many shots from silly angles instead of pulling the ball across the six yard box? Atsu may not end up as good a player as GD, but on a year loan for us I think he is a better option. If GD thought he did not get enough first team football last year, I doubt he would be happier with his number of minutes if he returned this year now.
Brian Furey
119
Posted 15/08/2014 at 07:08:23
I have to agree with you, Kevin @116. McGeady has a lot of good qualities but is very much a confidence player. If he thinks the boss, team mates and fans believe in him, he has the potential to be an amazing player. His touch with both feet is amazing and so when he's good he's very good. Unfortunately, when he's nervous or fans are just waiting for him to fuck it up, then he detects this and inevitably he does.
As a biased Irishman, I'd love to see him and Coleman form an amazing partnership like B&P on the left but I don't think Robbie will give him enough full games to build that confidence. Unlike most of us, he doesn't like getting pulled off at half-time.
WT Looi
120
Posted 15/08/2014 at 07:38:35
Something no-one has mentioned yet.. 2015 African Cup of Nations. If Atsu turns out to be an important player for us, we'll be missing him for two games against Chelsea as well as from 17 January to 8 February, assuming Ghana qualifies. Luckily the first game against Chelsea comes early in the season, when he'll still be used sparingly as he gets to know the league.
Mark Pierpoint
121
Posted 15/08/2014 at 09:39:24
I suppose on advantage is with the ANC is that this period correlates with the break period in the Europa League. At least we have options to replace Atsu, unlike, say a Lukaku figure.
In the end we know that the ANC is coming and so we just have to live with it.
Mike Allison
122
Posted 15/08/2014 at 10:56:41
There's only so much to say about Atsu, Graham, and I find stuff like this a bit more interesting, you clearly see things in a different way to me so I'd like to find out how and why. I certainly didn't know about the UN categorisations.
I did have a whizz through the page, and definitely learnt something, but it does have a map of Europe, with 'Yugoslavia' in the East (of Europe). There's the basic matter of longitude to consider after all. Would you genuinely consider a Croatian and a Bosnian not to be Eastern European?
A quick search reveals a Wikipedia page that doesn't include the Balkans in Eastern Europe, a Bleacher Report article that does, although specifies East and South-East Europe in its introduction and various other pages where Croatian, Slovenian and Serbian players are talked about as Eastern European.
Before this conversation it was obvious to me that the former Yugoslavia was definitely 'in Eastern Europe' now at least I understand there's another way of looking at it. I wonder if there is a motivation to try to end old divides between East and West in the way people think.
However, given that those countries are in Europe, and in the East of it, I can't help but think of them as being in Eastern Europe, just as I will continue to consider Spain and Portugal to be in Western Europe.
Graham Mockford
123
Posted 15/08/2014 at 13:22:49
Mike,
Not quite sure how I got into debating the geography of Europe. It was a bit of a throwaway comment to be honest.
The Balkan States are described as Western Europe, Eastern Europe or even South Eastern Europe depending on your reference source. You pays your money you take your choice.
The UK is in Western Europe or Northern Europe again depending on source.
However by my definition, I would not consider them Eastern European. Would you for instance consider Greece in Eastern Europe. It occupies the same Balkan Peninsula as Croatia and Bosnia, and even lies further East than both.
I think the reason most people associate it with Eastern Europe is the belief they were part of the old Soviet or Eastern bloc, despite the fact they actually were not.

---
Add Your Comments
In order to post a comment, you need to be logged in as a registered user of the site.
Or Sign up as a ToffeeWeb Member — it's free, takes just a few minutes and will allow you to post your comments on articles and Talking Points submissions across the site.
© ToffeeWeb