Fans warned over pyrotechnics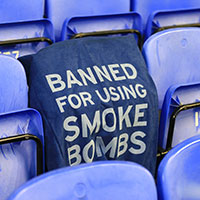 Ahead of the 2014/15 season, Everton are reiterating that the club is vehemently and absolutely against the use of pyrotechnics inside or outside of any football stadium.

Supporters found using pyrotechnics either at Goodison Park or at any away ground will be the subject of action by the Club and the police.

Such is the determination of the authorities to eradicate the use of pyrotechnics from football, any supporter found to be using them could be liable to a criminal conviction and, in certain cases, imprisonment.

As a Club, Everton will impose an indefinite ban on any supporter who violates our strict no-pyrotechnics policy.

As well as negatively affecting other fans' enjoyment of the game, pyrotechnics are a serious danger to those with breathing difficulties and disabled supporters who cannot easily escape from the smoke.

"We will thoroughly investigate any instances of the use of pyrotechnics robustly and prioritise action against those caught," said Everton's Head of Security and Stadium Safety Officer, Dave Lewis. "The use of pyrotechnics is a serious issue and will not be tolerated.

"We fully support any sanctions and punishments the authorities intend to bring against those prosecuted and hope our supporters ensure a pyrotechnic-free environment in which every Evertonian can enjoy the game."

Reader Comments (15)
Note: the following content is not moderated or vetted by the site owners at the time of submission. Comments are the responsibility of the poster. Disclaimer
Mike Childs
1
Posted 15/08/2014 at 17:22:45
I for one can't understand why folks want to set off smoke bombs etc. it's so disrespectful to the other fans around them. I'm glad that they take it serious and punish the quilty.
Paul Columb
2
Posted 16/08/2014 at 06:17:36
This comment is not specifically about smoke bombs, but rather a trend to sterilize the game into something akin to that experienced here in the US of A. Soulless, 'family friendly', entirely commercial 'entertainment'. If something is posing a danger or a health threat to someone who can't escape it, let the stewards deal with it. Lifetime bans and prison sentences....give it a rest.
Matt Traynor
3
Posted 16/08/2014 at 07:55:25
Paul #2, nice idea in theory, but most stewards are worse than useless. Particularly at away games, they'll often eject away fans for trivial matters whilst their colleagues ignore the racist/bigoted vitriol which the home fans are spitting out. Along with the spitting. And coin throwing etc.
There have been incidences in the UK of people being injured by pyrotechnics at stadia - in one case killed (at a rugby match), and of course there's the potential for hysteria/stampede etc.
Yes it can seem overkill, but whilst I can put up with fans having had a bit to drink, constantly getting up and down to the bogs during a match, I don't want to have idiots letting these things off in a crowded environment. And our away games are always packed, as "we go the game"...
Alan Humphreys
4
Posted 16/08/2014 at 13:27:40
Matt the incident was 1993 but as the chaps relative says in this article nothing has changed 20 years on.
http://www.bbc.co.uk/news/uk-wales-24931000

Matt Traynor
5
Posted 17/08/2014 at 05:50:44
Alan #4, thanks – I'd obviously mis-remembered it – I recall it was in Wales, so I guess that's why I thought it was at a rugby match. 20 years ago... makes me feel arl.
Nick Entwistle
6
Posted 18/08/2014 at 09:34:44
That was a rocket flare at the old Wales stadium.
Erik Dols
7
Posted 19/08/2014 at 07:44:43
Interesting cultural difference. I love the use of pyrotechnics at football matches, really improves the atmosphere. I'm with Paul Columb on this one, banning pyrotechnics is part of the sterilizing of football. And I'm not American, I'm from the continent. Standing has been banned for ages and over here I see some more things changing that I don't like, for instance it's getting harder and harder for away-fans to follow their team.
I like to visit matches in the UK, Germany, Holland and Belgium. Been doing so for years. Back in the early nineties, I looked up to English football for the atmosphere at the game. This changed over the last 20 years and to be honest I think at least Germany and Holland (and if you pick the right clubs Belgium as well) have more atmosphere at the average league game than the average Premier League match, more singing etc. Might have something to do with ticket prices and standing sections.
Tony J Williams
8
Posted 19/08/2014 at 09:31:05
"I'm with Paul Columb on this one, banning pyrotechnics is part of the sterilizing of football."
Sorry fella but that, in my opinion, is a ridiculous comment.
We are talking about flammable items and as alluded to above, there may be people who are not very mobile and could be in danger of being hit or in the worst case scenario being set on fire because some fucking dickhead fella who hasn't grown up has thrown a sick of fire into the crowd.
Karl Masters
9
Posted 19/08/2014 at 09:22:34
Agree Erik, but I do understand the flares ban. Yes, it's no fun, but nor would injuring other fans.
Best rocket flare I ever saw was almost 30 years ago today, fired from the old open away terrace at Stamford Bridge during half time when we were playing Chelsea on a Friday night. Landed near the tunnel scattering a good few Chelsea fans as it came down. Funny at the time, but as only 17,700 in the crowd they had room to get out of its way. Wouldn't be the case now.
Controversial I know, but safe standing areas would make a difference. However, those of us old enough to have been to Goodison before it went all seater in 1991 will testify the atmosphere wasn't always much to shout about then either. Then, as now, the occasion is what truly generated an atmosphere. So big cup tie, important league game, derby match etc. A game vs Norwich City for example has never been a hotbed of fervour!
Smoke bombs thrown out of the crowd onto the perimeter area, such as at Spurs the season before last, are no danger, but ones in the crowd as at Anfield a few weeks later are not good.
Maybe the Club could designate a safe flare throwing area! Can't see it somehow!
Erik Dols
10
Posted 19/08/2014 at 09:58:17
Maybe you're right Tony and Karl. Could be that I'm just clinging on to the way I used to watch football when I was younger – I'm not that old BTW. Obviously throwing a flare in a packed stand is wrong and should be punished.
I guess it's more or less that I see the football experience changing both here and in the UK and for me, it's not a change that I like. It's good that the 'real' hooliganism doesn't occur inside the stadiums anymore, I'll give you that. But it's growing more and more to an experience for the prawn sandwich brigade and a upper-middle-class family event and everything has to be nice. The Disneyland-experience. I always loved the raw atmosphere. But my memory probably erases all the boring matches without any atmosphere and just remembers the outstanding ones.
I'm going off-topic right now but is there any chance that the Premier League/FA will allow standing sections again? In Germany, and on a smaller scale in Holland, numerous clubs have large standing sections that are very, very safe. I can remember reading something about in on ToffeeWeb a few years back but never heard from it again.
Tony J Williams
11
Posted 19/08/2014 at 10:22:11
Erik, I too remember the old days of standing and as a kid being pushed against the blue bars when we scored. We were never scared of this – it was exciting.
I do miss that but I don't miss the feeling of hot bovril being spilled down my back (I hope it was bovril) and taking 15 minutes to go the bog.
Back on point, I just don't see any reason why a relatively sane fan (are there any of us?) would even entertain the thought of bringing a flare to the game.
Matt Traynor
12
Posted 19/08/2014 at 10:25:11
Tony #11, I thought that's what the rolled-up Echo was for, and no it probably wasn't Bovril.
Safe standing won't even be debated in this country as the implications of Hillsborough are still being addressed.
Derek Thomas
13
Posted 19/08/2014 at 10:38:42
Standing and Flares; Hillsborough and Bradford... never going to happen.
Alan McGuffog
14
Posted 19/08/2014 at 10:37:33
Yeah these bloody do-gooders have really ruined the game as regards atmosphere. Remember the good old days when "There ain't no black on the Union Jack" would echo around the grounds? When a playful banana could be hurled at John Barnes or whoever? When one bunch of Neanderthals could chase another up down Kirkdale Rd?
Yeah, what harm can a flare fired into a crowd of people do? ... I tell you what... it's political correctness gone mad...
I had that Paulo Di Canio in the back of me cab the other day...
Erik Dols
15
Posted 20/08/2014 at 12:27:35
Great arguments Alan, cheers mate.
---
Add Your Comments
In order to post a comment, you need to be logged in as a registered user of the site.
Or Sign up as a ToffeeWeb Member — it's free, takes just a few minutes and will allow you to post your comments on articles and Talking Points submissions across the site.
© ToffeeWeb