Barkley ruled out with knee injury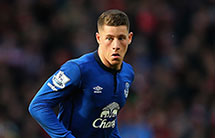 Everton have been dealt another injury blow with the news that Ross Barkley has suffered a knee injury and faces between six to eight weeks on the sidelines.

Roberto Martinez was already facing concerns over Seamus Coleman's hamstring and a lack of match sharpness for Romelu Lukaku and Kevin Mirallas and has now been forced to alter his plans further for tomorrow's match at Leicester.

Barkley, widely expected to be central to the line-up that takes the field at King Power Stadium in the season-opener, picked up the injury in training yesterday and may not play again until October. He will undergo a scan this weekend to determine the extent of the damage before a more accurate timetable for his return can be determined.

As a vital component of the Blues' attack, the loss of the 20-year-old weakens an area of the team that Martinez may already have been looking to strengthen before the transfer deadline and the Catalan could move to bring in cover before the window closes.



Reader Comments (139)
Note: the following content is not moderated or vetted by the site owners at the time of submission. Comments are the responsibility of the poster. Disclaimer
Paul Smith
1
Posted 15/08/2014 at 19:14:54
Fucksake!!
James Stewart
2
Posted 15/08/2014 at 19:14:54
Fucking typical
Paul Hewitt
3
Posted 15/08/2014 at 19:15:02
What a great start to the season.
Mark Tanton
4
Posted 15/08/2014 at 19:15:39
Step up Mr Besic.
Robbie Muldoon
5
Posted 15/08/2014 at 19:16:14
Which idiot has clattered him in training!?
Matt Muzi
6
Posted 15/08/2014 at 19:16:59
Besic, or even consider Pienaar, or Naismith sat behind big Rom. But it's a setback.
John Audsley
7
Posted 15/08/2014 at 19:18:55
Not good news.............ffs
Colin Glassar
8
Posted 15/08/2014 at 19:18:48
Wow, didn't see that coming. Hopefully it's for less time but I think we have enough in MF to cover for him.
Lee Courtliff
9
Posted 15/08/2014 at 19:22:15
Bloody hell.
I wasn't that confident about tomorrow even before this.
Christopher Wallace
10
Posted 15/08/2014 at 19:19:35
I'm one of Besic's biggest fans and couldn't be happier with the acquisition.
He will do an excellent job in the Barry/McCarthy role. Roberto will not attempt him in the advanced midfielder role.
Expect Mirallas or Naismith to occupy that position.
I've been expecting a draw all week but fuck it... 2-0 Everton
Jon Ferguson
11
Posted 15/08/2014 at 19:20:44
Gutted!
Clarence Yurcan
12
Posted 15/08/2014 at 19:26:36
Why?? Why?
Lyndon Lloyd
13
Posted 15/08/2014 at 19:23:50
Colin, someone posted a tumour on Twitter yesterday that I didn't pay much attention to. Unfortunately, the sources started multiplying this afternoon to the point where there was too much smoke for there not to be fire.
Time to dig deep now and ride through the next 2 - 3 weeks but I hope Martinez brings in more cover in the wake of this...
James Smith
14
Posted 15/08/2014 at 19:27:14
FFS
John Raftery
15
Posted 15/08/2014 at 19:23:26
Radio Merseyside reported he could be out for up to eight weeks. Hopefully that is the worst case scenario and he will recover more quickly. The injury might not necessarily be from a tackle. He might have turned or slipped awkwardly.
Peter Z Jones
16
Posted 15/08/2014 at 19:30:42
Of course.. fucking of course.
Ged Simpson
17
Posted 15/08/2014 at 19:32:54
Shame... but we have cover for a few weeks.
Steven Scaffardi
18
Posted 15/08/2014 at 19:32:55
It could be worse, at least Hibbo is fighting fit. Chin up lads!
John Paul McGurk
19
Posted 15/08/2014 at 19:33:59
It could only happen to us.
John Paul McGurk
20
Posted 15/08/2014 at 19:35:40
Osman was probably starting before him anyway.
Colin Glassar
21
Posted 15/08/2014 at 19:37:15
Hibbo to replace Ross, Steven?
Harold Matthews
22
Posted 15/08/2014 at 19:32:12
Hope we jump right in for Tino-Sven Susic. He's an international, he can play this role, he's 6'-1", he's tough, he's skilled and quick, he can carry the ball, he can create, he'is available and he is extremely cheap.
Dave Southon
23
Posted 15/08/2014 at 19:41:54
Must be off to Citeh, the contract was just to get maximum value.
God I hope I'm wrong.
Derek Knox
24
Posted 15/08/2014 at 19:40:48
It was probably Hibbo that put Ross out!
Hello Colin G. I was getting a bit concerned that you may have gone Walkabout with Jenny Agutter.
Chris Jones [Burton]
25
Posted 15/08/2014 at 19:44:17
NP, the rest will do him good.
Neil Monaghan
26
Posted 15/08/2014 at 19:45:58
Just when everything was starting to come together!! Looks like Osman will be his replacement tomorrow. Suicidal!
Jack Plant
27
Posted 15/08/2014 at 19:44:01
Terrible news in the short term, but maybe could lead to some good if it means Lukaku plays as a result and if we make some more signings as cover.
Drew Shortis
28
Posted 15/08/2014 at 19:15:10
Bugger! At least I found out in time to change him in my fantasy team, but still - DAMN!
Paul Ellam
29
Posted 15/08/2014 at 19:44:57
Stick Pienaar in Barkley's position or get the wallet out and bring somebody in!
Phil Walling
30
Posted 15/08/2014 at 19:47:25
Thank gawd we've got Ossie !
Colin Glassar
31
Posted 15/08/2014 at 19:50:38
Pienaar will play in his position. Big setback but everyone will have injured players so we just have to get on with it.
James Richard
32
Posted 15/08/2014 at 19:44:59
Why do the gods of rotten luck always swing their sword in our direction. Osman is a shoe in now then which is worrying as he does not have the power or aggression to cope with what I feel will be highly fueled Leicester side tomorrow. Personally I would put Besic in there or Pienaar with Atsu on the left and either McGeady or Kev on the right. Gutted for Ross could miss the derby and the EL opener.
Phil Walling
33
Posted 15/08/2014 at 19:50:43
.....and at least Ross will have time to get over his World Cup exertions!
Ian McPherson
34
Posted 15/08/2014 at 19:55:42
I blame Hibbert.
John Paul McGurk
35
Posted 15/08/2014 at 19:54:19
Besic and Barry holding and push McCarthy further forward.
Chris Oldfield
36
Posted 15/08/2014 at 19:54:36
He didn't look fully fit against Paderborn. It looked like he possibly tweaked something there.

Tony Doran
37
Posted 15/08/2014 at 19:54:07
What's worse than Barkley being injured is Osman being fit.
Kevin Rowlands
38
Posted 15/08/2014 at 19:54:37
Must be Martinez fault right Phil? I mean why would he sign this lad to a four year extension when he should of known he was going to get injured, bloody fool.
Derek Knox
39
Posted 15/08/2014 at 19:51:45
Harold# 23
I think that'a a good shout there mate, and it couldn't be construed as a quick fix solution, because presumably we are already linked with him.
We have read about this lad, before we even knew anything about Ross's injury. So, maybe it will bring the interest in him forward because we have just about two weeks left in the window.
I just hope that Roberto thinks the way we do Harold, and whatsmore he gets Bill to dig down the back of the casting couch, and also Jenny's Knicker Drawer, ( I hear heavy breathing already) to come up with what was quoted as a fee less than David Henen's.
Which brings me to another point, has that one been concluded yet?, it's been like the Forsyte Saga !
Peter Holmes
40
Posted 15/08/2014 at 19:58:08
He is not that good, we have better options. Controversial I know. . .

John Malone
41
Posted 15/08/2014 at 20:00:50
Naismith did well in the pocket last year probably his best position. It just mean's Lukaku's got to start, hopefully get a two-goal lead, then pull him off, change the shape, hold strong and counter attack for the remainder of the game maybe even get another the break.
Think positive — like Roberto!
Colin Grierson
43
Posted 15/08/2014 at 20:05:03
Fortunately we aren't a one man team! Whoever comes in for him will do a grand job. Prove them wrong (again) Ossie!
Coyb!
Andrew Presly
44
Posted 15/08/2014 at 20:04:45
For. Absolute. Fuck's. Sake.
Rom's going to have dig deep to put a shift in with Nais in behind.
If it's Ossie behind Naismith up top we're screwed at the Theatre of Crisps tomorrow.
Phil Walling
46
Posted 15/08/2014 at 20:03:37
You may be right, Kevin. I'm beginning to think his whole fitness and training regime is pretty crap !
Patrick Murphy
47
Posted 15/08/2014 at 20:07:42
This is a massive blow for the player and the club - he'll miss all the big games and then it will take him time to get his fitness back so we could be talking November / December before we see him in the first team proper. I don't believe it is a smokescreen for a possible transfer out of the club.
What is it about Everton in the past and presently that we seem to suffer bad injuries to our better players yet the ordinary players tend to stay fit and available?

Pete Hughes
48
Posted 15/08/2014 at 20:10:02
Phil Walling, 31...
I trust you were being sarcastic!?
Patrick Murphy
49
Posted 15/08/2014 at 20:13:14
Phil - you would think badly about whatever is happening at Goodison if you could pin it on Martinez - some fan you are mate!

Kevin Rowlands
50
Posted 15/08/2014 at 20:18:43
"On the plus side he'll be like a new signing when he comes back"...Bill Kenwright.
Karl Masters
51
Posted 15/08/2014 at 20:13:36
Bad news, but stop the feeling sorry for yourselves will ya? Injuries are part and parcel for all teams. Too many cry arsing whingebags in this site all Summer.
No doubt somebody will come on here blaming our training methods next. Oh wait, they already have! Ossie or Nais to step in, but surely we won't be treated to all the 'Ossie is not up to it anymore ' crap? Oh wait, we already have!
Peter Bell
52
Posted 15/08/2014 at 20:18:44
What is the point of having nutrienists, fitness coaches and all that F'kin sh"" if the manager allows everyone to kick the S""" out of each other in training
Darren Hind
53
Posted 15/08/2014 at 20:07:35
Fuck me Ossie and Hibbo have been getting some stick lately.
I reckon they should share the managers team talk, They can explain to everyone else in the dressing room what it takes to qualify for CL football without a team of superstars.
I'm struggling to remember two Everton players who have accumilated more points than these two, yet the still don't get the recognition they deserve
Any team would miss Barkley and Coleman, but they 'll be back. In the meantime Hibbo and Ossie will answer the call as they have always done.
Three more points tomorrow, to add to the hundreds these two unsung heroes have amassed down the years.
Gerard Carey
54
Posted 15/08/2014 at 20:20:18
This would have to happen. Would love to start with three points tomorrow. Think we need to start with Rom and Kevin. They have to be good for 60 to 70 minutes surely.
Phil Walling
55
Posted 15/08/2014 at 20:21:54
Patrick - have you had a humour by-pass ? If we can't make fun of what goes on at that Emporium of Savage Amusement, life wouldn't be worth living !
Patrick Murphy
56
Posted 15/08/2014 at 20:26:30
Phil - Perhaps you could make it clear when your posts are intended to be amusing and wry and when you are deadly serous it's sometimes very difficult to differentiate between the two.

Nigel Gregson
57
Posted 15/08/2014 at 20:30:03
we'll miss him but not as much as folks here seem to think.
Derek Knox
58
Posted 15/08/2014 at 20:27:50
Andrew Presly# 43
You had me creased there mate with the Theatre of Crisps.
And that is the Plain truth.
Thomas Surgenor
60
Posted 15/08/2014 at 20:31:09
Hey.... at least he can't pass a medical for another club now!
Darren Hind
61
Posted 15/08/2014 at 20:27:23
Peter #53 Martinez has been accused of wrapping his players in cotton wool, now you are criticising him for "allowing his players to kick shit out of each" He cant be guilty of both.
This is a knee injury and may have occured without any contact at all, the manager cant possibly be blamed.
Shit happens. We go again
Phil Walling
62
Posted 15/08/2014 at 20:36:52
Patrick, it's only a fucking game - not life or death. Or are you an undertaker ?
Patrick Murphy
63
Posted 15/08/2014 at 20:40:56
WTF are you on about you great idiot!!! You made a comment I made a comment. Don't talk to me about what is important or not I have a close relative who has this week been diagnosed with an extremely serious illness so I'm well aware of how silly football is in the great scheme of things thankyou.
Brin Williams
64
Posted 15/08/2014 at 20:39:27
Lyndon 13 'someone posted a tumour on Twitter yesterday'
That sounds worse than a crack on the knee ffs - a tumour!!! Gees.
Gareth Ashman
65
Posted 15/08/2014 at 20:38:55
There's a few on here that have been on the ale tonight. We ARE a top club and we will prevail tomorrow, calm down. The Belgians will be playing some extra minutes now, we'll be fine.
I also think Besic could play an important part tomorrow. Either that or he'll get a red in the first 5 minutes! Seriously, I've every confidence. 0-2 away win.
Karl Masters
66
Posted 15/08/2014 at 20:44:14
Patrick - really sorry to read that mate. Seriously might be worth keeping off here for a while. You're normally a level headed fella but some of the nonsense spouted on here would test a Saint, never mind somebody with their emotions all at sea. Hope your relative pulls through.
Patrick Murphy
67
Posted 15/08/2014 at 20:50:35
Cheers Karl - I only came on to take my mind off things - I should have known better.

James Morgan
68
Posted 15/08/2014 at 20:28:50
FFS. Typical. If the Belgian boys do start along with McGeady or Atsu, then I'm comfortable with Naismith stepping in. He's just as intelligent on and off the ball as Barkley and just as likely to get a goal. He might not have the power or dribbling skills of Ross but he's a worthy replacement. 12 months ago I would've had to be high writing that but he has come on leaps and bounds. Just gutted he will miss the big games.
Aman Kanji
69
Posted 15/08/2014 at 20:40:35
Poo!!! Now that's out the system, we have an excellent squad to pick from: Besic, Mirallas, Osman, McGeady, Atsu, McCarthy, Pienaar, Oviedo...etc.
Problem is he'll just be ready for the derby so fitness will be a problem for that game.
It's not a 'massive blow' to EFC. He's 1 player... Would love Ossie to score a brace and Hibbert to be MotM tomorrow just to shut some numbnuts up... Get a grip. Come on, Blues!
Sajid Patel
70
Posted 15/08/2014 at 20:57:14
Osman will do a good job.
Barkley will be missed; however, he can be very inconsistent and, on many occasions, like Deulfeu, loses the ball.
Sean Kelly
71
Posted 15/08/2014 at 20:49:49
Well said, Patrick, that fool is constantly digging at our manager. It amazes me that, a year on from the ginger twat going we still have idiots on here pining for his ways to continue. Hope your relative gets well soon and I'm sure all Evertonians wish him/her well. Now get you foot out of your gob, Mr Wailling.
Derek Knox
72
Posted 15/08/2014 at 20:55:23
Patrick# 64&68
Thoughts are with you too mate.
In defence of Phil and the others who can make the odd remark, I am sure they are made for any other purpose than to inflame a sensitive situation.
Besides, in all fairness, we are not going to express our family or personal situations on here, otherwise it will cease to be the brilliant site that is TW, and become something like Facebook.
Peter Holmes
73
Posted 15/08/2014 at 21:01:28
With one good knee each, perhaps Barkley and Gibson could play tied together. (BTW – that was a joke!)
Steven Scaffardi
74
Posted 15/08/2014 at 21:05:12
Why not Colin - Hibbert might at least then get that goal we all crave!
Joe O'Brien
75
Posted 15/08/2014 at 20:51:03
Big loss. I know we're not a one man team but in big games like Chelsea and arsenal he could be the difference. Any team would miss a Ross Barkley. Pienaar can play there but he hasn't been the old Pienaar for ages now, he's a poor second to Ross.
Will have to play the Belgians now. Will need them to get a result tomorrow and more importantly we need them to get match fit and up to speed for the Arsenal match.

Sam Hoare
76
Posted 15/08/2014 at 21:08:08
This is far from ideal. I was already worried about our limited attacking options and this adds to that concern. I fear we will not create enough chances for our record signing with the likes of Pienaar and Osman playing behind him or on the wings.
Hope we manage to bring in a central playmaker before the window closes.
Joe O'Brien
77
Posted 15/08/2014 at 21:09:04
Who's this Tino-Sven Harrold? Who does he play for and how much would he cost? You can answer the questions in any order you wish. Many thanks:)
John Crook
78
Posted 15/08/2014 at 21:14:59
The only positive will be if Roberto steps into the market and buys an attacking midfielder that he wasnt going to buy in the first place. Hopefully he will now. Rotten luck but we should be used to that! Squad depth is about to be tested at the very first fence.
Shane Corcoran
79
Posted 15/08/2014 at 21:16:22
Sam, understatement of the season before it even kicks off.
Iain Love
80
Posted 15/08/2014 at 21:13:39
Sometimes things like this can work in our favour, a bit like going down to 10 men galvanizes the whole team.
I'd be happy playing Naismith behind Lukaku or even Besic and McCarthy in front of Barry and use the wide players more.
I hope the positive thing will be Besic & Atsu being blooded earlier than expected.

Ray Robinson
81
Posted 15/08/2014 at 21:28:26
I'm fairly sanguine about such matters, even though it's a huge blow, as we can re-adjust. On the other hand, if the injury had been to Lukaku ............ !
Trevor Thompson
82
Posted 15/08/2014 at 21:31:39
Typical Everton! Arrrghh! Hopefully Gibson can play further up.
Joseph Terrence
83
Posted 15/08/2014 at 21:30:36
Well I hope Bobby rolls out a 4-3-3
Besic Barry McCarthy
Mirallas Lukaku Atsu/Pienaar

Barry Stevens
84
Posted 15/08/2014 at 21:26:15
Sod's bloody law this happens day before the season begins. Not all doom and gloom though. The new guy Atsu is adapt at playing in the hole off a forward. Maybe not for tomorrow's game but for Arsenal next week it's an option.
Trevor Thompson
85
Posted 15/08/2014 at 21:35:32
We needed a playmaker, anyway as I'd rather not have relied on Barkley because of he's still learning. A playmaker and a striker are due come transfer deadline day.
Tom Bowers
86
Posted 15/08/2014 at 21:44:18
Absolutely typical isn't it? Not a ball kicked and we have Coleman and Barkley out. So now we have to suffer the likes of Hibbert and Osman again? If so, forget getting off to a good start.
However, if RM has smarts, he will go with others who are chomping at the bit to establish themselves.
Raymond Fox
87
Posted 15/08/2014 at 21:36:43
Not good news is it, the manager will say it gives someone else a chance to impress, very true and typical of him.
The injuries seldom turn out to be as bad as first reported, lets hope so.
Were 11/8 favs to win the game, but I'm not so sure, they seem a big direct team to me and I think they will cause us plenty of trouble.
What do I know! the results any bodies guess.
Harold Matthews
88
Posted 15/08/2014 at 21:43:55
Joe. He's on the Rumour Mill thread. International team-mate of Besic. Age 22, 6'-1" left footed. Came on late against Iran in the World Cup and set up a goal. Cracking player. Lives in Belgium, plays in Croatia. Available on loan for €500,000 or to buy for €2.5M. Terrific holding player but ex-attacker and plays more forward for Bosnia.
Verona look like getting him but Everton have been making enquiries. Of course, lots of other names can be put forward but with Susic, the price is right and with Besic as an indicator, he might be a real bargain.
Brian Wilkinson
89
Posted 15/08/2014 at 22:16:37
No problem, plenty of cover, like others say, the rest will do him good.
Now had it happened to Howard, I really would be worried.
Mark Pierpoint
90
Posted 15/08/2014 at 22:23:59
Agree Brian. Disappointing certainly but just let's keep this in perspective. We have got some options still.
Kevin Rowlands
91
Posted 15/08/2014 at 21:47:29
How about Rom's best mate Mousa Dembele from Spurs? He' fit the bill for me.
Joe O'Brien
92
Posted 15/08/2014 at 22:11:55
Cheers Harrold. Saw that tread alright but kind of just glanced over it when I saw he was another holding midfielder. Didn't think we needed anymore... Until now unfortunately. Mo should know him inside out. The fee looks manageable also.
As previous posts have pointed out, this could benefit us in the long run. Where once was a very strong team but one injury damages it alot. Midfield we can cope to a extent, albeit a lot weaker but if this happened to Rom it would be a disaster.
We need to get cover up front for sure. Hope we're not putting all our focus on Traore. If Monaco sell Falcao and end up keeping Traore we're screwed. I'm sure Bill and Bob know this already. They do right?
Cheers again for the info, Harrold.
Stephen Coles
93
Posted 15/08/2014 at 22:41:57
Oh well, least we won't have to watch him fall over all the time!
Tim Greeley
94
Posted 15/08/2014 at 22:46:04
Havent you all learned with these injuries!?!? They NEVER come back earlier. 6-8 weeks probably means 3 months. Gotta get someone else in. Nikolas Bentdner, anyone!?!?
I'll just say it — Barkley's role is the only spot on the field that Ossie is good in. He's no Barks by a large stretch but he can contribute there for an hour... and then change it up with Nessi or Besic.
Just damnit tho. Damnit.
Kristian Boyce
95
Posted 15/08/2014 at 22:51:24
Sounds a bit stupid, but this might be a blessing in disguise. It might make Bill open his wallet and bring in an attacking creative player. Even with a fully fit squad we're not equipped to compete in four competitions. The Europa is going to be a big drain on the squad.
Lev Vellene
96
Posted 15/08/2014 at 22:49:35
OK, I've seen Besic placed in the DM role constantly, but he looks like he's got a decent touch for passing along the ball.
Would we really suck if he got pushed forward of his "expected" comfort-zone? Or could we use that quick passing of his to advantage?
Not sure how, or even which of the available youngsters might get pushed to prove their unexpected worth for a a spell here...
I just love the thought if it could happen!
Steavey Buckley
97
Posted 15/08/2014 at 22:50:48
With Barkley injured, I hope the attacking formation of Pienaar, Naismith, Osman and McGeady, that played against Leicester City in Thailand, is not the same one against Leicester City tomorrow, otherwise the result may be the same: 1-0.
Neil Pickering
98
Posted 15/08/2014 at 23:00:49
He may be good in a few years but for now I think Barkley is more effective coming off the bench anyway, so I don't think we will miss him as much as some on here think. He gives the ball away in dangerous positions for the opposition, and his decision-making in general is mostly poor.
Naismith is a far better option for me in behind a striker, and proved it over the course of last season. So I'm not that arsed to be honest.
Bill Gall
99
Posted 15/08/2014 at 23:04:30
Amazing wrap them up in cotton balls in pre- season games and he gets injured in training.
Joe O'Brien
100
Posted 15/08/2014 at 23:14:23
Tim. I hope you were joking about Bentdner?? Anyway even if you weren't he signed today on a free to Wolfsburg. Would not want that fella near our team. Any Arsenal supporter I know wanted him out for the last three seasons. Kalou anyone? wouldn't be bad but don't think he'd be happy with being just a back up player, probably on big wages as well.

Ged Simpson
101
Posted 15/08/2014 at 23:25:10
This clearly caused by a tackle by Mo. Glad he's ambitious.
Stephen Scofield
102
Posted 15/08/2014 at 23:31:29
Shit balls. Is this really happening?
Harold Matthews
103
Posted 15/08/2014 at 23:46:05
Joe. I'm pretty sure the club have got the striker situation sorted.
Mike Childs
104
Posted 15/08/2014 at 23:48:31
My heart goes out to you, Phil. I just lost both my parents in the last 8 months; fortunately both were in their eighties and I spent the last 5 years with them as a son and caretaker. Hopefully they caught your relative earlier enough.
Anyways while it hurts to loose Ross it certainly will give others opportunities that they might not have gotten. Better now I guess than in the middle of the year as we do have a few weeks to pick up another player.
Jim Stephens
105
Posted 15/08/2014 at 23:48:00
Tits. Absolute bloody tits.
Personally think this is a big blow as we don't have anyone who can do the job Ross can in the way he does (I.e. change defence into attack instantly), despite his occasional mistakes (being a young lad and all that). Gutted ahead of big, big games and the timing stinks.
Bum.
James Stewart
107
Posted 16/08/2014 at 00:31:33
We don't have a Barkley replacement. Only Mirallas is capable of similar moments of brilliance. Truly a massive blow.
The thought of Hibbert and Osman both starting tomorrow is deeply depressing...
Si Cooper
108
Posted 16/08/2014 at 00:23:31
Are people serious with "the rest will do him good" comments? He has just had all the rest he needs.
He is a young player who will now be chomping at the bit and frustrated as hell. Instead of shaking off the rustiness in the next couple of games with everyone else he will be trying to do that when everyone else has had 6 weeks of competitive games head-start.
I am wondering that it is reported that his injury happened yesterday, which coincides with the rumour about the interest in Susic. Perhaps they are related. I am not as comfortable with the level of cover we have in midfield as some are, especially considering the age or injury record of some of those we are going to be relying heavily on.
Gavin Ramejkis
109
Posted 16/08/2014 at 00:07:43
Hi Patrick, best wishes and luck to your relative, been through that myself.
I'm not saying its the end of the world tomorrow as that's why you need a squad because things like this happen he will be missed in the games against Arsenal and Chavski.
Hopefully Roberto will go on the offensive and we don't see a repeat of the fringe under performances or line ups we had pre season as they simply don't work, even against Leicester. I'd be tempted with Mirallas behind Lukaku as he is always wanting to come in for a goal and Atsu and Pienaar play the wings.
With the games coming up th,e earlier we get points on the table the better; go into each game wanting to win it and see where we go from there.
Daniel Lennon
110
Posted 16/08/2014 at 01:01:04
Please, Toffees, why always so negative! Ross is out for a few weeks. We have plenty of options and the transfer window is still open. It's disappointing that Ross will miss the few weeks but it's hardly time to panic.
Danny Kewley
111
Posted 16/08/2014 at 01:36:26
Not the best of news to start our season.
If Bobby is as savvy as I think he is, we'll get round this cause we are EVERTON!!!!!!!!! Patrick take no bread poultice mate!
Bob Parrington
112
Posted 16/08/2014 at 01:36:08
Hi Patrick, I echo Gavin's comments in his wishes for your relative and the family. Life can be a pig at times. Whether it happens to yourself or somebody close, you tend to re-evaluate and prioritise. Best wishes.
Leicester 0 Everton 2. Result of new team depth and great team spirit.

Jamie Crowley
113
Posted 16/08/2014 at 02:07:53
I'm with Tim Greeley on this one.
My son had surgery on his knee Thursday. Supposed to be a 45 minute procedure, 2-3 week rehab and he's back on the pitch.
The surgery lasted 3 hours, he's in a wheelchair for 2 weeks, 6 weeks crutches, 3 months minimum rehab...
He had 2 college showcase tournaments this Fall.... ugh.
These things almost always seem to be worse than anticipated, and if ya rush Em back they simply re-injure.
I honestly hope we don't see him back till our American Thanksgiving. That'll give him ample time to heal and recover. Barkley is too valuable an asset to Everton.
And it's a marathon, not a sprint. Time for that new squad depth to show its merit.
Ste Blundell
114
Posted 16/08/2014 at 02:29:46
Says who?
Neil Monaghan
115
Posted 16/08/2014 at 02:52:02
It's going to be alright lads, it's 2:30 in the morning and I just woke from a dream. We beat them 4-1 and Tony Hibbert scored! The bet has been placed (minus Hibbo scoring, of course) and now maybe I can get some sleep.
Harold Matthews
116
Posted 16/08/2014 at 03:27:14
Agree Si. Not happy with the cover one little bit. As Sam noted earlier, chances will probably be few. There is also the fact that their powerful midfield will tread on our tiny tots.
On the other hand, Roberto may smile in the face of adversity, re-shuffle his pack, and hit them with aces late on.
Otto Heinonen
117
Posted 16/08/2014 at 04:31:35
Perkele. Ossie/Pienaar are capable. As a Finn, I would like to suggest buying Roman Eremenko.
Harold Matthews
118
Posted 16/08/2014 at 06:27:17
Otto. Yes. Terrific creative midfielder but went to Rubin Kazan 2011 for 㾷m and is now their star player. Bit out of our price-range right now.
Jim Potter
119
Posted 16/08/2014 at 07:04:47
Just what I needed to cheer me up.
Ossie can step up.
The crap he gets on this site is appalling for a stalwart Blue. If he played for the RS he'd get less abuse. He may not be Barkley - but he's still a good player - and will give 100%.
"A 100% sh*t" - I can see that one coming ...
How about backing our guys up?
Derek Knox
120
Posted 16/08/2014 at 08:10:31
Jim# 123
I have never openly been a knocker of Osman and I totally agree he quite often gets some unnecessary stick, but I have noticed that age is also beginning to take it's toll, so can understand why that is the case.
All players can make mistakes in a game, but some seemingly escape criticism for them, Ossie's loyalty is almost unquestionable, and is one of those players who you would want if it descended to trench warfare.
I think Ossie's experience can be vital this coming season, but would prefer to see him giving a great 45 minutes than an ineffectual and laboured 90 minutes.
Hibbert too has been a great servant over the years, but I fail to see what he could possibly add to the modern game and the style of play employed by Roberto. I see him more of a liability than a benefit, and can't for the life of me understand why they gave him another contract.
Karl Masters
121
Posted 16/08/2014 at 08:37:03
He's a very good defender Derek. He can teach some of the others a thing or two about positional play and man marking, plus we will need cover with our extended fixtures this season.
By the way, Tim Greeley #95 and your ' fuck our arses' plea! Funniest thing I have read on here in ages. But you do need to get a grip. As things stand there are two players in our squad who we would seriously miss - Howard and Lukaku. There are no obvious ways of getting round them being injured. Ross, yes it's a blow, but we have a squad and other ways of playing so don't despair. Certainly no need to bend over!
Denis Richardson
122
Posted 16/08/2014 at 08:54:42
Ffs - just when we were all hoping injuries would not be a major factor for us his season!!
At least we only have 3 games in the next month and a bit, hopefully he's back by the end of September.
James Morgan
123
Posted 16/08/2014 at 07:45:12
Osman might not be Zidane but we have seen him pick apart better defences than Leicesters!
I agree with an earlier poster, go 4 3 3. We have the personnel to put an extra man in the middle and it requires one less player in the forward line.
James Newcombe
124
Posted 16/08/2014 at 09:09:12
Good point James, Ossie's best games have usually been against teams well out of the top four. I think we'll be all right today, Ross is not the finished article yet (obviously hoping he's back soon though!!)
Max Wilson
125
Posted 16/08/2014 at 09:06:21
We should'nt bank on Barkley- or anyone else for that matter- we've got cover in theory. Certain players have been a dissapointment since they arrived. Certainly Peanuts can manage anything Leicester will throw at us.
Ajay Gopal
126
Posted 16/08/2014 at 09:18:26
Oh my God, tell me this is a bad dream and I will wake up! After all the months of anticipation and all the positive developments (new signings/contract extensions, etc) over the summer, to get up in the morning here in Bangalore on the day the PL kicks-off and to see the TW headline screaming "Ross ruled out with knee injury" is unreal. I hope this will not turn out to be nastier that what has been told. Nothing on the OS so far - very ominous!
Having said that, I hope this will mean that Atsu's induction into the playing XI is faster (although he won't play against Chelsea - bummer!).
Get well soon, Ross! To the Gods above - 'please, please let is not be anything worse than reported. I will live with 6 weeks off, and I promise to be good boy!'
Derek Knox
127
Posted 16/08/2014 at 09:37:19
Ajay, I can understand your shock t waking to that news, not the sort of news you,or any of us wanted to hear, but we have to just get on with it.
However, I think that we can cope without Ross as we have plenty of midfielders, although not qite the same, it is upfront that gets my worry.
Especially as there are doubts over the Belgians' involvement, and as there has been no team indication, but being an optimist I am just hoping that they will (Rom & Kev) play at some point. Cheers Ajay.
Mark Pendleton
128
Posted 16/08/2014 at 09:44:12
We're pretty well equipped for players who can play in those forward 3 positions - Mirallas, Pienaar, McGeady, Atsu, Osman and you can include Naismith if we have Rom available as Naisy can play just behind him. Yes, it's bad news to lose Ross, but far worse news had it been Rom.
Jim Potter
129
Posted 16/08/2014 at 09:46:44
Derek #124.
Agree with your Osman comments. He is possibly just a 45 minute guy now. I just cannot understand Ossie's demi hate figure staus on this site. He's an honest, skillful, committed, loyal pro - who can play some great football. Would he be in my starting 11 - no. But we are now left beggars by this injury - and Bobby M is the Chooser. We'll see.
I think many of us were hoping for a late dip into the market for another number 10 to cover for Ross before this injury - now I think it's a must. Over to Blue Bill and Bobby M.
Hibbo .... er ... is Hibbo. Love him to death but will wince uncomfortably if he plays. If he does - then I'll back him 100% and hope to God we get the chance to 'riot' at last.
Bill Griffiths
130
Posted 16/08/2014 at 09:43:37
I'm glad Roberto's our manager and not most of the pessimistic posters on here else the lads would be beaten before setting foot on the pitch.
Obviously Roberto will now have maybe consider changing formation and personnel but I am sure he will do so accordingly make sure the guys who take the field are in the right frame of mind to take what I am sure he will consider positive results to be taken from the situation.
Footballs a squad game and other teams will face these problems throughout the season the same as ourselves. We are probably not aware of these as we only worry about and look closely at our own club.
Kevin Tully
131
Posted 16/08/2014 at 10:20:33
True Bill, Man Utd have nine out for their opening fixture and will have to include reserves off the bench. Not going to fret about losing Ross for a few games, it won't hurt us as far as I'm concerned.
The only stat that does concern me, is the fact we haven't won an opening day away fixture since 2001. Time to break that unwanted record Roberto!
Wayne Smyth
132
Posted 16/08/2014 at 10:21:20
True, Bill. I can't even be bothered to read through most of the posts, because I can imagine the kind of stuff that has and will be spouted.
Only a few days ago, some were telling us that last season we carried Barkley and that he was a luxury. We've always had posters tell us that he's not actually very good and he doesn't create and score enough. Utter tripe, of course. Well, it looks like we wont have to carry him for a few weeks at least.
Karl(125) I have to agree with Derek about Hibbert. I just can't remember a decent performance from him for years. He always had a yard of pace that got him out of trouble, but now he's not even that quick any more. If he plays I really worry about our chances of keeping a clean sheet.
I can only think he's been kept on to help develop the younger players and as an emergency. While Coleman is out, I think Browning should be given the nod. He looked one of our better defenders during pre-season, even playing out of position at left back and actually could be rather good in future, unlike Hibbert.

Laurie Hartley
133
Posted 16/08/2014 at 10:45:27
Bad luck for Ross and the club especially with our involvement in Europe.
However as someone has posted we are not a one man team - 4,3,3 may be the way to go:-
Howard
Stones, Jagielka, Distin, Baines
McCarthy, Barry, Besic
Mirallas(or McGeady), Lukaku, Atsu
Subs: Pienaar, Osman, Naismith, Hibbert, Long, Robles
If Gibson and Coleman ARE fit, it's happy days.
Looking forward to a good result.
Peter Bell
134
Posted 16/08/2014 at 11:15:52
Is Cattermole still available.
Sam Hoare
135
Posted 16/08/2014 at 11:12:14
Wayne, was Hibbert ever quick?! I don't recall it. Certainly he is slower now though and I suspect that he's not up to Premiership standard anymore for a full back. He was a very solid defender 2/3 years ago and has been a great servant but from what i've seen in pre-season time has caught up with him and he has just not got the mobility anymore to contain tricky wingers.
Mark Tanton
136
Posted 16/08/2014 at 11:19:10
Hibbert quick? My abiding memory of him is getting skinned and left for dead and giving away a penalty against the other lot at Goodison when we turned an Everton corner successfully into a Liverpool break. I think it may have been Kuyt who did the skinning.
Peter Bell
137
Posted 16/08/2014 at 11:22:13
It was Stevie Me, who then convinced Twattenburg to change yellow to red
Mark Tanton
138
Posted 16/08/2014 at 11:29:23
Ah I thought Stevie was following up behind in Clattenberg's ear, just off play.
Denis Richardson
139
Posted 16/08/2014 at 12:07:05
Ok - have gotten over the shock of this. Back to reality, we're playing a side that got promoted last season (away admittedly) and if the likes of Osman, Mirallas, Pienaar, Lukaku and Atsu can't get us three points here, then there's really no point in thinking about top 4.
Lets not worry about Arsenal and Chelsea for the time being, all that matters is getting off to a good start today.
COYB lets get the 3 points
Harold Matthews
141
Posted 16/08/2014 at 13:53:05
Hibbo was never slow.
Saegaran Kana
142
Posted 16/08/2014 at 14:12:04
It ain't Everton if its not difficult.. make our heart go whoooooo

Stale Haverstadlokken
143
Posted 16/08/2014 at 15:57:04
Barkley injury is a blow, but in this season we have good cover in all positions. Shit happens..
Pat Finegan
144
Posted 16/08/2014 at 18:29:30
NBC just said "anywhere from 7 weeks to 4 or 5 months."
---
Add Your Comments
In order to post a comment, you need to be logged in as a registered user of the site.
Or Sign up as a ToffeeWeb Member — it's free, takes just a few minutes and will allow you to post your comments on articles and Talking Points submissions across the site.
© ToffeeWeb