Barkley could be out for months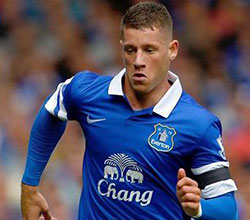 Everton are facing up to the possibility that Ross Barkley could be out of action for up to five months if scans reveal a significant tear to the medial ligament in his right knee.

The 20-year-old suffered the injury in training on the eve of the new Premier League season and the club are awaiting the results of a detailed examination of the injury before Roberto Martinez knows how long he will be without one of his key players.

The manager fears, though, that Barkley could be out until January: "He had a scan but it was a bit difficult to determine the extent," Martinez said after the 2-2 draw with Leicester City this afternoon. "With the swelling we don't really know how bad the injury is.

"We know it's a partial tear but that could be anything between seven weeks and I've seen injuries like that that take four or five months.

"Ross Barkley is a phenomenal footballer and we're going to miss him, there's no doubt about it. He was so sharp in pre-season, I thought he came back with a different approach.

"He was very unfortunate to (sustain the injury) through an innocuous challenge in training and now he's going to be out for a long, long time.

If Martinez's plans before the transfer window have changed on the back of Barkley's injury, he was not giving anything away, suggesting instead that his team will be able to absorb the loss of one of it's more creative influences. "The squad should be big enough to be able to cope with losing a player and be able to perform well, but it's a disappointing moment when Ross Barkley was going to have a really big start to the season.

"Now it's coping with the frustration and allowing him to come back when he's fully fit and ready for whatever's left in the season."

Should this setback entail a long lay-off, it won't be the first time Barkley has been forced to deal with an extended spell on the sidelines. He broke his leg in three places four years ago while on international duty for England U19s but recovered to become a key player for the Blues last season.

"He's a very mature boy," Martinez continued. "He was very disappointed because he was looking forward to the start of the season and he put a lot of extra work in because he came back from the World Cup with a real desire to start the season well.

"He's been through periods of bad adversity before and he knows how to cope with that.

"As a football club we're going to be with him and make sure that he's not suffering too much while he's away. I think the ones that are going to suffer is us."

Quotes sourced from ITV



Reader Comments (89)
Note: the following content is not moderated or vetted by the site owners at the time of submission. Comments are the responsibility of the poster. Disclaimer
Joseph Terrence
1
Posted 16/08/2014 at 18:36:21
Utter shite considering the comments from bobby suggest Billy boy won't open up that pocket book.
Dean Adams
2
Posted 16/08/2014 at 18:36:37
Is there ever any good news when it comes to EFC and injuries to our better players. Five months, I hope RM is joking.
Kevin Rowlands
3
Posted 16/08/2014 at 18:36:40
This is now starting to sound like it could be a season ending injury with surgery and a long rehab ahead, Ã  la Gibson/Kone.
Desperately disappointing, surely were going to have go into the transfer market again to find a replacement.
James Stewart
4
Posted 16/08/2014 at 18:46:17
We need to bring someone in, even if it's a loan. Losing him for 5 months without a replacement is simply suicide.
Paul Columb
5
Posted 16/08/2014 at 18:41:38
The update is concerning. An MCL injury, even if a complete tear involves little joint effusion if any (swelling in the joint) and any ambiguity of the degree of injury on scans can be clarified with clinical exam. Depending on grade, training could resume between 2 and six weeks. If swelling is an issue precluding a diagnosis of the grade of injury it likely points to concurrent damage within the joint such as meniscus, cruciate ligament or cartilage. Real bummer for Ross and Everton, especially at this point in his development. Hope the news gets better.
Jim Bennings
6
Posted 16/08/2014 at 18:45:12
Is Everton Football Club the most depressing club to support in the Premier League?
There just never seems to be any good news and even when there is its usually swiftly followed by horrendous news or hard luck stories.
New season but nothing ever changes...
Oh for those glory summer nights watching the Brazil World Cup again.
Chris Sillett
7
Posted 16/08/2014 at 18:47:43
Absolutely gutted about this, I would be surprised to see him back before Christmas now. We always seem to pick up bad injuries, last year it was Kone and Gibson who got serious injuries early on.
Dick Brady
8
Posted 16/08/2014 at 18:58:48
Barkley has always been the type of player that picks up injuries. He was badly injured as a teenager and he's suffered a succession of niggling injuries since then. I really hope Barkley doesn't go the way of James Vaughan and see his potential ruined by constant injuries.
David Duggan
9
Posted 16/08/2014 at 18:51:12
The most disappointing news we could've got! Seems to me like it's going to be a good few months before our Ross is back!
Martinez has consistently said he is the player he wants to build this team around so surely this means we have to find an adequate replacement? Osman will be best used in Europa League this season where the games are slower — he simply isn't a replacement for Barkley though!
Dream buy would be Kagawa for me, but I don't think we could do much worse than a loan for Ben Arfa? Great little player on his day and similar to Ross in that he loves to pick the ball up and run.
Speedy recovery, Ross, COYB!
Jeff Beaumont
10
Posted 16/08/2014 at 18:58:22
Do we now consider him injury prone as many on this site do a la Kone/Gibson & castigate him the same way those two have been?
Matt Traynor
11
Posted 16/08/2014 at 19:09:48
Jeff #10, meet Dick #8
Lenny Kingman
12
Posted 16/08/2014 at 19:26:37
Kenwright will be musing this evening.
Mmm I wish I'd cashed in on this boy when the going was good. Now he's a worthless lump of lard till proven fit.
Colin Glassar
13
Posted 16/08/2014 at 19:46:53
Gutted for the lad but this can't be used as an excuse. We need to batter the gooners (I think we will btw) next game and get our season going. Let Ross recover in his own time but for christs sake, don't put more pressure on his shoulders by using him as an excuse.
Alan McGuffog
14
Posted 16/08/2014 at 19:50:31
Tell your children.....today is what supporting Everton is all about. You could call it 'character forming' I suppose. As one door closes behind you, another slams shut and breaks your feckin' specs!
Dean Adams
15
Posted 16/08/2014 at 19:55:12
Jim Bennings 6
The answer is no. You could support MU, they are the most depressing club in the league at the moment. Loads of money but very few prospects and a crap defence. As for bad news, they have just bought the most expensive teenager in the country and he is now injured. Their squad is not better than ours and nor are their prospects, dispite all the media hype. When that bubble bursts, you would not want to be near by.
Jack Cross
16
Posted 16/08/2014 at 19:56:34
I don't believe what I'm reading here the doom and gloom crowd are on already with one match played. We didn't win, but we didn't loose either and we were away. Maybe we should have won but I'll take a draw, first game.
As for Lukaku, well I wouldn't have paid 㿈 mil for him, he's not mobile enough for me and quite lazy. Bony, he should have been the target in my opinion. I watched him this afternoon and he would have fitted in with us no problem. A good striker with a nice touch and a grafter. But Lukaku is the one that as to be given our support good or bad.
As for Barry, I think he worth the three years we gave him. One bad game out of how many? So I don't think you should be too tough on him, do you?
John Paul McGurk
17
Posted 16/08/2014 at 20:16:41
We really need a creative midfielder and another striker, even before Ross got injured and the game today.
Shaun Traynor
18
Posted 16/08/2014 at 20:23:00
Dembele from Spurs? Cheeky loan move?
Pete Owen
19
Posted 16/08/2014 at 19:51:55
Injury prone? How can you possibly come to that conclusion after just 2 pretty run-of-the-mill footballing injuries?
the lad is desperate to play and desperately unlucky, but that's football!I wish him well and a speedy recovery and cheer on YOUR team without pointing fingers at chairmen, managers, players.
Get fit soon, Ross lad, glory awaits you!
Sean Kelly
20
Posted 16/08/2014 at 20:38:31
Gutted for Ross. Get well soon lad. Lenny keep them thoughts to yourself this day was shitty enough. We didn't win we didn't lose so on we go to next week. A good week's training and a good rollicking to some players that didn't seem arsed in the second half should see us get a result against the Arse.
Come on, people lets get behind them. There are a few areas of concern namely our two CBs. One is ageing and the other hasn't looked comfortable playing out of defence.
Alex Kociuba
21
Posted 16/08/2014 at 20:50:19
Pete, isn't it our right as Everton fans to question, point fingers and criticise wherever we sit fit concerning Everton matters?
Wayne Smyth
22
Posted 16/08/2014 at 20:56:36
Alex, it helps when the criticisms stand up to scrutiny.
Barkley made 38 appearances for us last season... bloody injury prone sicknote that he is.
Jack Cross
23
Posted 16/08/2014 at 21:12:52
Who did we let go over the summer? Apart from Velious.
Matt Muzi
24
Posted 16/08/2014 at 21:07:46
Major blow and I thin the thing that makes it worse is we just don't know how long he's going to be out & how long it's going to take before he's fully fit.
It's all good & well talking about bringing in a loan/signing, but realistically who would you bring in who could offer us the same as Ross, without breaking the bank?
Fully agree with John@17, we needed another striker & creative midfielder before this & I'd go further another say we could do with another RB Hibbert isn't up to it & ideally another goalkeeper, I have no confidence in Robles if something happens to Howard.
After today's game we could of easily los McCarthy for a long spell as well!
Jon Withey
25
Posted 16/08/2014 at 21:25:21
Sounds like Bobby is trying to let us down gently. Barkley is going to have a limited impact this season. Although we'll cope without him, we will definitely miss that spark of the unknown. For me he was always a potential match-winner.
Tony Abrahams
27
Posted 16/08/2014 at 21:36:00
Massive blow because I think the kid is ready to go to the next level, but these things happen in football. Missed him today, especially second half, so let's hope when the swelling goes down, we get some better news.
John Malone
28
Posted 16/08/2014 at 21:33:13
What a sickener, 6-8 weeks is hard to take but five months is a killer, not only for the team but for Barkley's development.
Fingers crossed it's weeks rather than months.
I can understand people's frustration but it baffles me why people blame Martinez and Kenwright.
Jim Bennings
29
Posted 16/08/2014 at 22:08:18
Just heard unconfirmed reports Barkley may be ruled out for the season, don't quote me on that though.
Now we are left without a single attacking driving central midfielder, Barry, Besic and McCarthy, Gibson all of a similar ilk... we need to act quickly now to find one and we need to sign another striker too.
Colin Glassar
30
Posted 16/08/2014 at 22:20:11
Paul Columb #5, can we get that in English please? I think, in very non-medical terms, that Ross could be back by December (best case scenario) or out till March-April (worst case scenario).
The best we can do is forget about him and let him start his recovery. I think Roberto will be looking for a replacement for him right now as there's still time to get a new player bedded in.
Jim Bennings
31
Posted 16/08/2014 at 22:25:50
I think it's become plainly obvious that we won't be seeing Ross Barkley play before Christmas so it's hardly worth going on about it really, the question is what are we going to do to replace him?
We haven't even started our fixture congestion with Thursday and Sunday games yet and already during a twat of a pre-season we have seen Barkley fucked over and had the injury to Coleman, plus the clear and quite baffling lack of fitness to Mirallas and Lukaku.
We need to go back to the transfer market — it's as simple as that.

Sean Kelly
32
Posted 16/08/2014 at 22:36:58
I think Harold's tip for us to go for Susie is a good shout. Okay, he may not be a Ross, but we don't have the money for a top drawer midfielder.
Craig Fletcher
33
Posted 16/08/2014 at 23:33:35
Jim Bennings and a few others, get a grip and have a sense of perspective.
Yes, it's bad losing Ross for as bad as we may lose him, however the blessing in disguise is there is still two weeks left in the transfer window and we have an opportunity to get in a suitable replacement. A loan signing for a year would be adequate, with the carrot being from a player's perspective, that there should be plenty of opportunity for game time with one of our leading lights sadly out of action.
Ross's position is also one where we do already have a few alternatives: Naismith, Osman, Mirallas can all do a good job there (in Naismith's case I believe it's his best position).
We all knew injuries were going to occur at various points in the season – there's no point wallowing in self pity, just get on with the job and try and minimise the impact as much as we can.
Lewis Barclay
34
Posted 16/08/2014 at 23:35:03
I don't normally let this kinpbr>This is terrible news for Everton and for Ross. Not much more to day really.
Kevin Rowlands
35
Posted 16/08/2014 at 23:54:11
Sean #26, we just came off a very poor 2nd half and drew a game we should of won then to top that off we're told that one of our best young talents may be out for the season without a ball being kicked and your telling is we're sounding like kopites for being a bit upset? Behave!
Harold Matthews
36
Posted 17/08/2014 at 00:11:41
Sorry for the lad. A triple leg break, a broken toe and now this. Hope he eventually makes a full recovery.
Jack Cross
37
Posted 17/08/2014 at 02:18:54
Craig Fletcher. Here, here. I couldn't agree more mate.
Paul Columb
38
Posted 17/08/2014 at 02:31:56
Colin. I suppose I'm saying that it doesn't sound good if the scan is inconclusive because of artifact of swelling IN the joint.
An isolated MCL injury (outside joint) is easy to grade (determine degree of injury) without scans and is in the big scheme of things a fairly rapid (2-6 weeks) to heal and resume training. Let's wait and see what the medical staff conclude this week.
Just a real bummer for the lad either way but doesn't make him 'injury prone'. He has youth on his side for healing. Get well (very) soon Ross.
James Carroll
39
Posted 17/08/2014 at 03:26:37
Get one of the MLS lads in - good for marketing, too...
Cahill, Donovan or Dempsey.
Ernie Baywood
40
Posted 17/08/2014 at 03:38:16
If there's a silver lining it's that it is an area we can cope. We have players who can do a Premier League standard job... Mirallas, McGeady, Pienaar, Osman... Then there is Nais as a second forward.
If this was Baines, Coleman or Lukaku we'd be in real trouble.
Of course is still a dent in our team, and a massive blow for Ross. Get well soon Ross.
Jack Cross
41
Posted 17/08/2014 at 03:45:45
Harold Mathews. Have you seen Tom Rogic (Aussie) of Celtic? I have saw him a few times and I reckon he could do a decent job in place of Ross, while he recovers. James Forrest of Celtic also but think we would have more chance of getting Rogic.
Matt Traynor
42
Posted 17/08/2014 at 03:59:20
Lewis #34 "I don't normally let this kind of stuff get me down but I really think we've dropped a bollock here."
How so? By letting the lad train?
Funny how Everton are refusing to say who it was who tackled him. Probably afraid of a social media backlash. My money's on Besic, trying to get that starting slot.
Steve Brown
43
Posted 17/08/2014 at 06:12:24
Shaun #18, great shout. Would be ideal.
Harold Matthews
44
Posted 17/08/2014 at 06:24:54
Jack. Can't say I'm up to speed with these Celtic lads but they probably wouldn't be up to speed in the Premier League. We were rumoured to be after Forrest in June as a replacement for Delboy and quite a number of Celtic fans offered to pay his taxi fare. Reckoned he was inconsistent and often injured.
Tom Rogic is the same size as Ross but is still a young 21-year-old novice. I know he struggled with the pace over the border and was sent back down under on loan. Don't know if he came back. I'll have to check. Supposed to be a fine prospect.
Anyhow, the way our defence is shaping up. I think we might need Messi alongside Lukaku to keep the goal difference on the plus side.
Jim Bennings
45
Posted 17/08/2014 at 08:14:49
Craig Fletcher,
The mere fact that you mention Osman as a possible Barkley filler suggests you're the one who needs to get a grip.
We have Gibson, McCarthy, Barry and Besic as natural central midfielders and not one of them is what you'd describe as creative.
That leaves Pienaar, who's past his best and Naismith who is more a goal poacher than midfielder.
Peter Murray
46
Posted 17/08/2014 at 08:22:52
Just how did this injury happen? You often hear of strains and pulls in training sessions but not serious knee stuff.
Has a teammate thrown in a wild tackle?
Pete Hughes
47
Posted 17/08/2014 at 08:26:36
Osman as Barkley's replacement? That's like swapping a Ferrari for a clapped out old Escort!!
Paul Ellam
48
Posted 17/08/2014 at 08:44:34
Craig #33, I totally agree with you. What has happened has happened, no point dwelling on it – I'm sure Martinez won't be! I also believe we can cope without him, rather Barkley than Lukaku I reckon, as he would be extremely difficult to replace.
Plenty of time to get in a temporary/permanent replacement too along the lines of Dembele, Holtby so for me it's not all doom and gloom, just a setback. Thinking of positives from this news, it may force the club into the transfer market so keep the faith supporters!
Ernie Baywood
49
Posted 17/08/2014 at 08:53:14
So woe is you... the season's over - give up now. Right, Jim?
Or shall we put one of these experienced top level footballers in the role and see how we go?
Craig Fletcher
50
Posted 17/08/2014 at 09:12:25
Jim (45), yes I do mention Ossie as one of several options in Barkley's role. He is still part of our squad, where else do you want to play him? Wing-back? I think Naisy showed yesterday he's well capable too, our esteemed brother Ken Buckley in his report deemed him good enough to name him our MotM.
Jaysus. Get behind the lads for goodness sake.
Shaun Laycock
51
Posted 17/08/2014 at 09:14:18
Naismith had a good game yesterday and is more of a goal threat than Ross but I would have liked to have seen Ross continue his development this season as he apparently was looking sharp. I think we will cope...Naismith, Mirallas, Osman, Pienaar, Atsu and the youngsters to cover if necessary...
Shaun Laycock
52
Posted 17/08/2014 at 09:31:43
Oops, forgot McGeady too. Blinding goal, could have scored three and given away two. I guess that is McGeady though...
Steve Carter
53
Posted 17/08/2014 at 10:24:17
Jack #41 and Harold #44. Rogic is nowhere near PL standard. He is barely good enough to make the socceroos squad, failed to make an impression at Celtic, and was ordinary when shunted back on loan to Melbourne Victory (roughly the equivalent of a reasonable League One side).
Peter Gorman
54
Posted 17/08/2014 at 10:34:44
Gutted for the lad but not really sure how it could be construed that Ross is injury-prone. If worst fears are realised, he now has 2 major injuries on his resume, both inflicted by his own team-mates.
The broken leg occurred training for England (take a bow Andre Wisdom) and this injury was caused by a fellow, as yet un-named blue (the smart money would be on Besic).
This is just awful luck. He was all set to progress well this season.

Zahir Jaffer
55
Posted 17/08/2014 at 10:01:49
I could mope all day about this, hand to god I really want to, but I'm hoping its a blessing in disguise. If Roberto's slickness can manage to pull off a loan move for Isco (unlikely) or Honda (been omitted from Milan's starting XI) or even invest in Bryan Ruiz, I'd say Roberto's prowess in the transfer market is no match for any other. That Susic chap still remains suspect in my eyes, he's still young and has bundles to learn.
Conn Prosser
56
Posted 17/08/2014 at 10:25:18
Matt #42 I do hope you are joking. I admit to wondering if it was Besic on the tackle, but to suggest he had an eye on a starting berth is... too soon, Matt. There are fragile people on here!
I'm devo for gnarls, let's hope it's not as bad as is being said. I can't imagine this injury not putting a considerable dint in our season. We have Roberto to trust though, here's hoping he can line a replacement up.
Sam Hoare
57
Posted 17/08/2014 at 10:44:39
Pretty terrible news no doubt. While we have replacements in the shape of Osman and maybe Pienaar but neither are the same type or calibre of player. In short we are losing one of our two or three game-changers for half the season. And at a crucial time in his development.
I hope we bring in another creative player along with a needed striking back up to Lukaku. Apart from that fingers crossed for Ross and let's get on with the job in hand. Starting with beating the gunners!
Jeff Beaumont
58
Posted 17/08/2014 at 10:51:11
My comment (No 10) was a question, not my opinion.
Many on here have criticised Kone/Gibson.They have both suffered bad injuries & should be supported in their recovery. The same goes for Ross.
Colin Grierson
59
Posted 17/08/2014 at 12:06:45
Came back from hols this morning to the Barkley news, a draw snatched from the jaws of victory, doom mongers on TW and my lad's new away top arrived with the name spelt wrong. Only at Everton! I need another holiday!
Matt Traynor
60
Posted 17/08/2014 at 12:21:01
Injuries are part and parcel of the game. A challenge for those stattos out there. I don't know of data sources, but is there any way of collating injury stats for EPL teams over the last few years?
Have we been more badly affected than others? Or do we just feel it more as we have a smaller first team squad than most?
Harold Matthews
61
Posted 17/08/2014 at 12:35:16
Cheers Steve. Thought it was rather ominous when Celtic sent him back. Will watch to see if he makes progress.
Kev Johnson
62
Posted 17/08/2014 at 12:46:44
Matt - here's some info on last season's Premier League injuries. The table shows we lost more days to injury than everyone except Arsenal, Spurs and Villa. Not ideal, is it?
Just scroll down a bit... Man down!
Colin Glassar
63
Posted 17/08/2014 at 12:49:50
Totally agree with Matt Traynor, injuries are part of the game. Lallana, Shaw and Ross are just a few of the players who have medium to long term injuries. It's unfortunate but you just have to cope like we coped last season without Kone, Gibson, Oviedo, Alcaraz, Pienaar, Jags etc.....
Trevor Lynes
64
Posted 17/08/2014 at 13:02:30
A comment earlier about who left along with Vellios. Well Gueye also left... and along with our loss of Deulofeu and Traore from our first team squad, we are no better off in terms of squad size.
I hope we sign Henen as he looks a top young talent as a striker. He is very tall but has bags of ball control and pace.
I reckon Roberto has Garbutt, Stones, Galloway and hopefully Henen as sure top players in the future. I really do not see any of the others as anywhere near ready (if ever).
We still need a striker as a priority otherwise Lukaku has no competition.
Kieran Riding
65
Posted 17/08/2014 at 14:07:01
Tom Cleverley from Man Utd I reckon.
Stephen Brown
66
Posted 17/08/2014 at 14:45:24
As a temporary measure, how about getting Tim Cahill as emergency cover? He played well in World Cup and is available for timescale, knows and loves the club and would be happy to play when needed.
Julian Wait
67
Posted 17/08/2014 at 14:51:30
Very sad for him. The only - small - consolations are:
a) that this is before the transfer deadline and we have an opportunity to get in a replacement on loan (however, you don't often get replacements of Ross' caliber on loan); and
b) it's not a World Cup or Euro year for him.
Still, very unfortunate. Too early to be throwing blame at Besic or anyone else, these things can happen in isolation as well.
Andy Mack
68
Posted 17/08/2014 at 15:07:33
I'd be well up for Cahill to return for a short stint, he might actually be able to show Martinez that heading can score as many as pussyfooting around. He would provide a short-term lift too.
Jack Cross
69
Posted 17/08/2014 at 14:43:27
Steve Carter. My Brother lives in Melbourne and watched Tom Rogic regular and said he a cut above the rest. Remember when Ross, was loaned out to Derby, Sheffield and Leeds? Would you say there was a question mark over him? Same argument isn't it Steve?
Jim Bennings
70
Posted 17/08/2014 at 16:04:55
I'd have Cahill back here tonight let alone tomorrow.
We saw at the World Cup the fella still has it and I tell you what, he'd still contribute in both penalty boxes and we may even concede fewer flippin headed goals.
Julian Wait
71
Posted 17/08/2014 at 16:08:44
Donovan is retired/retiring and frankly that boat has sailed for both of us. I am not convinced we need Dempsey either. Nostalgically, I wouldn't mind seeing Cahill in an Everton short again, but he's not the creative midfielder we need (and arguably needed even before Barkley was became inured). Could be interesting though.
I'd like to see Tom Cleverley on a loan-to-perm deal. I think he's a natural replacement for Osman longer term, stick and all, I mean he's used to it already ;-) ... seriously though ... RM knows him, and he just seems to have lost his way at Man Utd, and he could be a great fit. Plus he's potentially affordable – he wasn't even in the Man Utd squad yesterday.
Julian Wait
72
Posted 17/08/2014 at 16:20:43
Well according to the Daily Mail he's likely to stay at Man Utd. Shame for us if they're actually correct this time (I hope they're wrong):
http://www.dailymail.co.uk/sport/football/article-2726832/Tom-Cleverley-offered-new-contract-Manchester-United-despite-Everton-criticised-midfielder.html
Steven Segerberg
73
Posted 17/08/2014 at 16:35:03
Henen is a must. Fellaini could even be an option to play just behind Lukaku dare I think it??
Paul Ellam
74
Posted 17/08/2014 at 16:59:39
Hmm....Cahill. I reckon that might work you know! Make it so, Roberto!
Jack Cross
75
Posted 17/08/2014 at 17:55:08
Cahill wouldn't come back here now. And surely that is a step back and not forward. We shouldn't always be looking for stop gaps, just for now! Not if were planning for the future.
Chris Wilson
76
Posted 17/08/2014 at 17:58:25
There aren't really any midfielders with the quality that could help us in MLS that would qualify for a work permit aside from Cahill and Dempsey. Cahill would be interesting, but hasn't been that effective this season. Good World Cup though. Dempsey came back to MLS for the opportunity to command a last, nice paycheck and for his family to settle in a community rather than looking for a new club each season. I definitely think he could do the job, but he wouldn't be able to come until January anyway. And as Julian said about Landon — he plans to retire after this season so I would question the level of commitment. And like Dempsey, as well as all the MLS stars, they most likely would not be able to join up until January.
I would love Holtby or Dembele, but the only problem is; you have to negotiate with Levy. I don't think Levy knows how to analyze his team's needs or whether a potential target would fit into the team...or if he knows what a defender is. But he is an absolute dick when it comes to buying one of his players; especially if he has the leverage — which he would with us, and certainly since we are a rival in the standings.
Denis Richardson
77
Posted 17/08/2014 at 19:33:22
Booby, pick up the phone and call LvG – get Kagawa in on a season loan. He would be a perfect replacement for Barkley, imo. Unfortunately I think Man Utd will only sell and I don't think we've got a spare 㾺M lying behind Bill's sofa...
Raymond Fox
78
Posted 17/08/2014 at 19:53:32
You couldn't make it up, could you? Ours and England's young hope for the future reckoned to be out for months with a training accident! Ironic, don't you think, after all the moaning about our supposed lack of fitness!
Forecast time out is usually more than actual time off injured, so lets hope that is the case. His absence is bound to be bummer for us, as we are already lacking in the numbers of players that score goals, he scored a few crucial ones for us last season. Also very disappointing for the lad himself, he needs as much time on the pitch as he can get and I think he would have come on a bundle this year.
Bill Gall
79
Posted 17/08/2014 at 20:29:49
We have players who can score; what we do not have and have been crying out for for the last 3 seasons is a quality midfielder to provide the openings in close games.
Christopher Kelly
80
Posted 17/08/2014 at 20:52:56
This should be the time we cash in that goodwill we have with Barça! Need a young special No 10 that isn't quite ready to get any game time!! Come on Roberto! Let's do it
Colin Glassar
81
Posted 18/08/2014 at 00:22:53
Ross will be back in October. Touch wood.
Andrew Keatley
82
Posted 18/08/2014 at 01:27:15
Is that "touch wood", Colin - or more "touch crystal ball"? Your soothsaying is much revered in these parts...
Gavin Johnson
83
Posted 18/08/2014 at 02:34:49
As I've been an avid reader of ToffeeWeb for a number of years now. I thought it was about time I get involved with all this social media. Anyway my thoughts on this "attacking midfielder" situation is that we need to get someone in to cover Ross.
As a few other posters have pointed out. McCarthy, Barry, Besic or Gibson don't fit into the creative role. Naismith can do a job, but we need a Plan B. Osman is an alternative but I only see him contributing in the Europa League and League Cup this season. I had Pienaar in the same bracket but I'll eat my words after the other day. I wouldn't play him in the middle though.
Assuming we have a bit of money left over, I'd go for Hakim Ziyech, we were linked with him earlier in the summer and I was really excited when I saw the reports. He's young, plays at the top of midfield but can also play on either wing. He's in the final year of his contract and could be available for as little as ١m. There's been questions over his attitude but hey, we've just signed Besic! I'd have full confidence in Roberto's man management.
Craig Fletcher
84
Posted 18/08/2014 at 05:19:44
I just noticed this - http://www.dailymail.co.uk/sport/football/article-2727074/Tottenham-willing-listen-offers-Lewis-Holtby-QPR-Crystal-Palace-line-moves-favour-midfielder.html.
He'd be worth a punt; even on a loan for this season with an option to buy. There's a player in there somewhere (he's a full German international too); at Schalke he did very well playing in "the Barkley role" in a 4-2-3-1.
And of course, his family are apparently all Evertonians.
Matt Traynor
85
Posted 18/08/2014 at 05:49:45
Craig #84, I know he was signed last year, or 13 managers ago in Tottenham terms, but I can't help but feel he was purely brought in cos they got him cheap (ٟ.5m I think, as he'd agreed to sign on a Bosman anyway)
I'd agree with a punt on a loan, if Tottenham are willing to play ball, but I suspect they're looking to offload him for a return.
Him being an Evertonian makes no odds in my book. We've had plenty down the years who were utter shite.
Craig Fletcher
86
Posted 18/08/2014 at 06:05:07
True Matt; and negotiating with Spurs is a pain in the arse just to complicate things.
A loan (if Spurs allow it) would be limited risk from a financial viewpoint and would be great for us. If it doesn't work out, we can pack him back off to Spuds. Also, it should be remembered that Ross could be back within a few months; if we take the optimistic point of view.
Kieran Fitzgerald
87
Posted 18/08/2014 at 06:18:07
Can't see Spurs allowing us to take Holtby. It would simply be making one of their rivals stronger.
I can't see Utd giving us players either. Despite all the hype about Van Gaal and signing players, they will need time for things to settle there and for the team and results to improve from last season. Their opening six or seven fixtures are relatively easy ones. This will give them time to develop. They're hardly going to sell us players and make one of their rivals stronger either.
Michael Winstanley
88
Posted 18/08/2014 at 10:11:09
I think or rather hope Ross will be back sooner rather than later, some time not too far past the transfer deadline date.
The cynic in me sees Man Utd in dire straits with oodles of cash, could we decline a 㿞 million bid for Ross? I think not.
I would imagine I'm wrong and sadly Ross is genuinely injured and could miss most of the season but where else can I post such nonsense!?!?!
Christopher Kelly
89
Posted 19/08/2014 at 06:48:59
Wow everyone here is so quick to jump to conclusions! Keep a cool cabbage you lot!!
The scan is Wednesday or Thursday! Let's assess what's happening before we rush to judgement! Would hate to be in a pressure situation with some of you...
Have a look fer yerselves:
http://royalbluemersey.sbnation.com/2014/8/18/6030343/barkley-set-for-another-scan-as-Martinez-plays-down-injury
Just chill mons

Brian Harrison
91
Posted 19/08/2014 at 14:13:41
Sadly injuries happen and even more annoying when it happens to one of the better players. But RM needs to forget about Barkley until he is ready to play again and instead put all his energies into making sure that we cope without him because feeling sorry for yourselves is self defeating and pointless.
---
Add Your Comments
In order to post a comment, you need to be logged in as a registered user of the site.
Or Sign up as a ToffeeWeb Member — it's free, takes just a few minutes and will allow you to post your comments on articles and Talking Points submissions across the site.
© ToffeeWeb