Martinez provides injury updates
Barkley's recovery time still unknown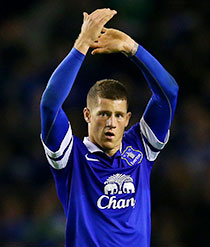 Ross Barkley is scheduled for more scans on Wednesday or Thursday this week

Roberto Martinez has offered a more optimistic prognosis on Ross Barkley's injury than was reported over the weekend but stressed that it is still too soon to put an accurate timeframe on his return from a medial knee ligament injury.

The 20 year-old is scheduled to undergo further scans on the injury he suffered in training last week in the next couple of days, by which stage the swelling on the knee should have eased sufficiently for club medical staff to make a sound diagnosis of the extent of the ligament tear.

"His knee has reacted really well to treatment," Martinez said on evertonfc.com. "I don't know where the figure of five months [in the papers] came from but obviously the extent of the injury is a little unsure at the moment because we don't know how the next two weeks are going to develop.

"It's a medial ligament injury and we know that Ross, in terms of the power and the strength that he has in his body, he could easily react to treatment a lot better than other players."

Martinez suggested that Barkley likely faces a minimum of eight weeks on the sidelines, which would put his return around the middle of October, but reiterated that it is too soon to tell.

"The length that Ross will be out is a little uncertain at the moment and it could be anything between the eight weeks that we mentioned or a little further. Until the end of the week, or probably the next 10 days, we won't know how the knee is progressing and how quickly Ross can be back.

Meanwhile, the manager also provided updates on the other players who have been in rehabilitation programmes for long-term injuries, including confirmation that Seamus Coleman is fully recovered an available for team selection.

He also stated that Darron Gibson was left out of the squad that travelled to Leicester as part of the ongoing management of his return from a knee injury of his own.

"Darron is working really well and is building some better fitness levels," Martinez said. "We need to make sure after a long spell on the sidelines that all the work we are doing is allowing him to be fully fit.

"It's going to be a very, very busy period in September and everything is working towards that month where Darron can be fully fit and he can have a really good period on the pitch, so it's not a problem at all with Darron.

Martinez explained that Arouna Kone has stepped up his recovery work to now include joining in with 11-a-side matches at Finch Farm but that he still needs time to "adapt to the physicality and the needs of the competition."

Bryan Oviedo, meanwhile, is now doing ball work but is still a short while away from being able to take part in training games with the squad.

Quotes sourced from EvertonFC.com



Reader Comments (32)
Note: the following content is not moderated or vetted by the site owners at the time of submission. Comments are the responsibility of the poster. Disclaimer
Colin Glassar
1
Posted 19/08/2014 at 14:32:59
Ross is a young lad and will be back fitter and stronger after this. I hate to compare him to RS players but there are two paths he could go down. One being like a young Steven Gerrard who was plagued by groin and hamstring problems early in his career; or like Michael Owen, who was plagued by all sorts of injuries throughout his career. Gerrard, with the proper care and attention, overcame his physical weaknesses and went on to have a decent career. I hope Ross can follow that path.
Kevin Tully
2
Posted 19/08/2014 at 15:24:00
One thing I've learnt about Roberto in the past twelve months, is to double the amount of time he says players may be out of action for.
Patrick Murphy
3
Posted 19/08/2014 at 15:36:13
Kevin - I think you're right that's the problem with an optimist. On another note am I correct in thinking that Adrian Heath's injury sustained in that tackle with Brian Marwood was the same as the one that Ross has suffered or have I got my physiology all wrong?

Colin Glassar
4
Posted 19/08/2014 at 15:36:13
Kevin, that was true of the former regime as well. A player would get a 'knock' in training and would disappear for weeks on end with no explanation whatsoever for the delay. It's an Everton thing I think.
Patrick Murphy
5
Posted 19/08/2014 at 15:38:58
Colin the former boss wouldn't even discuss injured players if they weren't fit and available. He refused to talk about them which in some ways I can understand as if a manager says that X player will be back in Y weeks and it pans out to be longer, the manager looks and sounds a bit silly.

James Martin
6
Posted 19/08/2014 at 15:47:00
You can't win really; one boss never said anything, the other one gives estimates that are nowhere near the truth. Our whole medical department seems to be behind the rest of the league (perhaps bar Arsenal) when it comes to preventing injury and then dealing with it. We have loads of injuries, very long absences and then numerous relapses.
Colin Glassar
7
Posted 19/08/2014 at 15:44:28
I'm not sure about our present physio and his team but Basil Rathbone and his lot always struck me as being supremely incompetent.
Zahir Jaffer
8
Posted 19/08/2014 at 16:01:52
I would have quite the laugh if Barkley came back before Kone...
Robin Cannon
9
Posted 19/08/2014 at 16:51:52
I don't really see any evidence that we have worse injuries or less competent physios than any other team. We just notice our own injuries far more and then everyone panics.
Hell, our manager has a degree in physiotherapy. So he's probably better placed than us to assess matters.
David Chait
10
Posted 19/08/2014 at 17:10:56
Kevin is spot on.. On another note. Newmarket is already back and he fractured his.. It just seems other players often are back quicker.. Maybe cos I don't follow them as closely. Just a perception.
Lev Vellene
11
Posted 19/08/2014 at 17:50:53
"Roberto Martinez has offered a more optimistic prognosis on Ross Barkley's injury than was reported over the weekend"
Ooh, I like that!
Erm, what's 'optimistic'??? I've been an Everton supporter for too long to adapt easily to new buzz-words... :P
Lev
Lyndon Lloyd
12
Posted 19/08/2014 at 18:04:19
A couple of Fleetwood players have tweeted about how much they enjoyed playing against the likes of Mirallas (especially!), Coleman, Gibson, Atsu, Besic and Alcaraz today so it seems as though those players got another run-out in a behind-closed-doors friendly to give them more minutes.
James Stewart
13
Posted 19/08/2014 at 18:14:38
I really hope Atsu and Besic can get some game time against Arsenal.
Christopher Wallace
14
Posted 19/08/2014 at 18:16:43
Anyone who has ever played football, or sustained a serious leg injury, will know that it's impossible to accurately predict how long it will take to recover.
Innocuous ankle injuries can go on for months and leg breaks can heal surprisingly quickly.
I think it's ridiculous that anyone on here would knock Roberto for coming out giving an estimate, particularly as he is going on his own experience and the advice of the medical professionals.
Would it be better if he just said "they'll be back when they're ready"?
Christopher Wallace
15
Posted 19/08/2014 at 18:23:42
Zahir 8
You would be laughing at an Everton player with a serious injury, which is pretty low in my opinion.
Denis Richardson
16
Posted 19/08/2014 at 18:13:00
Good news on the whole, if true, but whatever happens he's going to be out for at least 2 months so no point in talking about it anymore.
For all his faults, I liked Moyes' attitude with injured players - his view was simple, if they're injured they can't play so no point in discussing them as they're not going to contribute in the next game. Best to dwell just on the players that can play.
Love what Martinez has done so far but his over optimistic attitude to pretty much everything is getting a bit annoying. Also not sure what he means by 'It's going to be a very, very busy period in September and everything is working towards that month'. Last time I looked there are no fixtures in the first two weeks of September due to the international break - we then have 3 league games on three weekends and our first EL game somewhere in the middle - how is that much busier than normal? 4 games in the whole month!
None of Barkley, Kone or Gibson will be playing in the next month, so not much point talking about them. Am looking forward to seeing what Atsu can do for us myself.
Lewis Barclay
17
Posted 19/08/2014 at 18:28:42
I don't think there is a particular problem with our physios but I think Everton's PR machine could do with a serious kick up the arse!
Most of the press around the team surrounds Barkley's injury, an injury which is bad enough but the constant suggestion of 'long termness' is taking away from reporting the good things we have going on in the squad.
Why didn't they just say "he's out for 4 weeks" and then in three weeks say "it's worse than we thought it's going to be another ten weeks" rather than creating negative news and speculation around this.
Unless, of course, what has actually happened is that Ross has been sold to Chelsea / man Utd / the RS etc for a big fee and things need to be tied up before the transfer window and they don't want him playing for us before then. That's obviously a ridiculous suggestion though. Isn't it. Right?
Christopher Kelly
18
Posted 19/08/2014 at 18:40:36
Cpl days ago it was madness on here assuming 5 months would be the prognosis. Bunch of scared sheep not really thinking about what was said...
Martinez said "maybe" it would be 5 months and that the swelling would need to
Go down. Instead of rejoicing, we turn our attention to incompetent physios and how our players get Injured more than other teams. All a bit silly if you ask me. "Good luck, Barkley" is all we should be saying.
Kelvin Thomas
19
Posted 19/08/2014 at 18:29:39
We have enough options in CAM. Changing the system is an option RM experimented in pre-season with three CMs.
Quite simply, we don't have enough options up front. We need a very good player to be pushing Lukaku. A fully fit Kone might never happen. A player of Loic Remy's ability is what we need IMO.
Colin Glassar
20
Posted 19/08/2014 at 18:48:13
Lewis, your conspiracy theory is a bit off the mark. BK's sold young Ross to an alien expeditionary force from the planet Zog. These alien invaders specialise in knee and foot injuries as cartilage and bones are considered a delicacy back on Zog. Ross will be back by December 2021 but with shorter legs.
Plato Stavrinos
21
Posted 19/08/2014 at 19:22:16
Colin, any news on any transfer business before the window closes?? (Except for what RM has already said...)
Danny Kewley
22
Posted 19/08/2014 at 18:27:57
What I have never understood is how pro players always seem to sustain injuries really easily! I mean, I played for years, admittedly at a low level, both in Liverpool and when I moved to London (on Hackney Marshes) and injuries were really rare. So do players in pro football maybe exert themselves too much? That's not counting last Saturday in the second half.
Surely it is possible to get really fit and strong without tensing muscles, hamstrings and ligaments too much.
Maybe it's just me and I'm missing something, so maybe somebody out there with the knowledge of sports injuries could enlighten me?
Christopher Wallace
23
Posted 19/08/2014 at 19:43:21
Danny
I never played that high a level either, but I assume it's because they're playing at a far higher intensity.
Also, 15-20 hours football each week gives them more opportunity to suffer various knocks and strains.
Christopher Wallace
24
Posted 19/08/2014 at 19:43:21
Danny
I never played that high a level either, but I assume it's because they're playing at a far higher intensity.
Also, 15-20 hours football each week gives them more opportunity to suffer various knocks and strains.
Raymond Fox
25
Posted 19/08/2014 at 19:46:33
Christopher 19, have you got any figures to confirm that our players get more injuries?
Harold Matthews
26
Posted 19/08/2014 at 19:55:44
I think it all sounds quite promising.
Paul Thompson
27
Posted 19/08/2014 at 20:29:13
Any figures on days lost to injury per club, per season? Actually, yes. Try http://www.physioroom.com/news/english_premier_league/2013_14/injury_analysis.php
It shows we had the fourth worst record last season. But before the conspiracy theorists feel vindicated, we had the 15th worst in each of the previous seasons.
Phil Walling
28
Posted 19/08/2014 at 20:34:52
Perhaps Roberto signs more crocks than OFM - I've always felt so. But be that as it may, lets take a positive view of the situation.
Lets assume all the guys he mentioned are out of action until the New Year and every game they play before this we put in the plus column.
That way we will be able to keep positive rather than moan about every little thing that goes awry. And plenty will !
Zahir Jaffer
29
Posted 19/08/2014 at 20:39:11
#16 Chris
Considering Barkley is still at an age where his body can heal more rapidly than Kone's, I would indeed find it fucking hilarious to see Kone still in the medical room (wouldn't be surprised to see him get another knock, or pull a muscle during training) and Barkley on the bench 6 weeks from now. However, that doesn't mean I don't want to see Kone play! I'm actually hoping we try a 4-4-2 at home, if Kone returns before Barkley, and see how the two upfront pair up.
Zahir Jaffer
30
Posted 19/08/2014 at 20:58:19
We've always had a thin squad, and playing them week-in & week-out comes with repercussions. Every team loses key players during the course of the season but the filthy rich clubs have more than decent players as replacements. Last season, Man City lost Aguero and Yaya but they still made do. West Ham lost Horseface and they started bitching and moaning like a kid who dropped his ice cream. We have Naismith and over the course of last season, plus the opening game, he has fully gained my trust.
This bit may be a little irrelevant but I saw Pienaar and McGeady drift into that attacking midfield role quite a bit against Leicester. Might it would be possible for one of them to slot in there with Atsu and Mirallas on their respective wings.
Harold Matthews
31
Posted 19/08/2014 at 21:25:38
Yes Paul. After last season's mysterious hamstring epidemic,,those figures don't surprise me.
Peter Cummings
32
Posted 19/08/2014 at 21:52:04
Colin (#7), I didn't know our former physio was a famous detective, did he have an assistant named Nigel Bruce by any chance?
Surely with such a name, he should have been able to solve any injury problems by deductable 'elementary' reasoning...
---
Add Your Comments
In order to post a comment, you need to be logged in as a registered user of the site.
Or Sign up as a ToffeeWeb Member — it's free, takes just a few minutes and will allow you to post your comments on articles and Talking Points submissions across the site.
© ToffeeWeb