Martinez tells of Barkley's lucky escape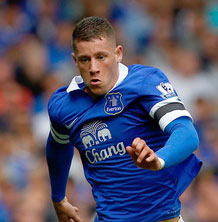 Roberto Martinez believes that Ross Barkley could have suffered a full rupture of his knee ligament and been out for the season had his training-ground accident with Gareth Barry happened earlier in pre-season.

The manager has explained how the two midfielders came together in a full-blooded challenge during a practice match at Finch Farm last Thursday which left the 20-year-old nursing a torn medial ligament and the prospect of at least eight weeks on the sidelines.

Even though Barkley spent most of the summer at peak fitness because of his involvement with the England squad, Martinez believes the injury could have been more severe if it had happened three weeks earlier than it did.

"He is fortunate really, yes, it could have been a lot worse," the Catalan said in The Mirror. "If that action happened earlier in pre-season, it could have been a far more serious injury.

"Three weeks earlier and it would have been a full rupture because you are not as fit, strong and the body is not ready to react to that.

"I've seen that situation cause an injury that is a full rupture in knee ligament, which then requires surgery and which would keep you out for the whole season. Ross only has a partial tear, he was strong, and he's in a good position. He could be back within seven to eight weeks."

Martinez is pragmatic about the situation and far from blaming either player, he welcomes the commitment of his players, even in training.

"It was such an innocuous challenge and very unfortunate," he continued. "Gareth Barry was challenging the ball, but it wasn't a bad tackle," the Spanish coach explained.

"They both collided the ball, the force came back and that opened the ligament. It was unfortunate just because Gareth had the knee closed when he challenged, and Ross had the knee open, so you can imagine the forces on the ball.

"I would like to think that nobody would like to pull out of a challenge like that. I hope we don't lose that in training, we want to train the way we play with that much intensity."

Quotes sourced from The Mirror



Reader Comments (55)
Note: the following content is not moderated or vetted by the site owners at the time of submission. Comments are the responsibility of the poster. Disclaimer
Pete Owen
1
Posted 22/08/2014 at 00:09:04
Get well soon Ross.
Patrick Murphy
2
Posted 22/08/2014 at 00:09:58
For crying out loud, Barry took Lukaku out in the derby game as well. He's dangerous! Keep him away from our players — but glad to see that the constant rumours that it was Besic who did for Barkley have been laid to rest.

Anthony Flack
3
Posted 22/08/2014 at 00:21:32
Feels to me that nothing will be committed to about the length of layoff until after the Arsenal game. Until then, lots of hope-type statements to follow....
Derek Knox
4
Posted 22/08/2014 at 00:29:05
I would rather Gareth Barry, accidentally injured the opposition, rather than our own troops.
Come to think of it, that wouldn't go amiss in the derby matches either.
Ant Dwyer
5
Posted 22/08/2014 at 00:34:05
I'm getting a bit sick of hearing about Ross's injury to be honest! He's a massive player for us but the fact is he's not back for 8 weeks and maybe not fit till closer to November....
Let's move on and get the likes of Mirallas and Osman fully fit and ready to help us get some points on the board for when Ross is back.
James Stewart
6
Posted 22/08/2014 at 00:43:52
Barry again!
Pablo Connelly
8
Posted 22/08/2014 at 01:10:56
Martinez shows some integrity by being completely honest with fans about Ross's injury and how do some fans react? They blame Barry. Please get a clue — he said it was a normal challenge but, if you start asking players to pull out of tackles in training, we will never be ready for the game on a Saturday and you can expect to get relegated. Anyone who doesn't understand that hasn't got a clue about what happens on the pitch.
Michael Kenrick
9
Posted 22/08/2014 at 01:56:22
Some interesting developments worthy of comment, methinks:
1) Yes, it's good that the truth is finally put out there...
2) But why does it take a whole week?
3) No, it wasn't Besic (but would anyone have been surprised?)
4) Does the passing of time somehow lessen the seriousness or gravity of what resulted?
5) Why is okay to tell us now... but to be coy about it for a whole week since it happened?
The bottom line is his knee was fucked on Day One; it's still fucked one week later, and it'll be fucked for another seven or eight weeks. Somehow, I can accept it if it happens in a match... but on the training ground? I'm not sure I buy the gung-ho philosophy Roberto is spouting here.
Can't we do... 90% on the training field? Then we could give that fallacious 110% (stupid expression) on the pitch in the real game, where it matters? Or does it really not make any difference?

Terence Leong
10
Posted 22/08/2014 at 03:52:15
It's never an easy thing to balance between training at the right intensity without going overboard.
Anyone who has played some contact sport will probably tell you that a half-hearted challenge can often result in greater injury, for both the "tackler" and the "tackled", primarily because the body is (in very layman terms) not primed for contact, and as a result, less able to take the impact, or as a result fall more awkwardly.
Peter Murray
11
Posted 22/08/2014 at 07:10:12
Can someone point out to Barry before the Arsenal game that we'll be playing in blue and that the ones playing in red will be the opposition.
Jim Bennings
12
Posted 22/08/2014 at 07:21:30
I know we need to train hard but perhaps Roberto would do just as well to tell them to lay off the hard tackles, so many of our players over the years have been crocked in training, it's frustrating and it's unnecessary.
I too am becoming a tad annoyed with hearing about Ross's injury. In our heart's we all want him fit before the end of September but our heads tell us more like November sometime.
If it's as bad an injury as first made out, he isn't going to start training for at least 8 weeks, then you're looking at getting sharp in training, you're looking at, if we're lucky, mid-October but, as with most of our injuries, it will probably drag on a further 5 weeks.
I am more concerned as to why Seamus Coleman may miss tomorrow's match and will Roberto take the massive risk by playing Stones right back against a team as pacy, tricky and direct as Arsenal?
I love Stonesy, he is going to make a great central defender eventually, but at right back he looks like a fish out of water, just hasn't got that same mobile agility as Coleman, and personally I can see him getting torn a new one tomorrow evening if Martinez plays him there again.
Is Hibbert not fit again? Question is, why bother giving him another short contract if he is never going to play?
Mark Tanton
13
Posted 22/08/2014 at 07:43:08
As Brian Clough says in The Damned United - "No fifty-fifties"...
Peter Bell
14
Posted 22/08/2014 at 08:08:53
And
"I'd love to see Don fuckin' Revie do that."
Classic
Mark Tanton
15
Posted 22/08/2014 at 08:15:42
Two peas a pooooooddd, me and Doooonnnn. Both played for Hartlepools, both strikers, both England internationals...
Peter Bell
16
Posted 22/08/2014 at 08:27:25
Mark.
They both played for Middlesboro.
Peter Bell
17
Posted 22/08/2014 at 08:30:14
Sorry.
Sunderland
Mark Tanton
18
Posted 22/08/2014 at 08:31:27
One of those lot anyway...
Erik Dols
19
Posted 22/08/2014 at 08:24:53
Michael K (#9)
"Can't we do... 90% on the training field? Then we could give that fallacious 110% (stupid expression) on the pitch in the real game, where it matters? Or does it really not make any difference?"
I happen to know some things about training and if you want to use training to really improve the players' skills, technique and tactical awareness you need the trainings to be at 100%. If you're training at 90% you're just keeping the players fit. I could imagine Martinez might do this in the weeks we have two matches to play but in the pre-season? Not a chance, not with his background.
Chris James
20
Posted 22/08/2014 at 08:41:38
Every team picks up training injuries, I don't know if we're any worse than any other, we've just been unlucky with the players we've lost. If Hibbert and Osman had picked up knocks instead of Coleman and Barkley, I suspect these threads would be somewhat shorter.
I don't think we can criticise anyone for injuries, the only thing that can be done and criticised is the acquisition of more cover.
Brent Stephens
21
Posted 22/08/2014 at 08:57:13
Erik #19, I think one of the things Michael #9 might be getting at is the absurdity of people saying things like "we'll be giving it 110%".
100% means everything. As you can't give more than you've got, you can't give 110%.
I agree with Michael 120%.
Tony Abrahams
22
Posted 22/08/2014 at 08:53:10
Michael if the truth is out there or not, Barkley is still injured. If Barkley was going to be out for a long time, do you really think the manager would be talking about how it happened now?
The passing of time has revealed that the injury is not as bad as first feared, and is probably the reason that the manager can talk about it now.
Sounds like it was innocent enough and hopefully it will learn Ross never to tackle while bending his knee.
Mike Allison
23
Posted 22/08/2014 at 09:01:26
Can I have a go at explaining this 110% thing? It seems to have become accepted wisdom that you can't give 110%, because 100% is the maximum. Leaving aside the obvious answer that this is a metaphor for simply finding that little bit extra, there's also a logic to using the phrase 110% because it depends what you think the 100% is of.
If it is 100% of the absolute maximum, then yes, you can't give any more, but you can't play at the absolute maximum for very long and if you did you'd get injured, burnt out, fatigued or whatever. You therefore play at a reasonable level that you know you can sustain over a long period. The 100% should be seen as of the average, or of the maximum that is sustainable over time.
Imagine you face a season where you know you're going to play 50 games. Let's use running distance as a measure of the effort you put it because it makes the numbers easier. Now let's say that over those 50 games you are going to average running 10 km in a game, that's how much effort you put in as a reasonable measure that can be sustained over 10 months and 50 games. Now the absolute maximum you can cover in a game may be more like 13-15 km, but if you did that on Saturday you'd be unlikely to play at your peak on Wednesday, or if you did manage to repeat it you'd need to miss the game altogether next Saturday.
The phrase 110% is an acknowledgement that sportsmen cannot perform at the absolute limit of their capability at all times, and must make choices and preserve energy, even if only slightly, most of the time. Just like a marathon runner may be capable of running 100 m in 11 or 12 seconds, but over the course of 26 miles, tends not to push himself that hard as he wouldn't last. When it comes to a sprint finish for the Olympic gold or a world record, he finds that pace again.
The times when 110% is asked for are the times when it is necessary to go beyond the safe and sustainable and push closer to the absolute limit; perhaps in a bigger match, a more desperate situation or against more significant opponents, making it a perfectly reasonable thing to say.
Steve Jenkins
24
Posted 22/08/2014 at 09:13:56
Seriously disappointing to be missing one of our most important players again, he may be back in 8 weeks but how long before he's up to speed? Don't get me wrong the less time he's out the better but its still gutting.
At least we should have a fresh, class player some the second half of the season.
Does concern me how many injures he seems to pick up though...
David Ellis
25
Posted 22/08/2014 at 09:21:25
Mike #23 - nice try... but 100% really is the maximum. You are cheating by saying that the 110% and 100% are measuring different things. The whole point of using percentages is that it measures the same thing so there is direct comparison in the same currency/denonminator. As soon as you change the denominator then the comparison breaks down.
It developed to mean "more effort than the normal really high amount of effort" – but it's literal nonsense (and of course not meant literally).
Literally is often also not meant literally. For example, "the success of this team literally snowballed" – (images of football team in one giant snowball rolling down a hill!)
Another pet hate is "regularly" often used instead of frequently. "I regularly go the game, once every 7 years" is correct usage.
So there are the answers, now what was the question and why am I posting this??
Dick Brady
26
Posted 22/08/2014 at 09:27:39
Ross Barkley suffers regular injuries just like Jack Rodwell and James Vaughan did as young players.
Sadly Vaughan never developed into the player he should have been because of the injuries and Rodwell faces an up hill battle to get his career going again.
I worry for Barkley.
Brent Stephens
27
Posted 22/08/2014 at 10:36:02
Mike #23, you're a regular genius – quite literally. I'll give you 11/10 for that explanation.
Danny Kewley
28
Posted 22/08/2014 at 10:16:18
Get well soon Ross lad and keep yer Knee "Closed" next
time son.
Mike Hughes
29
Posted 22/08/2014 at 11:19:56
Sorry off topic, but this 110% debate reminded me of Nigel Tufnel in the film, 'Spinal Tap'.
https://www.youtube.com/watch?v=4xgx4k83zzc
Tony J Williams
30
Posted 22/08/2014 at 11:54:11
Why wouldn't any player go in for a bog standard block challenge with another player? Usually these are the ones that cause the most injuries, both looking to block the ball with their insole and knees bent slightly.
Bread and butter challenge that unfortunately sometimes causes injuries. Nothing to do with 100% commitment, just a challenge.
As said above, no-one would give a bat's nads if it had been Hibbert or Osman but because it's Barkley we should change the whole process of how they train.
Shit happens, we won't miss him that much because he isn't the star he is destined to become yet.
Jim Lloyd
31
Posted 22/08/2014 at 12:27:27
You're more likely to get an injury by going into a tackle half-heartedly. This incident is one of those things that happen, even in a five-a-side game.
We can't expect a manager to say "Don't tackle each other, lads, you might get hurt." It's a contact sport, so we'll get injuries.
Harold Matthews
32
Posted 22/08/2014 at 12:49:46
This has been a long week.
Eugene Ruane
33
Posted 22/08/2014 at 12:52:43
Here's Mr Martinez doing that bucket challenge thing.
As he nominates Kenwright, I couldn't help wondering if (with a good hard shove) a small-ish great white shark could fit into a very large bucket.
Jim Bennings
34
Posted 22/08/2014 at 12:53:55
Tony J Williams
We won't miss Barkley???
Are you sure about that mate?
We won't miss having a potential matchwinner who scored goals such as the ones against Newcastle, Swansea and Man City?
Of course we will miss him; I agree he's not the finished article but he has match-winning ability and looking at the centre of our midfield there is hardly an abundance of attacking options.
All of our goal threat from midfield looks likely to come from wide areas, although McGeady scored a great goal, I think it's too early to suggest he's going to start rattling them in often, it was his first strike in six months.
Atsu probably won't get that many starts. Pienaar has never been a goalscorer, fantastic ability... but the weakness has always been his goal input. That leaves only Mirallas when fit and ready to help out Lukaku and Naismith.
Denis Richardson
35
Posted 22/08/2014 at 12:51:31
Jeez, another day and yet another article about Barkley's injury. A couple of days ago, out of the 5 main articles on the site, no less than 3 were about Barkley and injuries – can we PLEASE just move on? The guy won't be playing any football until October at best, is there anything else to add, really?
We have a massive game tomorrow and nothing about it written at all... any chance of focusing on players that are fit and the actual footballl to be played? Surely that's much more interesting than discussing Barkley's knee over and over again... Maybe it would be an idea to have a separate section on TW just for injury articles and leave the main bit for, erm........football?
I see there was no discussion on Arsenal's performance on Tuesday or how we could/should maybe approach the game. For such a massive game I'm astonished that there is nothing so far on the site.
Sorry if the above sounds like a grumbling old man but I am so bored of reading about Barkley's bloody knee.
Patrick Murphy
36
Posted 22/08/2014 at 13:03:42
Eugene, what makes you think that the shark would get the better of BK?
Roberto, what a legend, it has been nice having you as the Manager of Everton FC as I really can't see Mr Kenwright doing this... although he could always out-source it to an interested third party?

Dave Abrahams
37
Posted 22/08/2014 at 12:57:11
Harold, it's been a 150 percent sort of week,,,,
Tony J Williams
38
Posted 22/08/2014 at 13:09:11
Jim, read the rest of the sentence mate.
"... won't miss him that much", ergo we will miss him some amount (but not as much as some on here probably think).
Craig Walker
39
Posted 22/08/2014 at 13:21:48
You're gonna need a bigger bucket.
Phil Roberts
40
Posted 22/08/2014 at 13:18:28
It would be the Ice Cube challenge, but he would wait so long it would have melted.
Steve Lowe
41
Posted 22/08/2014 at 13:20:11
Can't help thinking that I wish the injury was the other way round. I know that's not right either but I bet we wouldn't have half the comments here if it was.
We will miss him – especially for the big games.
Peter Roberts
42
Posted 22/08/2014 at 13:27:27
Not sure who Bobby got the nomination from but if anyone follows Ross Barkley on Instagram he's posted Duncan Ferguson's attempt. Can't help but chuckle at The Big Man nominating John Parrott.
Dick Fearon
45
Posted 22/08/2014 at 13:40:39
Teflon Bill could stand under a shower and not get wet.
Clive Lewis
48
Posted 22/08/2014 at 13:45:47
Maybe training should be done with closed knees. Anyhow still feel we need to do more running. It seems, reading into the 'closed knee' statement that Ross was shielding the ball and Barry clattered him from behind. Or is the knee closed when fully leg bent, in that case, Ross was tying his shoelace at the time.
Si Cooper
49
Posted 22/08/2014 at 13:30:00
You can't train at a lower rate than you intend to play at, but you can leave out the rough stuff (not everyone does though). You often get the most intensity from new recruits looking to impress / establish their credentials, which is why Mo Besic figured strongly in the speculation (he just doesn't look the type to just go through the motions, and that is a compliment).
I think we can all accept this was just a fluke injury from a routine tackle, and I don't think anyone is really having a go at Gareth Barry (or were actually gunning for any other potential culprit).
The injury was sustained last Thursday but was not reported until fairly late on the Friday. The possibility of a full contact training session the day before a match raised a few eyebrows, though that was laid to rest fairly quickly.
Michael Kenrick
51
Posted 22/08/2014 at 15:02:23
That's a great explanation, Mike. I shall step back from thinking of the more rigid definition and try to think more like a sportsman!
Nicholas Ryan
53
Posted 22/08/2014 at 15:12:56
I suffered the same injury as Ross, in similar circumstances in a student footy match:
Good news; it healed quite quickly, and I played again the same season.
Bad news: I still get pain and twinges in the knee, 35 years later!!
Si Cooper
55
Posted 22/08/2014 at 15:50:37
Mike (23) - what is actually being referred to is effort not something that can be reduced to a group of statistics.
In any given game (the duration of which can vary) it is always possible to 'give it your all', and that adds up to 100% and nothing more.
Tony J Williams
56
Posted 22/08/2014 at 16:14:11
I'm 200% behind your comment Si...
Brent Stephens
57
Posted 22/08/2014 at 16:14:49
I guess the only way somebody could do more than 100% in a game is if we fitted them with wheels once they were knackered and got somebody to push them around - a bit like Brother Tony in Lily the Pink?
Harold Matthews
59
Posted 22/08/2014 at 16:30:06
I'm beginning to wonder about Toffee Web. A massive match almost upon us and all we've done all week is fiddle around , talking about nothing. Sky have talked about it, as have Talk Sport and various forums. As usual, TW will shove it in at the last minute, almost as an after-thought.
Jackie Barry
60
Posted 22/08/2014 at 16:49:06
Thanks Harold for saying what I have been thinking, nobody has even mentioned how they think we will line up against the Arse. Come on everyone lets change the subject and start talking about tomorrow's big game.
Tony J Williams
61
Posted 22/08/2014 at 16:53:11
Harold/Jackie, there is usually a review thread on here by now that we can all swoop on.
Mike Allison
62
Posted 23/08/2014 at 08:24:39
If I drive 77mph on the motorway am I doing 110% of the speed limit?
Or is that impossible?
Mike Allison
63
Posted 23/08/2014 at 08:27:00
David, I'm not changing the denominator, I'm saying people who criticise the phrase 'give 110%' are using the wrong denominator as the basis of their criticism. They see 100% as a maximum, but it isn't, it's whatever we define it as, it can be an average, a norm, a standard or whatever.
When I drive 77mph on the motorway, I'm doing 110% of the speed limit, but probably only 60-70% of my car's actual top speed.
Si, you're right about it not actually being reducible to statistics, which is why I used distance covered to make the point, but what I'm saying is don't assume players will give their absolute maximum all the time, they'll play at a certain, probably very high, level. Then when it matters they'll find an extra 10%.

Lev Vellene
64
Posted 23/08/2014 at 13:16:03
You can't give us fans 100% information without having everyone else know the same thing, So if the manager is playing head-games (or whatever, or wrongly thinking so...), he will NOT be able to give us a knowing wink!
I'm sure that's bad every time until after we won a game because of it! :P
---
Add Your Comments
In order to post a comment, you need to be logged in as a registered user of the site.
Or Sign up as a ToffeeWeb Member — it's free, takes just a few minutes and will allow you to post your comments on articles and Talking Points submissions across the site.
© ToffeeWeb