Belgian brace seals first win of the season
West Bromwich Albion 0 - 2 Everton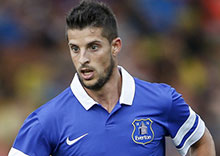 Kevin Mirallas completed a Belgian brace when his low shot squirmed under Ben Foster

Romelu Lukaku scored his first goal as a full-time Everton player with a delicious early strike and Kevin Mirallas sealed the points in the second half as the Blues rediscovered some of their form from last season.

Roberto Martinez had one enforced change at centre half with John Stones replacing the injured Sylvain Distin but Everton were otherwise unchanged from the team that started against Chelsea a fortnight ago.

That game had seen the Toffees fall behind very early but this time it was Everton who went ahead before the match had had a chance to settle. Jonas Olsson could only despatch Leighton Baines' low cross straight to the feet of Lukaku who curled a beautiful shot around Ben Foster and inside the far post.

The early strike provided the Blues a platform on which they would eventually extend their lead in the second half but they had to withstand increasing pressure from Alan irvine's Baggies as the first period progressed.

Though the home side pressed, Martinez's men were far more effective in closing down the opposition in dangerous areas but West Brom were still able to carve out chances, two of which fell to Saido Berahino and both were deflected away from Tim Howard's goal.

Chris Brunt, meanwhile, had an effort that flew into the side-netting from the angle and two Craig Gardner free kicks failed to find the target.

Everton, meanwhile, found their opponents difficult to break down and Mirallas and Lukaku had the only other chances of note before the break when both flashed shots narrowly off target from around 20 yards out.

Everton appeared to step up a gear after half time and should have doubled their lead when Steven Naismith pounded on the rebound after Foster had saved from Lukaku but the Scot contrived to scoop the ball over the crossbar from six yards out.

The killer second did arrive in the 66th minute, however — albeit in somewhat fortunate circumstances. Not for the first time, Mirallas cut in from the left and unleashed a shot from the edge of the box but this time his daisy-cutter seemed routine for the 'keeper until it squirmed under his body and nestled in the back of the net.

Though they would have a late flurry that needed a superb double-save from Howard, West Brom's spirit was largely broken by the second goal and Everton were unfortunate not to pad the scoreline further.

They surely would have done were it not for Foster who made a terrific one-handed save to push substitute Leon Osman's deflected shot wide before denying the same player three minutes from the end at the end of an impressive, flowing Blues move.

The result means that Roberto Martinez's men picked up their first win of the new campaign at the same stage as last season, a great way to start a hectic run of matches between now and the end of the month.

Full coverage: ToffeeWeb Match Reports



Reader Comments (79)
Note: the following content is not moderated or vetted by the site owners at the time of submission. Comments are the responsibility of the poster. Disclaimer
Trevor Lynes
1
Posted 13/09/2014 at 18:27:26
At last, a clean sheet; let's get plenty more this season. I'm happy that both Stones and Jags came through as our cover is thin with Distin injured and just Alcaraz on the bench.
WBA tried very hard and Irvine will keep them in the Premier League.
Brian Furey
2
Posted 13/09/2014 at 18:45:36
How did McGeady play?
Glad to get a clean sheet too today away from home.
How did Lukaku play bar that goal?
Jeff Armstrong
3
Posted 13/09/2014 at 19:01:21
McGeady 5 out of 10; Lukaku 6/10
Paul Dark
4
Posted 13/09/2014 at 19:03:51
Brian:
Rom played well - though he's still not 100%. Some good first touches and full of running at times. Wonderful goal.
McGeady was woeful, simply woeful. His passing, tackling and overall contribution are all very minimal. That's a nice way of putting it.
Michael Penley
5
Posted 13/09/2014 at 19:06:48
McGeady was unlucky not to score at least one, while Lukaku was very lucky to be gifted his goal. Unfortunately neither of them look all that great just yet, though McGeady is improving.
Villa are showing how you play at Mordor: hope we learn something from them when we go there.
Gavin Johnson
6
Posted 13/09/2014 at 19:01:23
Would have taken that result before the start of the game. It feels great, with a wee bit of relief to get our first win and clean sheet. Pleased for Lukaku getting his first of hopefully many this season. The opportunity may have been fortunate but there was a lot of skill involved to curl that ball in from his second touch.
The enforced change in defence (due to Distin's injury) was a welcome one for me. IMO Stones should now be looked upon as our first choice centre back with Jags and Distin supplementing him. Playing Jags on the left side was something I've wanted to see for a while; If he plays there regularly for England there's no reason he shouldn't be asked to do it in a blue shirt!
Looking forward to the Wolfsburg game now..COYB
Graham Mockford
9
Posted 13/09/2014 at 19:25:00
And all is well in the world.
Mark Frere
10
Posted 13/09/2014 at 19:24:49
The most important thing was simply getting the win today. Clean sheet and Lukaku getting off the mark are 2 massive bonuses as well.
We didn't play well but definitely deserved winners in the end. This win will be the perfect tonic to kick-start our season...
Wolfsburg to look forward to next, a routine 3 points against Crystal Palace next week... and Oviedo and Kone not too far away from returning to first team action. Things are looking up! COYB!
Gavin Johnson
11
Posted 13/09/2014 at 19:17:05
I think McGeady played like he always plays; looks awful for long periods of the game and can then produce something wonderful! Unfortunately he didn't do anything particularly wonderful today. I think you can tell he's getting fitter and getting a better awareness of the EPL though.
Jeff, Lukaku 6/10, I think you're being a bit harsh there, mate.
Ian Linn
12
Posted 13/09/2014 at 19:23:21
Pretty average display today, 2nd half was much better than the 1st where our midfield was almost non-existent. West Brom pushed high up the pitch and we struggled to cope. Both our goals were pretty much gifted to us.
That being said, as the 2nd half went on, we looked better and it was only a great save from Foster that prevented a third.
Good result but Barry, McCarthy and McGeady all need to up their game.
Jim Bennings
13
Posted 13/09/2014 at 19:23:46
Still think we look a little one dimensional in the middle of the park at times.
We badly need a creative player in front of Barry and McCarthy, a new Arteta if you like.
Steven Naismith is great in terms of work ethic and nipping in for goals but just sometimes we don't look like creating much through the midfield and when the wide boys don't perform well as they didn't really today, we can look stagnant a bit.
Of course there is Barkley to return but that's a long way off before he's anywhere near match sharp, I think your looking after Christmas before Ross finds his real form.
On the plus side it's a good day, a good away win and clean sheet so let's hope we really are up and running properly now.
Mike Hughes
16
Posted 13/09/2014 at 19:37:58
Yes, what a beautiful day from beginning to end.
The sun was out ... proper footy on the radio from midday (none of that international crap), we eased past the Baggies away from home, 'Pardew Out' banners and to top it all off Villa stuffed the RS at their place – with only 25% possession!!!
And a week to look forward to as well with a European night under the floodlights of glorious Goodison Park. Then another home game against CP.
Now for a beer and a sing song ...... :)
I never felt more like singing the blues when Everton win and ...... etc.

Chris Sillett
17
Posted 13/09/2014 at 19:43:15
Ian Linn, according to Sharp on Radio City, Gareth Barry was Man of the Match by a mile, so I'm not sure why you say he needs to up his game!
Great win; it's nice to have that winning feeling again and keeping a clean sheet. Stones can't be dropped now, even when Distin is back. Can't wait for Wolfsburg now!
Anthony Burke
18
Posted 13/09/2014 at 19:47:29
What a great day! I had a fiver on Lukaku first goal and also had a fiver on the over confident bookies 9/1 for a villa win.
Never more felt like singing the blues — you know how it goes.
Tony J Williams
19
Posted 13/09/2014 at 19:52:23
Oh, I never felt more like singing....
Wayne Smyth
20
Posted 13/09/2014 at 19:52:23
Chris, I've seen a couple of criticisms of Barry and like Sharp, I can't understand why people think he had a bad game. I thought he did everything you'd want from a defensive midfielder very well and I thought he was better than McCarthy.
Stones looked very good, made one world class challenge and it was great to see a clean sheet and more capable defending than in our first 3 games. Mirallas looked a threat, Lukaku played quite well and certainly in the second half I thought we played quite well and controlled the game.
It was also interesting to see Besic come on and play a more advanced role and I think this is for two reasons. Firstly, it's been clear since pre-season that Besic has the ability to play in a more attacking role. He has tricks, pace, great feet and confidence. Secondly I suspect that Martinez does not quite trust him in a defensive role after his debut and needs him to get up to speed in areas where if he loses the ball we don't get hurt too much.
Duncan McDine
21
Posted 13/09/2014 at 20:20:41
Just got home from the game and cant believe some of the negativity. We controlled the game and could have won by more... No matter who the opposition is, to do that away from home in the PL is impressive. The only negative for me was a couple of individual errors which made us look a bit vulnerable at the back. This needs to stop but, in general, I thought we were very good.
Stephen Brown
22
Posted 13/09/2014 at 20:21:36
Ian 13 - funny how different people see different things but I though Barry had a very good game and possible MotM!
Raymond Fox
23
Posted 13/09/2014 at 20:37:32
Wayne, I couldn't agree more with your comments on Besic, playing in a more attacking role. He is definitely worth more playing time but, as you also say, Martinez is playing it slowly does it.
He could be just what's missing in midfield, as he does find space well and can knock it about accurately. He did pick up a yellow card (seemed a bit harsh to me) so maybe he's a marked man with the refs!

Andy Meighan
24
Posted 13/09/2014 at 20:57:03
That's us up and running. A good result given the negativity that surrounded the Chelsea game, and rightly so – although most of it was from me. Anyway, I digress...
I was expecting a difficult afternoon but apparently they were poor. I think if Irvine stays they could well be staring down the barrel of a dogfight... mind you, they're used to that, aren't they?
All-in-all, a beautiful evening considering our beautiful neighbours' dismal performance. Now would anyone mind if I opened another bottle of wine? Just to be sociable like...
Tim O'Connell
25
Posted 13/09/2014 at 20:56:29
It is amazing the different views on the same match. Second half was more the EFC we want to see. Overall, Stones and Barry were very solid. Rom looked very dangerous but also knackered after 60 mins!
Kev and Geads improved significantly 2nd half. (Although Geads had a poor first half, he put the effort in and looked fit!). Nais again looked good to me though he did miss a sitter. Onwards and upwards now (though the Baggies were poor).
Wayne Smyth
26
Posted 13/09/2014 at 21:18:49
We could've had 4 Tim. The one Naismith blazed over and that superb move in the last few minutes that started down our left and ended up with Osman's shot being well saved by Foster.
I was praying for that to go in because as soon as it was clear Osman was coming on, there were people calling the manager an idiot.
Although the first half performance was not great, in the second half I thought we did really well and crucially we largely controlled the game in the last 10-15 minutes rather than sit back and invite pressure like in the previous games.
It's for this reason that I'm quite positive because, despite the negatives, you can clearly see improvements in key areas from our games against Leicester, Chelsea and Arsenal.
Ian Linn
27
Posted 13/09/2014 at 21:21:56
OK, maybe Barry played better than I gave him credit for but in the first half the midfield was absent, West Brom pushed up high and simply passed it through us - if they had had a better striker the result could have been different.
Second half we were better but, let's remember, this was West Brom, if we play like this against better teams we're going to struggle.
Henrik Lyngsie
29
Posted 13/09/2014 at 21:24:37
I thought Barry completely controlled the midfield. He was my man of the match and the commentator wanted him on the English national team!
Dominic Tonge
30
Posted 13/09/2014 at 21:28:21
I was quite heartened today. Although not at our best, we were away from home, and playing a team whose gaffer knows a fair bit about us. We never looked in danger of getting beat.
Rom got his first goal of the season, Nais missed a chance that really he could and should have scored from, and If not for Ozzy finding Foster at the end, that move would have been almost a Larrissa goal.
We were not great but a clean sheet, a solid performance from our boys.... We won. job done. could have been 4-0 realistically.
Peter Laing
32
Posted 13/09/2014 at 21:51:37
Oh, such a perfect day.......
Tom Bowers
33
Posted 13/09/2014 at 21:57:24
I had a confident feeling all week that RM was going to get things sorted for the Albion game and so it was. Okay, so it wasn't pretty and some players are still to reach their best form but any win is a good win after the benevolence in the first two games and then giving Chelski a two-goal start.
The only worry I had was that they may have scored too early giving the opposition (playing at home) plenty of time to equalize but the defence held firm which is what we had hoped for.
Hopefully, now with the depth of the squad, they can get past Wolfsburg and still have enough left to take care of business against Palace, setting them up with confidence for the derby match.
Tony Abrahams
34
Posted 13/09/2014 at 21:48:42
Never went to or watched the game, so maybe I shouldn't comment but... If you were reading the live forum, you would think Everton were shite, but then the man on the telly was saying that we were in control, so who knows?
Spoke to my 14-year-old son who went the game and told him that, for the first time in his 11 years of watching Everton, it must be the first time we have had a team that don't have to play great to win.
He agreed and said Everton done today what the likes of Chelsea and Man Utd have been doing for years. We had a bit too much for the opposition without ever having to reach top gear!
Chris Matheson
35
Posted 13/09/2014 at 22:04:05
Drank sangria in the park...
Actually I would like us to have been quicker in getting the ball forward. Breaking quicker and in numbers. But hey, we won two-nil ....
Christopher Wallace
36
Posted 13/09/2014 at 21:42:15
Crucial win today, regardless of how it was obtained. Hopefully that can kick-start the season like Chelsea did for us last season.
Great to also get the clean sheet. Palace are there for the taking next week, and The RS looked awful earlier.
COYB
Darryl Ritchie
37
Posted 13/09/2014 at 22:01:25
Quality away win against a side that has given us trouble in the past. There's room for improvement, but then there's ALWAYS room for improvement.
Rom and Kev should start a friendly in-house wager. The player with fewer goals, in all competitions, at season's end buys the other a beer... or a Porsche...or something. Just to keep it interesting!
Peter Laing
38
Posted 13/09/2014 at 22:17:24
I'm that optimistic after today's turn of events that I date checked the Europa League Final and it's 27 May 2015, Warsaw, Poland.
Paul Dark
39
Posted 13/09/2014 at 22:12:51
Great win, indifferent performance.
Defence remains hesitant, to put it mildly.
With Barkley and Pienaar back, we will have more solidity and creativity. Oviedo and Eto'o will provide excellent options. With Atsu (please NOT McGeady) and Coleman running at defences on the right and B&C on the left, we could look forward to some interesting times.
I really hope we can find our shape as a team – as we did for spells last year – when everyone knew where we were.
I'll be impressed and delighted if we beat Wolfsburg.
Roger Sunde
40
Posted 13/09/2014 at 22:07:41
I thought Barry was excellent today, McCarthy looked a little fatigued at the last stages and I am pretty sure he gets a rest vs Wolfsburg and Besic gets his chance.
Also Osman was good coming on, he could had a brace himself if wasn't for a Foster looking to redeem himself after that howler.
But the most important thing was a clean sheet included in the win; defence looked much improved and with it we got the little luck big teams always seems to have more of than us.
Ian Riley
41
Posted 13/09/2014 at 22:10:23
I don't understand moaning about Lukaku, as long as he sticks the ball in the net on a consistent basis who cares. He does not look match fit yet, but will. Today was about keeping a clean sheet and getting three points and we did that.
For the first time in many years I am confident in scoring goals home or away with the fire power on and off the pitch. If we can defend as a team then we will win more than lose.
ps: Thank god we won; facing happy West Bromwich Albion fans at work is not a pleasing thought!
John Raftery
42
Posted 13/09/2014 at 22:16:03
There is no question Barry was Man of the Match, controlling the flow of the play for long periods. I thought Baines had his best game for a while and it was great to see Rom get on the goal trail.
McGeady looks fitter but he still looks below the standard required in the top half of the Premier League. The occasional flash of genius is followed by an inept pass or being caught in possession. We cannot afford that against the better teams.
Jack Plant
43
Posted 13/09/2014 at 22:46:11
Everton win, Liverpool lose. All is right with the world.
Ernie Baywood
44
Posted 13/09/2014 at 23:32:04
I'll be honest, I didn't think that much of Barry's performance. He did what he usually does but was a little less incisive in his passing. Usually he's the one who changes the pace and dictates whether we attack or consolidate (given that McCarthy will almost always consolidate).
I thought Lukaku, goal aside, had a poor first half. Improved in the second along with most of the team then tired. I guess I'd prefer Lukaku having a slow day than a lower-level player at full fitness... Lukaku will always have the quality to grab a goal.
Overall, a really strange game. Probably not our best performance this season, yet was our most dominant. Defensively shaky yet again but a clean sheet.
Hard to put a negative slant on a 2-0 away win. Hope it's the start of something. Mirallas my Man of the Match, by the way.
Jackie Barry
45
Posted 13/09/2014 at 23:41:37
I watched the game and, if I am honest, I am trying to work out exactly how Barry was Man of the Match. He looked a little laboured at times to me and I think he is the reason why McCarthy can't venture forward more. Still not a great performance overall... but a win is a win – and Liverpool lost.
Christopher Wallace
46
Posted 14/09/2014 at 00:47:14
Jackie,
By laboured, do you mean slow? Barry has always been slow but he's one of the best in the league as defensive midfielder, with the emphasis on defensive.
I don't know how Barry sitting in would prevent McCarthy from venturing forward. Our two full backs look to get forward at every opportunity, and therefore Barry and/or McCarthy need to be ready to slot in if and when necessary.
Barry was an integral part of the best Everton team in years last season. People constantly knock him for his age and lack of pace.
Mark Andersson
49
Posted 14/09/2014 at 01:26:34
I have not watched the game, but as usual after reading all the posts on here I will judge my self in an unbiased way. I had a feeling we would lose so any win is good. And the weekend got better after learning the RS lost.
Tony J Williams
50
Posted 14/09/2014 at 02:26:39
What made the game more enjoyable for me was the fact the whole team didn't look goosed after 70 minutes.
As already said above, the save from Osman stopped another Larissa type of goal. Would've been a peach.
David Ellis
51
Posted 14/09/2014 at 04:28:26
Good result. Not the best peformance. We were gifted our goals (although Lukaku's was a peach). The good thing I took from it was how our confidence seemed to grow as the game wore on and we finished much stronger than we started.
Also, a clean sheet may help settle some nerves. Jags had a decent game. Stones's control of the ball is very useful to the side. McGeady was a disappointment.
Steve Brown
52
Posted 14/09/2014 at 04:41:42
Good result following a decent performance. The defence weren't hesitant, it was simply that WBA pressed high up the field whenever we got possession in the first half. Inevitably, they couldn't keep that intensity up and we had more space to play from the back.
Amazed that people have questioned Barry's performance – Man of the Match easily – but not mentioned McCarthy whose poor season continues. McGeady was poor in the first half but he improved a lot in the second half, cutting in and looking dangerous.
I think we should all be satisfied with a professional job well done – and with players to come back soon we will be in decent shape for the derby. Talking of which, if anyone wanted to see how you waste 𧴜 million, you only had to watch the Redshite yesterday.
Steve Jenkins
53
Posted 14/09/2014 at 05:56:54
Getting a win was the most important thing yesterday.
3 points that were needed to get our season moving, clean sheet & confidence built. Happy Days!
Europa next – COYB!
Oy yeah & the shite lost, they look clueless & toothless without Sturridge. With Suarez gone for good, a long-term injury to Sturridge & they'd really struggle imo.
Ballotelli just doesn't look like he can be arsed.
Think they'll drop a lot of points at home this season – a lot of sides will just take the Chelsea & Villa blueprint & park the bus.

Tony Abrahams
55
Posted 14/09/2014 at 09:14:41
Christopher, if you watch Everton, closely you would realise that Barry is not a defensive midfielder. The main emphasis of Barry's game is to get into good positions to receive the ball so we can play out from the back. He hasn't got the pace to cover in the same way as McCarthy does and that's why the latter doesn't venture forward enough for me.
Two defensive midfielders would be Carsley and Yobo playing in there together like we did one year at Anfield, a memory that makes me shudder like a fucking quango.
Brian Furey
56
Posted 14/09/2014 at 09:56:13
Firstly I am NOT defending McGeady as I've not seen enough of him to judge. Of what I have seen, he does quite a lot of good things when on the ball but I can also see him losing the ball trying to do too much instead of keeping possession and being patient.
I hope RM will work with him on the negative side of his game as he's the best two-footed player we have IMHO.
Secondly, I too am looking forward to seeing Atsu and what he brings to the table but I'm wondering are there some on here blindly expecting him to fit in and be a great player? As I said last week, wingers tend to blow hot and cold. I am excited to see his pace, trickery and hopefully goals but let's not build him up for a big fall.
All players have weaknesses, like Barry having poor pace, but that shouldn't stop us seeing all the positives too.
That was a bad miss by Naisy yesterday; had he done that last year, loads would be on his back right away. This year we're more tolerant... Well, so far.
I expect Lukaku to frustrate us in a lot of games but to still score 15+ goals, even with injuries. If Eto'o, Kone and Naisy can get near 10 each, we'll be right up there. Big ask I know.
Bob Parrington
57
Posted 14/09/2014 at 10:18:14
Not had a chance to watch the game. Thanks guys for the threads. Fully appreciated.
Jees, a clean sheet at last. How was Stones?
COYB
George McKane
58
Posted 14/09/2014 at 10:46:31
Funny – I thought we'd kept a clean sheet and got three points – mmmmmmmm. 4th game of a long season.
Jack Plant
59
Posted 14/09/2014 at 10:50:56
I am concerned that teams are starting to suss our "pass it out from the back" approach. We were pressed a lot in defence so our neat passing often ended with one of the back five making a rushed clearance. This benefited us in the sense that they tired a lot in the second half allowing us to play a more fluid game but it also made it more difficult to get a move going from the back.
Hopefully when Barkley's back he can change all that by just skinning whoever's pressing him and going on to score a wonder goal.
Duncan McDine
60
Posted 14/09/2014 at 10:52:53
Stones played well, Bob. He had a couple of tussles with that big lump Peacock when we defended corners, and did more than enough to keep his place in the CB pairing regardless of who's available.
Robbie Muldoon
61
Posted 14/09/2014 at 10:42:39
Routine win for the blue boys. Top quality finish from Lukaku, is there anything better than a striker that can curl them home from outside the box like that? He was direct all game, showed great touches and a desire to drive at the defence when others around him would play it safe backwards or sideways.
John Stones has earned his start after this game, those long legs capable of last ditch tackles and blocks will prove priceless compared to the sluggish Jagielka's performances so far. Naismith's miss was truly shocking and could have cost us dear but luckily Scott Carson was in his usual charitable mood.
We're off on the board now, although the two games against top quality opposition in Arsenal and Chelsea showed some great positives, I think (as well as the negatives), and we should all be looking forward to when Eto'o and Ross Barkley slot into that starting 11 because we are a force to be reckoned with. Come on You Blues!
Shane Corcoran
62
Posted 14/09/2014 at 10:59:00
Peacock? Olsson maybe?
Jack, I mentioned that point in the live forum. Howard was forced to kick from his hands in the first half due to their pressing.
I suppose he needs to improve his kicking or we're relying on the opposition tiring.
Bob Parrington
63
Posted 14/09/2014 at 11:09:56
Thanks, Duncan. I've been concerned about Jags and Distin and hope Stones will steady this CB area. Young, yes, but cool and one for the future and maybe the present, too!

Mark Andersson
64
Posted 14/09/2014 at 11:02:36
Overall a poor performance but good result. Barry deserved MotM, McCarthy was not at his best, and almost cost us a goal with a lazy back pass. Defence looked nervous and rode their luck.
I think we are in for a long season of indifferent results, so before you get too excited by the Red Shite results, we are nowhere near where we would like to be.
Colin Malone
65
Posted 14/09/2014 at 11:20:03
Besides Barry being our best player, Tim Howard was much better than last week; he came for crosses instead of flapping on the goal line, that installed confidence in our defenders. Well done Tim.
Colin Williams
66
Posted 14/09/2014 at 12:41:12
Colin, "Howard came for crosses"! — I thought he was a liability throughout the game. Every time a cross came into our box, he either missed the cross or stayed on his line, even when balls were played into the six-yard box. He gave the defenders no support at all.
Clubs are picking up on how poor he deals with crosses from wide areas, it's hard to believe how weak he has become in this basic skill for goalkeepers.
The only decent saves he had to make came right at the end of the game, and them shots were straight at him. He is a massive liability to the team on crosses from wide. Way past his sell-by date!
Jackie Barry
67
Posted 14/09/2014 at 14:40:51
MotM – Howard by a mile.
Tony Twist
68
Posted 14/09/2014 at 16:05:25
Good result but a poor performance. Poor, naïve defensive display, not enough work on the training field and as regards Martinez "...we made sure we were keeping a clean sheet..." is bemusing. We were extremely lucky not to concede today but have been unlucky this season so it evens out.
A lot more work required but it's the result that only mattered. We will have to play so much better defensively in the next few games to get more points on the board.
Lev Vellene
69
Posted 14/09/2014 at 17:06:30
Totally happy now! Tomorrow I'll be worrying again! So, I'm an Evertonian... :P
Si Cooper
70
Posted 14/09/2014 at 16:57:45
Jack Plant (60), it is no secret how to play against teams like ours (and hasn't been for a long time), but for most teams it is easier in theory than practice.
Put us on the back-foot, clutter the flanks as much as possible, keep our possession to a minimum and lots of teams will have a chance against us. That is exactly what Alan Irvine and WBA tried to do and for most of the first half we absorbed the pressure and tried to hit them on the break. It got a lot easier in the second half as they (inevitably) tired and the result went our way due to a clinical finish, a stroke of luck and some resolute defending. Not overly pretty at times but the job got done.
Tony Abrahams (56), are you classing Gareth Barry as an attacking midfielder by natural inclination or within the scope of his role for Everton? A defensive midfielder's role goes beyond defending all the time (as does that of defenders!) but when you are primarily expected to break up opposition attacks and provide a screen a short distance in front of the back-line then you are a defensive midfielder. We specifically need two of them because both our full backs are now expected to support the attacks from the opposite side of the pitch rather than just when the play is on their flank. Linking play between the defenders and the attackers is a natural consequence of your position in the team structure, unless you want to bypass the middle of the park all the time (which we don't because it increases our avenues of attack).
Gareth Barry seems more eager to receive the ball from the defenders and prompt the attacking play but I doubt that is a particular duty he is given rather than both DM's being expected to share the work according to what is on at the time. McCarthy is of course doing the lion's share of break-neck recovery running simply because Barry lacks the pace, but it does seem at times that McCarthy is overly keen to pass the ball neutrally or negatively rather than positively. A good example would be the pass he played backwards that set up the late chances for Berahino (I think) and Samaras, when he did have options to play the ball forwards.
Jackie Barry
71
Posted 14/09/2014 at 18:26:56
Si, your last paragraph sums up the way I see it perfectly.
Tony Abrahams
72
Posted 14/09/2014 at 18:08:55
Simon, I'm classing Gareth Barry as the man who makes Everton play from the back. So IMO his primarily role is to get in decent positions to do this. If we specifically needed two because our fullbacks are both that far up the pitch at the same time, then wouldn't it be better to play 3 centre-backs, Si?
Gareth Barry seems more eager because that's his job, just like McCarthy doesn't play forward enough, because his job is to retain possession and make sure he has covered everyone else.
If you don't think it's their particular duty because they are both defensive midfielders, I disagree, Simon, because I would have someone a lot more mobile than Barry if their primary role was to defend.
John Voigt
73
Posted 14/09/2014 at 18:41:51
Let's not forget that wins away from home in the Premier League are really important no matter how they are accomplished. Winning 2-0 away from home when you aren't playing at your absolute best is one of the marks of a team trying for the Champions League places.
I thought Lukaku's shot (with his weaker right foot) was pure class. I don't care how the chance occurred. His touch was impressive before scoring and the shot was pure class.
John Stones in my opinion had a very good game. There were around 10 corners to defend and he appeared to be man-marking Olsson who came up from defense on corners. I thought Stones really battled Olsson well (and it was very physical).
Hard to argue with:
#1 A road win
#2 Lukaku scoring
#3 Stones playing (and playing well)
#4 The 1st clean sheet of the season
Tony Abrahams
74
Posted 14/09/2014 at 19:41:14
Jackie, if Simon's last paragraph sums it up perfectly for you, then you'd better read post 46 again.

Geoff Evans
75
Posted 14/09/2014 at 19:52:52
Stones isn't the finished article, but must be first choice; he's the future.
Jackie Barry
77
Posted 14/09/2014 at 22:18:00
Tony, what I wrote is in regards to exactly that, I feel that McCarthy is having to, as Si wrote, "The lion's share of breakneck recovery". I think you need to do the reading.
Colin Malone
78
Posted 14/09/2014 at 22:25:30
Si Cooper
79
Posted 14/09/2014 at 23:53:32
Tony, legs / pace will help in defending but a wise head / experience is also useful. Barry and McCarthy aren't two peas in a pod but their job is to act as a central midfield unit that helps out the defence and, in particular, liberate the full backs for more attacks than they could before. They both are expected / required to do a lot more defending than the likes of Barkley, McGeady and Mirallas so I would class them both as defensive midfielders as they tend to act in partnership.
It is perhaps more fluid than having three central defenders and relies on the judgement of both Barry and McCarthy to make it work. An understanding between the two DMs is essential and it is no surprise that they tend to play to their strengths, but I have yet to see any indication that only one has permission to venture forward whenever they judge the time is right.
It is my opinion, however, that James McCarthy is simply a lot less inclined to trust his attacking ability / instincts because there have been occasions that I have witnessed when he could easily have made a more incisive pass than the one he opted for, or when he has apparently chosen not to really commit himself to attacks. I do not see what we gain in those situations by giving McCarthy a very limited role that he must adhere to. He does let himself go at times but not enough for my liking and it really does appear that he is making those decisions on the spot.
On the subject of mobility, it is Barry's obvious flaw and I have pondered on this forum whether he is potentially expendable when dealing with strong, mobile attacking teams, as long as either McCarthy / Besic can match his nous / reading of a game. It is also the potential stumbling block for Darron Gibson fitting seamlessly into the manager's preferred system.
Steve Pugh
80
Posted 15/09/2014 at 07:42:35
How can you respect somebody's judgement of a game when they don't know who the oppositions goalkeeper was?
Max Wilson
81
Posted 15/09/2014 at 09:48:25
Of course an away win in our situation was going to be a relief. This game was like the Scottish Referendum, if we hadn't won it, we'd have been in the shit.
The lads were nervous, I thought, even after that first wonder goal. We defended deep for long periods. We should have been two up but Naismith missed that sitter. Meanwhile, McGeady added very little in the first half but came to life in the second – no doubt after words from RM. Mirallas's goal was a bit lucky, Foster was too slow.
We are missing some of our best players, I think that is obvious, and when they re-appear we will play with more cohesion. Meanwhile Howards's fantastic late double save shows us he isn't quite over the top yet.
Matt Traynor
82
Posted 15/09/2014 at 11:05:13
Max #82 "This game was like the Scottish Referendum"
Yes, it was exactly like that....
Although well done for tying two different TW threads together.
Maybe instead of voting, they should just have a game of togger, Salmond and Darling the two captains. The BBC as the referee (so as to give Salmond something to blame a defeat on). There could be plenty of hooliganism on the sidelines as well, to appeal to the non-sporting viewer.
Whatever. The only thing I'm looking forward to is to see the turnout, and how many actually got off their arses and voted. Hopefully it'll be a better turnout than most local and government elections, given the amount of media space it's taken up.
Umm back to Everton. So Amanda Holden in the new kit eh... with red nail varnish. Tsk.
Andrew Ellams
83
Posted 15/09/2014 at 11:02:21
Other teams win ugly and it's a sign of Champions picking up points despite the performance. We do it and it's all doom and gloom from some.
We will still be in that top 7 but need to work hard to make sure we are not bottom of that group. Liverpool have lost twice now, not sure what I make of Arsenal. Spurs are inconsistent and Man Utd had an easy win against one of the poorest Premier League performances I have seen so the jury is out on them too.
Paul Smith
84
Posted 15/09/2014 at 13:08:56
Good solid if unspectacular win but glad of the clean sheet. I'm still very underwhelmed by McGeady and, until Barkley is back, I would put Besic in a midfield three with Mirallas and Naismith just behind the striker as my first choice team.
If Eto'o is fit, I think he will start instead of Lukaku along with a couple of other changes.
Christopher Wallace
86
Posted 15/09/2014 at 18:18:58
Tony 56
You're assessment of Barry only applies to when we are in possession. If that were the case for 100% of the game, Barry is unlikely to get on the pitch.
Yes, for a team playing out from the back, then Barry has to drop deep and pick the ball up and look to get us moving forward.
However, he is there to be goal side of the ball and read what is going on in front of him. He positions himself well, and covers the full backs when possible. He is there to provide solidity, and most importantly, to win the ball back and break up play.
Therefore, I consider him a DM. If you prefer holding midfielder, that's fine also.
Stu Smith
87
Posted 15/09/2014 at 19:55:56
Fellow blues, I have a question for you....
When Rom scored v WBA and didn't celebrate, how did you feel? I actually thought "What a pro and respectful bloke." I only ask because that Adrian Durham on TalkSport was wittering on about how daft it was that he didn't celebrate the goal.
Christopher Wallace
88
Posted 15/09/2014 at 20:19:43
Stu
It's a personal choice but I think it is a reflection on the player - the fact that he was respectful and gracious are good things in my opinion.
To be honest, as long as he doesn't get sent off, and is immediately thinking about getting another goal, I really don't care how he reacts to scoring.
Kieran Riding
89
Posted 15/09/2014 at 20:26:37
Stu,
He won't have to worry about it next season, as he won't be playing against that shower, unless we draw them in the cup.
Paul Kelly
90
Posted 16/09/2014 at 04:43:57
Wasn't Naismith offside for that sitter?
And I respect Rom for it, not my cup of tea though.
Durham is a Class A twat, enough said.
---
Add Your Comments
In order to post a comment, you need to be logged in as a registered user of the site.
Or Sign up as a ToffeeWeb Member — it's free, takes just a few minutes and will allow you to post your comments on articles and Talking Points submissions across the site.
© ToffeeWeb